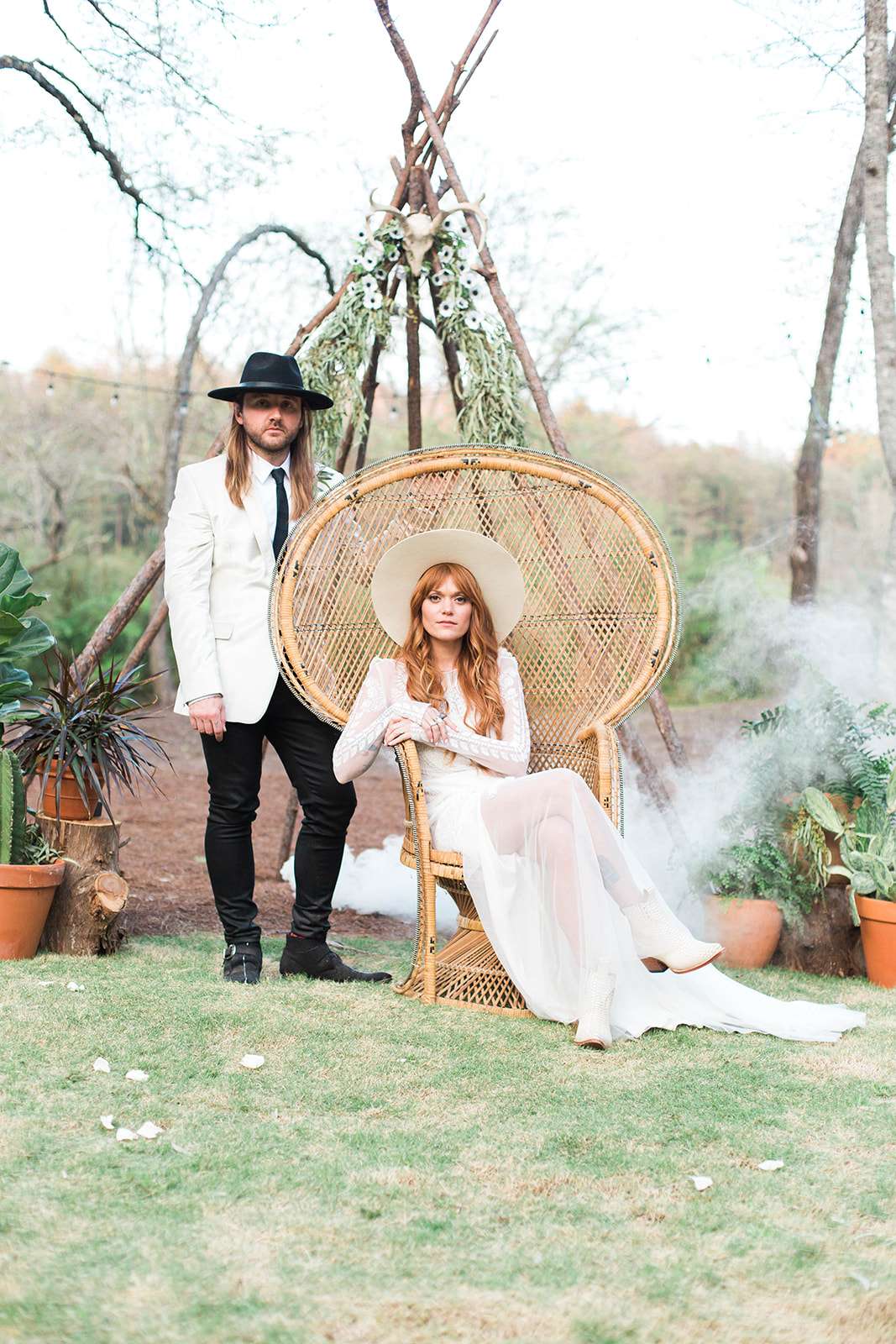 Destiny and Joshua's Southern lodge wedding with modern bohoemian elements looks like it could be a styled photo shoot, it's that perfect! As hairdressers, they'd seen their fair share of stressful weddings and, wanting to avoid that, they opted for a stress-free backyard wedding instead.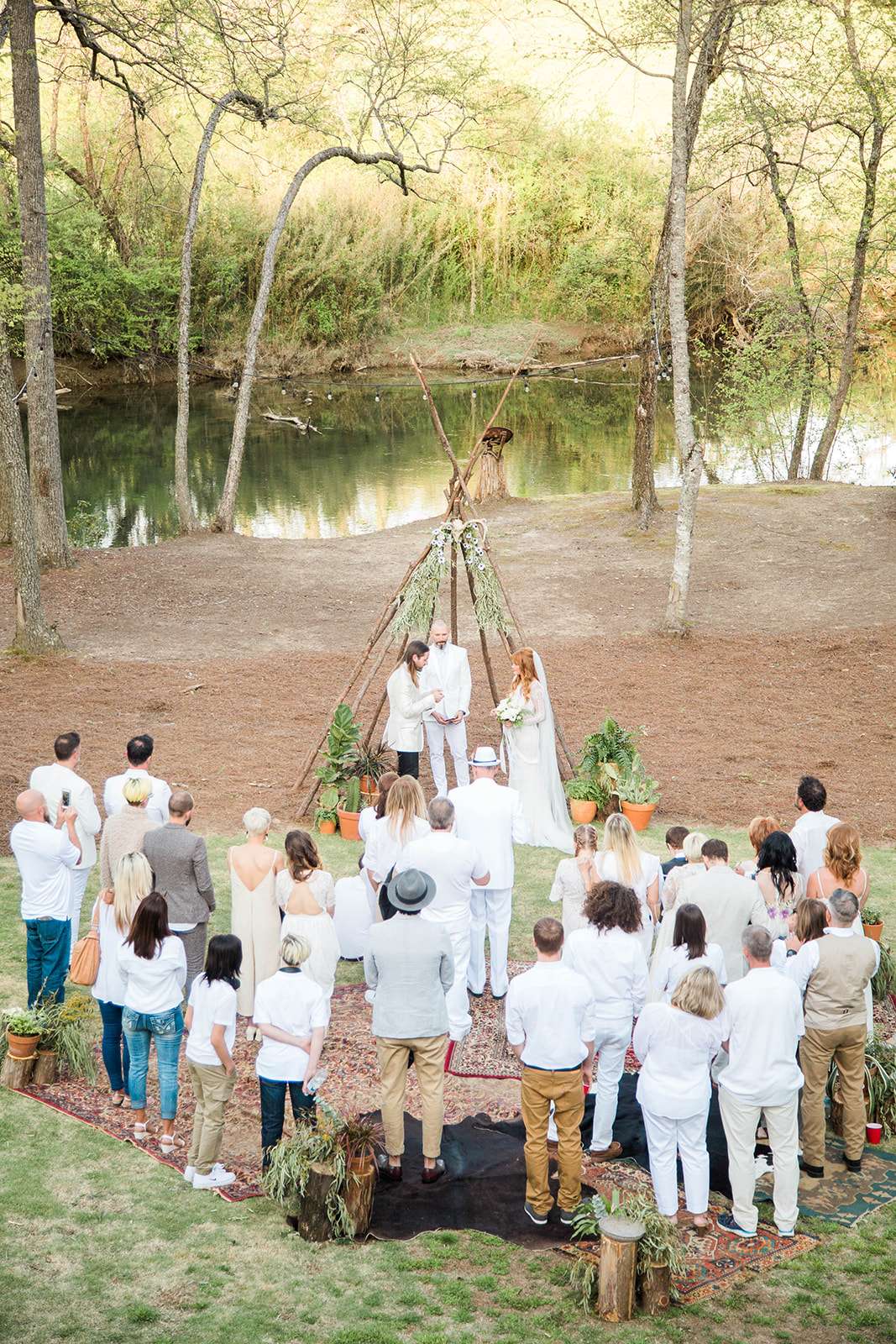 "We originally wanted to elope but promised family we wouldn't," Destiny explained. "Instead, it was a backyard wedding in a huge house that slept every family member and a cabin up the hill with our friends that all pitched in and helped. We had 40 of our closest people spend and entire weekend together, instead of having a huge wedding where you don't get to see or talk to anyone in different hotels – it was a true family weekend full of love."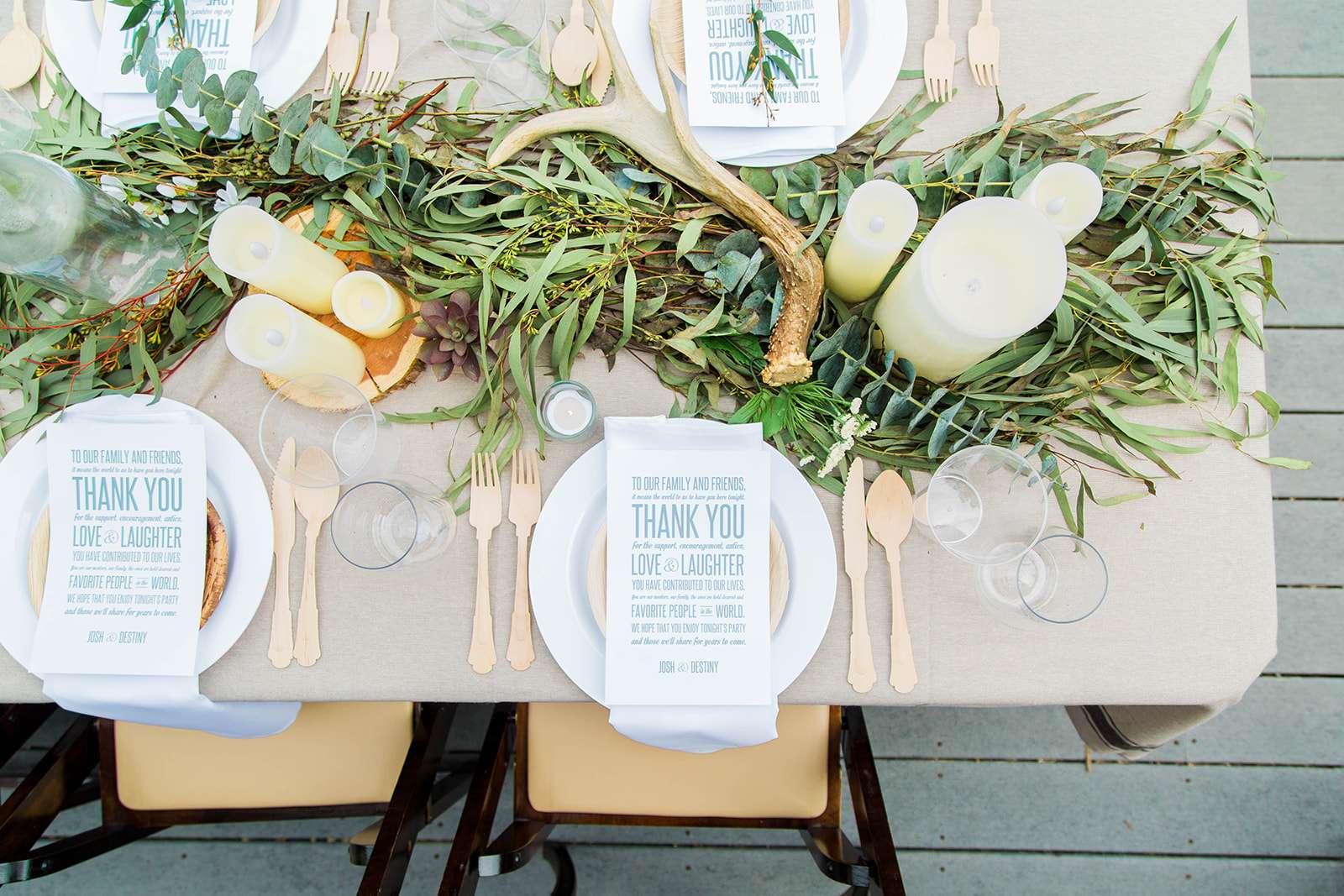 The day was a dreamy styling delight, with a theme Destiny describes as "Southern with a modern twist". With country boho elements like lots of rugs and plants (taken from their house) and antlers (from Josh's Uncle Wayne) the styling was totally them. Even the logs had a story: "There was a big storm that came through Atlanta last year and when two trees went down a block away I snuck over and grabbed as many clean cut logs I could."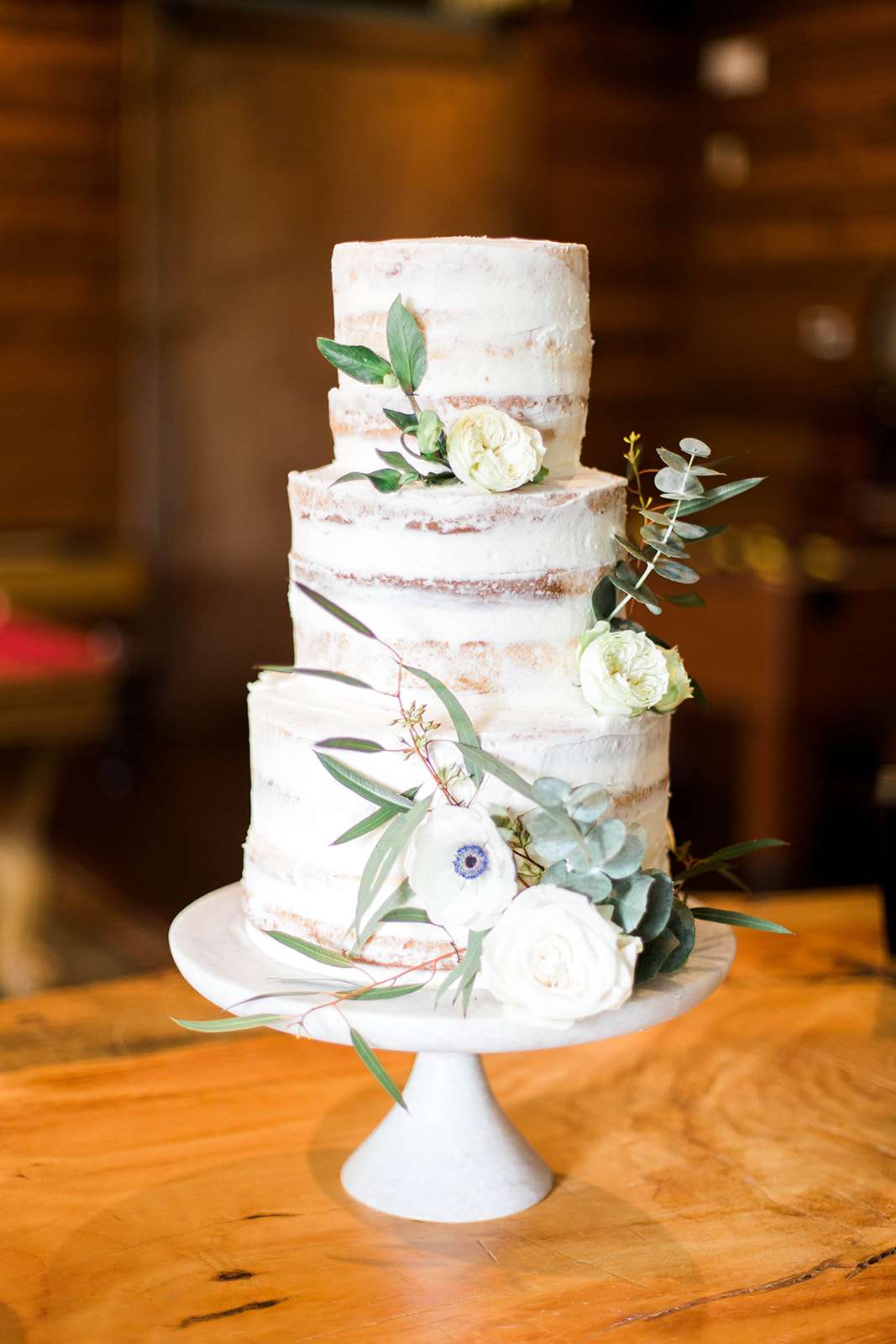 The dress code for everyone was white – bride, groom, celebrant Nic, and guests. Destiny wore a Rue de Seine Bridal dress with incredible Pskaufman snake skin boots and a Kelly's Closet veil, whilst Josh  wore a slick Dolce & Gabbana suit jacket, Zara trousers and Jeffrey West boots.
Destiny and Josh saved money by buying from Amazon in bulk, and buying accessories in Black Friday and Cyber Monday sales. "I strongly advise planning your wedding day around these big sales!" Destiny says.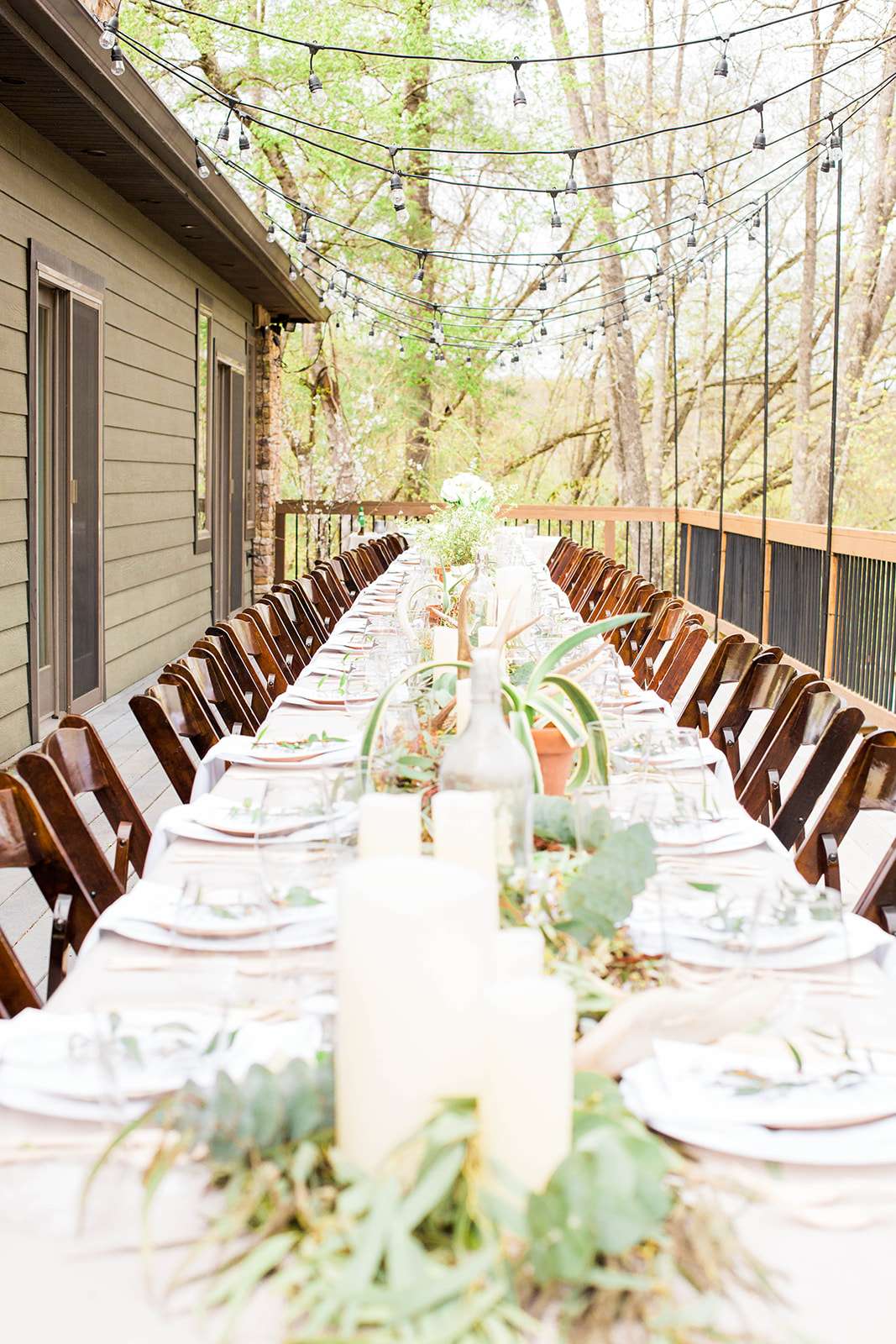 They also saved money by renting The Toccoa Lodge, which cost the same amount for the whole weekend as avenue in the city would have done for one night. So as not to leave out their city friends, they threw a separate party for them one week later. "After our wedding we threw an epic karaoke party at a motorcycle warehouse/ coffee shop Brother Motto. Our dear friends let us host an awesome pizza party with monster pies from Cameli's Pizza (the pies are so big you have to go out the double back doors because the boxes won't fit through the front door). We had a mini ceremony with our favourite movie Hot Rod playing on the screen above us surrounded by vintage motorcycles. Once we ate all the food and drank all the booze we went out barhopping with all of our friends at our old stomping grounds!"