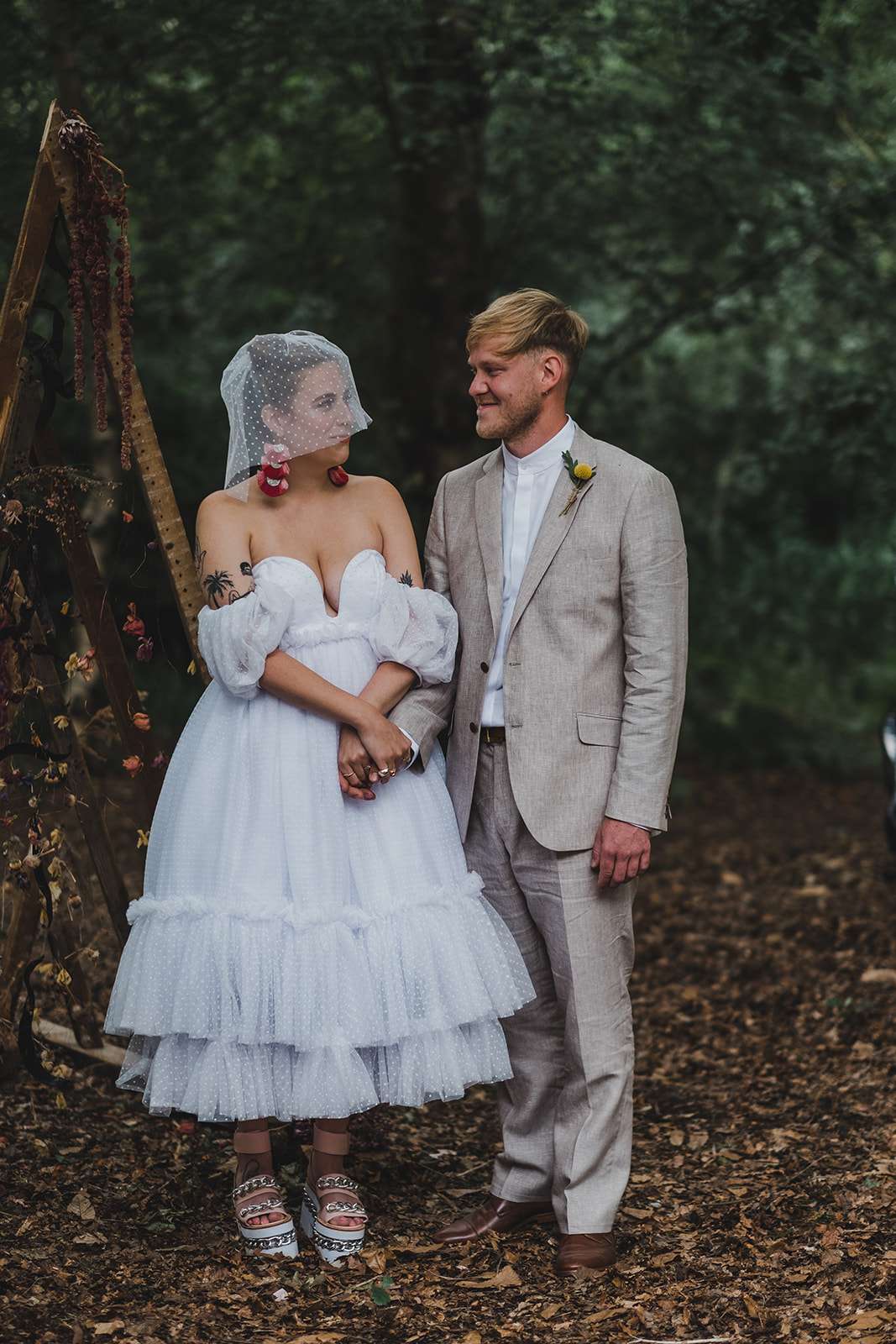 Let's just start by talking about how OBSESSED I am with Hannah's bridal outfit. Inspired by queen of frills Molly Goddard and king of style Alexander McQueen, her dress was made by her super talented friend Nadia Tahari. There was a running theme for Hannah and Sam's wedding – to create something really relaxed and personal day which involved all of their family and friends. It's safe to say they smashed it.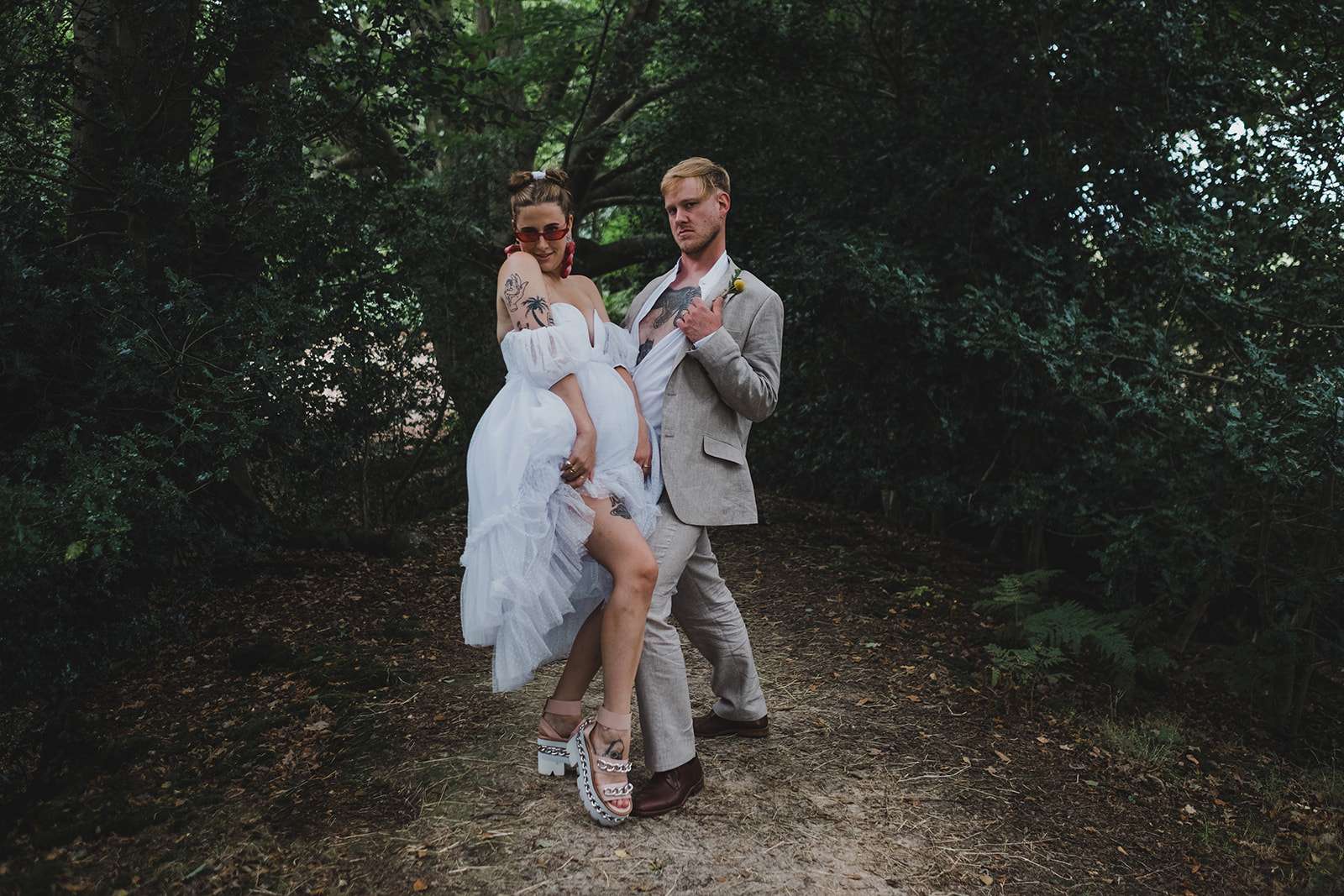 "It was a true celebration of not only our relationship, but of all our best friends and family," Hannah explains. "We called upon the talents of our friends; from my dress, to our flowers, our band and the food, everyone had a part to play and it made the day really collaborative and unique."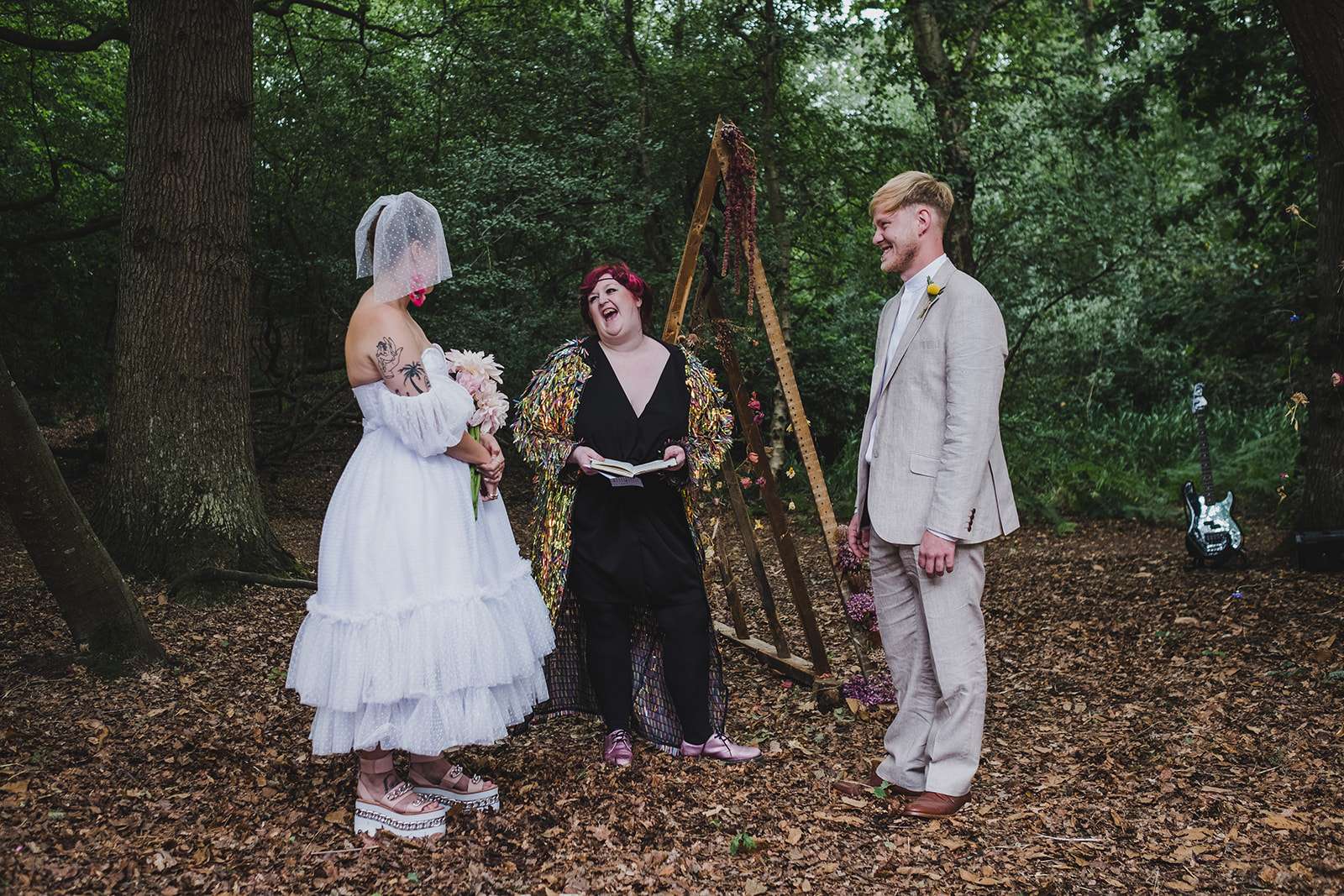 The ceremony was set in a wooded glade, away from the main field at Big Sky Tipi Holidays. Sam built a beautiful wooden arch which Hannah decorated with hand-pressed flowers, "It was a labour of love throughout the summer." she said. "Our band played an instrumental version of Talking Heads' This Must Be The Place whilst my bridesmaids and I walked down the aisle. Sam originally suggested The Simpsons theme tune which I politely declined! Our dear friend Gemma officiated the ceremony in an incredible sequinned kimono from Isolated Heroes  and Sam and I wrote our own vows." (You may recognise Gemma from her own wedding which we published last year – what a dreamy Rock n Roll bunch!)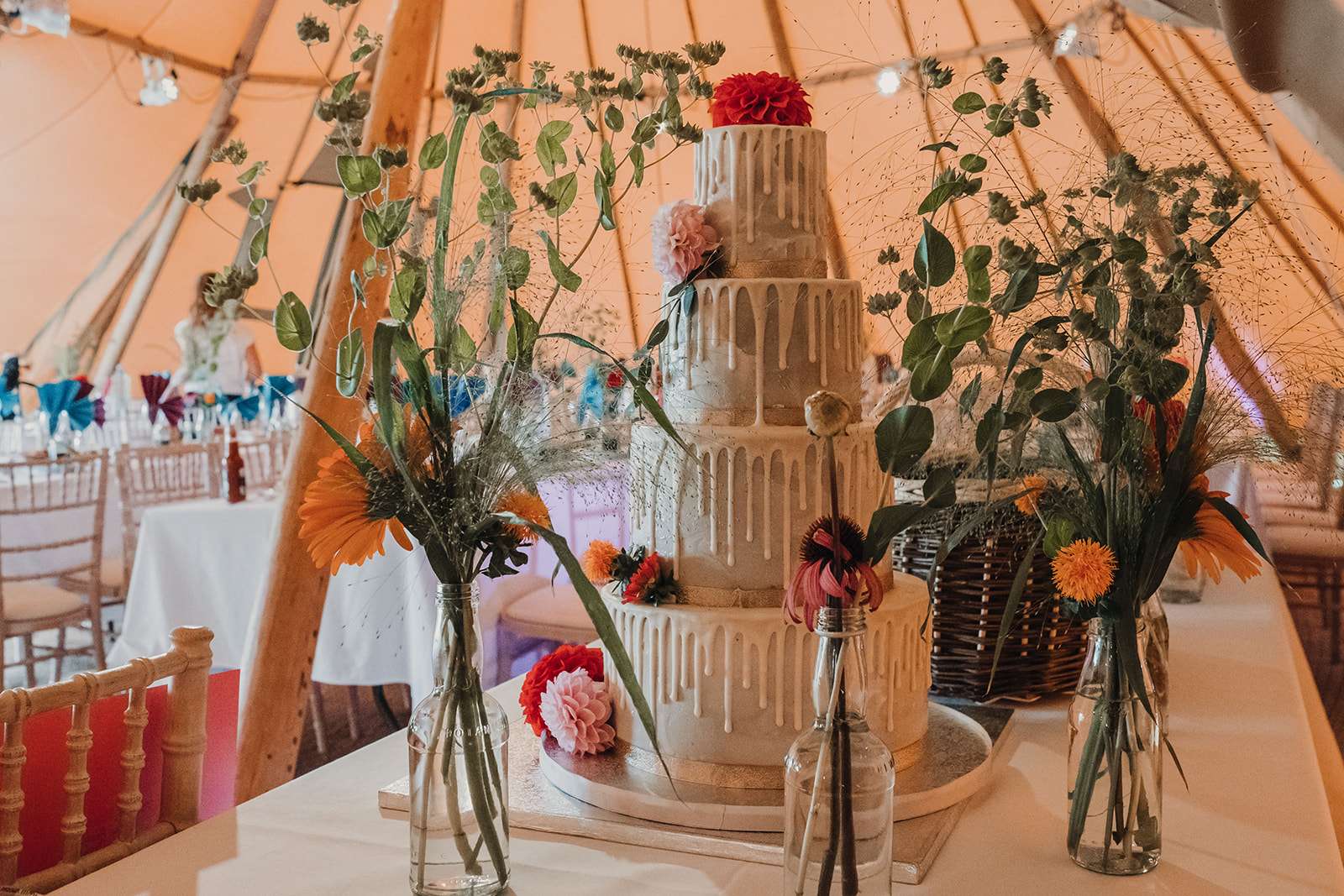 "Guests made their own way to the venue on the Friday evening and stayed in authentic Sioux tipis supplied by the venue. We wanted our guests to make the most of the beautiful surroundings and most people stayed all weekend. We also had a wood burning hot tub which helped sooth the hangovers on the Sunday morning!"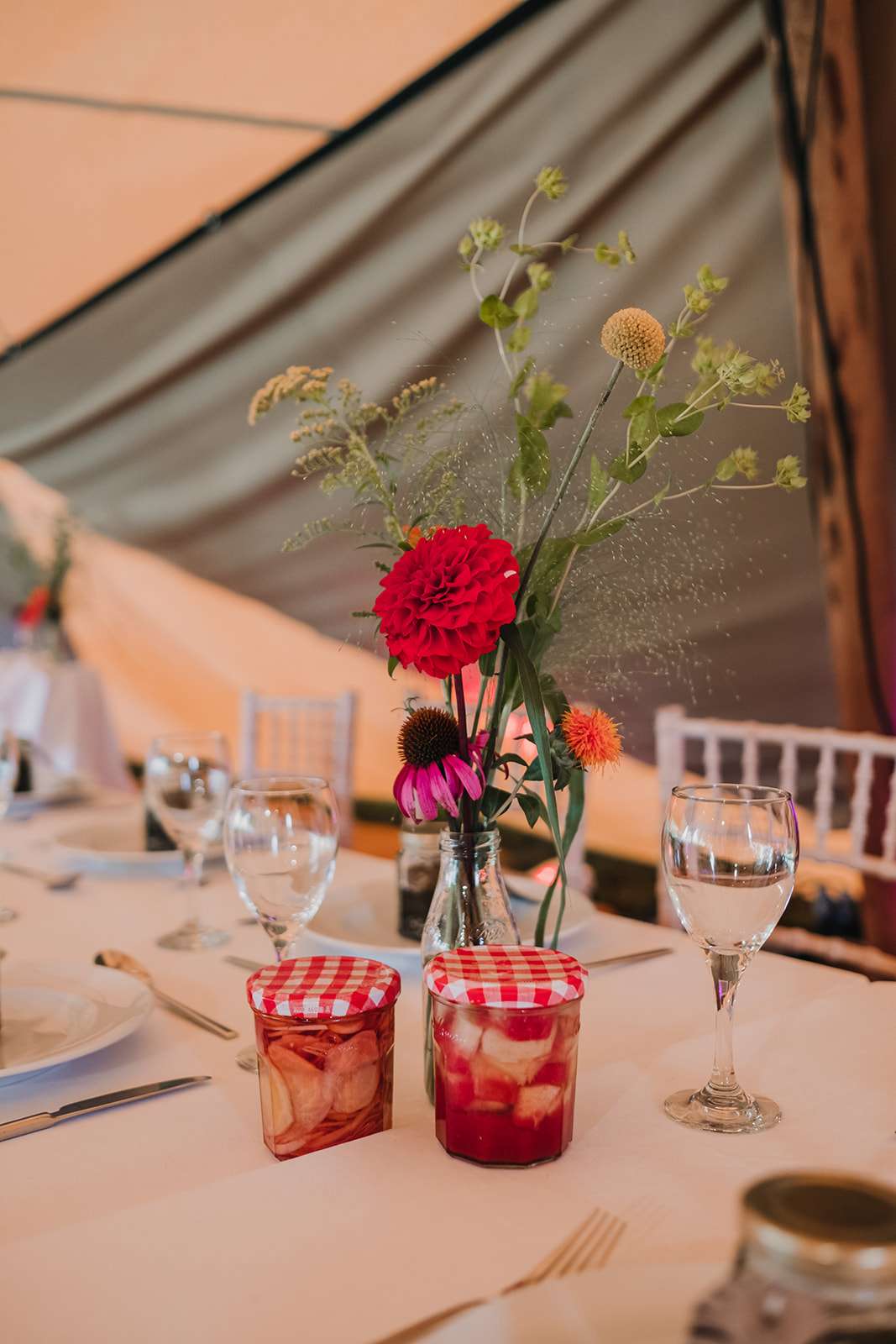 The colour palette for the wedding was influenced by their stationery, designed by another friend, Annu Kilpelainen. Another of their pals, Emily, did their flowers, which was the main thing they used to decorate their wedding. Hannah's mum grew the some sunflowers that they used at the tipi entrance. 'The tables were named after our favourite hot sauces and each one featured a bottle of their name sake… Some got off more lightly than the others, we sat our bravest friends on the 'Bone Rattler' table!"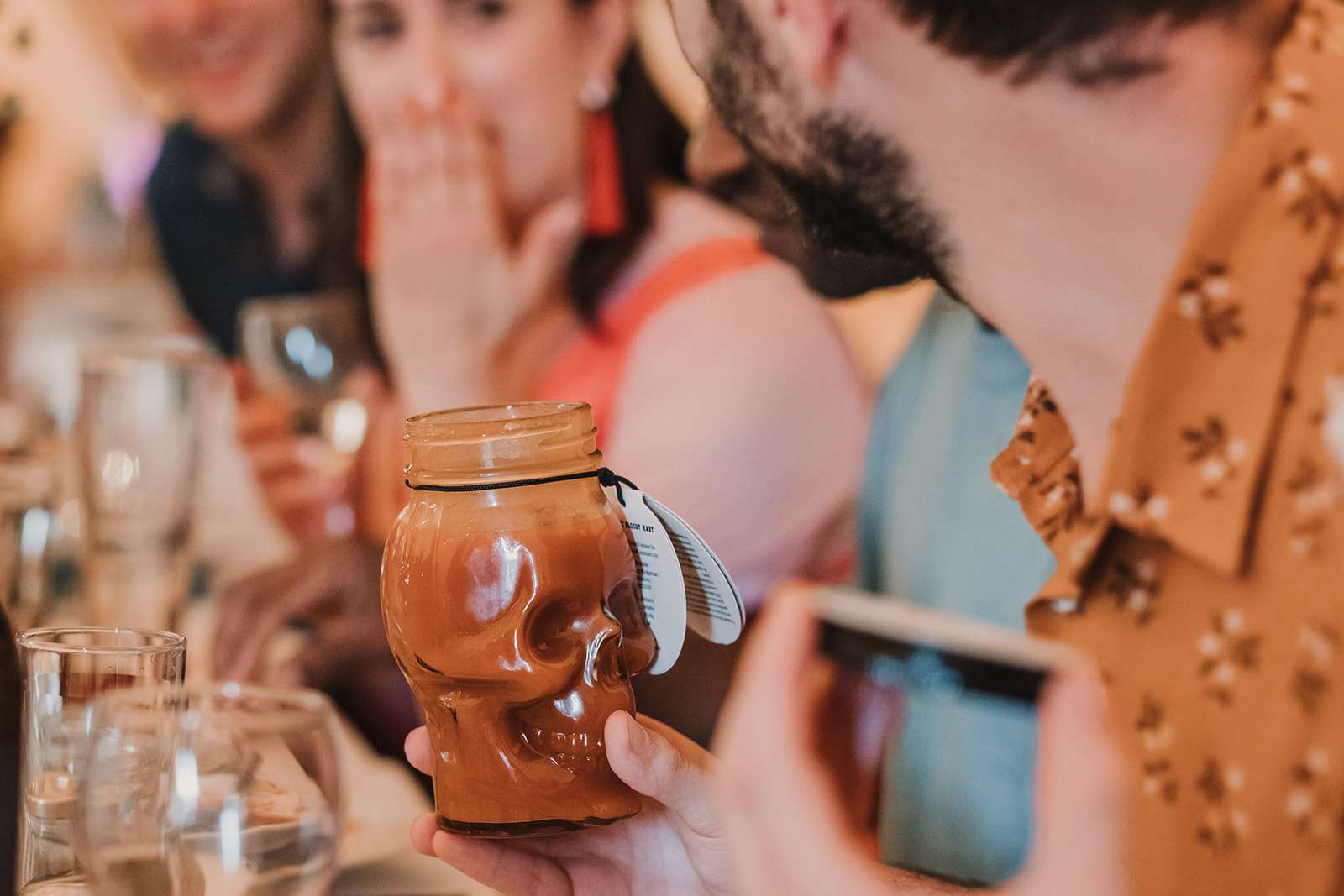 You won't be surprised to hear that Hannah and Sam's friends came together to provide the most amazing wedding entertainment for after their Mexican grazing feast from Bakestone. "A super special hybrid of our musical pals (mostly the best men) created a 'one night only' covers band. They played a set of all our favourite songs including Spice Girls' Say You'll Be There, Shaka Khan's Ain't Nobody, LCD Sound System's Friends and Bruce Springsteen's Dancing in the Dark. They also played me down the aisle and performed our first dance song, which was a Daniel Bedingfield medley of If You're Not The One and Gotta Get Through This."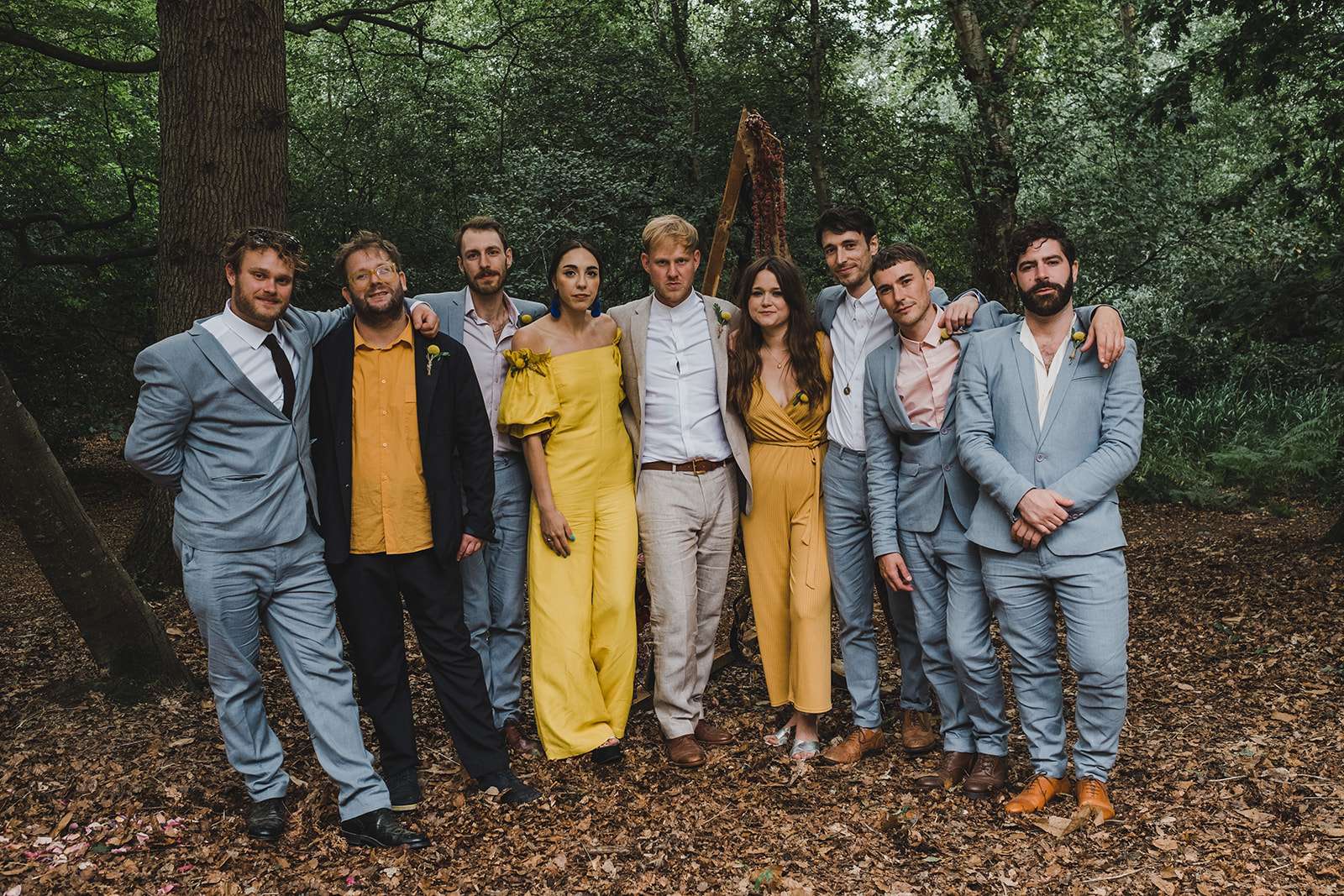 Now, the giant love hearts popping out of my eyes have just about subsided enough to talk about this legendary voluminous wedding dress of dreams. "I was influenced by Molly Goddard and Alexander McQueen", Hannah explained, "and Nadia did a really special job at combining those to create something completely unique and very me. I absolutely loved it." She wore it with Jeffrey Campbell platforms and space buns. Her bridesmaids also wore designs by Nadia Tahar,: "They wore four different style jumpsuits to suit their tastes and body shapes using a pink and red colour pallet. I was inspired by clashing colour tones and wanted to be non conventional with the colours and fabrics."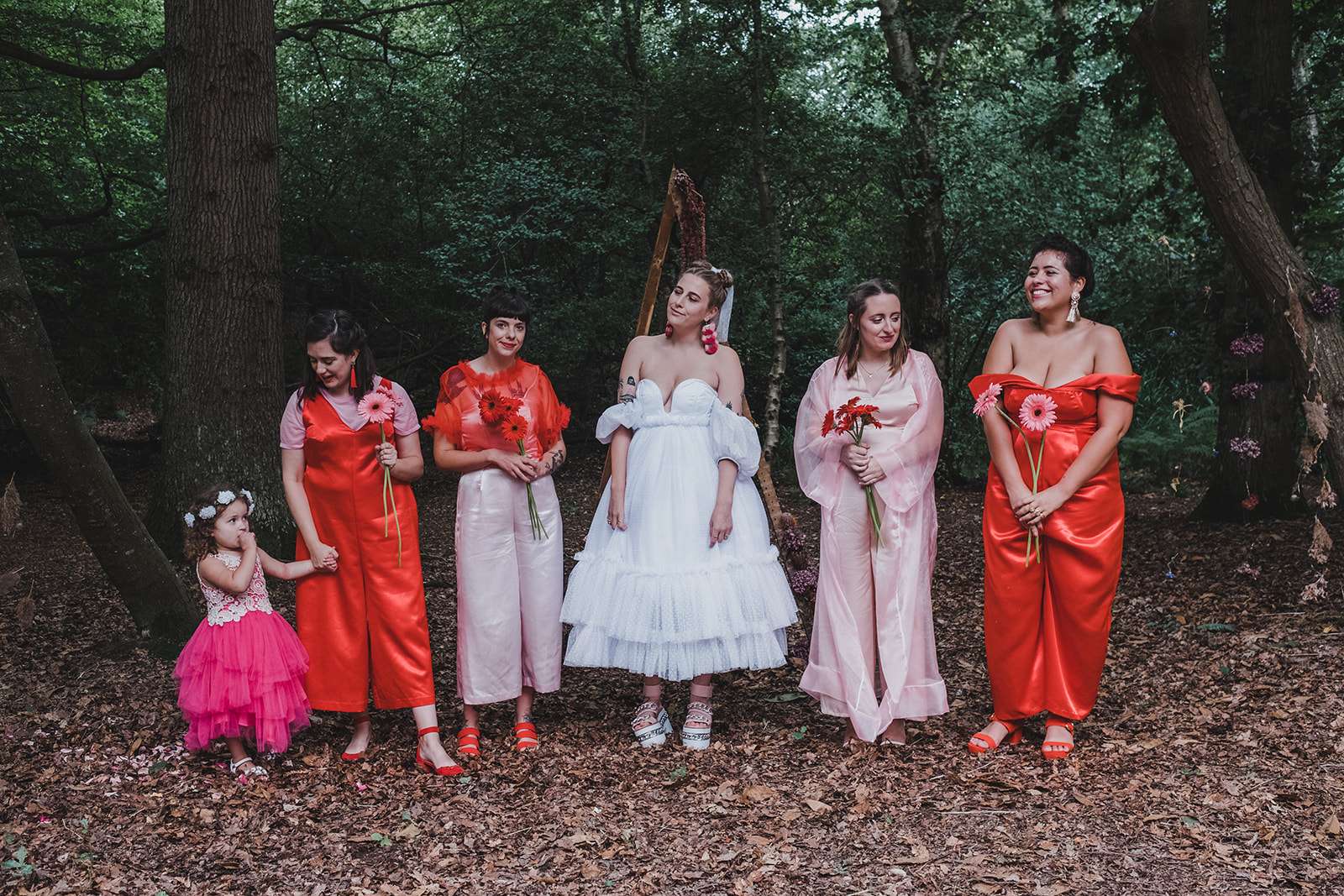 Non-conventional was the aim and some seriously inspiring wedding inspo was the game – congratulations Hannah and Sam!