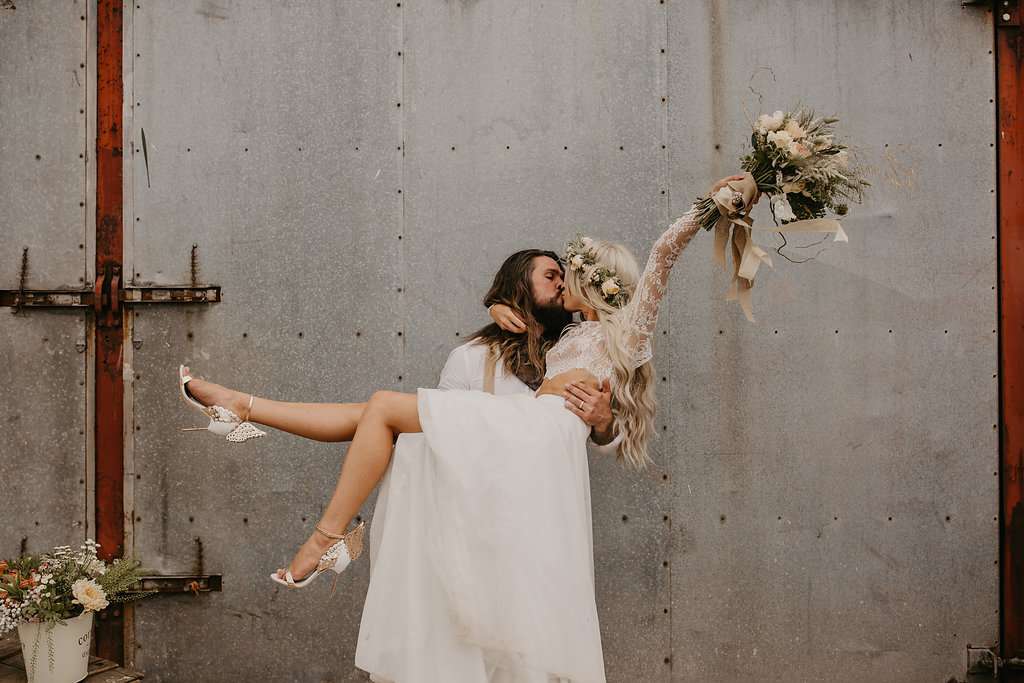 ARE. You. Ready. For this wedding? It's the lushest wedding of all time – full of good vibes, gorgeous people and INCREDIBLE suppliers. Brace yourselves, get a good drink in hand and take a breather because you're going to need to mentally prepare your mind and body for this two-day festival anti-wedding. Captured by the incredible Jessica Withey Photography and immortalised in video by the super cool Costa Sisters Productions…
Toni and Lewis' big day took place on a belting Saturday in July, in the Sugar Loaf Barn in Abergavenny, South Wales. It's actually a working sheep barn that's cleared out to hold a handful of weddings each year, making it a super quaint venue that's a million miles away from providing what Toni called 'conveyor belt weddings'. Against anything regimented, the couple just wanted the good times, the music and the drinks flowing.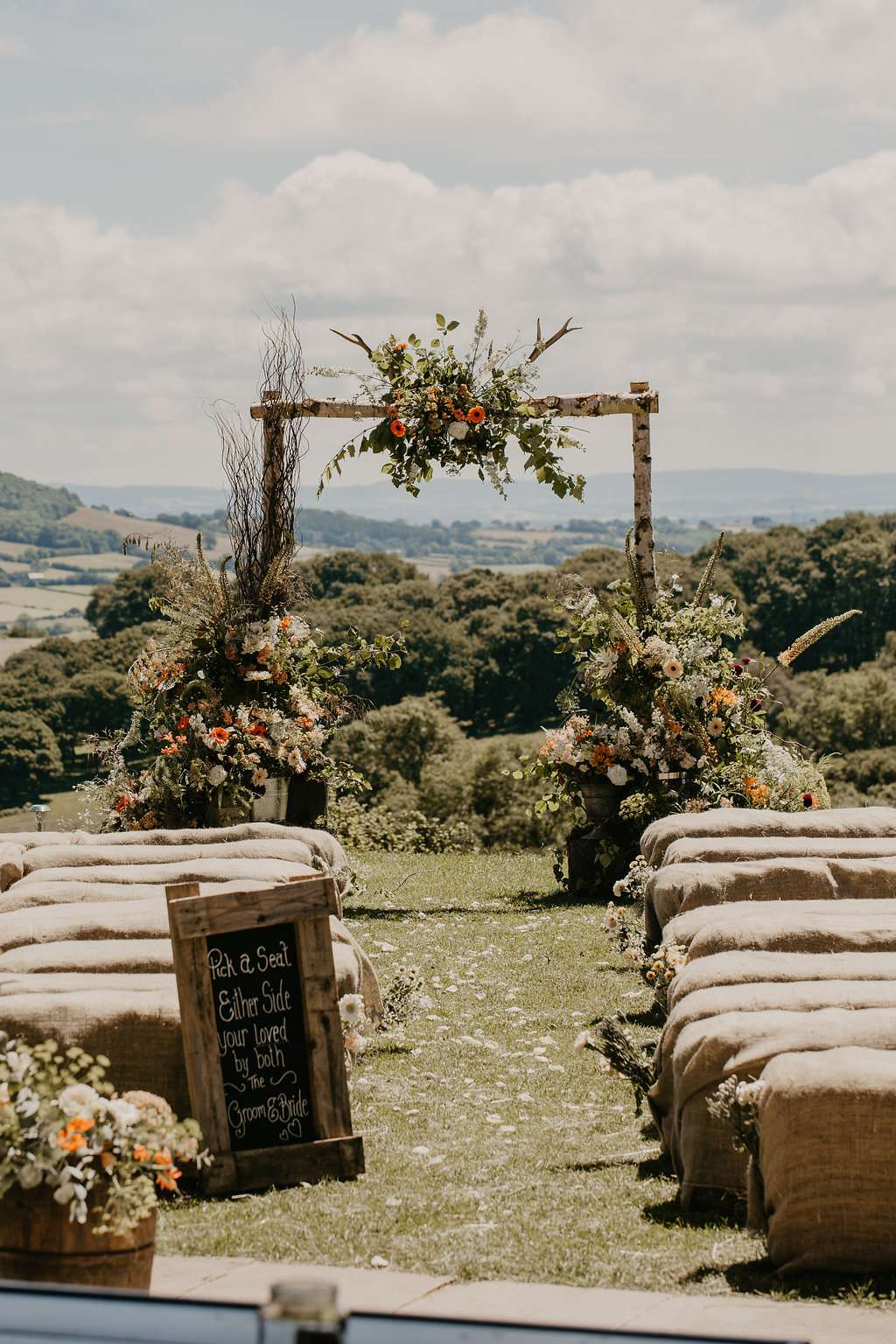 "Our inspiration was our love of all things musical, festivals, old hippie Ibiza, sitting around fires as the sun goes down with a sing song", she said. "Non stop live music, glittered faces, Rock n Roll, dancing in a field with no worry that the next bride was going to arrive the next morning."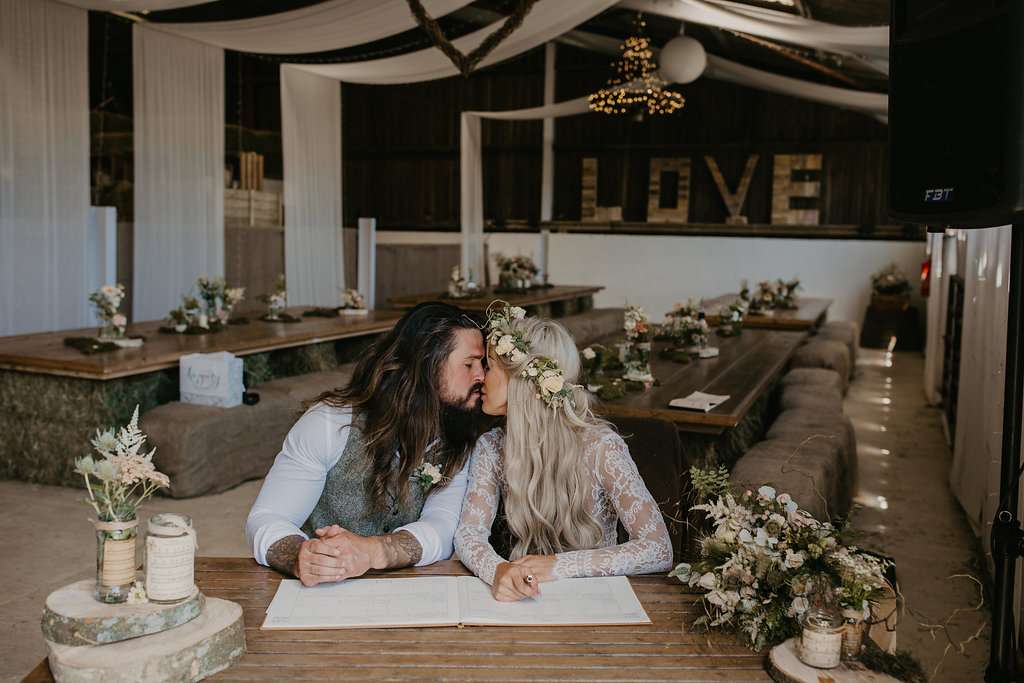 "Unfortunately you can't get married outside in Wales by law, but with the view outside the barn being such a lush view of the Welsh mountains I couldn't resist having all of our guests sat out there, facing the most gorgeous floral arch in which we said our own 'lyric vows' to each other and to our daughter. All the guests sat on hay bales and there was an acoustic band serenading us while the sun was shining!"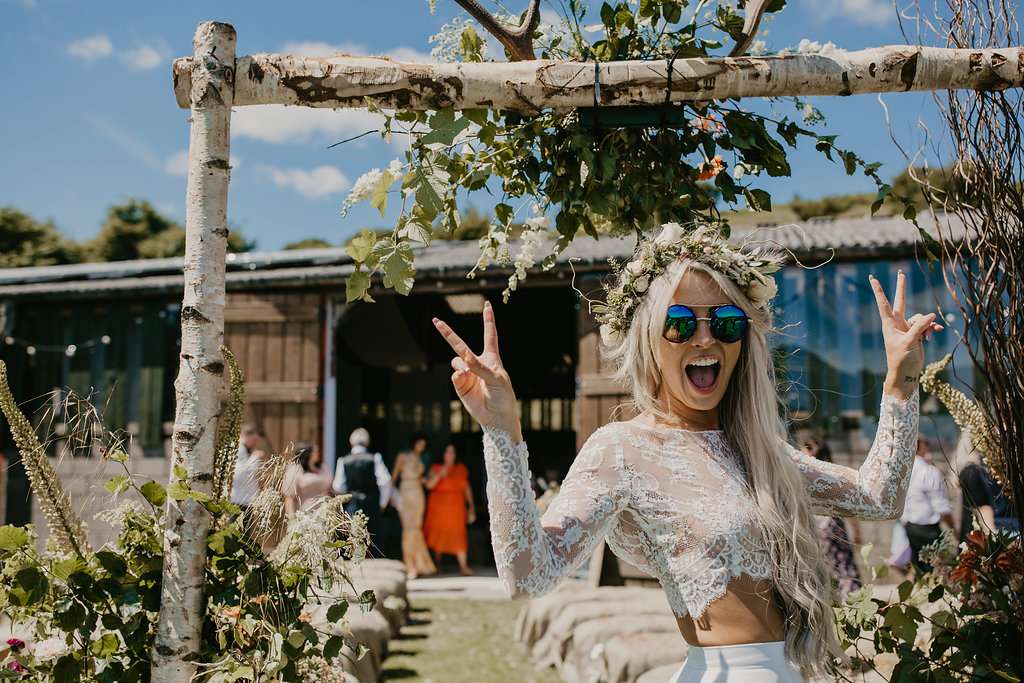 "We all stayed in the farm too, with the boys staying in shepherd's huts in the hills. The girlies walked to the ceremony, but the boys got tractors back and forth, and our guests arrived via John Deere and trailer, which I would have loved to have seen! We also hired bell tipis and bell tents for the guests to stay in, and one huge one for the kids that turned into a chill-out tent at night, decked out with rustic Indian style rugs and beds with twinkly lights. It looked like our very own Glastonbury!"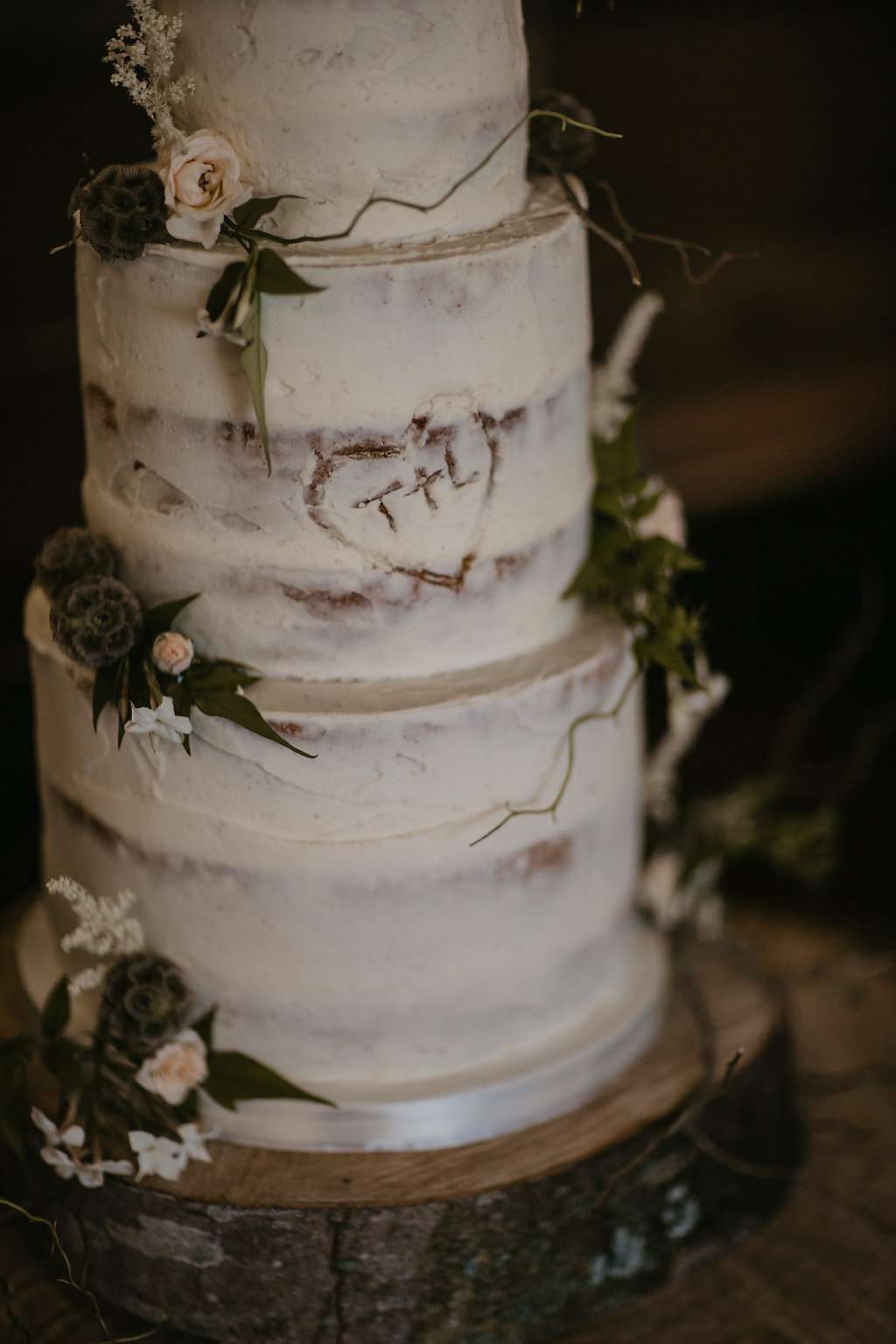 Toni and Lewis also had seven live acts over the weekend, with most of their budget going on the music as they're HUGE music fans, ranging from acoustic guitar to guys tapping boxes for percussion, and a random Scottish guy who stood on a hay bale and sang until he cried.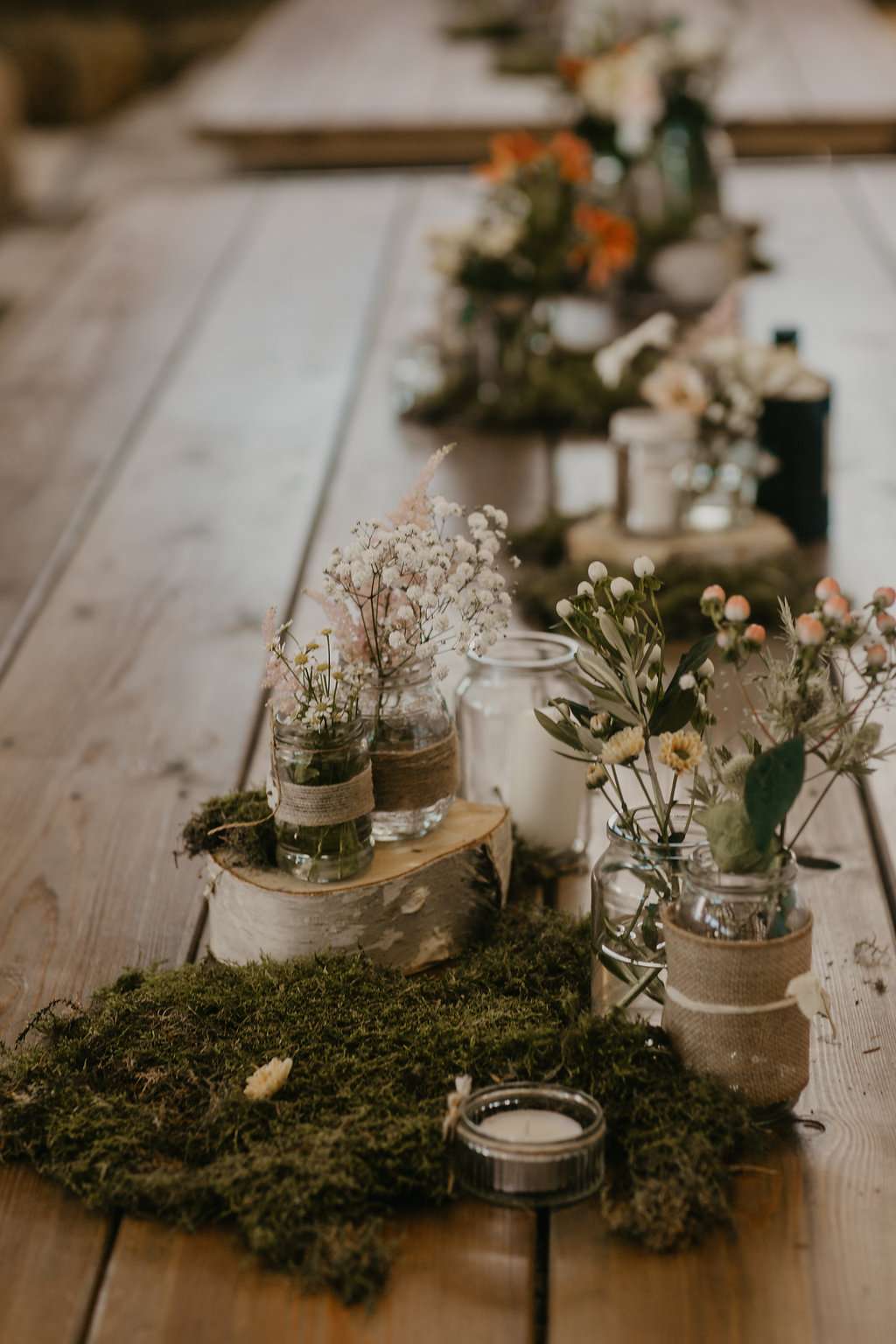 Sticking with the festival theme, the couple had loads of feast-style food with no formal sit-down meal or per-head price. "We had a local farmer and his hog roast for dinner. I did plan on sitting down to eat but the weather was so good that guests just grabbed a roll and continued dancing and chatting. Our cake was our dessert, which we literally ate out of our hands mid-dance. For the evening we had Ffwrnes Pizza Van, a traditional stone-baked pizza van that look amazing adorned with gorgeous festoon lights. Breakfast the next morning was toast, tea, more cake, welsh cakes, and the odd can of spiced rum as peopled rolled out of their tipis covered in glitter and yesterday's clothes to start all over again… We followed that up on Sunday afternoon with a huge BBQ. During the BBQ someone started a Conga which ended up in a sausage train, where guests were fed sausages whilst dancing around the field… pure bliss!"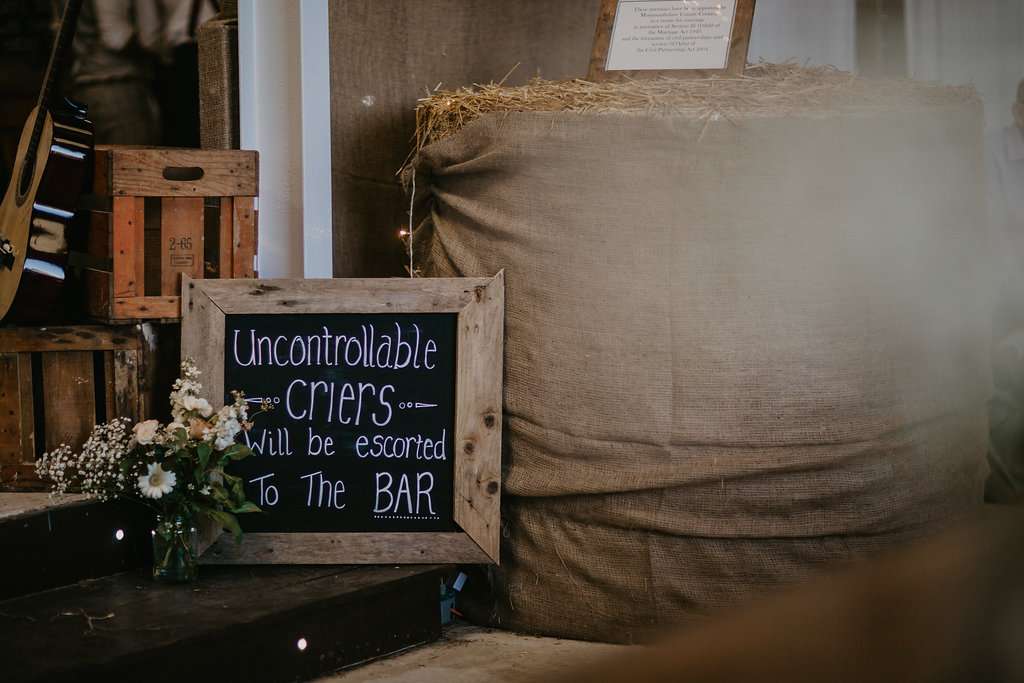 To make sure the weekend truly reflected them perfectly, Toni made everything she could herself, from the festival-themed invites to the jars for the tables and pallet signs (my favourite is 'Uncontrollable criers will be escorted to the bar'). She also made confetti from the blossom trees which blossom every year around their daughter's birthday. "Everything I made had sentiment and meaning behind it", she explained. "I had my grandfather's pocket watch from the navy engraved for Lewis and put it in a box with his grandfather's neck scarf. In return, he'd picked a bunch of flowers from the roundabout of the station they met at – and had to get permission from the local council which was a little bit sweet!"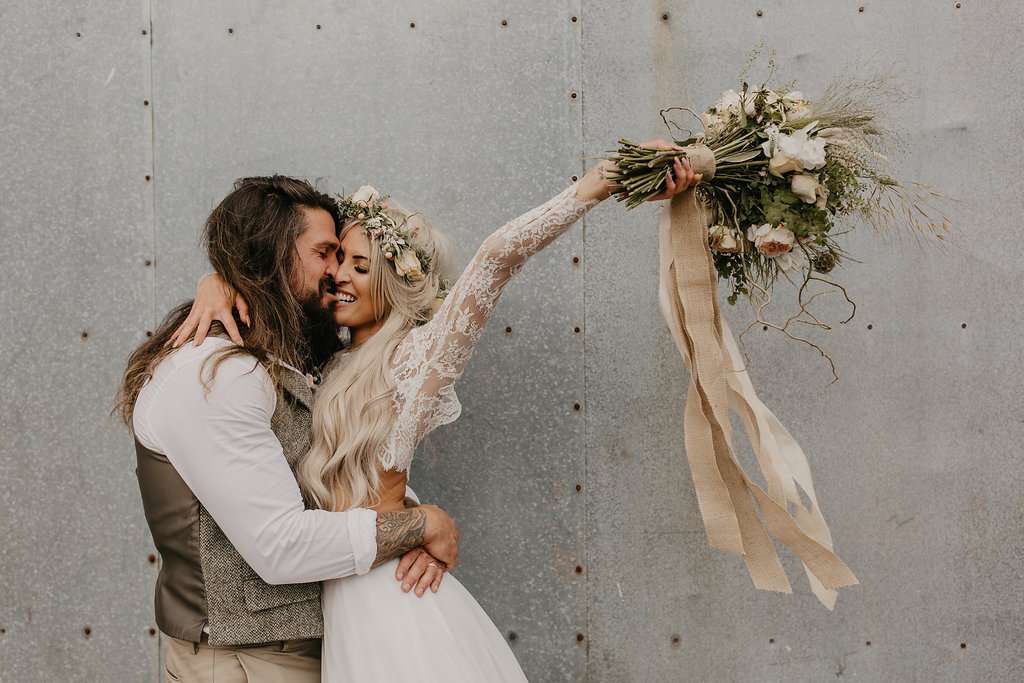 And as we all know, any good festival requires months of outfit-planning…and Toni and Lewis looked HOT on their day. After she'd found dress shopping a whole boring nightmare, Toni's two piece was a bespoke outfit from E&W Couture, based in Cardiff.  "I had 'floaty and romantic yet sassy with plenty of skin on show' in mind. Whilst most bridal shops rolled their eyes at my 'I want to be a little bit naked' idea, the amazing Sophie helped me design a sheer lace crop top with a low back and a high-waisted floaty skirt. For the first dance, I changed into what were practically two straps over my shoulder, but were the most beautiful hand-stitched vintage lace."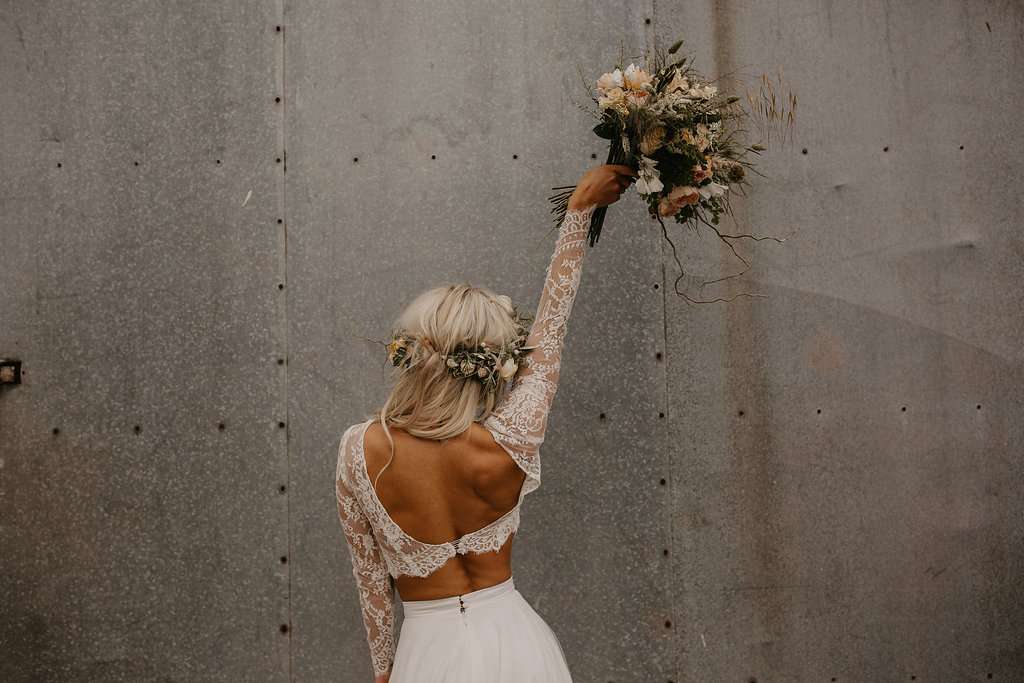 Toni accompanied these gorgeous outfits with a flower crown from Issy & Bella, finished with a perfectly messy array of twigs on top of loose waves. Her and her daughter had matching winged shoes, hers from Sophia Webster, but three hours in changed into floral Dc Martens to match Lewis.
Lewis and his groomsmen all wore matching Harris tweed waistcoats, made bespoke by a guy from Cardiff Indoor Market who specialised in vintage clothing. Toni's 'best girls' all chose their own dresses on the colour scheme of apricot, with gypsophilia headpieces all tying their gorgeous choices together.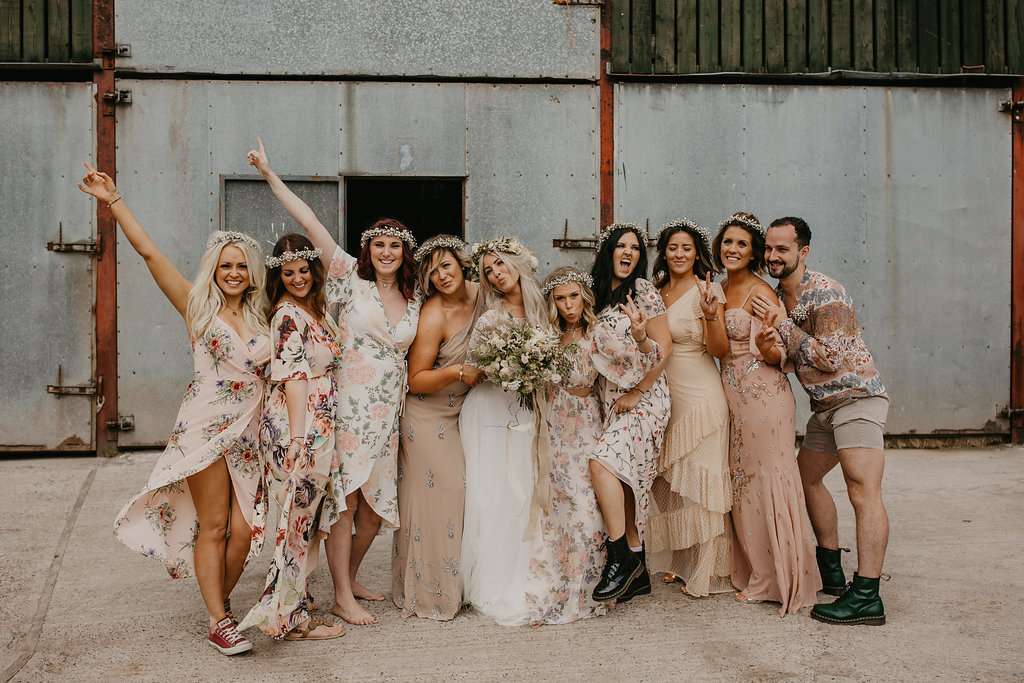 This wild, laidback theme continued with the flowers. "My flowers were one of my favourite parts of the whole thing, as they were totally perfect. I wanted wild-looking unplaced flowers yet an organised colour scheme of orange, apricot and greens. My bouquet was so dreamy I actually cried when my florist gave it to me! Jo from Issy & Bella was one of those people you have to love – an infectious personality and a hard working perfectionist until she'd created the most breathtaking floral arch complete with real antlers overlooking our stunning ceremony views."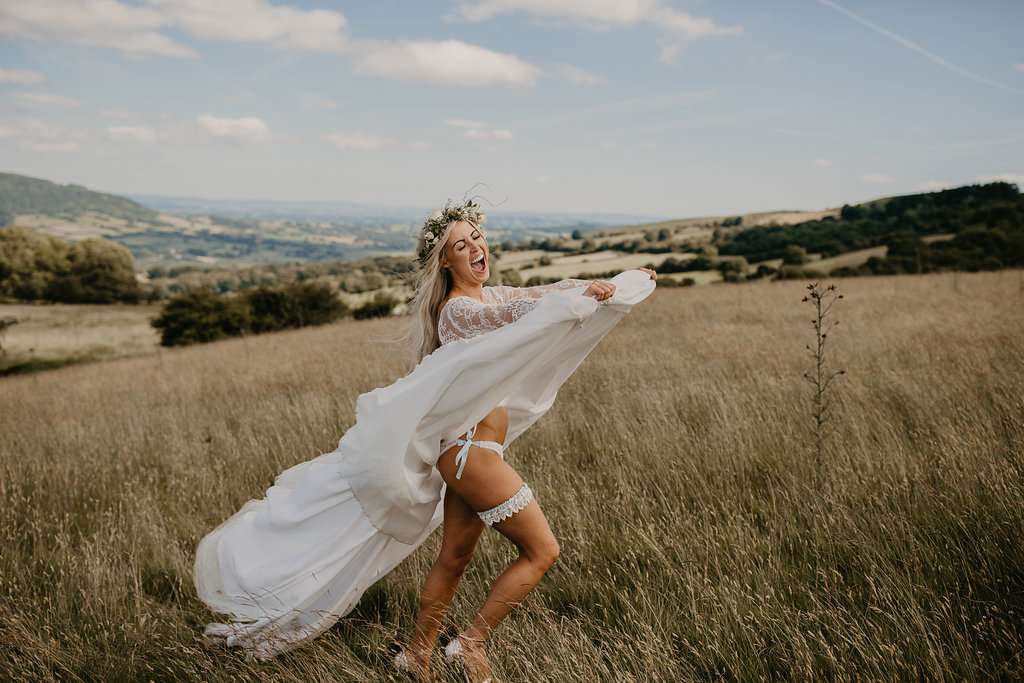 So, having doubled up the mammoth task of wedding planning with essentially planning a two-day festival, what would Toni say to those currently struggling in doing the same?
"Enjoy your day!" she concludes. "It sounds so cliché but so many brides I see are concerned about getting their dress dirty, getting too drunk, not spending enough time with everyone… but it's one day all about you and your love so just do what makes you happy. My dress was ruined – literally, never wearable ever again – I was very drunk and I spent most of it smiling and dancing like a hippy not talking to people, but I had the best time of my life!"