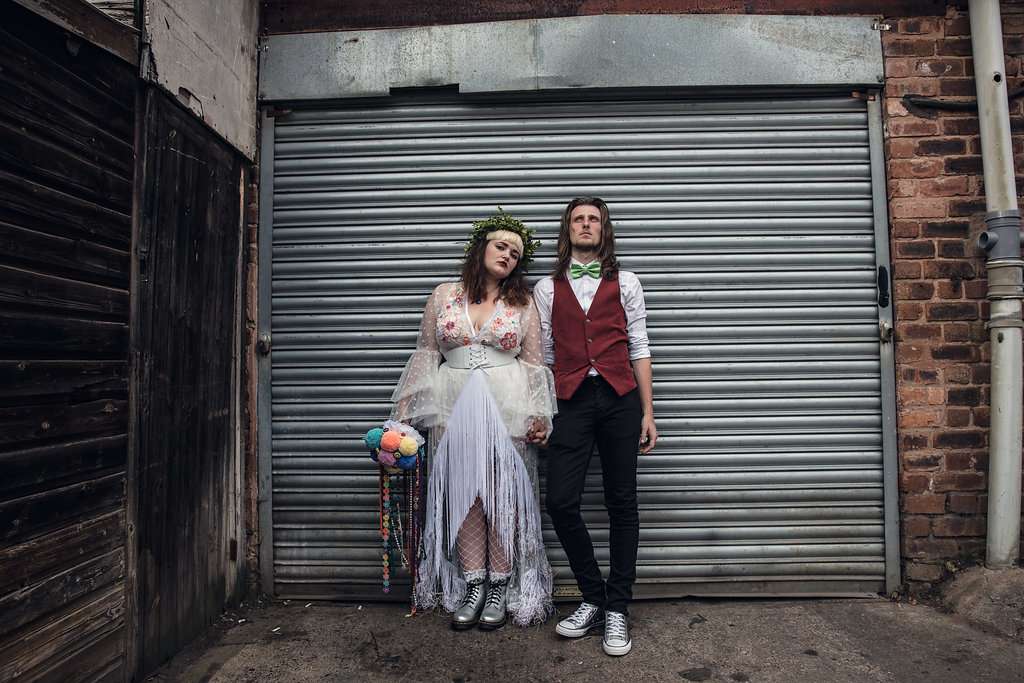 Oh Tanya and Alex with your summery festival wedding of dreams! This crafty, rainbow, fun-filled day harmonised the splashing out on some big ticket items element with a lot of DIY between themselves and family to absolute perfection. Just count the beaming faces!
Their venue was the field behind the Horse and Jockey pub in Walsall Wood, where Tanya and Alex had a day that truly reflected them. "Our inspiration for our wedding was literally us", began the bride. "We wanted to surround ourselves with things we love, and so we did. I wouldn't say we had a particular theme, but if I were to put a name to it I would call it an unconventional hippy festival, or something like that! What makes our wedding unique is that we practically did everything ourselves. Every element of our wedding had a story behind it, from the logo I designed and had printed onto the lunch bags, to the hand-knitted blankets made by the mother of the groom and the poem we wrote ourselves all about us that was read during the ceremony."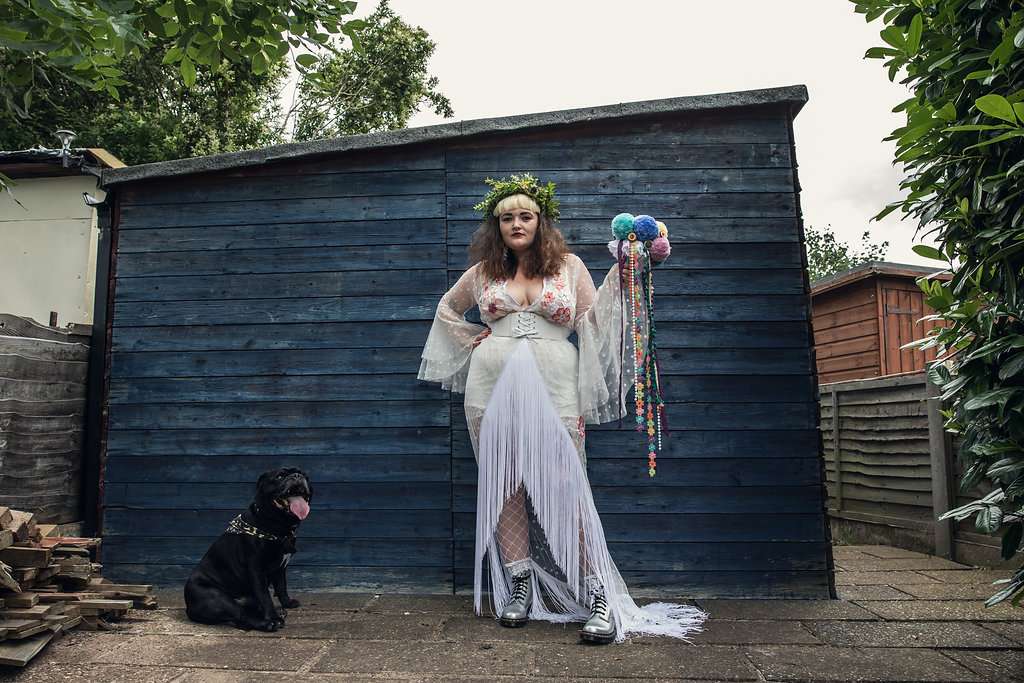 "I don't think it's particularly out of the norm to get married in a field, but a lot of our guests were shocked by this and had never been to a wedding like it at all! I didn't think that having a wedding in a field would feel much different to a regular wedding, but it really did! It's hard to explain the feeling of the day, but it was so very chilled out and relaxed and not how I thought it would be at all, but also much better than I could have imagined! People were still buzzing weeks after the wedding and it was the hot topic of the month! All anyone has said to us is 'IT WAS AMAZING!'"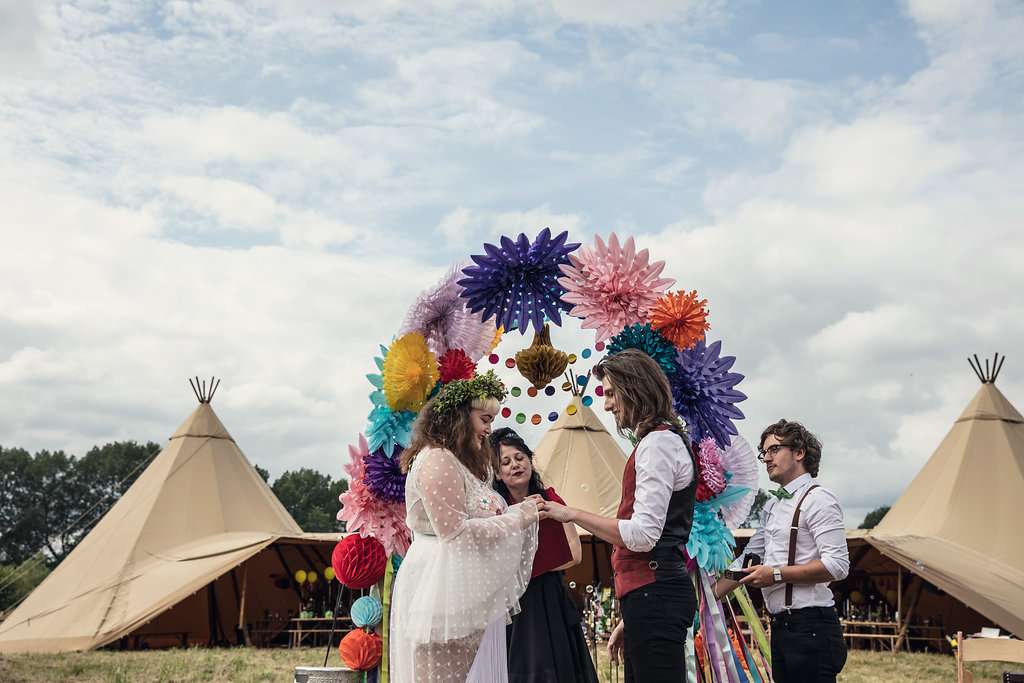 The bride had an idea for a dress in her head and it just didn't exist anywhere, so she teamed up with a colleague and made her dream dress come true! "I work in a vintage shop with an in-store seamstress, Shannon O'Hara. Once I'd shared my ideas of my dream dress, Shannon was over the moon to get involved and help me out, which was amazing! She made the dress, and my sister and I added the finishing touches and sewed on the patches. My shoes were silver Dr. Marten boots. They are literally the only shoes I ever wear as I'm a sucker for a comfy shoe! A lot of people were a bit baffled that I'd team a wedding dress with a pair of Docs, but for me it was the only option: I literally never, ever wear heels and today would not be an exception!"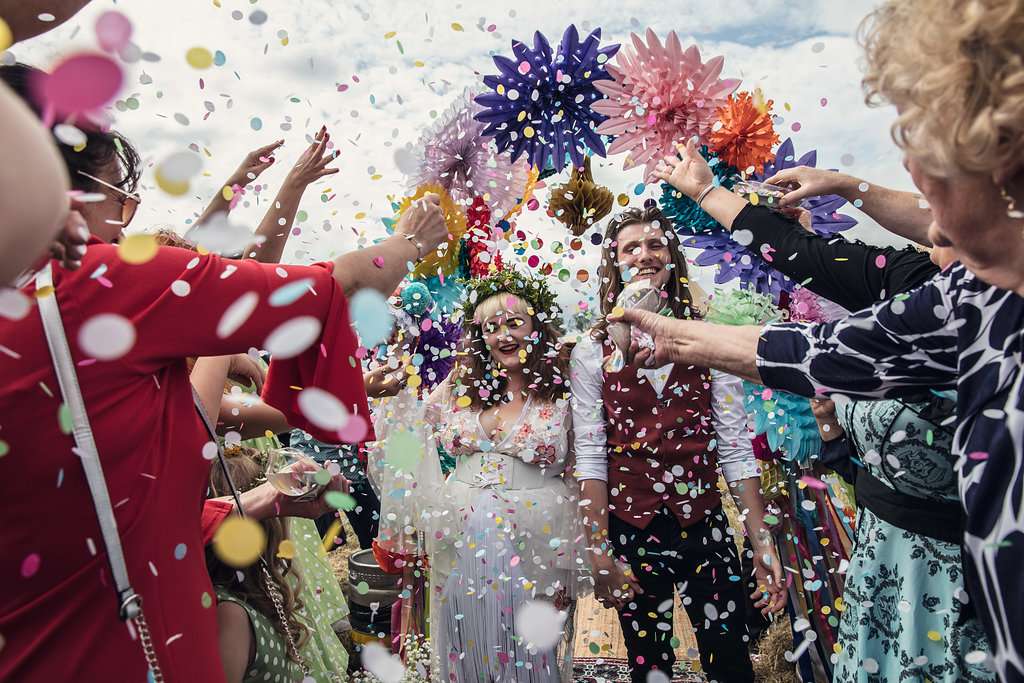 Tanya's headpiece came from Olann Handmade on etsy. "The crown was absolutely beautiful. It wasn't until the night before the wedding when I made up the flower girls' crowns that my own started to look slightly plastic compared to the fresh-out-of-the-garden leaves I'd used on theirs. I decided to add a few real leaves into mine so that it looked more realistic next to the others, and it was a success! Even if I was up until 1am the day before the wedding to finish it off – totally worth it!"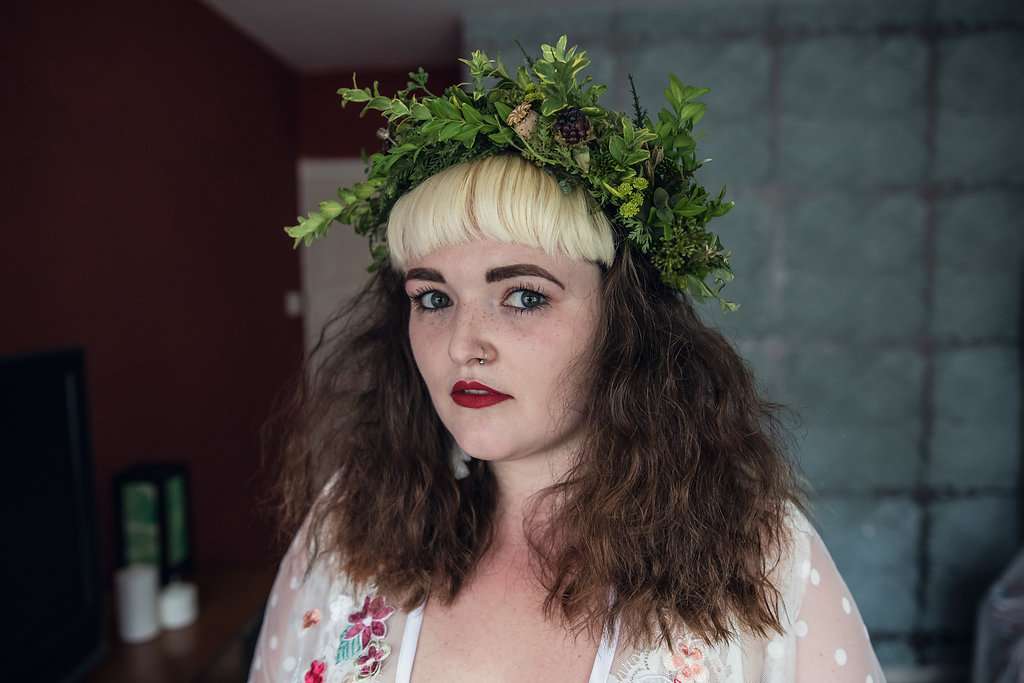 Alex also stayed true to his personal style on the day, and cut a dash in all high street attire. "We wanted a really chilled and REAL wedding, without the faff and fanciness that is expected, and we wanted to be comfortable in what we wore (this rule also applied for the guests as we opted to have a 'no dress code' rule so that everyone could wear whatever the hell they liked! If they wanted to dress fancy, they could, and if they wanted to dress more casual, that was cool with us! We just wanted everyone to be themselves.) With Alex being an avid wearer of skinny jeans, it would've been rude not to carry on the tradition on our wedding day! The jeans and shirt were from Topman, and we stumbled across the waistcoat in TK MAXX and it went perfectly with his green polka dot bow tie. We paired this with silver Converse, which are the only brand of shoes he ever wears! Plus they matched my Docs, to his surprise!"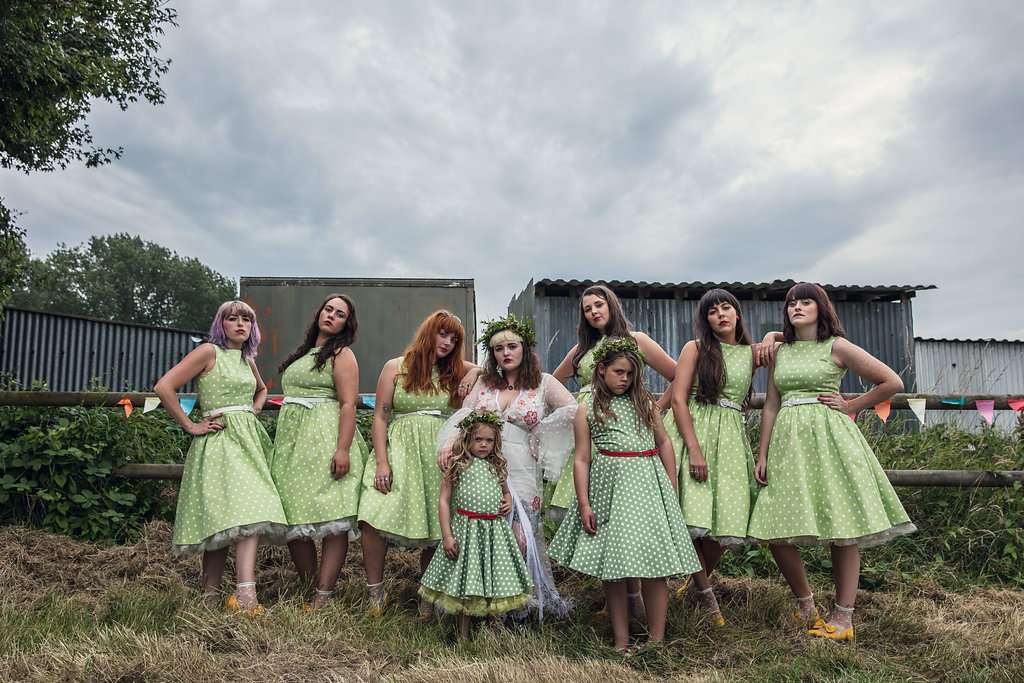 "The bridesmaid dresses were among the first things we bought. My fave colour is green and I love a good polka dot! We were originally going to make these ourselves, but realised we had bigger fish to fry and stumbled upon the perfect dress from Lindy Bop, which was exactly what I had imagined and what we were going to attempt to make! It saved so much hassle for us and meant we had more time to DIY other projects."
Their total budget was £14,000, and the outfits went a long way to saving them money. "My dress only cost around £350, which considering it was handmade by a seamstress from a design I had come up with is ridiculously good when you consider bridal dresses usually topple the £1000+ mark. And by ditching the general rule of 'groom in a suit' we saved even more. We also kept the groomsmen attire really simple and asked them to wear a white shirt and jeans. We then bought them all a pair of Converse, all of which was a lot cheaper then hiring out suits. Even our rings were super cheap and cost just £65 for the both of them. And you wouldn't guess it, either!"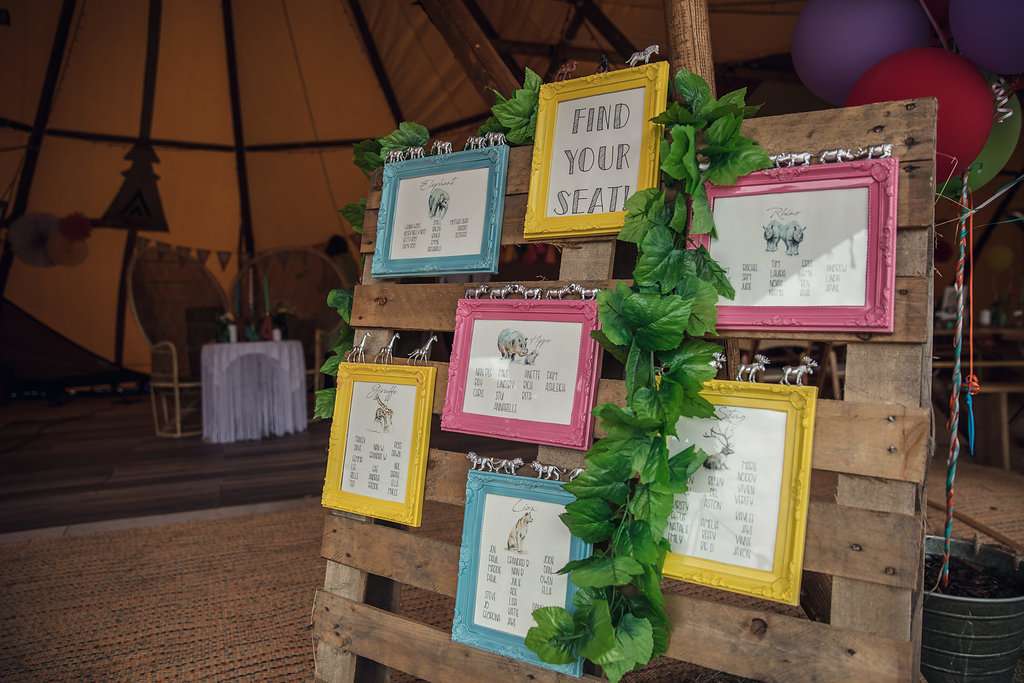 The tipis were the couple's biggest cost, but totally worth it they said. "They were definitely the centrepiece of the whole day. We looked into other types of marquee, but they just didn't have that 'wow' effect we got after looking at the tipis! We agreed that as we were going to budget on everything else in the wedding, we could splash a little on the venue as it was the only one we truly fell in love with."
Their talented friends saved them some money, too! Tanya explained, "Luckily for me, one of our amazing friends made an stunning cake for us at a fraction of the price. I'm a sucker for birthday cake, so she made the inside like a traditional birthday cake!" And another friend helped them with their stationery, "Our invitations were festival-esque lanyards. I had made up a draft copy of what I wanted and one of our groomsmen, who is a very talented graphic designer, made them for us. We really are lucky that we're surrounded by talented friends, and we used this to our advantage and asked for favours left right and centre!" This could not be more true as their other friend Kristian Jones agreed to DJ for them in exchange for a bottle of gin! I think that's deserving of the title 'legend'.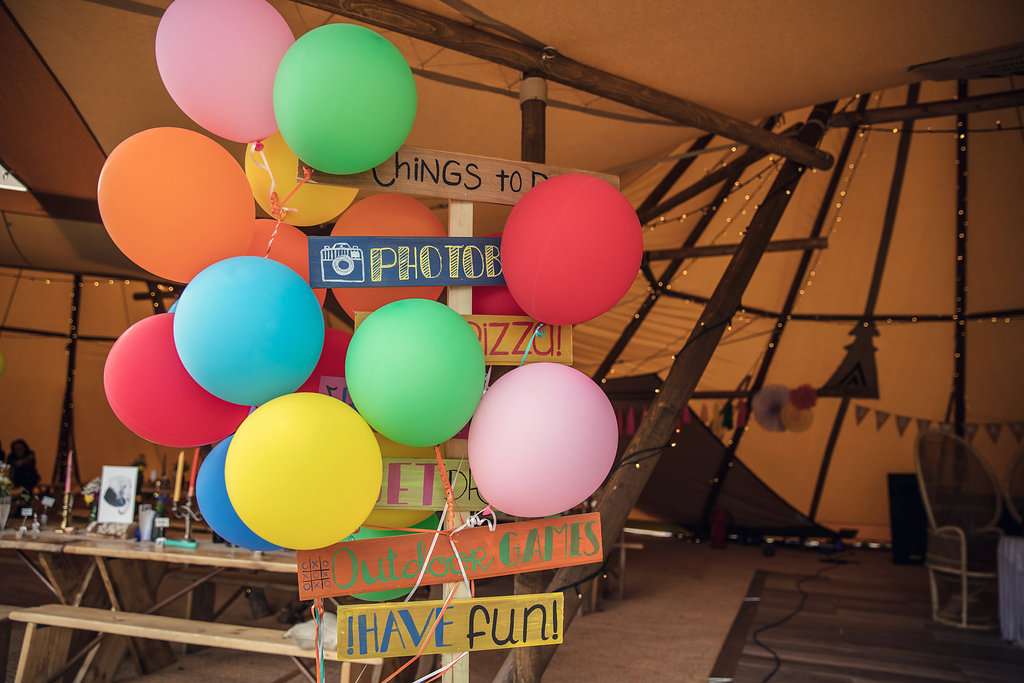 The bouquet was very festival appropriate and included pom poms. "I had an idea in my head to have a bouquet made of pom-poms! I searched high and low and couldn't find any anywhere. So, I bought some wool from the pound shop and started practising my pom making skills. I also bought some trimmings from a fabric shop, as I wanted to have loads of random bits falling from it, and a plastic bouquet holder from eBay, then with my trusty glue gun and a lot of thread I somehow managed to bodge job a bouquet that actually ended up being pretty good!"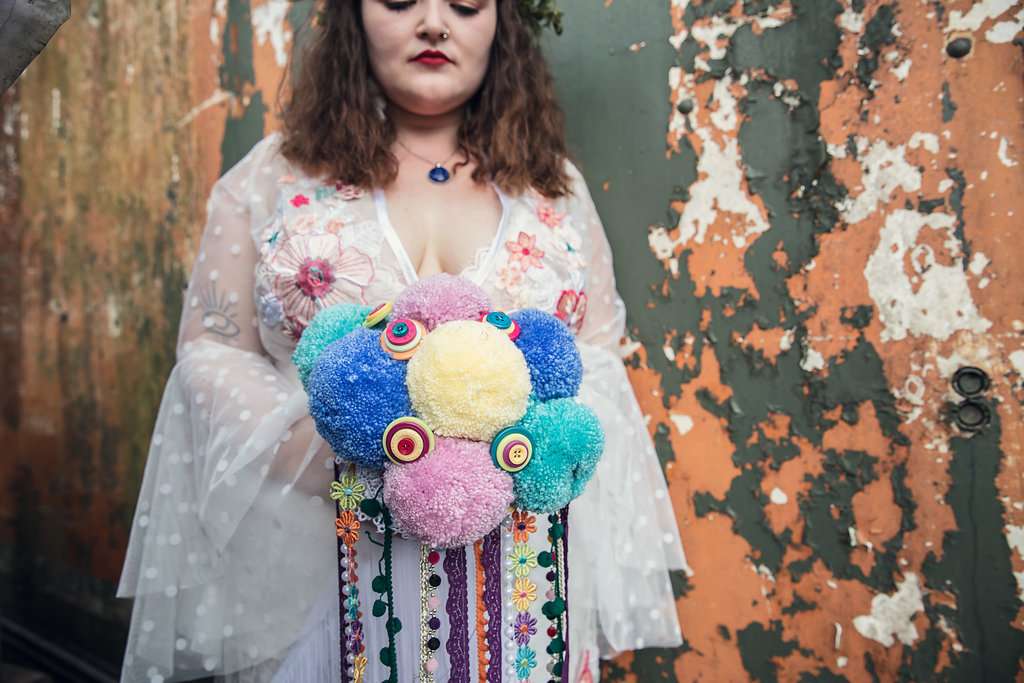 They really saved the cash on catering and all the DIY projects helped too of course. "The day food was catered by the pub who owned the field", she explained. "We had a picnic style food bag with sandwiches, crisps and cakes. We wanted to keep it simple and most of all CHEAP. Everything is so expensive, so it was important to us to cut cost where possible! We really wanted pizza for our wedding; I had visions of me sitting drunk in a field in my wedding dress with pizza all over my face, and it was something I knew I wanted to happen, so by having a cheaper option of food in the day, it allowed us to put a bit of extra money towards the evening food. We spent a lot of time researching the best value pizza food van so that our pizza dream could come true. The company we used was KK Catering who provided unlimited pizzas." Dream achieved!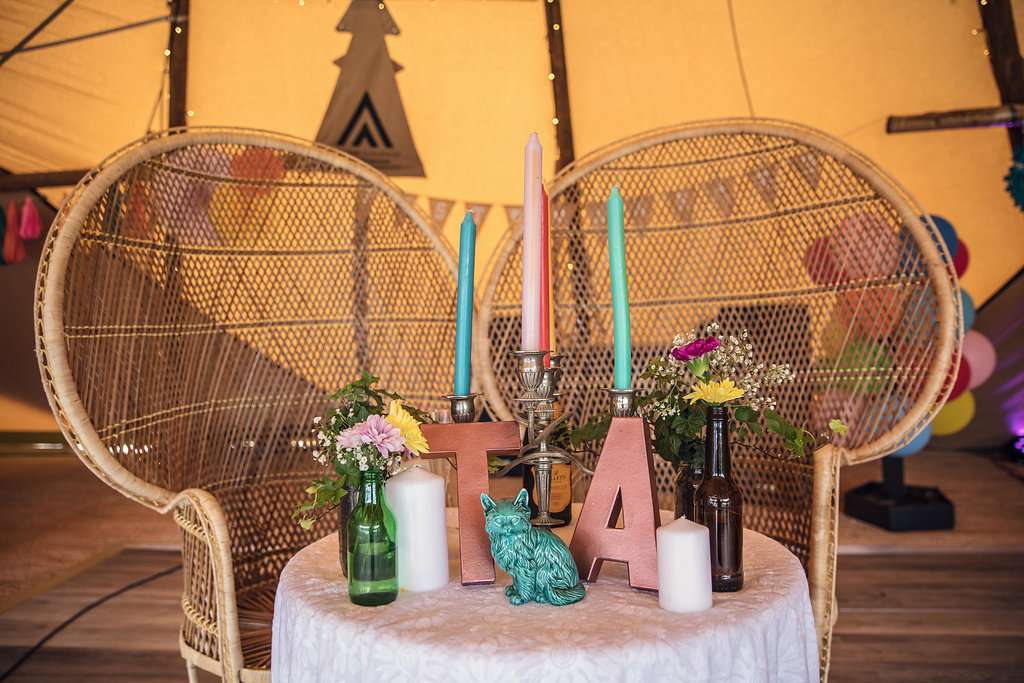 DIY was a HUGE thing for their wedding, and the majority of their props were handmade. "All the signposts were hand painted by me, and Alex helped to build them. The archway that we used for our ceremony was made the day before using paper fans, a garden arch and a ridiculous amount of tape. Our aisle was an assortment of patterned rugs collected over the previous year. We sourced our table décor from car boot sales and charity shops during the year leading up to the wedding. This consisted of various styles of candelabras and candlesticks, coloured glass, jars, ornaments, and plants. Basically, a hoarder's dream on a table."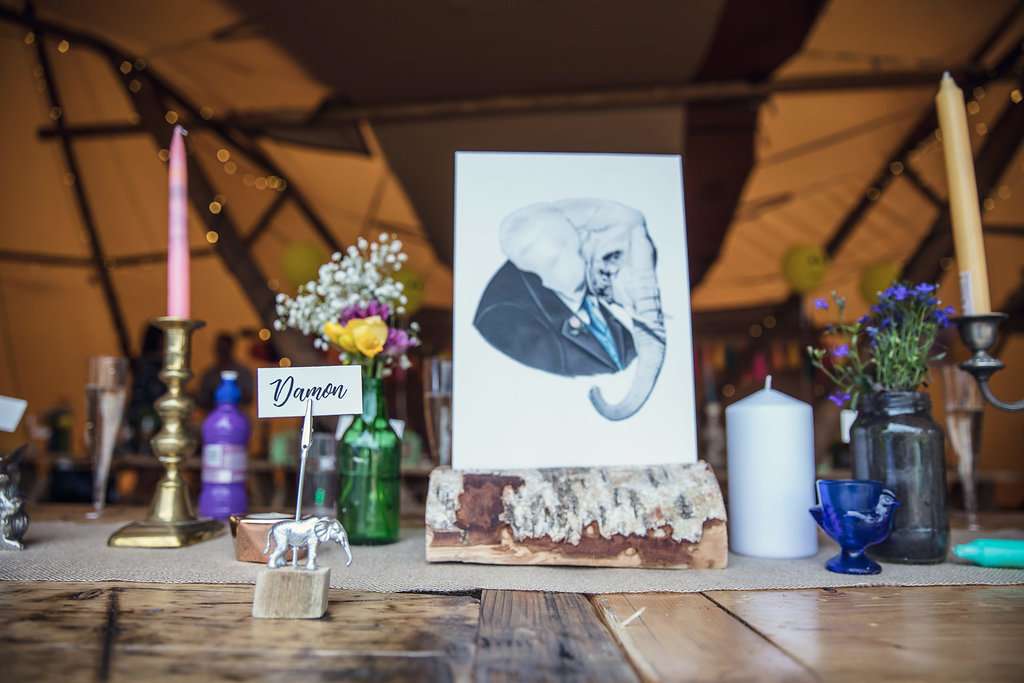 "Wooden crates were put down as tiny chairs outside. For the table name places, we silver spray painted animals on wooden blocks, and for the table centrepieces we printed animal drawings on wooden logs. We had a wheelbarrow full of hand knitted blankets, made by Alex's mum, just in case it got a little chilly later on the evening. My mum made the colourful tassel garlands. We used a giant rug and handmade floor cushions in our chill out tent, which was a marquee with draped fabric all over (I wanted to create the illusion of a fort you used to make in the garden out of blankets when you were a kid), and we put fake ivy all over it and fairy lights. It looked lovely until the wind blew it over minutes into the wedding!" Tanya added this about doing DIY for your wedding, "Just keep making things instead of buying them! It works out so much cheaper and also ends up being so much more meaningful and personal at the end of it all!"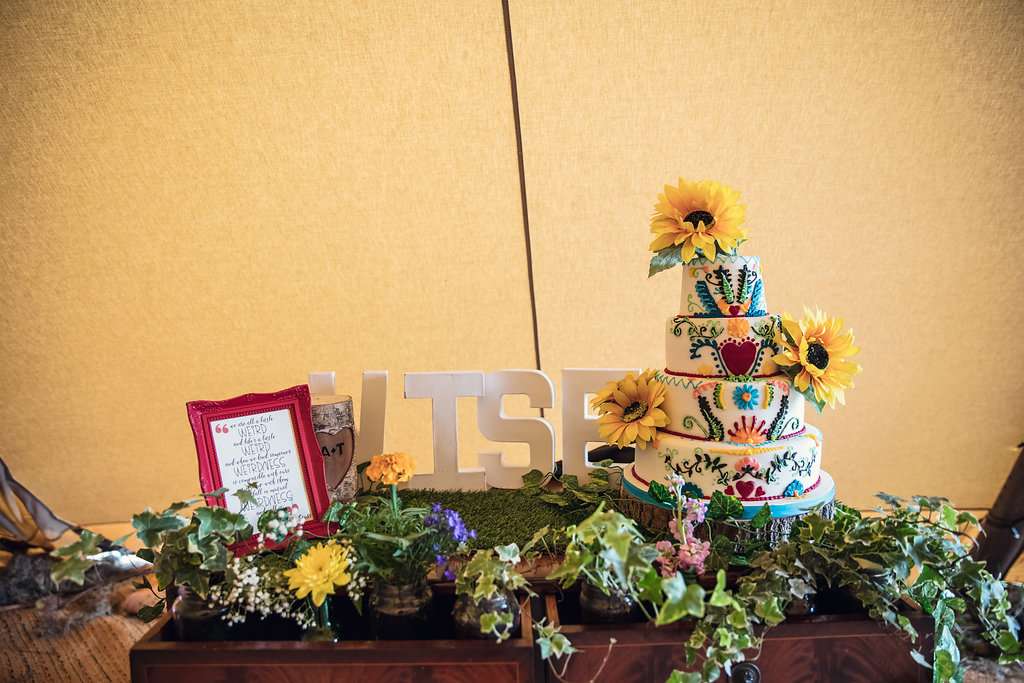 Most wedding days have elements that don't go according to plan, and Tanya and Alex's was no different. "Everything went wrong. Maybe that's a slight exaggeration… Only a few things went wrong and on the day it really didn't matter – you could have told me the world was about to end and I would have said 'It's fine'. We were so happy that it didn't rain! But we had wind instead. Our chill out fort fall down several times meant it was never really seen in all its glory! The archway had to be held up by the best man during the ceremony or else that too would have flown away or potentially crushed our celebrant. At around 11pm, at the peak of the party, where everyone was pulling out their best moves on the dance floor, the generator cut out turning the tipi into a silent black cave. It was quite funny as we all cheered as the lights went off, and after 'the men' went to sort the generator out we did eventually get the power back on! But we wouldn't have done anything differently, not at all! Even the things that went wrong I wouldn't change! It all makes for such amazing stories and memories!"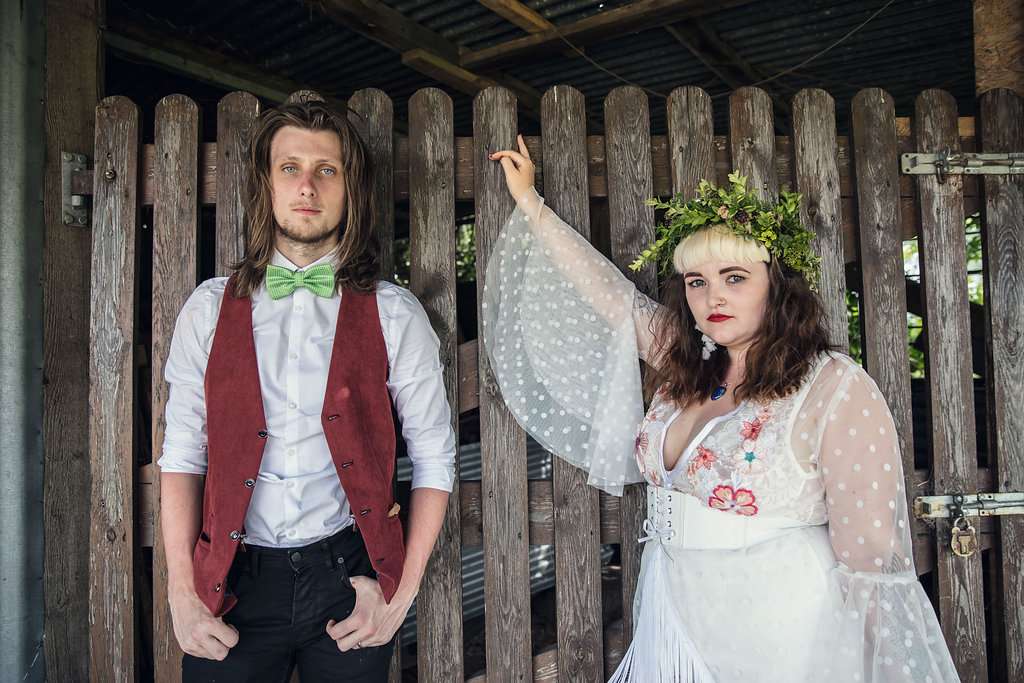 Tanya and Alex couldn't say enough about how amazing their photographer was. "OH SASS!! Having Assassynation as our photographer was so important to us that it was literally the first thing we booked. Having been to two weddings with her as the photographer, and seeing the amazing memories her work creates, we just knew we needed to have her! I would definitely say every wedding needs a Sassy. Having an amazing photographer means you get to enjoy your day more. There's none of the boring 'everyone stand there and smile at the camera' business with her. She captures the entire atmosphere of the day with her candid shots, and you even forget that she's snapping away while everything else is going on! She made Alex and I feel like the best-looking couple in the world. The passion she has for her photos just shows in the work she produces, and it was so amazing to see her getting excited at the shots she was taking. I would definitely suggest that all brides and grooms get themselves a good photographer. Once the day is over, it's so nice to be excited to see the photos, and I know that we will be looking back at ours all the time reminiscing how great it was! And with the atmosphere captured in the photos, it will be easy for us to transport ourselves back in time and relive the memories over and over again."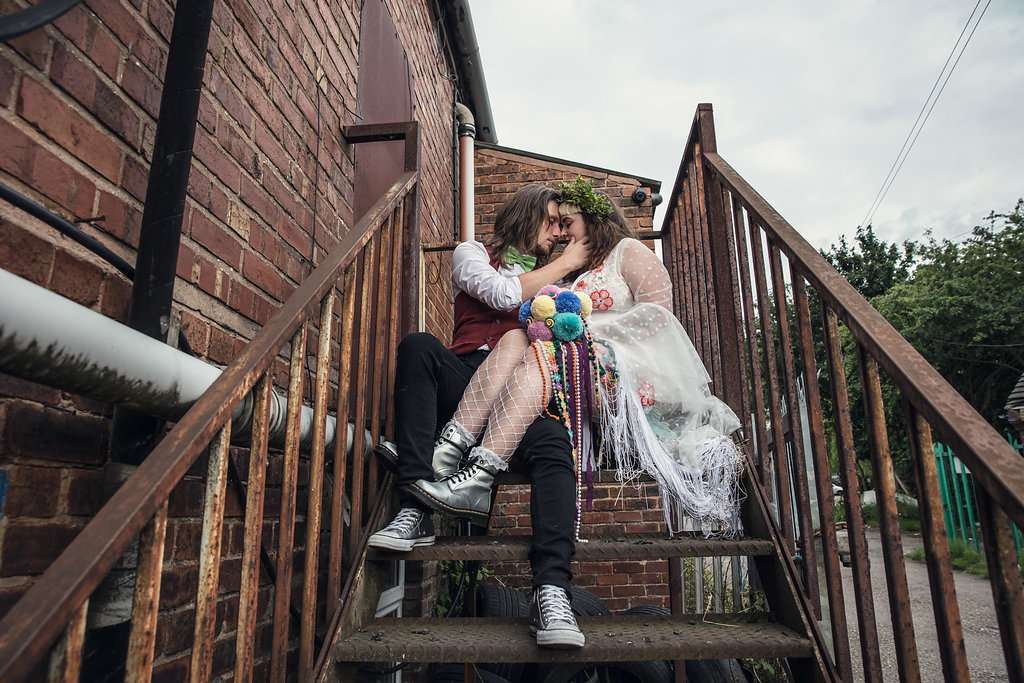 Tanya and Alex leave us with this advice, "It's likely that the day won't go 100% as you planned, but that's okay! Especially if you have organised the entire day yourself – you can't control everything. What's important is that you don't lose sight of the most important thing, which is that you are marrying that perfect person, and if things don't go completely as you planned, you are still married at the end of it. So make sure you take the mishaps with a pinch of salt and you will have a much better time for it. The time planning the wedding feels like forever, yet the day goes so fast, so try your hardest to enjoy every single moment of it all. Spend more time smiling and less time stressing! It will all work out in the end and no amount of worrying will change how it all comes together. ENJOY IT!"