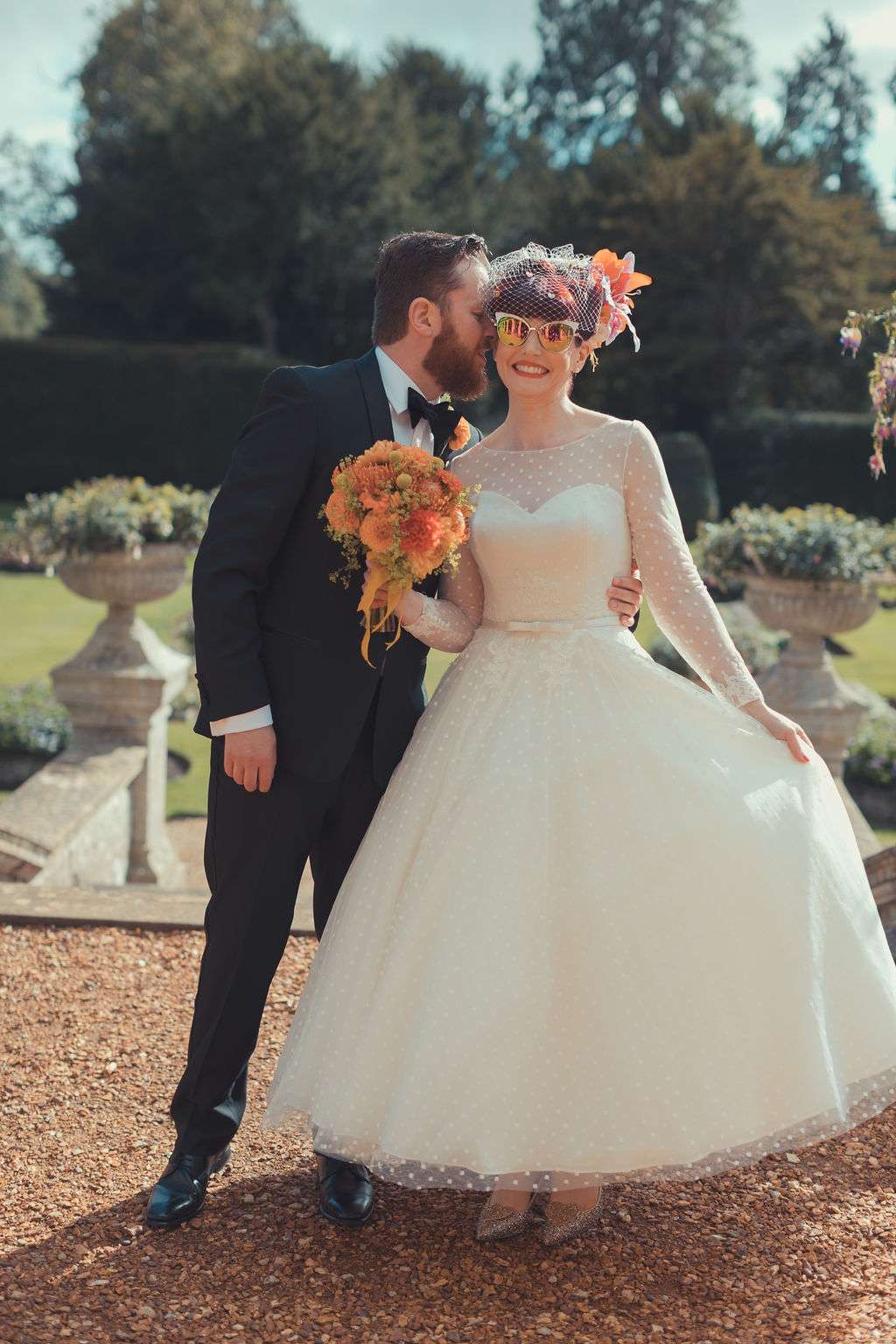 Right, team, have you got your pens, paper and glasses ready? Because there's a whole load of cute DIY retro inspiration coming your way from Kate and Ant's wedding day! Katy's maiden name was Gray and Ant's last name is Brown, so she just changed from one colour to the other, but that's only the beginning of the suuuuuuuuuuuuper cute detailing of this gorgeous wedding! So, without further ado…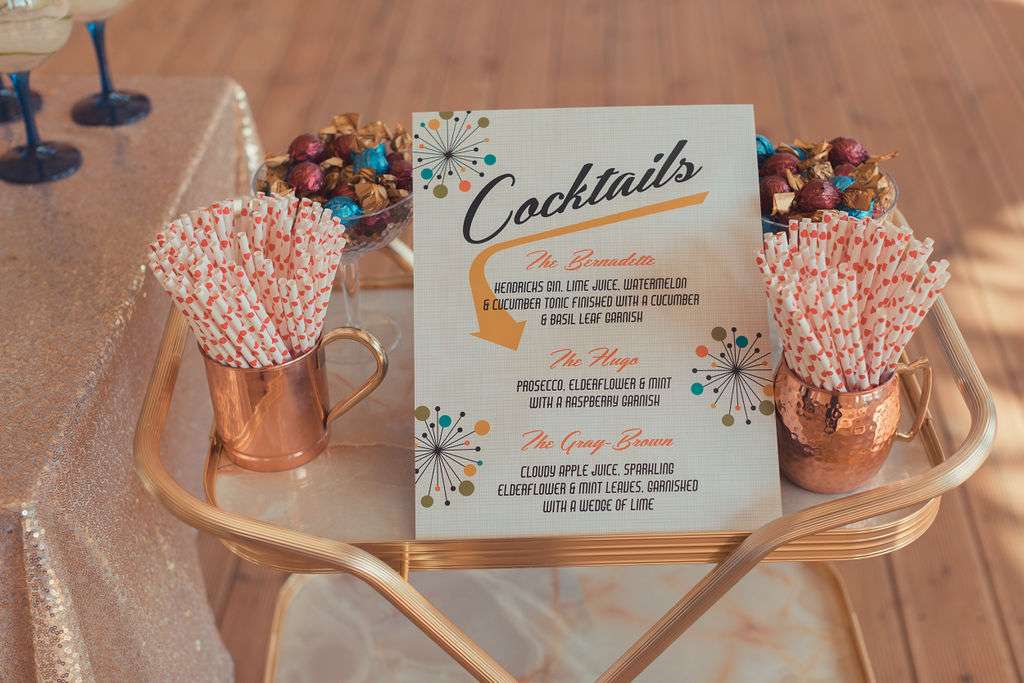 As Katy absolutely loves the 50s, it was the natural choice for a lot of their wedding but they made sure to personalise it as much as possible too. "It's very easy to create another generic 'Pinterest Wedding' which is exactly what we didn't want." she explains. "I tried to make as much of the decor and personal touches as possible to give it some originality."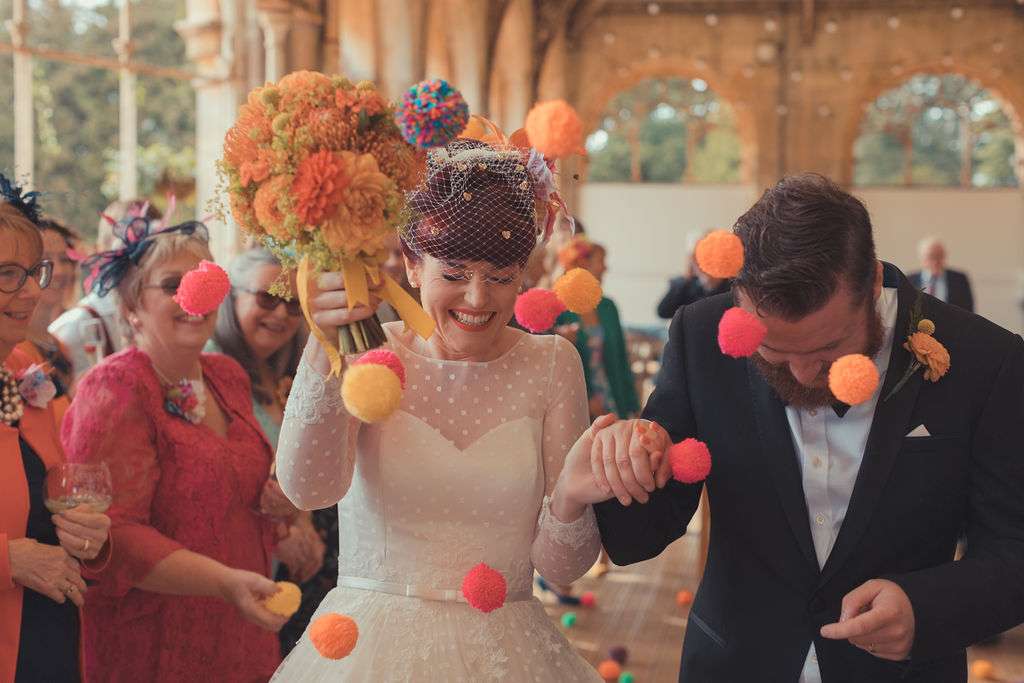 A lot of their props and decor were also borrowed from their own home. For example, they had little touches of their cat Bernie everywhere, including a cocktail named after her and two life-size cardboard cut outs (and a homage to her with their first dance, the Jamie Cullum version of Everybody Wants to be a Cat!) They also did loads of DIY projects, including that divine neon tropical leafy frame, an upcycled suitcase for cards (as signposted by lovely Bernie), spray-painted gold flamingos to adorn the lawn and a set of pom-pom filled initials. Their friends and family also got involved in making decor too, with Ant's mum making around 400 brightly coloured pom poms to use as 'Pomfetti', their confetti alternative and a giant floral LOVE sign handmade (made with, wouldya believe, love) borrowed from their newly married friends.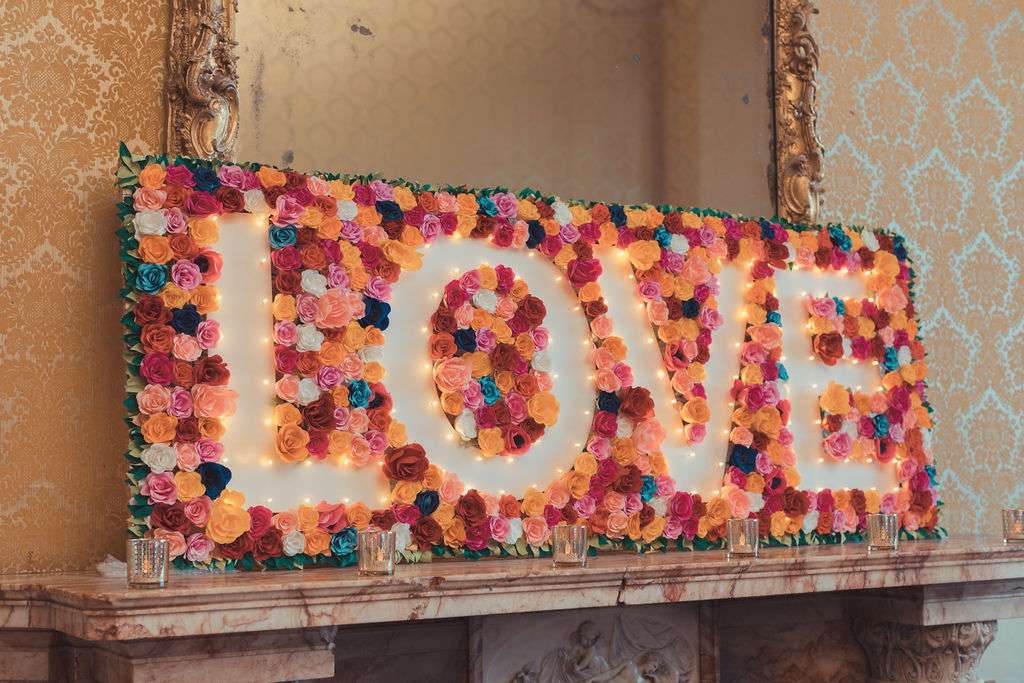 Finding Pinterest ideas too dull and generic, Katy took the challenge of creating a totally unique seating plan and table centrepieces. "I found a box of hexagonal tiles in our garage left over from our bathroom so decided to cover them using some off cuts of Orla Kiely wallpaper and finished them with a mustard pom pom trim – I then stuck the guest names using my trusty DYMO machine. We also used the same off cuts of wallpaper to create origami hearts as place settings name and used the DYMO machine again to personalise each one with our guests names. As we are both huge lovers of Marmite (Bernie cat loves it too) it seemed fitting that we should use these little jars as a base for our table numbers. We bought some plain MDF numbers from Hobbycraft and painted them with some left over paint we had painted our house with – this just happened to be mustard and fitted perfectly!"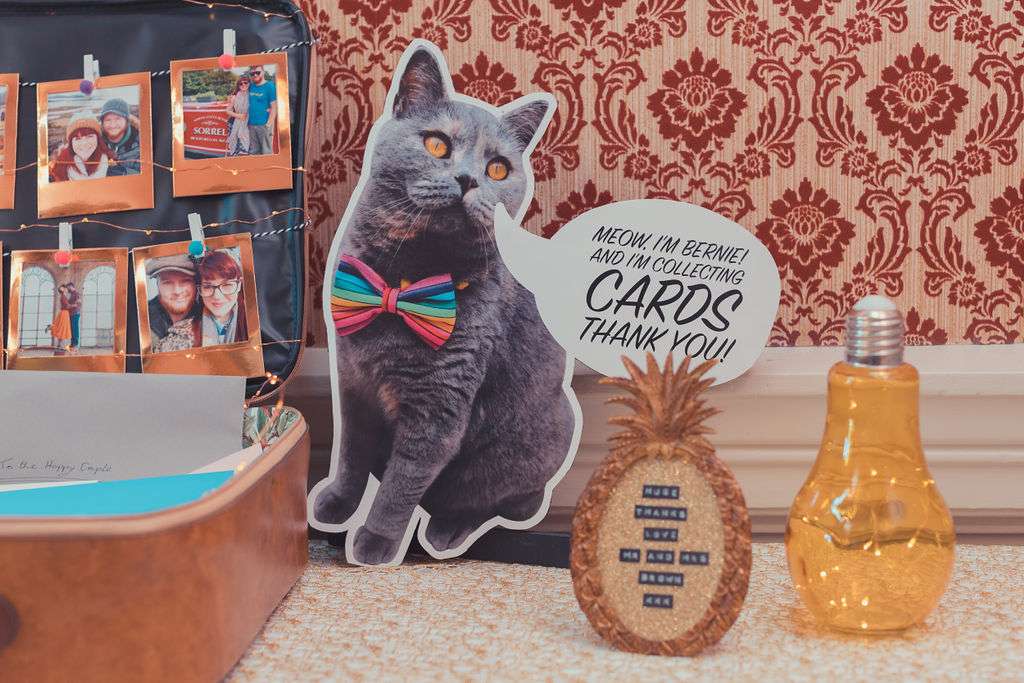 If that wasn't enough for you, they also made lots of paper dahlias to compliment the real dahlias Katy spent months painstakingly growing in their back garden. "Come rain or shine I was outside rescuing and nurturing the little blighters in hope they would make it to our big day! We also had a mixture of Zinnias, Craspedia, Monstera leaves and Sword Ferns that our lovely florist Young Blooms used with our homegrown dahlias to create the bridal and bridesmaid bouquets, buttonholes and floral displays."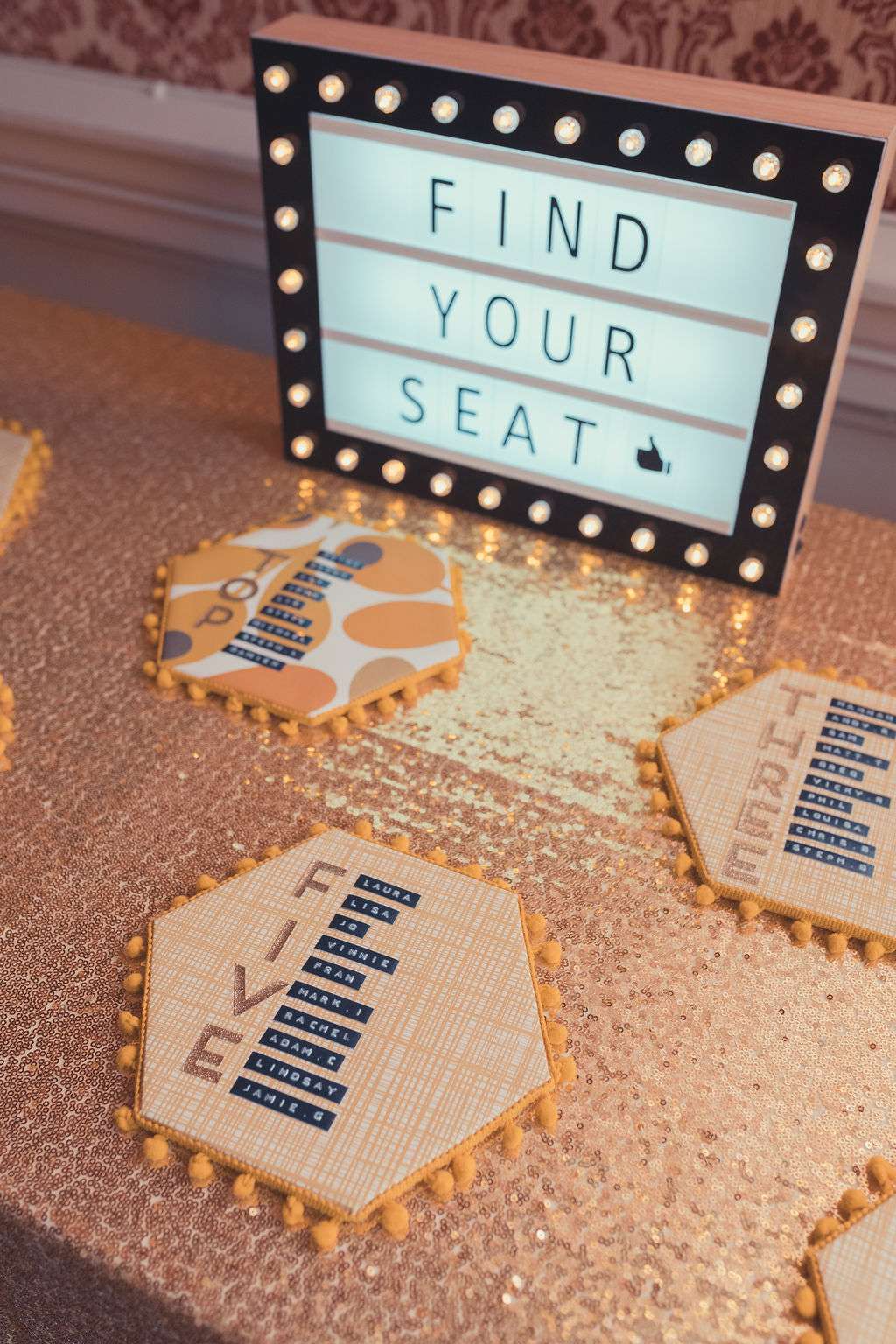 All of this took place at Grittleton House, Wiltshire. "Its quirky and retro charge truly made our day the most magical experience." Katy and Ant explain. "It used to be a school up until three years ago and had an element of Hogwarts about it with so many different rooms and secret doors for our guests to explore!" As well as using the rooms, they used the grounds to house their 1968 airstream photo booth from Belle Studio, which was one of the first things Katy booked!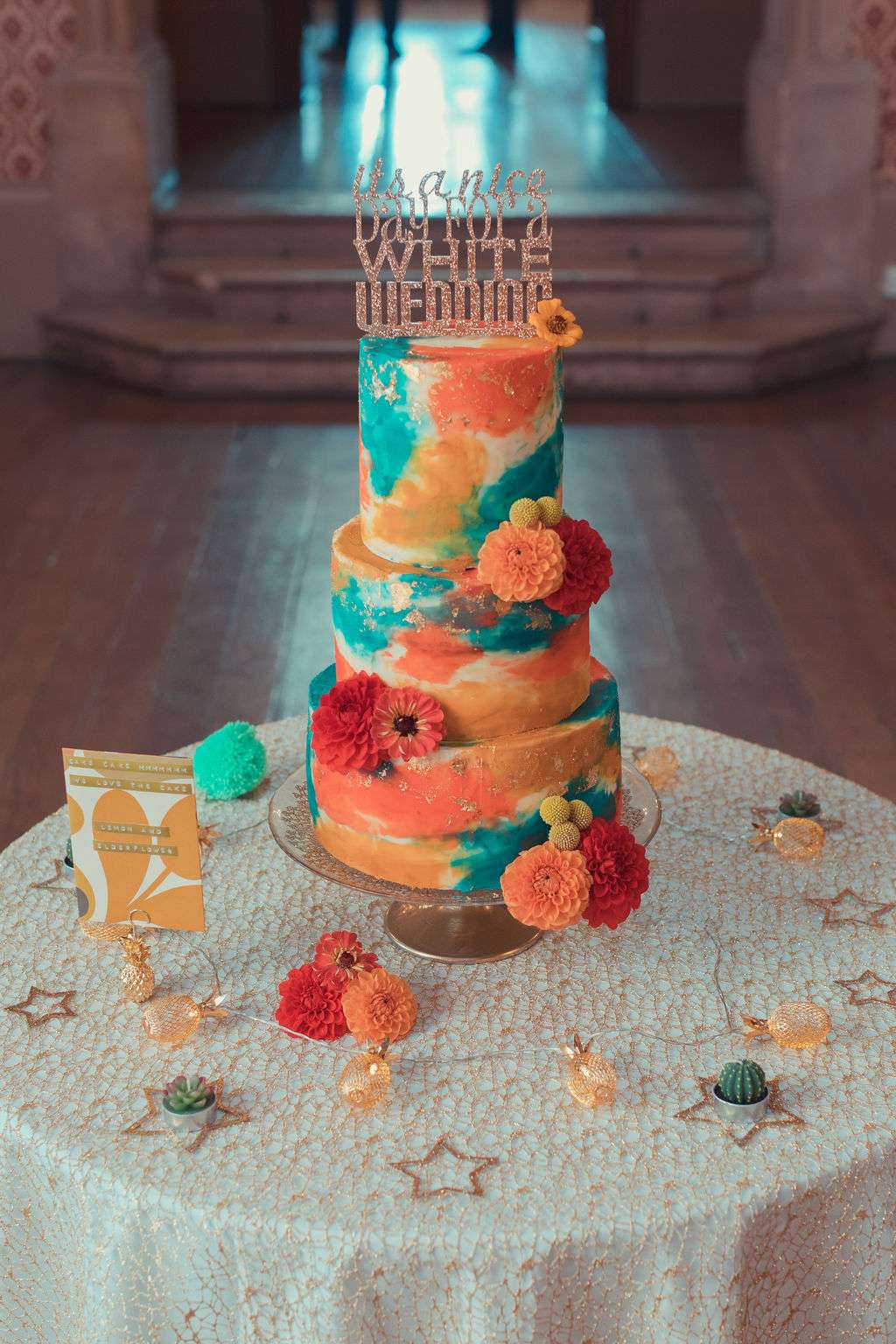 Of course, they both looked the part of the dashing mid-century couple too, with a tea dress from LouLou Bridal bought from Hen House Brides a Marks & Spencer suit complete with polka dot braces, and bridesmaids in mustard yellow and wearing matching silk hair flowers from Rockaflower.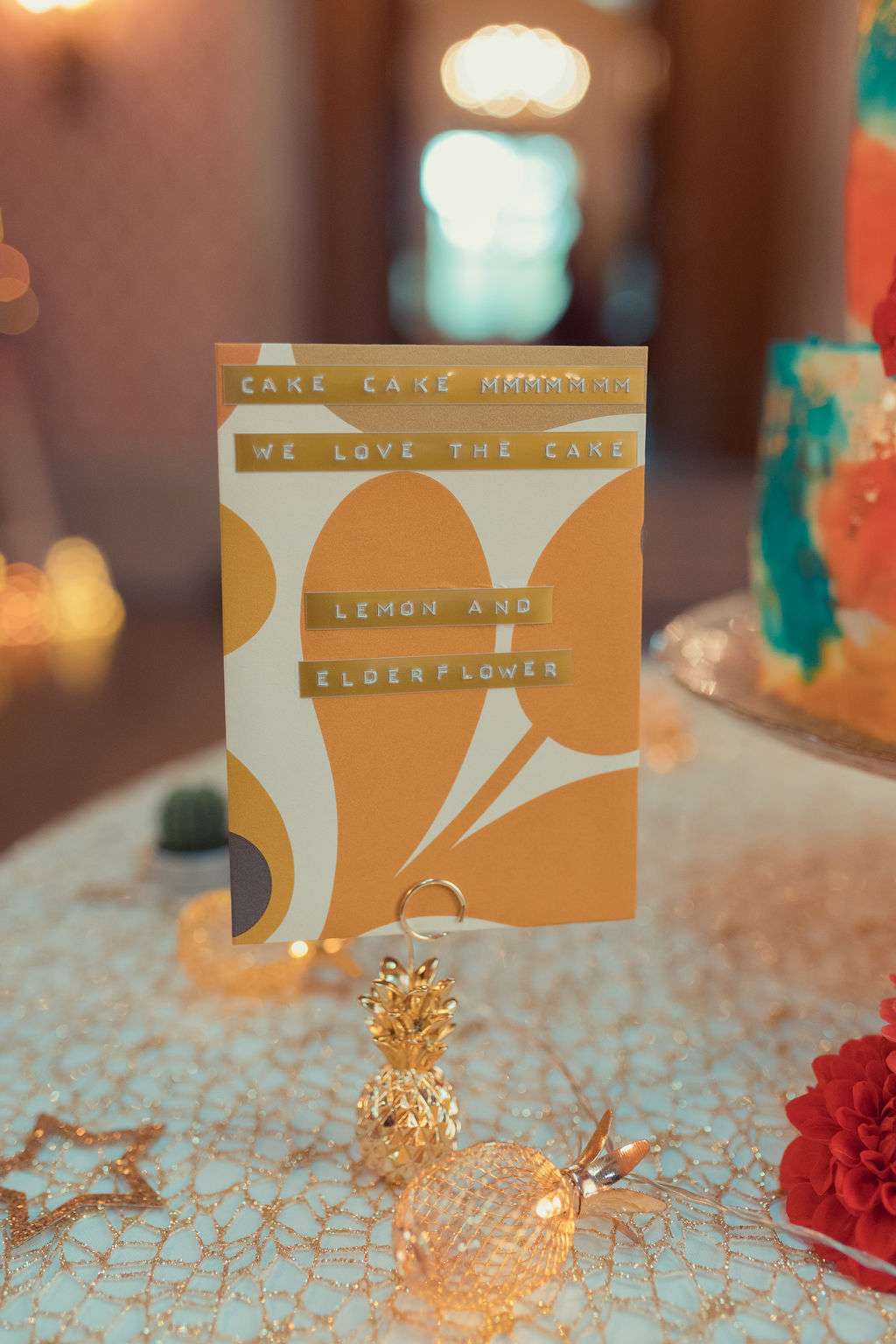 They did so much DIY because they wanted their wedding to be totally unique, but Katy says it was also a real money saver, alongside the generosity of their pals. "By making the majority of the props and borrowing the LOVE sign we save a lot of money, as they would have cost a fortune to hire otherwise. Also, having our wonderful friend Davina make our wedding cake, and growing the majority of our flowers definitely helped save on costs too. However, if you are embarking on some huge DIY projects then don't be afraid to ask for help! And be prepared for the wedding blues!! I cried randomly for about a week or so after it was over so make sure you have fun things planned to look forward to."
Aaaaand breathe. SEE? Told you it was smack full of goodies!