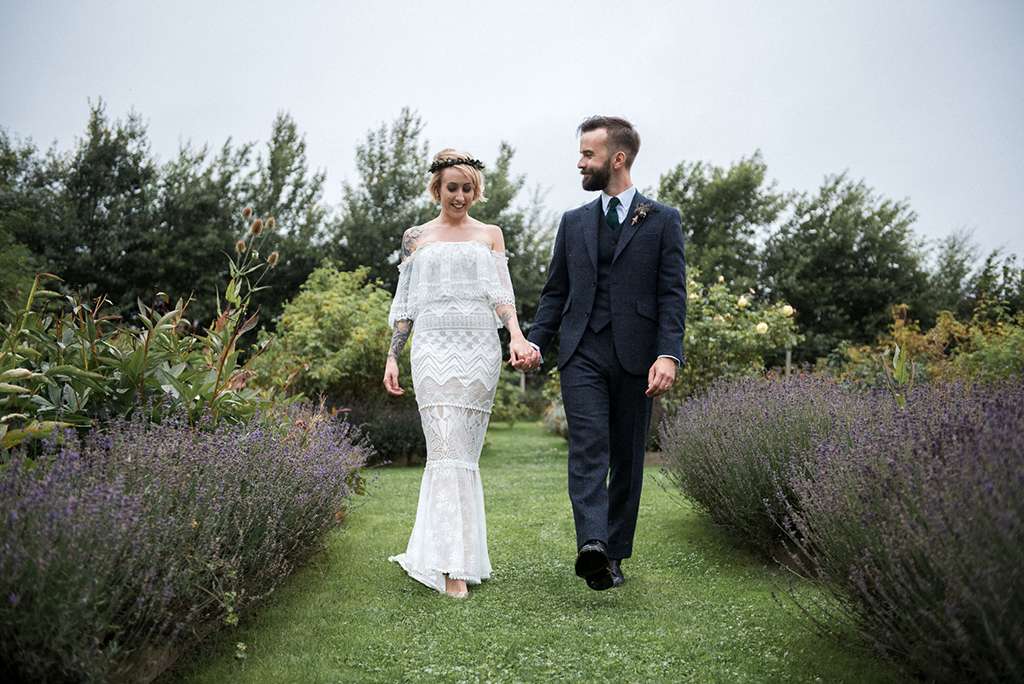 Raych and Stu are both creatives, so their imagination ran away with them a little when they dreamed up their wedding day. The initial inspiration was Midsummer Night's Dream – an ethereal, boho, garden vibe with touches of magic throughout. No matter where their dreams took them, they stuck to two non-negotiables for decision making for their big day – every element should be about them and their guests instead of following a tradition, and it had to be eco-conscious; everything would be be reused, recycled, environmentally friendly, or where things were bought, they would be from small businesses.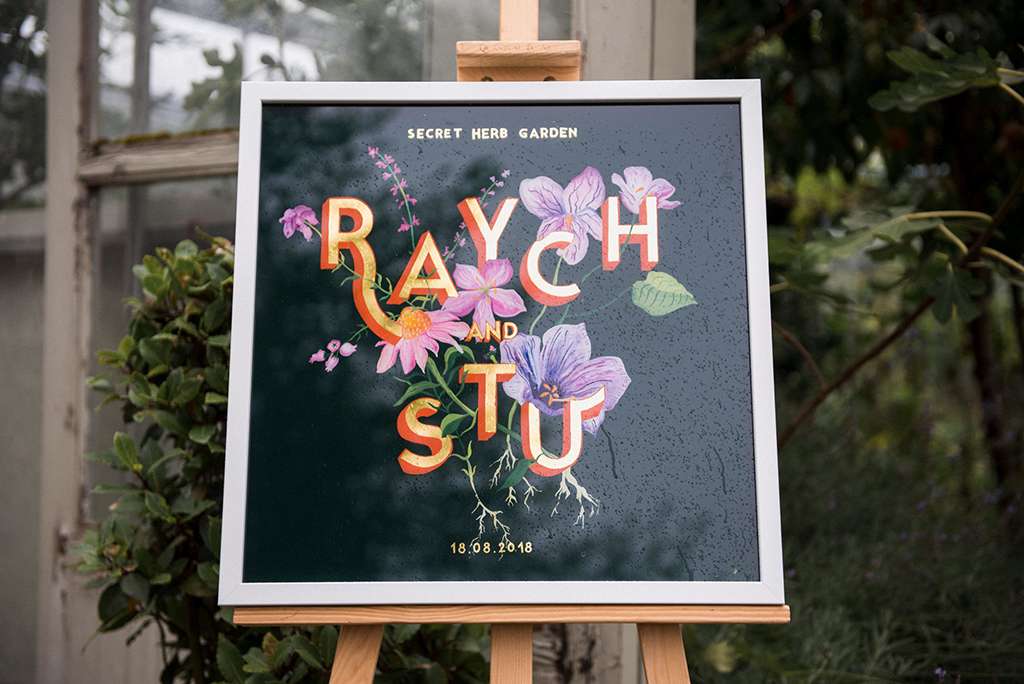 Their venue, The Secret Herb Garden, Edinburgh, was their biggest expense of their £15,000 budget, but was a total steal for their theme; the abundance of flowers and greenery meant they needed very little in the way of additional decor in order to capture the mood they wanted. Stu had proposed to Raych the previous year in a field of wild heather, so it was absolutely perfect for them to get married a year to the day in a greenhouse full of wild heather, lavender, thyme and rosemary.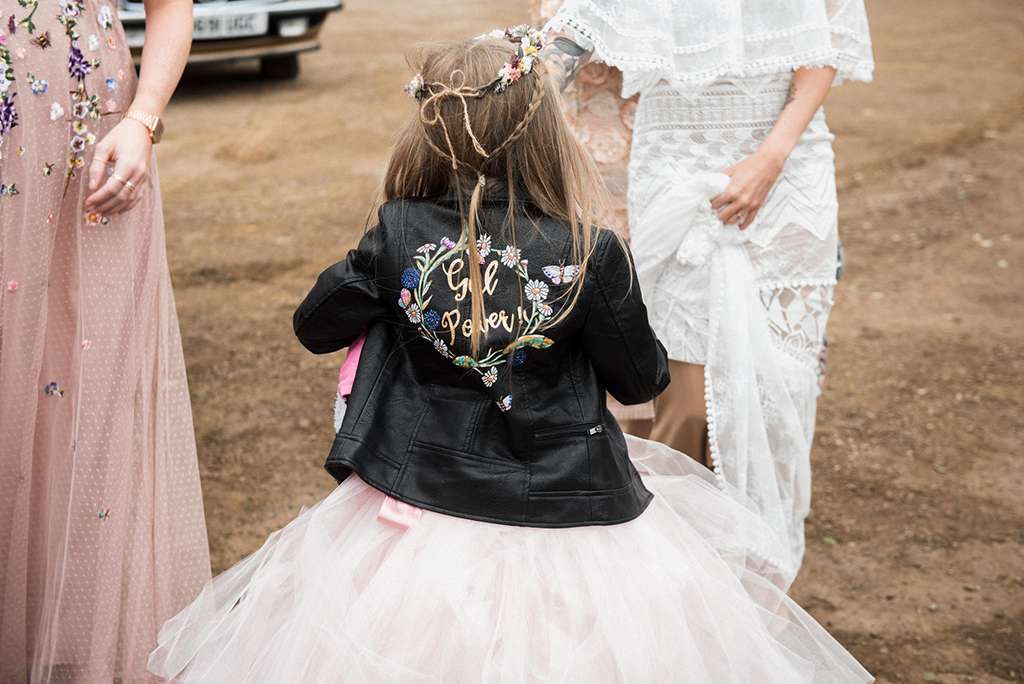 Their ceremony was originally supposed to be held outside, but rain called play on that; as Raych was in the car on her way to the wedding! Instead they married in one of the greenhouses, standing on a vintage rug they'd brought from home, with all their loved ones standing or sitting around them.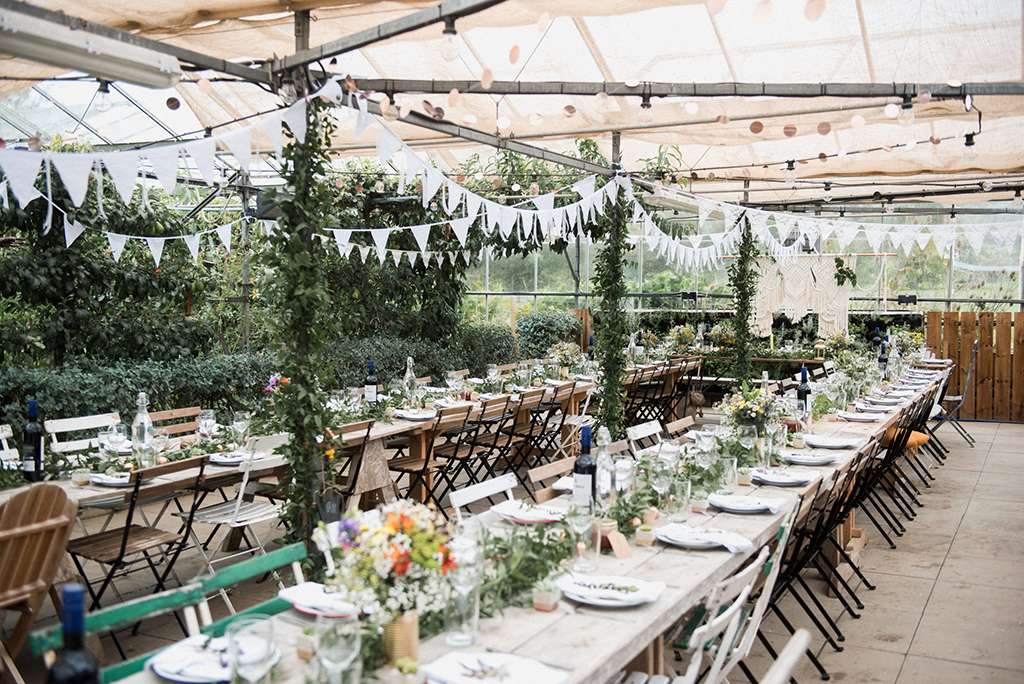 "I could hear the rain on the glass, and the light was beautiful with all the condensation," explained Raych. "I walked into the ceremony with my little brother, weaving through the greenhouse and emerging in the middle of the string quartet while they played Arrival of the Birds by Cinematic Orchestra. I saw Stu's face light up with nervous excitement at the reality of the situation; all our friends and family sitting and standing around, poking their faces around grapes and peaches as birds flew around tweeting and bees buzzed overhead. It was was mad, but amazing. I just smiled and laughed the whole time."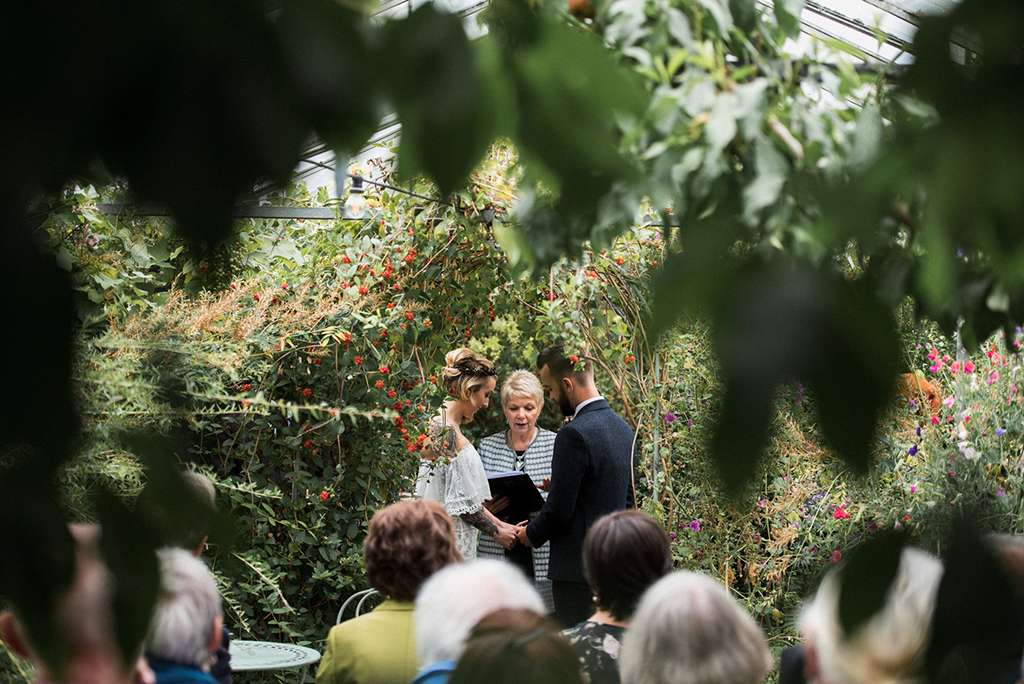 What little decor they did do in the already picture-perfect glasshouses was thoughtful to the nth degree. Raych's sister-in-law made them an incredible macrame hanging for their top table – it now hangs in their new home as a memento of the day. Stu's mum turned her wedding dress into gorgeous bunting to hang over the tables, a beautiful gift that meant so much to both of them. Their name sign was a wedding gift from a professional sign writing relative, opened the night before the wedding to tears of gratitude for all the love and help their friends and family bestowed upon them to make their day truly special.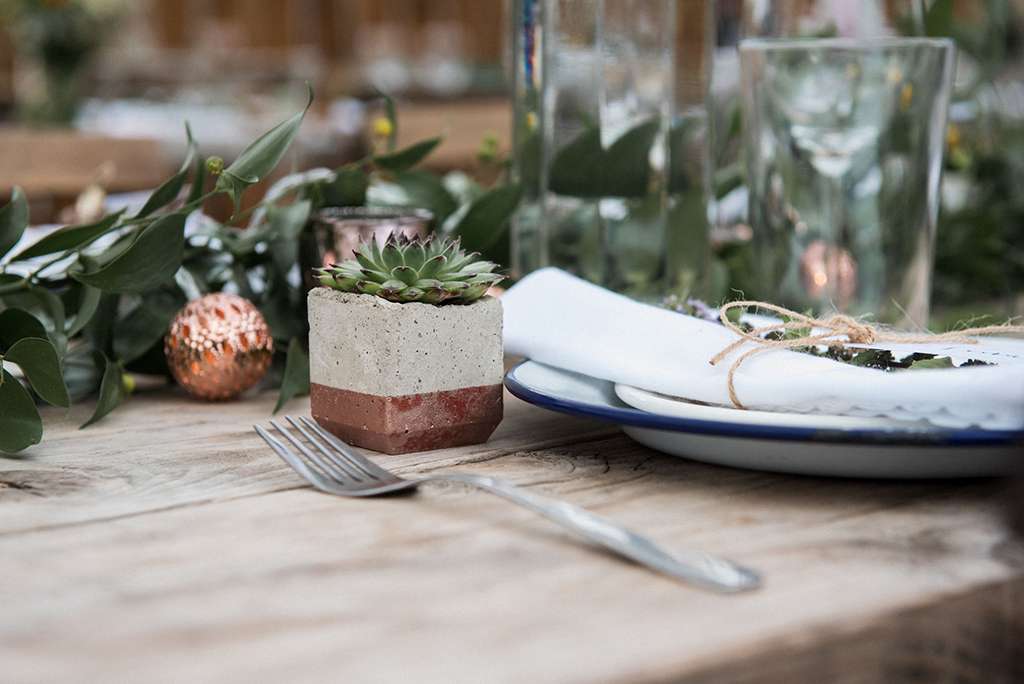 They spray painted old bean cans and coffee jars to fill with candles and flowers picked from the venue, where they also sourced their bouquets. Their favours were ninety individual concrete planters filled with mini succulents; they doubled up as table decorations to reduce waste, and were so popular that Raych only managed to keep a few for herself!
"I made the seating plan from my mum's bathroom mirror and luggage tags, used old crates to hold confetti packets and cards – we basically tried to reuse and recycle whatever we could to keep costs and consumption down!"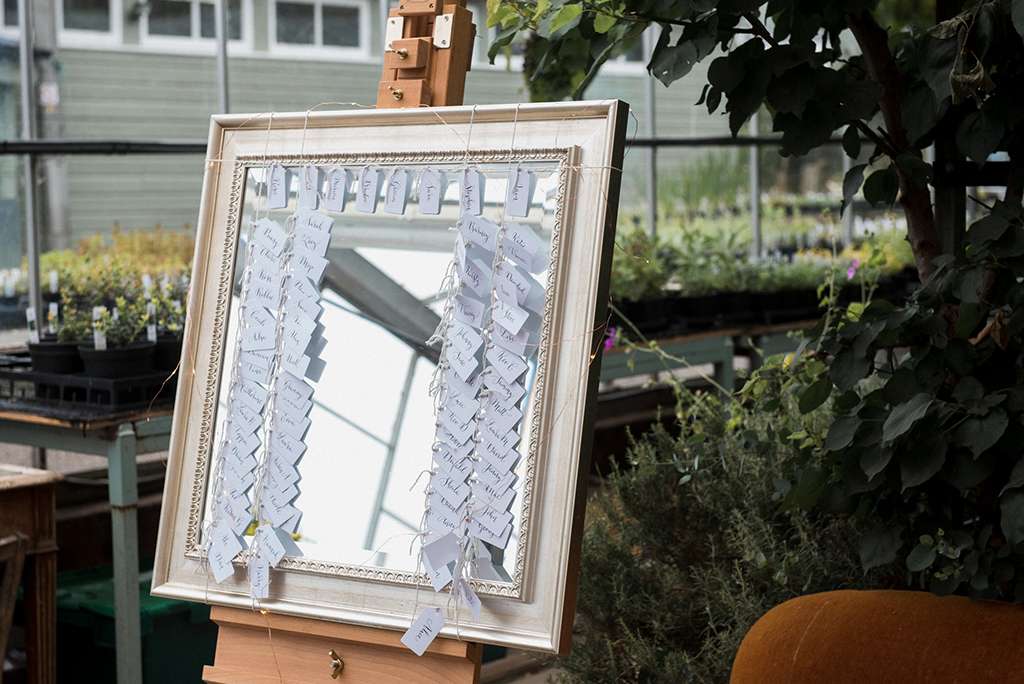 That's not to say they didn't enjoy splashing out a little on the things they really wanted – Raych's Jimmy Choos in particular were a #sorrynotsorry moment. They had five wedding cakes because they couldn't choose just one flavour, and one hundred pizzas for their wedding breakfast, because pizza for life, of course! For them, it was about making choices not because they were expected, but because they worked for them.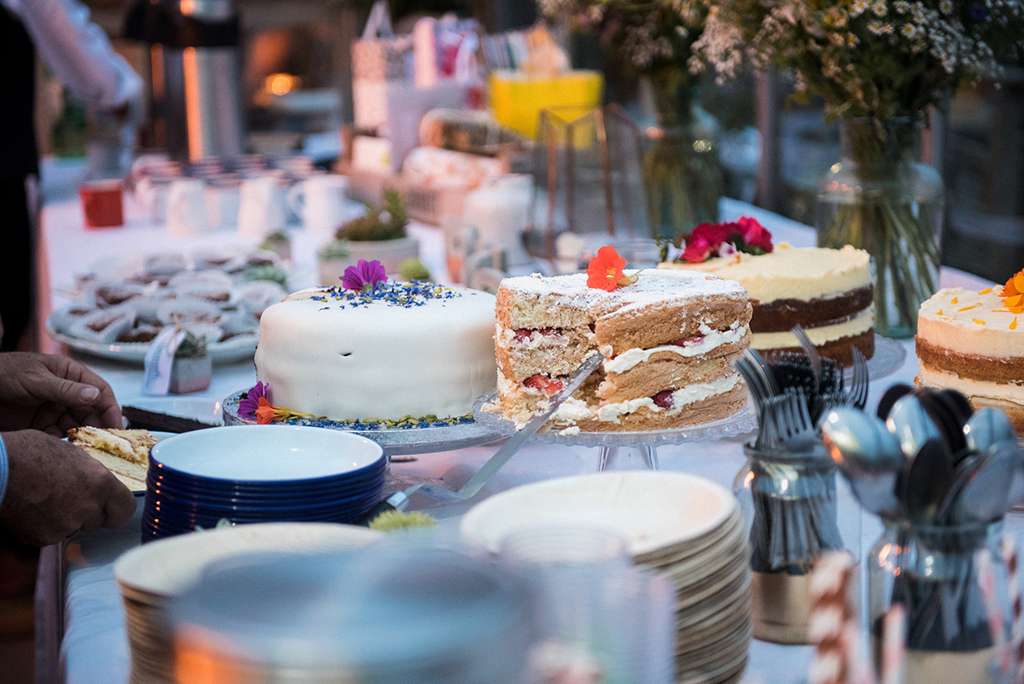 They had a string quartet playing throughout their ceremony – but to the theme song from Jurassic Park instead of the Wedding March. Raych had her little brother as her maid of honour, and he also walked her in. Their flower girl wore a tutu, converse and leather jacket with 'Girl Power' painted on the back. They finished off their celebrations with a late-night silent disco in the middle of the greenhouse, full of goofy laughs, silly dancing, and Raych's favourite memory; three of her heavily pregnant best friends dancing away in their dresses and trainers with a pizza box in hand. "There's absolutely nothing we would've changed; it was a hilarious, creative day of nonsense, dreams, and a little bit of magic."