Carly and Tom were inspired by their love of nature and luxury for their June 2019 wedding in East Sussex, England. Armed with a budget of £12,000, they set about creating an intimate day full of glamour and opulence, with the aid of Rock n Roll Bride, of course!
"We wish we knew how much fun wedding planning would be!" said Carly. "Everyone goes on about how stressful it is but we just found planning each element so much fun. Just follow the books' checklist and you can't step wrong!"
Held at The Pilgrim's Rest in Battle, East Sussex, a 600 year old Grade II listed house full of rustic charm and historic soul, the couple filled it full of flowers, fairy light and foliage to create an ethereal vibe. With flowers by The Enchanted Flower, they paired boughs of wisteria, apple blossom and eucalyptus with secondhand brass shapes hung from exposed beams. Ferns, flowers and foliage were foraged from Tom's parents garden, and they DIY'd the invitations, signage and Polaroid photo booth come guestbook, too!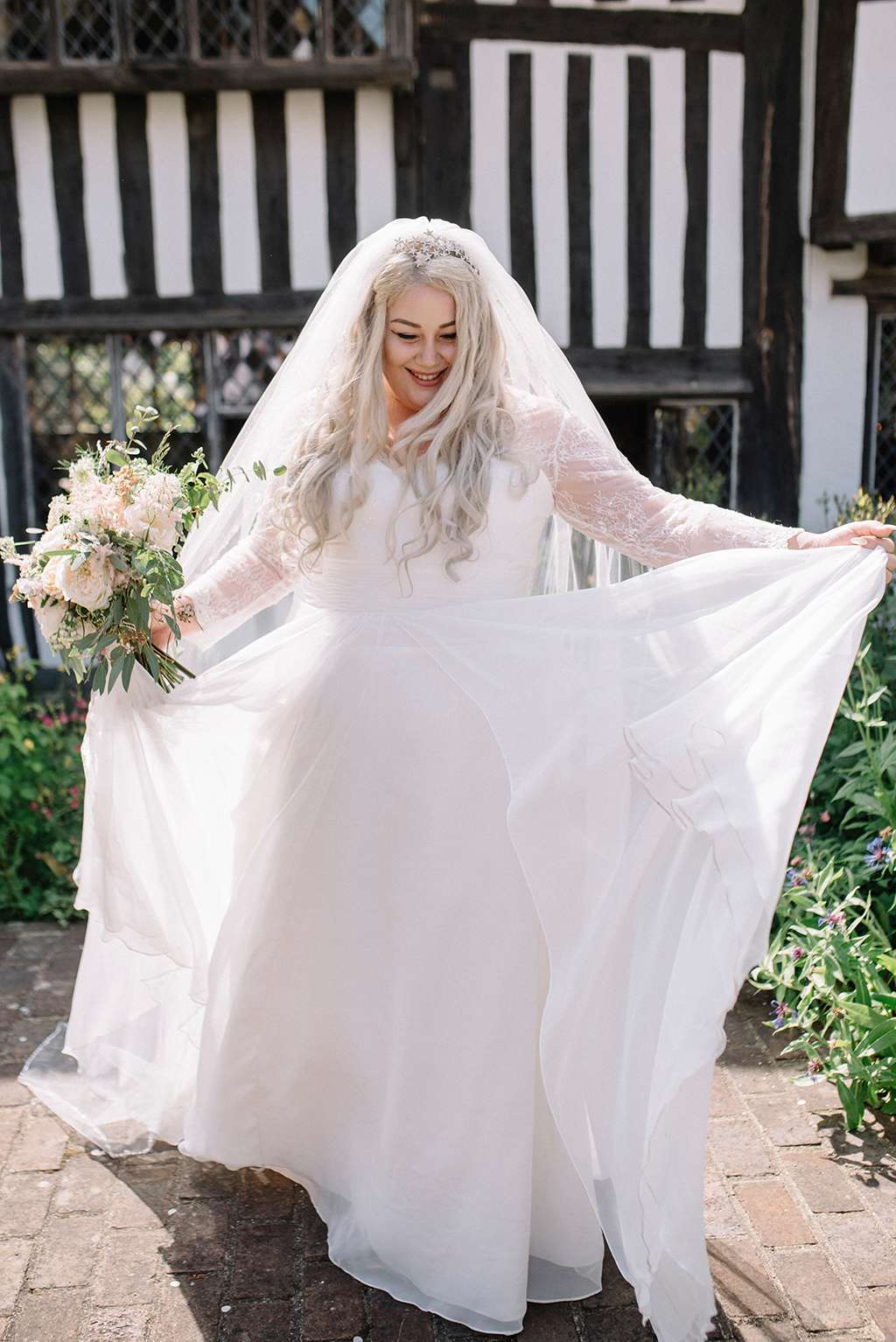 When it came to their ceremony, it was a sentimental and emotional affair. Carly's 76 year old father walked her down the aisle in tears to a version of Stand By Me by Florence and the Machine ("An important song to us all for so many reason" she said) before kissing Tom, putting their hands together and all shedding a tear. Carly and Tom wrote their own personal vows that they read through happy tears and laughter, and then, after over 10 years together, were finally husband and wife. 
The reception included an intimate sit down dinner followed by drinks provided by the couple so their guests didn't have to pay for anything and a homemade playlist of songs chosen by each guest! "Making the playlist was an amazing experience," said Carly. "It revealed so much about everyone – one friend chose the Jurassic Park theme so we went with it and got the T-Rex to come to the reception later in the night to everyone's surprise and shock!" 
The venue was the couple's biggest expense, but for them, the price was more than justified; "We had access to it for three days in total, which allowed us to dress it ourselves relatively stress-free, and meant the clean up didn't need to be done straight after the party! They also allowed us to stock our own bar, which was really important to us as we really wanted to treat everyone and have them not have to pay for anything." They saved money with Carly doing her own hair and make up, which suited her anyway as it meant she got to keep all the products after and wear whenever she likes!
Carly's has plenty of advice for future brides and grooms; "Don't let any one pressure you into anything, forgive people and open your heart, it's a stressful time and tensions can be high, but remember to take it at your pace. And go try on dresses, even if it kinda scares the shit out of you! It's more fun than you think… and if they are rude, then leave. Don't take any nonsense about being big! Get a photographer and videographer that you fall in love with, it's not just the finished product, it's the entire experience that for me, personality could make or break. These ladies rocked, and for a girl that NEVER has her photo taken, I loved it. Be sure of who you choose, we could not have asked for more."