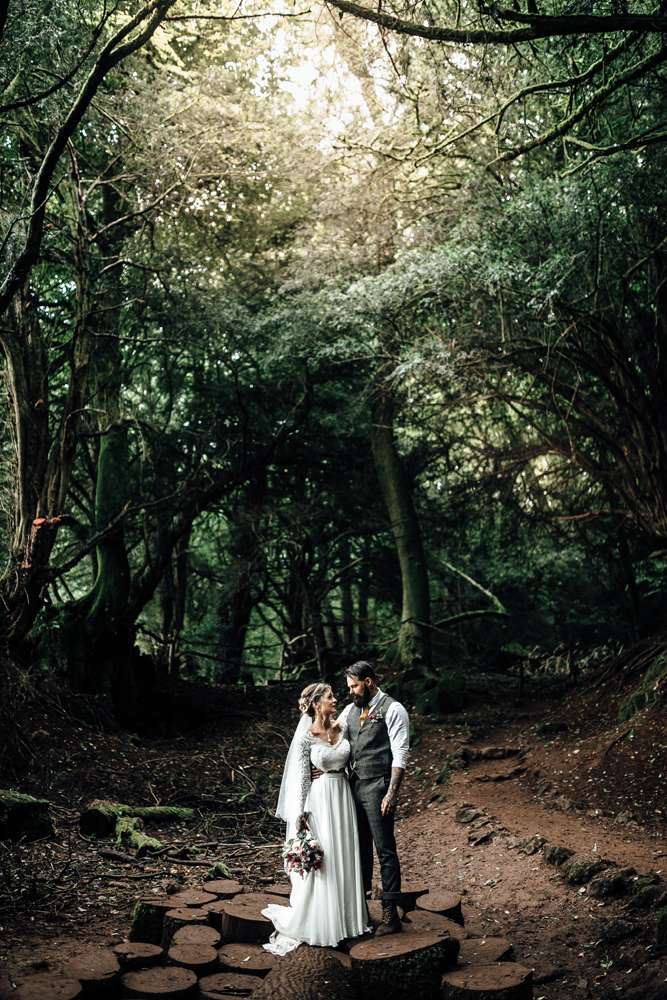 Megan and Ben's autumnal wedding took place at stunning Puzzlewood in the Forest of Dean, where Star Wars: The Force Awakens, was filmed! It's also rumoured to have inspired J. R. R. Tolkien. Huge cool points from the get-go! Getting the legal bit sorted in the register office the week before freed the couple up to take full advantage of this amazing location, and also to have long time friend of theirs, James, officiate.
The bride described the wedding theme as, "Relaxed, boho, happy vibes with a rock twist," and when asked what the inspiration was said, "Honestly, I'm not entirely sure… I wanted to still have traditional elements with our own twist on them, for example I love how heavily tattooed brides in white challenge the classic virginal expectations."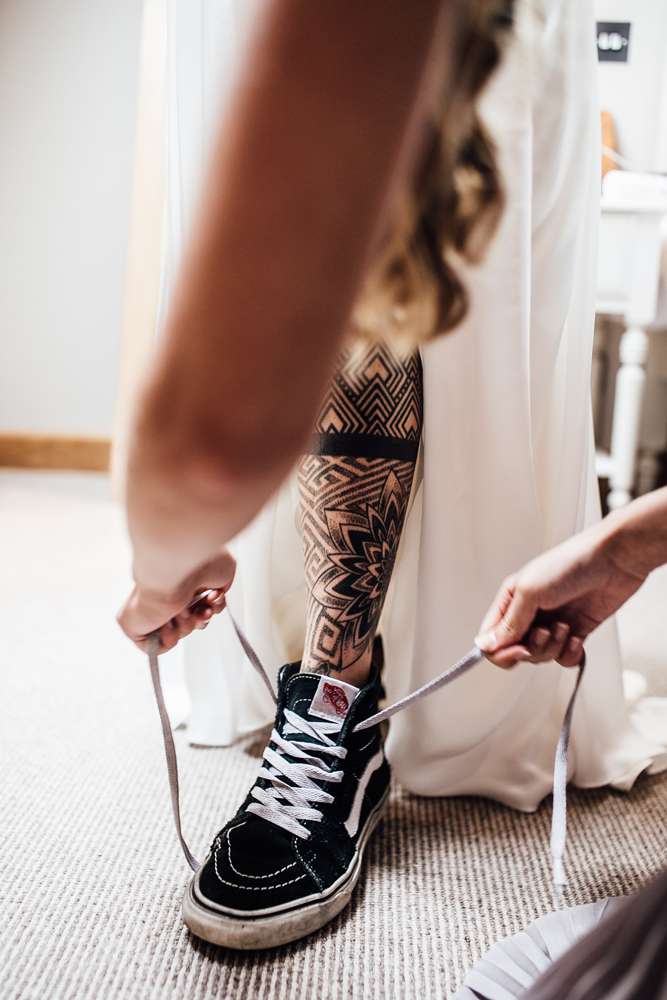 "Our venue was completely and utterly magical, if I do say so myself", she continued. "It's also not a place that usually offers weddings, and so I knew that what we would create on the day would be completely unique. We stayed as true to ourselves as we could, down to the music, food, and decorations, but our guests loved it because they love us! The fact we had one of our close friends 'marry' us made it incredibly personal."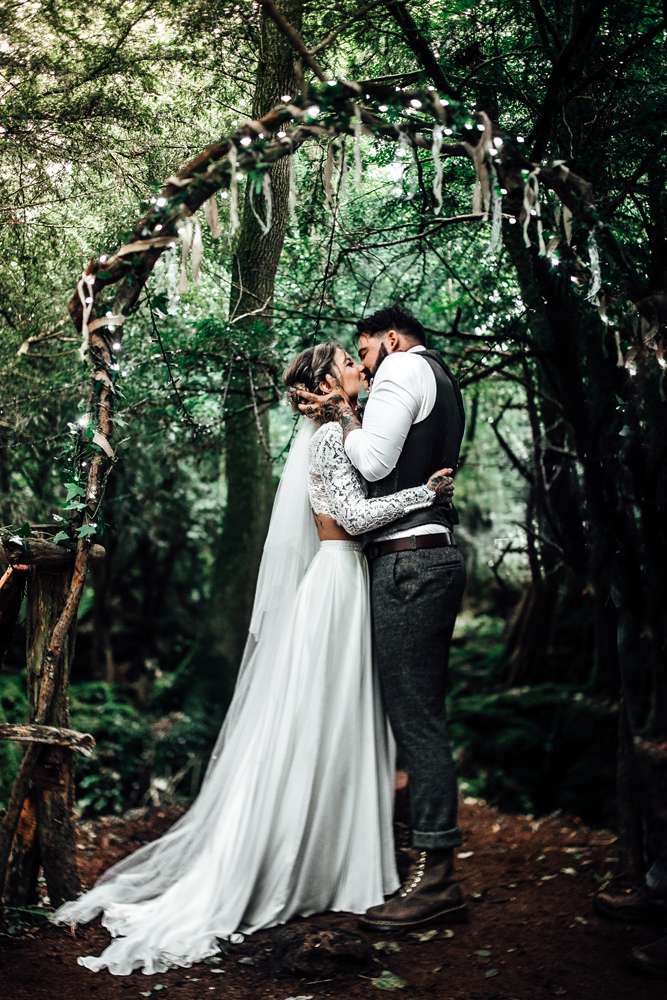 Megan wore a one-of-a-kind dress which she customised to be exactly as she wanted it. "My dress was recycled from my mother's Jenny Packham wedding dress, which I took to Irina's Sewing Room to be made into a skirt. I then bought lace and silk chiffon to have an extra layer on the skirt and a crop top made from scratch. I had an exact idea in my head of what I wanted, and Irina helped to incorporate so many small original details (beads, buttons, etc.) from my mother's dress to add a tremendous sentimental value to my wedding day! I also reused her veil, which was altered slightly to mend a large hole, and wore her garter. I had planned to wear ivory satin ballet shoes, which has also been customised by Irina, but as it was so muddy on the day, I chose to wear my sk8-Hi black and white Vans instead. Ben bought me a beautiful rose pearl encased in a silver cast pigeon claw from Tessa Metcalfe Jewellery as a wedding day gift, and I wore fresh, wired gypsophila in my hair, which was styled by Joe Reade of Wispers Salon."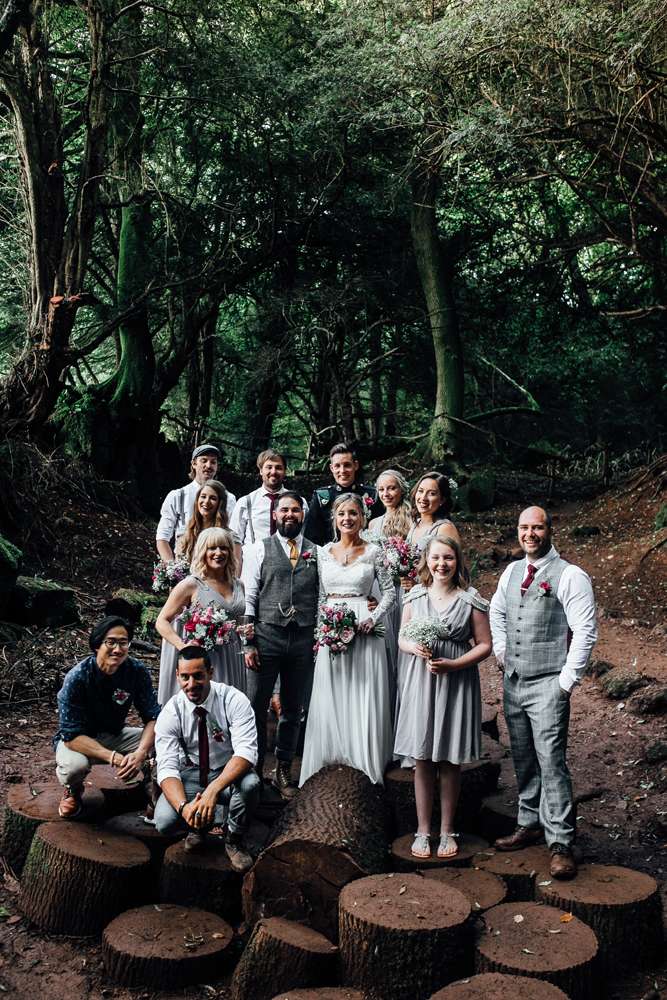 Ben wore a Moss Bros waistcoat and trousers, which he punked up with Dr. Marten boots. The bridesmaids wore TFNC London from ASOS, also altered at Irina's Sewing Room.
The ceremony was beautiful, and the Megane said, "I will never forget it… We laughed, we cried, and we laughed some more. James wrote his own ceremony speech that was so personal to both us and him, including Star Wars and Pirates of the Caribbean references. We wrote our own vows, which were a mixture of silly and serious, and my mother read a passage from Captain Corelli's Mandolin – my favourite book of all time. It followed a traditional structure, but was full of quirks and improvisations that no one expected."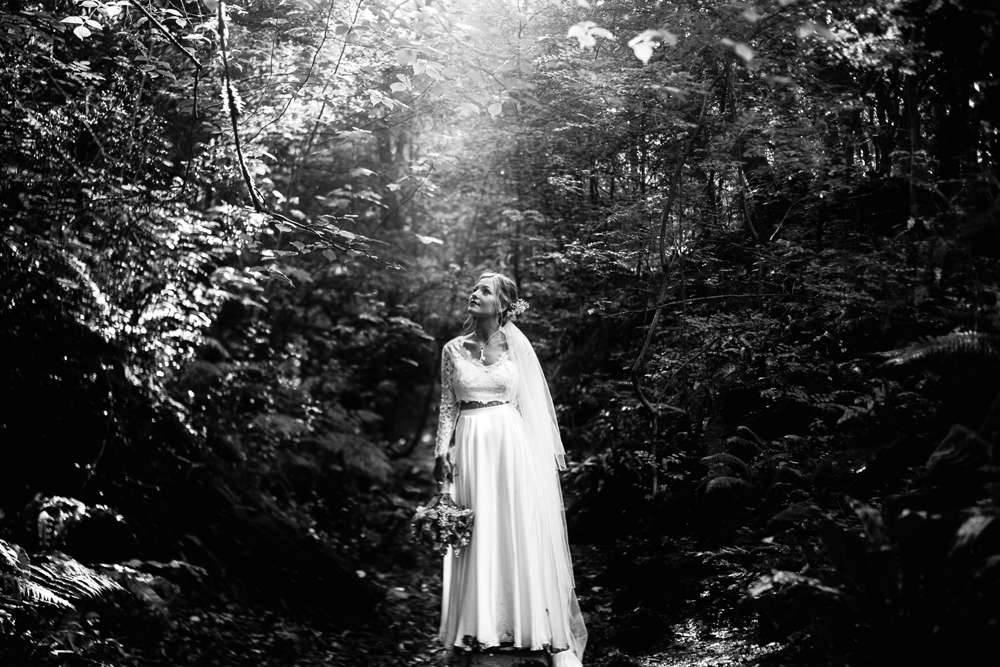 The décor for Puzzlewood's barn, where the reception was held, was, "Mainly eBay, or begged borrowed and stolen from my mum's house," said Megan. "She has a billion hanging hearts and ornaments around her house that I decorated the top table with! I also had fresh flower confetti, hand-tied lavender bundles, and freshly cut Yew slices from Puzzlewood forest."
Their entertainment was a vintage skittle alley, photo booth, and fairground striker from Rosie Bar Events. The catering, supplied by the venue, was a hog roast, with canapés, salads, and fresh fruit for the wedding cake as dessert from Waitrose. The cake was made by the bride's aunt Vicky, of Vix Veritable Delights, and she drove it all the way from Scotland!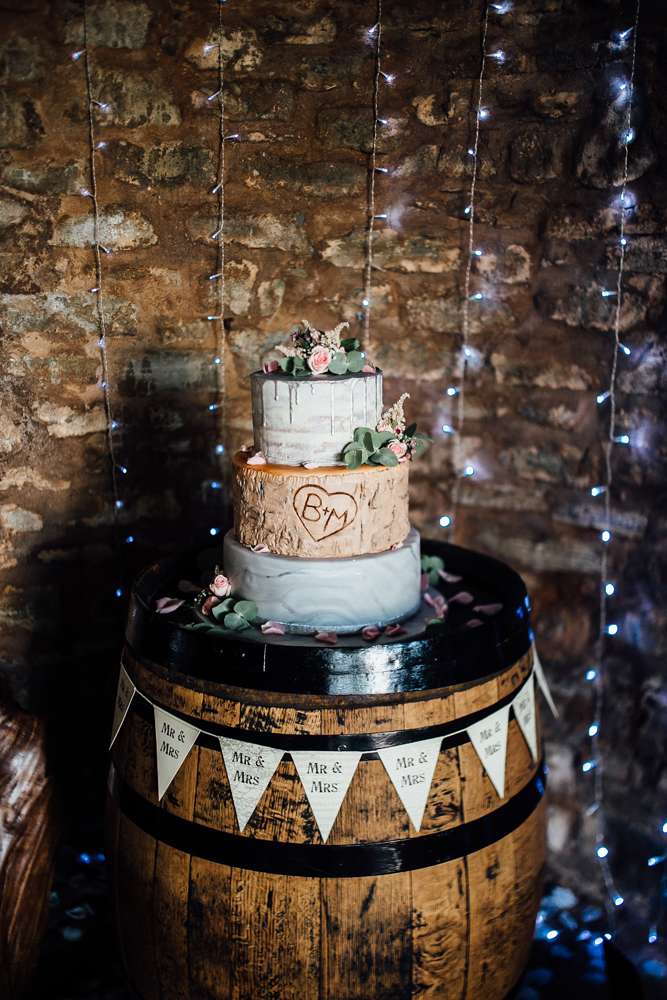 The biggest expense in the couple's £6,000 budget, said the bride, was "Our photographer. We decided against a videographer because we couldn't afford it, and so we knew our photos had to be the dog's bollocks… and my God they were. Beatrici Photography was worth her weight in gold; she was so friendly and professional throughout the entire day, and the memories she captured are so, so special to us both."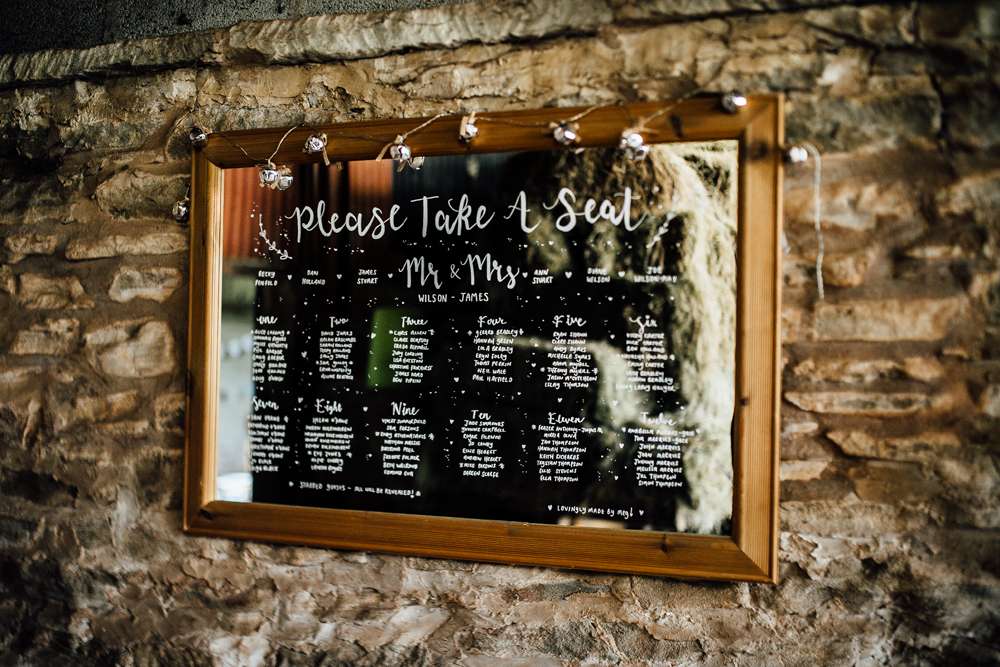 Megan then went on to say that, "Where I could save money, I did! I spent so much time researching and comparing prices for EVERYTHING, and working out ways that I could put things together myself rather than buying pre-made stuff. I kept reminding myself throughout the whole process that mine and Ben's relationship had always been 'no frills', and therefore so should our wedding be. As much as I would have loved to walk around with a llama in Louboutins, I realised my husband and my Vans were all I needed, and I don't regret anything!"
There wasn't too much DIY because, said Megan, "As a tattooist, I'm a creative person, but to be honest I use that part of my brain for so many long hours of the day I didn't have the energy to make a lot of stuff. One of my favourite things I did make was a handwritten table plan on a huge wooden mirror. It was so nerve-wracking because I couldn't stencil or sketch anything first, I just had to grab a pen and go for it – it turned out beautiful." They did their invitations via Facebook, and Megan designed and printed the order of ceremony herself.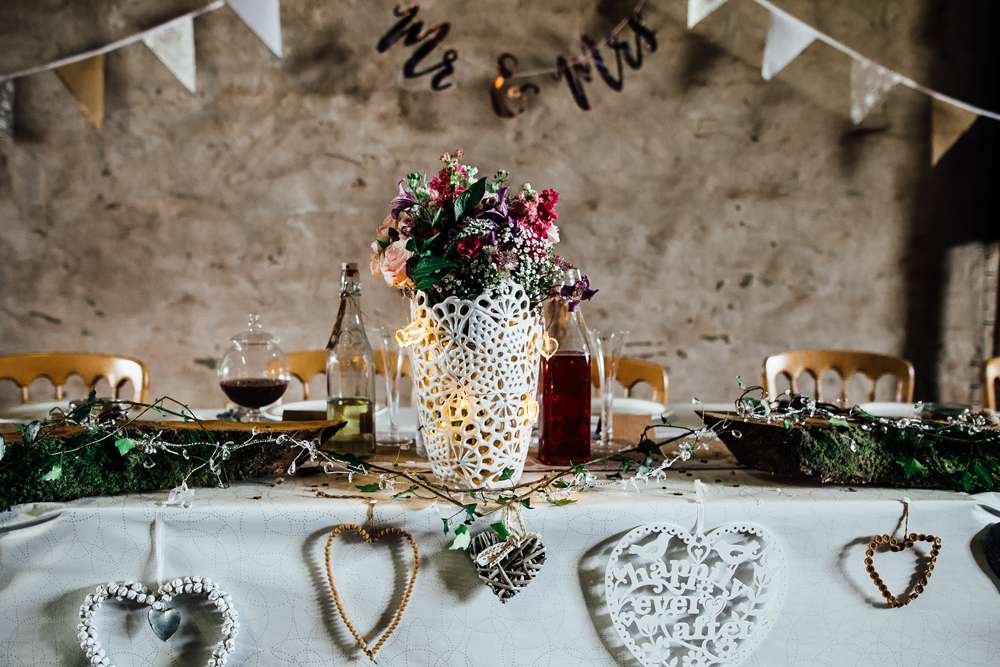 Megan said she wished she'd known how stressed out she would get, and how by the end she honestly couldn't have cared what happened as long as she got to marry her best friend followed by a glass of bubbly! "I found the wedding planning and the day itself to be a completely life-changing process, something that I'm not sure I was entirely prepared for, but I would do it all again in a heartbeat. You realise how supportive and selfless your loved ones are when it's 3am and you're messaging them questioning your colour choice for the tissue pom poms…"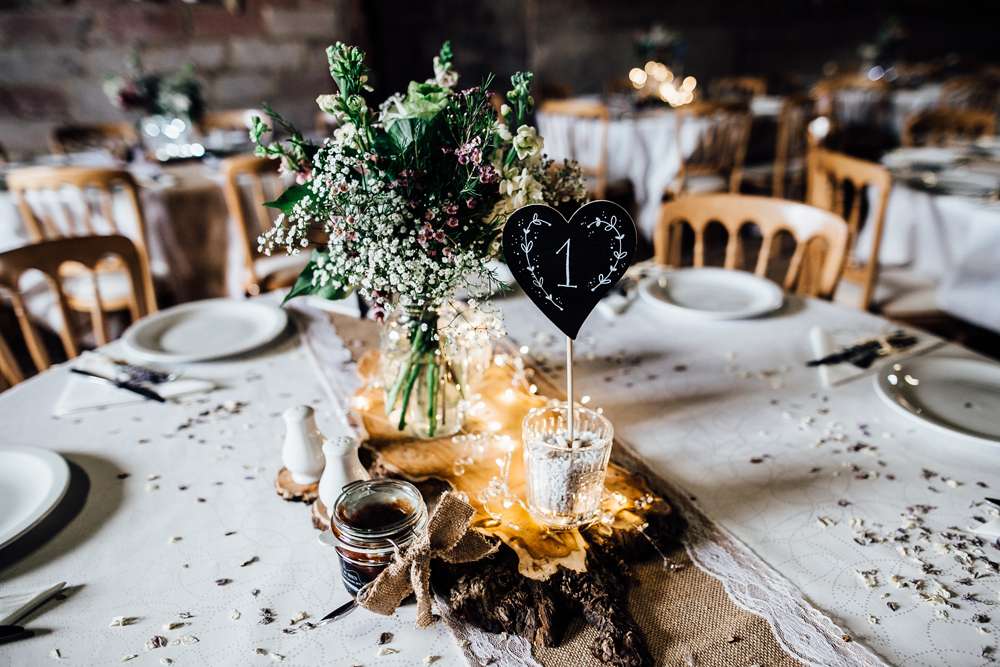 The worst thing about planning, said the bride, was "Second guessing every element (apart from my choice in husband) once I'd made a concrete decision. There might be a seemingly better option around the corner, but you have to put your faith in what you've chosen and make it work." But the absolute best thing, and most rewarding, she went on to say was, "Watching our families and friends come together to help transform Puzzlewood in the pissing down rain with wellies and cans of cider. It was like watching my dream become a reality, and we couldn't have done it without their help."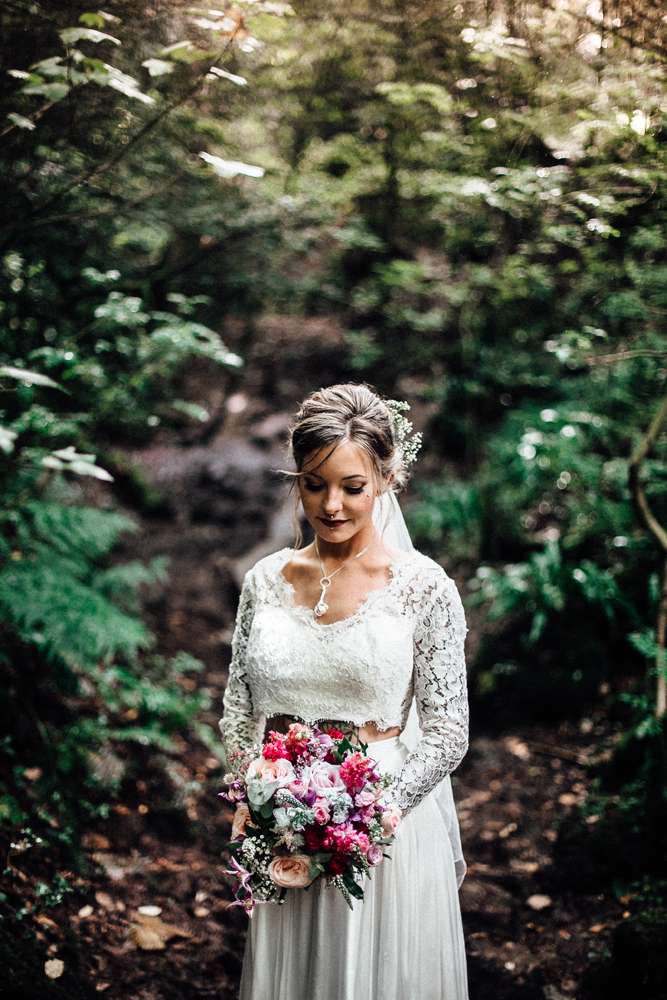 Megan and Ben's advice for you all is to, "Do what you both want, and what you both want only. Everyone is quick to give you their opinion on a wedding, but it's only yours that matters. We devoted one day a week – 'Wedding Wednesday' – to planning, and that was it. It's so easy to get overwhelmed, but it's incredibly important to get excited and enjoy being engaged together."