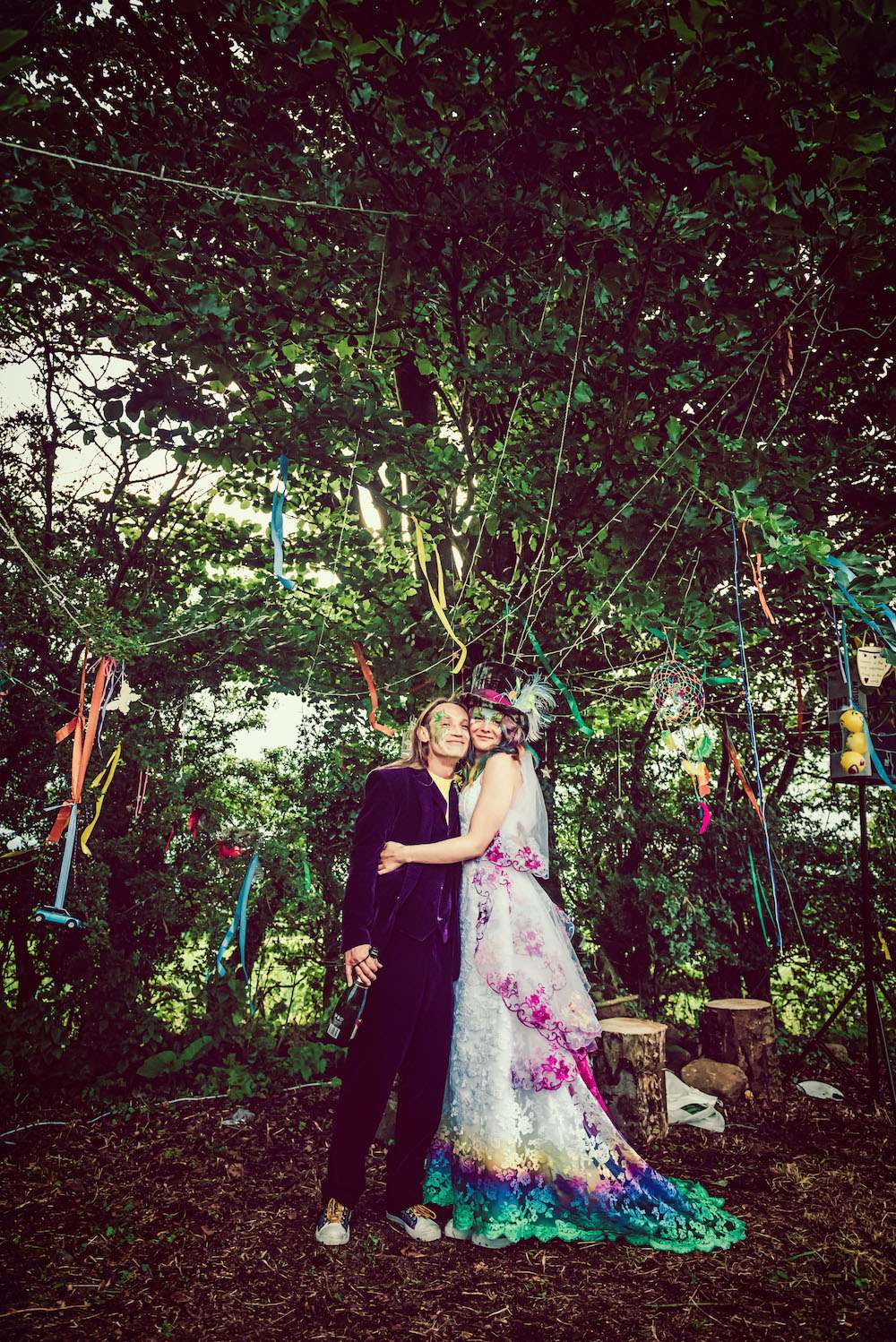 Coleen and Gavin's jawdropping wedding day was held at their farmhouse in Margherafelt, Northern Ireland. The ceremony was performed by a druid and the full-day reception was essentially a festival, with 25 acts over three stages (yep, you read that right!). And on top of that, just wait til you see Coleen's spray painted rainbow dress!
"We hold this little festival at our farmhouse every year, and thought it would be the perfect place to have our wedding," Coleen explains. "All our friends and family will already be there and we've always said that we wanted an outdoor wedding. What could be more perfect than having it at our own home?"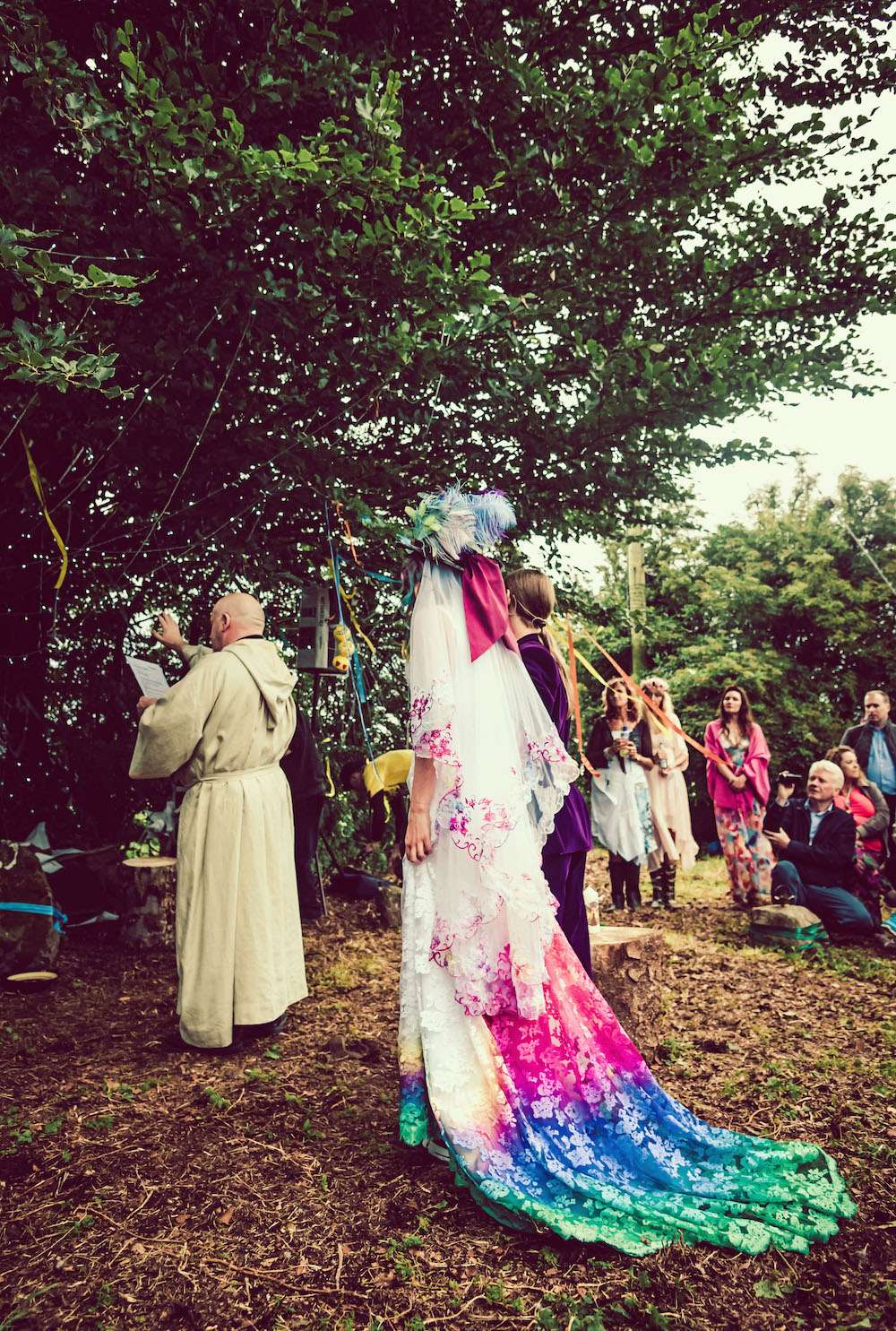 Having their wedding at home meant they could totally personalise the details of the day and make it unique to them. "We had an old Celtic ceremony done by The Order of The Druids in Ulster that took place in a stone circle," Coleen continues. "We had a stone marking each of the compass points and an element at each direction: a small bowl with earth in it, a small fire pit burning charcoal, incense for air and a bowl filled with water. We were blessed at each compass point by the druid, who then joined our hands together with the cord, and then together we lit our hand fasting candle, which is re-lit every year on our wedding anniversary. At the end of the ceremony, everyone tied gifts to the branches of the tree as an offering, and we all had a good boogie to Groove is in the Heart by Deelite. Everyone laughed, cried, and spoke of how beautiful and unique a ceremony it was!"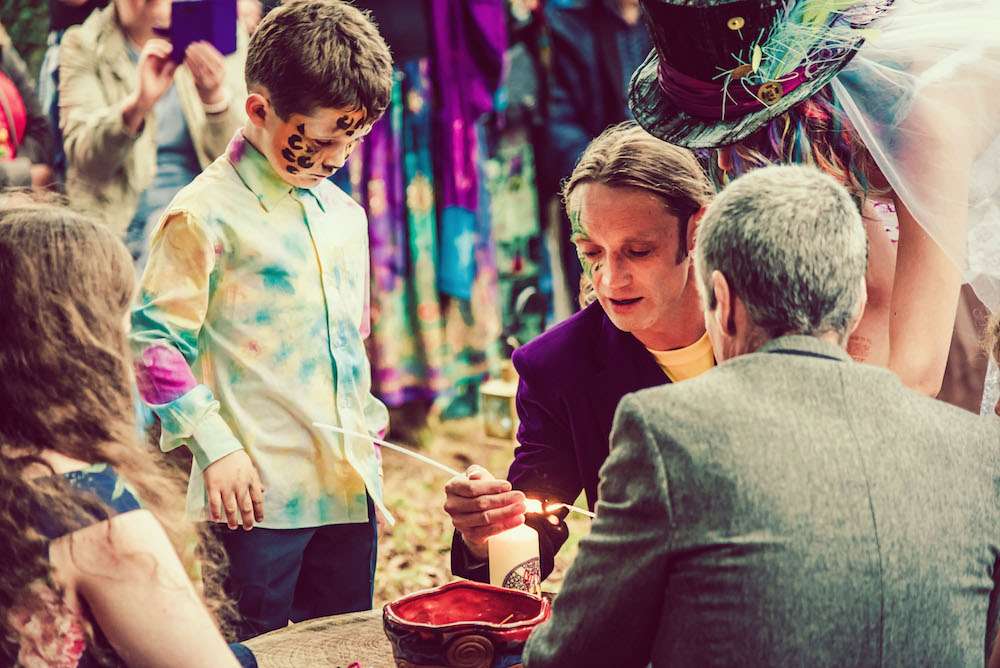 The ceremony area was totally DIYed as was most of the wedding. Gavin made tables and chairs from pallets, friends came to help hang fairy lights and paint the barnyard, and two friends made the BBQs from old oil drums.
Coleen's dress was also personalised by her friend Sarah Smith. "I bought a custom-made white wedding dress online," she says, "but a plain white dress just wasn't going to do it for me! Sarah is an extremely talented body painter, so I asked her if she would spray paint my dress in different colours. Although she was very nervous, she agreed once we shared ideas – and it turned out beautifully (if only arriving two days before the ceremony – that was terrifying)!"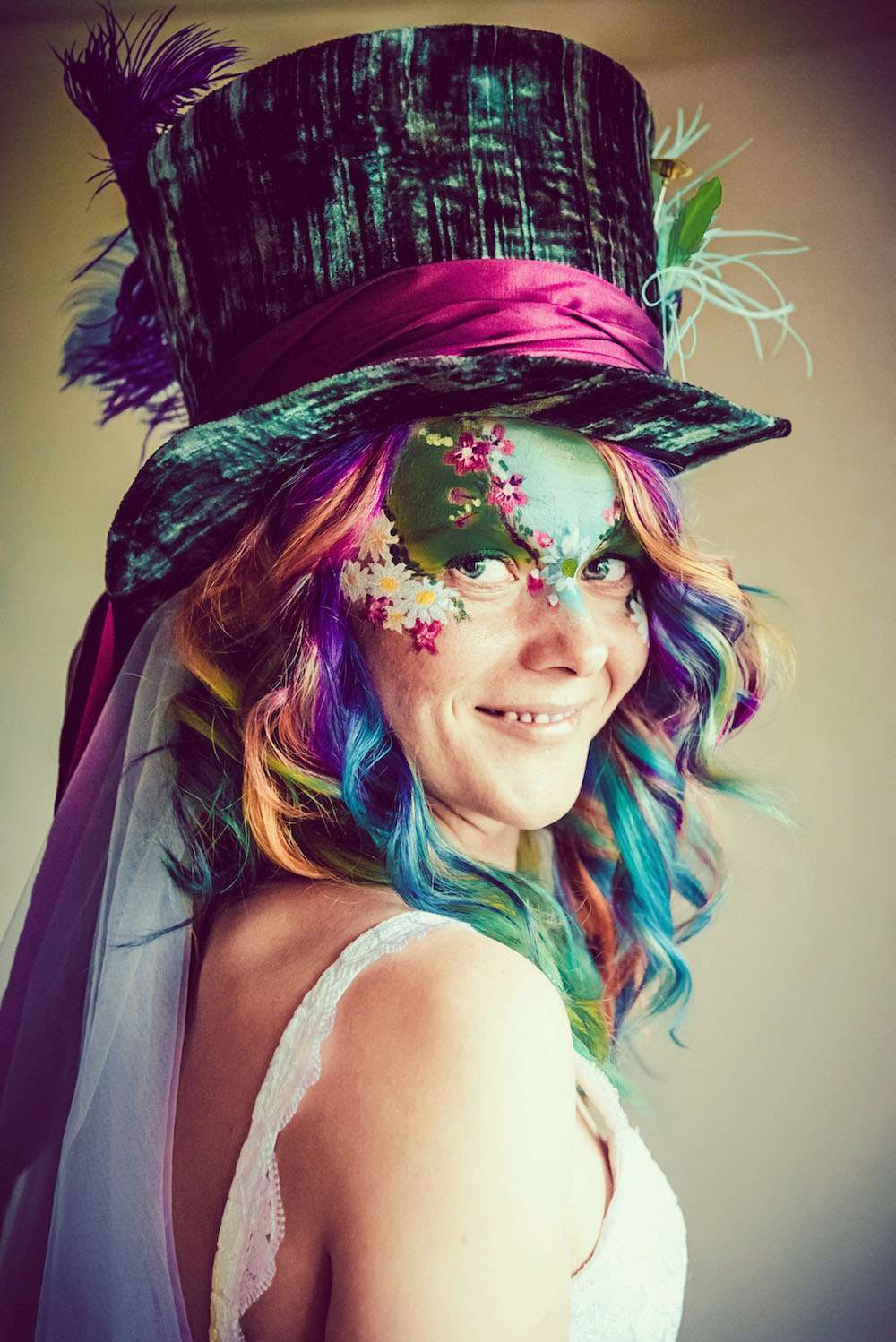 Coleen wore her rainbow wedding dress with Converse, a chain with a colourful moon to symbolise her walking the path of the moon in the ceremony, and an ankle bracelet belonging to and in honour of her friend Jacky who passed away a few years ago. She also had a bespoke 'Mad Hatter' top hat made with vintage clock parts and colourful feathers, which she says she loved even more than her dress! Both Coleen and Gavin wore face paint done by Ciara Hampsey SFX: Gavin had a green leaf painted down the side of his face, and Coleen had a garden-inspired design. With this, Gavin wore a purple velvet three piece suit; their daughter wore a mint green dress and their sons wore tie-dye shirts.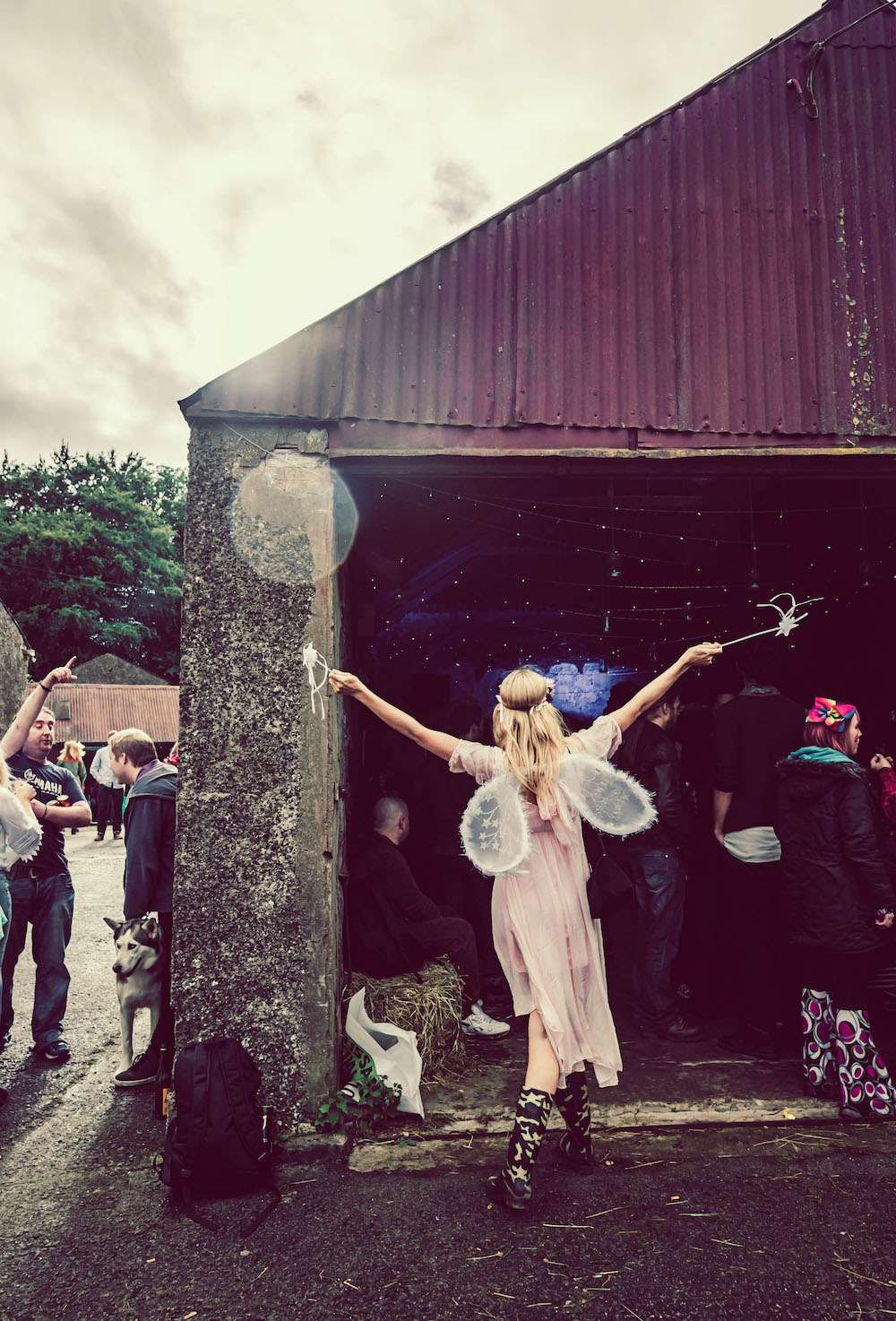 They describe their wedding theme as 'fancy dress – be as colourful as possible!', which makes going through the photos so much fun as you sift through and see who you can spot. Having said that, the photos were incredibly fun to sift through anyway as everyone is clearly having SO much fun at their festival-stroke-wedding, with loads of incredible music, fire performers, and a bouncy castle! There's so much love, and we love it.