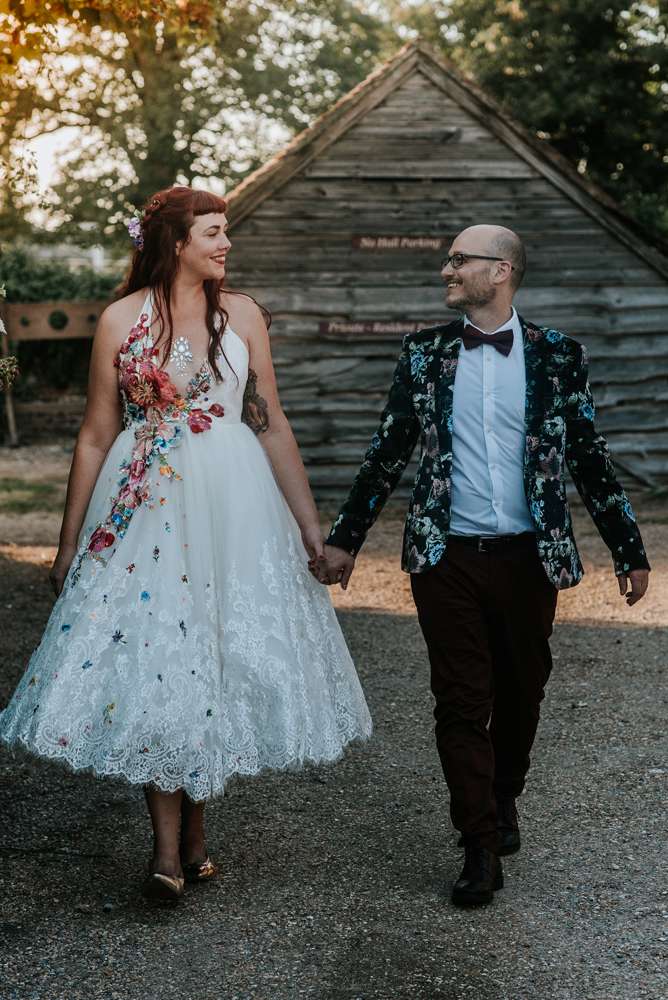 Samantha and Mike were married in August and they had a few different priorities. They wanted to ensure that they didn't overspend (they rigidly stuck to their £11,000 budget), and they wanted the day to feel like them. They were hitched at Southwick D-Day Memorial Hall, which isn't a licensed wedding venue (so they did the legal bit a few days before) meaning they had a lot of freedom to do what they wanted on the day itself and it only cost them £750 to hire it for the whole weekend!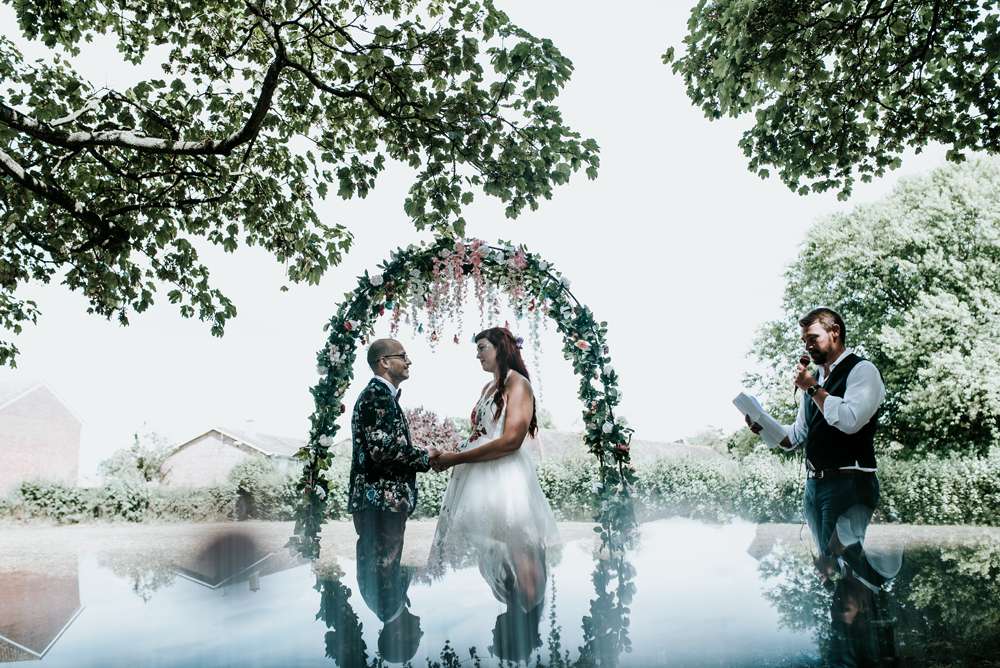 "I think the inspiration for our wedding was just anything we liked", began the bride. "It all seemed to come together in the end in a mish-mash of colours and patterns which probably perfectly describes us! Our theme was vintage picnic with a splash of pom poms, drag bingo, cats and festivals… all rolled in glitter and an explosion of colour!"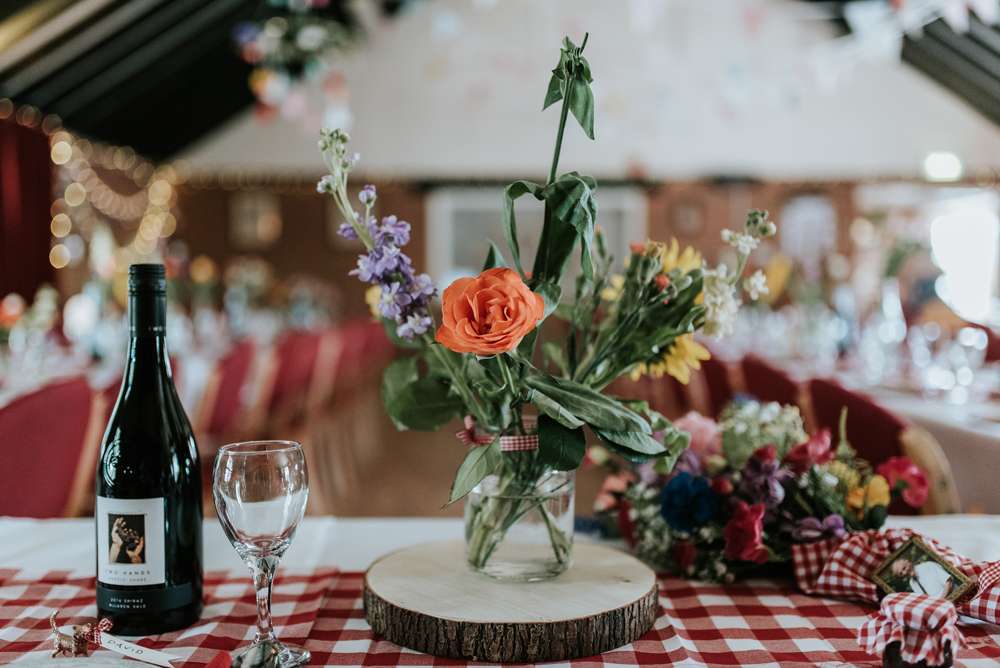 The bride got her dress for an absolutely steal, buying it from eBay for just £200. However when it arrived it didn't fit at all and wasn't much like the photographs she'd seen. So, she set about customising it by changing the neckline, adding a halterneck and stitching on some gorgeous embroidered flowers and sequins that she's also found online. It took her hours and hours to do but in total the customisation only cost her £30!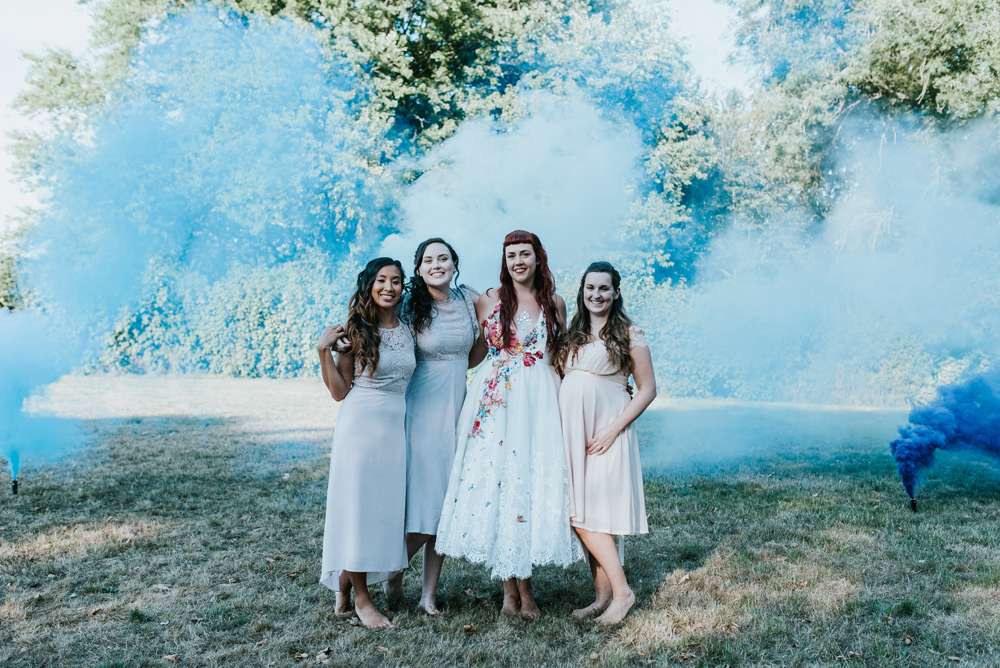 They did plenty of other DIY as well including almost all of the decor. They added their own twist to many traditions. For example instead of a big or fancy cake they had a DIY donut wall. Working as a designer and maker for Ginger Ray meant she had lots of decor hook ups through work as well! "We ordered the donuts from Greggs – they came to £42 for 100 of them! Bargain! The donuts went down a treat even though the icing started to melt in the heat. People were munching on them throughout the evening and we only had a few left by the end of the night."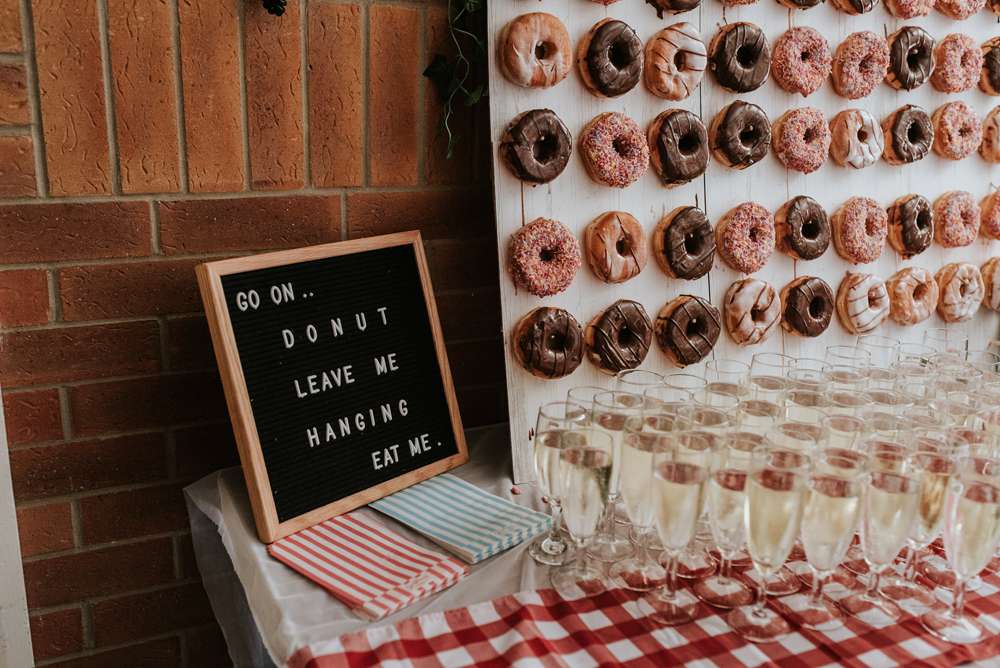 "For the table flowers we decided to save loads of money by buying and arranging them ourselves. We went to Lidl the day before and bought about 30 bunches of brightly coloured flowers. The bill came to £68. Over the previous months we collected glass jars and bottles to put the flowers in. They looked really effective spread along the tables and really brightened up the room. For our ceremony we had an arch covered with artificial flowers (that a dog peed on as we were setting it up in the park). I also used artificial flowers for the bouquets. This way I could spend time creating them in advance and not have to worry about them dying."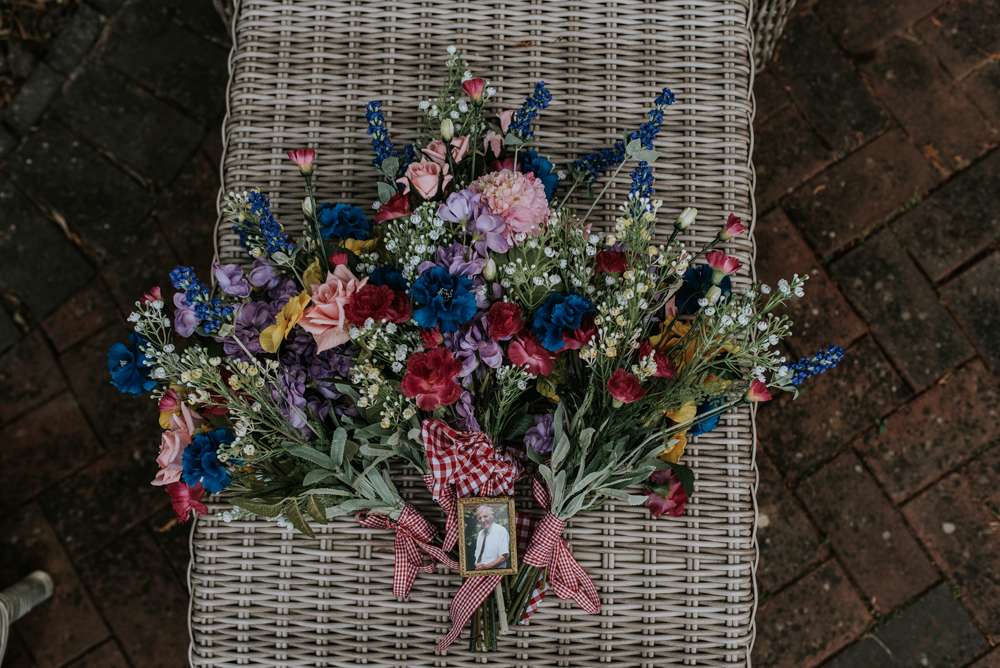 "We had a glitter and temporary tattoo station set up which seemed to go down really well. By the end of the night everyone was covered in glitter and tattoos. We bought a load of tattoo paper that you can print onto and make your own tattoos. So we had personalised tattoos that linked to our life and the things we liked."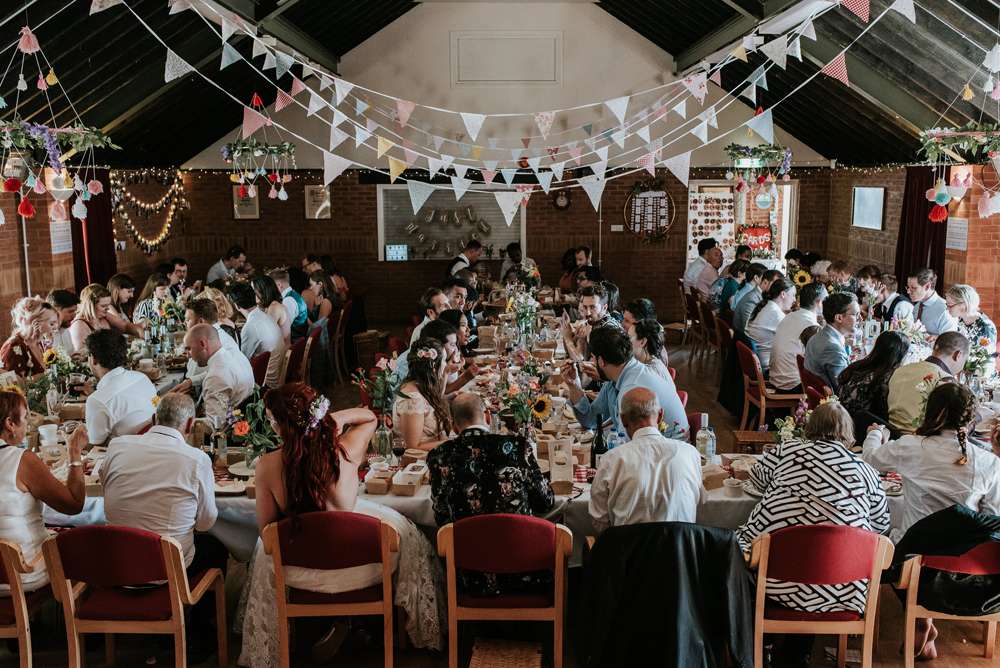 The entertainment was also very important to the couple. They did their own Spotify playlist so they would only play songs they really loved and they did a round of bingo with everyone… with the bingo caller being their friend Ryan dressed in drag! "I really wanted one of my best friends Ryan (who is funny and charming) to be involved in the wedding and to feel special. So we asked if he could do some entertainment and we came up with the plan of him being a bingo caller! He seemed thrilled by the idea and so the planning began! Soon we had a grand plan that Ryan would be the bingo master and Mike would dress up as his lovely assistant, Michelle. Over the months leading up to the wedding, Ryan and Mike would meet up in London pubs to practice bingo calls and discuss outfits. We found a bingo cage on Amazon and we created bingo cards and pencil kits to be handed out on the day."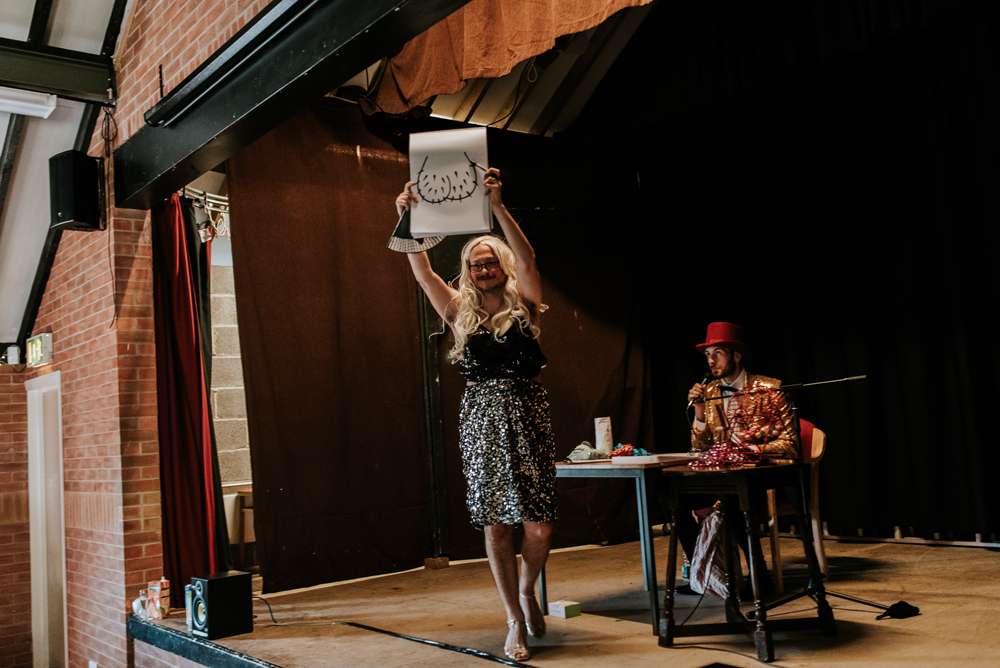 "We had managed to keep our plans completely secret to everyone else. Just as people were finishing up their picnic dinner, Mike and Ryan sneaked away to get dressed in sequins. We were lucky that our venue had an old fashioned stage with a thick red velvet curtain. Once they were ready, they stopped the music and asked for everyone's attention. The curtains opened and there stood Ryan the Bingo Man and Michelle his lovely assistant! Everyone seemed so surprised! My Nan didn't even realise it was Mike dressed up and thought Michelle genuinely was a lady! Everyone got so involved and people were excited to win the lamest bingo prizes to ever exist! The bingo calls were super rude, which got everyone laughing and cringing. It was the highlight of my day and worth all the hard work the boys put in to it."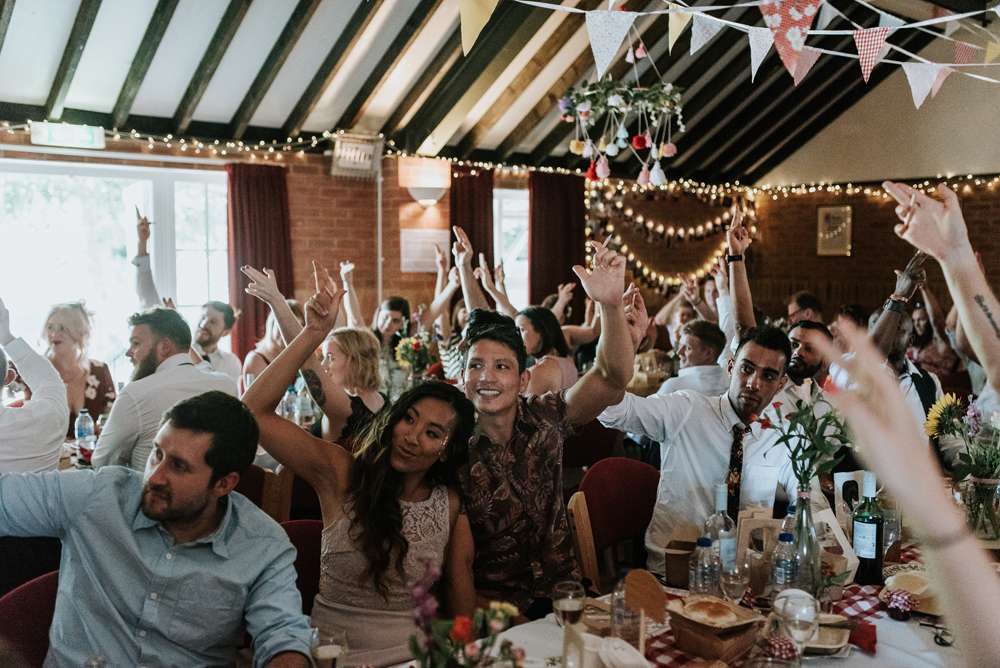 "Our favourite part of the wedding was being surrounded by every person in our lives who cares and loves us", Samantha concluded. "I think it is the only time in your life when you have everyone you love under one roof. It was quite overwhelming at points when you just stop and look around you. Make sure you remember to do that and take it all in."