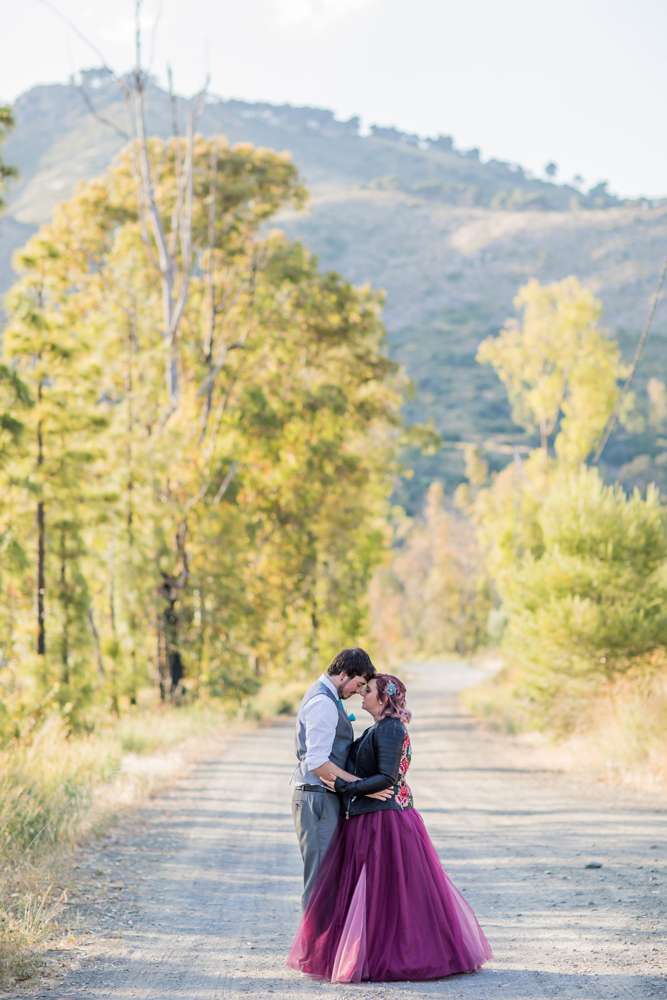 Jamie and Michael had two very different wedding celebrations –  a small family-focused event in the scorching heat in Malaga and a second a few weeks later, for all the rest of their friends and family back home in Belfast… in the rain! The two events couldn't be more different (the bride even changed her hair colour between the two!) but both felt completely right for them. After all, isn't that what being a Rock n Roll bride is all about?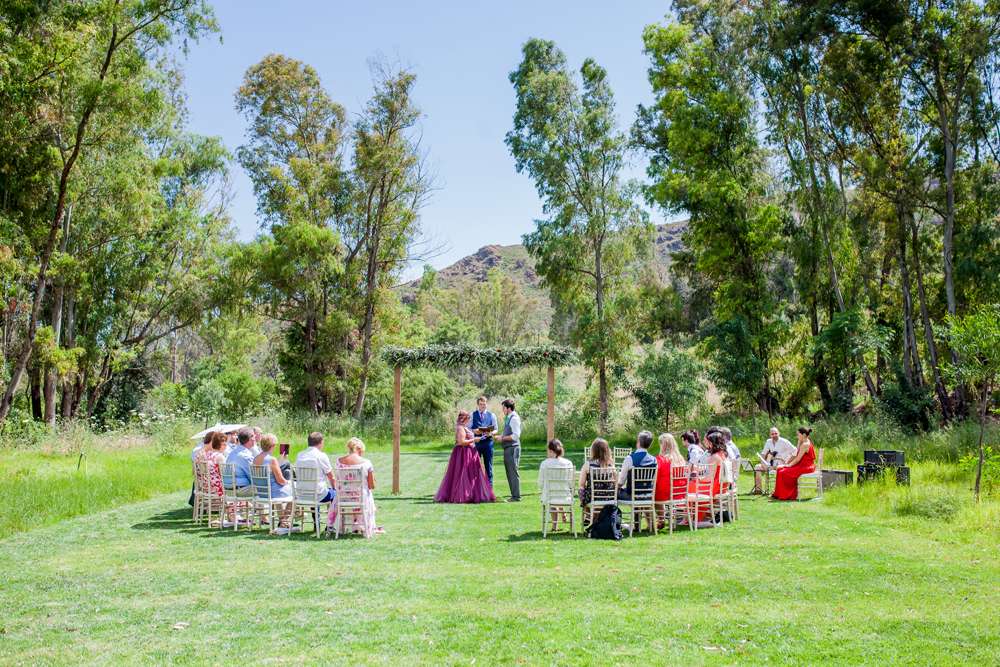 "We wanted our wedding to include the everyone and everything we love and to show our personalities, we didn't see the point in changing ourselves or pretending to be something we weren't, just for one day", began the bride. "We both always knew we wanted to get married abroad but hadn't decided where. After a bit of research, we fell in love with Cortijo Rosa Blanca. I hated the thought of a white wedding, I was keen to have lots of colour in our day. I also hate the smell of fresh flowers, they make me sneeze! We also knew we wanted to include superheroes, we both love Marvel and DC and have seen every single superhero movie."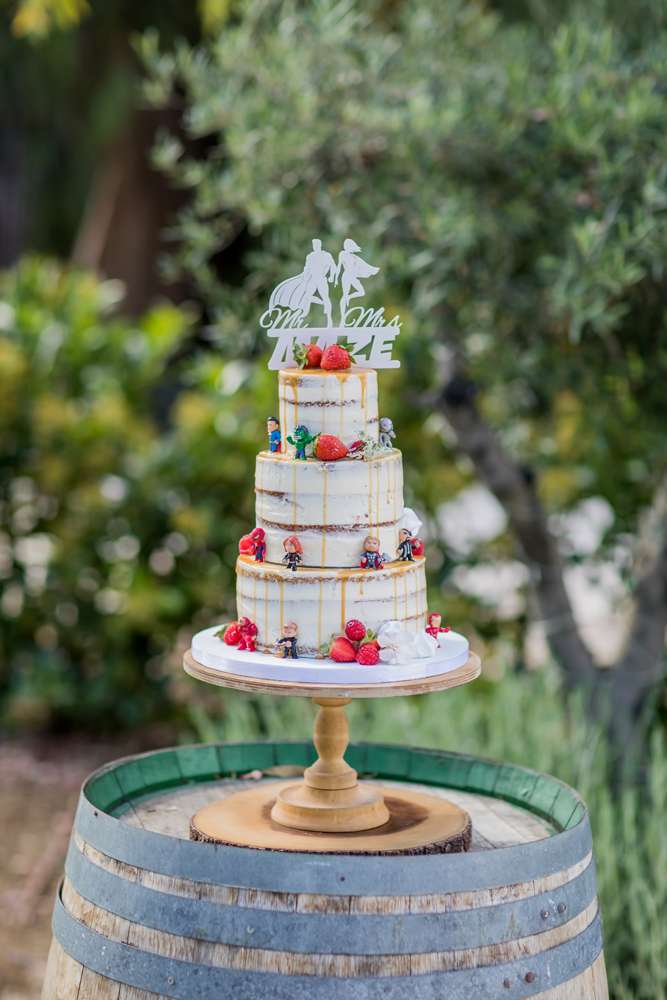 They hired Rachel Rose Weddings to help them plan their Spanish wedding, they felt in love with the elegant, rustic weddings that she plans, but they wanted to add their own stamp to their own day. "Rachel admitted she was very nervous when I told her I hated white and pink, wanted minimal flowers and a subtle superhero theme, but she rose to the challenge!" Jamie laughed. "Most of our planning started with my wedding dress, after seeing the Chotronette feature in Rock n Roll Bride magazine, I had my heart set on one of their dresses and it was the first thing I bought, I didn't even bother going to try on anything else. We got everything else to match with the colours of my dress, it was very difficult to keep it a secret from Michael seeing as everything else revolved around it!"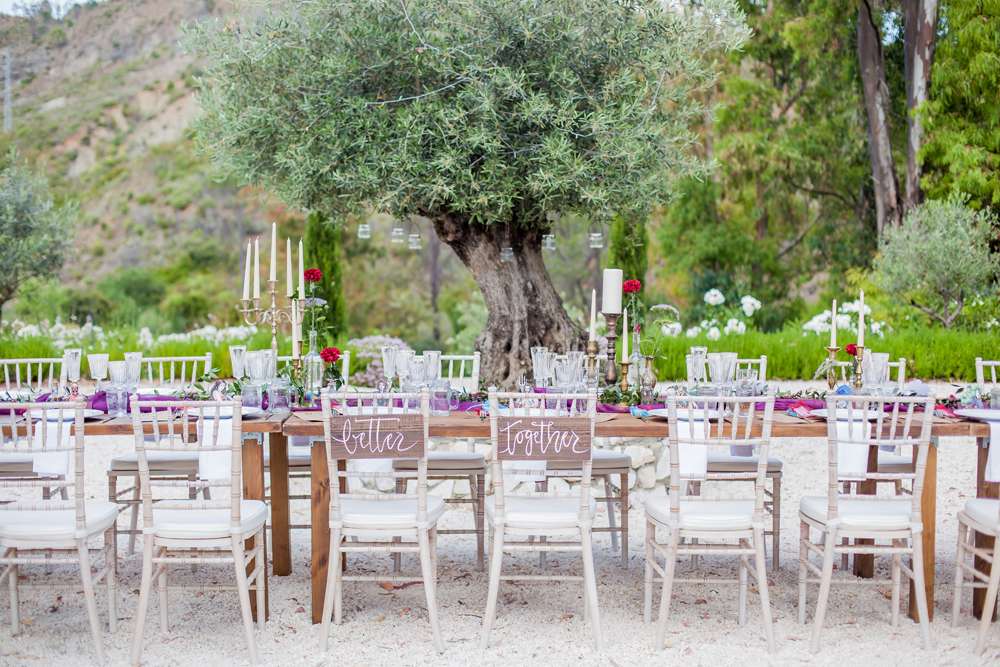 They only had 23 close friends and family in Spain so they also wanted to have a big party at home in Belfast for everyone who wasn't able to come to the wedding. "We wanted a quirky venue, both of us love live music and go to concerts together often so Belfast Empire Music Hall seemed like a good choice as we think it is one of Northern Ireland's most quirky concert venues. We had a music theme for the party with vinyl record table centrepieces and personalised plectrum favours."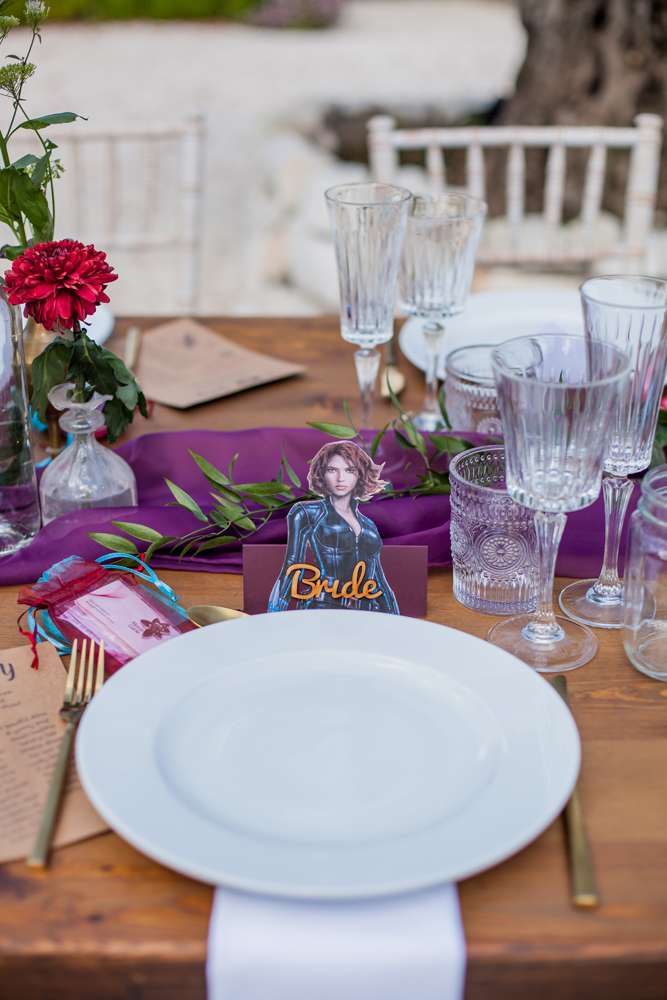 Both weddings had an overarching superhero/comic book theme, reflected in their guest book, table place settings, cake and even the flowers. Flipside Bride made the boys' comic book inspired buttonholes.
"We wanted to have a superhero theme but were keen that it was subtle and not cheesy or cliché. We had a superhero cake, DIY photo booth, some décor, the boys had Avengers buttonholes and every guest had a different superhero place name. We had signature cocktails – God of Thunder 'Get Hammered' and The Incredible Hulk 'Get Smashed'. Me and my bridesmaid even had superhero nail art. Our guests all said that the wedding was unique because it was so chilled and relaxed."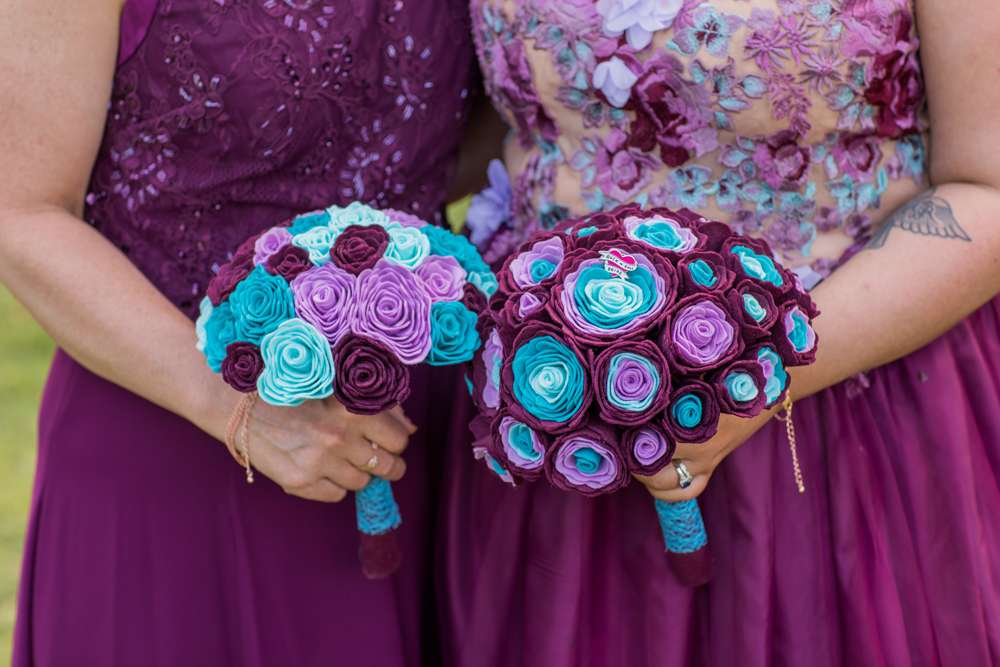 "We made our own invitations and stationery and created the table place names ourselves. The invitations for Spain were passport themed and the invitations for the evening party were CDs.  We created a welcome goodie bag for each guest with some of the essentials e.g. suncream, tissues, mints, earplugs etc. and I also designed our wedding website myself. Our favours in Spain were Marie Curie donations made in memory of my mum and we made cards to go along with these with my mum's favourite bible verse."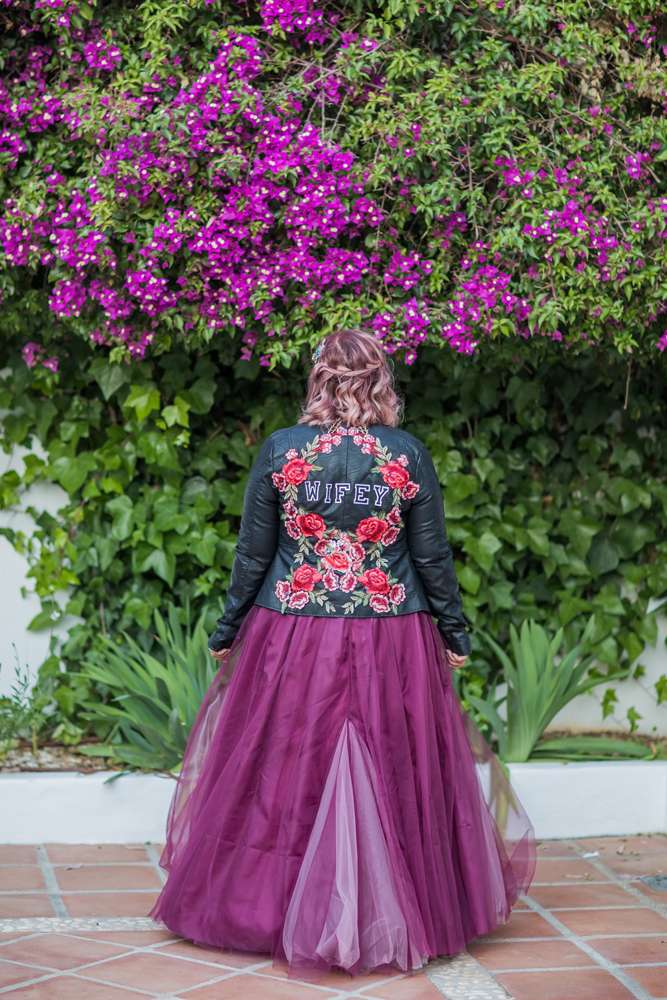 Jamie and Michal fully recommend getting married abroad and having a second celebration back home for everyone else! They have the following killer advice for anyone else who wants to do the same: "it was a lot cheaper getting married in Spain and we got more for our money, guaranteed good weather (it always rains in Northern Ireland!) and beautiful scenery. And if you can afford a wedding planner, do it. Rachel took the stress out of wedding planning for me and it meant we could focus on doing the things we enjoy and there was less strain on our relationship. We enjoyed our wedding because it was chilled and relaxed, we got to spend time with every single guest and we were never rushing! If we had of got married at home, we would have been obligated to invite people we don't even know and we would have spent the whole day trying to speak to each person. This was what it was like at our evening party, I didn't even get to eat because I was so busy going around everyone! An evening of that was difficult enough, never mind a full day."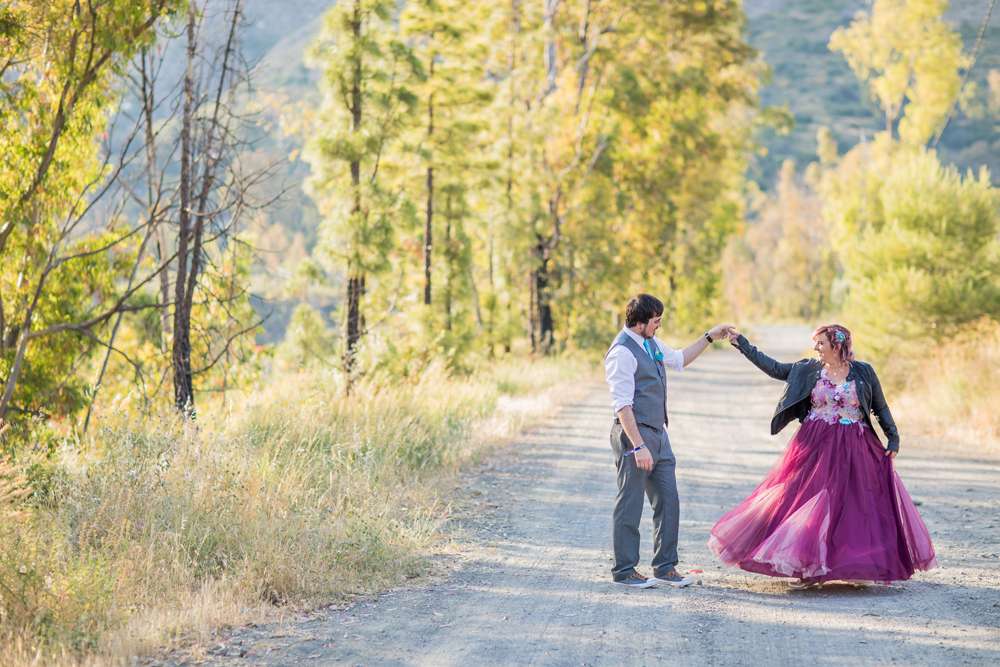 "We made the most of every moment and took some time together, just to take it all in. There are no set rules, you make the rules. I know everyone says that you shouldn't listen to anyone else's opinions and just focus on what you want, but I also know that it's easier said than done especially when you care about the people giving opinions and want them to be enjoy your big day as well. A more intimate wedding really shows you who the important people in your life are and the people who are willing to make the effort for you. So I would say, be considerate of others but never compromise on the things that are important to you. The people close to you will come round eventually."