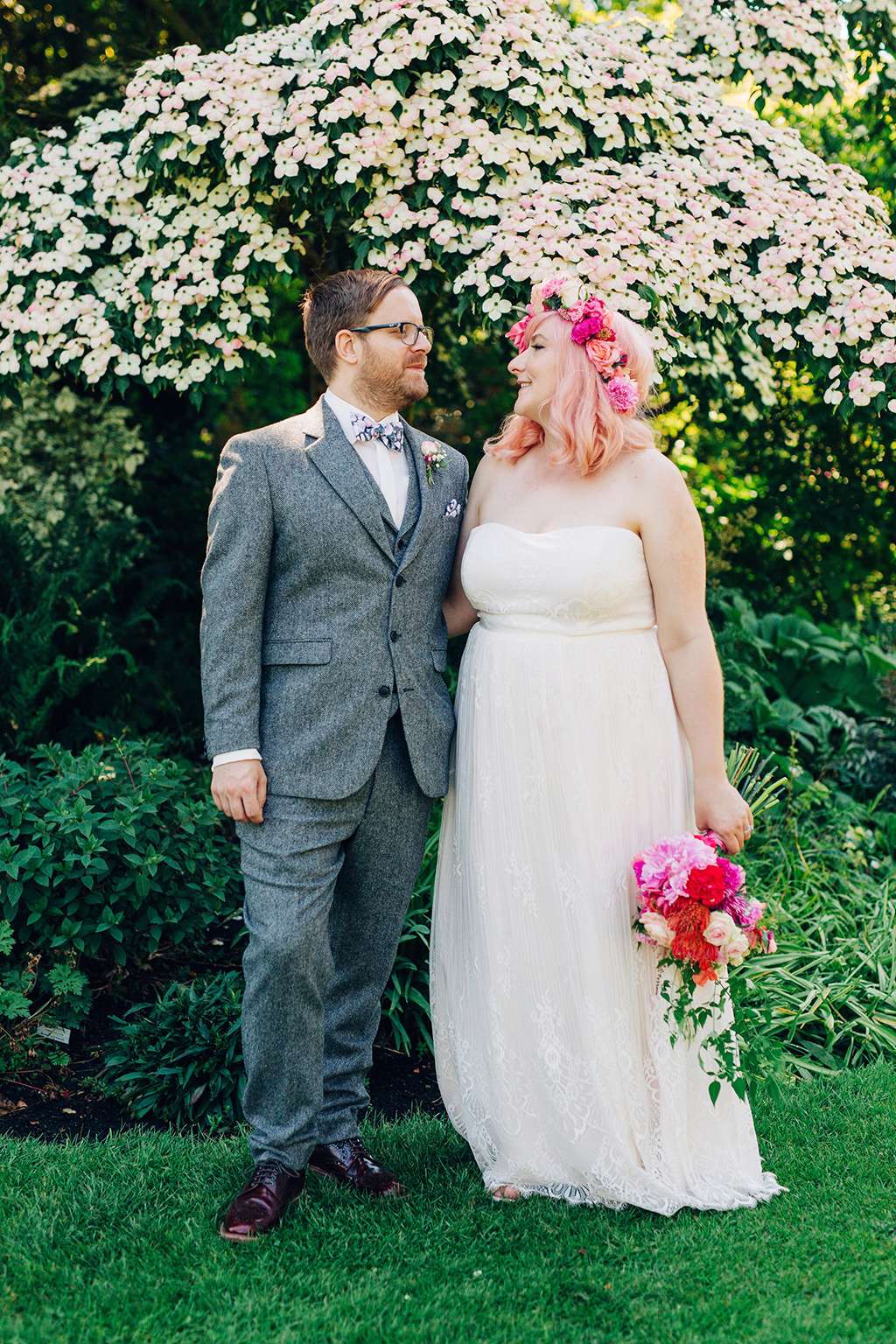 Tabby and Carl have a retro online-dating love story— the met thirteen years ago on Myspace and bonded while chatting on MSN messenger! It took six months for their friendship to develop into something more but have been inseparable and sharing crazy adventures ever since.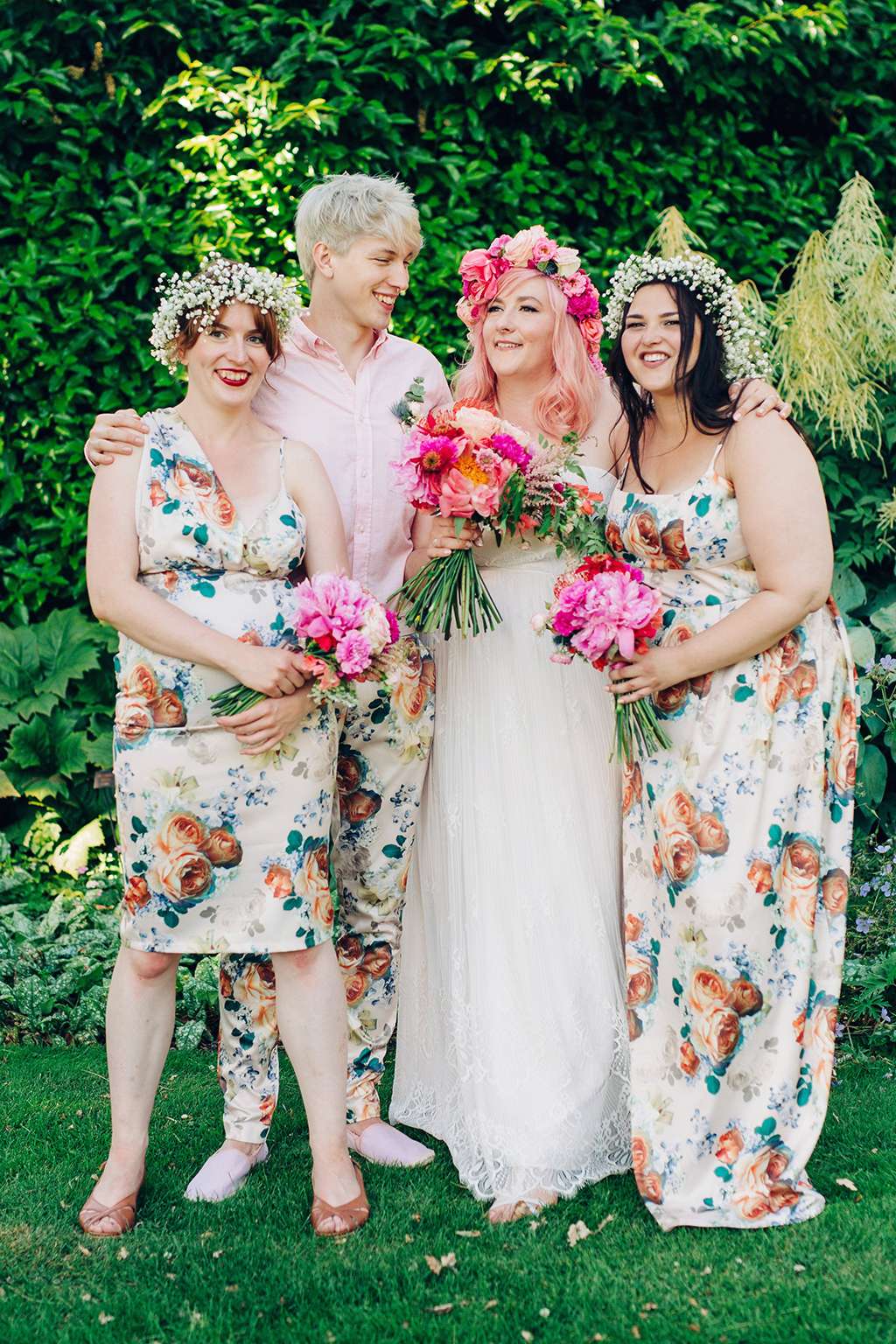 As a make-up artist and manicurist, Tabby spends a lot of time working in the wedding industry and, coupled with the digital age, found herself overwhelmed with options while planning their big day. But instead of trying to stick to a certain colour palette or theme, they let the day be led by things they loved – and if it clashed or looked a little rough around the edges, then even better! As a keen gardener, a natural theme emerged of All. The. Flowers, led foremost by the beautiful grounds at their venue Bressingham Hall, where both Tabby and Carl have fond memories from their childhoods.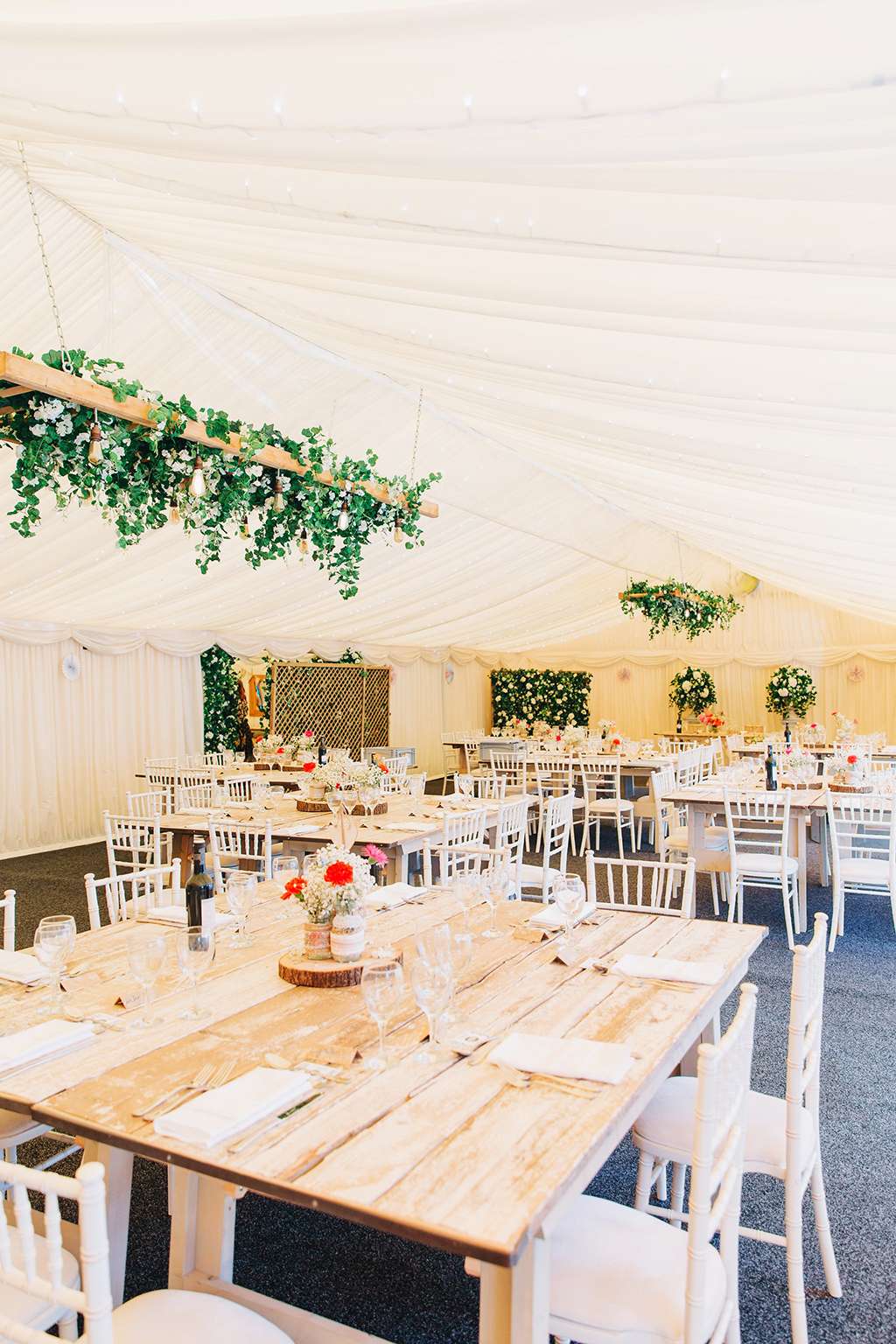 Tabby wore a strapless lace gown from David's Bridal, accessorised with a bright fresh flower crown by Harriet Parry and pink hair dyed especially for the day! Her amazing floral bridesmaids and bridesman dresses and suit were from ASOS, while Carl accessorised his suit with floral tie and pocket square by Mrs Bowtie. Flowers for everyone!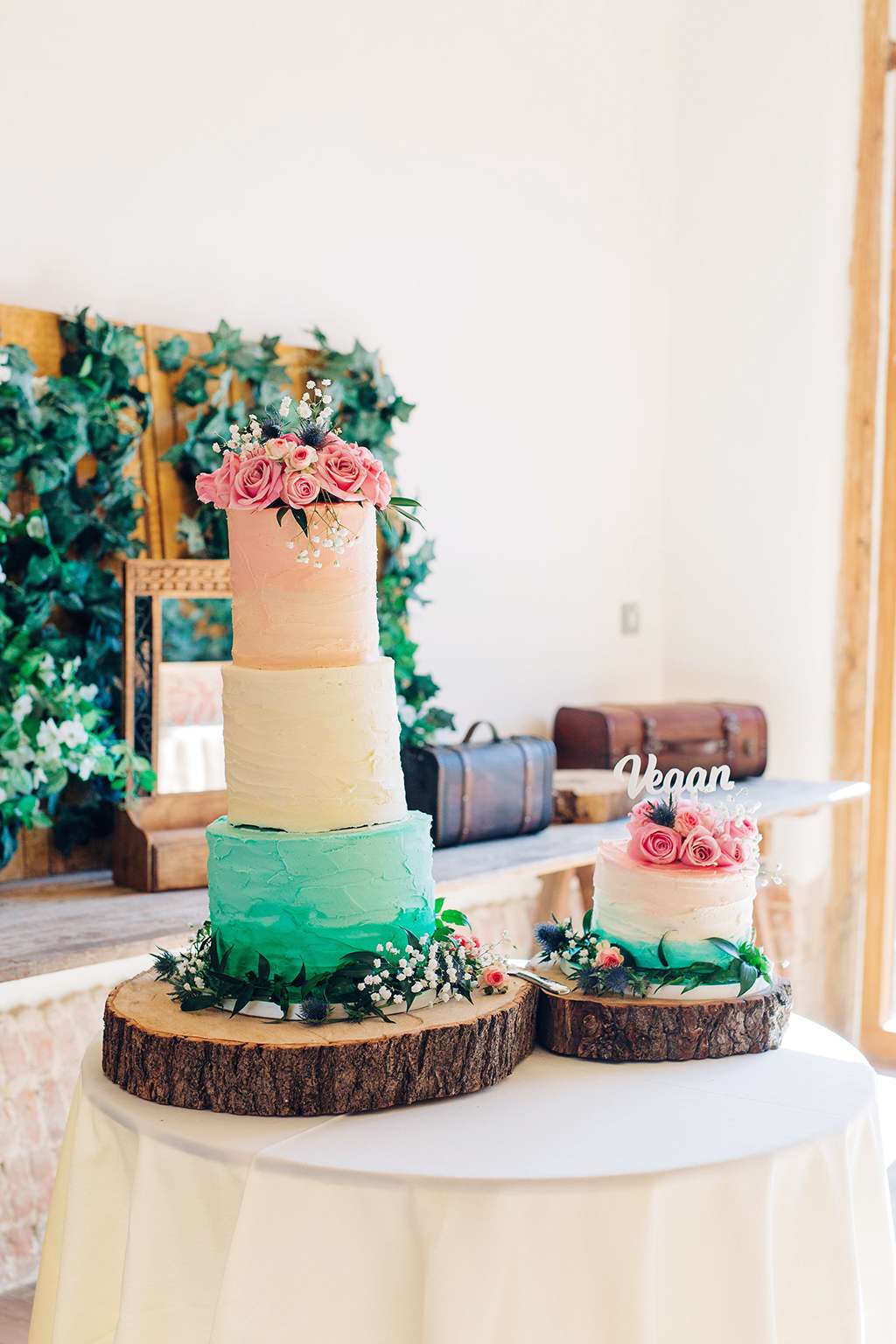 As a self-confessed DIY lover, Tabby took the projects in her stride, creating everything from the table decorations, wedding favours and seating plan by hand! The seating plan especially was quite the project; armed with a vintage oak door from a reclamation yard and an array of chalk paints, she let her inner Picasso free and covered it in pastel coloured flowers. Stepping back and realising that it wasn't quite the rustic but neat stencilled affair she'd envisioned – the flower power theme had really taken over!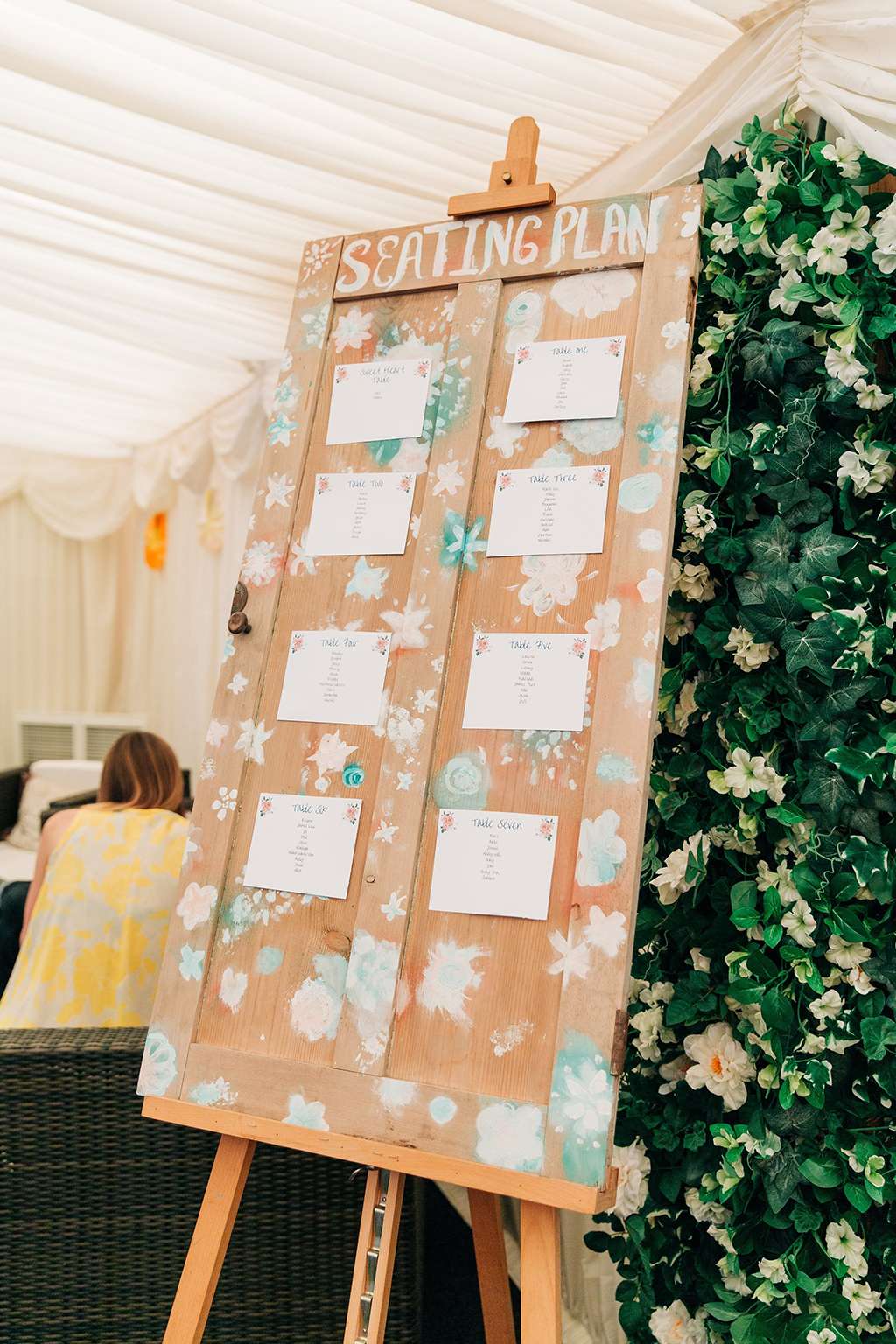 Wedding favours were an area the couple stressed out about – as they were already over their £15,000 budget at this stage it was important that they had something inexpensive and that wouldn't get wasted! In the end they combined their favours with cocktail hour because, well, who doesn't love free cocktails?! They printed out free cocktail coupons with a floral motif and are super glad they went for something like this over sugar almonds!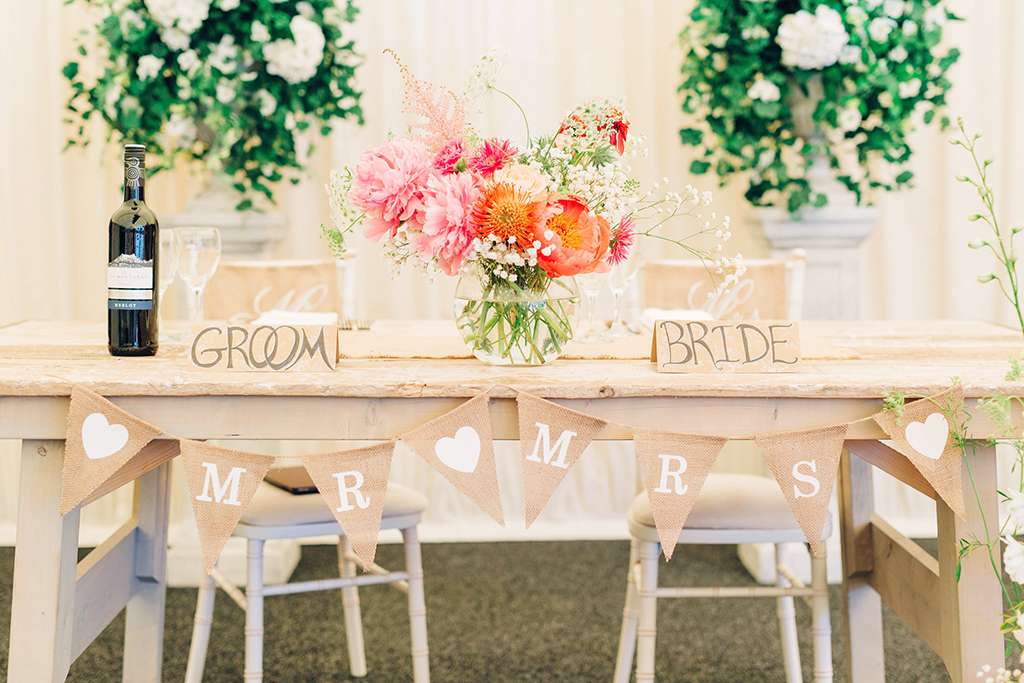 Fuelled by cocktails and post-ceremony giddiness, the couple and their guests enjoyed an alternative start to their wedding reception – an hour on a merry-go-round! By happy coincidence, a beautiful vintage carousel sits next to their venue. "Everyone got involved and it was like being a little kid again!" said Tabby.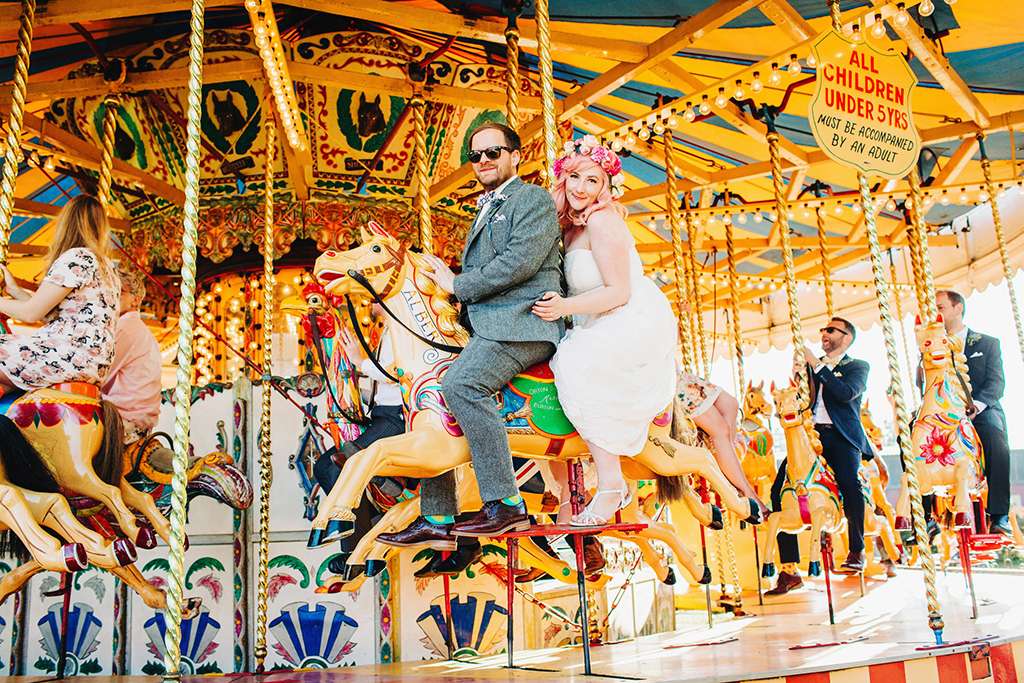 When asked if they had any advice for future couples or if there was anything they'd do differently, Tabby had some very specific guidance that not many would think of; "A small thing we would have done is move our guest book as the day went on. We left it in the room that we had dinner in, but everyone spent the evening in the barn so sadly not many of our guests got to sign the guest book and it was SO lovely reading the messages from the ones that had. I really regret not moving it into the other room for the evening."