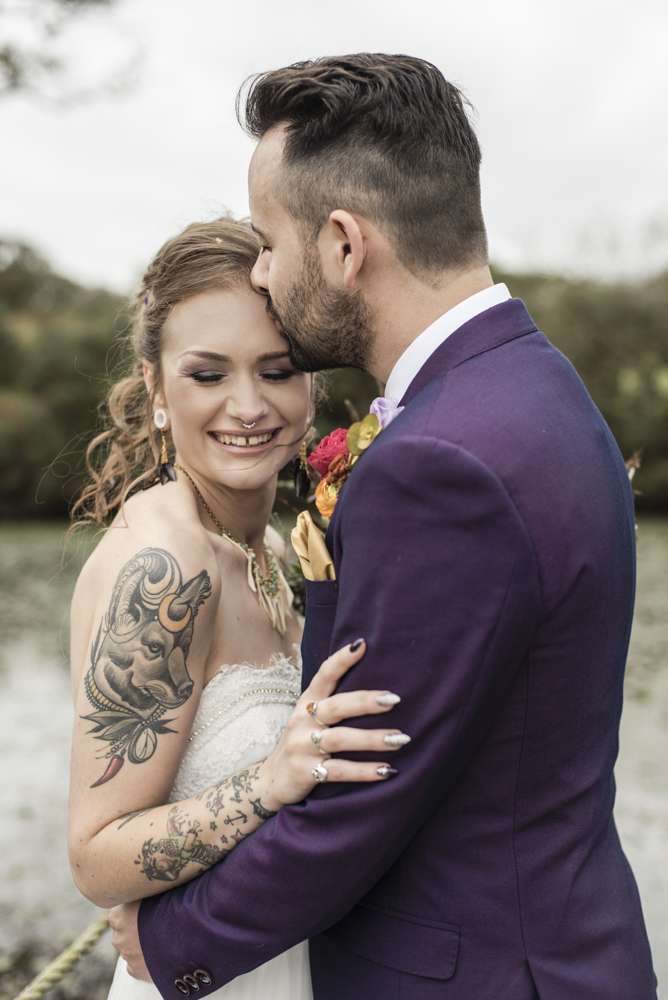 Melanie and Adam's October wedding was a super cute take on a Halloween theme, keeping everything super light, bright and airy at Oldwalls in Gower, Swansea. As an ex practical-SFX artist and with it being Melanie's favourite holiday, the couple wanted to evoke the imagery and colours, but most importantly the fun of it for all of their friends and family to enjoy. It was also a non-negotiable that her rescue chihauhau, Periwinkle, was able to take part in the day.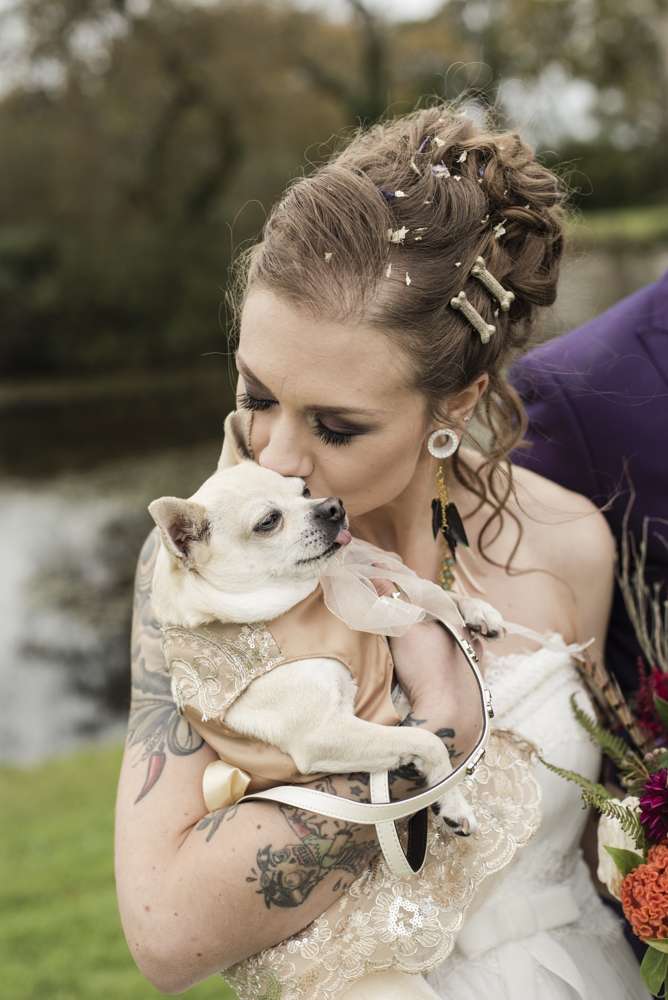 Melanie wore a strapless Rembo Styling dress with Virginia The Wolf bone jewellery and her everyday Bloody Mary Metal rings. On her feet she wore purple velvet Alexander McQueen flats with embroidered golden pumpkins, which she found second-hand on Vestaire Collective, and which matched Adam's purpley Marc Darcy suit. In line with wanting it to be a big excuse for friends and family to have fun and see each other, fancy dress was of course encouraged too, making the ceremony pictures so much fun (spot the skeleton at the back!) It also totally helped that Melanie describes her and Adam as 'not particularly serious people, so it was a bit more like a stand-up gig with some legal bits in it!'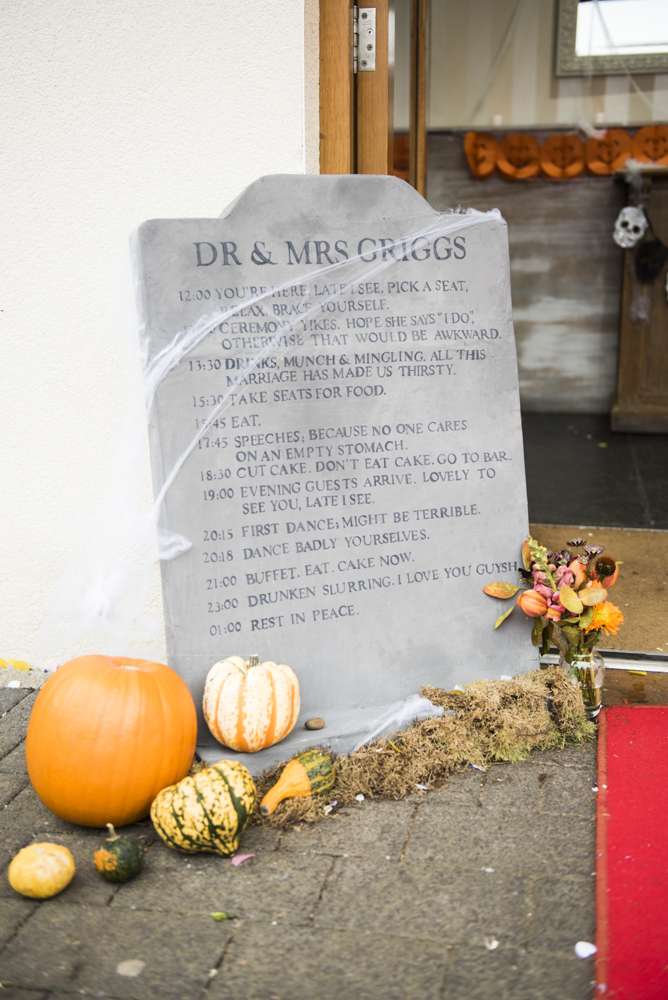 "I spent years collecting Halloween props and decorations in addition to my own little knickknacks that I've had for a long time", Melanie explains. "The decorated stag skull on the arbour, from Dead Gorgeous Skulls, is now mounted to our bedroom wall, which is a nice keepsake as well as being totally bad ass!" The reception was held in a spacious orangery (fittingly!) area, and filled with Halloween curiosities dotted about amongst The Dancing Daffodil's kitsch floral arrangements.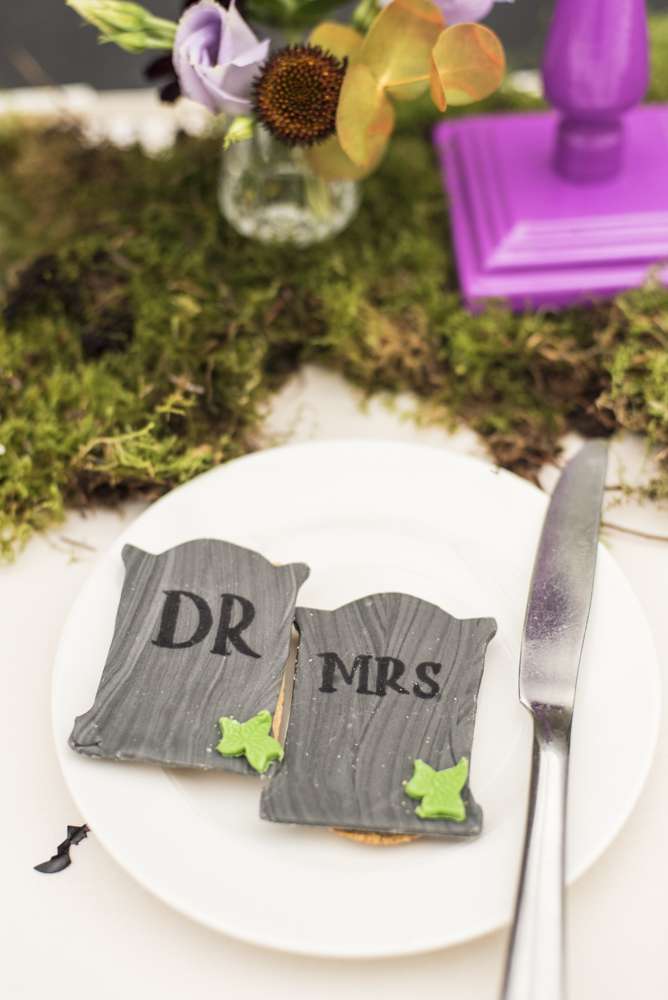 The decor also featured loads of DIY projects, including the order of service tombstone, the spider web table plan and the place settings. "I'd spent ages playing with different ideas for those and I hated all of them!" Melanie explains. "In the end, we made little icing tombstones with everyone's names written on them individually in edible ink – a total faff, but people loved them!" Melanie's mum also made the cake, with a gluten-free and dairy-free top tier, decorated with felt figurines from As Nice As Mice, and Melanie's best friend Rhi Pardoe designed all of their personal stationery.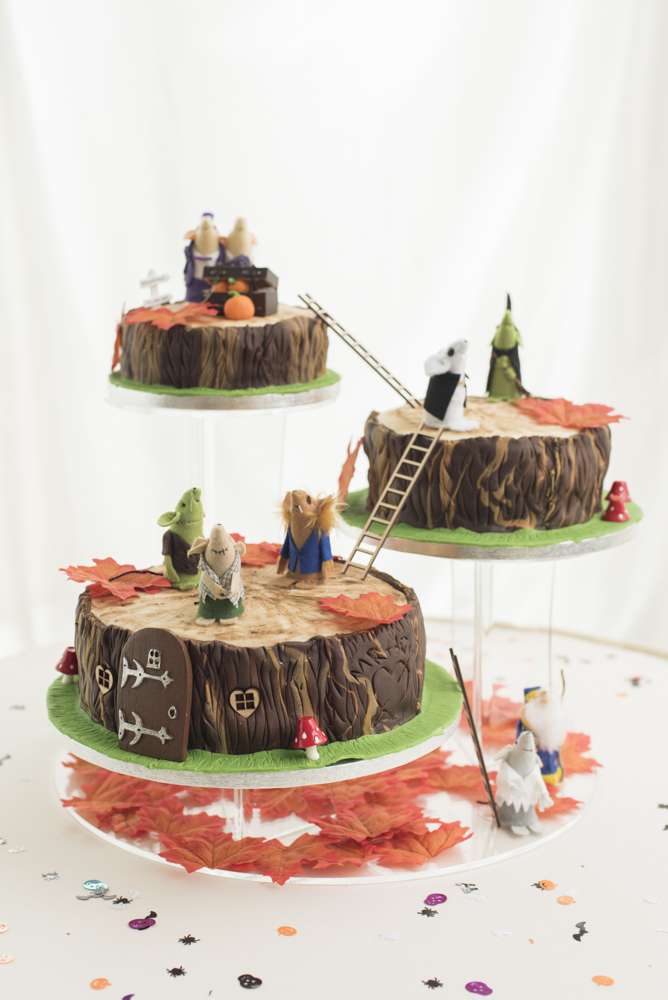 When asked for advice for future couples, Melanie says: "When it comes down to it on the day everything falls into place. Before that it's surprising but most of it is out of your control, and you have to accept that or you'll likely find it quite stressful feeling like a spectator. As hard as you try you can't plan for everything, like how the flowers will look, where the props will go, how the food will taste; it's all things beyond your immediate control that will only exist in that precise moment on the day itself."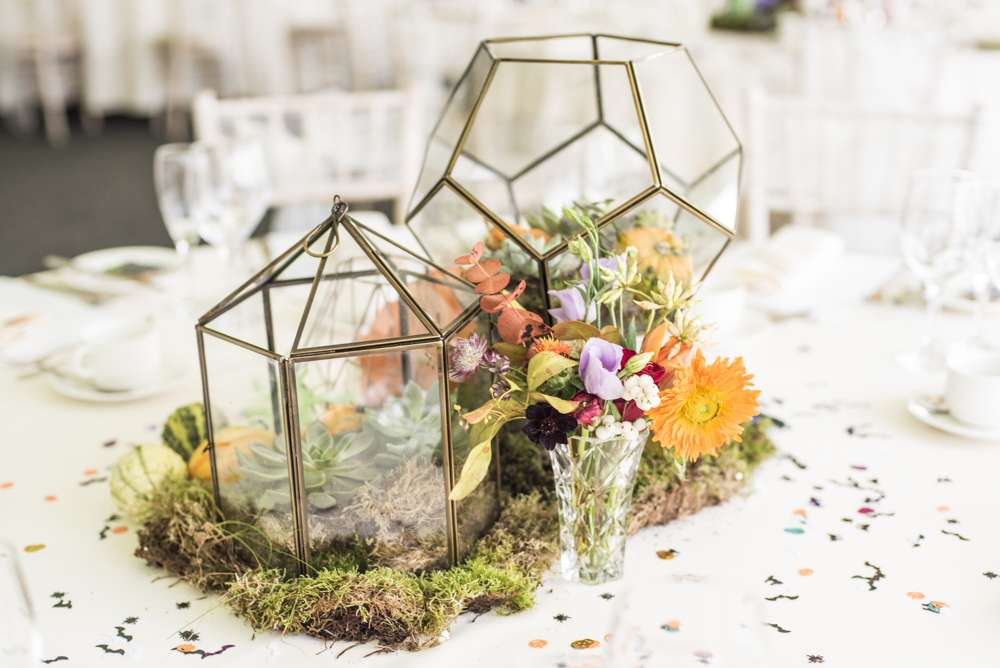 "The process overall was a lot less stressful that we anticipated, but I spent a lot of time researching who/what we wanted and booked vendors a long time in advance. Saying that, the last few days are the most stressful. The amount of times I had to rearrange the bloody table plan doesn't bear remembering…"
Worth it, though!