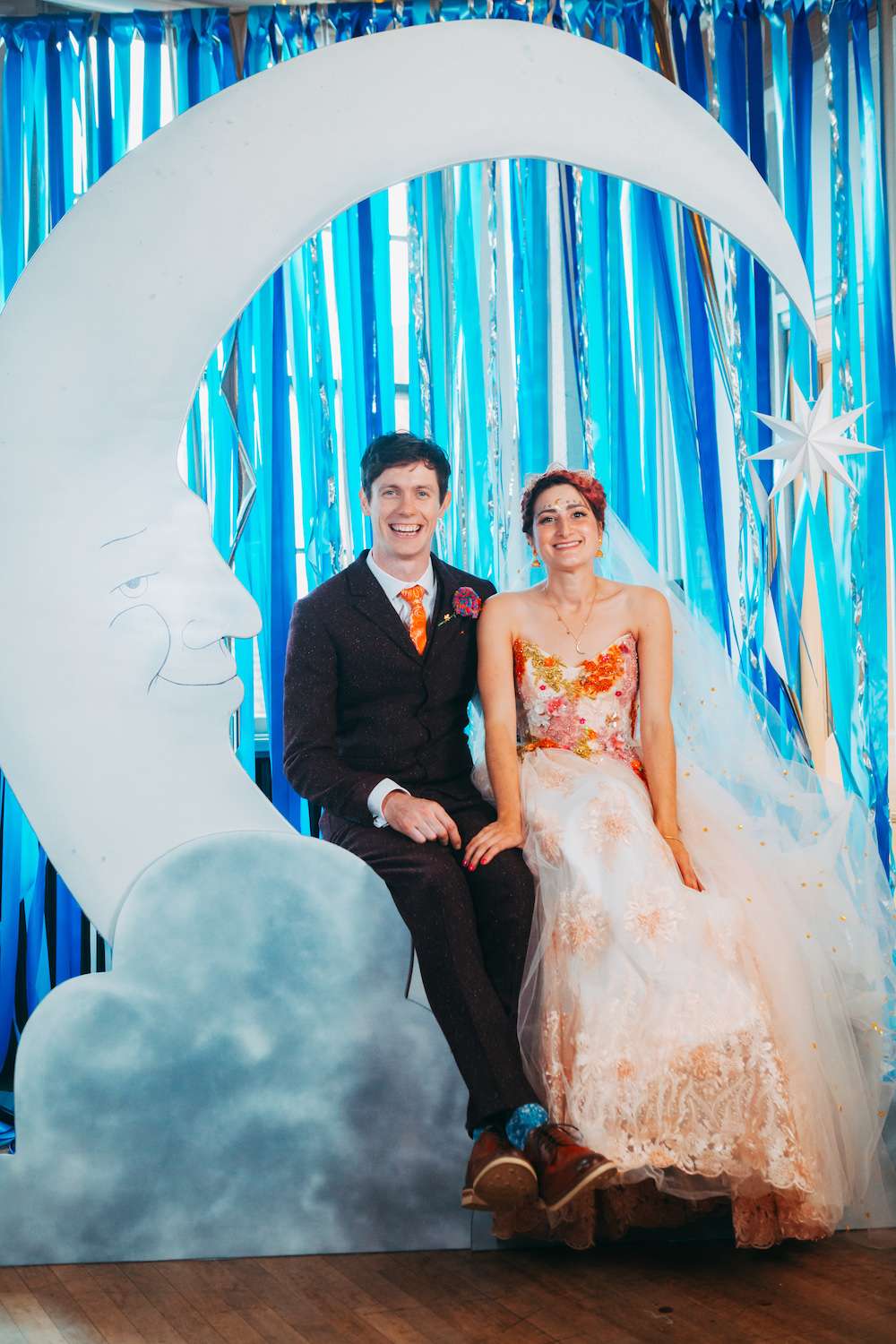 Jodie and Tom's bright and beautiful wedding was totally magical – an "Indian evening under the stars" as they called it – set in Oakham. Jodie explains, "Our wedding was a fusion of inspiration from lots of different cultures, with Mexican burritos alongside Cornish pasties, Moroccan star lanterns and a British Bake Off table, but our main inspiration was India. We wanted the wedding to be about the senses, colours, textures, sounds and scents, which India is of course brimming with, and we just felt it captured our ideas for the day!"
"As part of my company, Hattie and Flora, we use so much colour and wanted to celebrate this. We dressed Kew Gardens for their annual Orchid Festival in 2017, which was a celebration of India," She continues. "This got me thinking for the wedding and I was truly inspired by the floral displays the Kew team put together – they used dried flowers to make garlands hanging from the ceiling, and we made some smaller versions for the day from flowers my Mum grew in my parents' garden."
Jodie's own bouquet featured breathtaking neon pinks and oranges and super interesting textures, to match her bespoke embellished wedding dress, and Tom's party all had homemade pompom buttonholes.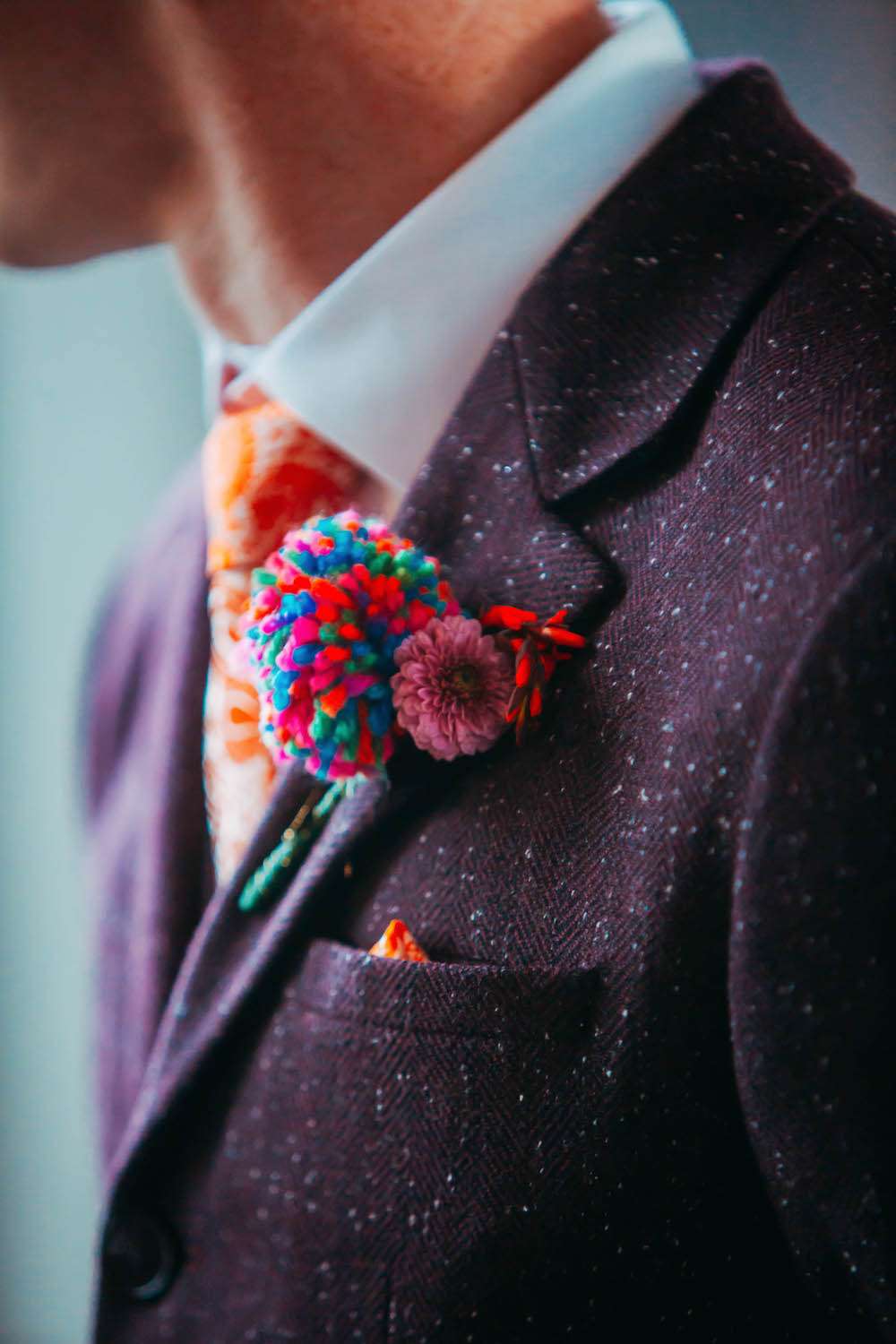 Jodie and Tom also went to India for their honeymoon. "It was the first thing we decided once we got engaged," Jodie recalls, "as it was somewhere we'd always dreamed about visiting since our days of sending each other love letters from our universities at opposite ends of the country. Ten years later, we were planning our wedding and booking our dream adventure together – it really did feel like a trip we were always going to take together. We went with a company called VegVoyages, a fully vegan travel company who pride themselves in off the beaten track adventures and focus heavily on cultural immersion."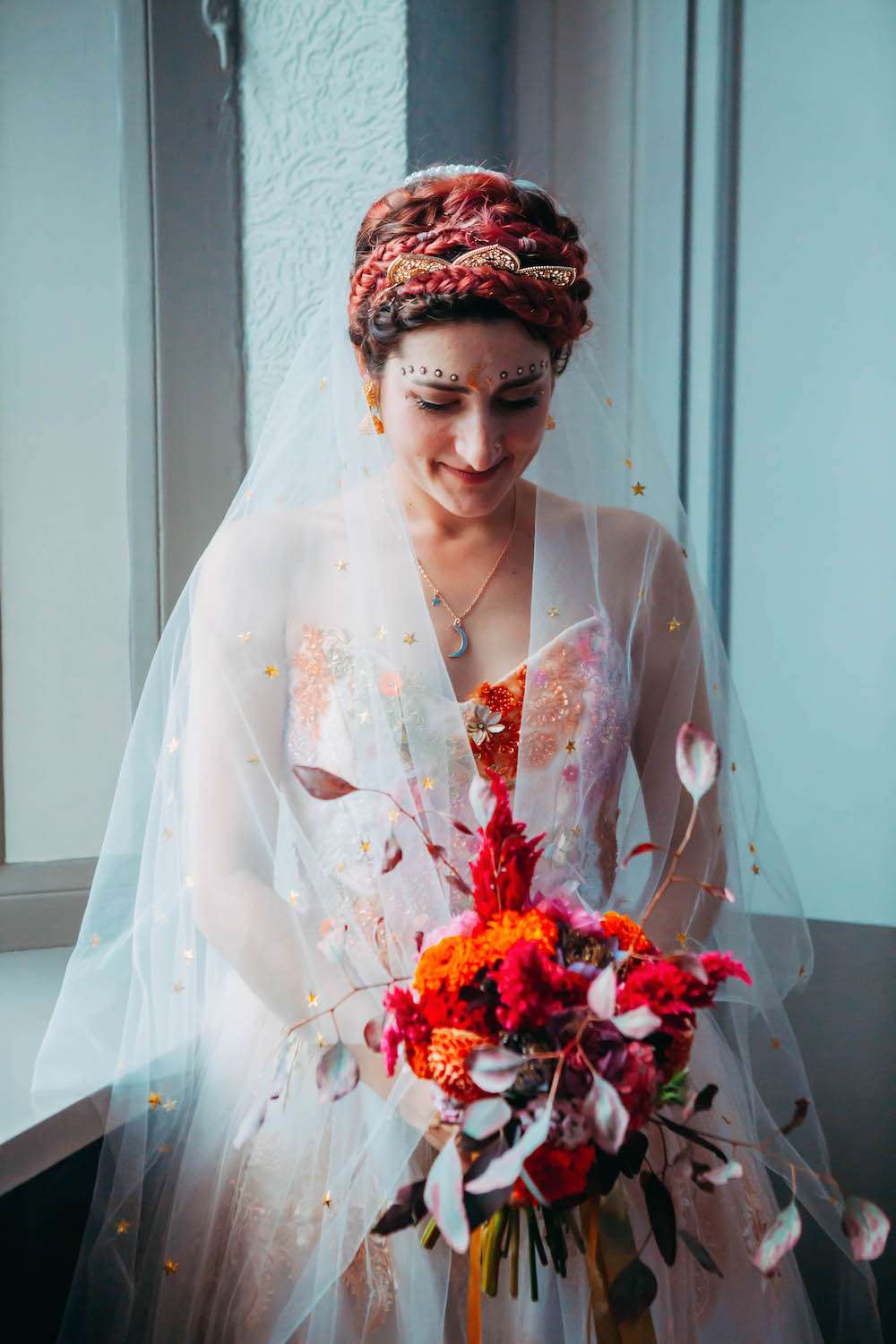 Their colourful and eclectic day was full of joy at every turn. The ceremony was held in the quintessentially English Oakham Castle, and they wed in a room adorned with hundreds of horse shoes, giving them loads of luck for the big day! Guests received an amazing wedding newspaper that Jodie and Tom had designed together featured all of the important on-the-day info as well as a comic strip, funny ads and quizzes.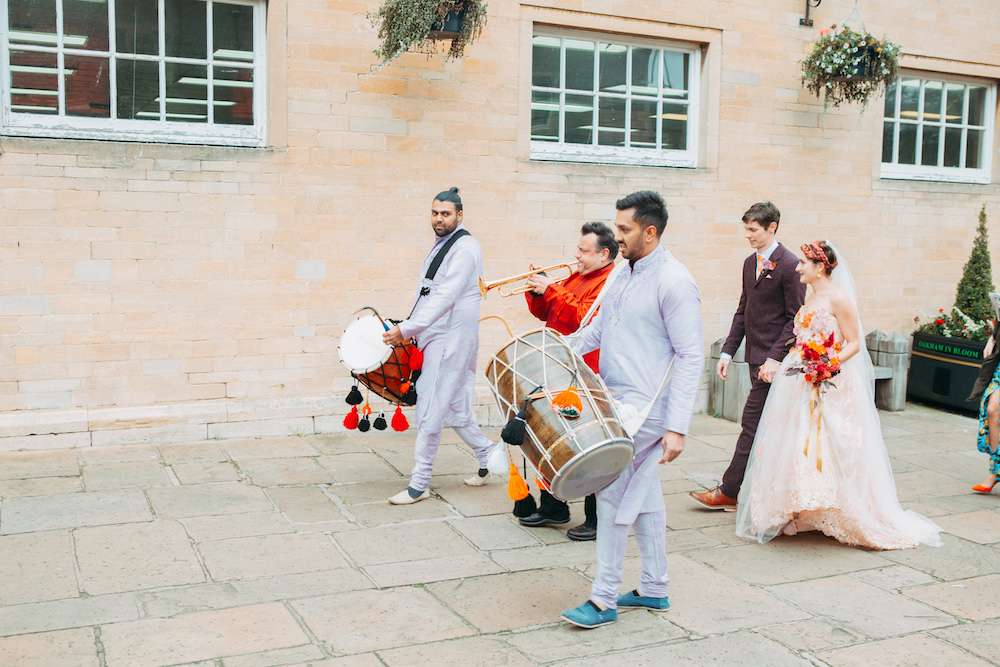 Once they were officially married, the couple were paraded out to the sound of Indian drumming: "It was such a beautiful and vibrant sound – it felt like the celebrations really started from then on! They paraded us through the streets of Oakham and the whole wedding party followed the drummers with the residents of Oakham all watching on as we walked by!"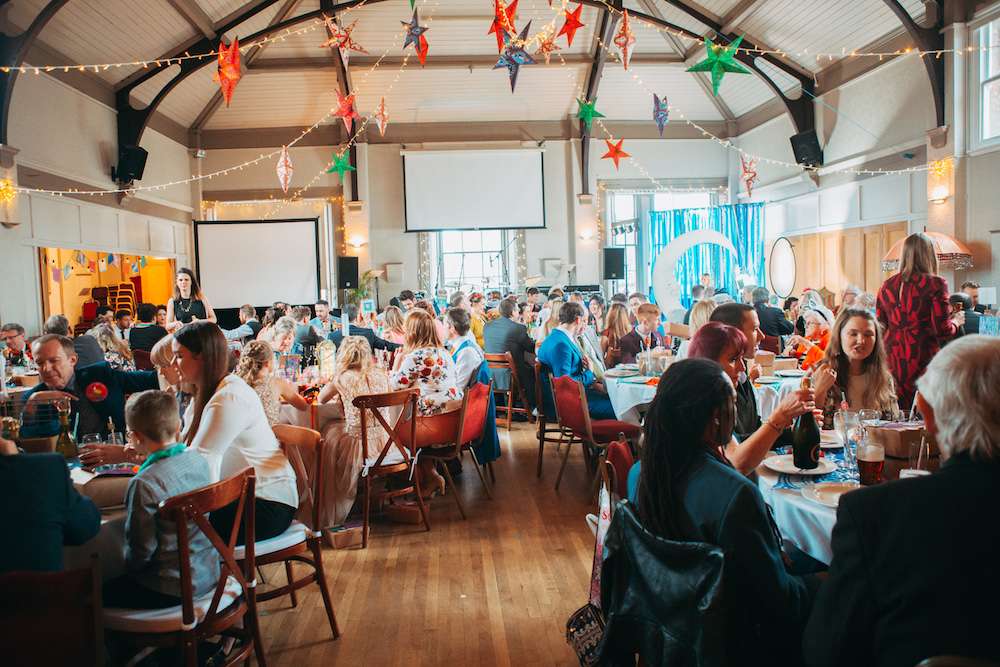 The reception was a riot of colour, started off with colourful signage leading to the venue that Jodie and her Maid of Honour-come-business-partner Harriet made.  Indian parasols hung from the grand English hall's staircase, and Indian paper stars and fairy lights were suspended from the metal ceiling girders to create the feel of a colourful enchanted night's sky.
Their bright decor extended to the reception tables too. "We sourced Indian serving platters for the food, and each table had a mandala table cloth with colourful flowers in recycled copper food tins. Each guest had a brown card box and personalised wooden fork with colourful celebration necklace garlands, Millions sweets (as they're vegan!) and our best friends had little thank you gifts inside their boxes too."
As Jodie and Tom are vegan, they chose to serve 100% vegan food in various different food stations around the hall, including their dessert, which was a bake-off style display contributed to by family and friends.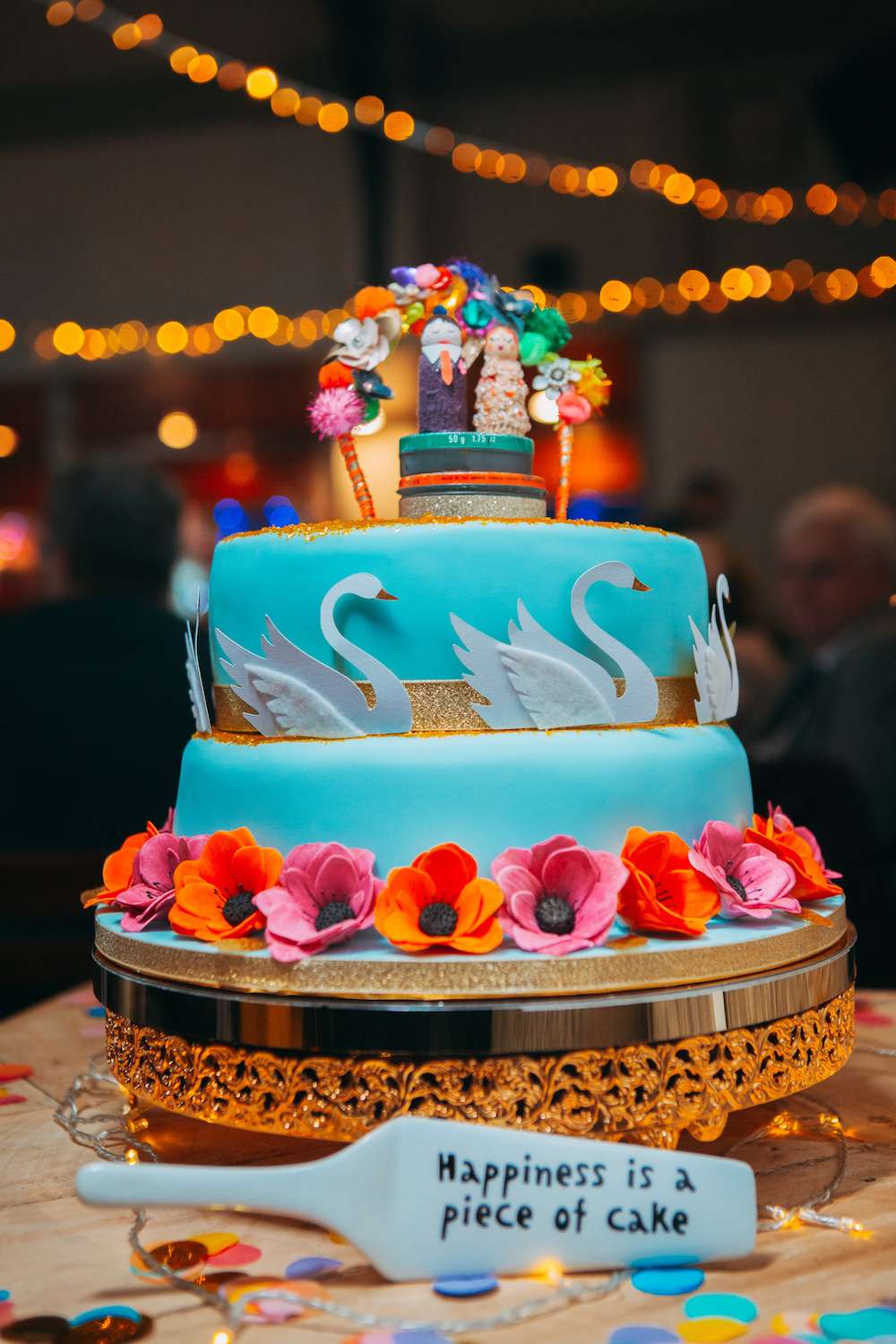 Their guests also contributed to the party, with Jodie's grandad DJing – yep, you read that right. "We asked our friends to DJ, and Jodie's grandad was one of them! His DJ name was Grandpops Soundsystem. We put bespoke neon paper DJ posters on the back of the toilet doors  and he did his set with light up neon sunglasses, a fake boom box and a blow up crown!" Tom also made a giant moon prop which they put in front of bright blue streamers to make a really magical kissing-booth-come-photo-booth.
With so many DIY elements, Jodie noted that at times it was easy to feel the total pressure. "At first, it felt like way too much to have to get sorted in time." So, what did they do? "We made a plan early on to go to a pub with WiFi one night a week and give ourselves tasks to do so it didn't overwhelm us – that worked really well!"  What a GENIUS idea!