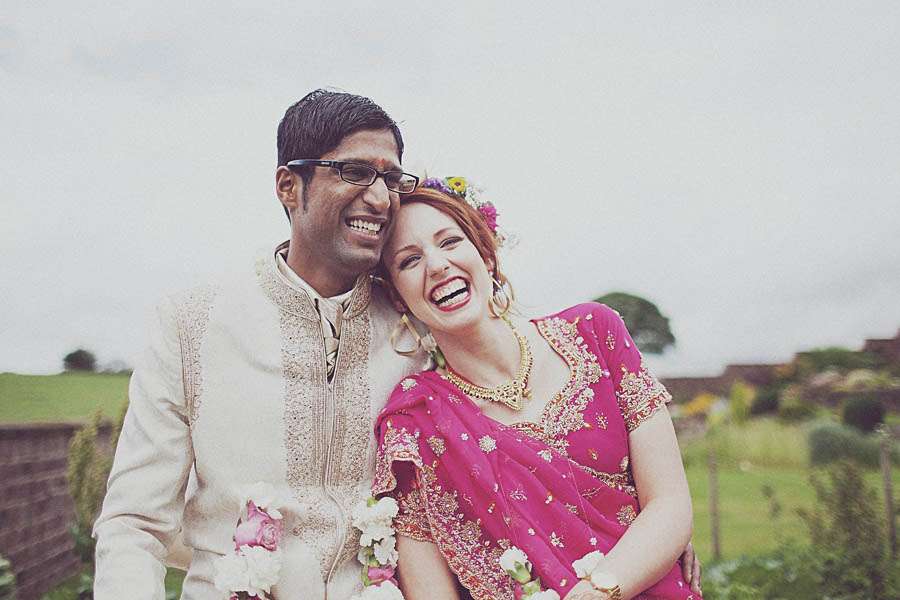 Gosh where does one begin with a wedding like Bex & Piyush's? This is pretty much what wedding bloggers dreams are made of… at least mine are anyway!
Bex & Piyush wanted to celebrate the heritage of both families in their wedding. The wedding was an Indian/Western fusion celebration at Heaton House Farm near Macclesfield. Unlike many mixed-background couples, they opted to have just one ceremony incorporating both a Western civil ceremony alongside Indian traditions. Bex & Piyush didn't want to have two separate ceremonies, preferring to represent both their heritages together. "Our wedding was a bright, colourful, inclusive, multicultural and non-religious, light-hearted day, providing an alternative to the inherent narcissism of traditional wedding", began Bex. "We had the wedding on an English farm, complete with views of rolling hills, wellies and rain showers."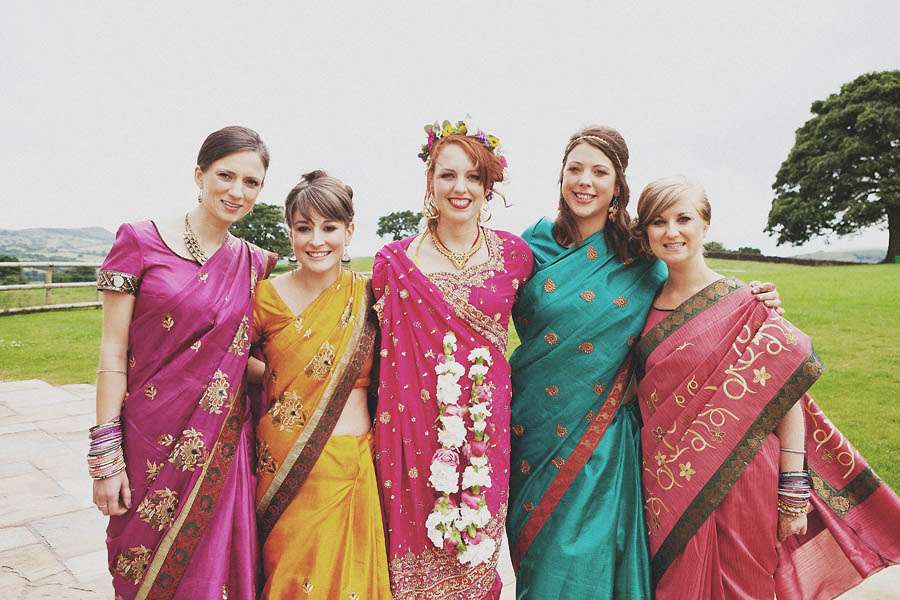 "We ate vast amounts of curry – South Indian during the day and North Indian in the evening. We drank tea (of the marsala chai variety), we had a traditional fruit wedding cake complete with slightly more exotic ingredients: crystalised pineapple, papaya and pistachio, and not very traditional icing. We tried to make it a financially neutral event for our guests by providing transport, camping and a free bar. Our inspiration was colour, lace, doilies, henna, jam jars, lentils, roses, daisies, tin cans, books, swans, ladybirds, drumming, postcards, Mills and Boon, stamping, candles, camping, singing, caravans, curry, friends, family and dancing…"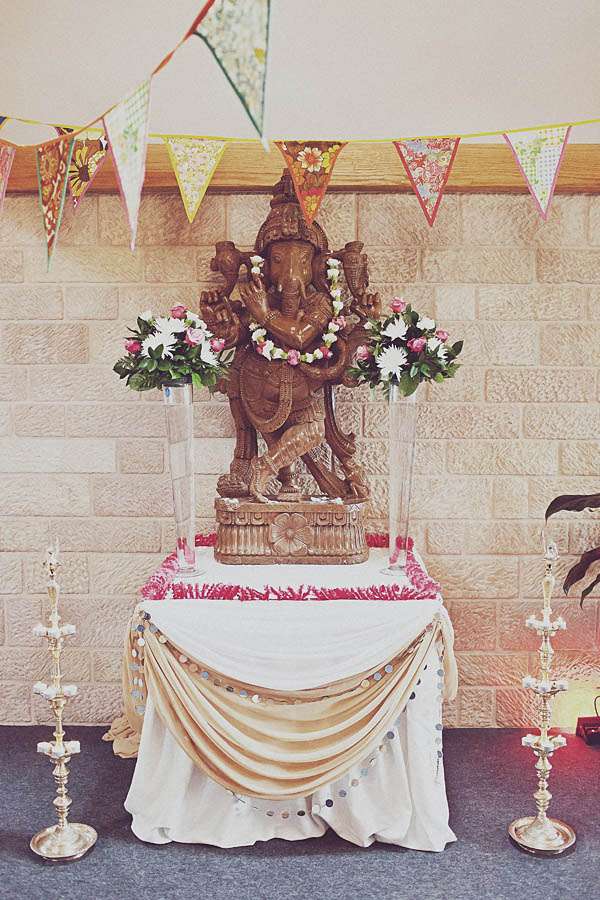 "All guests were there in time for the sit down meal and speeches", Bex continued. "We walked down the aisle together to the sound of traditional dhol drumming, and laughed a lot when the drummers didn't stop playing for a really long time. We wore brightly coloured, beautiful Indian clothes for the ceremony. I wore flowers in my hair and no one had a bouquet. We laughed and cried at the surprise readings during the ceremony and felt very silly when we had to pose signing the registrar."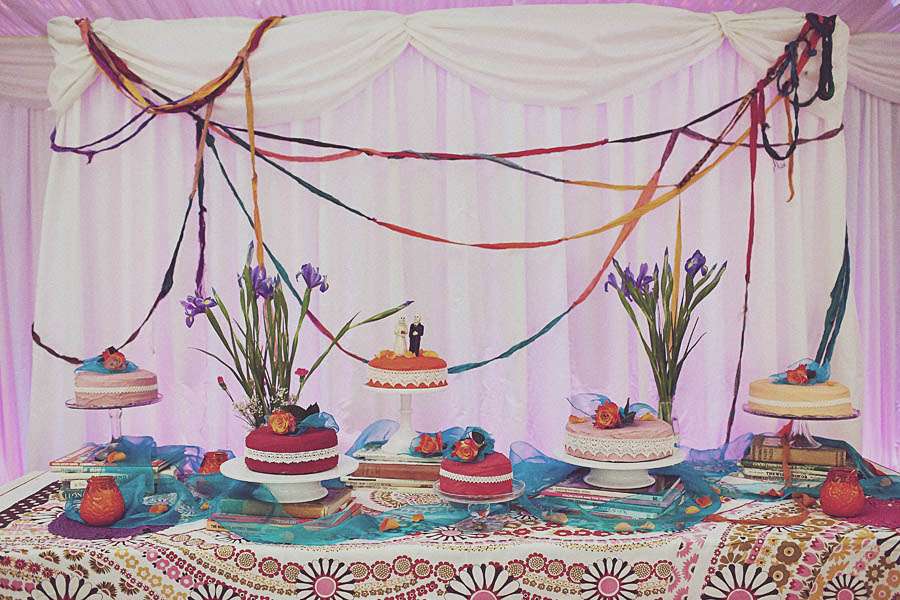 In the evening the couple and their attendants changed into western clothes but continued the colourful theme with the footwear – both the bride and groom wore Vivienne Westwood shoes! "We gave our friends and family free reign to do or say what they wanted during the speeches, resulting in surprise poems, songs, dance routines and text-voting opinion polls", Bex remembered. "We chose a ridiculous first dance song (only fitting for such a silly custom) and I dyed hundreds of second-hand doilies bright colours for decor. We drank a lot of beer, ate lots of kidney beans and emptied our condiment cupboard to provide the vessels for the tables… and then asked our friends to do the same. We stamped everything within reach, and giggled for a long time while choosing suitable postcards for everyone's place settings. We danced and sang our hearts out and ended the night partying in a static caravan until six in the morning."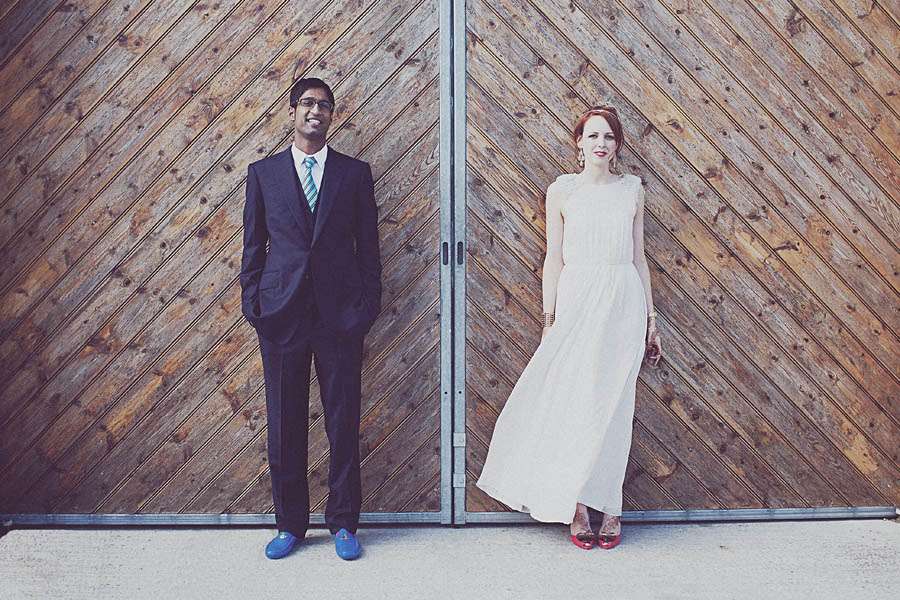 Prepare yourselves for a serious visual feast when looking through the rest of the images in the gallery… and a bumper number of photos. I literally couldn't cut them down any further. I'm in HEAVEN!
Thank you to Bex & Piyush and their fabulous wedding photographer Anna Hardy for sharing this with us today.
Supporting Cast
Photography Credit: Anna Hardy Photography
Venue: Heaton House Farm
Bride's Ceremony Dress: Payal, Green Street, Newham, London
Bride's Evening Dress: Tibi via net-a-porter.com
Bride's Ceremony Shoes: Next
Bride's Evening Shoes: Vivienne Westwood
Bride's Headpieces: DIY & Vintage
Groom's Ceremony Outfit: Daminis, Green Street, Newham, London
Groom's Evening Outfit: Paul Smith & Vivienne Westwood (shoes)
Bridesmaid's Ceremony Dresses: brought from India by groom's parents
Bridesmaid's Evening Dresses: French Connection & Traffic People
Cakes: DIY
Flowers: DIY
Hair & Make Up: Sarra Slimane
Music: Dohl drummers/Tabla+ Sitar via friends
Band: Cake Fight
Caterers: Eurocaterers