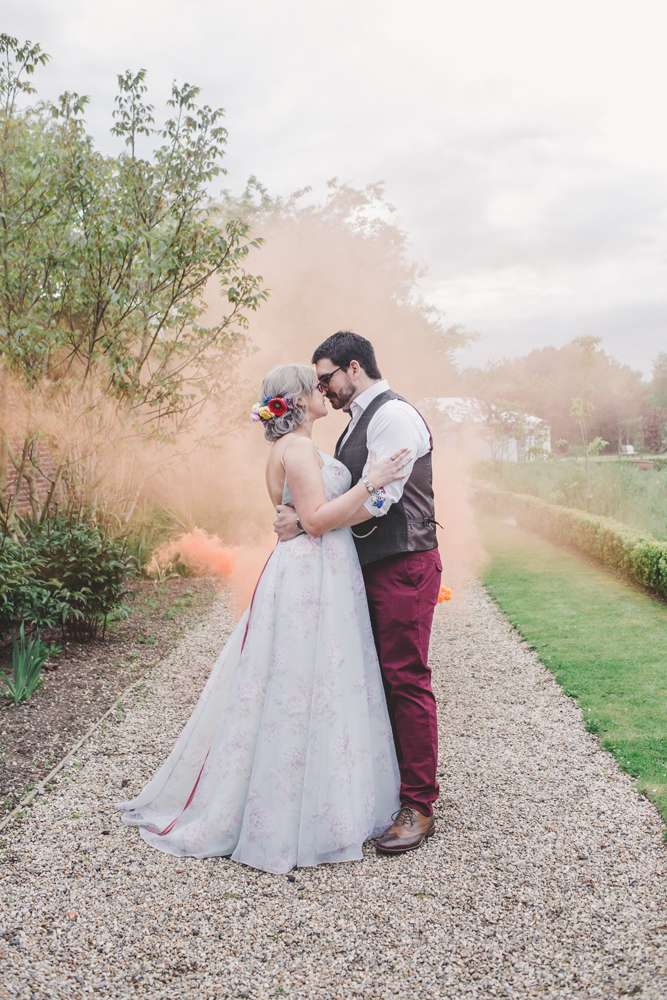 Ella and Alex got married in the spring at the Secret Garden in Kent, where they had a day filled with floral patterns, pastel shades (as well as fresh vibrant colours). The overall feel to their wedding is just pure romance. And by the powers of DIY, they achieved this beautiful day for £10K.
They didn't really have a theme, the theme was just 'them' and the way they wanted to do things. "We had pastels and bright colours, flowers, books and cats", said the bride. "Nothing matched but everything worked together. The way things should be. We started looking at venues early on – it felt to me that once we had the venue, everything else would work around that. There was a beautiful one just around the corner from us. It was really lovely, but wasn't quite us, it felt just a little too formal. We just wanted somewhere to have a party with our friends and family."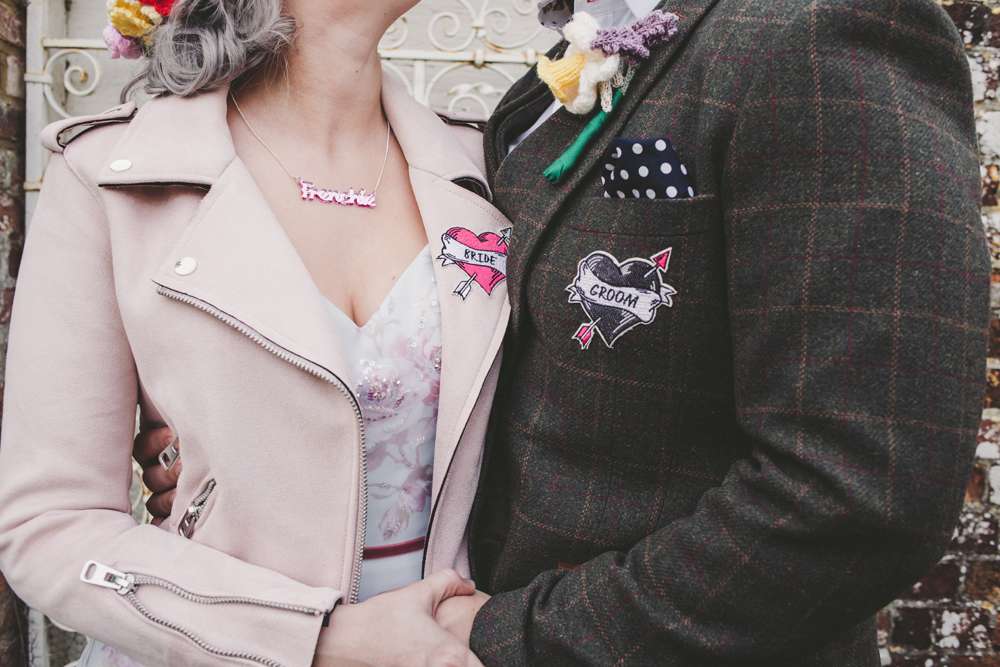 "I found the Secret Garden online, and it looked perfect, so I booked in to see it in the August. One weekend, I was down in Brighton visiting my cousin when I found out that the husband of a friend of mine had sadly passed away. He had just turned 32 and they had only been married for three months. I instantly felt like I needed to do something positive and happy, so we drove to the Secret Garden – it just felt like the right time to view it (even if our appointment wasn't for another couple of weeks). I don't think I'll ever forget how I felt when we arrived. I knew from that second that this was where I was going to marry my best friend. It was perfect. Beyond perfect. Its Glass House, where we had our ceremony, was like a tropical paradise, and it was only small but had such character; it was different from anything else I'd ever seen."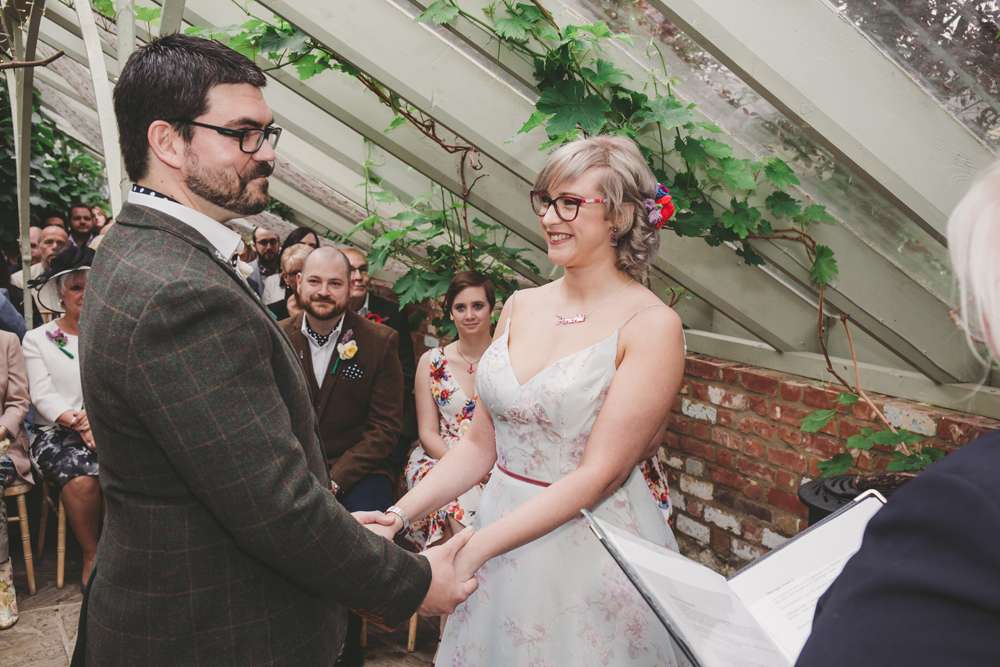 "On the day, the venue was everything I could have hoped for and more. As I walked down the aisle and saw my Alex waiting for me, everything else melted away, there was no one else in that room. When he saw me he cried, then I cried, then everyone was crying. I held his hand and didn't let go until we were officially married. Only after did I start to be thankful for the mild and grey day we'd been given for our wedding as I started to understand the downside of 'tropical' – my God, it was warm in there!"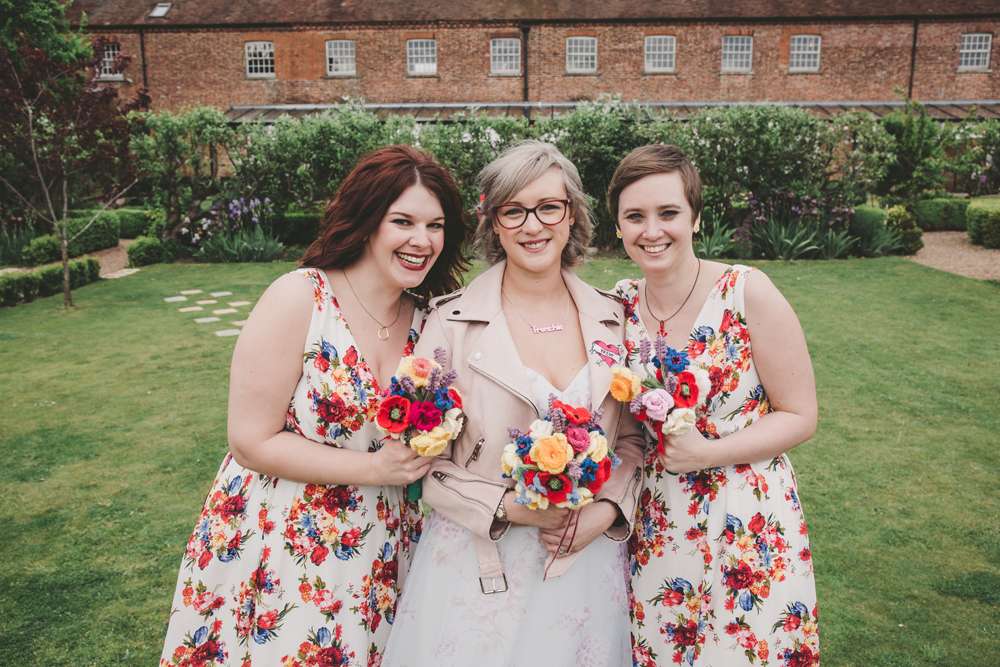 The bride wore the gorgeous 'Kira' dress by Sottero and Midgely from Mathilda Rose with New Look shoes, personalised necklace from Tatty Devine, finished off beautifully with a powder pink leather jacket from Zara. Alex's sharp and dapper outfit was from Monks Clothing, and the floral bridesmaids' dresses were Lindy Bop.
Ella's journey to finding 'the one' when dress hunting was a pretty rocky. "I hated the whole wedding dress shopping experience", she explained. "I wanted something different, but that was so difficult to find, so I just tried on white/ivory wedding dresses of all shapes and sizes and felt horrible in all of them. I'd seen one online that I loved with flowers on it, but it was a lot of money. By the time I'd tried on about 20 that I hated, I just had to give in to the fact I had to try this dress. Of course it was perfect! I loved it because it was different, because it was beautiful, and because I felt like a princess. As we were getting married in England, there was a high probability that it would a) rain and/or b) be cold and I wanted to be prepared, so I paired my dress with a leather jacket and suddenly went from princess to rock star and I loved it even more!"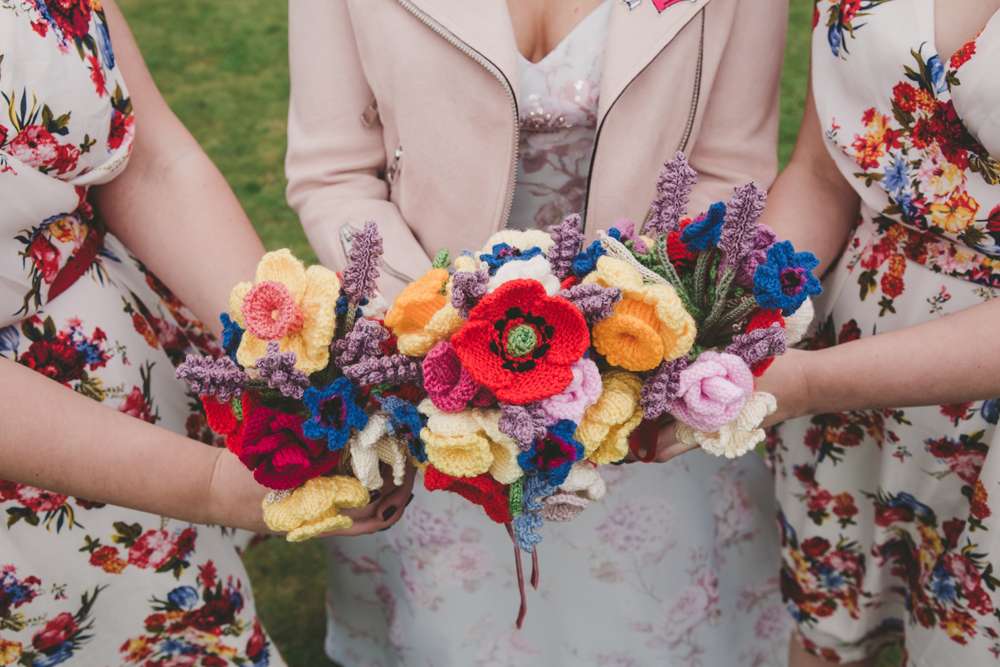 The bride's necklace led to a sweet moment between the two. Ella said, "I'd always said I didn't want to lose my surname when we got married and suggested we both double-barrelled and become 'Justin-French'. It took A LOT of persuading, but he finally agreed. Because of Alex's surname, everyone calls him Frenchie, and now I was going to become a Frenchie too, so that's what the necklace said. It was a complete surprise to him and when he saw it, he fell apart! He loved it so much. It was a wonderful moment."
Ella's super colourful bouquet was cutesy alternative DIY perfection. "I knew I didn't want to spend crazy money on flowers that would last the day and then start to wilt. My mum is a keen knitter, so I thought 'what if she knitted my bouquet?' and she did. It was incredible, and one of my favourite bits of the day. She didn't just knit my bouquet though, she knitted the bridesmaid bouquets too, and the buttonholes and corsages for the whole bridal party! For my hair, I'd planned to wear a flowery slide thing. It was nice, but literally a few days before the big day I decided I didn't like it and if I was having a knitted bouquet, I wanted a matching knitted hair piece too, so once again she got to work and boy did she deliver!"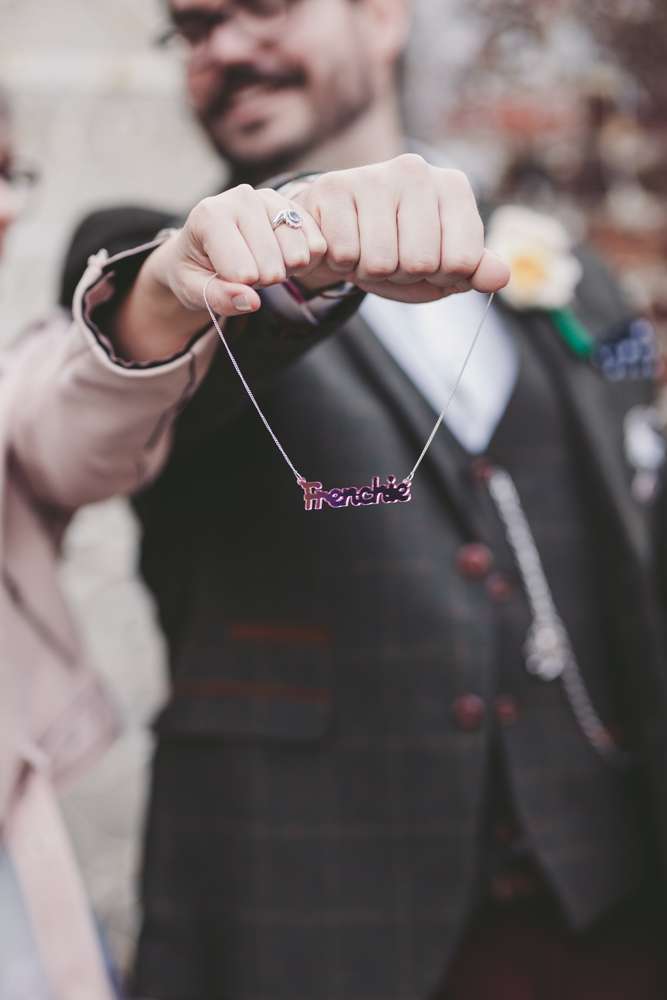 "And whilst we are on the subject of mothers and their amazing talents, Alex's mum made our wedding cake and, my goodness, it was good. She had always made us cakes for our birthdays and things, and they were always delicious, but there was this lemon drizzle cake in particular that was to die for! So our wedding cake was a naked, four-tier cake topped with lemons made from icing – one with a moustache and the other with eyelashes – and the whole thing was wrapped in knitted lemon blossom. Everyone loved it, it looked good, and it tasted even better. Even our photographers couldn't get enough of it!"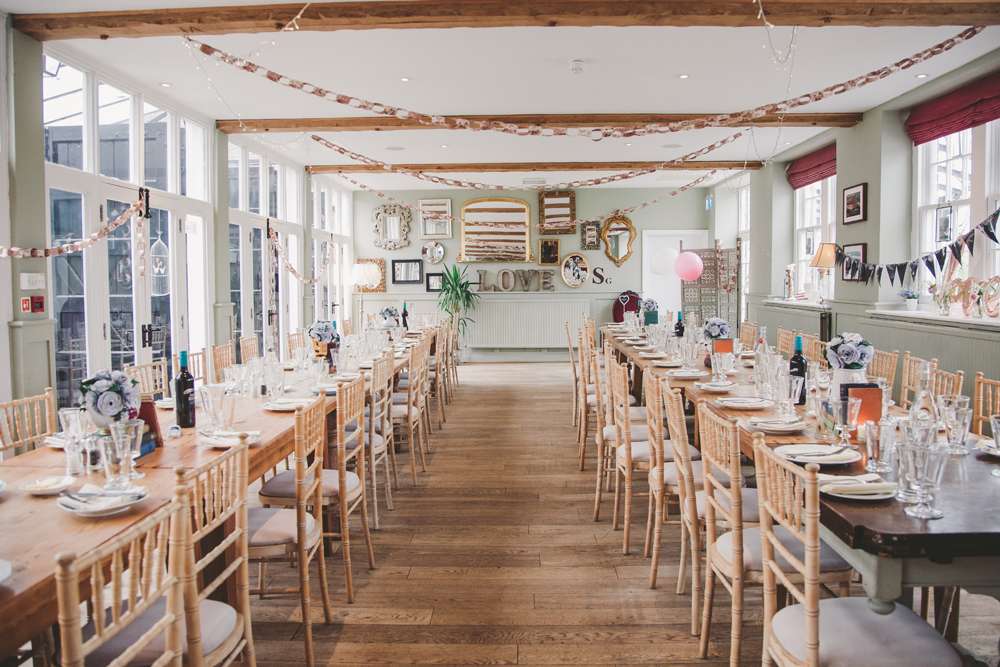 The couple themselves did a lot of DIY, too. "We made our table flowers out of photocopied book pages (I couldn't bear to cut up real books). They took forever to make, and I swear I was making them for about six months. By the end of it, I was so close to the edge that my mum had to take over! DIY is great but, my God, it takes a lot of work… We also made our invitations, both ceremony and evening, and save the dates and they were all totally different. It worked really well as we could try so many different things. Our save the dates were emailed and they were designed like concert tickets. Our day invitations were telegrams, wonderfully handmade by Alex, and our evening invitations (possibly my favourite) were a mixture between Penguin books and library cards and included important dates in our lives. They were one of the more fun DIY projects! And we even managed to include our fluffy babies (two girl cats called Colin and Jonah) by making cat bunting!"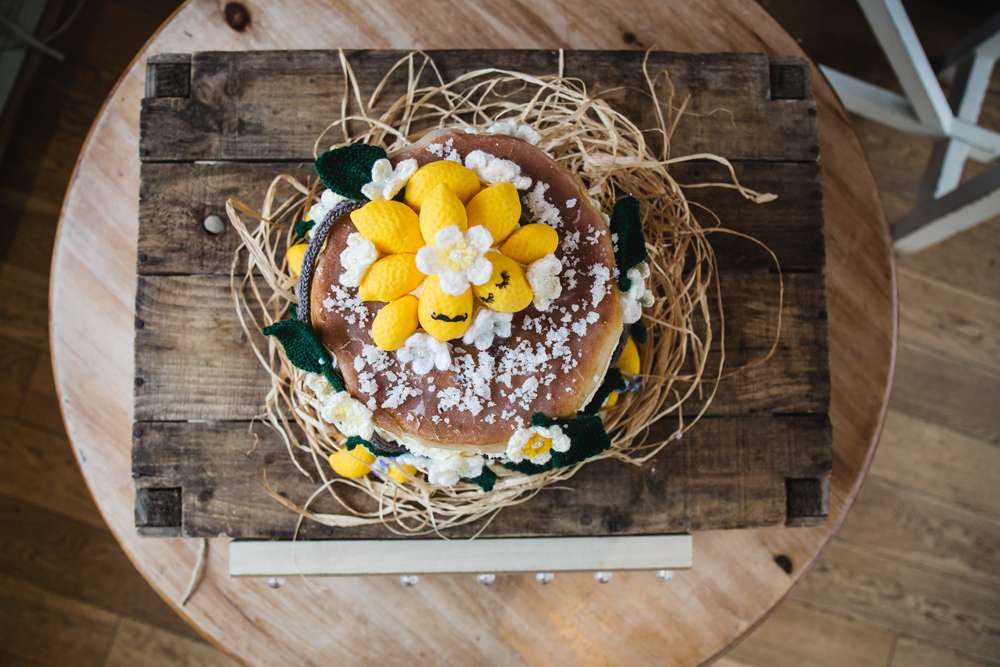 "Our biggest expense was probably our photographers. I was always happy to splash out a bit on this as the photos are the thing that will last the longest, but little did I know that we were going to get so much more than just pictures when we found our photographers. We knew Mini and Me were going to be the ones to shoot our day even before we'd met them just by reading their bios! When we did meet them, we got on like we'd been friends for years. They loved everything about the wedding we'd planned so far, and the Secret Garden is their favourite venue so they were so excited about the chance to shoot there again. On the day, they were incredible. I could not have imagined our day with any other photographer. We laughed and cried together as they captured the very best moments and some downright hilarious ones, too. All of our guests still comment on how wonderful they were, and they really were!"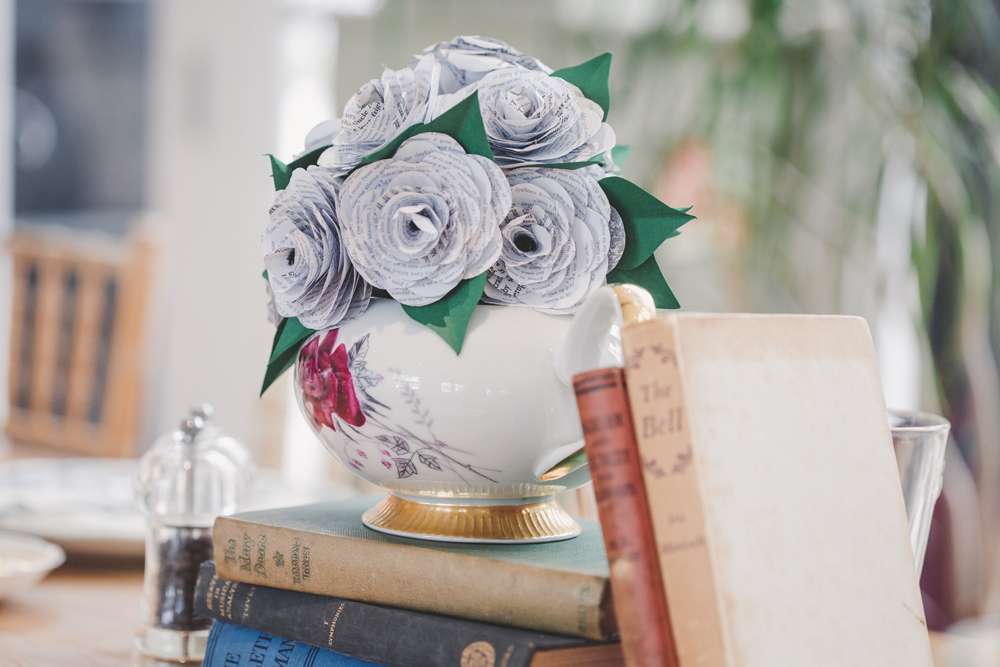 "We saved money wherever we could. We got married on a Monday, which roughly halved the venue cost. We made everything ourselves that we could manage to make: Flowers, cake, decorations, everything! My cousin's fiancé drove the whole wedding party to the ceremony, which saved us hiring a car and meant I got to include him in the day. My cousin was one of my bridesmaids and is like a sister to me, so this was very special."
Just going for it regarding doing the things they wanted was something they wish they'd known from the start of planning, said the bride. "We began by looking at things we thought we should do, the way a wedding day should be, but we soon realised that was never going to work for us and quickly changed tactics. The main thing that helped us realise we could do whatever we wanted was when I joined the Rock n Roll Bride Facebook group – the brides in that group were incredible – there were so many original, fantastical and fascinating ideas. From there on in, it was easy – if we liked something, we included it, if we didn't, we didn't. At first we had some comments from family, but we were more than happy to put people in their place and so that stopped quite early on!"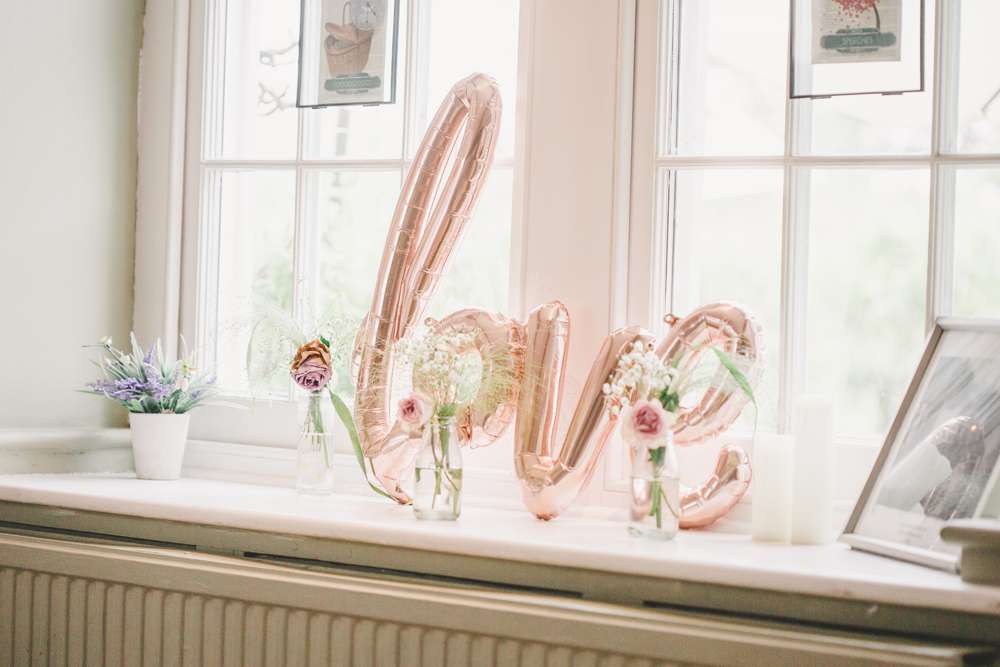 The other thing Ella wishes she'd known about was how hard DIYing can actually be. "I did a lot of DIY, which towards the end I started to regret – if I ever have to see another book page flower, I might cry, but the end result was perfect. Everything was perfect."
"I honestly couldn't choose a favourite part of my wedding day. There were so many wonderful moments. I loved walking down the aisle with my dad, I loved when Alex first turned to see me and his reaction to everything I was wearing. I loved the ceremony and actually getting to marry this wonderful person. I loved being surrounded by my friends and family. I loved the speeches, the food, the dancing. I loved it all!"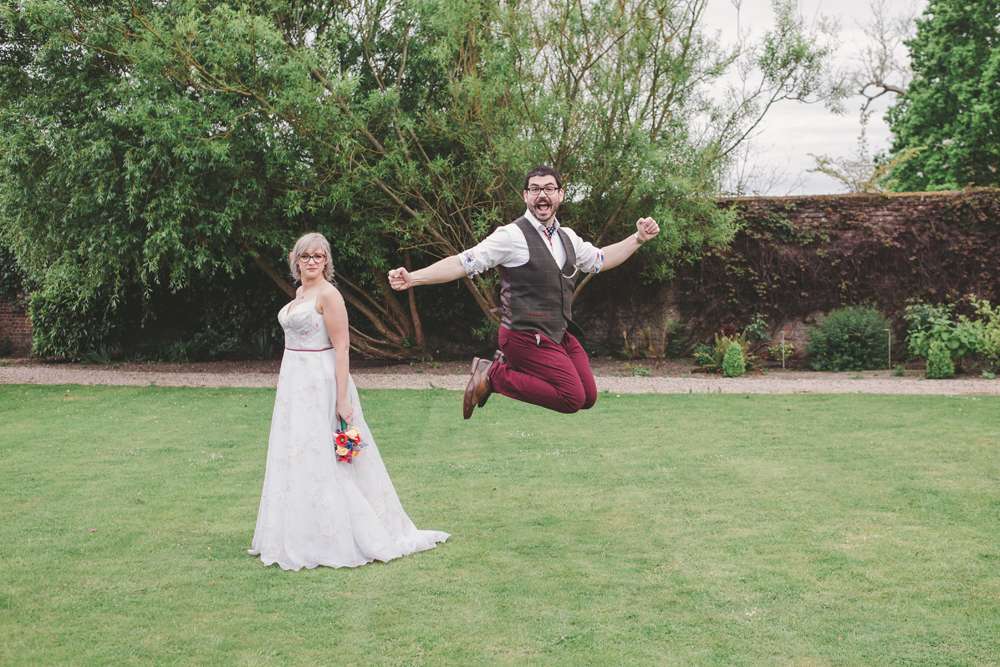 Would they have done anything differently? Ella said, "Whenever I think about this, I always say to myself I would have spent less money. It seems so extravagant to spend so much on only one day, but I honestly don't know where I would have saved that money – I loved everything we did and how we did it. With a different dress I wouldn't have felt the same, without the photographers we wouldn't have had half as much fun, if we'd gone for a different venue then the whole day would have had a different feel. We did what we did because we wanted to, and that is the most important thing as far as I'm concerned. The very best thing for me, though, was seeing our dream come true and getting to be a part of the incredible Rock n Roll Bride community."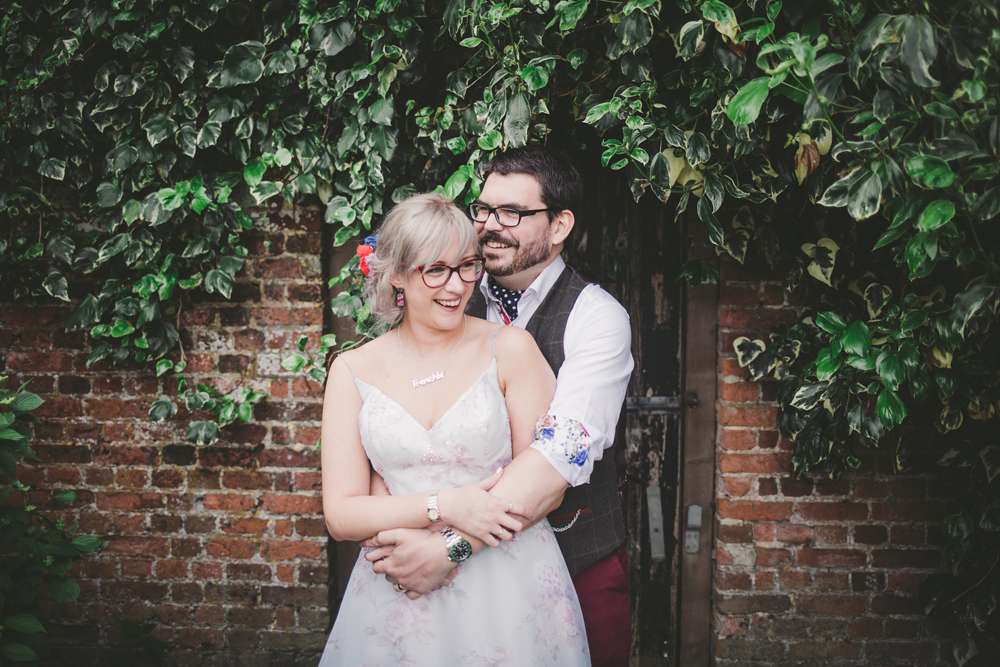 Their advice is an oldie but a goodie! "It's the same advice everyone gives you, but that's because it's the best – take your time on the day! In a second, it will all be over. Take in the moments that make you laugh and that make you cry. Try to spend some time just the two of you – enjoy those moments, too. Finally, try not to worry and stress over the little things – easier said than done, I know, but in the end things will probably go wrong, but it won't matter, it really won't. Our day was done our way and it was perfect!"