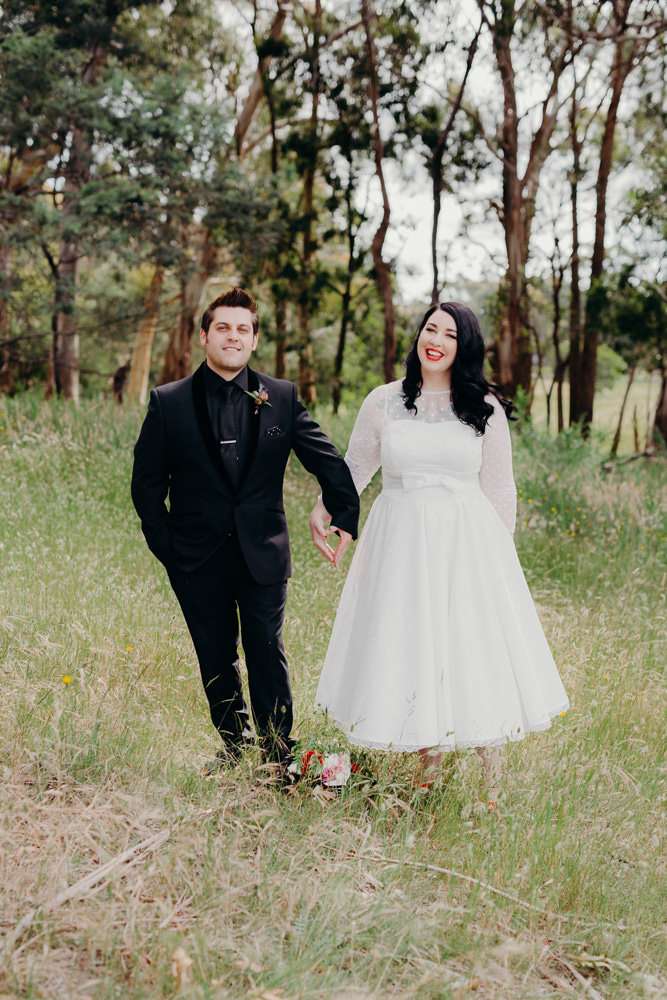 Georgia and Vince's wedding was hosted in the most beautiful little chapel we've ever laid eyes on. It was brought to life by their love of the 50s and 60s and their lovely personal and romantic day.
"Vince and I share a love of all things mid-century," Georgia explains, "including the music, the fashion, the hairstyles, and the cars. When we became engaged, we both knew exactly what we wanted for our wedding and took influence from our love of the 50s and 60s."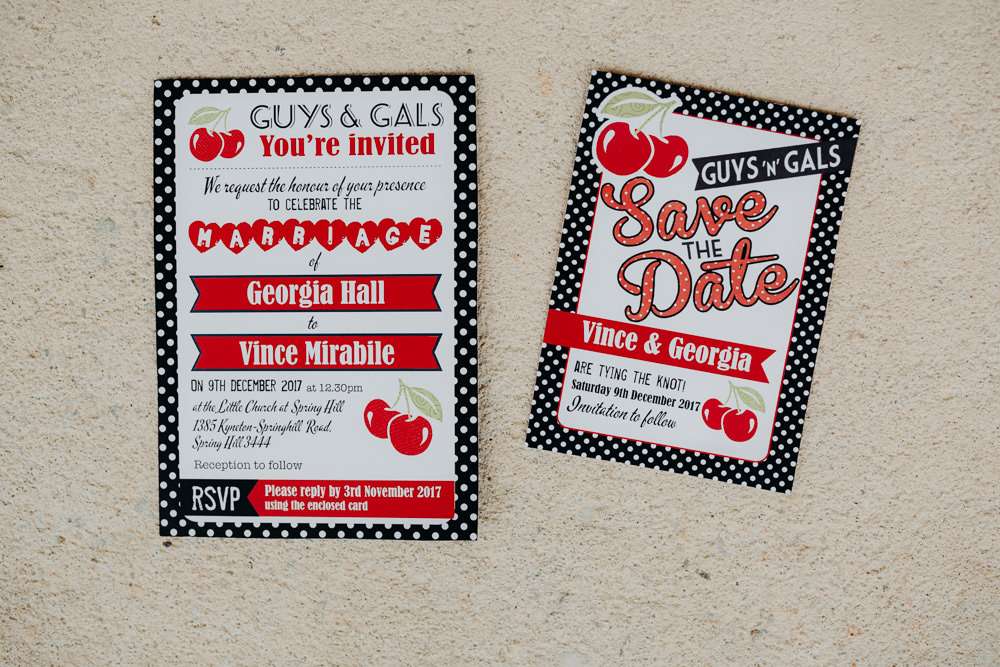 Georgia looked stunning in a beautiful polka dot tulle rockabilly dress from Pixie Pocket and a retro style veil from Me and My Girl Vintage, which sat atop her perfectly curled hair and vintage-inspired make up. Also – JUST LOOK AT HER LOVE HEART NAILS! Fierce and we're feeling it.
Vince wore all black from Ferrari Formal Wear, with a black polka dot pocket square. We also love that Georgia and Vince got ready together in the morning, before Georgia got changed for an intimate first look.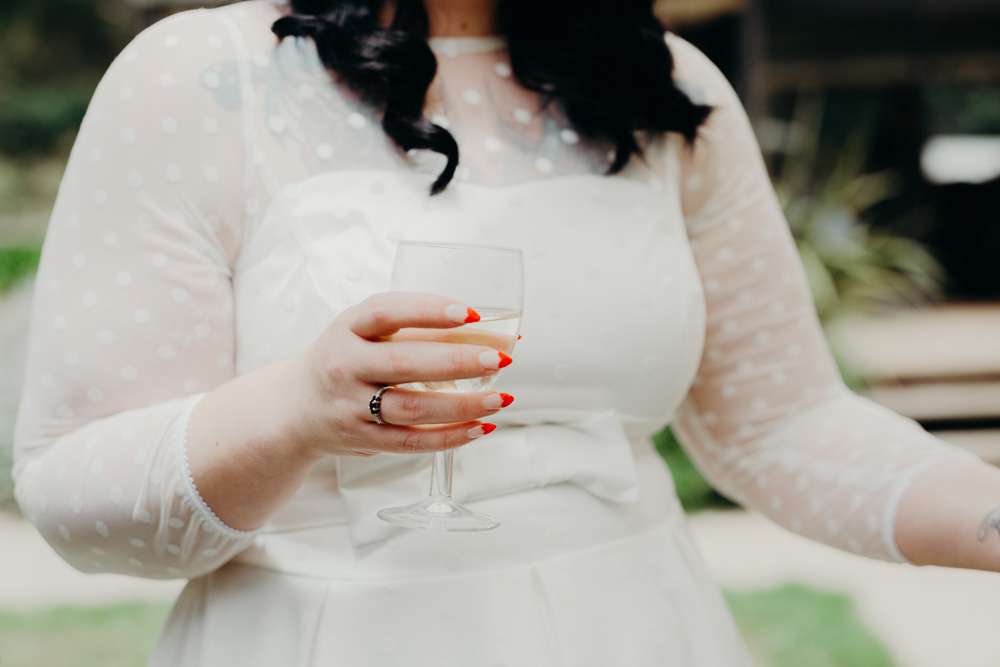 Carrying on the 50s and 60s inspiration, Georgia continues, "Our transport was a white 1957 Chevrolet Bel Air from Classic Chevs, and we had Merri the Chevy, and for the catering we had a 1962 Chevrolet truck converted to make and serve wood-fired pizza! This was the perfect nod to Vince's Italian heritage. We also had Betsy My Vintage Caravan to serve beverages, and lawn games such as giant Jenga and Connect Four. Throughout the day we had Rock n Roll music playing, which created such a lovely, festival-type atmosphere, and our guests really seemed to get into the spirit!"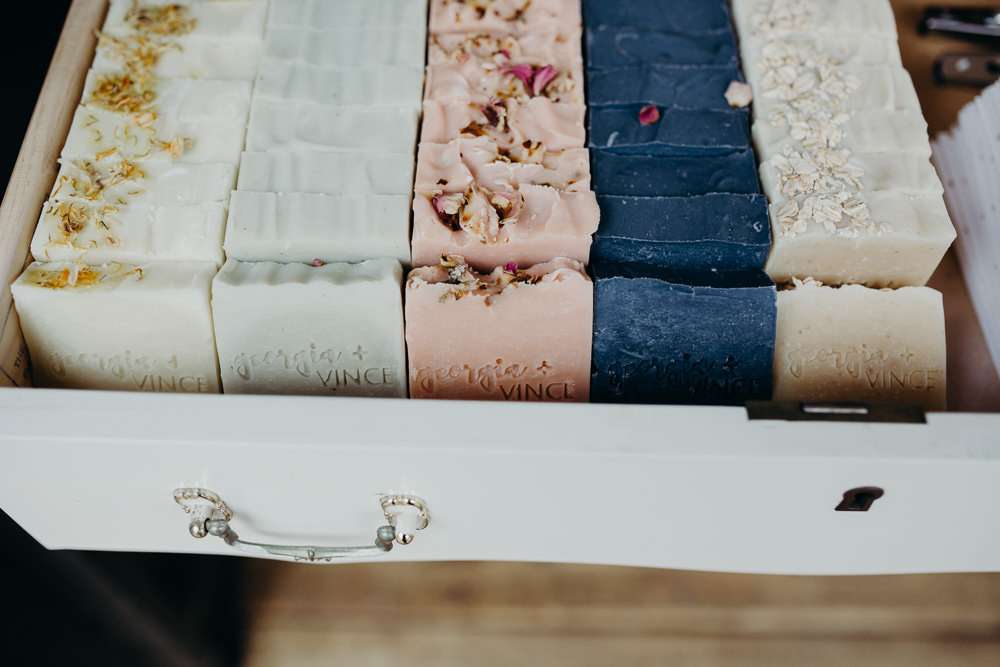 Their ceremony was held inside the stunning Little Church at Spring Hill, Victoria, adorned with gorgeous jewel-coloured flowers from Raven and The Rose, and the reception was held on the lawns outside in the glorious Australian sunshine. "The Little Church is a beautiful decommissioned wooden white-washed chapel. It was important to us for the ceremony to be really intimate and personal, which Catherine Crothers, our celebrant, really understood. Vince and I wrote our own vows, and we had two of our closest friends do readings: A Lovely Love Story by Edward Monkton, and Here's To Right Now by Ms Moem. When our celebrant read a line of the monitum about marriage being 'between two people', the audience let out a little cheer – which is one of our favourite parts of the day!"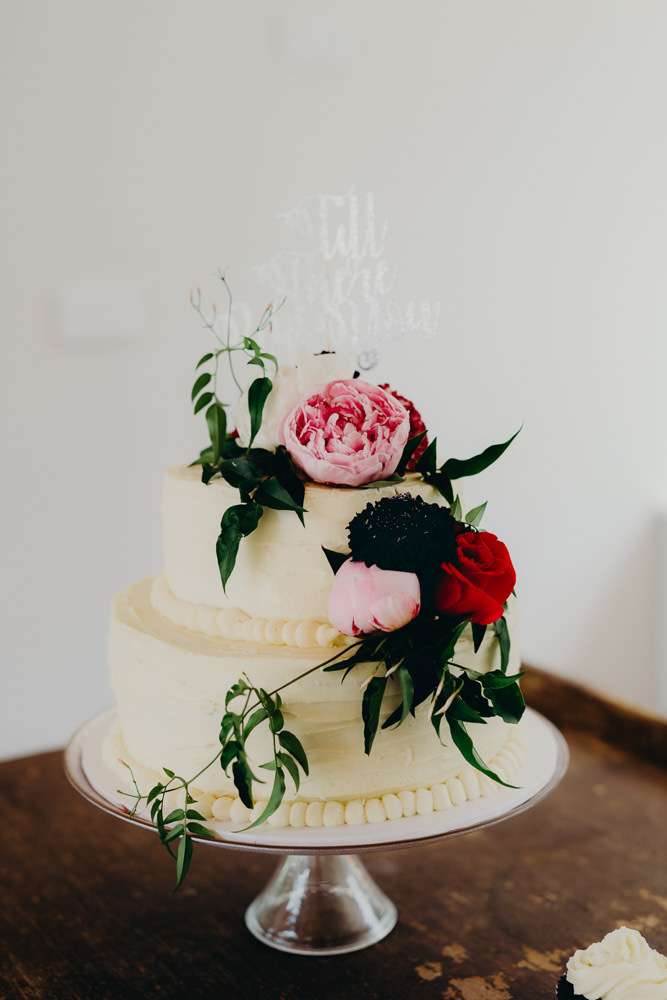 We LOVE the homemade kissing booth which Vince constructed based solely on one photo Georgia had found on Pinterest (that's true love, hey?!). "We placed a Polaroid camera along with our guestbook nearby, and guests had a marvellous time posing in the booth, taking Polaroids and writing us sweet messages."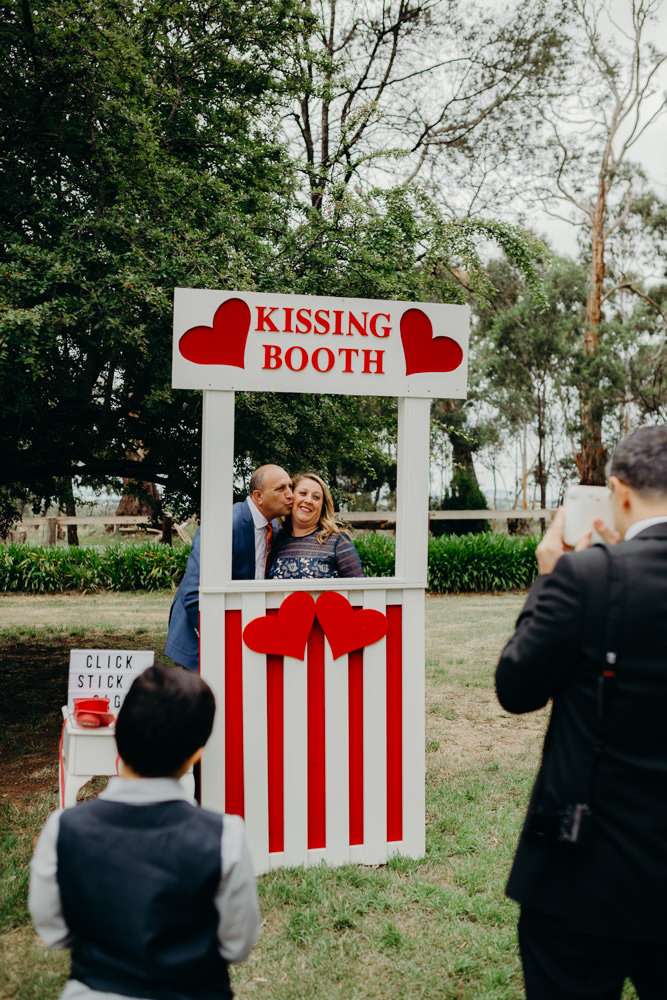 They both had a really clear vision of what they wanted from the offset. "It was such fun being able to see my vision come to life." Georgia says, "I thoroughly enjoyed the process of brainstorming and researching, designing my dress, trialling handmade soap varieties for our favours, and meeting with some incredibly talented suppliers. We really utilised some fantastic suppliers who were local to avoid having to pay travel fees, and sourced items online to avoid store markups. We were also really lucky to have a friend make our cake – the bottom tier was chocolate mud cake and the top tier was gluten free orange and almond cake. It was roughly iced with vanilla buttercream, decorated with fresh flowers, and topped with a glittery silver cutout saying 'Till there was you'."