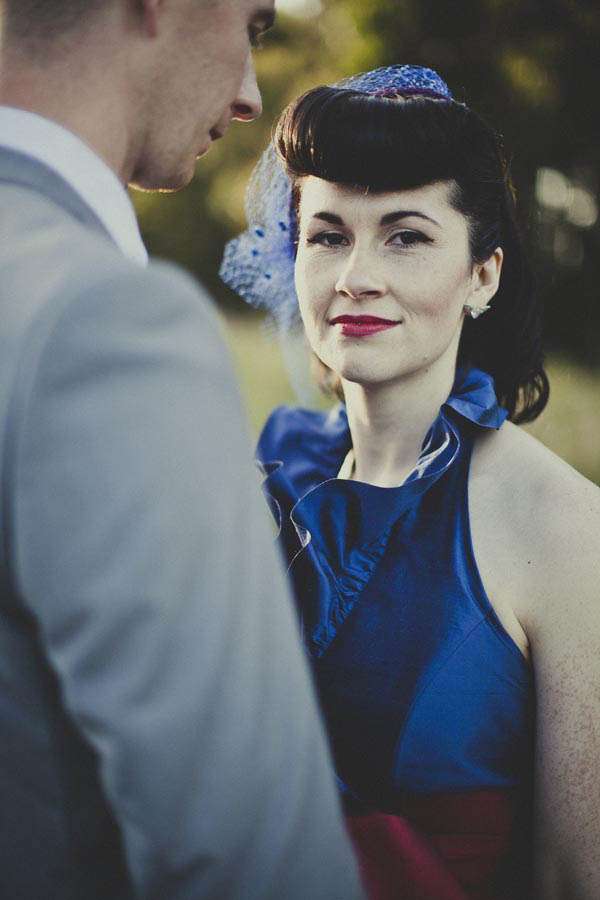 Fiona & Andrew's DIY wedding in Victoria, Australia was themed around the things they love – vintage items, 1950s styling, cherries, hearts and flowers. They took these ideas as the starting point and built their wedding around them. "We wanted the guests to be able to feel as much a part of the day as possible, hence the small guest list of only 45 and the extended weekend long celebration", began the bride. "We made a lot ourselves. I made a ring cushion from the same fabric as my sash/bolero and a piece of fabric from my mum's wedding dress. We had a ring warming ceremony before I arrived where the cushion was brought around my my 5 year old nephew, Oliver, and guests where asked to send a blessing our way."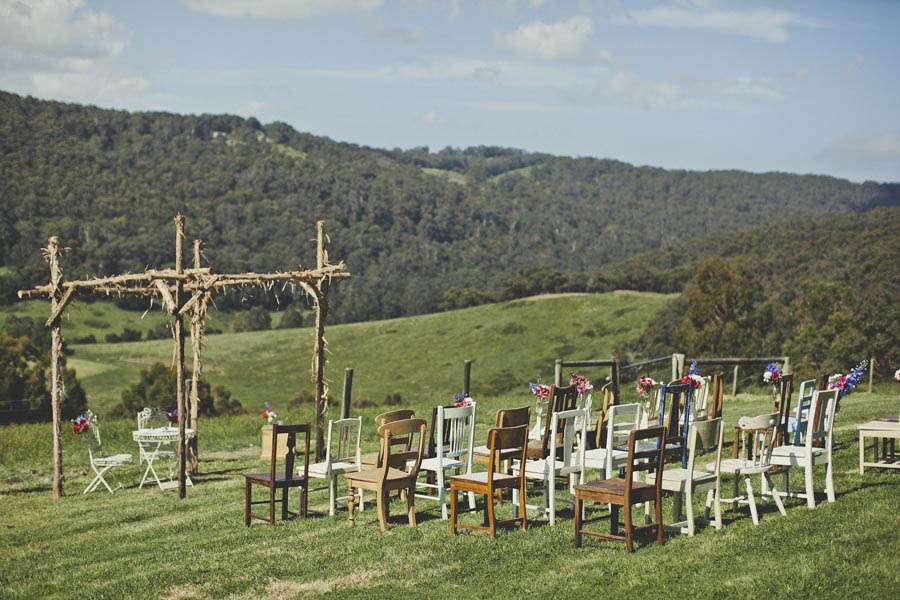 "We had a photo booth, typewriter guestbook and buffet style/sit where you like dinner," she continued. "Guests were asked to help themselves to the 2 types of cookies that I made as favours. I made Toblerone, Peanut Butter and white chocolate & ginger flavours. We supplied all of the accommodation and made gourmet breakfast provision packs for everyone."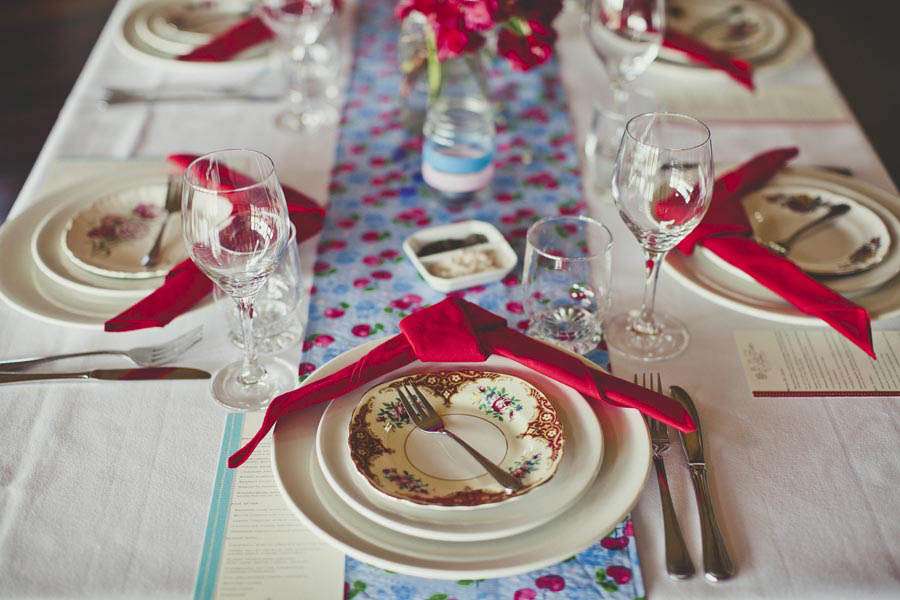 "Lots of the guests had been involved in the planning and set-up which also made them feel a part of it. My brother, Byron, made the arbour and helped me fix up all the mismatched chairs that I'd collected. He also built us a custom made photo booth! I made mint lemonade which was a real hit. The recipe I used is here. My brother's partner made the cake and my mum and auntie collected most of the vintage plates, old jars and bottles for vases etc."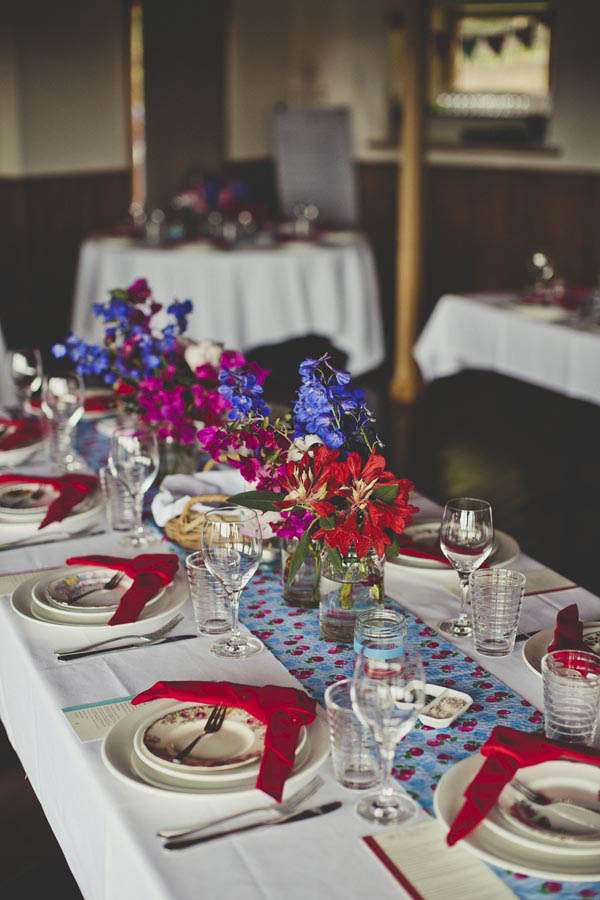 The bride bought her blue wedding dress from Stellini. She customised it with a homemade red sash and bolero which a friend helped her with. The same friend, Neisha, also made the bridesmaid's dress.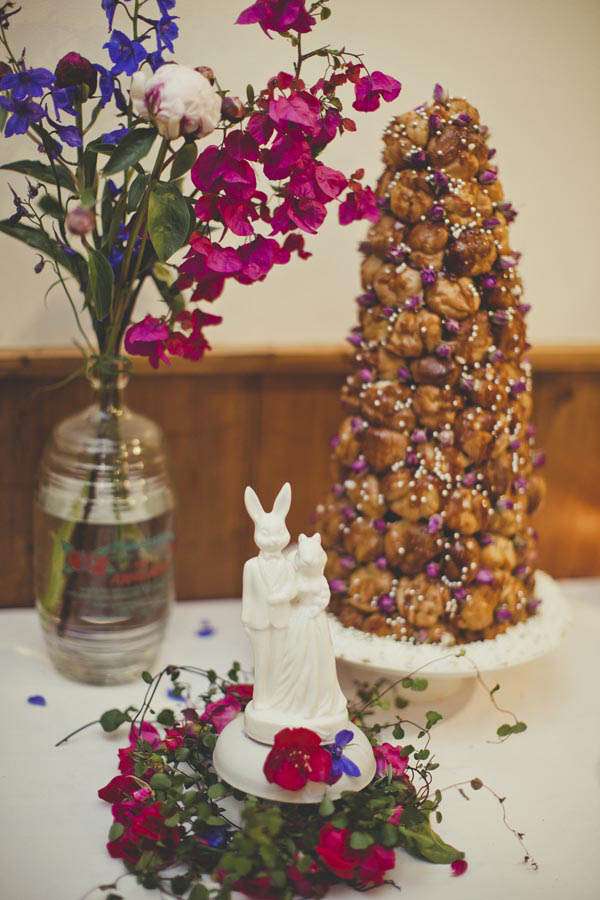 "There is nothing I would have changed about our wedding", Fiona concluded. "I worked really hard and it took a solid year to bring it all together. The whole collecting process was great fun and meant I got to go on lots of adventures hunting around for different treasures. We made a weekend of the wedding which was also really great. Guests stayed Friday to Monday. Friday night we had an informal dinner where everyone brought a plate. This was a great opportunity for guests to meet before the day, especially with Andrew's family coming across from New Zealand. Looking at blogs, especially Rock n Roll Bride, was the key to gaining inspiration and ideas!"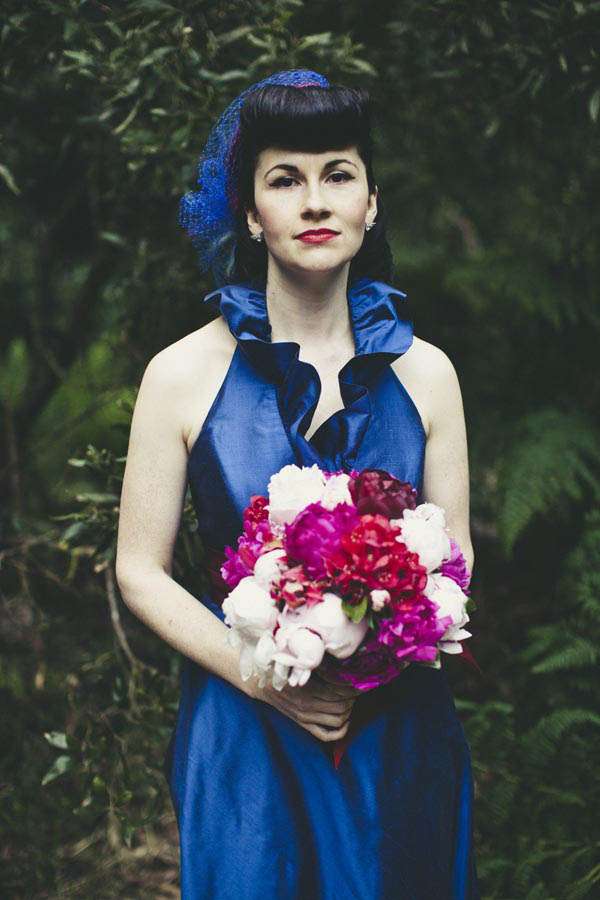 Awesome. Isn't Fiona just gorgeous? I love her blue wedding dress (and tats!) so much. The outdoor ceremony spot is just beyond perfect too. Thank you so much to the happy couple and their photographer Dan O'Day for sharing with us today.
Supporting Cast:
Photography Credit: Dan O'Day Photography
Venue: King Parrot Retreat, Pennyroyal, Victoria, Australia
Bride's Dress: Customised, Stellini
Bride's Shoes: Vivienne Westwood
Bride's Headpiece: Melissa Jackson
Bride's Jewellery: William Llewellyn Griffiths
Groom's Outfit: Formal Red
Bridesmaid's Dress: Neisha Clothing
Cake: DIY
Flowers: Entwine
Hair & Make Up: Monx Love
Stationery: DIY
Caterers: Northern Soul Cafe