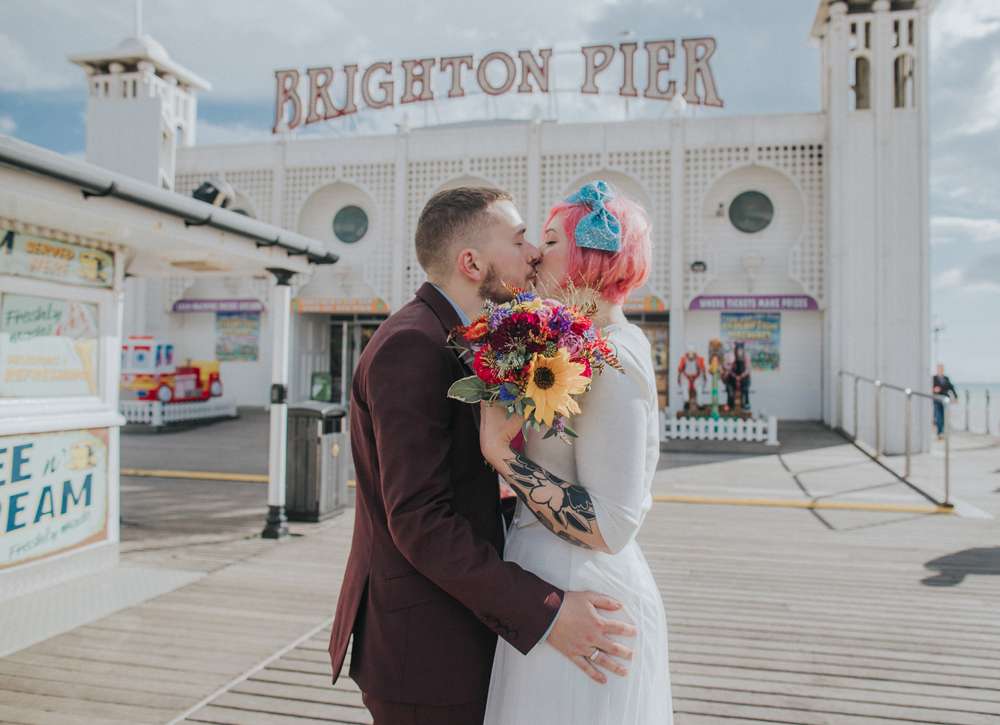 Violet and Jacob didn't choose the plant life, the plant life chose them. And that's why their super chilled Brighton wedding day was a totally vegan affair with tons of gorgeous donuts, pizzas and other goodies. They married in a low key, intimate ceremony with just 35 guests at Brighton Town Hall, with part one of their reception following in the coffee shop where they first met. By approaching their styling in a laidback way and their family and friends all pulling together to provide various services, they managed to create this gorgeous day for under £5,000.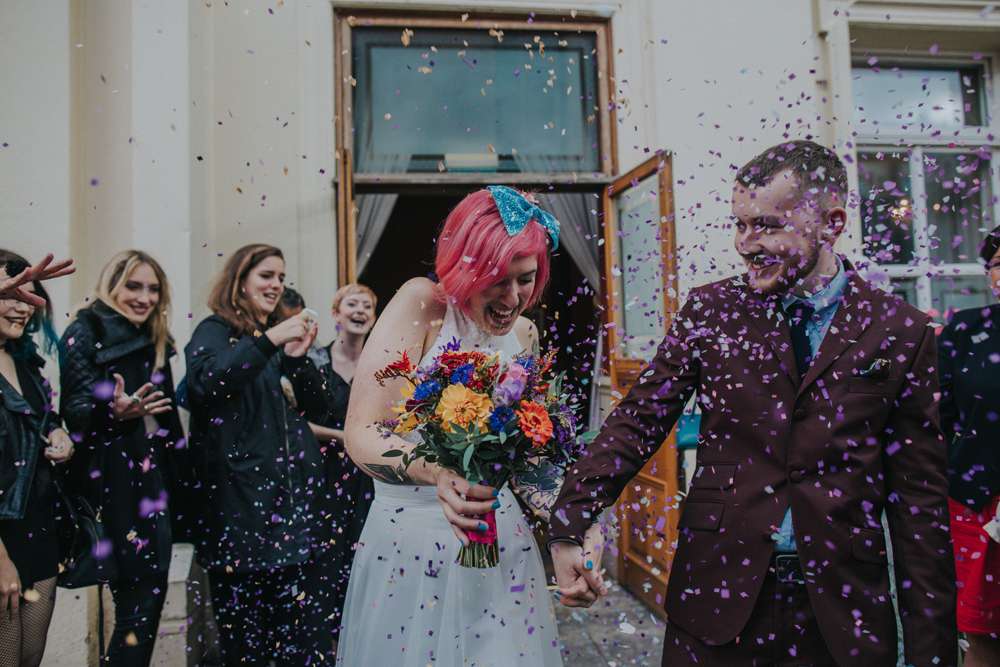 Violet said, "Our aim for the wedding was to have a really nice day and throw a big (ish) party in celebration of our love, surrounded by our favourite people and eating great food. To us it didn't make sense to eat food we'd never eaten before, or throw a party somewhere we weren't familiar with, so we chose to give our guests food we knew we loved and took them to places that meant something to us. Part of our reception was held at Bond St. Coffee, where we met, which is owned by a friend of ours. We've met so many wonderful people here, some of whom were at the wedding. Most of our suppliers were friends of ours and people we know, so I guess friendship and community was a big part of it. We also didn't have any bridesmaids or groomsmen in the traditional way, and there was no seating arrangement, so it was all very relaxed."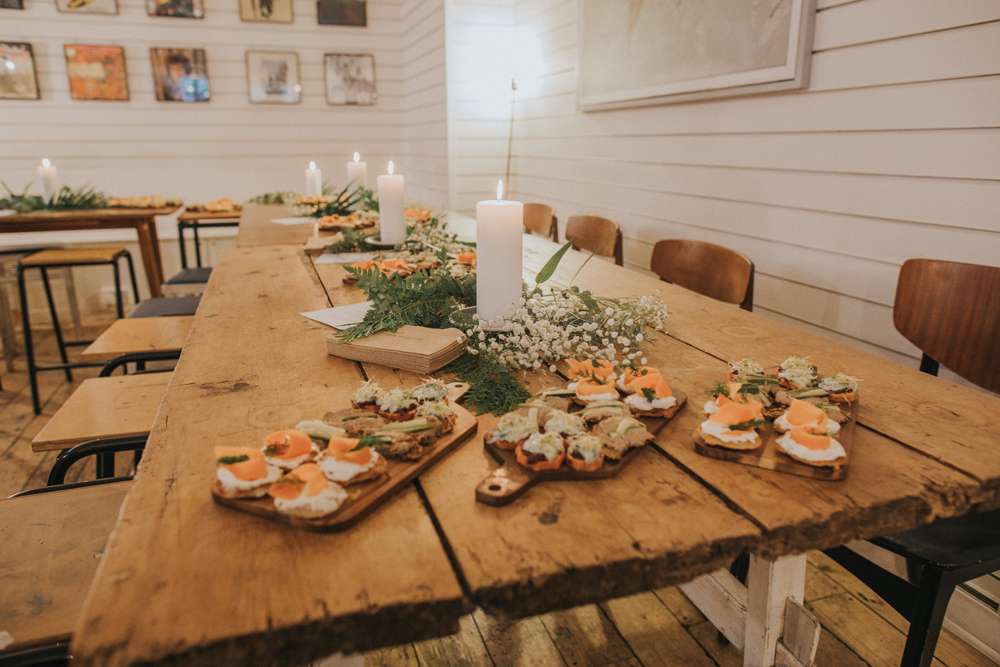 The couple decorated the venue themselves, but not in a DIY way. "We thought about doing DIY in the beginning, but ended up choosing not to. We bought really nice balloons and wall decorations from Peach Blossom in Brighton."
Violet fondly remembered how her name caused some trickiness during the ceremony! "As I'm Spanish, my full name is long and can be difficult to pronounce, so it was very sweet and funny how the officiant struggled to say it every time!"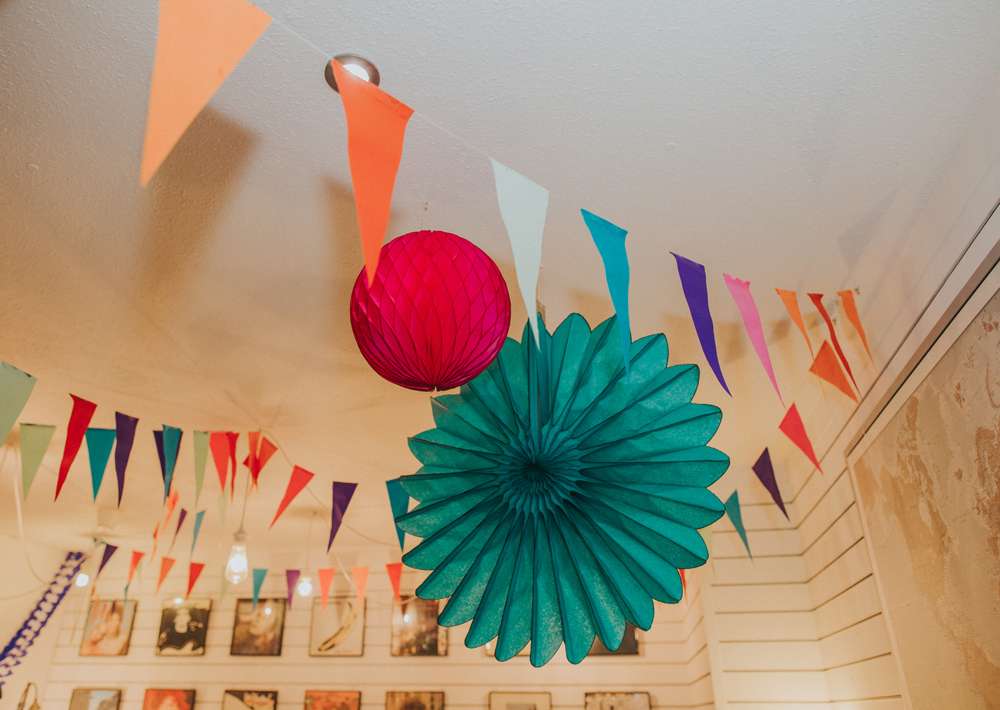 "My dress was a very simple ivory two piece from a Brighton boutique called The O Zone, and on top I wore a short cardigan from Collectif with pineapples on it that I bought days before the wedding. My shoes were pale pink flats by Zaxy that I bought in a high street shoe shop. On my head, I wore a large glittery blue bow. When I was dress shopping, I tried on a couple of expensive dresses, but they just didn't feel right, and it was too much for me. My whole outfit cost about £300."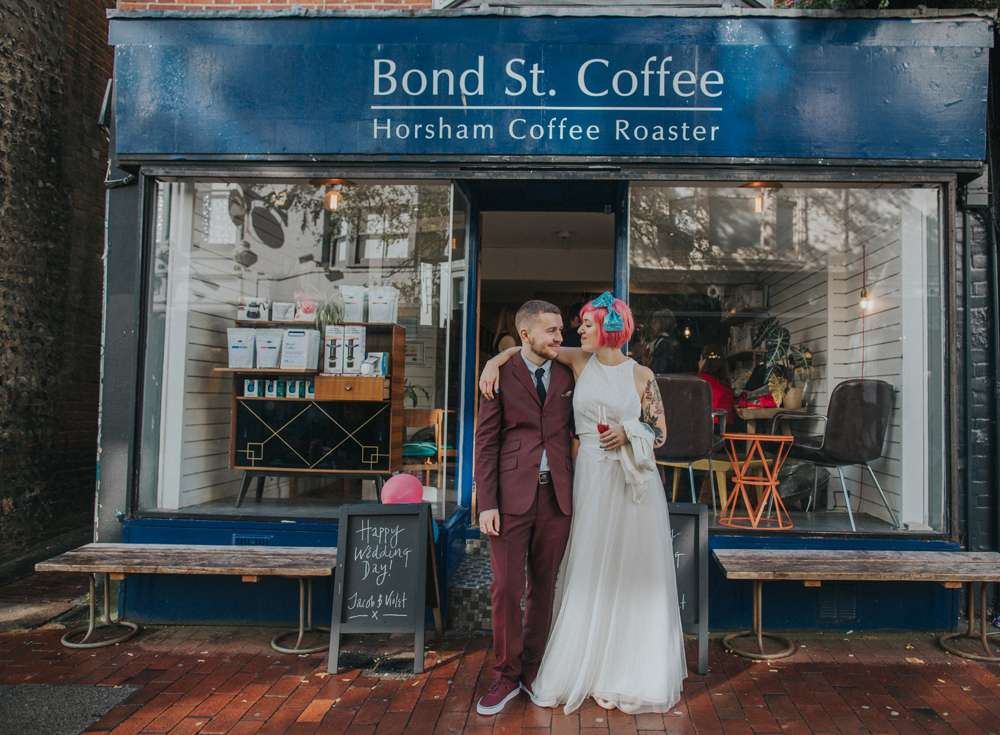 As we all know, the food at weddings is a huge treat to look forward to, and Violet and Jacob certainly smashed it at their wedding with bountiful treats. The vegan afternoon tea and canapés for the ceremony guests were provided by Planted, then later Dead Wax Social made the pizzas, with Glazed on vegan donut duty. Plus their gorgeous chocolate cake was made by the bride's friend Rachel as a wedding gift.
The couple's biggest expense was the photography, but they decided fairly soon that it was something they wanted to invest in, as they could regret not having done so in the future. "And of course, it was really worth it!" said Violet.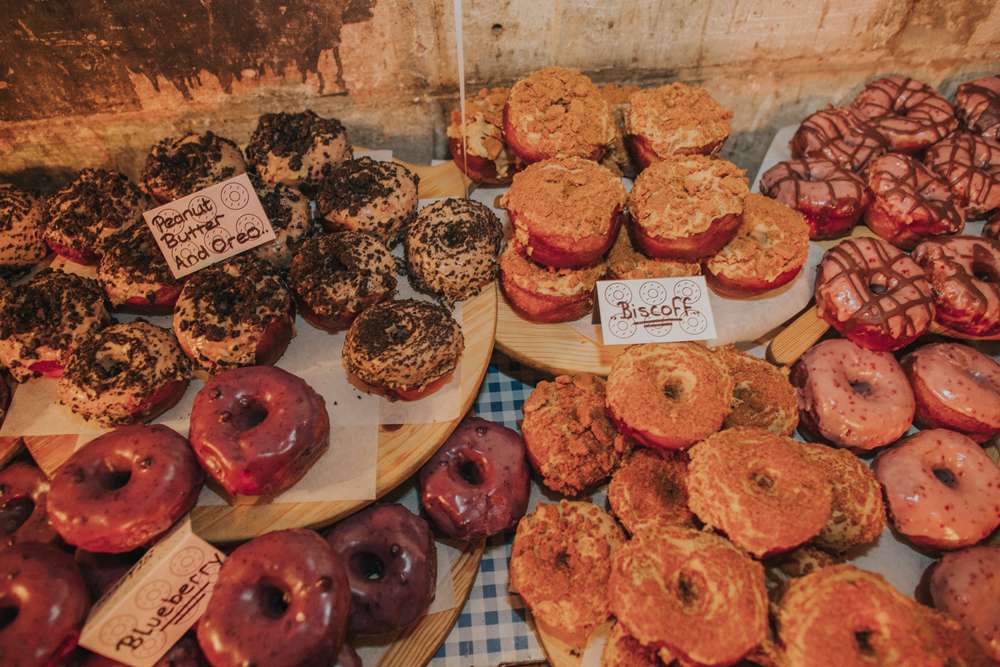 Money was saved in all sorts of ways, the main one being the love and help from friends. "We didn't have to pay for Bond St. Coffee as it was gifted to us by our friends, and Dead Wax Social was free to hire too, we just had to pre-order food and some drinks. We also saved money by not having bridesmaids or groomsmen, and by just serving loads of pizza for everyone! Also our friend Chris DJed as a wedding gift, and our talented friend Tash designed our wedding invitations, and we printed them at the local printers."
What was their favourite part of the wedding? Violet said, "Probably seeing my mum so happy, and sharing a lot of beautiful moments with her. Also my best friend flew all the way from Australia just for my wedding!"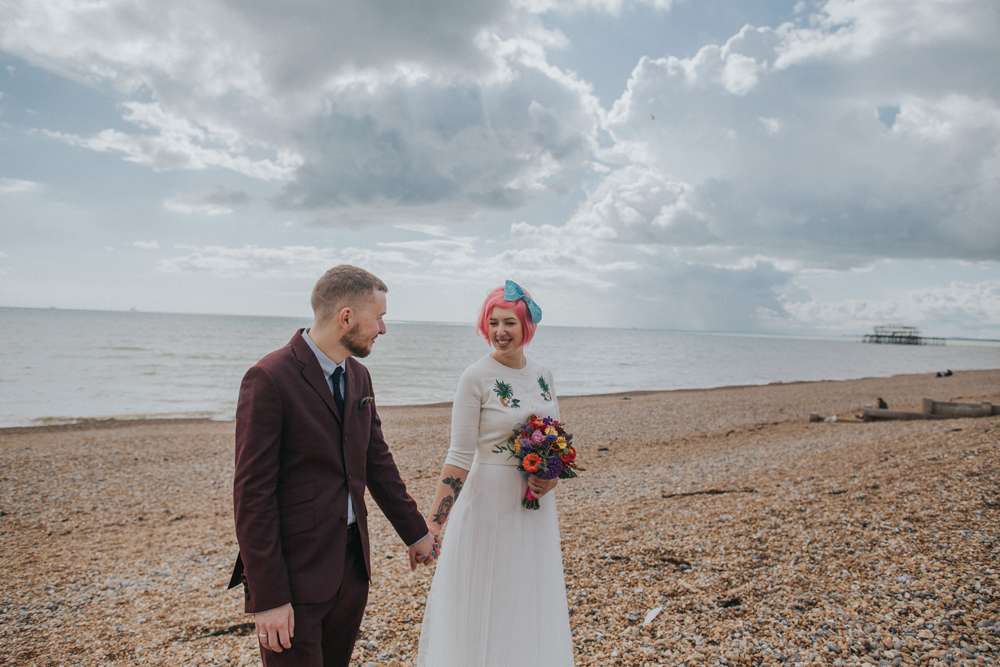 Violet said that the best thing about planning was, "Realising we have wonderful, creative people around us that chipped in in their own beautiful way." The worst thing about planning was a bit of a classic pitfall. "Stressing about things that didn't matter, and obsessing over other people's weddings and every single detail, which isn't healthy!" Violet said that looking back now she probably would have asked for more help from her friends as she found it all a bit overwhelming.
Their advice for you is, "Even though the planning is stressful, try to not put too much pressure on yourself, because all that matters in the end is that you and your partner are making a beautiful promise to each other, and everything else is just a bonus! Also, all the stress will go away on the day and everything will be fine." And traditions can be thrown aside in favour of new ones – yours! "I'm really glad we did things our way, and skipped almost all the traditions, as the day couldn't have been more 'us' and everyone seemed to have a great time."