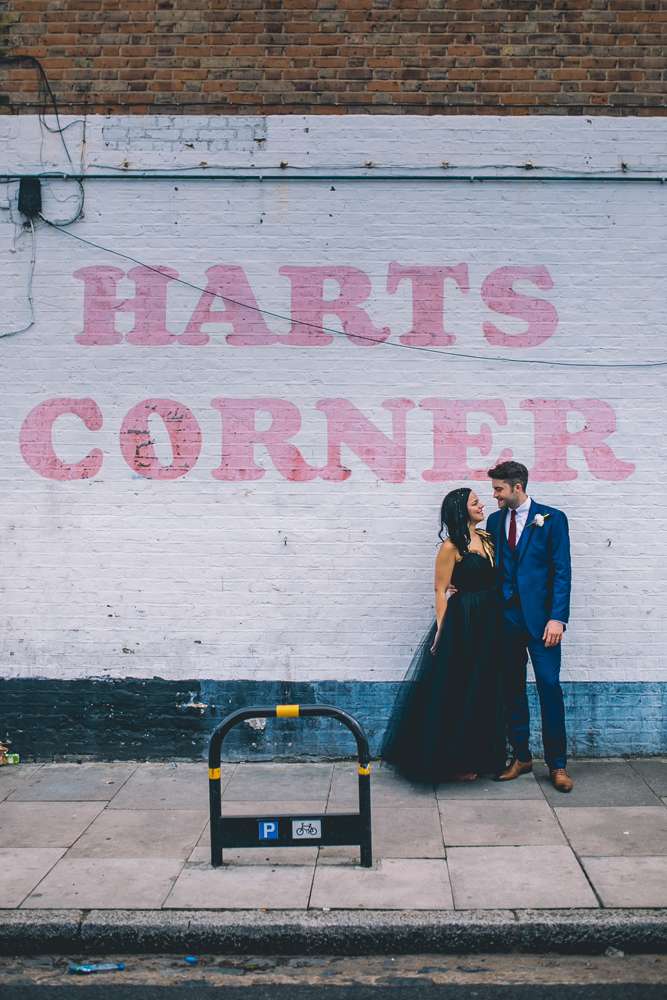 With Charlotte and Seb both being musicians and having met on a gig at Spitalfields Festival, music was obviously going to be a star player at their wedding. From musician friends performing and arranging meaningful pieces for them, to what you'll hear the groom treated everyone to during his speech, this wedding was one of wonderful friendship, family, support and song. Oh and there was Monster Munch and ice cream to snack on pre-dinner, so extra awesome points there!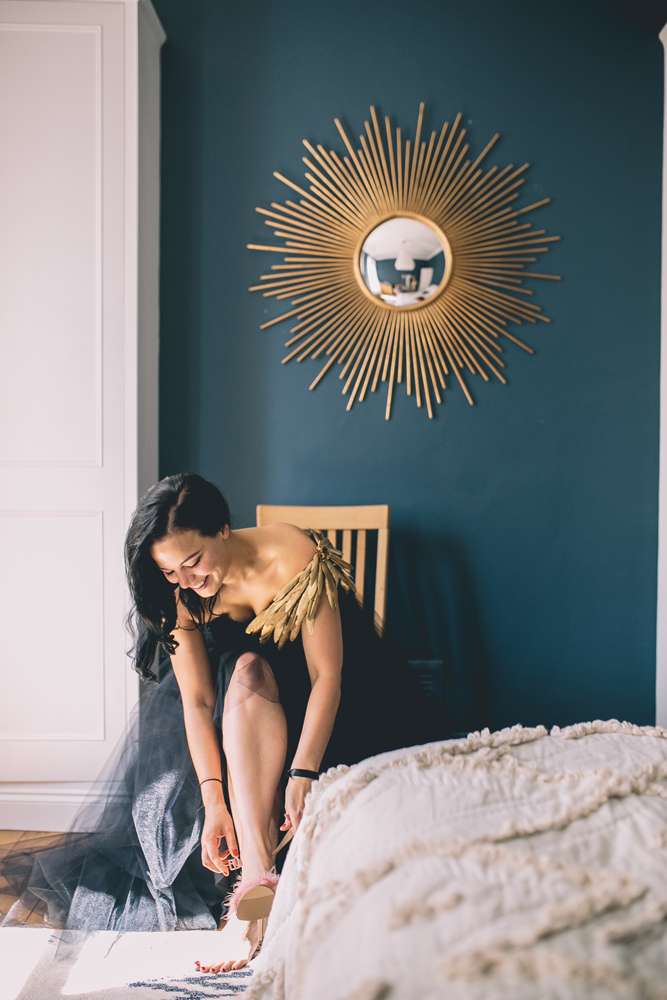 The bride's sister was the giver of great advice during the initial planning. "We were a bit lost initially as neither of us had strong views already in place", Charlotte explained. "My sister said to just pick all of your favourite things! So we had pizza, cheese, ice cream, amazing music and lots of booze!" The worst part of planning, said the bride, "Was probably the logistics of arranging so many outside hires. The dry hire venue gave us lots of freedom, but it also meant that everything needed bringing in, which meant a lot of emails!"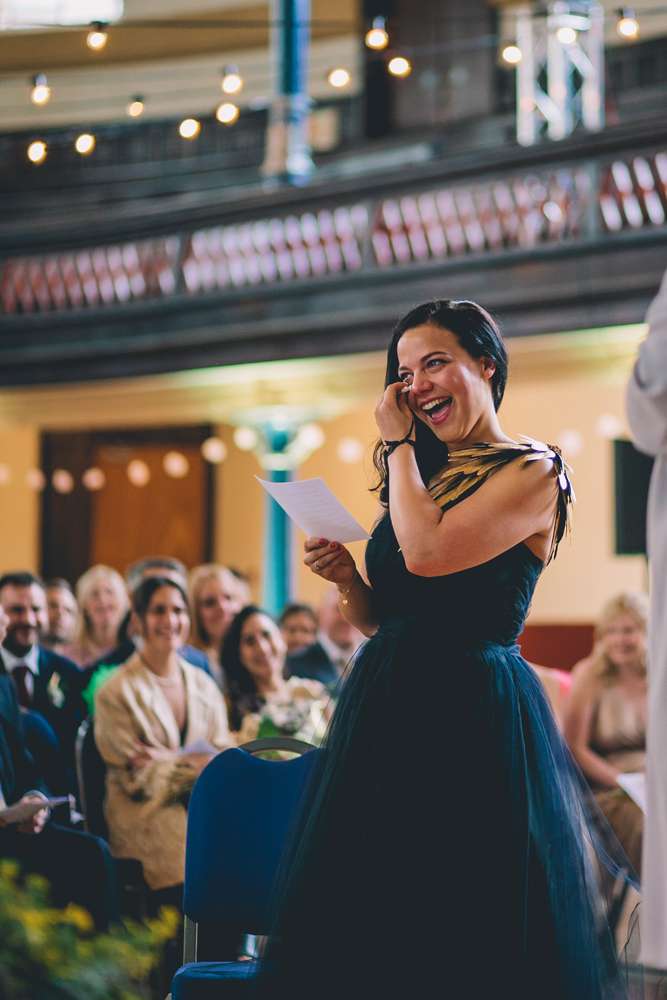 Their summer ceremony, at the Round Chapel in Hackney, which they describe as a relaxed and informal party, was fairly traditional with some personal touches from family and friends. The bride continued, "I walked in to an arrangement of Once Upon a Time in the West, my brother-in-law's partner Anna sang a beautiful aria from Samson and Delilah, my brother Nick did a reading, and my mother-in-law Anita read a poem that she had written for us!"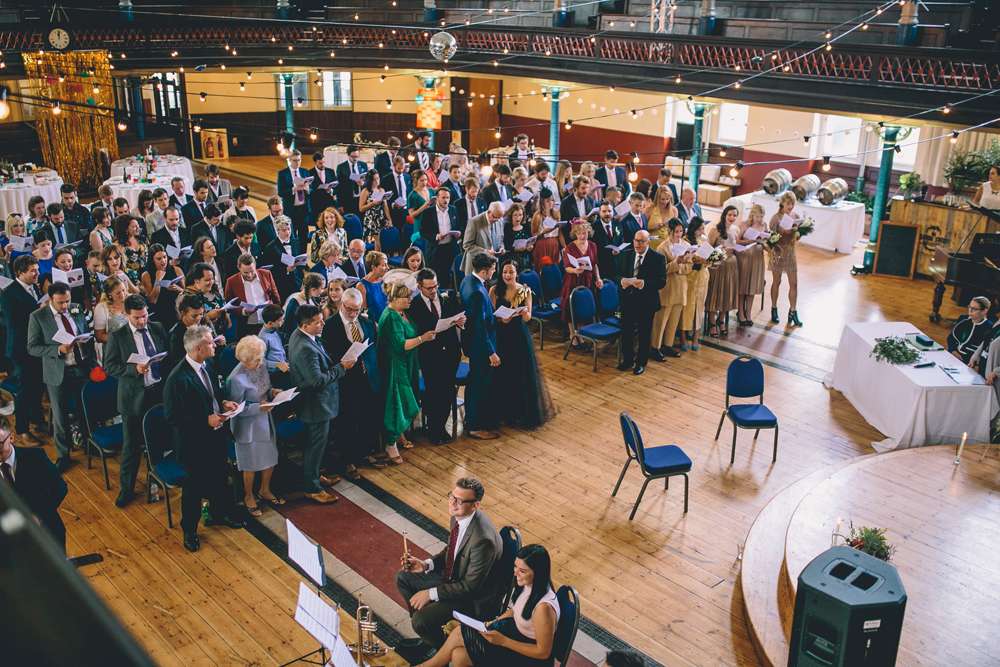 "We sang the Circle of Life during the ceremony and had given percussion to the guests to join in; we also had some vocalist friends make a choir for the chants. We wanted everyone to feel as involved as possible! For a non-religious ritual, we passed the rings around the entire congregation to be 'warmed' – it's an amazing feeling to look at our wedding bands and know they've been held by everyone we love. We walked out to an arrangement of the Star Wars Throne Room music, all arranged by Seb for our talented brass-playing friends."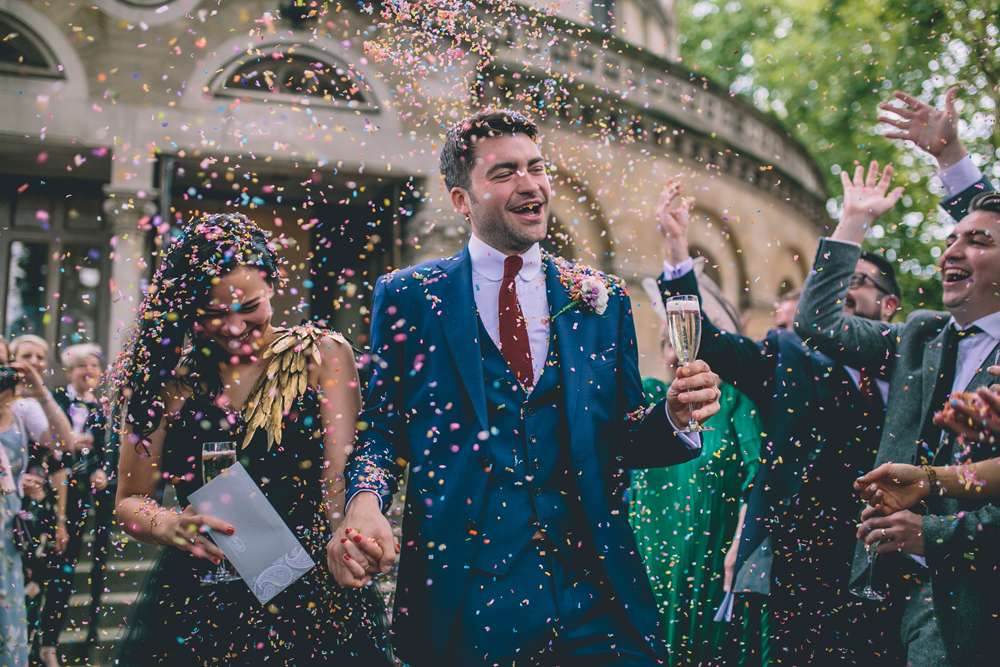 The bride's beautiful black dress with those fabulous gold feathers embellishing the shoulder was by Alexandra King and the groom wore a Ted Baker suit and shoes with his Mark Powell shirt and tie pin and Etsy cufflinks. The bridesmaids wore their own gold outfits.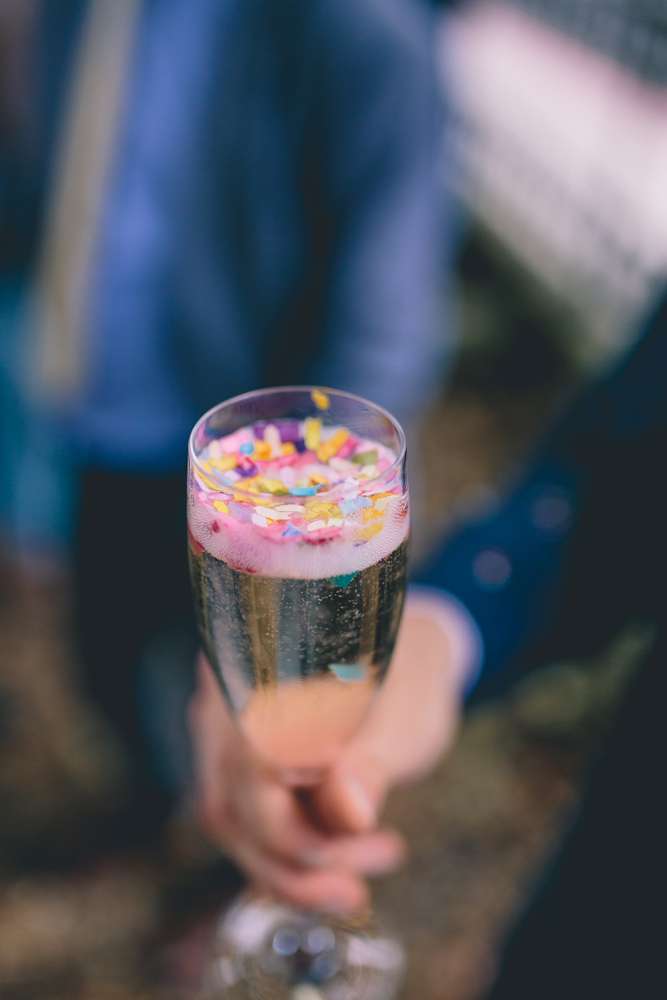 At the reception speeches, the groom pulled out a fantastic surprise interlude that thrilled all the guests. "Seb's dad had sung to his mum at their wedding 50 years ago, so I had wondered if he would sing something to me, and he did! During his speech he called for a spotlight and seamlessly transitioned into On The Street Where You Live (a sort of song of ours). He'd had singing lessons in secret, and while we were all still stunned from the song, he began to tap dance, soon joined by the ushers! They'd had a whole routine choreographed by a talented dancer friend of ours, Chandelle. We were all blown away! Then, cool as anything, he continued with his speech as if nothing had happened! I'd agreed to say a few words after Seb, but he was a hard act to follow! Talking to friends after the wedding this seems to be one of the things people remember most from the day!"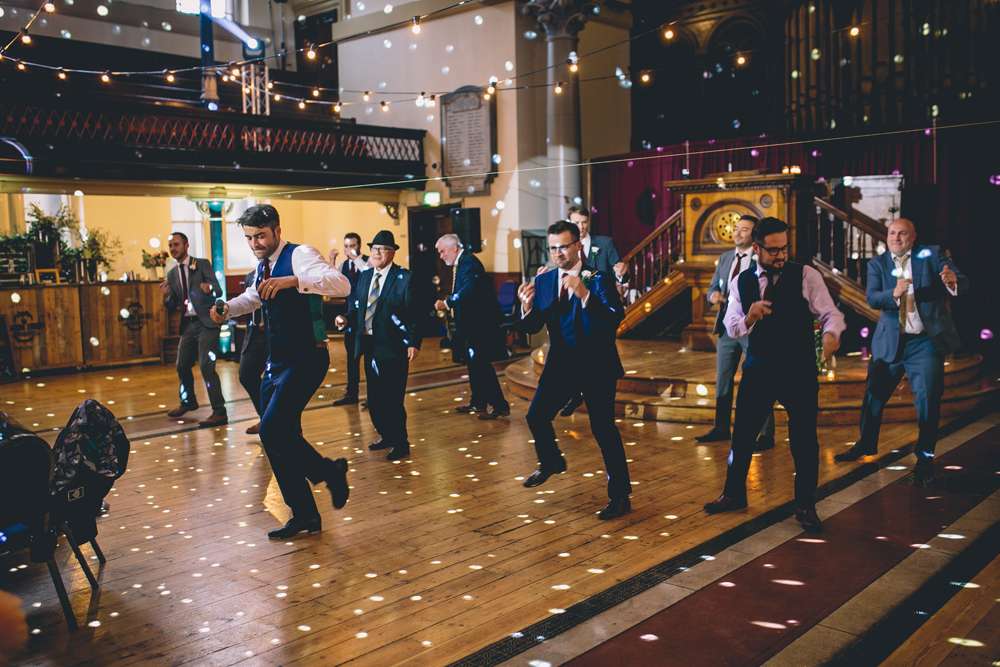 "When we were doing the budget (which was £18,000), we decided which things were most important to us and decided to splurge on those. The venue and food were the biggest expenses, but they were pretty vital! Otherwise, our biggest single expense was probably our photographer, Dan. He was completely worth it; he was a lovely guy, and when the photos arrived, I think I looked at them every day for about a month! We saved thousands by asking our friends to perform for us (for free!). They all kindly obliged. It wasn't the first wedding for a member of our band, Old Dirty Brasstards, so thankfully Seb's been able to repay the favour!"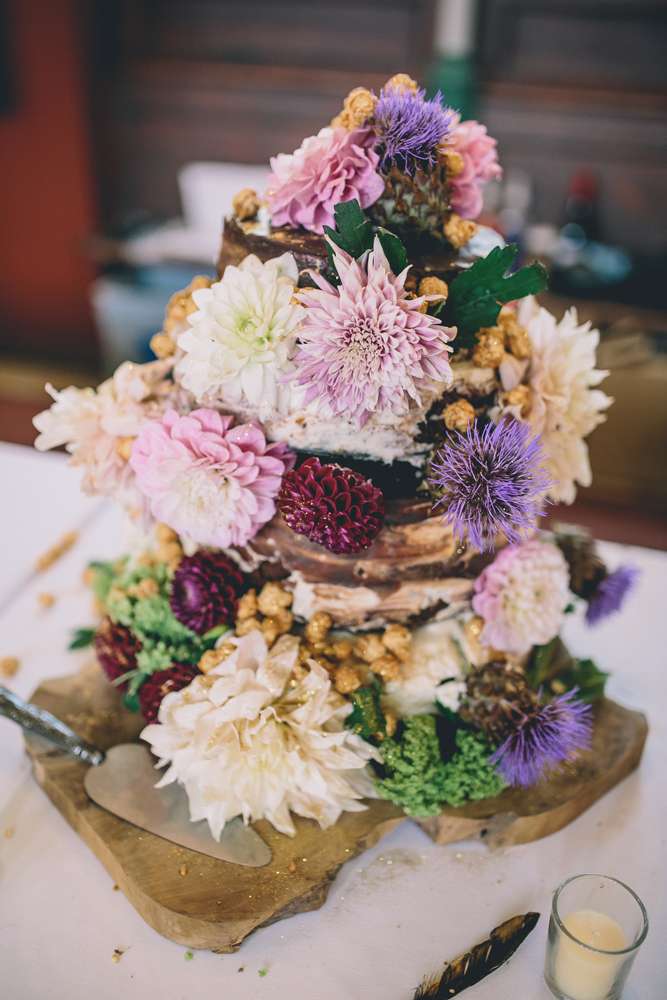 Even though there were challenges in terms of extra time spent in the planning process by having their venue dry hire, there was a welcome chance to keep costs down on décor with some good old DIY and the help of good friends. Charlotte said, "I made all of the tulle pom pom decorations and embellished the taper candles with left over gold feathers from my dress. I went to Covent Garden Flower Market the day before the wedding to buy all of the flowers, and a friend arranged them at the venue the night before, as well as making all the bouquets for me and the bridesmaids, oh, and the wedding cake! We bought all of the alcohol from France on a booze cruise, and collected kegs of our favourite beer, Hop Head, from Dark Star brewery." Seb did the design of the invitations and order of service, and wrote the place cards and seating plan, and they also had a Fujifilm Instax for the guestbook.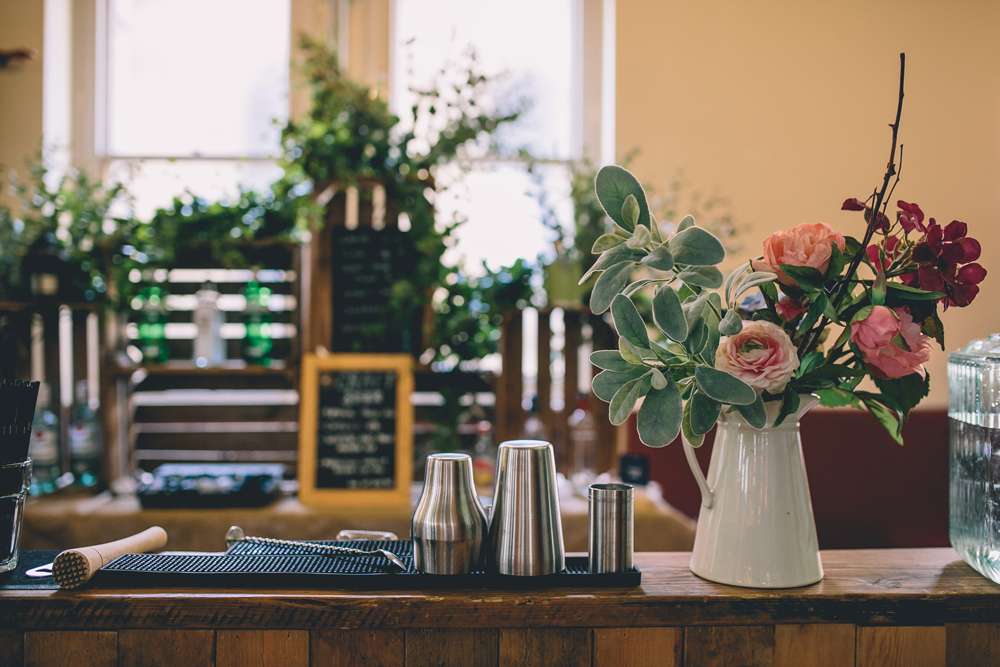 "My favourite part of the day was definitely the ceremony!", she remembered. "After having it in our heads for so long, to actually be experiencing it was incredible! I had so much adrenaline that it seemed to go by in a matter of minutes, but the memories of vows and signing of the register, and all of the wonderful contributions from our loved ones, will stay with me forever!"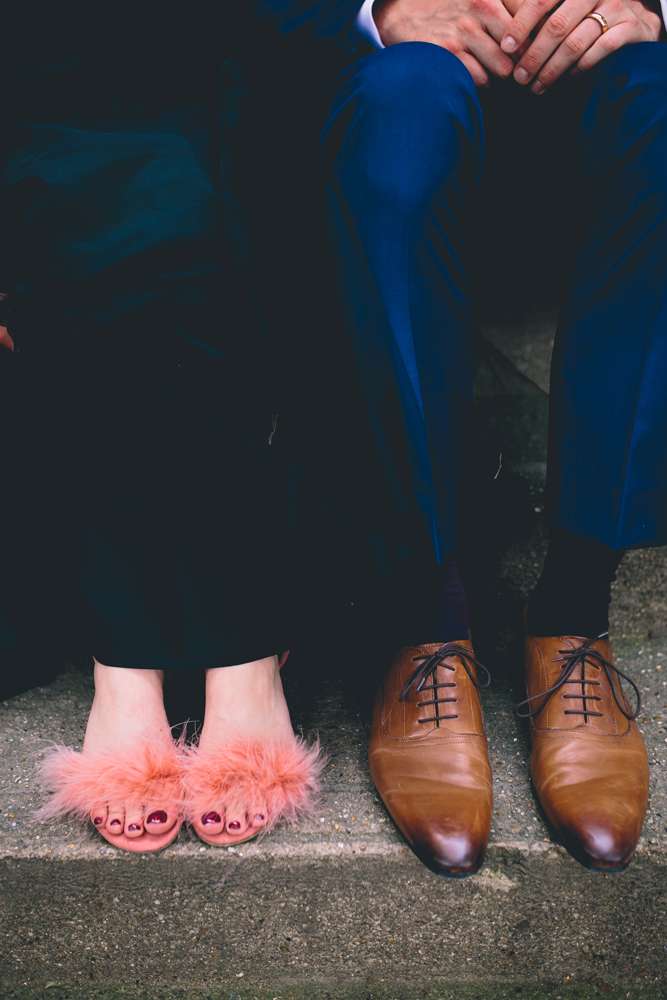 Looking back, would they have wanted anything done differently? "We had to clear everything out of the venue by 1am, which loomed over me a bit towards the end of the night! It would have been nice to be able to just walk away at the end of the day, but it was worth it for the venue we wanted (and our guests helped!)"
"Our advice to you is to make your wedding all about you! And don't be shy about putting things like cutting the cake and the first dance in, even if you're not showy people – it all helps to punctuate the day and makes nice memories for your guests, too!"