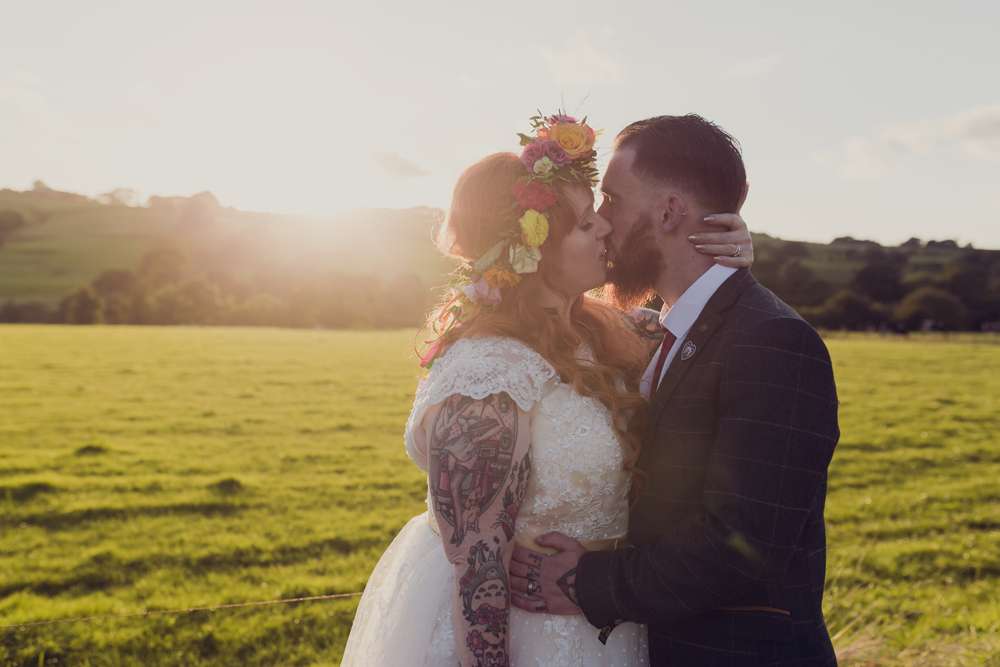 Claire and Trystan met in an art store in Truro, so of course their wedding was going to be all about the colour and the creativity! They pulled their rainbow, vintage, tattoo-themed day together for just £5,500.
The couple described their wedding vibe as, "Traditional tattoo art mixed with bright, bold colours and a hint of vintage. Trystan is a tattooist, and we are both collectors of tattoos and tattoo art, plus we have spent several years travelling around getting tattooed by our favourite artists. We knew we wanted our wedding to reflect this about us as it's a major part of our lives that we love. The best man and most of the groomsmen are all tattooists too, so it all came together very naturally. The day was a true reflection of who we are as people."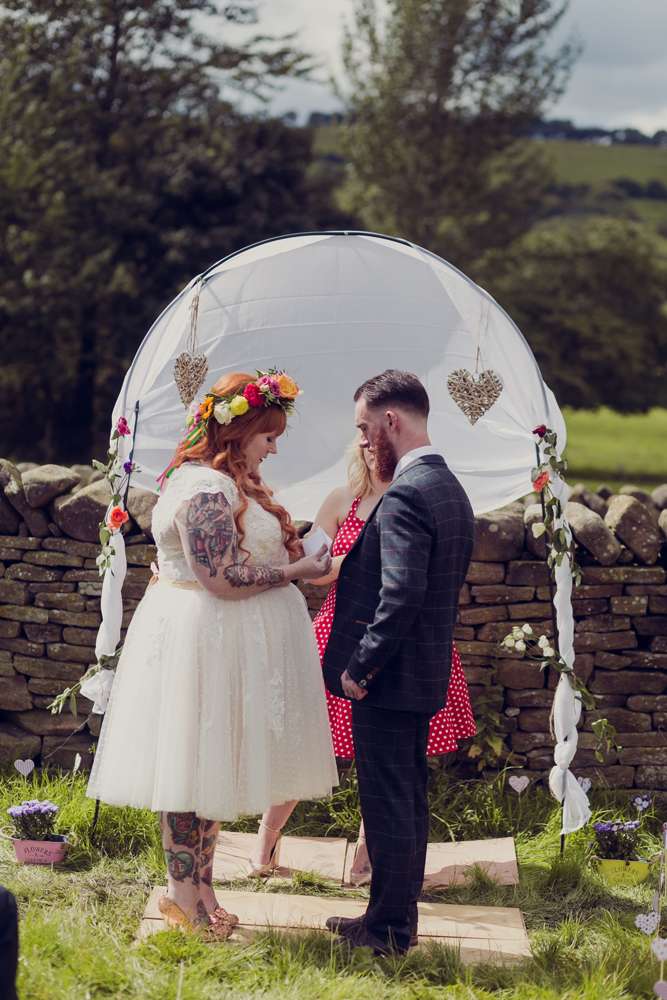 Their venue was the beautiful and rustic Thornsett Field and Farm in High Peak, Derbyshire. Claire said, "Kerry, who owns the barn, and her husband were incredible! They really go out of their way to ensure you have the perfect day. We started the set-up on the Monday before the big day, and they were on hand to offer help throughout. We honestly couldn't have asked for more." And having a wedding on a farm means loads of cute animal moments! "Pugsley the Pug greeted our wedding guests on arrival, Mabel the sheep took a starring role in our wedding pictures, and my beautiful dogs, Louie and Otis, caused chaos throughout the day – including a point at the end of the night where Otis was on the dessert table! It was animal madness in the best possible way."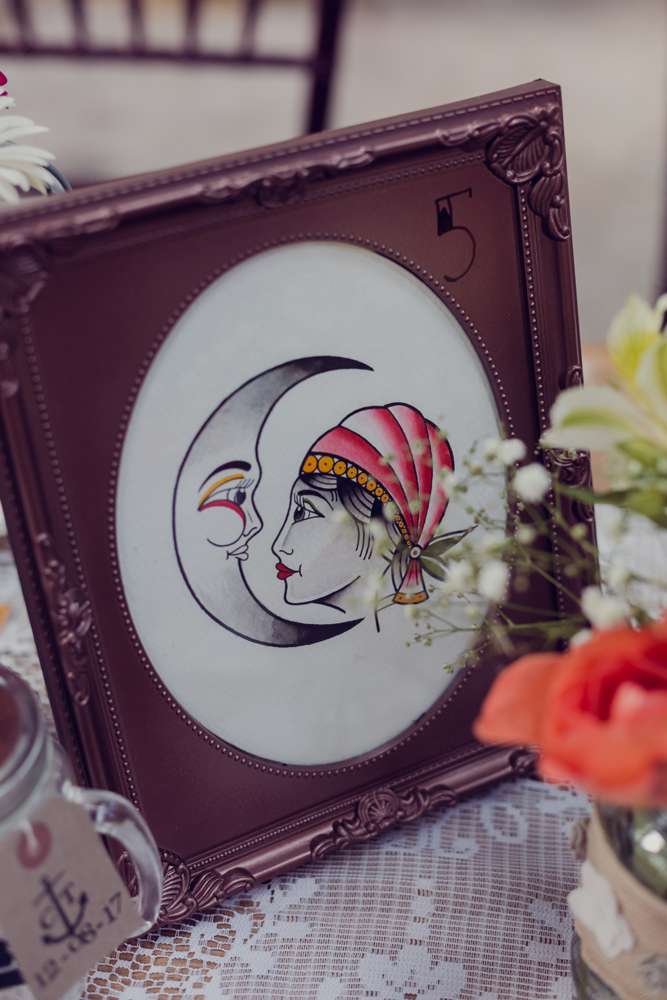 "Our ceremony was held overlooking the hills of the Peak District. Guests sat on hay bales and my sister, who was also a bridesmaid, carried out our humanist ceremony. We wrote the ceremony and the vows ourselves so that it would be really personal to us. We also chose to include a handfasting ceremony, where our close friend Emily tied our hands together. This was very special as Emily's husband, Leeford, had unfortunately lost his battle with cancer earlier in the year and was one of Trystan's best friends and so would have been a groomsmen. It was a way for us to feel like he was playing a part in our big day. We know he was there with us regardless. We legally married on the Monday at Stafford Register Office, as this way we could have the ceremony we wanted and write it entirely ourselves."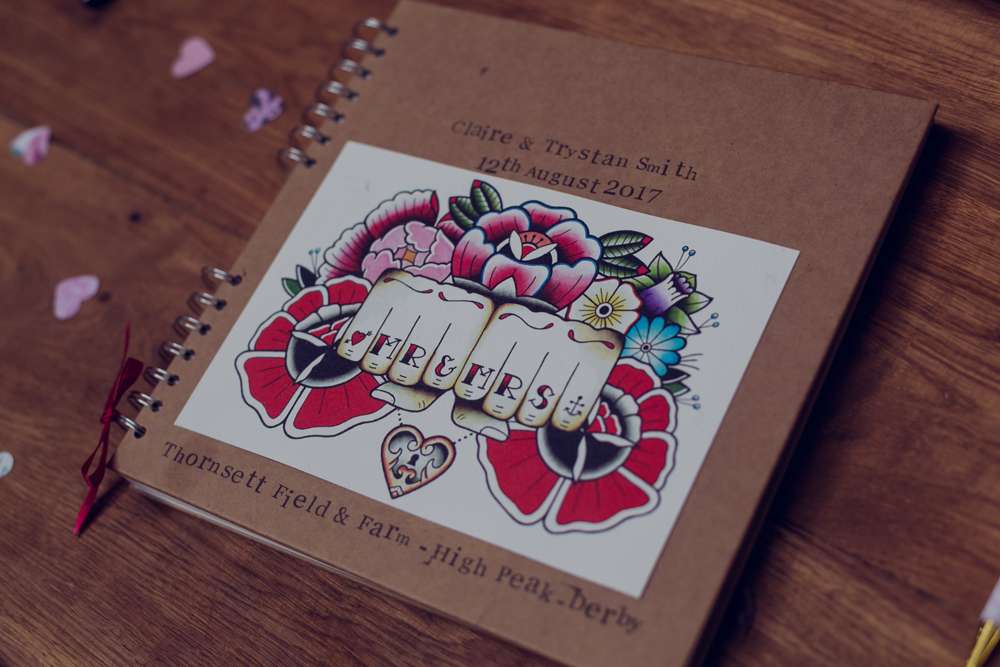 The bride's dress was custom made by Simon of Solo Bridal. She said "I found him on Facebook after a lot of research into the idea of buying a dress from China. Because I was having a baby only 12 weeks prior to the wedding, I was struggling to find anyone who could make a dress like I wanted with such a short lead time, and nothing off the rail matched the image I had in my head. I emailed Simon and showed him pictures of the sort of dresses I liked and explained I loved polka dot and lace, and he created the dress based on this for the bargain price of £130! The workmanship and quality of the dress was incredible, and easily matched those I had looked at in bridal boutiques. My shoes were Irregular Choice, I felt like Dorothy wearing them! I also had an amazing custom denim jacket for when it got colder in the evening. This was designed by Trystan to match the save the dates he'd hand-painted for the wedding."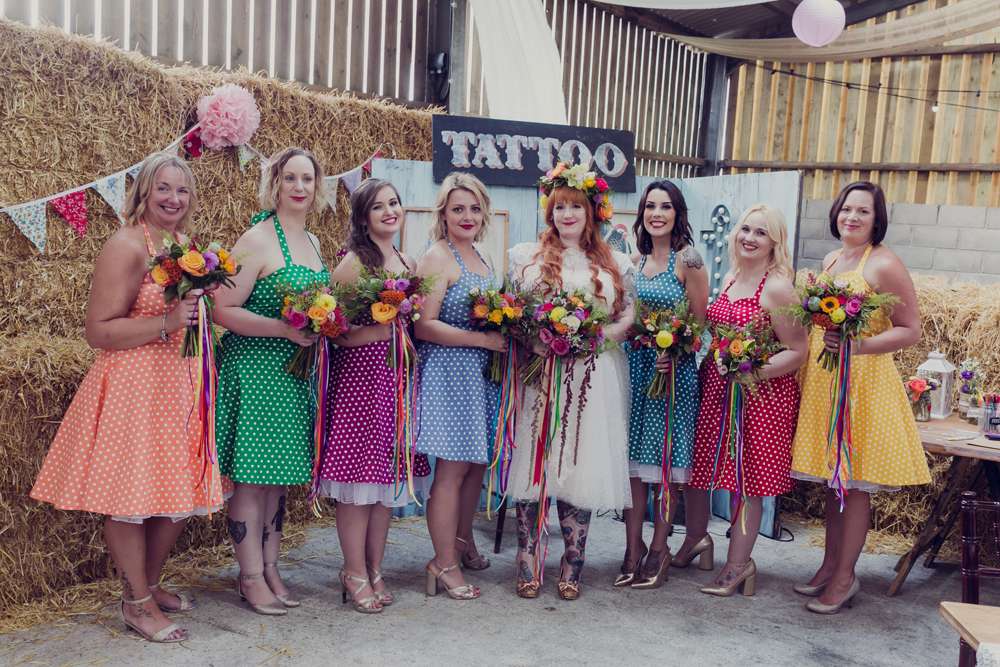 Trystan's suit was the Marc Darcy tweed suit from Master Debonair. He didn't want to wear a corsage, so instead chose pin badges for himself and groomsmen designed and made by Chris Bourke. Claire said, "Our baby boy, Ezra, also wore one of these pin badges on his matching braces – he looked so cute! The bridesmaids' dresses were from Dolly and Dotty. We couldn't choose a specific colour theme to run throughout the wedding, as we both love bright and beautiful things, so we chose to just include a rainbow of colours. I combined that with my love of polka dot and decided that the bridesmaids would all wear a different colour. I got the dresses in the sale at the bargain price of £14.99 each! They then wore gold shoes to tie in with the gold details on my dress and shoes."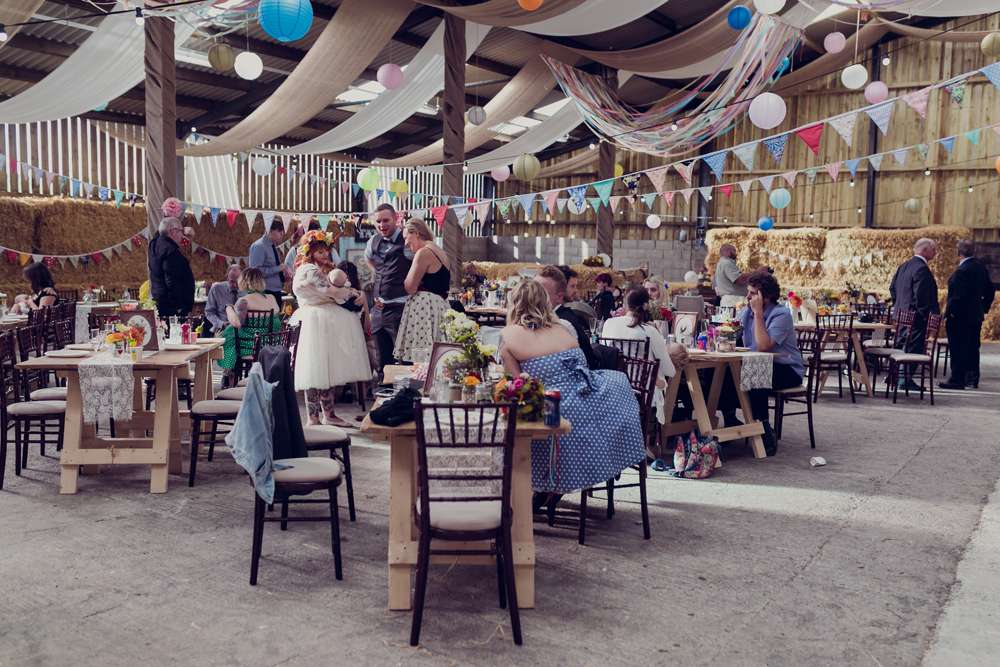 "Our whole wedding was a DIY project!" continued the bride. "For the entire time we were engaged, we would constantly be bargain hunting and collecting vintage jars, vases, bottles, cake stands… you name it, we collected it. My sister, Beth, made 120 metres of beautiful bunting from vintage fabrics, and turned my mum's living room into a factory; she was still sewing the day before the wedding! Trystan hand-painted a traditional tattoo design for each table to be used as the table numbers. We made a bucket list tree in which guests could add a wish or an activity for us to do as a married couple. I made mini chalkboards and spray painted loads of different vintage frames gold to make signage for all around the barn. Trystan painted and made all the invitations, save the dates and table names. As a tattooist, this was something he was really keen to do, to put across his love for the traditional tattoo style within them. We hand-stamped hundreds of tags for the favours and hand painted everyone's names onto mason jars. We made the wedding archway, arranged all the flowers at the venue and decorated the venue from top to bottom – it was an empty cowshed at the beginning of the week!"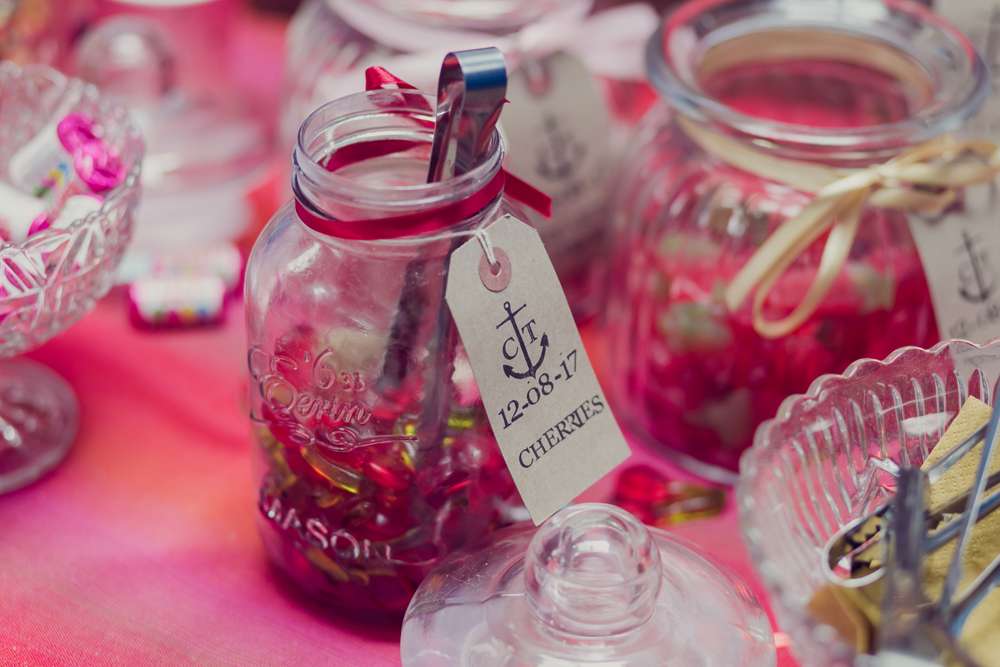 The flowers (and bride's flower crown) were created by Joanne and Natalie at Buttercup and Daises With Love. Claire said, "When I first sat down with Joanne and showed her my ideas, I think she thought I was crazy – no colour theme and multicoloured ribbons. I loved peonies, but they were out of season, so Joanne suggested the beautiful two-toned peachy pink roses, which were so vibrant. I then gave her free reign on flower choices. All the table and venue flowers were bought from a local market and some of the bridesmaids and I arranged them into hundreds of jars, vintage bottles and vases we had been collecting for over a year."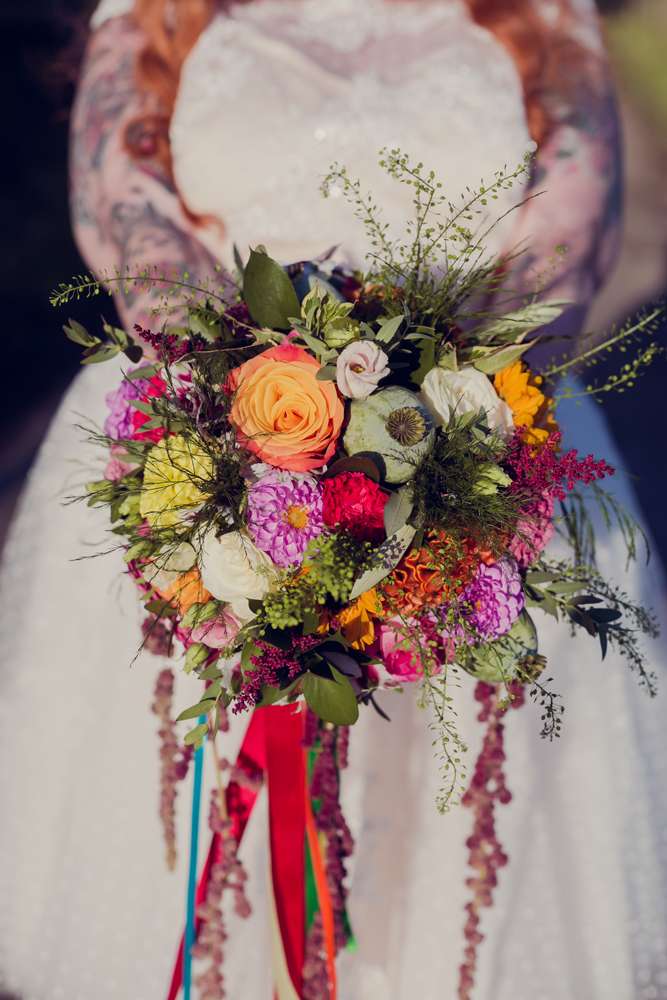 The catering was also a team effort, with all the bridal party chipping in. This saved them a fortune. Claire says, "One of my bridesmaids is a professional cookery lecturer so she, her husband and I did all the catering. We hired a refrigerated van, and used a community centre kitchen to prepare the majority of the food the day before. She was a legend and the day wouldn't have been what it was without her. I have a lot of vegan friends as well as the usual carnivores, so we tried to make sure there was lots of fresh homemade foods for everyone to enjoy. We also didn't have any service staff, and instead guests helped themselves to a buffet style meal, and then the groomsmen cleaned up and poured champagne for the toasts!"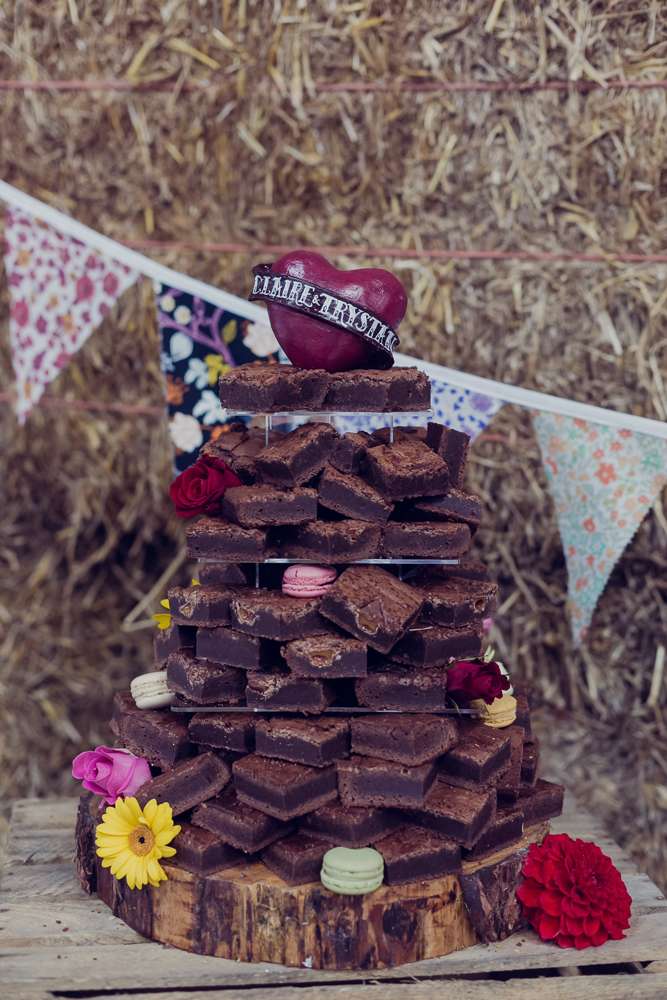 Even the cake was made by the bride! "I'm also a lecturer in professional cookery, so I decided to make my own wedding cake. I wanted it to have the wow factor but without too much work as I knew I'd have a lot on my plate in the lead up to the wedding. I chose to create a brownie tower; each tier was a different flavour – salted caramel, honeycomb and double chocolate. I added fresh flowers, and then topped it with a solid chocolate heart personalised with our names. This was created by the Tattooed Bakers and was filled with Love Hearts. As we both love cake, we created a massive dessert table for which my friends and I made lots of different desserts to enjoy along with a few Krispy Kreme doughnuts and some vegan cupcakes for good measure!"
The things they wish they'd known about planning a wedding before they began were, "Just how many 'Plan Bs' we would need to create, that we should never be thinking everything is going to run smoothly, and to have expected at least three things to go completely wrong in that last week running up to the big day!" she laughed.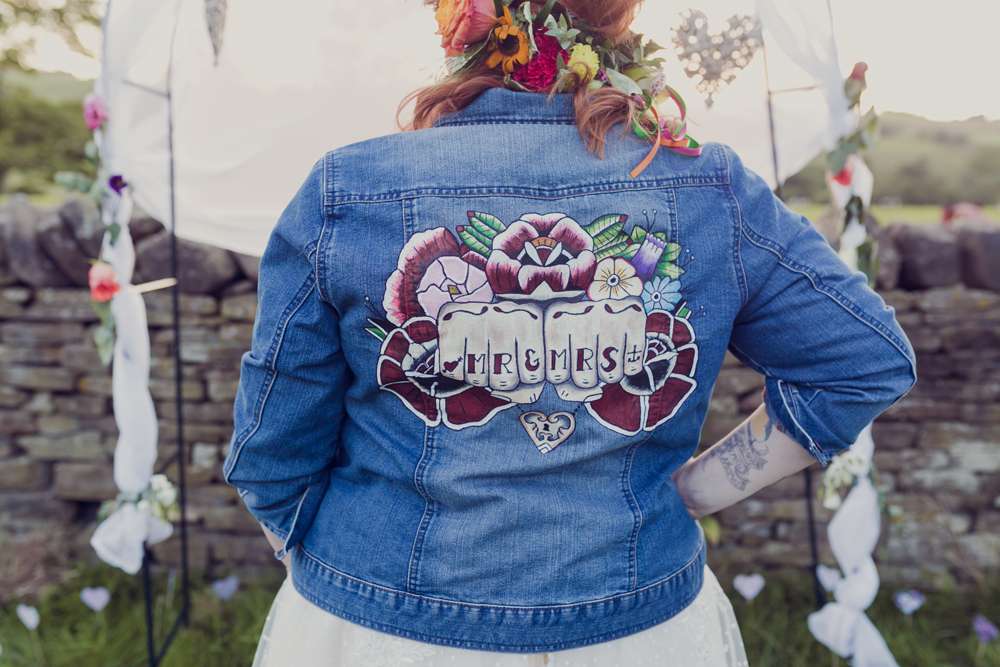 "My favourite part of the wedding was joining Trystan at the ceremony and looking out over all our friends and family", the bride concluded. "I have never felt so overwhelmed with emotion and love, it was such a beautiful feeling that I will never forget. Also, in the three months prior to the wedding, and at nearly nine months pregnant, I'd moved 300 miles to live with Trystan, during which time we only saw each other once every six weeks. We then had our beautiful baby boy, and proceeded to do the majority of the wedding preparation while trying to recover from having a C-section and learn how to become parents! It was a crazy whirlwind of a time! We found out we were having Ezra the year after we got engaged, he was our miracle baby as we were told by doctors that I wouldn't be able to conceive. Having Ezra at the wedding made the whole day so special and we got to really join our family together fully."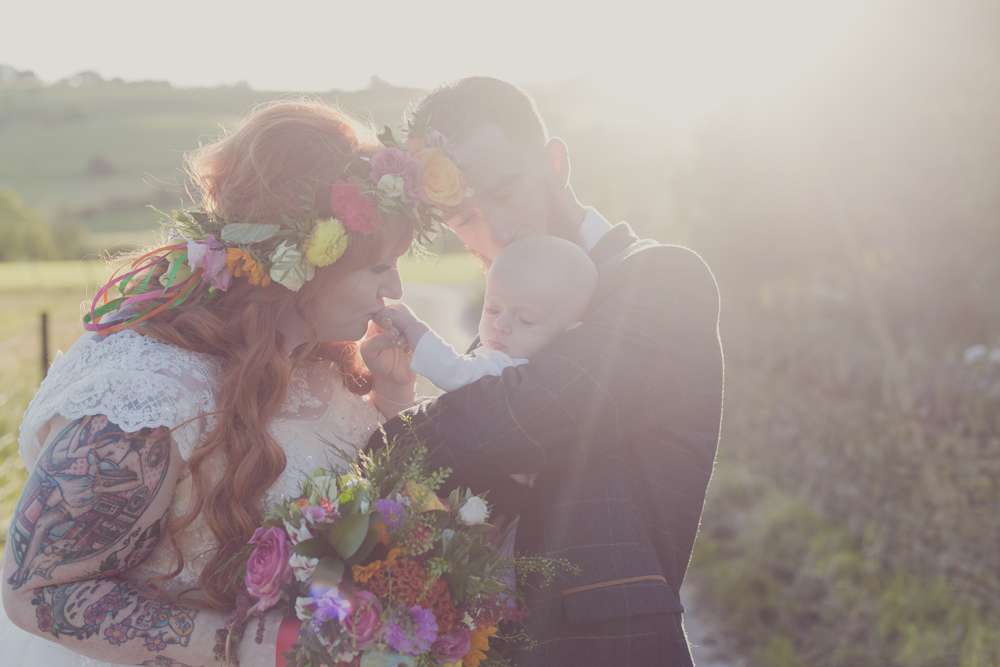 The couple's advice is to, "Enjoy the ride. And do what YOU want. It's YOUR day, don't feel you have to stick to any specific traditions if they aren't for you. Make your own traditions. Take some time on the day together to take in what you have created, all the little details and everybody's faces, the atmosphere, the love, breathe it all in because it flashes by so fast. On a practical note, really take your time to choose the right photographer for you, one that understands the essence of your day and can capture it in a way that makes you feel like you're there all over again. Our photographer, Donna, was amazing and really captured the heart and soul of our day."