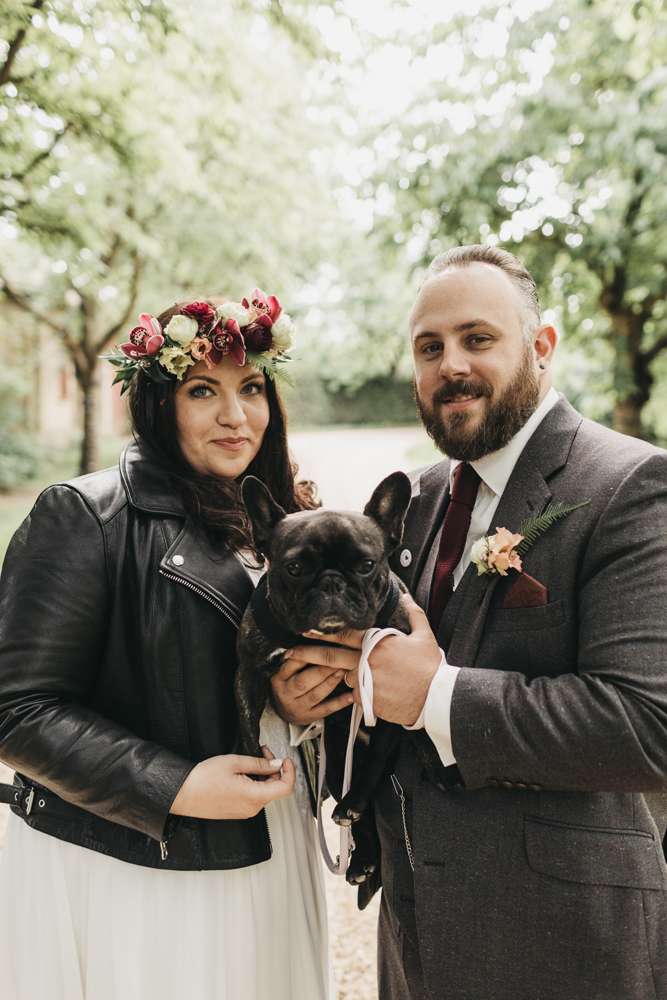 Adina and Richard did what many modern couples do these days: They legally married a few days before so they could really design a day that was truly them for their second ceremony. I mean, when you have a wedding that features piglets, your serve burgers for the meal and you have your cute dog following you down the aisle, you're always going to have an amazing wedding! In fact these two wanted their Frenchie to feature so much in their wedding that they had French Bulldog themed cake topper and they put her face on all the table name cards!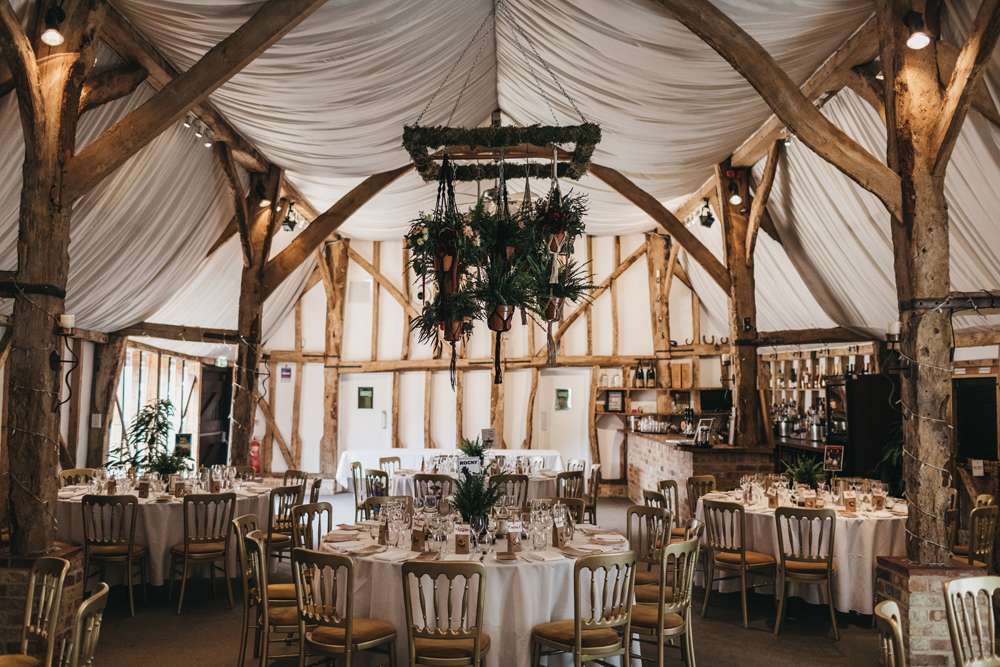 The bride and groom met online. Adina said, "As we both worked in the film industry, we connected really quickly, and after only two weeks Richard made his way over to Berlin so we could get to know each other. It was an amazing time, and we both knew we would definitely want to see each other again. After half a year of spending lots of money on flight tickets, Richard was able to move to Berlin to be with me."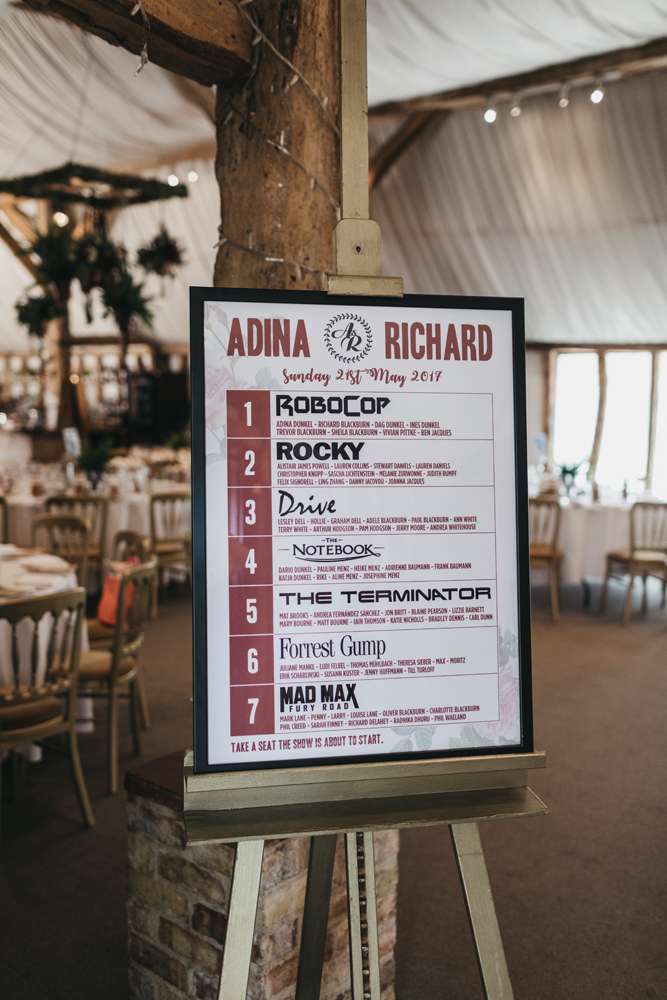 The first thing the couple decided when they got engaged was that they didn't want a traditional, generic wedding. "Here in Germany, people mostly get married in a hotel or restaurant and play embarrassing games to entertain guests," Adina said.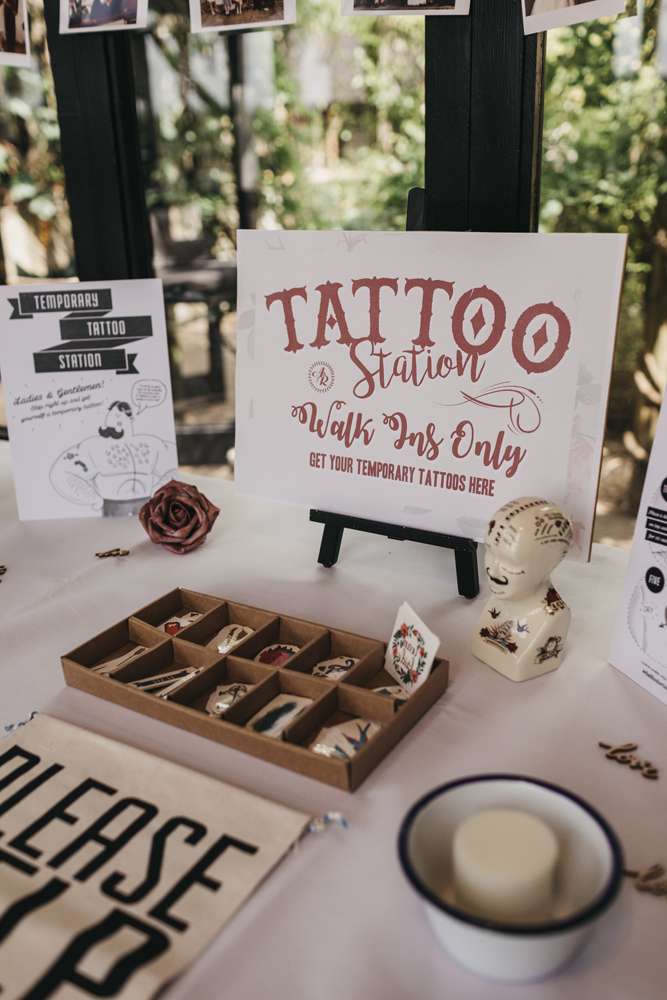 As for how they came up with the styling and theme of the day, the bride explained, "I started reading the Rock n Roll Bride blog and magazines and got inspired A LOT – I just loved seeing brides in leather Jackets, lots of tattoos and unusual themes. Like other brides, I was also addicted to Pinterest and started collecting decoration ideas. So we decided we wanted everything we love in our wedding, which is French bulldogs, pigs, rum and burgers. You could also say it was an autumn wedding in spring (we married in May), as we chose ferns and dark reds for our palette."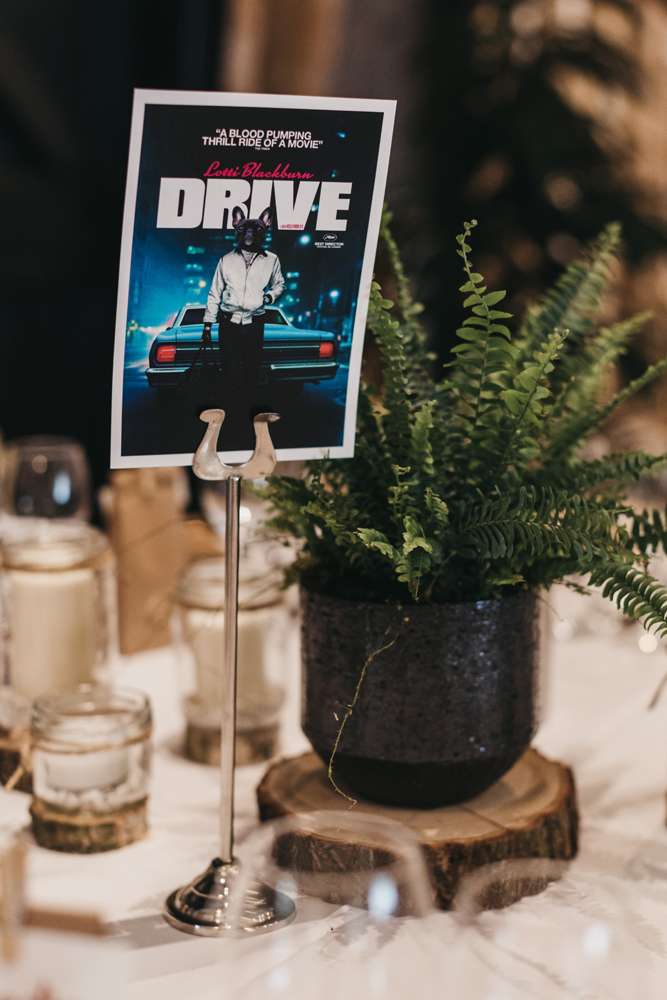 After the German wedding the week before, the British ceremony was held outside at South Farm, Cambridgeshire, in the summerhouse. "We had members of our family come out in twos, and our maid of honour walked out with Lotti, our French bulldog. For the music we chose M83's Outro. It is so epic and meaningful it made the moment feel so special."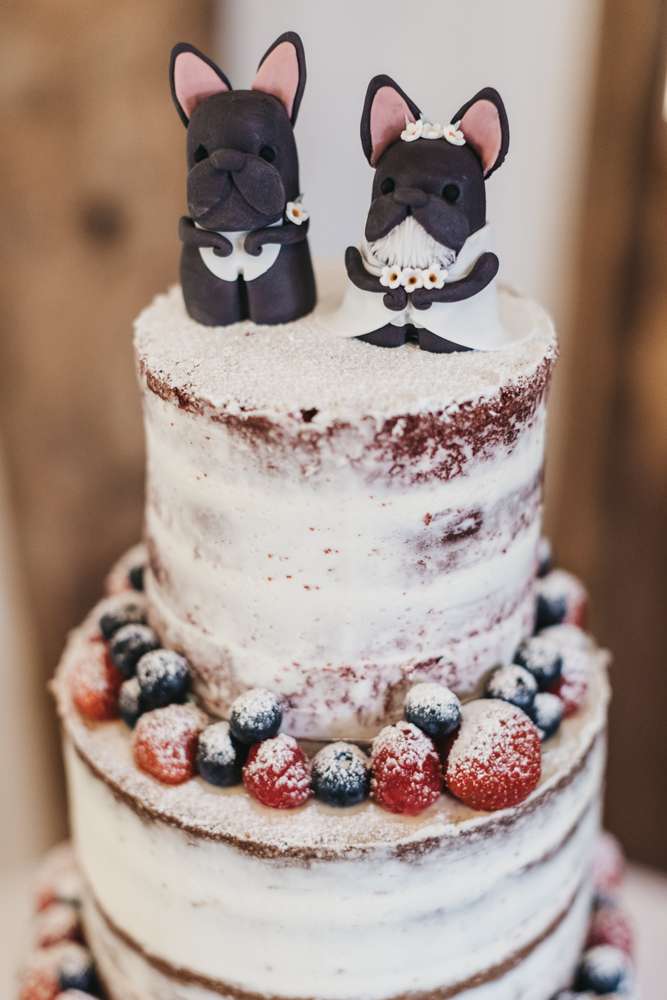 Adina and Richard have a love for rum, especially Sailor Jerry, and found a way to incorporate that into proceedings. "Before we did our vows, we gave everyone a small shot bottle of rum. It was a good way to start the day and loosened everyone up a little bit. As we'd got married officially a week before, we wanted to do something a bit different and our celebrant, Hannah Jones, suggested we could add soil to a tree to symbolise the start of our lives. We also made our parents be part of that and add soil too. The tree is planted outside our house now, and we can watch it grow every day."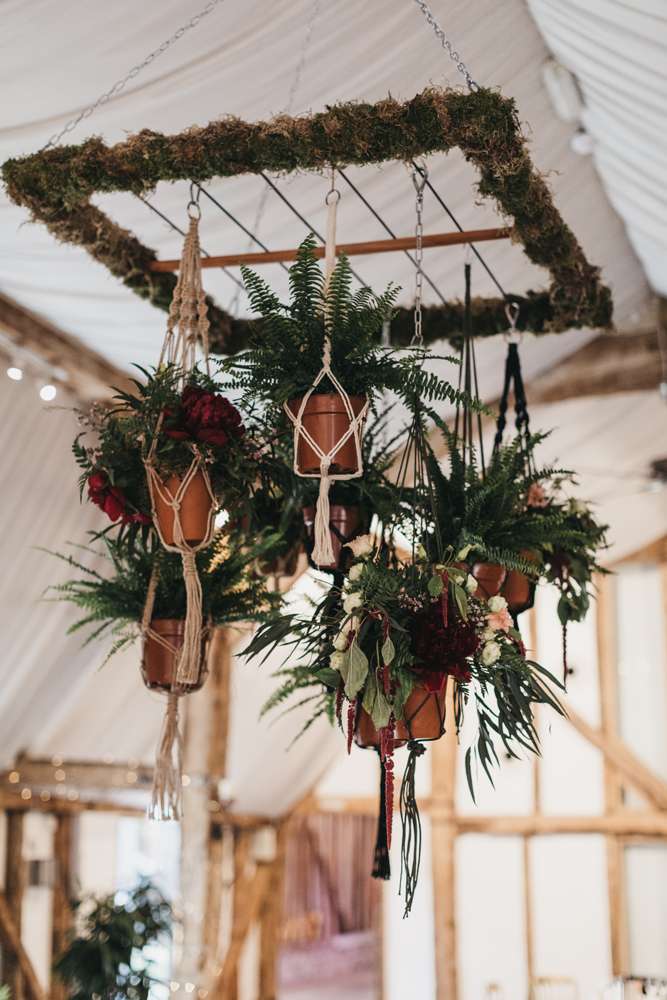 The bride's custom made dress was set off to beautifully dramatic effect by her bold flower crown, courtesy of The Basement Florist, painted leather jacket from ASOS, and Rachel Simpson heels. The bride's friend, tattoo artist Susann Kuster, did her hair and make-up. The groom wore a tailored tweed suit from Cad & the Dandy.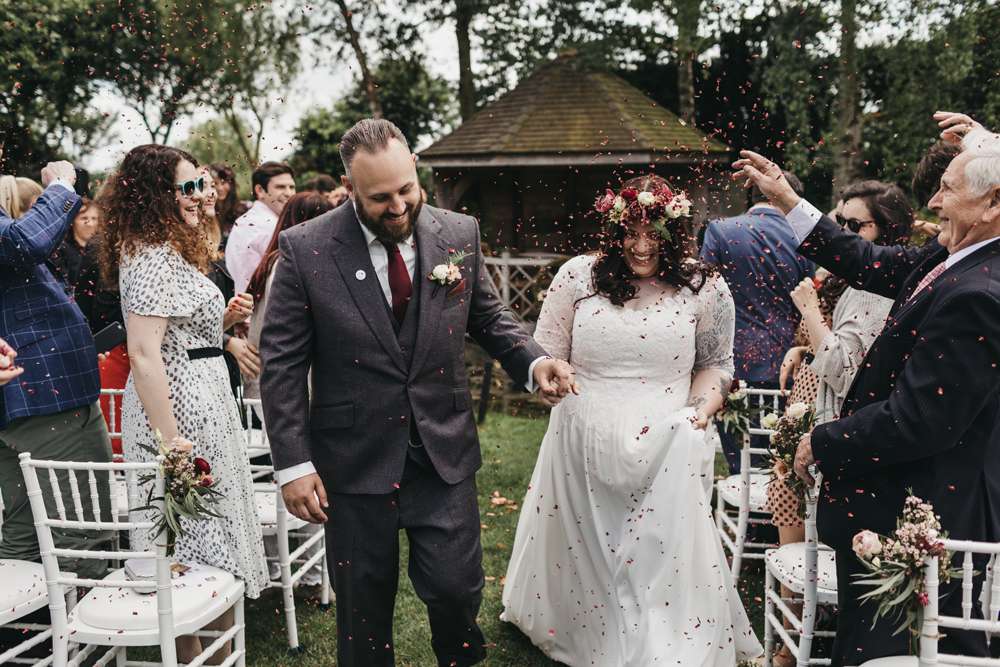 The couple's cute French bulldog plays a big role in their lives so they naturally wanted her to become a big part of their wedding day. "So she became the 'actress' of our favourite films by being included into movie posters we made for our table names," said Adina. "To bring her with us, we had to drive all the way across Europe from Berlin to London. This had been a great little road trip and added to the whole adventure."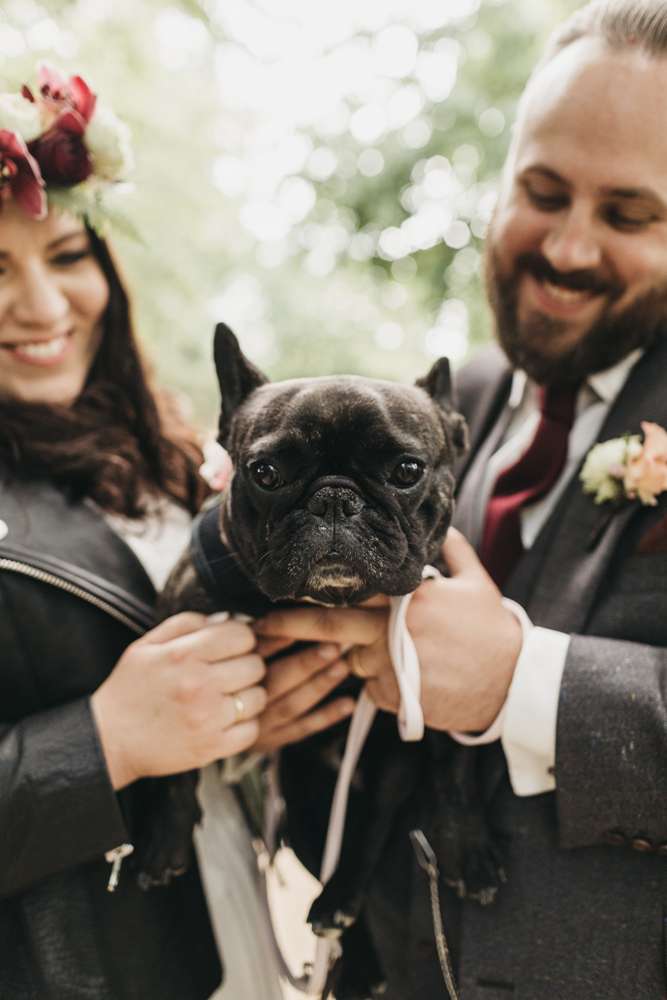 They spent £25,000 on the wedding, with the biggest costs being the venue and the flowers but it was good old DIY that saved them money. "Richard is a visual effects artist and graphic designer (Blackburn Creates), which helped us a lot, and it was important to us that we get as much done by ourselves as possible. We prepared for a year and a half for our wedding and designed all the stationery and decorations ourselves, from the invitations to the wedding menu, the photo booth props, bar menus and the wooden signs pointing people in the right direction."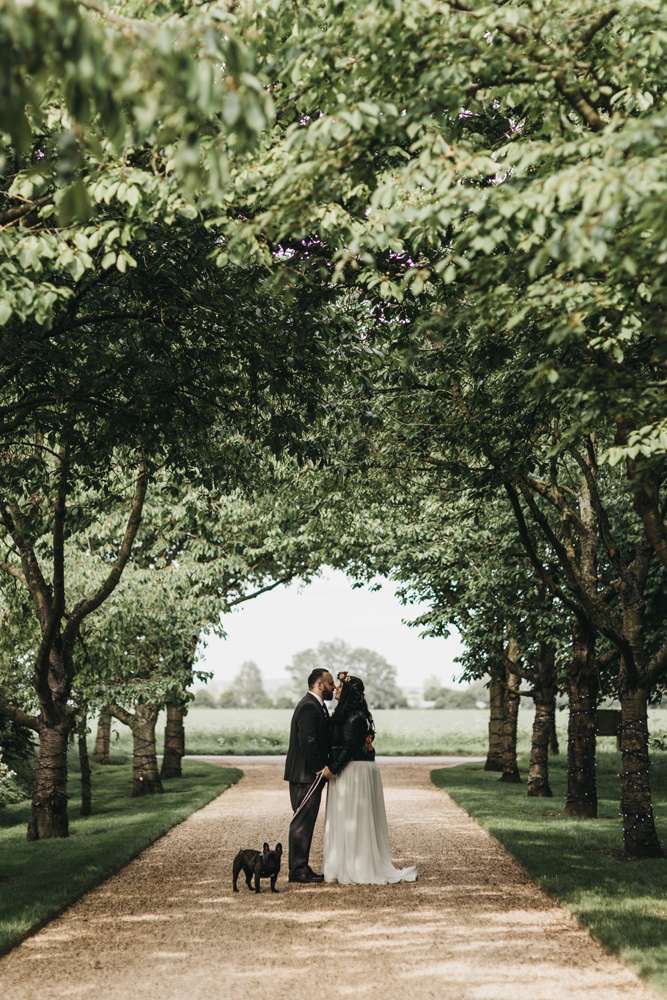 Adina and Richard loved the whole day, but said that a highlight was meeting the piglets on the farm. "We love pigs, and it was one reason for choosing our location. We were so lucky new piglets were born couple of weeks beforehand and we were able to meet them."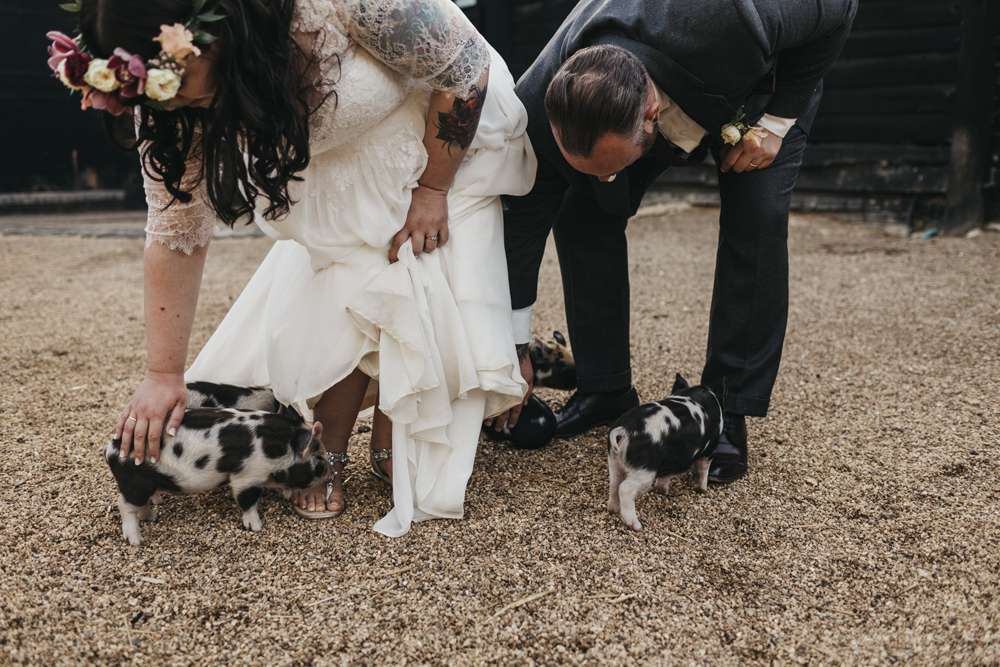 As with most couples, Adina and Richard didn't realise how much hard work planning a wedding would be. "As we designed and sourced everything ourselves, there was so much to think about. And lots of small things got overlooked, like table decorations, pens for the guestbook, and so on." The planning brought them closer together, though. "Working together was great. We found our tolerances and it made us stronger in the end because it turned out great."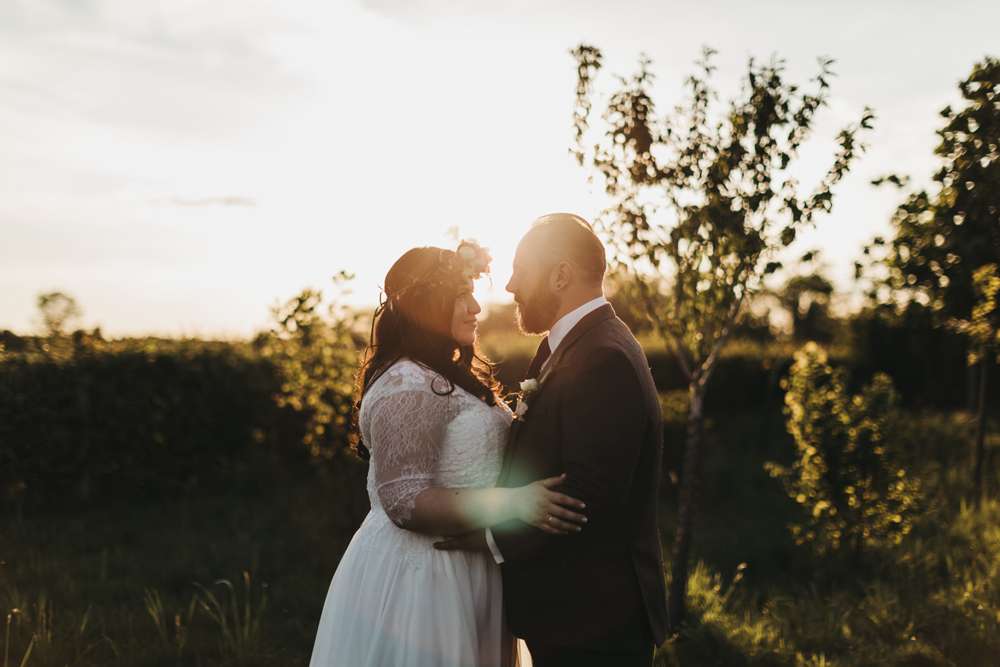 The couple's parting advice to you all is to "Enjoy the day as much a possible. It goes so fast. But designing it all ourselves meant we had complete control over the look of it all. Finding a photographer you get along with is key. They can make you feel comfortable throughout the day and won't add stress to an already stressful day."