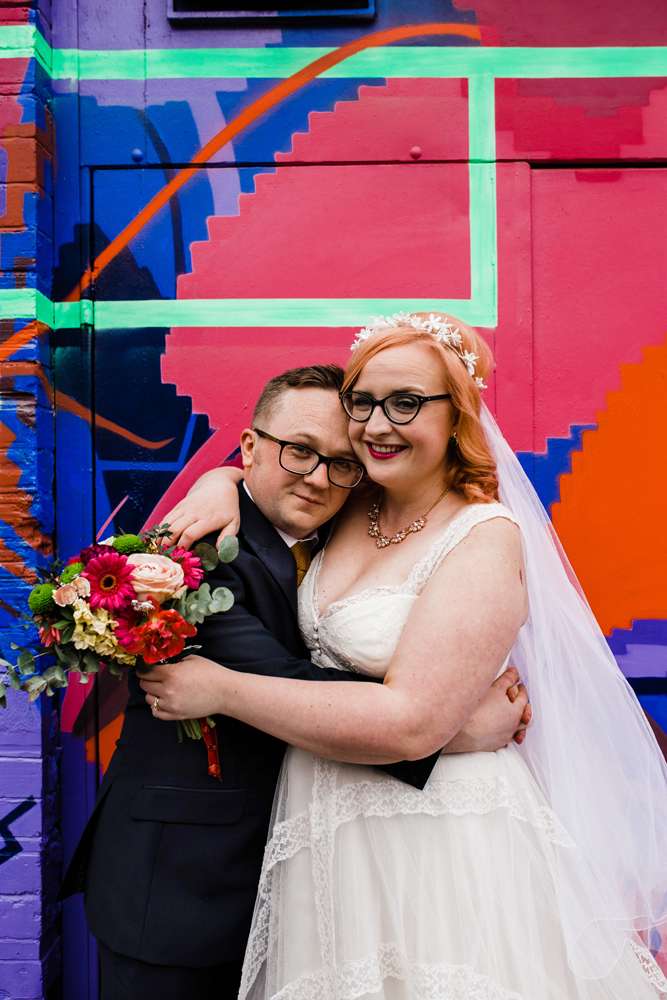 Bren and Cha's spring wedding in Dublin was all about the fun. They moved between two venues in the city: The country pub, Anglers Rest, for the ceremony and then on to the reception at their favourite nightclub. The Grand Social. The bride paid €50 for her dress in a charity shop and got it customised to suit her style. Chucky and the Bride of Chucky made multiple appearances, and their friends played a huge part in the day from making the bouquet, decorating the reception venue, DJing, to making the wedding cake.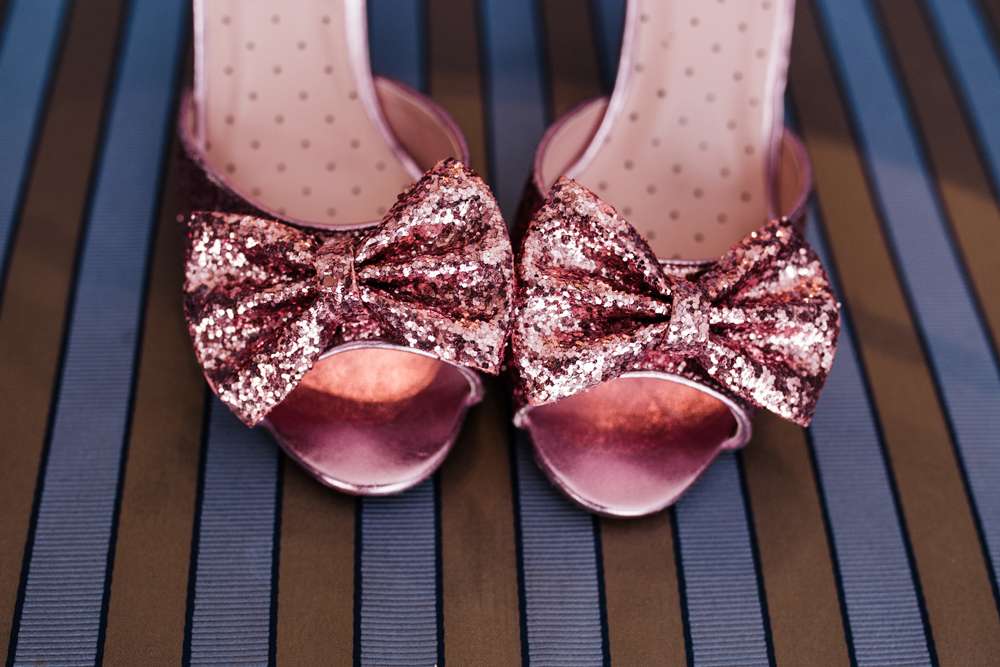 The pair met at college, studying film. "We are both big film nerds, so I'd say if there was any theme to our day, it was that. Each table was named after our favourite romantic films, from The Apartment to Bride of Chucky, with a corresponding framed still with an appropriate quote. We just wanted to ensure that we reflected ourselves and our tastes completely. We wanted to feel comfortable, relaxed, happy and joyful, and to give all of our beloved friends and family a cracking day out."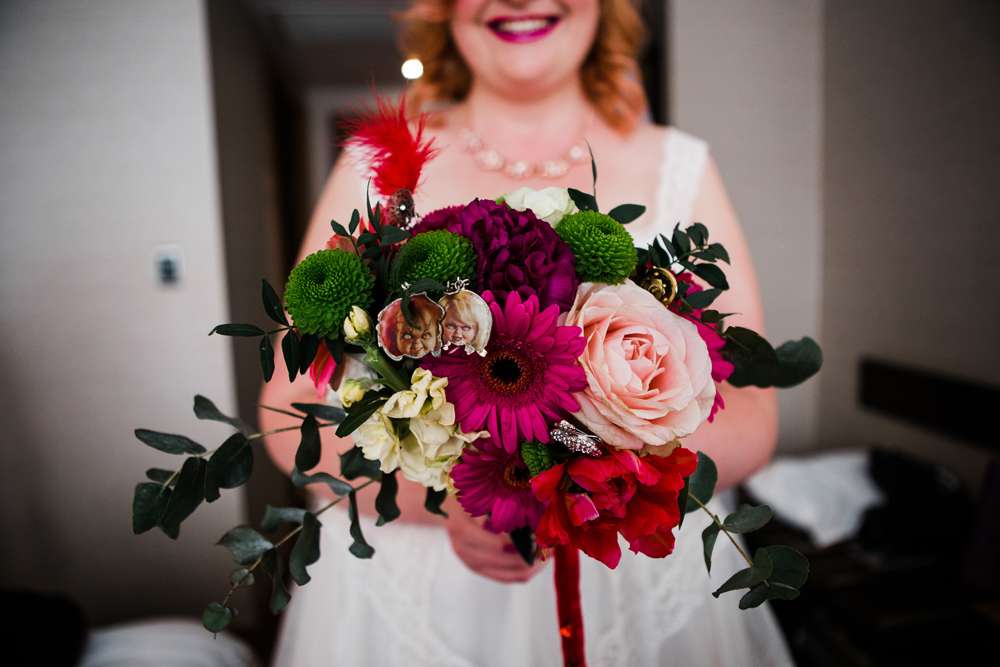 "Our ceremony was performed by our friend Dave Alsybury, a phenomenal human being and unbeatable public speaker. With him, we created a ceremony that truly reflected who we are – from X-Files quotes to a group selfie. We worked with him on our script, and he knows us inside-out so was really helpful in adding lovely little touches and is just pedantic enough to help us put excellent structure in the ceremony. We printed our 'missals' as movie screenplays for each of our guests, and in the stage directions included little jokes and observations about our family and friends and how they might be reacting. It was a little meta, but fun! Our music was provided by two of my bridesmaids and oldest friends, Karen and Maeve, and it was simple, elegant and absolutely beautiful."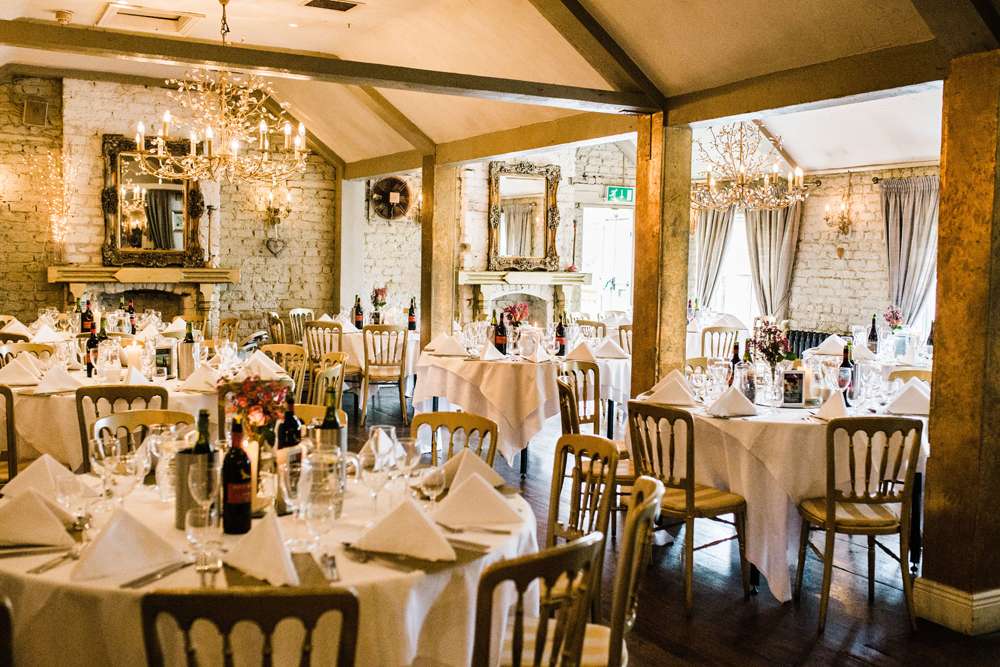 The bride wore separates; her skirt was vintage Priscilla of Boston from Oxfam in Dublin, and her top was handmade by Caoimhe Keane at Que-Va Designs. Her veil and headpiece were also Oxfam scores. Her outfit was accessorised with shoes from Lindy Bop, necklace from Penneys (Primark), and earrings from Om Diva. At the reception, she switched to her Folkster skirt.
After the ceremony, they all went to The Grand Social for part two of proceedings. The bride said, "Moving between venues doesn't seem ideal, but after the meal it injected some energy into the day. We hired a bus, which brought us through the scenic Phoenix Park on a beautiful day, and it was great to welcome even more guests at our second venue."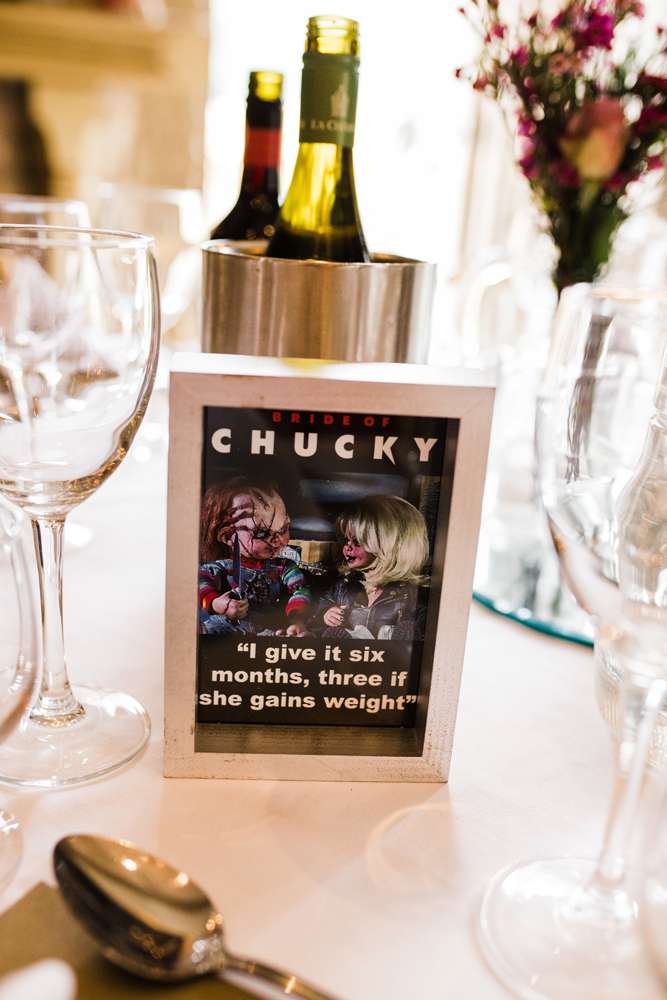 "We got friends involved in every aspect of our day", she continued. "so each part felt personal from our cake and music to our photography and decorations. Something we did differently that worked well was to have the speeches on a stage. We waited until we arrived at The Grand Social for these, which meant that we could take advantage of their stage. And thanks to an entertaining best man, the speeches were a highlight of the day! If it's possible to have a stage for your speeches, I'd highly recommend using it as opposed to having people turn their heads to look at the head table after the meal. We had a Sing Along Social event in the outside area, which is basically a group sing-along with lyrics provided in a bespoke lyrics book, led by the extremely exuberant Aoife McElwain. With our theme of movies, we had an array of songs from Disney classics to Titanic and Robin Hood: Prince of Thieves."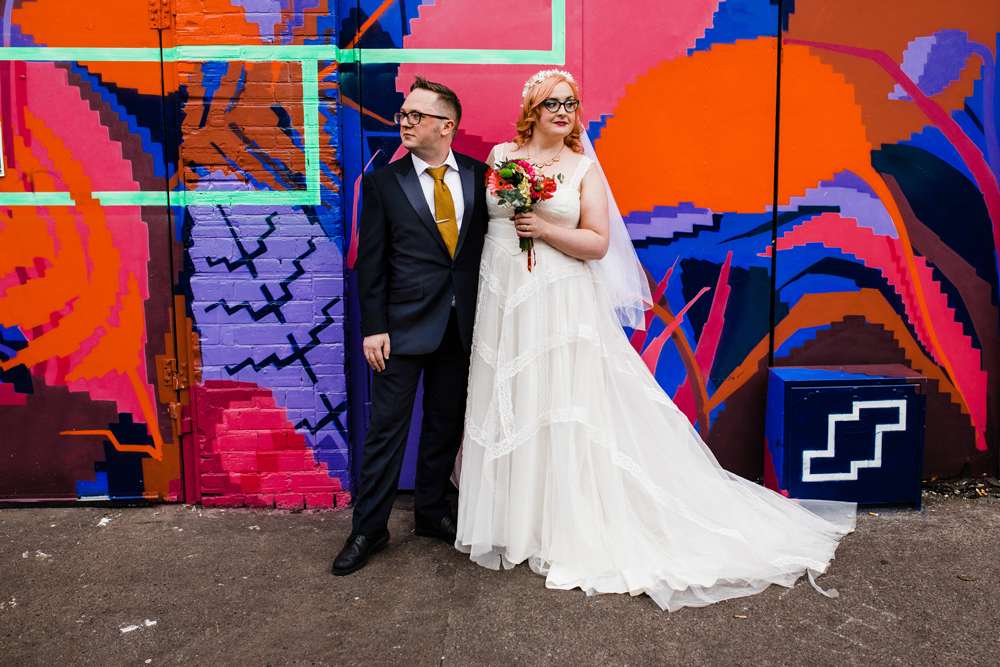 The couple wanted a sign at their reception with their names in the style of the Hollywood sign, so they made it themselves. "As huge movie fans, and with our honeymoon being in LA, it seemed appropriate. Our friends Vicky and Dave worked tirelessly cutting out the giant letters from A4 foam card and hanging them on black curtains. They were really effective and suited the aesthetic of the venue."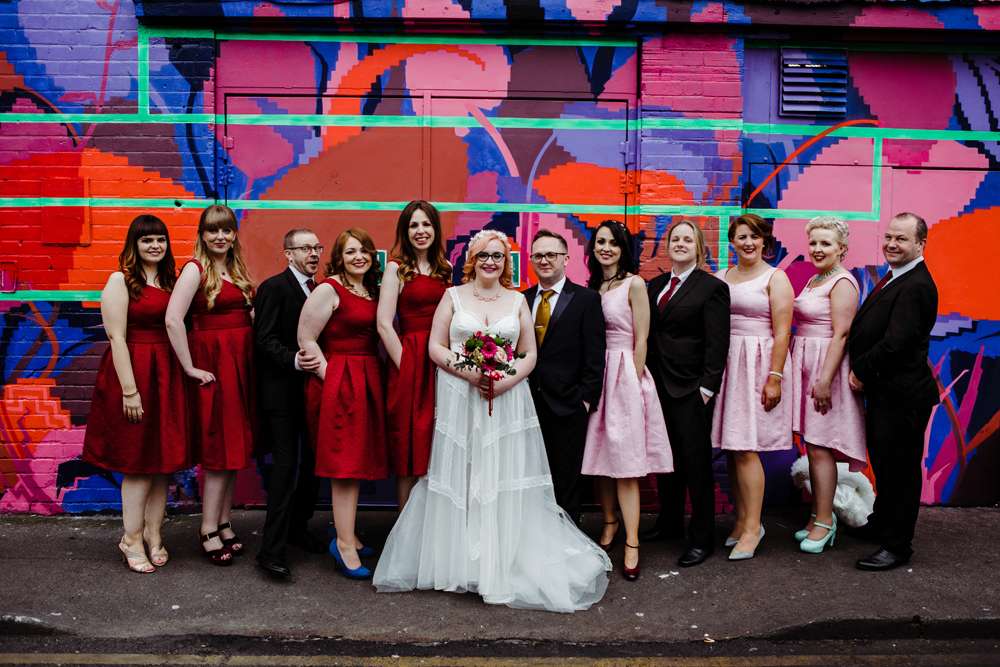 However not everything went to plan, and Bren and Cha didn't quite get the wedding night they were expecting… "We booked a room in a hotel in the city for our wedding night; many of our friends were staying there and the hotel became a sort of base for our day – all members of the wedding party got ready there" the bride explained. "Cha tried to check into the room that morning and was told that the wedding suite wasn't ready yet, but was assured that the suite was really special. We went off to get married and arrived at the hotel in the wee hours, after the wedding was over, ready to go to our room. The night porter informed us that there was no room for us as it had been cancelled. Apparently rooms are cancelled if the guests don't check in before 11pm! When we explained that it was our wedding day, and many members of our friends and family were staying in the hotel, we were met with a shrug of indifference. We were left with no choice but to ask them to call us a taxi to take us home. Thankfully we didn't live too far away. We spent our wedding night confused and bewildered back in our own home amongst the wreckage that comes with planning a wedding, but hey, at least we saved the money on a hotel room!"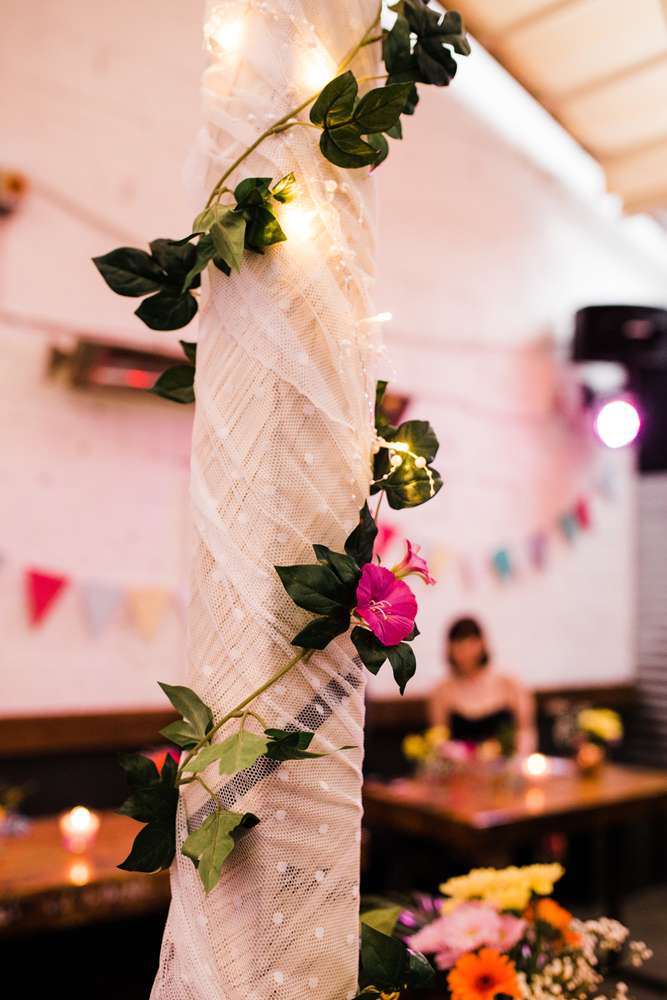 Their biggest expense in the €10,000 budget was by far the food, and because it was a small budget, they had to get creative with the order of the day. "Our guest list was really hard", Bren said. "We were intent on having everyone we wanted there, but had a tiny budget, so we did things a little differently with the small ceremony and dinner with about 70 guests at the country pub, then from 6pm the massive party with around 200 guests at the nightclub. We did our speeches, cake-cutting and first dance with our bigger crowd so it still felt like they were very much part of the day, but we saved on providing the meal. There was, of course, wine, cake and DiFontaine's pizza provided later in the evening. We really saved money on flowers, too. Neither of us were picky about what flowers we had, and they were bought at Moore Street Market and Aldi and arranged by friends. The bridesmaids were making their bouquets minutes before the ceremony! My bouquet was created by our friend Vicky, who took items significant to us and incorporated them into the bouquet. It had old cinema tickets fashioned into flowers, and pieces of jewellery from family and friends."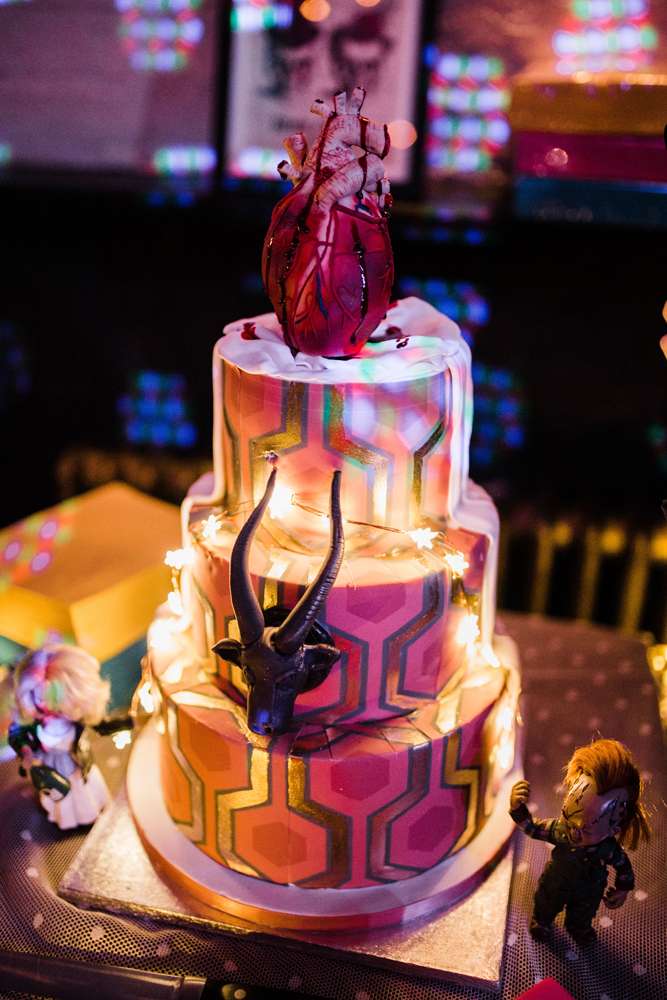 Bren and Cha's advice is absolutely spot on for readers of this blog, as they recommend you "Do it your way! You won't regret it. Don't worry about what people think. Remember that the room is full of people who love you, and they'll take total pleasure in your happiness. We were worried that people might find our wedding 'a bit weird,' but they actually really appreciated how unique to us it was. Also, people want to help, so use your wedding party in any way you can. You'll find it leads to really fun days out with your friends and family, and their input will help make your day all the more special."