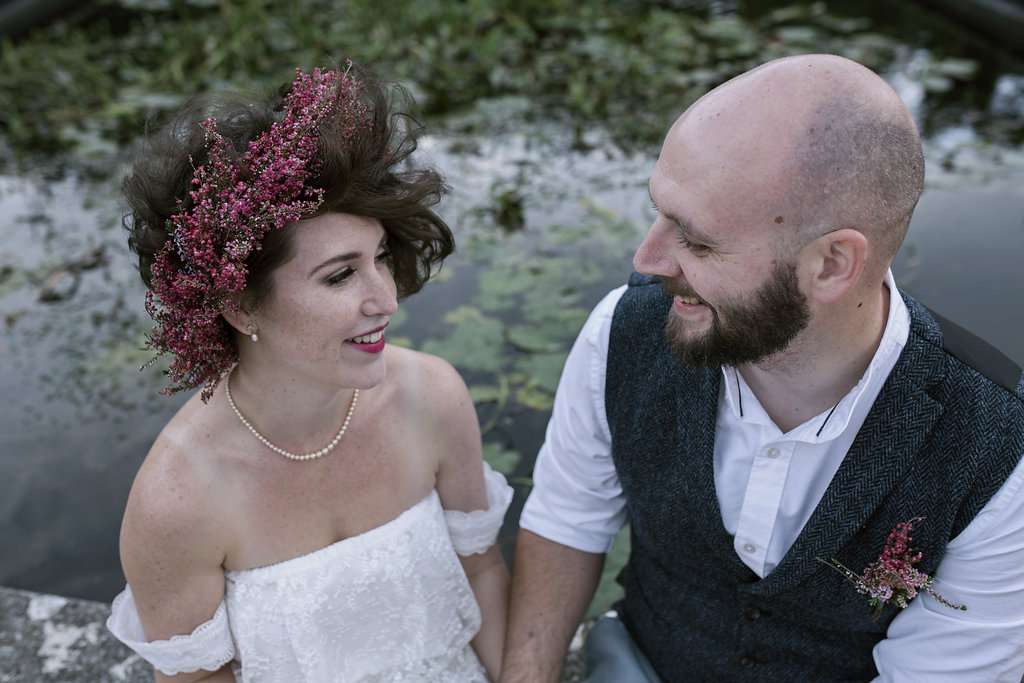 Sarah and Ant were married on the Isle of Wight with just 14 guests including their four young children. They were determined to do things on their own terms, to not spent an enormous amount and to make every element truly special.
"Our wedding was relaxed, alternative and bohemian", said Sarah. "We wanted something handmade, fun, colourful and all our own. We handmade as much as we possibly could. We travelled down to the Isle of Wight with our ten guests and our four children for a small elopement style wedding. We wanted everyone to have fun and enjoy themselves but be as relaxed as possible. All the decor was made and put together ourselves. We used a huge amount of crepe paper streamers to create a colourful canopy, along with tulle pom poms, wax paper bells to hang from the ceiling and wrapping paper pinwheels, as a backdrop for the 'cake'."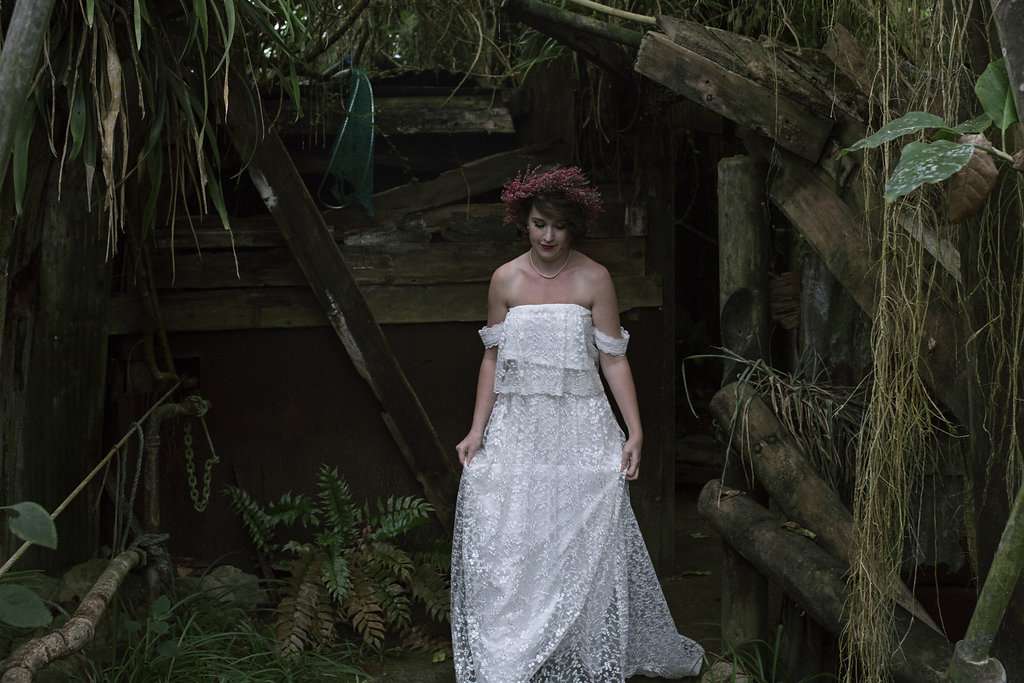 The bride, a talented seamstress, even made her own wedding dress for around £100!! "I have always had a good idea of what I want my dress to look like, but not a lot of places cater for the 'boho' look that I was going for", she explained. "Being a family tradition to make your wedding dress, I made mine form scratch. Being a keen seamstress, I made it for around £110 and took around four weekends with my mum sewing up a storm. My shoes were bought from eBay as new, I wanted something colourful and bit more bohemian, and I even wore frilly socks. My headpiece was made by my talented brother Connor, the night before the wedding!"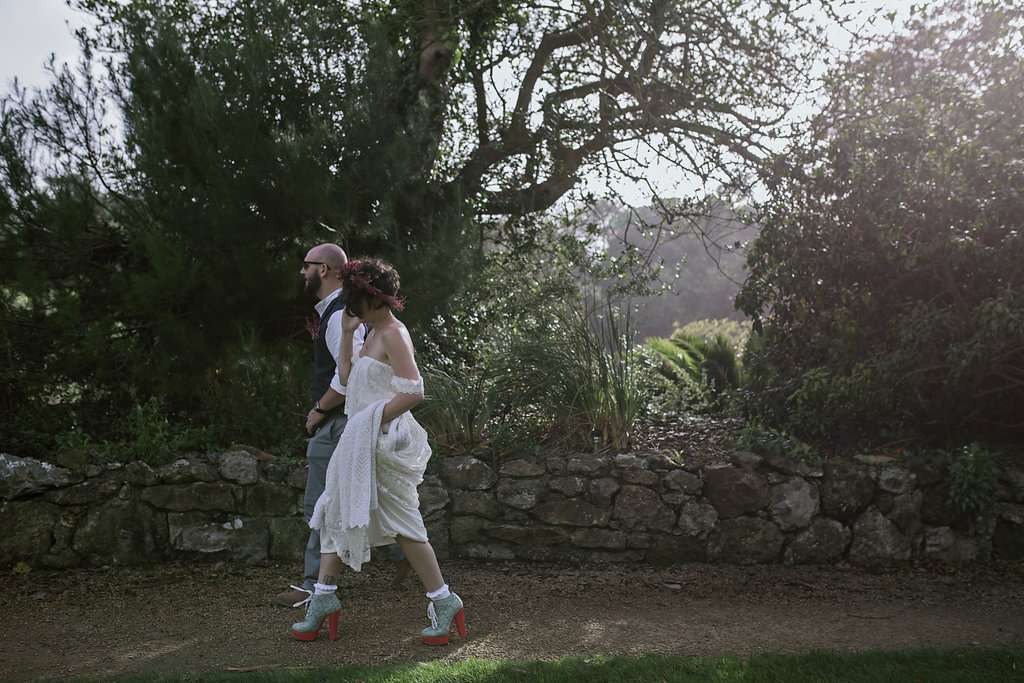 The bride had one bridesmaid and a bridesman (her brother!) and she let them choose their own colour scheme and style of outfits. "They both went for a plum colour, Jessica's dress was made by my aunt (my family sew a lot!) and Connor's outfit complimented Jess's with a plum butterfly print short sleeved shirt and black trousers, both bought from high street stores."
Their intimate ceremony was simple yet beautiful. "We had already seen each other for a 'first look' photo shoot just before the ceremony so the nerves that were causing all sorts of butterflies had disappeared", Sarah said. "Three of our four boys were waiting with Ant at the front, as his best men, while Jess and Con walked in with my 15 month old son. I walked into Etta James' At Last (a little nod to the fact we've been together for seven and a half years) holding my dad's arm and from there it was surreal. It was amazing to be able to focus on what we were saying and committing too, having gotten the nerves out earlier. We held hands throughout and couldn't have been happier! Ant's two older boys had handed out the Order of Service, his nephew handed out the confetti and our six year old held the rings for us (which he was very nervous about) until it was time to use them. It was extremely special to have the ring box Ant handmade to propose with being used for our wedding service too. We walked out to The Turtles' Happy Together. Looking back at our photos, my dad cried throughout the ceremony."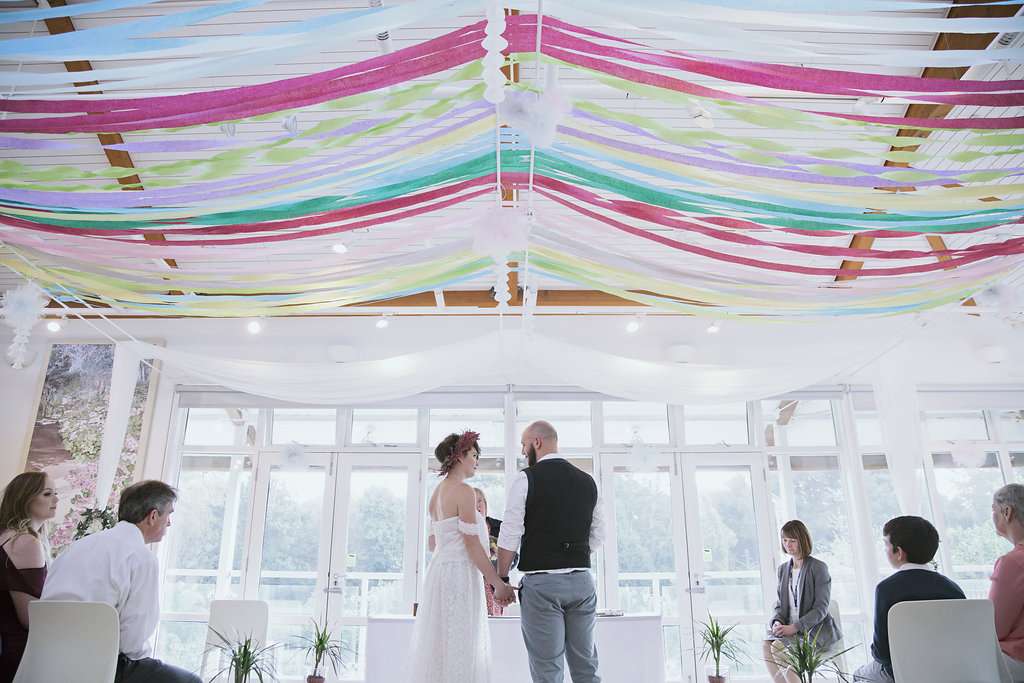 The 'first look' photo shoot was particularly special to us," she continued "We arranged it in the tropical house. There were so many emotions that we both went through in the first moment of seeing each other, it is incredibly hard to describe just how special that moment was. It felt like we were the only two people in the world, nothing mattered, it was just us at one of the most important events in our life, with no one but Holly to capture it. Seeing each other for the first time at our wedding, just the two of us, our moment, in such an intimate setting was such a poignant memory for both of us. And it helped to settle the butterflies!"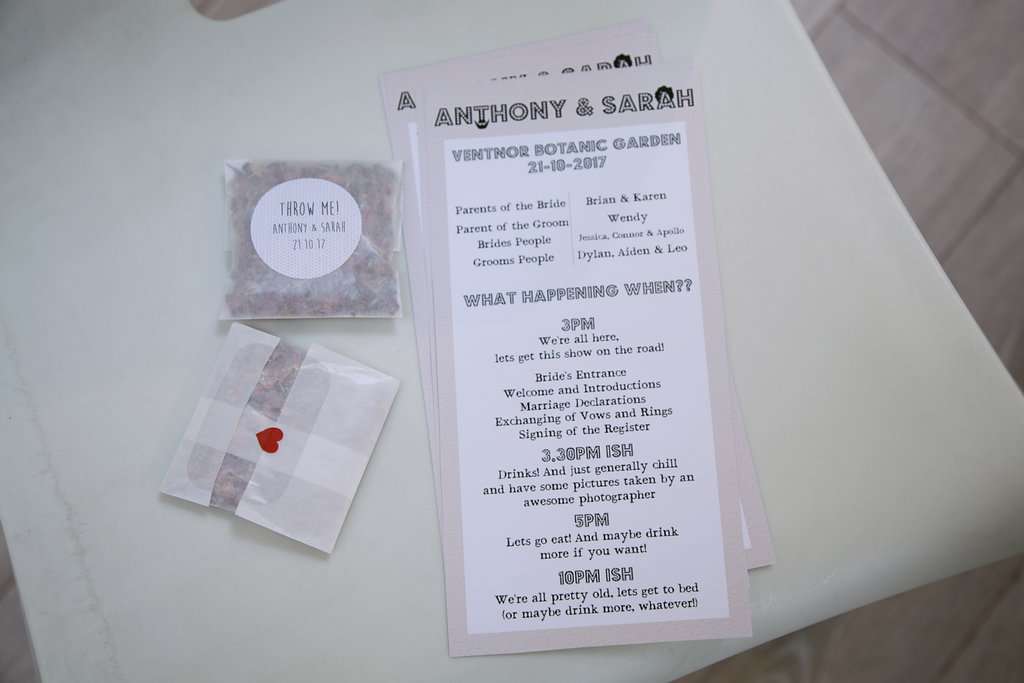 Their budget was £5000 so they had to make lots of savvy decisions to keep the costs low. Instead of a cake they had a sweet table and in lieu of a DJ or band they made their own playlist. The stationery was all homemade and they sourced and arranged all the flowers themselves. Having only 14 guests also saved them a ton of cash!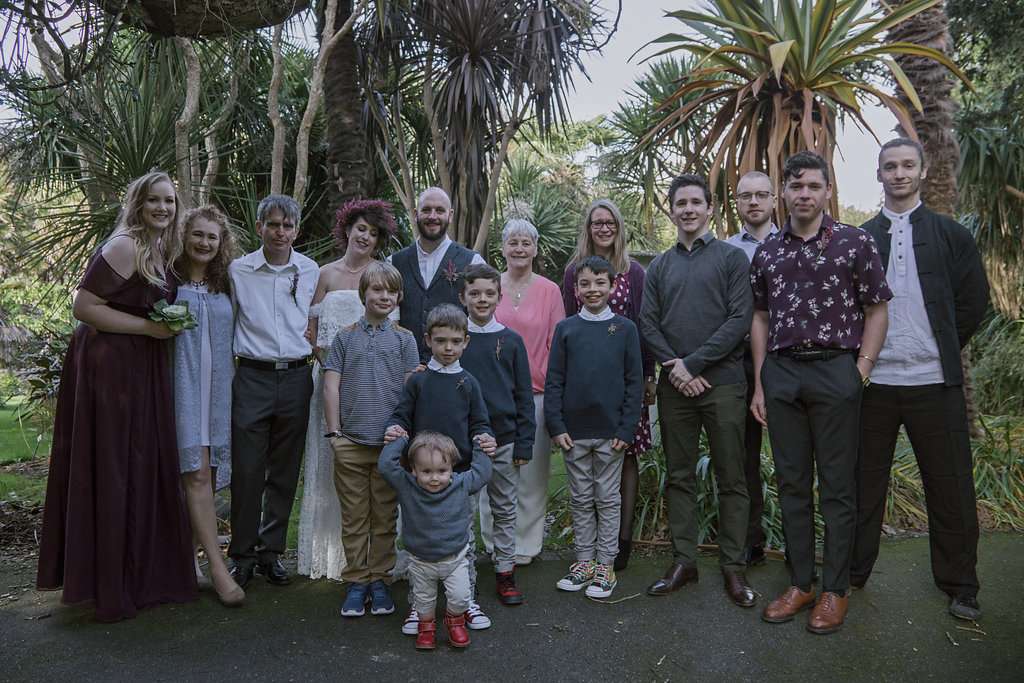 "Our biggest expense was our photographer, Holly, and she was worth every penny! Initially we were not going to have a photographer for much of the day, partially to save money, but boy were we wrong! Photos are so important! Our photographer did an incredible job. When you can look back at your photos and feel exactly what you did in that moment, you know photos and photographer are just so important and that was worth any amount to us."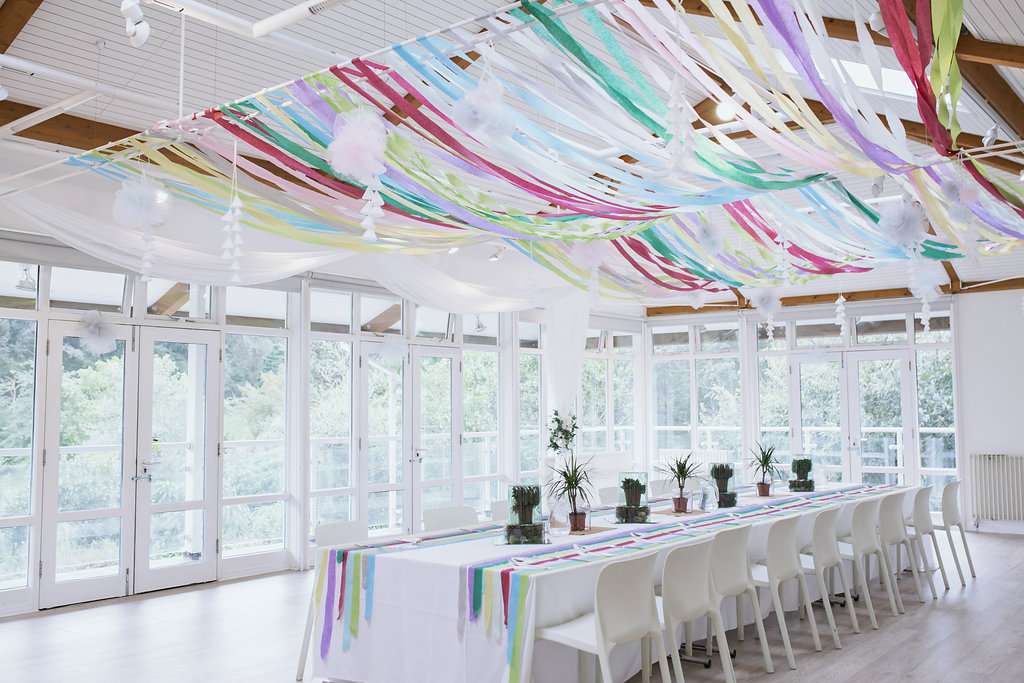 "The best thing about planning our wedding was the satisfaction of knowing every element of it was our hard work", the bride concluded. "We'd advise other couples to try to relax, you only have this day once in your life (if you're lucky) so take your time and have fun with everything. Also you really don't have to spend a lot of money to have the wedding of your dreams."