Lenore and Liam's wedding day was a celebration of all things industrial as well as showing their love for Sheffield, the city in which they live. They had lots of motifs and nods woven cleverly into almost every aspect of the day, including little bottles of Sheffield's own Henderson's Relish as place names and making their own wedding rings at CAST, combining the bride's late mother's ring, and a gold bracelet from Liam's mother.
Their industrial theme was inevitable for a number of reasons. The bride explained, "Liam is a materials engineer who works testing metals for a company that creates the steel clips that hold railway lines in place, and I'm an archaeometallurgist studying ancient metals in my PhD in archaeology at the University of Sheffield. Together we share an interest in ancient and modern industrial practices. Additionally, Sheffield has a long and interesting industrial history, which we both feel somewhat connected to. The Kelham Island Museum seemed like the perfect choice for our venue."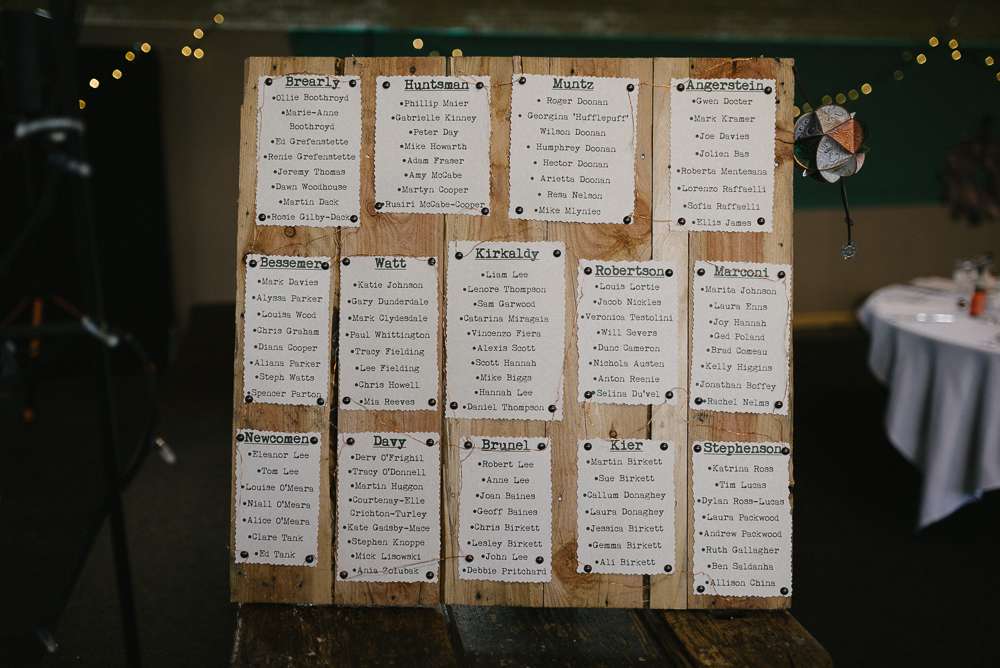 The bride wore Chi Chi London's Khloe dress in gold ("I chose a tea length dress for mobility as I knew I would want to run and jump on the day."), along with the Kisinta heels from Irregular Choice and a Lily Bella veil. Liam went for a shirt from Ted Baker, suit and waistcoat tailored by Ashley Rogers, shoes by Rieker, and a pocket watch gifted by their maid of honour with an antique chain he customised himself. The bridesmaids and groomsmen were told to find something green that made them feel fabulous.
The décor was largely DIY. The groom said that, "In order to carry through the industrial theme of the day, we tried to make all our decorations have a fair amount of rugged charm. Our seating plan labels were affixed to a board made from the lid of an old packing crate with chunky brass tacks, and all the signage was done on parchment style paper in a distressed-style typewriter font. The table centrepieces were welded together from old motorcycle parts and some machine scrap, before being painted black and misted with a copper spray. These were then placed on a large green napkin before adorning the tabletop with small wooden cog decorations. The tables were then given extra sparkle with strings of LED lights in assorted jars collected by us and friends."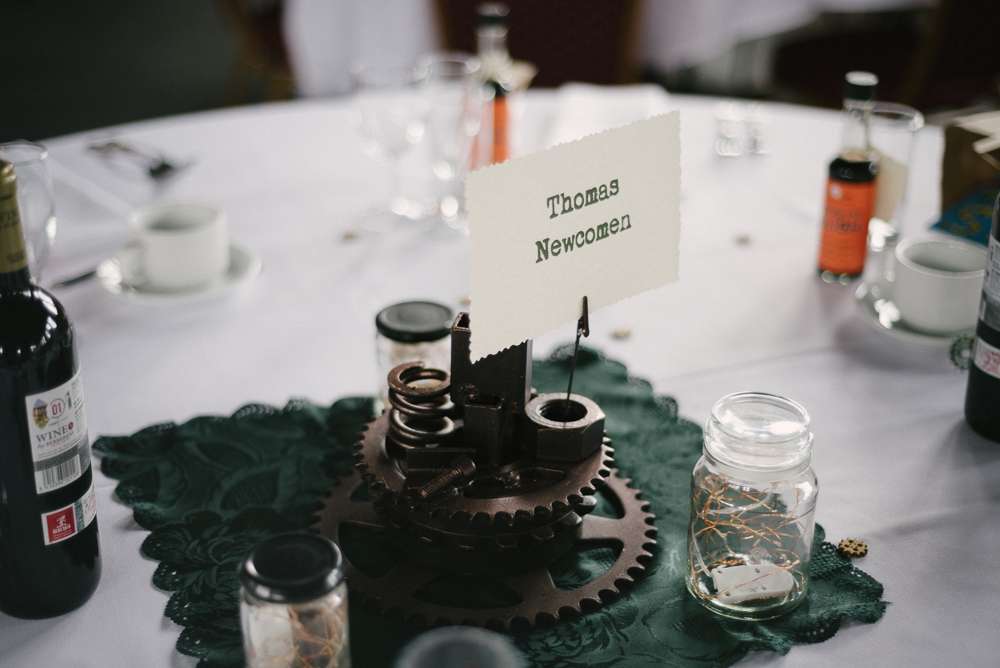 The table names were a perfect opportunity to really have fun. "Instead of numbers, we decided to keep to our industrial theme and name each table after an historic engineer, each one being in some way relevant to either us, the space, or both. To keep with the feel of the museum, and provide a little context to our guests, we wrote a small blurb about each on the back of each name card."
The DIY showstopper was the cog canopy they made. Liam said, "Upstairs, we had a lot of space to work with. To stop the room feeling really cavernous, we decided to construct a canopy of large cog or gearwheel shapes from Hippo Signs with filament bulb lights from Wild Wedding Days and Ascot Marquees. They worked with us to suspend the lights in the great hall and helped us deploy some of our other decorations such as the canopy. They also lent us the 'L & L' shaped lightbox, and the pergola from their garden, adorned with fairy lights, was used to make an archway between the dancefloor and the dining area."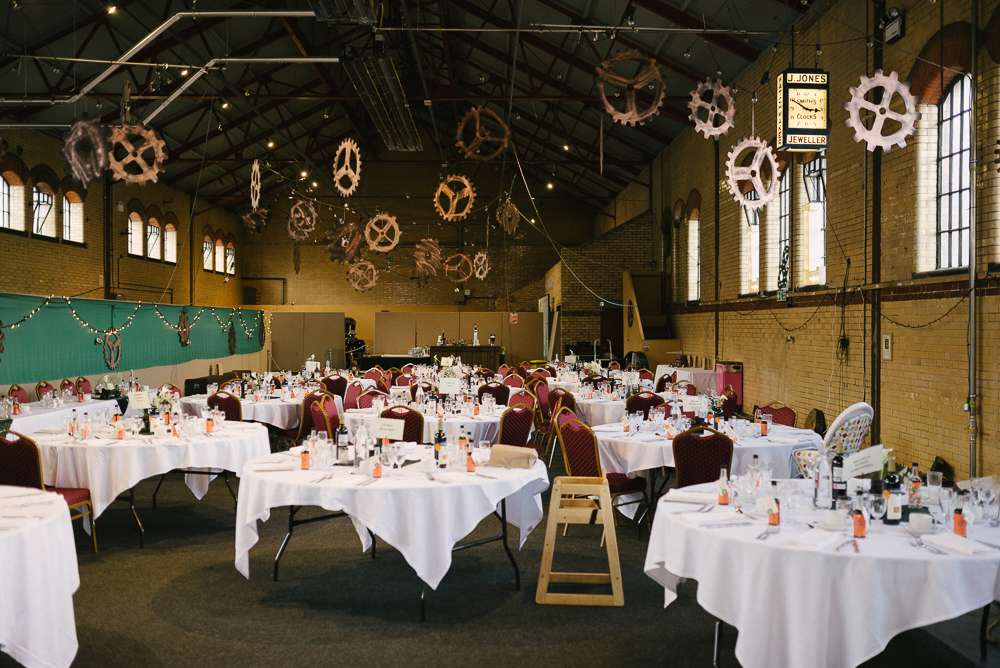 "A close friend of ours runs Clever Girl Creates and she created bespoke decorations for the wedding that featured different aspects of our lives on a large multifaceted paper ornament, including a selection of 'L&L' logos, the date of our wedding, historic maps of Sheffield showing some of our favourite places (including our favourite rock club!), and industrial pictures."
The cake, which was made by one of their bridesmaids and the maid of honour, was adorned with cog and chain designs by their friend, and this was flanked by two motorbike models made out of nuts and bolts.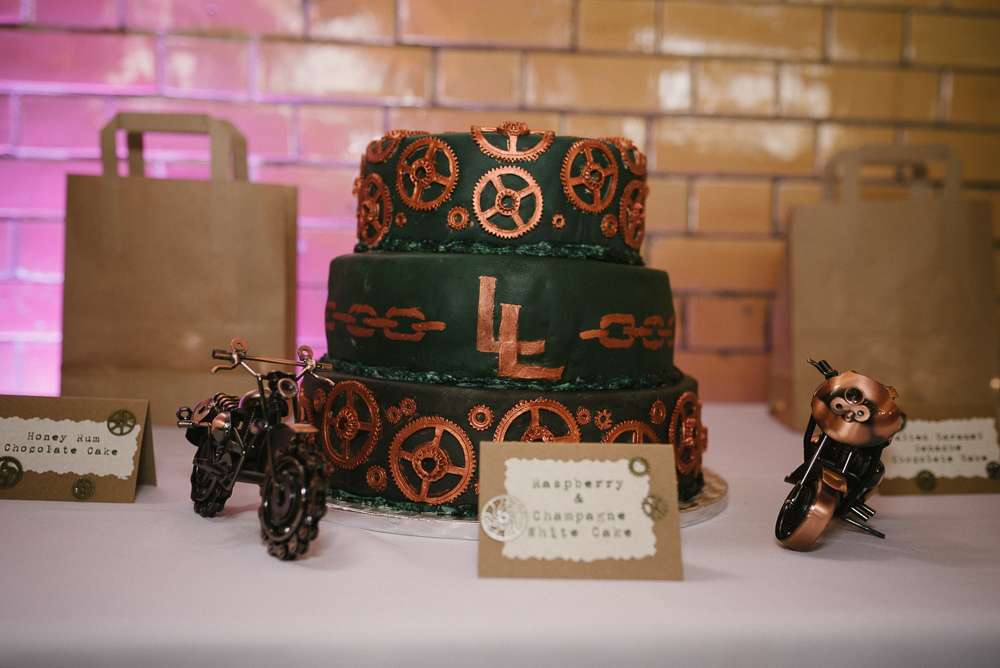 "One of the amazing features of the museum is the opportunity to see the River Don Engine run. When it was time for the guests to congregate prior to dinner, we assembled everyone in the Engine Room where they got to experience the 12000hp steam engine running at full speed. This was a real treat for all the guests and us, and is not something you get to experience every day!"
Their favourite part of the wedding was, "When everybody was moved upstairs for dinner after the running of the River Don Engine, guests had to climb the stairs and walk over a bridge into the hall. While we were apparently supposed to allow our guests to be seated so they could welcome us in, we decided we needed to see their reaction to our decorations in the main hall! The looks of wonder at the décor, with the cog canopy and hundreds of twinkling lights, made all the stressing about whether the various bits of decoration would work together worth it! The place looked magical and this was reflected on the faces of our guests. Also, during dinner when everyone was sitting down and eating, we had the chance to look around at all of our guests. We were lucky enough to have friends and family travel from all around the world to celebrate the day with us, and it was really amazing to see so many different people from very different parts of our lives all really enjoying each other's company."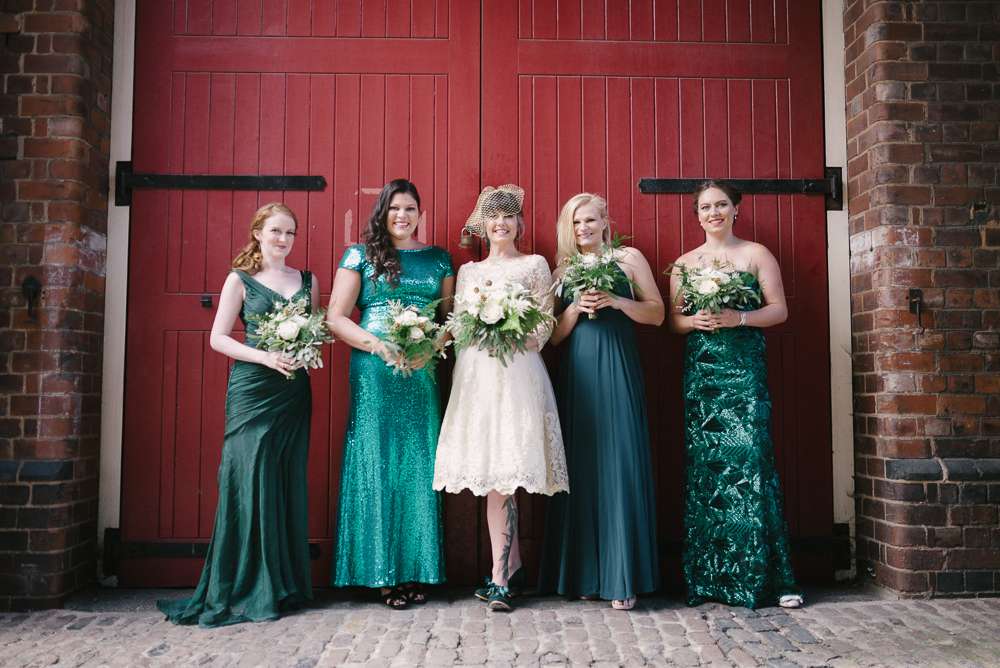 Lenore and Liam are lucky enough to have DJs Ian and Ed of Soulrocka Events as two of their close friends. They said, "Ed stayed with us the whole day and was amazing! During the dinner, he played a mix of orchestral and classical covers of rock, punk, and ska songs, pleasing to ears of every age, and included a rather beautiful cover of the Game of Thrones theme song, which definitely got a laugh from those who noticed." He even played the Indiana Jones theme tune when the couple walked down the aisle!
The amount of help and support that they received from everybody was the best thing about planning their wedding, "All the people we worked with made us feel that our day was our own and that they were happy to work with us to keep the unique feel. We managed to get through without any real planning nightmares, however it is easy to let things get on top of you. Comparing to-do lists regularly and multiple spreadsheets online also helped us keep track of everything. Although the amount of work wasn't insurmountable, we are both very happy to be finished with planning!"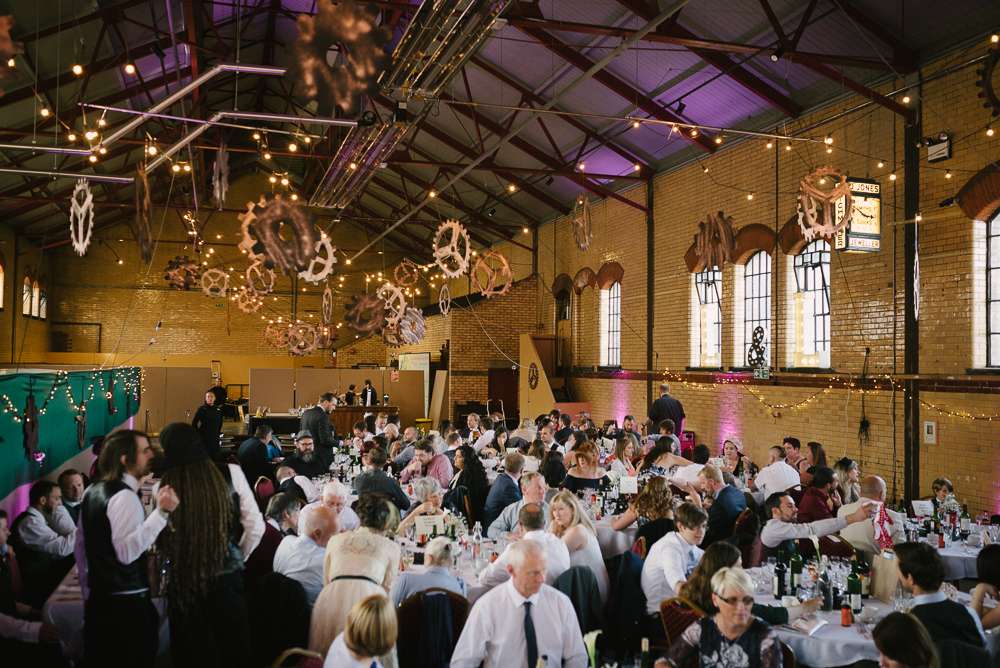 The couple's advice for those getting married is, "Don't be afraid to spread your net wide when looking for inspiration, and don't worry about choosing something a bit more quirky. When we began to plan our wedding, we decided to just be ourselves and let that shine through, and it resulted in a great day that reflected the great life we have together."