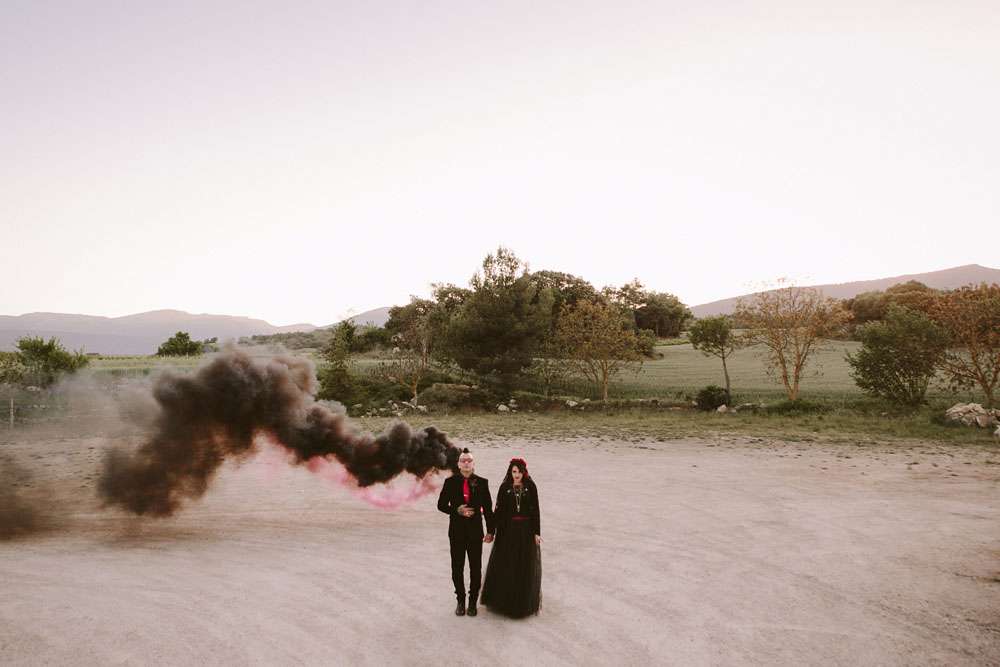 Andrea and Gabbi met in a job interview (Gabbi interviewed Andrea for a position on the film Shrek!), while living in San Francisco. They fell in love and were married in Sayulita, Mexico in May 2004. In fact they loved it so much they have now lived there for over 11 years! They decided to renew their vows on their 13th wedding anniversary and wanted the celebration to have a dark, gothic, funeral theme. There were just four of them in attendance: The couple and their two children. They also had their friend Jan who performed the ceremony and People True Love Tellers who took the photos and created the video.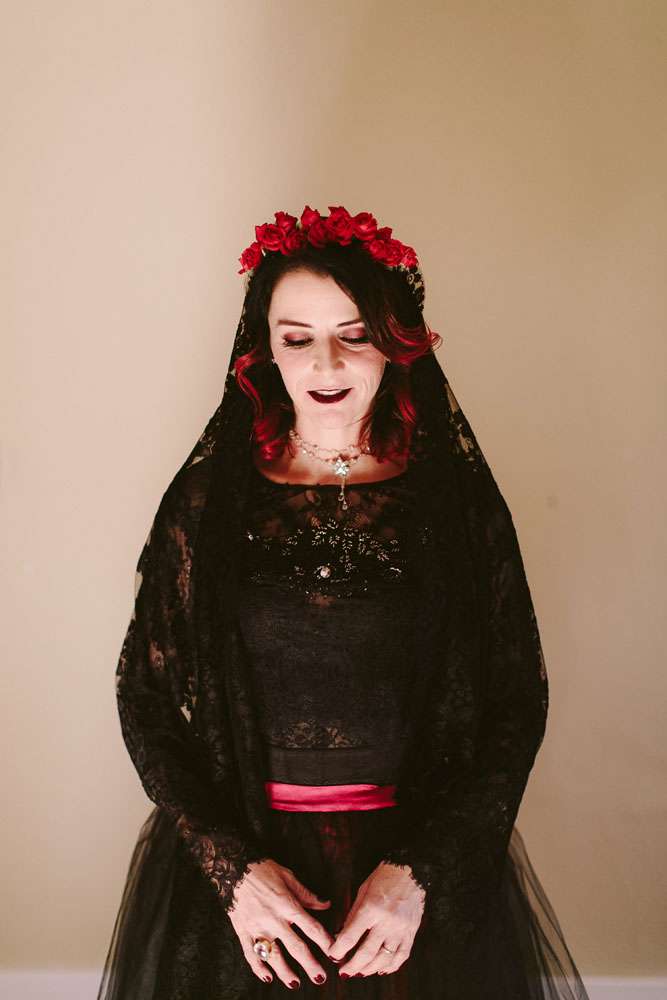 "We have always been freaks and I always loved the idea of a black and red wedding gown, and walking down the aisle to Guns 'N' Roses' Rocket Queen," began Andrea. "At our first wedding, in a beach town overlooking the ocean, wearing white felt more right, but this time we wanted to ignore tradition entirely. We had already done the traditional wedding and so had the freedom to be playful and truly represent ourselves and who we really are. We also loved the idea of this being a funeral for our first 13 years of marriage and the start of a new commitment to each other as a family."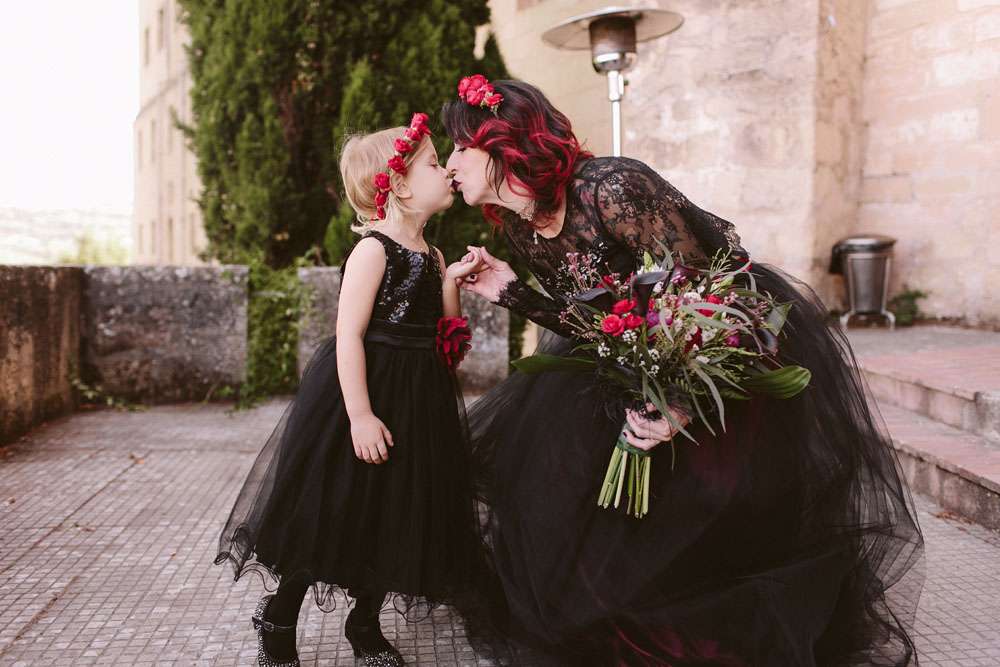 Their vow renewal was held in Monastery in a tiny town in Spain and, not surprisingly, their airfare to get there was their biggest expense. "We loved the juxtaposition of our family, decked out in our dark gothic best, tattoos blazing, mohawk high, kids representing… against the serene backdrop of the 700 year old Monastery and the rolling wheat fields. It was very different than anything the venue had seen before, and the fact that we came as a family all the way from the Pacific Coast of Mexico to the Basque Country of Spain to this tiny little town was a big deal – so much so that the local newspaper came to photograph the ceremony and published a story on us!"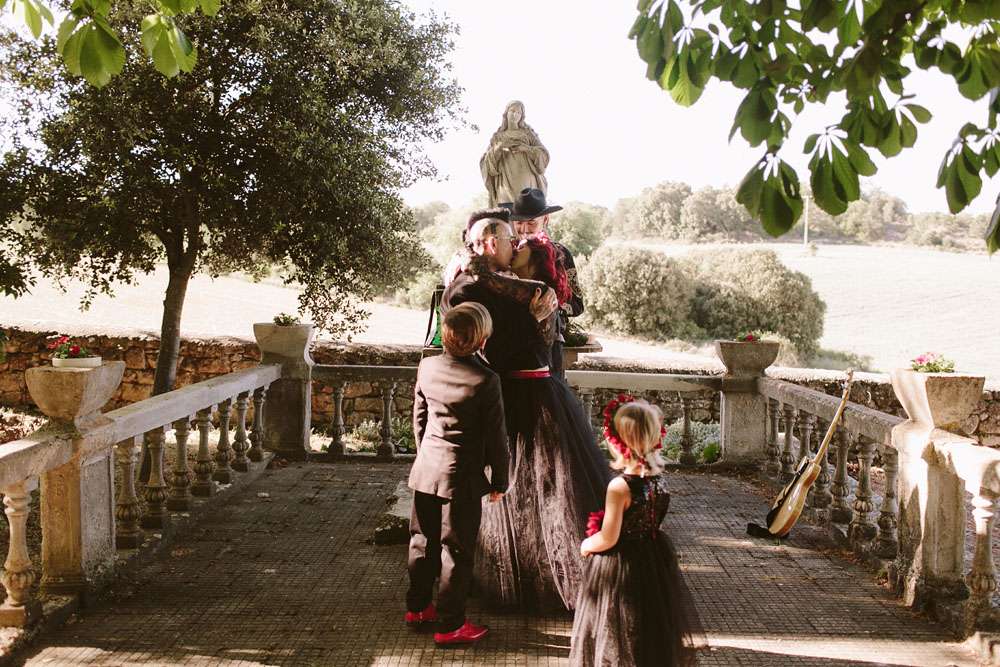 "Everything was so magical. Laura and Koldo of the Monastery made us feel like royalty and old friends from the minute we first met. They pulled out all the stops for us, and never made us feel like our group of five were small beans. Everything we asked, they pulled it off, moving furniture around to stage the locations we used for dinner and for photos, finding red and black taper candles at the last minute in a small town in the middle of the Spanish countryside, even changing the lighting in the dining room to red for us. We were blown away at how well they treated us at every turn, gracefully adjusting the timing of dinner when we took a little too long gazing into each other's eyes in front of the camera, keeping the kids happy and feeding us all AMAZING food and drink."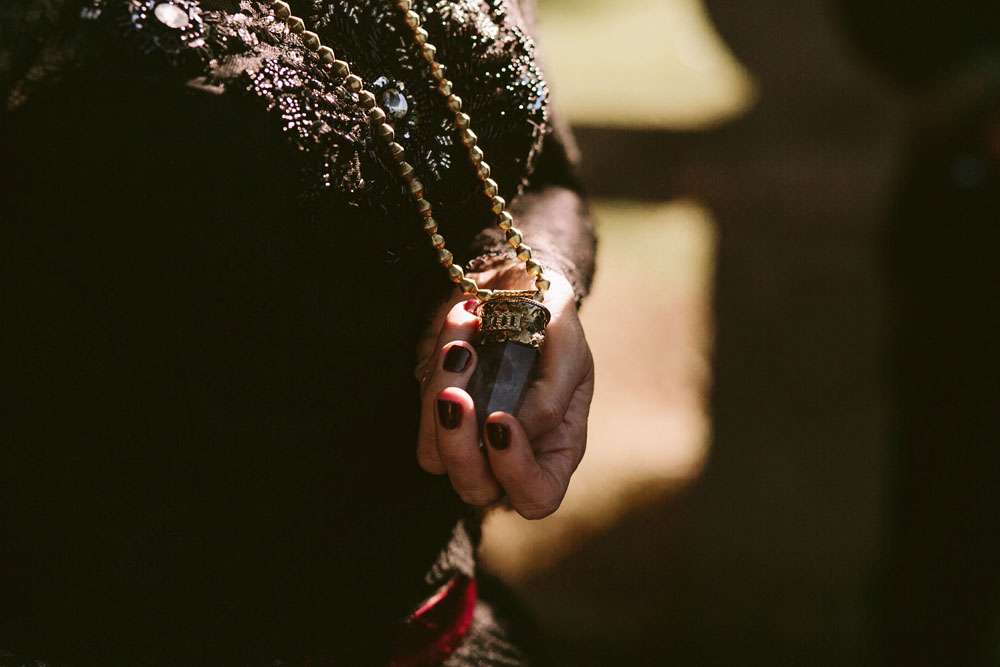 "We were so fortunate to find our photographer Daniel from People True Love Tellers", she continued. "The moment we saw his photos and thought about him shooting our renewal at the incredible venue everything clicked. We were considering other places in Spain and nothing felt just right. At first we weren't sure about Monasterio del Espino as it is typically a venue for larger events at the weekends and we were just a group of five. But we connected with Daniel (and instantly knew he was the one) who works closely with the venue and surely played a part in convincing them to open up for just us during the week. From there, our vision really took off. We loved the idea of it just being us in these huge spaces, our family eating dinner at a long feasting table set only for four, our first dance in an empty ballroom with our children peering out from a corner… The 200 person wedding that no one was invited to. These ideas rooted and all became iconic images in our photos, so brilliantly and artistically captured by Daniel, who brought so in many of his own beautiful ideas as well."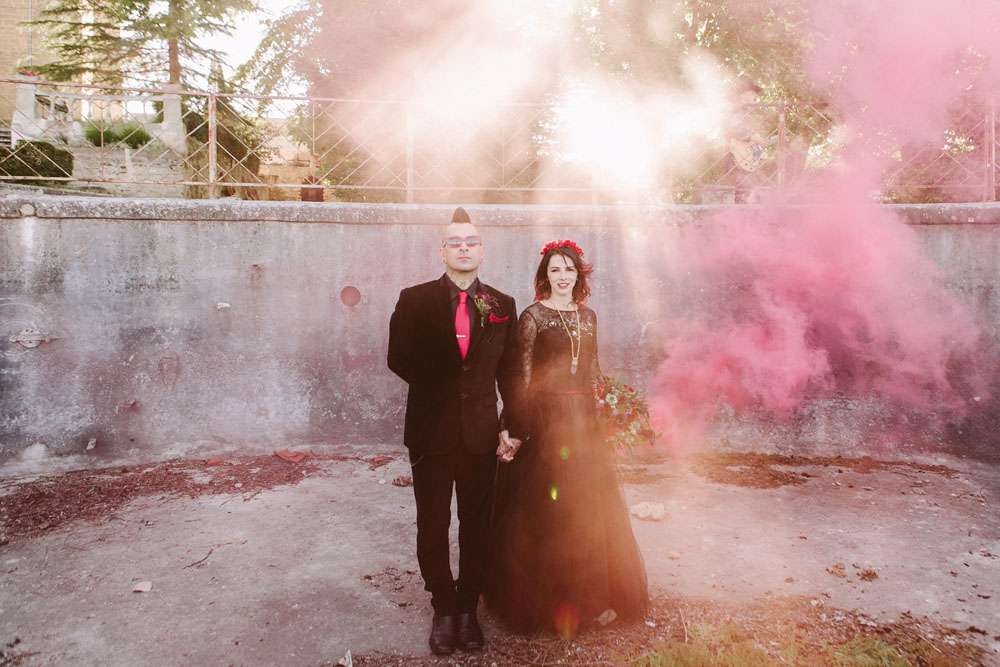 Their ceremony was very small and personal. "Our ceremony was magical and so intimate. Because we didn't have an audience/guests, and because it wasn't about the reception, we really took our time with the exchange of words and emotion and love. I walked down the very long grass aisle with my daughter Druscilla to a special edit of Guns 'N' Roses' Rocket Queen made by my friend Jess. Our officiant and good friend, Jan, opened with amazing words of how he knows us as a couple and as a family, and the inspiration we give to him and others. Our son Maximo read a poem from Charles Bukowski, an important literary figure and idol in our lives. Druscilla presented us with 13 coins collected from around the world, places we have been and wish to go."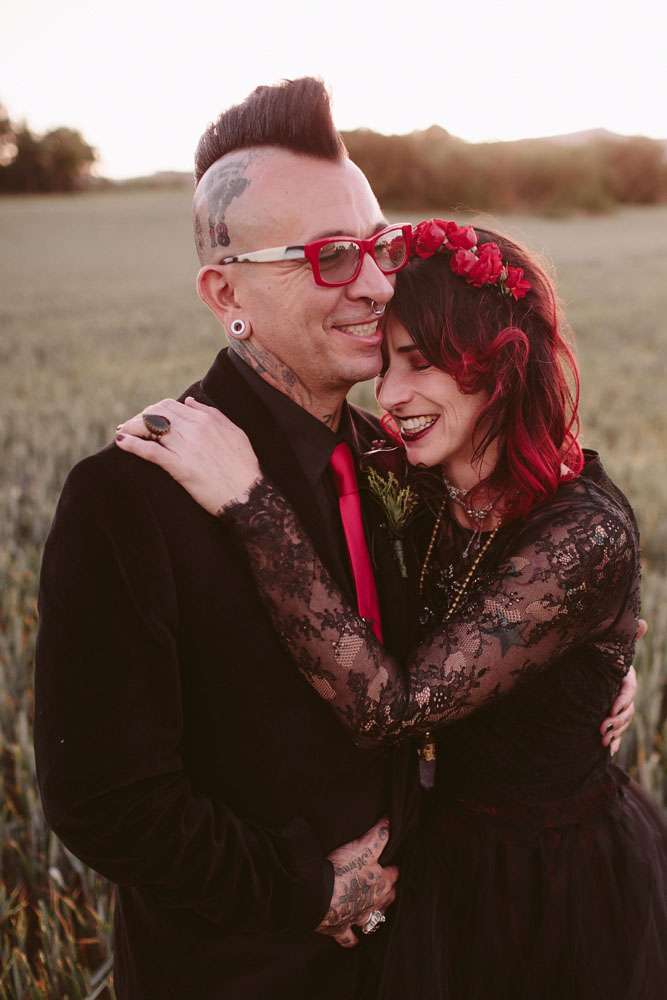 "For our vows, I played and sang a song that Maximo had helped me write, followed by words of dedication. Gabbi's vows wove in the perfect quotes from our favorite love songs, and then presented me with an incredible custom amulet (designed by him and created by our friend Rocio of Zafiro Zafiro Jewellery) of an amethyst crystal set in gold with the number XII (he has given me a custom-designed pendant each year commemorating our anniversary number). We exchanged rings, we kissed, we all did a lot of crying. To close the ceremony, Jan played and sang The Ramones' I Wanna Be Your Boyfriend, a perfect choice and a surprise to us both. Exchanging our vows with tears, laughter, smiles, and so much history and emotion already shared between us was by far our favourite part of the day."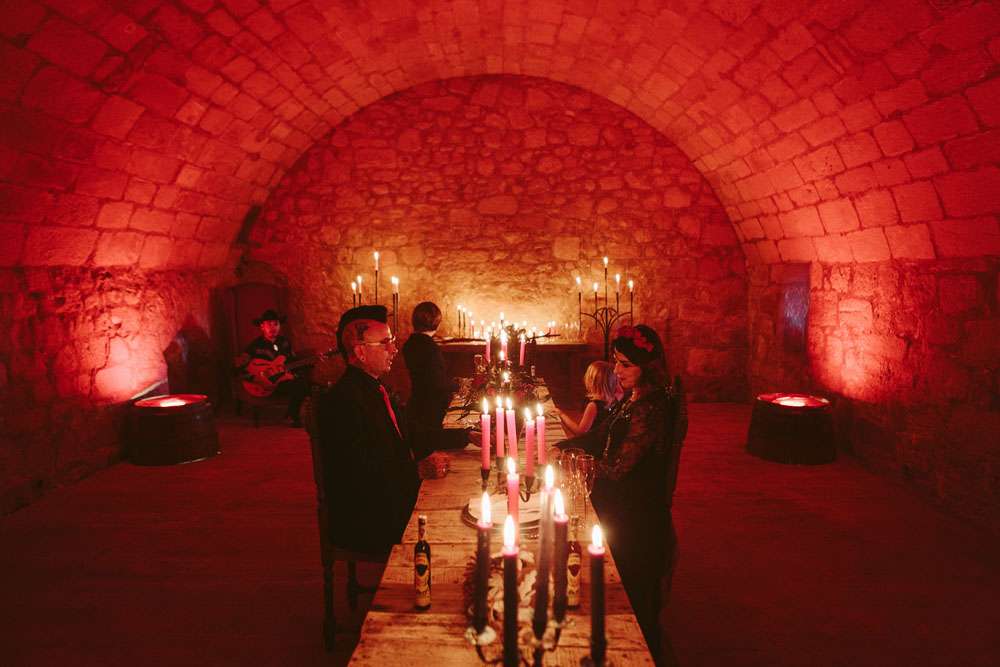 The decor details were not a priority for this couple, instead they really focused on the vows and the meaning behind the day. "I am a wedding planner so it's kinda funny that we didn't have any decor or details!", she laughed, "But this was so personal and intimate and really all about the ceremony and having an amazing day together as a family. Our DIY projects were the songs we wrote and our vows."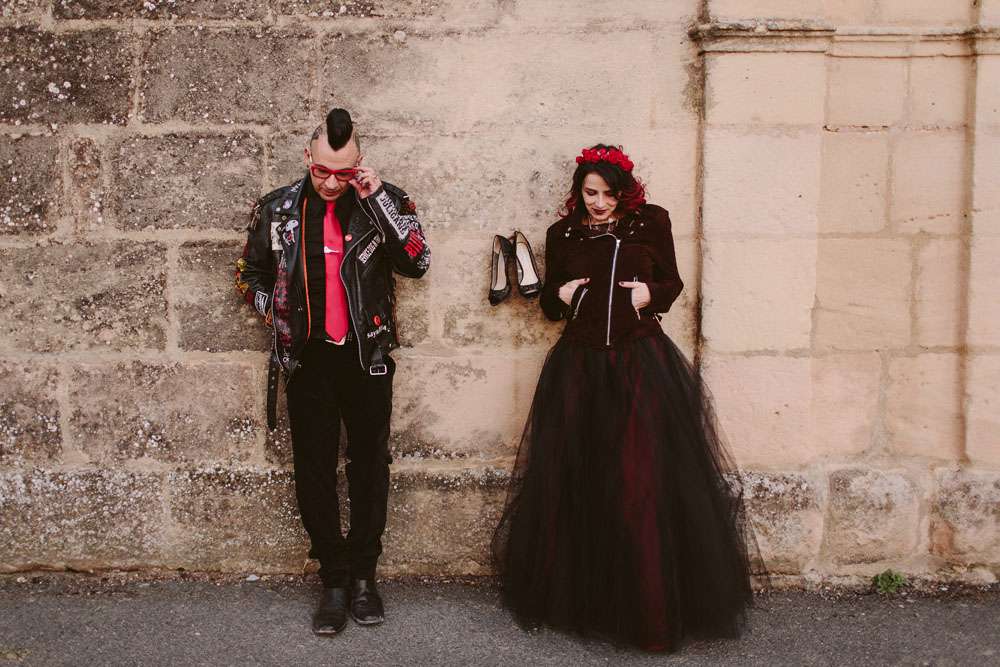 "Our advice for future brides and grooms is take time to soak it in together and enjoy every second. A wedding planner is indispensable, especially for a destination wedding. Even if you are very organized, you need someone local with connections to get things done and also run the ship on the day of so you can just be 'in it.' Spend as much as you possibly can on your photographer. Placecards will end up on the floor and flowers will wilt and fade but the photographs will transport you right back to that amazing moment on your best day ever together."
Make sure you watch the video, it's INCREDIBLE!