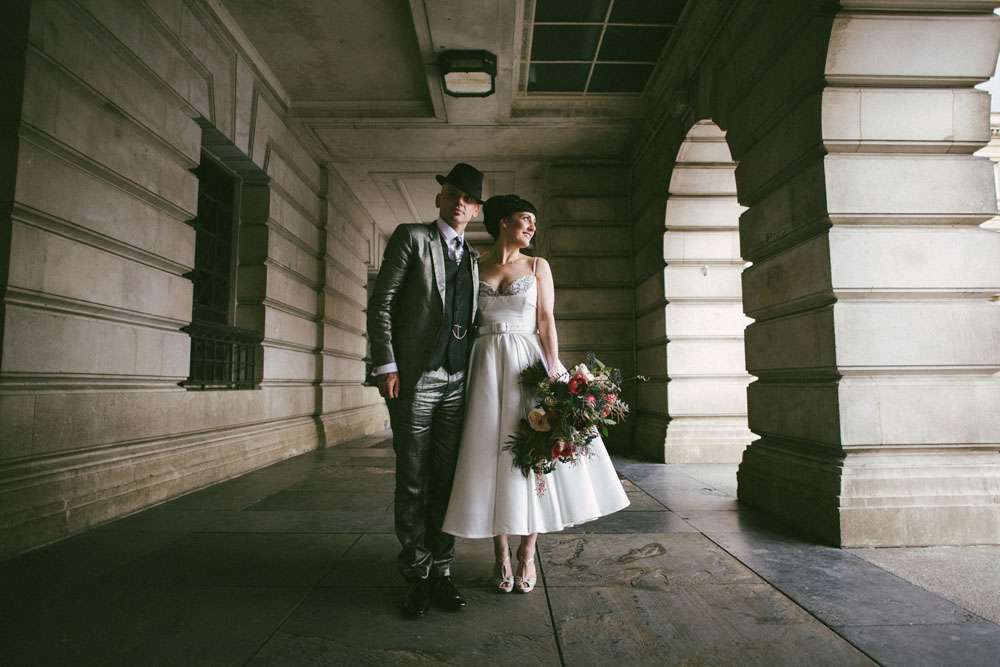 Esther and Sid's October wedding didn't really have a theme, they just wanted something laid back and informal. They had their ceremony at Nottingham Council House in the centre of the city, and their reception at Canalhouse, a pub in the former Canal Museum.
"We wanted an informal day that was colourful, fun and all about us", said the bride, "although it did have a slight vintage nod with the stationery. We took inspiration from Sid's TRUE LOVE tattoos. Sid is a barber and has a barbering academy so we had a barber's chair and a barbershop backdrop for our photo booth! I love dressmaking (my dress was loosely based on Dior) so as a nod to that we had tape measure ribbon bows on the flower jars and we had a vintage sewing box for the cards."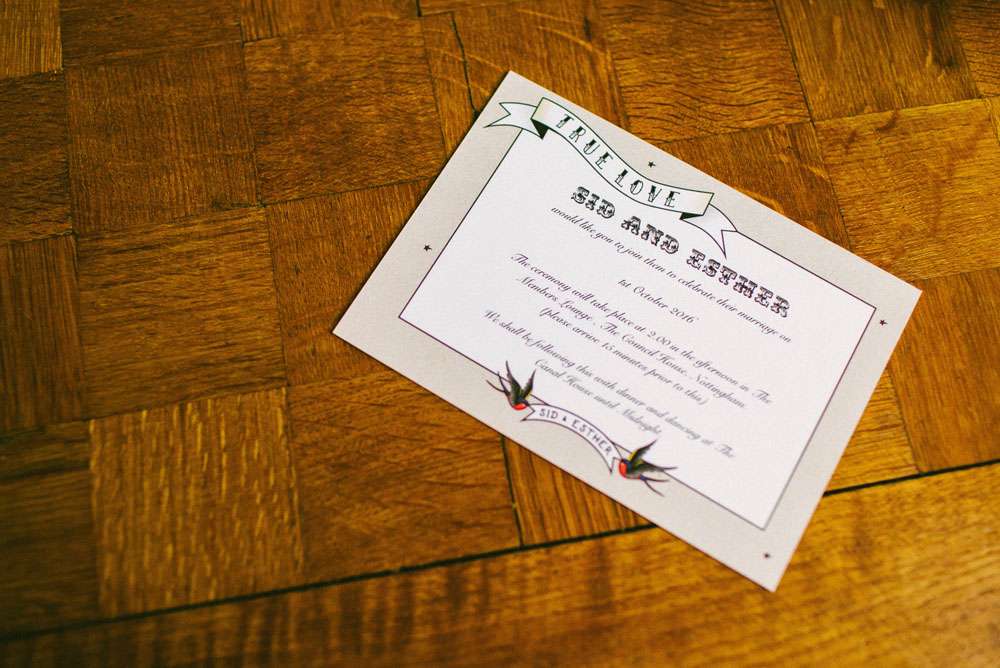 The bride asked her 16 year old son to walk her down the aisle. "My dad and I are not particularly close so I asked Billy to walk me down the aisle. However in the end I decided to ask my dad if he would walk with us too. We were late because dad needed to go to the bathroom so Sid was left waiting, becoming more and more emotional as the music played, wondering if I had changed my mind! He didn't realise we were all having to wait while my dad found a loo!"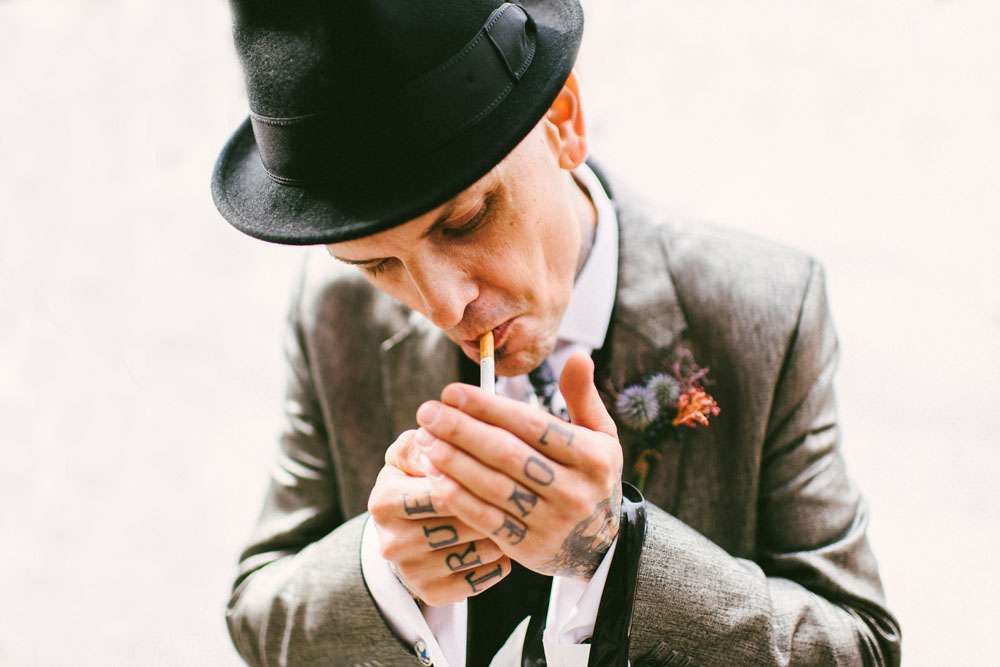 The decor for the reception was all DIY and planned by the bride, but Sid and his friends set everything up in the morning. "My biggest concern about the day was that we weren't able to decorate our venue the day before, it all had to be done on the morning of the wedding. I was freaking out that I wouldn't be there to oversee it all, but Sid and his friends chipped in and between them did an amazing job. I made sure I had written a list of what I wanted and where for them to follow (with diagrams and photos – yes I'm a control freak!) and I was stunned when I arrived to see that not only had they arranged everything perfectly, but it actually looked even better than I had imagined!"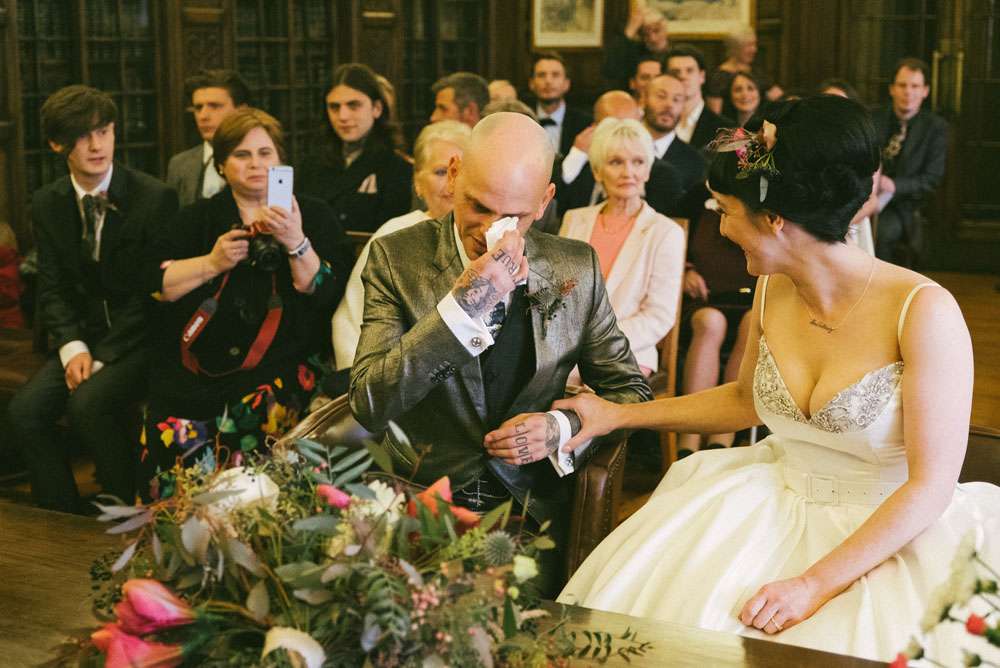 To keep costs down the bride made her own dress. "It was quite stressful!" she laughed. "I changed my mind about the design around a million times. At one point I feared I would never make a decision however I managed to finish it a week before the wedding! It was so worth it though and I'm so pleased that it's the only wedding dress in the world like it – I will never see another bride in my dress. I also made the bridesmaids skirts and the flowergirl's dress."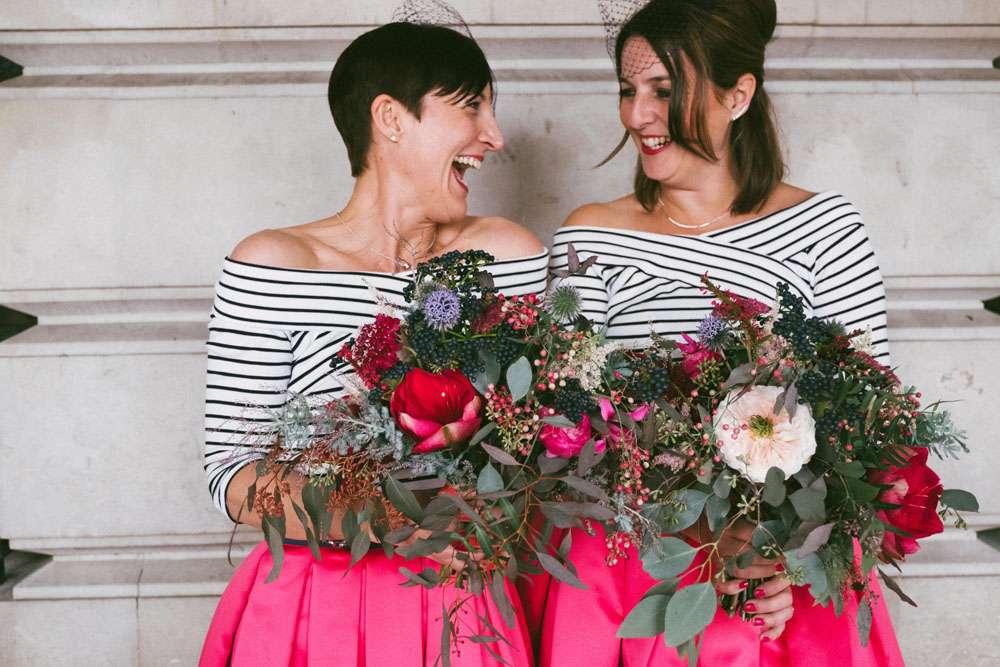 Their budget was £10,000 and they did plenty of things themselves in order to save the pennies. "We did all the decorations ourselves, had a playlist rather than a DJ and mum's partner, Pete, made the cake. It was three different baked cheesecakes which we served with doughnuts and homemade cakes from independent shops. We had burgers for the meal and saved even more money by buying all the booze from a wholesalers. The flowers in the jam jars were from a supermarket. However we got our bouquets made by a florist, Rebecca from FloralDeco. They were absolutely beautiful. I wanted something autumnal and with texture and she was able to create exactly what I described to her.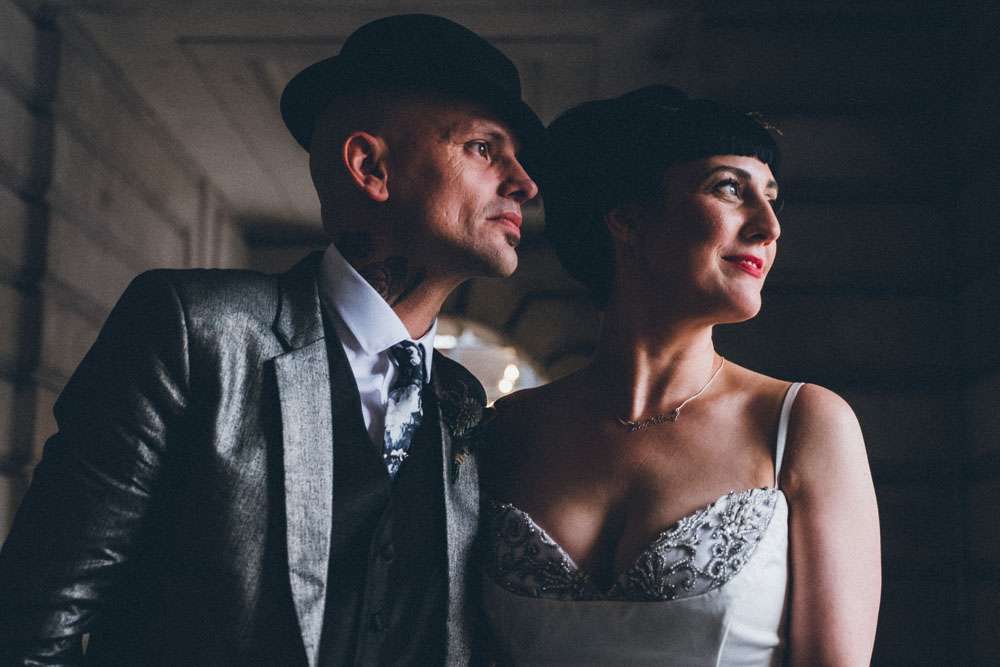 "The one thing we decided not to scrimp on was our photographer. In fact it was the very first thing we booked and where a large chunk of our budget went. I had been following Ed on Instagram for a while and really loved his non-traditional style and the fact that he seemed to tell a story of the whole day, rather than just doing the staged shots. This is exactly what we wanted and got. I really loved how unobtrusive he was, we forgot all about him taking photos which I think is key to them being so natural. I am so happy with the photos and every time I look at theme it brings back all the emotions of the day."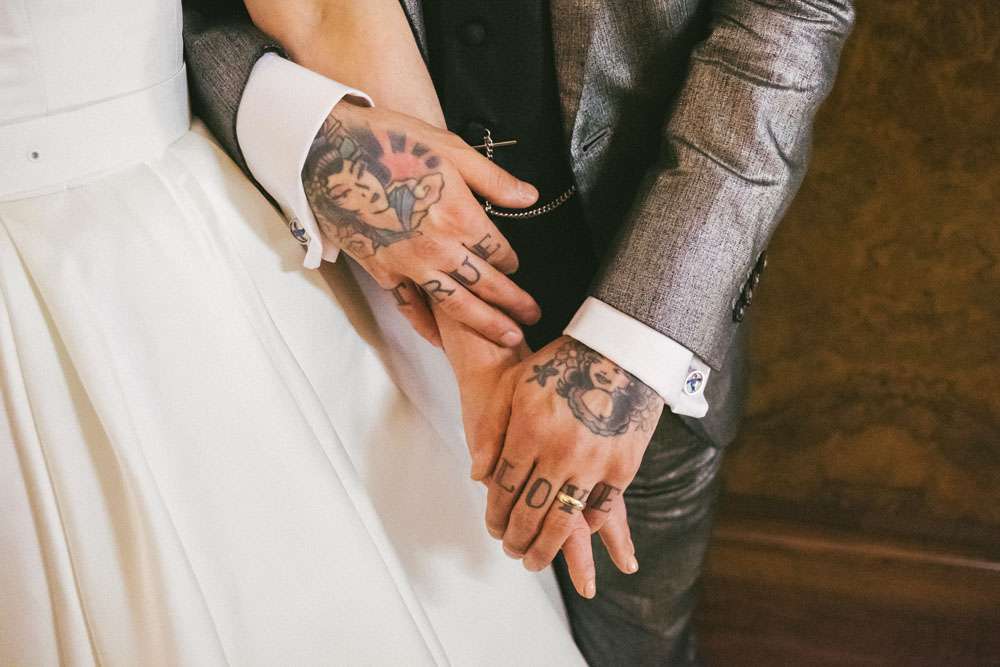 "We put off planning the wedding for a long time because I was really daunted by the whole thing. I was never someone who ever dreamed about getting married, but as soon as you get engaged you're supposed to become an expert party planner! It was such a relief to find such skilled suppliers who were able to take on certain jobs and take the pressure off."
"We decided early on that the most important thing was to make the day exactly as we wanted. We wanted it to be as stress-free as possible and to not worry about sticking to tradition. The priority was for us to have a day that was full of love and fun."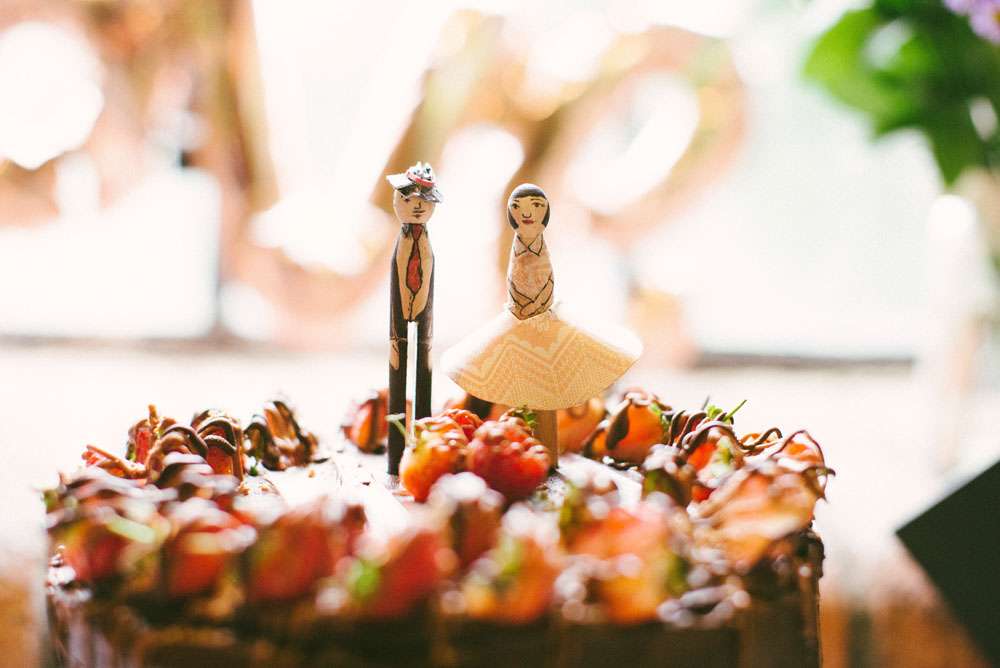 "Our advice to other couples would be that as much as you imagine the day and hope it will go exactly to plan, you can not control other people. If things don't go as planned, or people act in a way you would rather they didn't, just try not to worry about it too much. Sometimes you just have to suck it up, ignore them and carry on. Don't let it affect your whole day!"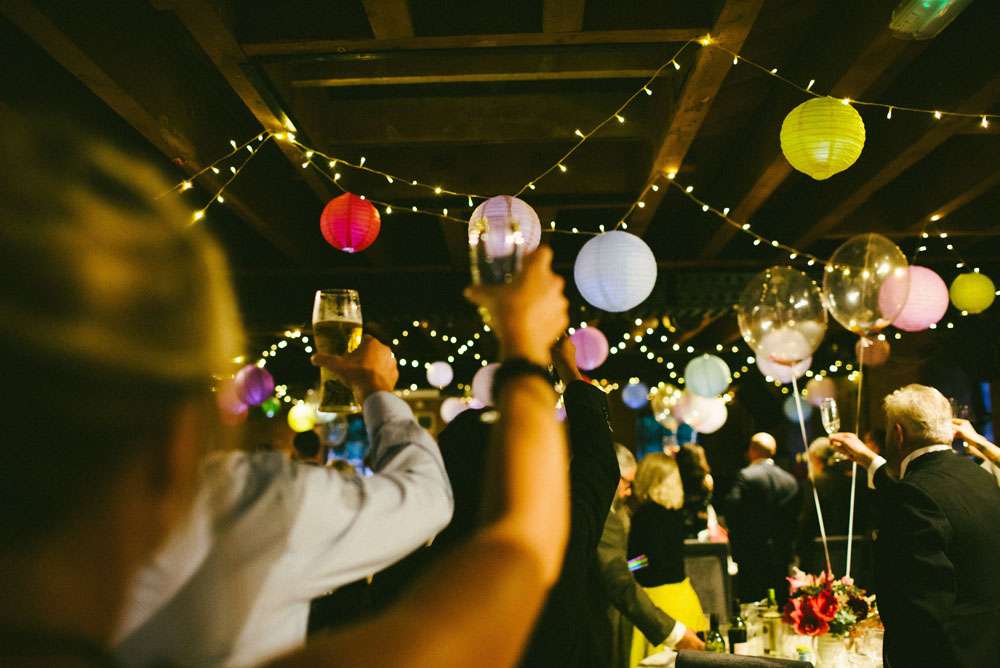 "One of the most memorable parts of the day was Billy's speech. He had decided he wanted to do one after I asked him to walk me down the aisle, but as the time got closer he began to seriously regret his decision! He is a typical teenager who tends to respond in grunts and mumbles, but to everyone's surprise, he stood up and made the most touching, funny and emotional speech in a very clear and confident voice. There were many teary eyes and at that moment and I felt very proud."