Happy Monday you gorgeous creatures. Monday might not be your favourite day of the week, but it's about to get a whole lot more epic with this completely perfect punk wedding! In fact this might just be one of the most amazing real weddings you'll ever see! Tammie and Toby were married at New Farm Park in Brisbane.
The wedding was very much DIY, with the couple spending no more than $5000 on the whole thing. "We became friends through the East Brisbane punk scene and going to shows", Tammie began. "He was the super talented guitarist of a rad band and I was the fangirl trying to get close to him because he always had a rider (free drinks at the bar for bands!) The scene is like a family and he was always there when I needed him. Plus he is a super babe so why wouldn't I want to get close to him?! Then, after about 3 years, we got together. We now have a house, three little girls and run a business together."
"When we started planning I didn't know exactly what I wanted but thanks to the internet I had a super long list of stuff I didn't!!" she continued. "We wrote our own vows and quite bit of the ceremony. We started off by recognising the traditional owners of the land and mentioned gay marriage rights in ceremony. Our celebrant was an ex-communicated priest, kicked out of the church for advocating gay marriage and going to a refugee protest. He was an all round rad dude!"
Rather than wanting the to be particularly unique, they couple just wanted the wedding to feel like them. "We just wanted the guests to have a great time celebrating", Tammie said. "We didn't want a theme or anything, just us in wedding form. It makes me cringe a little when people write 'punk themed wedding' because we are just punks who happen to be getting married. I suppose I'm still just a wanky 16 year old with a mohawk calling people 'sell outs' and 'posers' at heart haha!"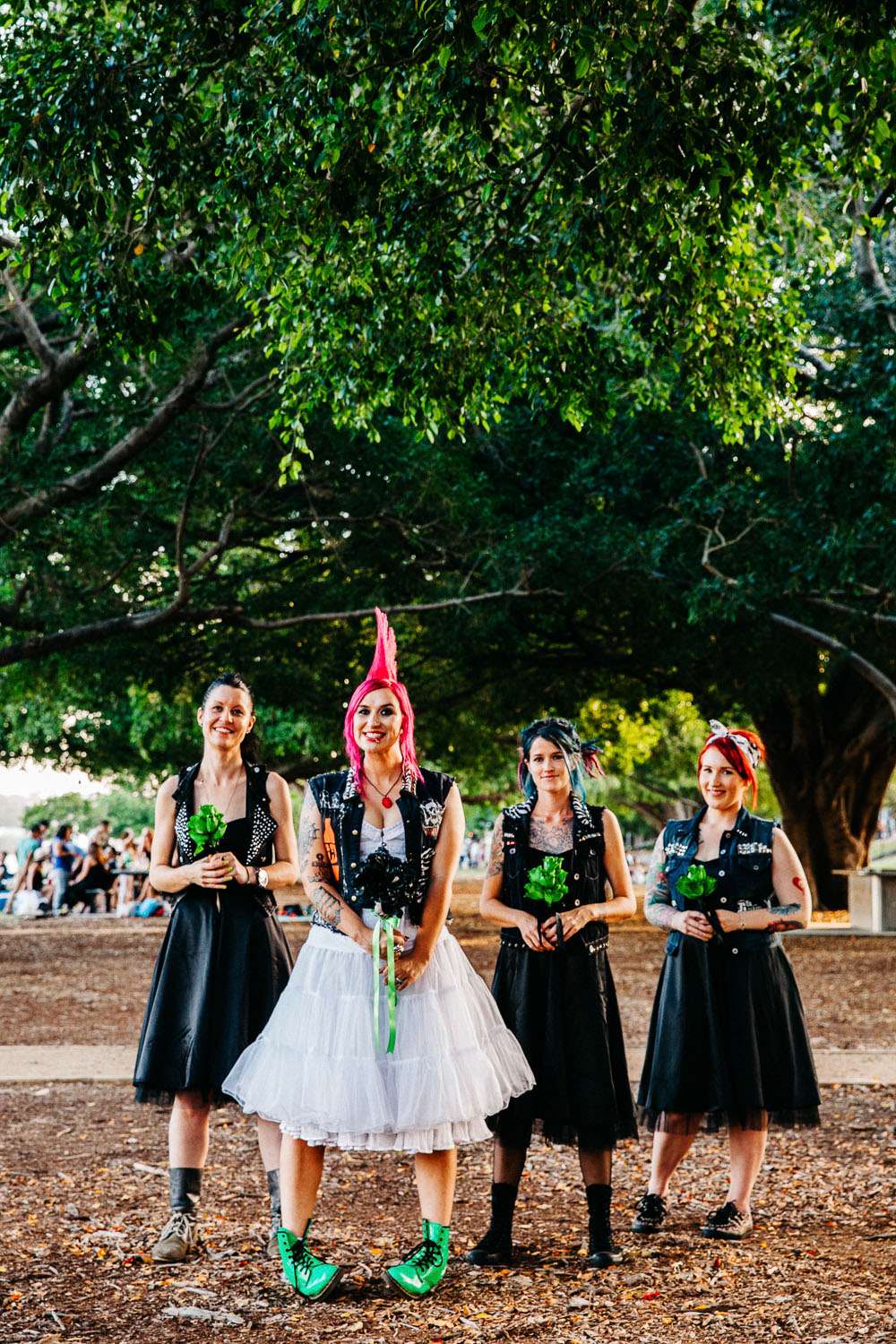 The bride wore a corset which she bought from a friend's shop, a petticoat as a skirt and a vest which she bought from eBay, dyed and decorated herself. The cake was made by a friend and the invitations were created by the groom. The bands that performed were also friends of the couple and all the décor at the reception was DIY.
"The entire wedding was pretty much made by us. My bridesmaids and I had two full 'crafternoon' weekends. Drinking, swimming, patching, studding, flower spray-painting, fan folding, bunting making (I had no idea what bunting was, my bridesmaids did it all!) My bridesmaids are seriously the most amazing, talented, beautiful people. Without them half the stuff wouldn't have been thought of or made. We made green and black bunting and tablecloths, and had a guitar case as the wishing well. It was perfect! As wedding favours we had guitar picks with our name and date of the wedding on one side and our signatures on the other."
"I got a lot of advice for the wedding from wedding blogs like Rock n Roll Bride", she explained. "One of the main things I took from them was to take the time on the day and during the ceremony to be in the moment because it will be over so fast. I had these words going round in my head for weeks beforehand, the day is still kind of a blur. That's why I'm so happy we invested in our photography. I read everywhere that you NEED to pay out for a good photographer and I now completely agree."
The couple were able to save a lot of money by getting married in a public park and DIYing a lot. "We made pretty much everything the only things we really had to pay for were the ceremony spot, the chairs, the celebrant, the food and drink and our clothes. All the outfits for the entire wedding came in at around $500. That included my dress, three bridesmaid dresses, three flowergirl dresses and Toby's outfit. Because we wanted our guests to have a great time, the majority of the cost was on the food and drinks (3/4 of the budget!) We got really lucky by being able to have friend's bands perform and our photographers are also friends of ours so they gave us a great deal."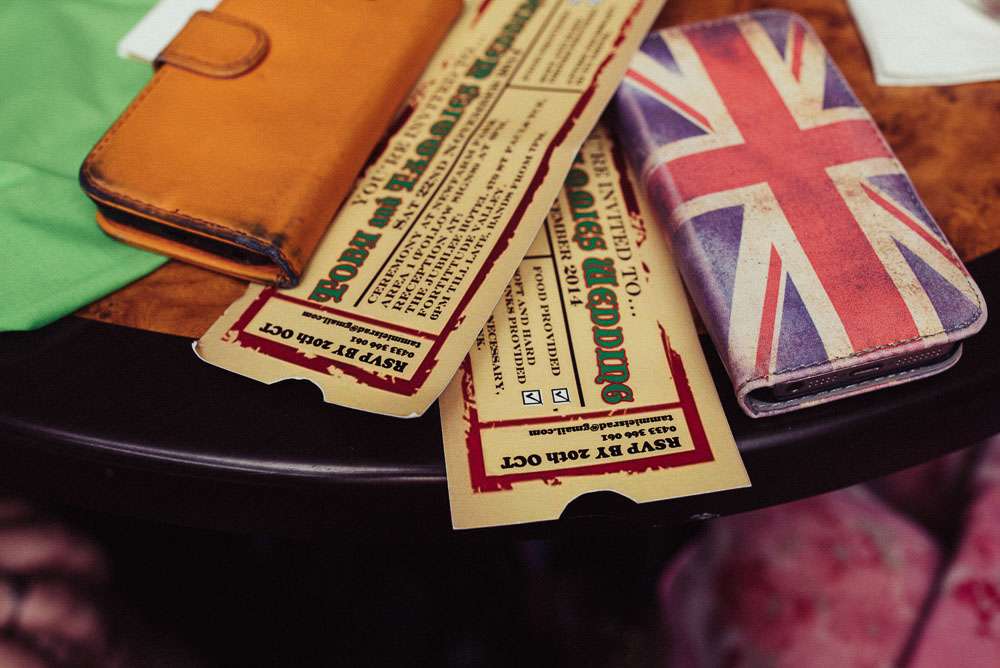 "Our day was seriously perfect", Tammie concluded. "Which was great considering the lack of planning and stressing that went into it. We didn't have a rehearsal or anything but everything just happened exactly as it was supposed to. The ONLY thing I would do differently is get someone to video the ceremony. I seriously did not even think about it until my friend sent me a super short video of me coming down the aisle and it made me wish we had more."