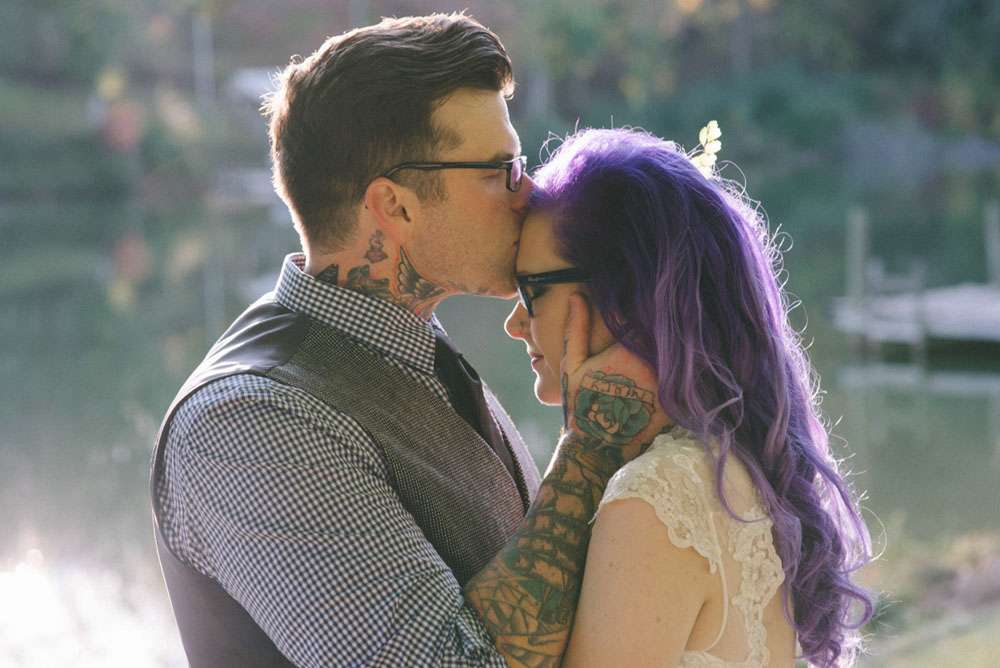 Ben and Erin's DIY Autumn wedding was held in a barn at Tuckaway Cove, a historic event space on Tellico Lake in Greenback, TN. Their main inspiration came from family: past, present and future.
"We love antiques and the stories that come from finding them", explained Erin. "From an old camera that was probably used at a wedding in the early 1900s, to the one grandpa used in the 50s, to a briefcase that may have been used for a young couple's honeymoon, or even the hat great grandmother would wear almost every Sunday. It is all very special to us. All the props on the tables came from our own collection."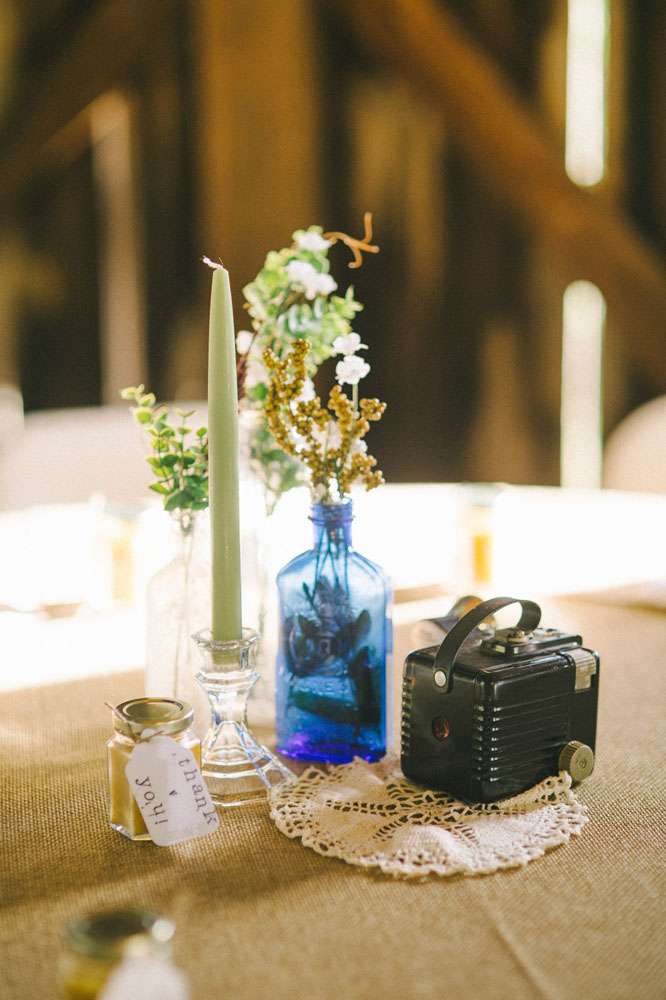 This was a proper DIY wedding with almost every element being homemade by someone in the family. The cake was made by the bride's mother and the flowers were found in a local craft store and via bulk order websites. They did all the arrangements themselves, although the bride's bouquet came from a seller on Etsy. They even had DIY catering with the groom's mother making everything from scratch!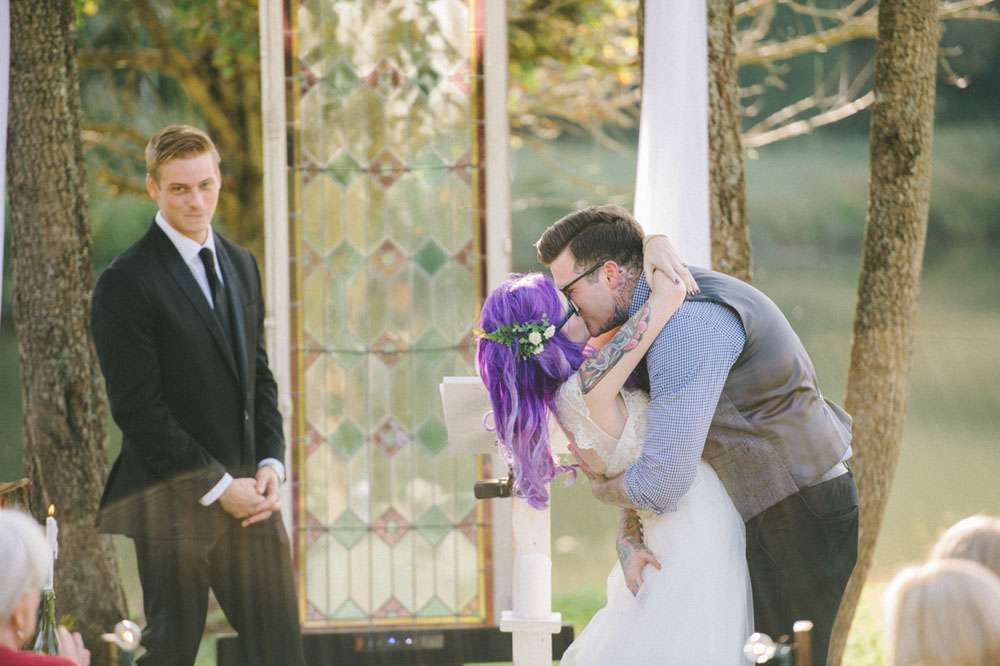 "Our wedding was unique because it was so personal and truly represented us", she continued. "With tons of creativity, hard work and improvisation, we pretty much did it ourselves. Our wedding location was over 40 acres, so we had a lot of space to fill with lights and decor. Lots of late nights and coffee chugging contests, but it was worth it. The amount of work and blood (only a little, it was a minor paper cut accident, but there was blood so it counts), sweat and tears set a sort of tone for the marriage itself; so later on down the road when we have a disagreement or get upset with each other (because we're human) we can think back to our wedding day and remember how great the outcome was despite the amount of work that was needed."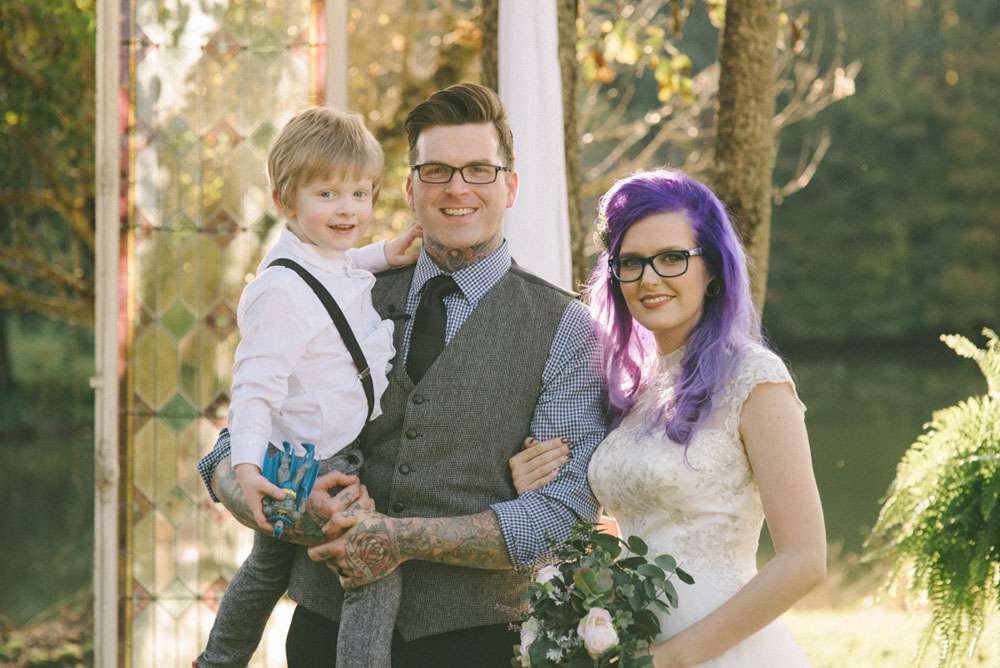 The ceremony was held outside, the sun shone down and it was perfect. "Our favourite part of the wedding was standing up at the alter as a family. Most of the time we're just tattooed goofballs, but we do take marriage and parenthood very seriously. It was really cool to take part in a ceremony that sacredly bonded us three as one. Right as the ceremony started, the sun peaked out behind the clouds for the first time of the day. I walked down the aisle to Jon Brion's theme to Eternal Sunshine of the Spotless Mind and the autumn leaves started falling over the pulpit, as if nature was queued right on time."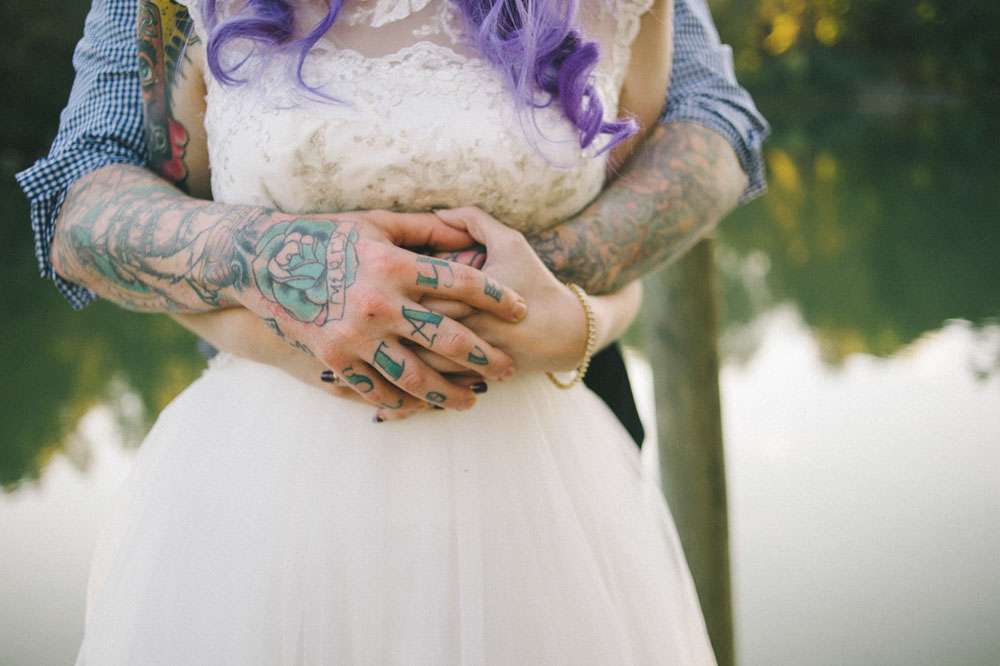 The bride wore a dress from David's Bridal ("I found it tucked away in the 'vintage inspired' section for a price too good to pass up") with brogues that she bought from eBay and glittered herself! "We saved a lot of money by doing things ourselves. One of the biggest savings was on the catering, which was also a bonus because we were busting at the seams with family bonding. We also saved a ton of money on a DJ with just having Spotify on low, it made it a lot easier to really converse with our friends and family."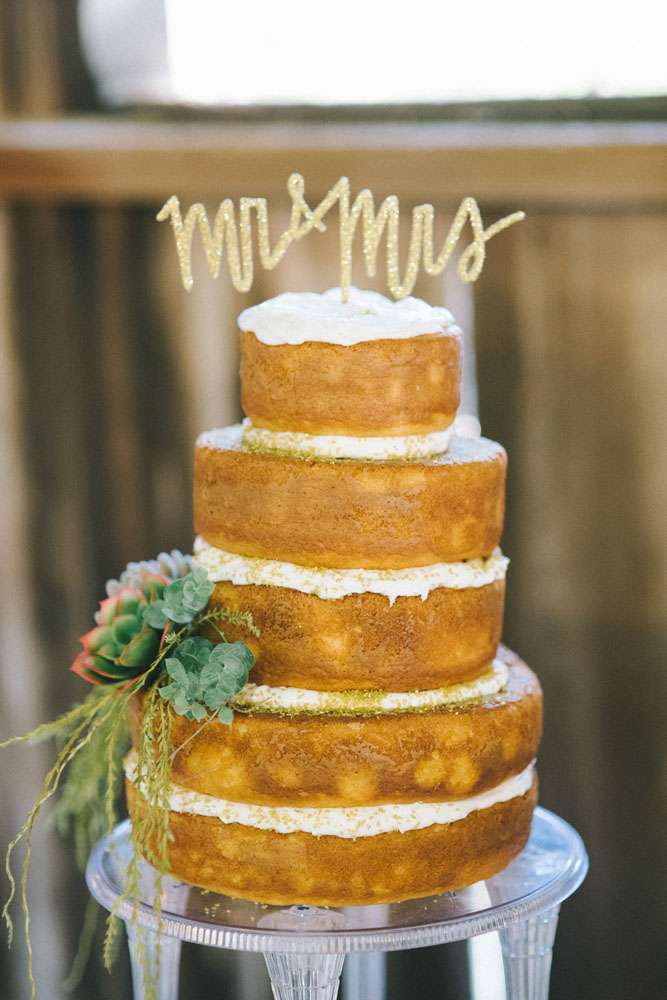 "The best part of planning the wedding was that we got to hang out together and focus on the future and create", she concluded. "Bouncing ideas and inspiring one another is always a good time for us. As a family washing dozens of vintage medicine bottles was fun because it felt like bonded on a whole different level – making memories that will last our entire lifetime. You never forget your wedding and its experiences."