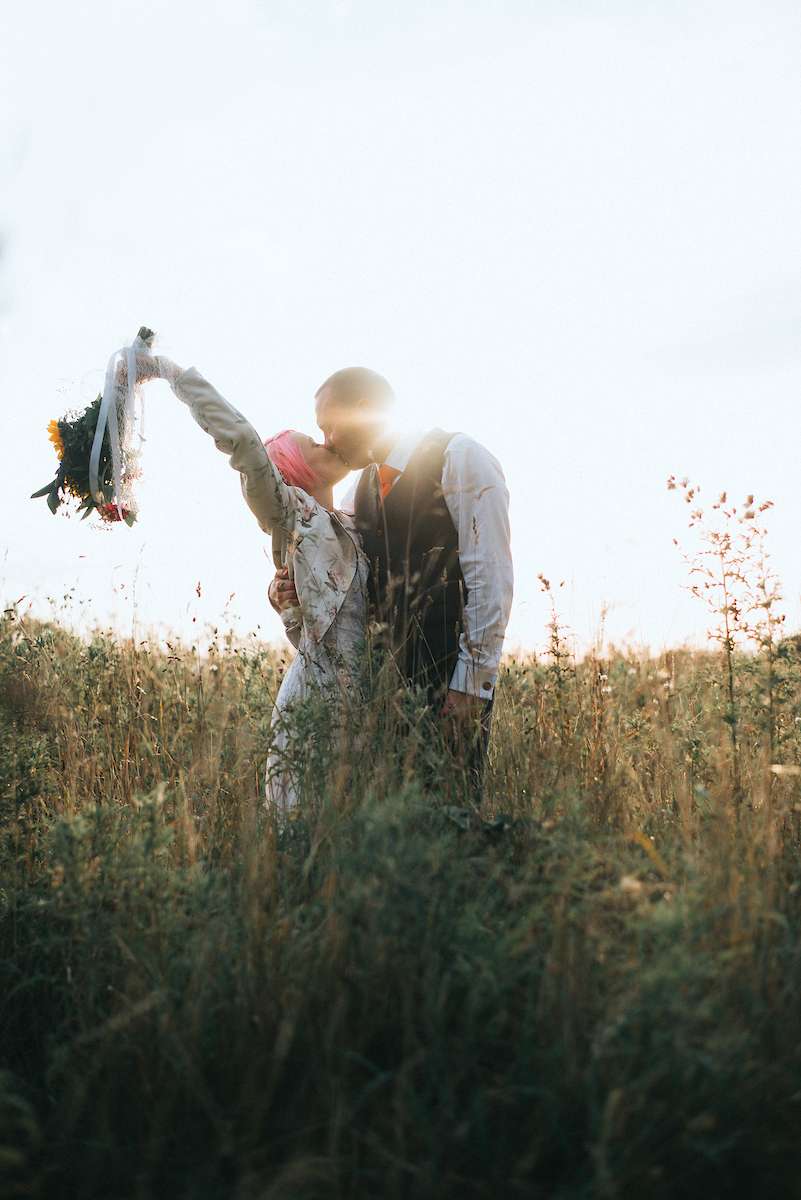 Chrissy and Dave wanted their wedding to be a place where their families could meet and really get to know each other. With the bride growing up in Brighton and the groom in Liverpool, they'd never had the opportunity to meet before so the wedding was planned to be like a mini family holiday for everyone.
They chose Folly Farm in Bristol as their venue. They loved it because not only could they stay there with 20 of their nearest and dearest all weekend (plus space for campers!) but they could decorate it exactly as they wished.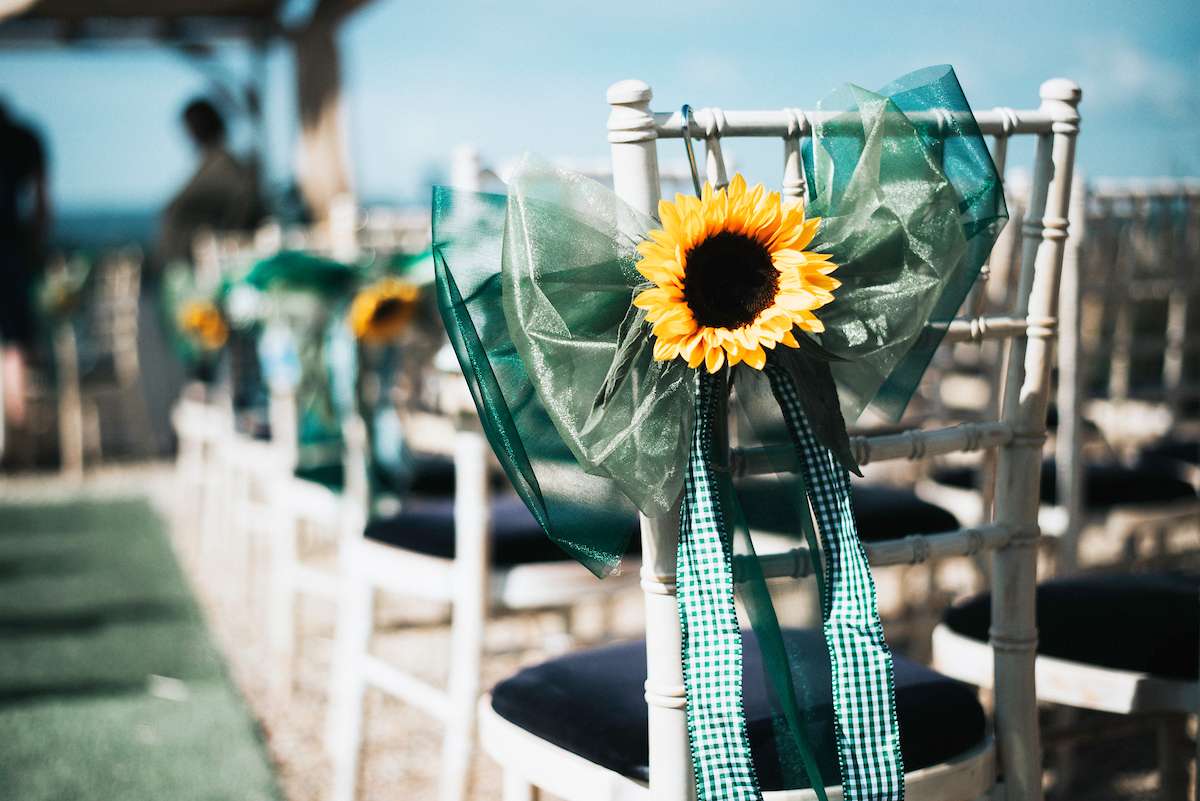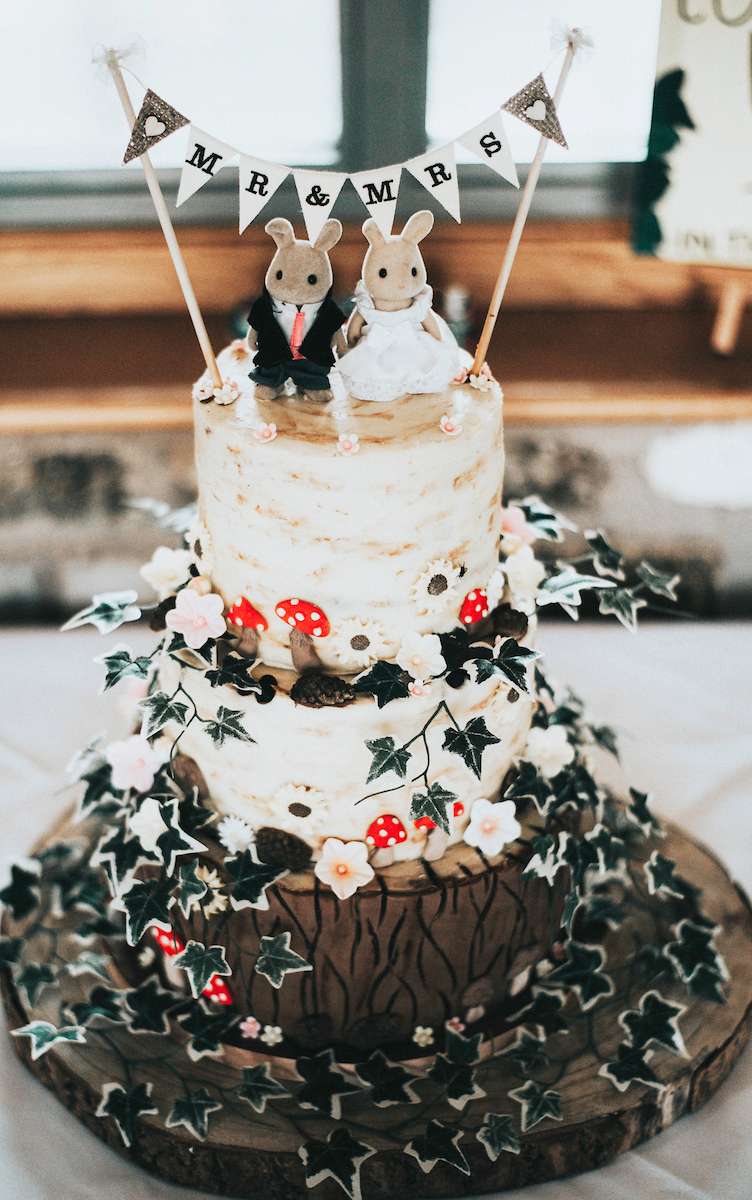 "Dave's family hold annual holidays where we all stay in an Airbnb and its really informal, fun, relaxed and special", began the bride. "When we found Folly Farm it meant we could have everyone for two nights, everyone had to travel so it meant they would have the time to relax, enjoy and get to know the family they are now part of."
This was a real DIY wedding with everyone pitching in to help. Chrissy painted all the signs and their photographer (and friend) Adrian, made them a personalised canvas to act as a guestbook which he designed himself. They had shepard hooks holding glass jars that were decorated by the groom's mum, candles and fairy lights to decorate the courtyard and hay bales for people to sit on during the picnic lunch. They purchased lots of picnic blankets and cushions from lots of different places (mostly in the sales and from charity shops).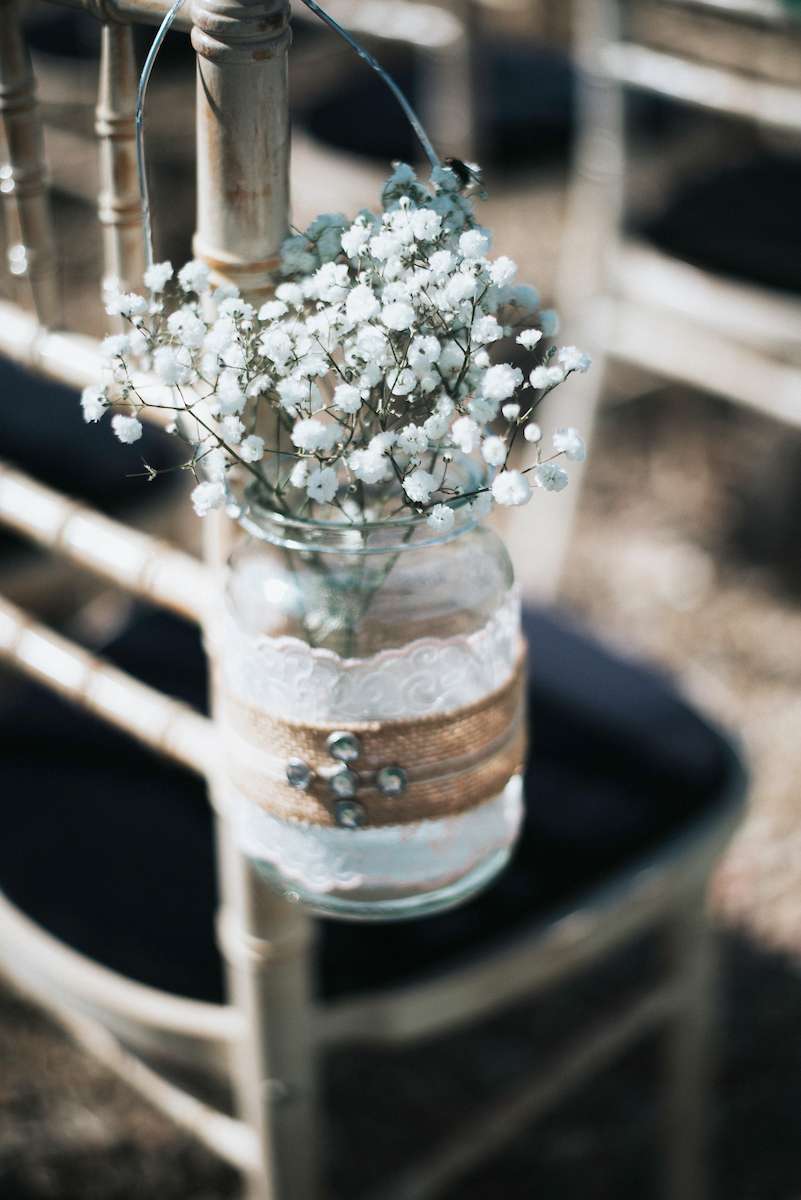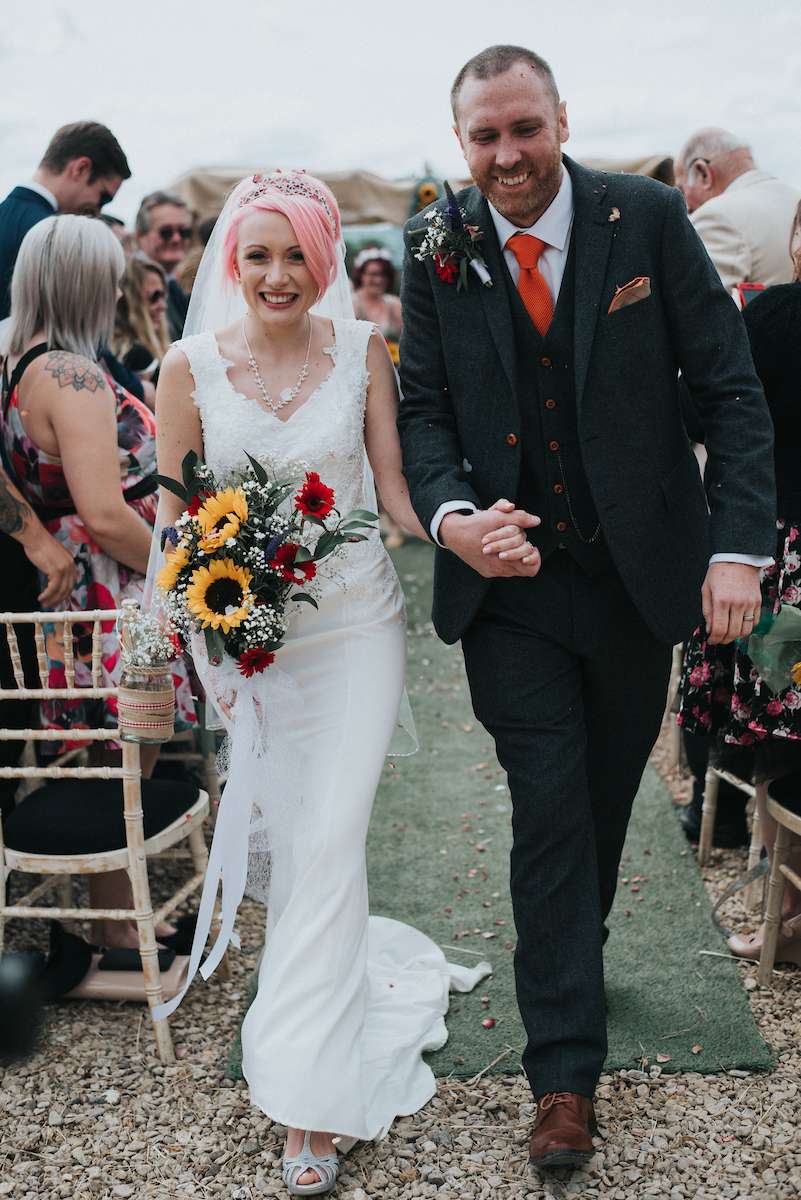 There were also lots of Wind in the Willows references – they had a picture hung in the reception area that belonged to Chrissy's mum, as well as various Wind in the Willows characters dotted about the place and even homemade Mr Toad and co. photo booth props!
"Our guests provided many aspects to the wedding. They helped with BBQ catering the night before and breakfasts on both mornings, the flowers, and setting up all the furniture. Someone bought our cake as a gift and someone else was the make up artist and hairdresser.  We borrowed a VW from someone for the photos and another friend's van to bring stuff too and from the venue. Lots of people provided Wind in the Willows props and other decorations as well as helping us put them all up."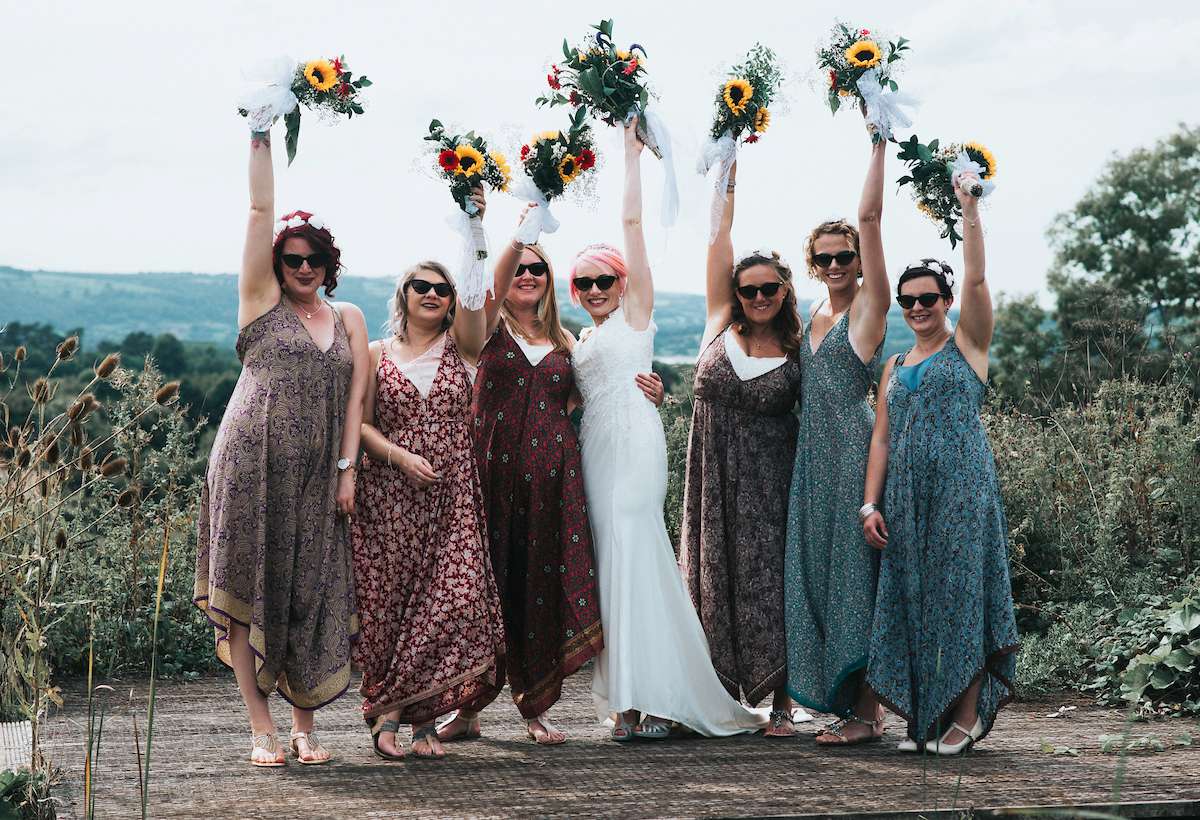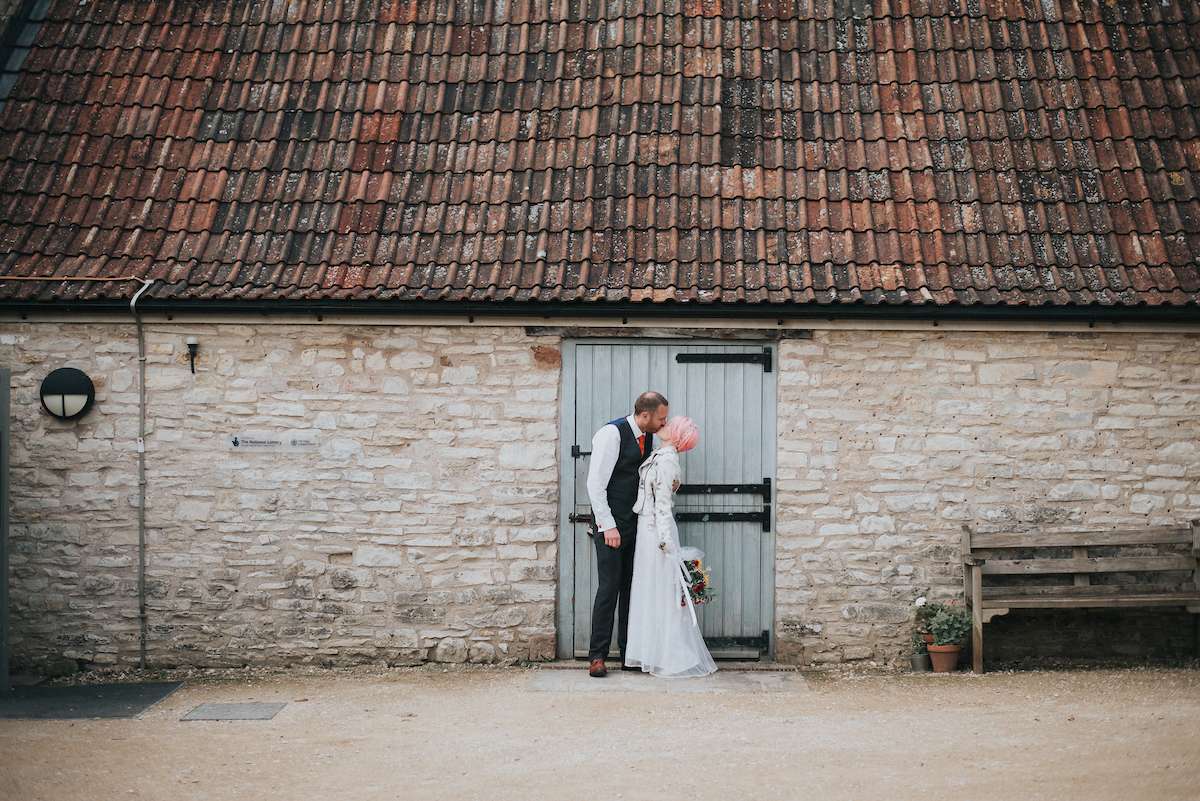 "We both love nature and nature walks are our favourite dates!" she continued. "We love packing picnics and being away from technology, having each others full attention. I also love animals in clothes –  the cards with hamsters in hats and bow ties always make me laugh!!
Realising Wind in the Willows could give us a direction was great! I am easily distracted and didn't want a set a particular colour scheme."
Chrissy wore two stunning outfits! Her first dress came from Little Mistress which she accessorised with the Star Halo crown from Crown and Glory, Jenny Packham shoes and a veil that she borrowed from a friend. Her party outfit was from ASOS (those sleeves!), a floral Primark jacket and silver Converse to which she added her own pink ribbons as laces. It was also important to her that her bridesmaids were comfortable. With none of them being particularly girly, they opted for jumpsuits which they grabbed from All about Audrey in Brighton. The girls then chose all their accessories and shoes themselves.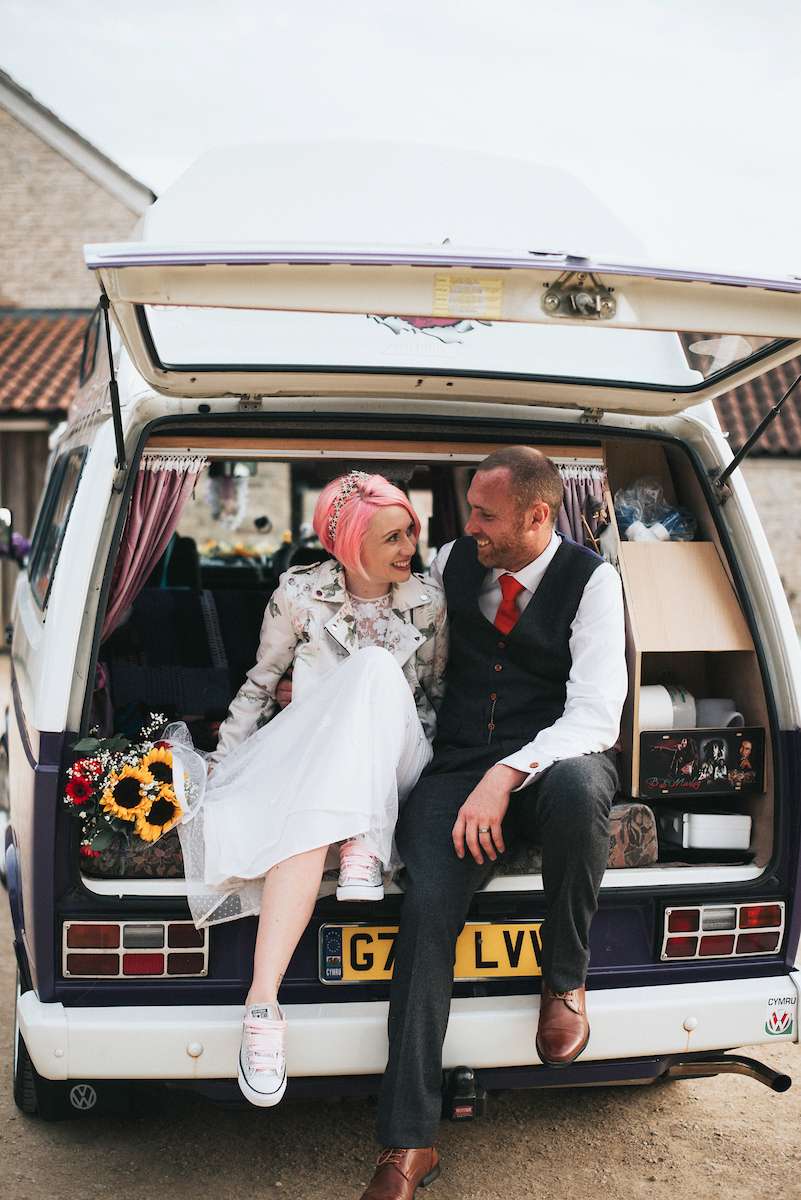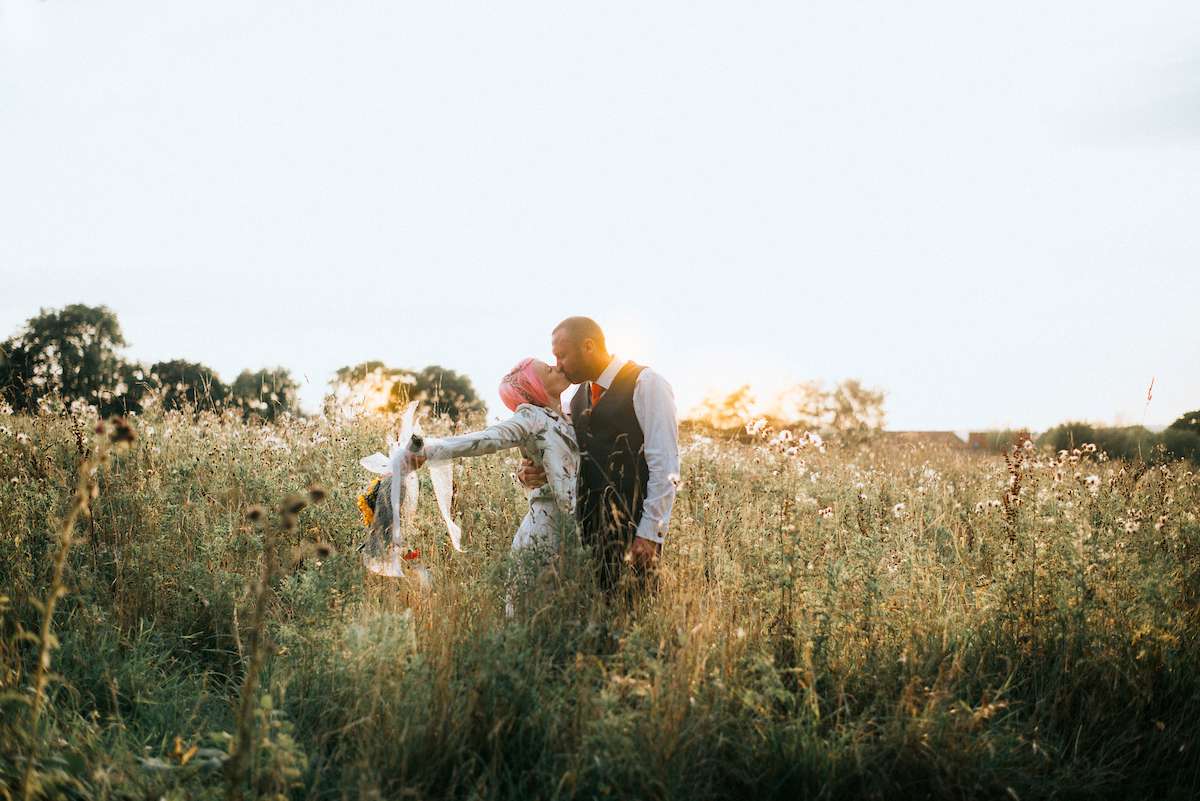 "To the average wedding-goer I would say our wedding felt very alternative", Chrissy continued. "It was really relaxed and like a little holiday with a ceremony. That's what we hoped for – to share all of our favourite things with both of our families. As much as possible we wanted a DIY wedding too, with friends and family helping in any way they could. Saving money where we could allowed us to spend on the things we felt could add to the event such as getting a band rather than a DJ to really add a great atmosphere to the evening. Essentially it was DIYWFF (Do it yourself with family and friends!) Everyone played a part and so many guests stayed over which helped it feel like a joint celebration with two families and friends coming together rather than the bride and groom then some guests."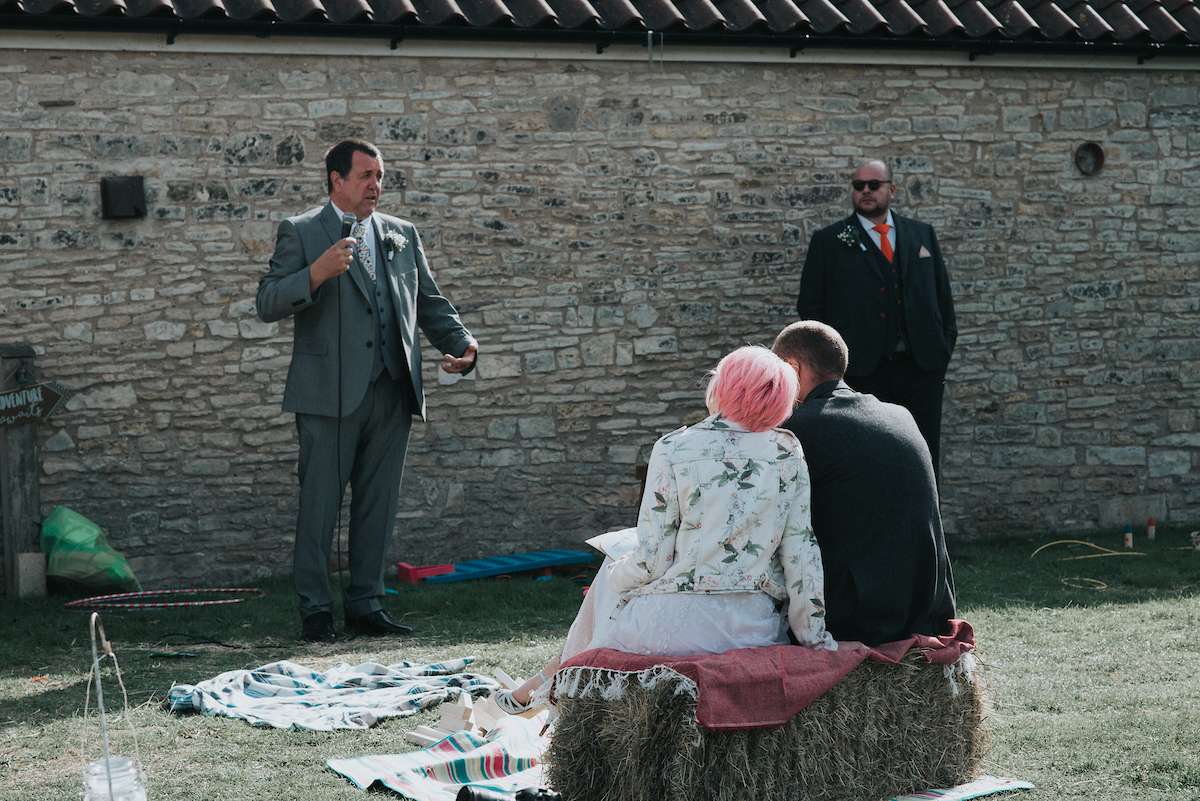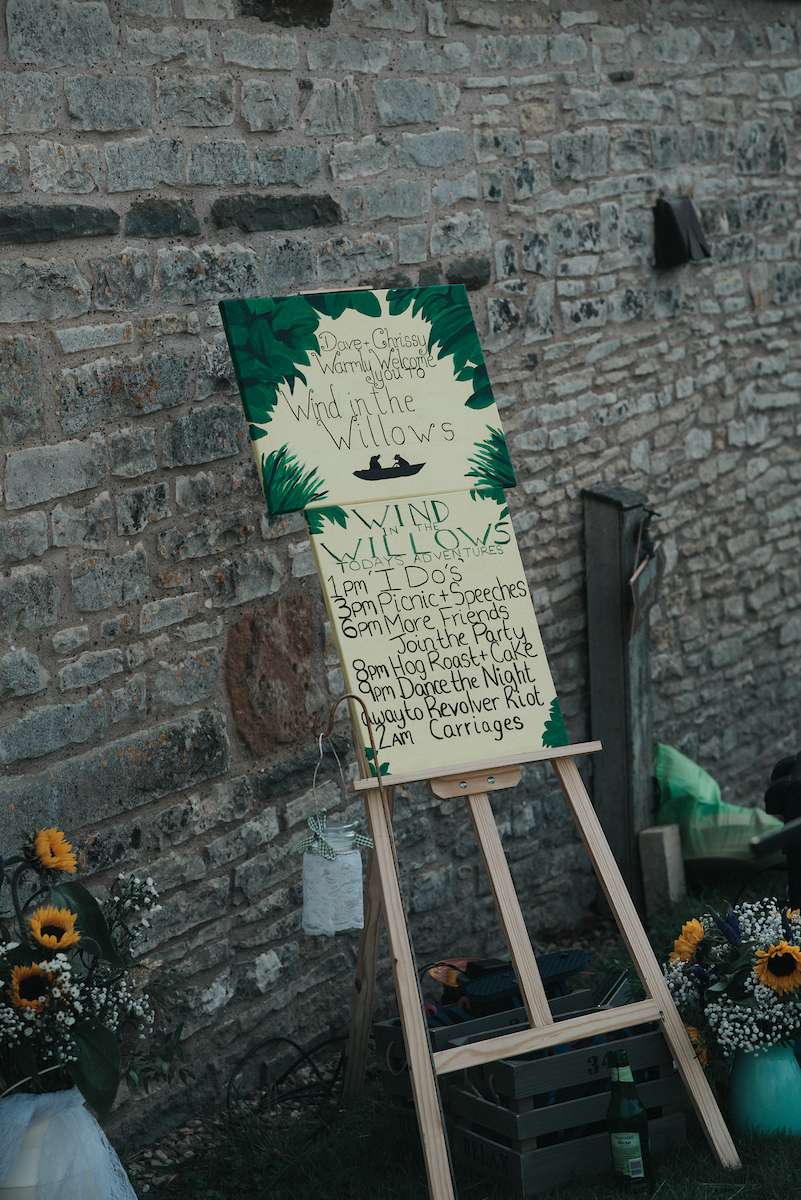 "I also did my own speech, starting with, 'I'm not just letting the boys speak! What year are we in!?' I didn't write that bit but it fell out of my mouth as I started! I ended with a quote from Deadpool. Dave's speech blew me away, he is the strong silent type. It was beautiful and so thoughtful, he always surprises me."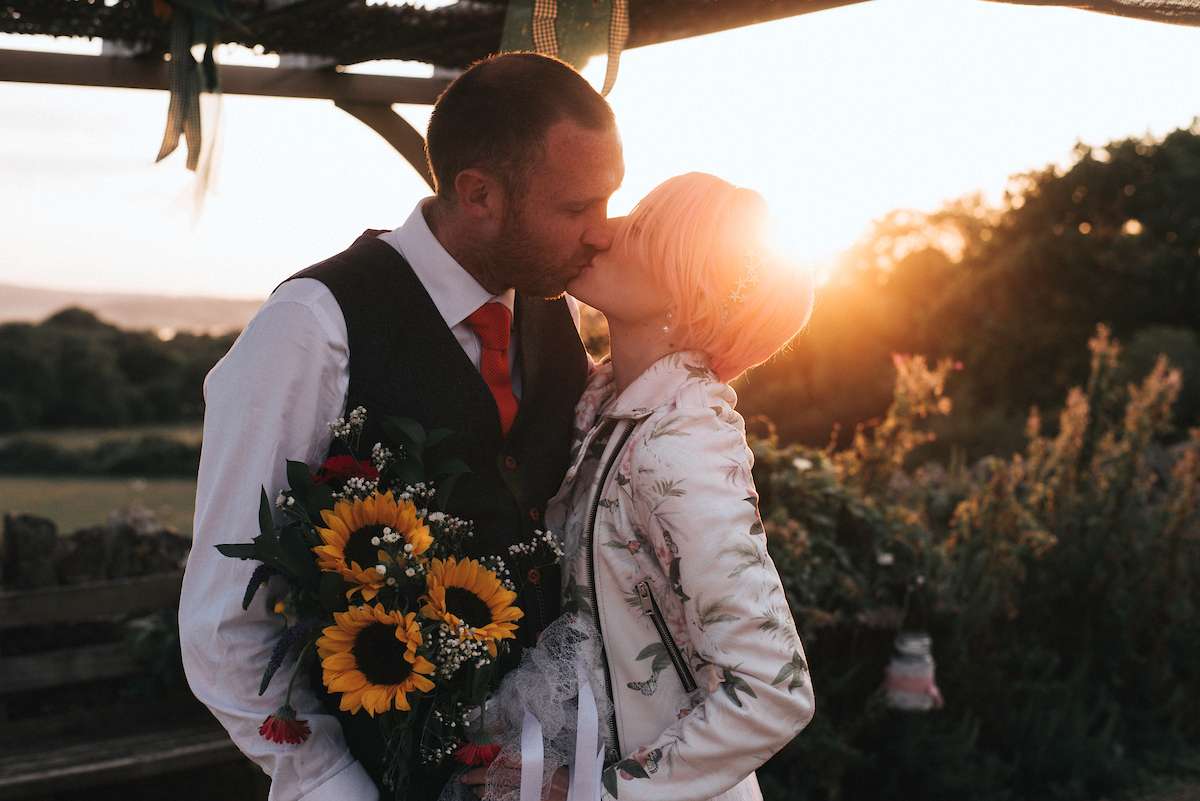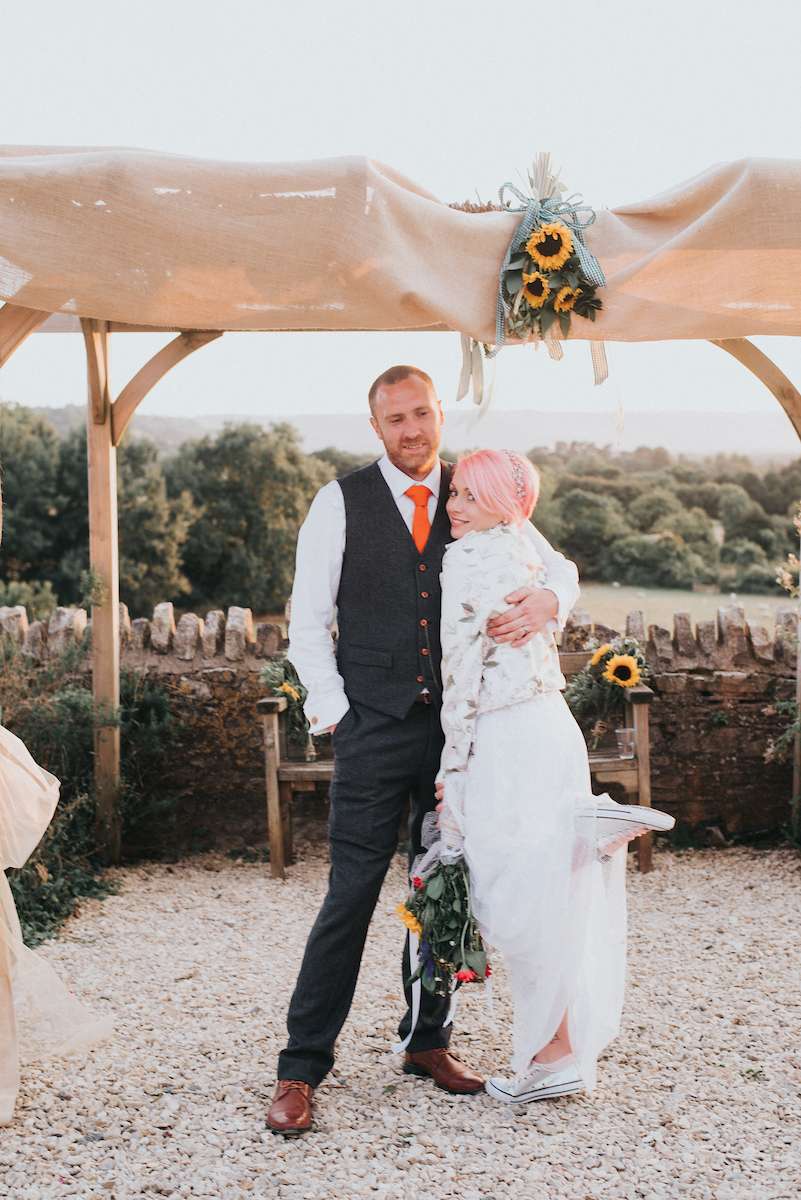 "I have been totally inspired by Rock n Roll Bride since my bridesmaid Becci got married two years ago and introduced me to the Facebook group. Before then I couldn't see myself as a bride, I don't like the idea of big dresses, crowded rooms, church and hotels with fancy red carpets. Rock n Roll Bride opened my eyes to what its really all about, how it can be about you both and about your friends and family. It doesn't need to cost £25,000 and your dress doesn't need to cost more than your car. The group really helped answer all my questions and the articles in the magazine provided endless inspiration and gave me the confidence to do our wedding in a non-traditional way."