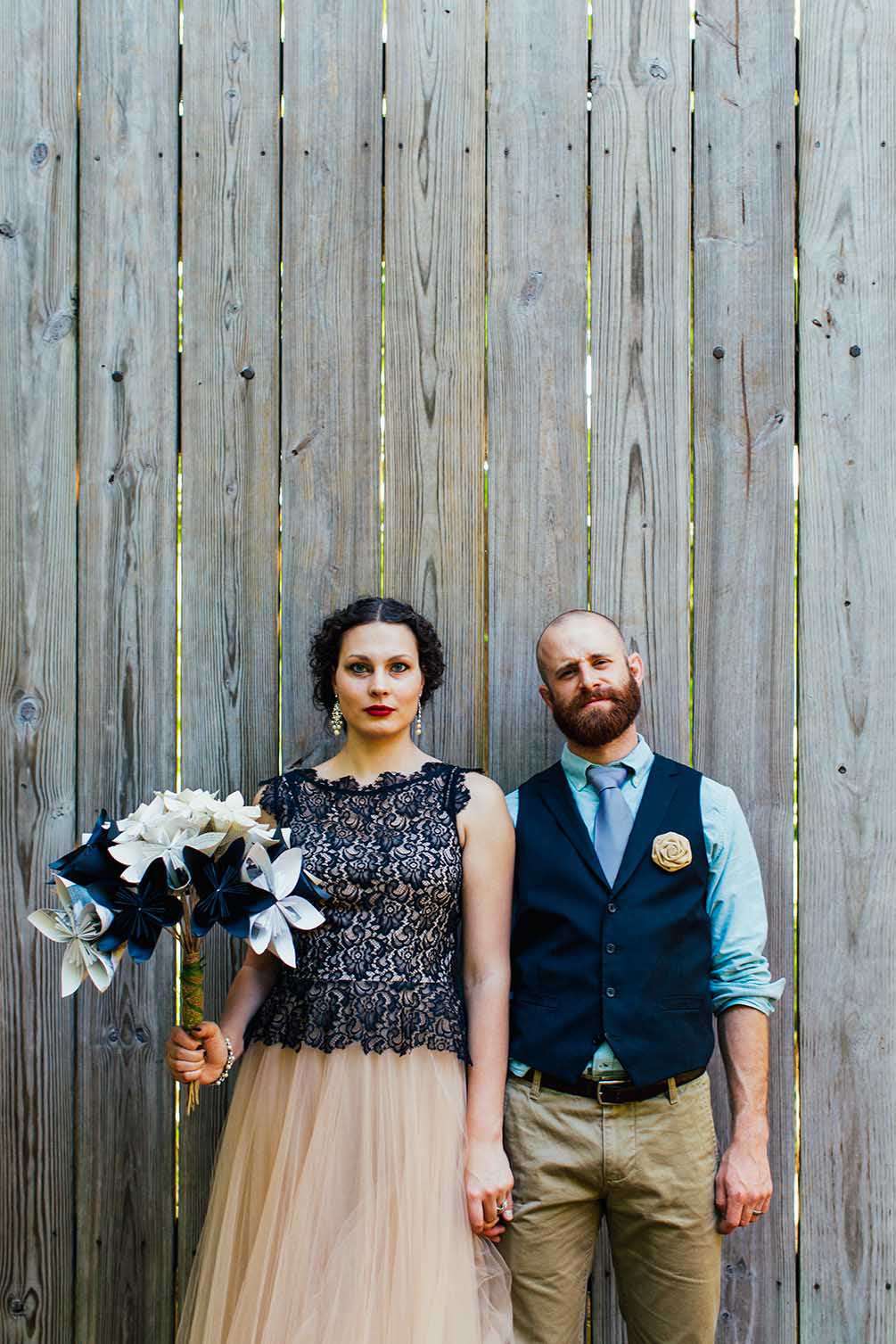 Jason and Alexis' home grown wedding was held at at The Sargent Center in Hancock, New Hampshire. They wanted a weekend long affair, with all their guests camping and staying with them. With the bride being a writer, the wedding had a literacy feel. She wrote the ceremony herself their were book and poetry references throughout the wedding.
"Home grown and alternative are the first words that come to mind", began the bride when I asked her about their theme. "We wanted something different, while still appealing to older family members and those who expected a more traditional wedding. Most of our friends have been married in the woods, in fields, in barns, so this was expected for their inner circle, but their families were blown away by the whole weekend affair."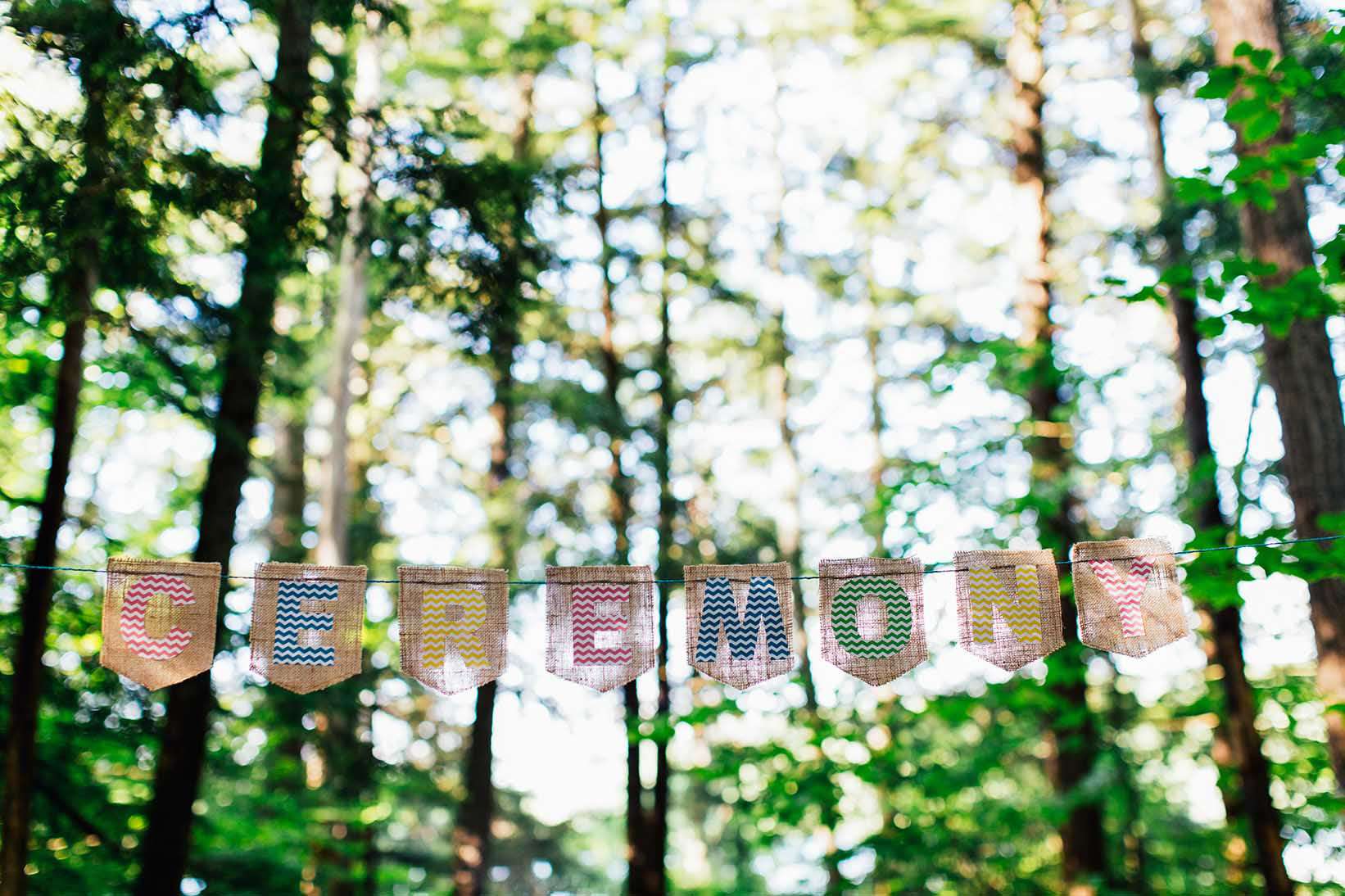 "As a writer, I wrote the ceremony, which consisted of quotes from Harry Potter and Hugo's Les Miserables. For their vows, we took turns reading from the children's book, I Like You by Sandol Stoddard, a book which I had given Jason several years ago."
The couple really wanted to put themselves into their wedding, with nods to all their favourite things throughout the weekend.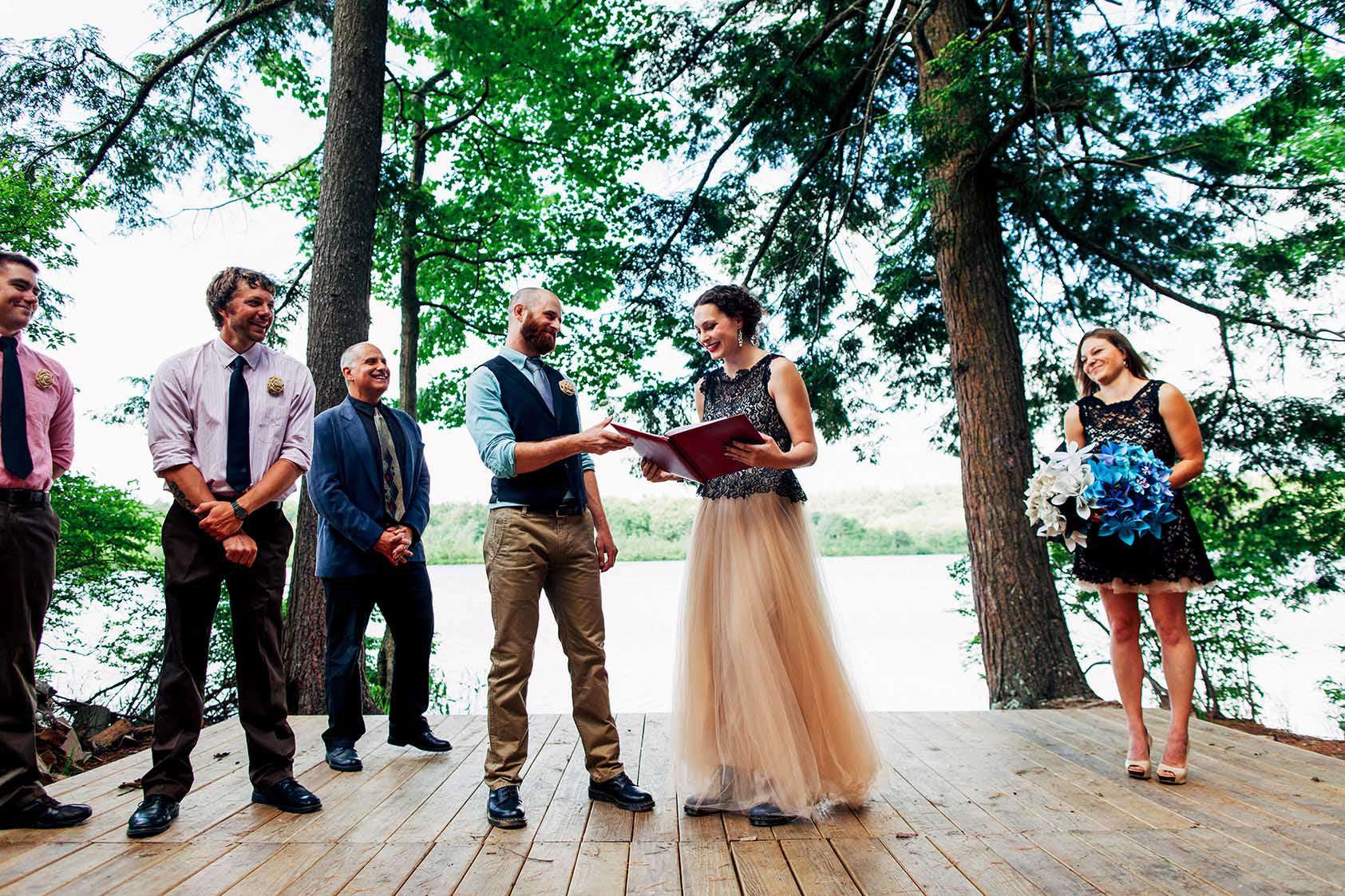 "On Friday, after the rehearsal dinner, there was a 'Magic: The Gathering' tournament while other guests played Cards Against Humanity", she continued. "On the Saturday morning, my sister, Caitlin, led a fitness class and Emily, one of the bridesmaids, taught a yoga class. Later that morning, Jason, his groomsmen, and some of his male friends played Kubb, also known as Viking Chess, using a version of the game made by Jason and his father-in-law."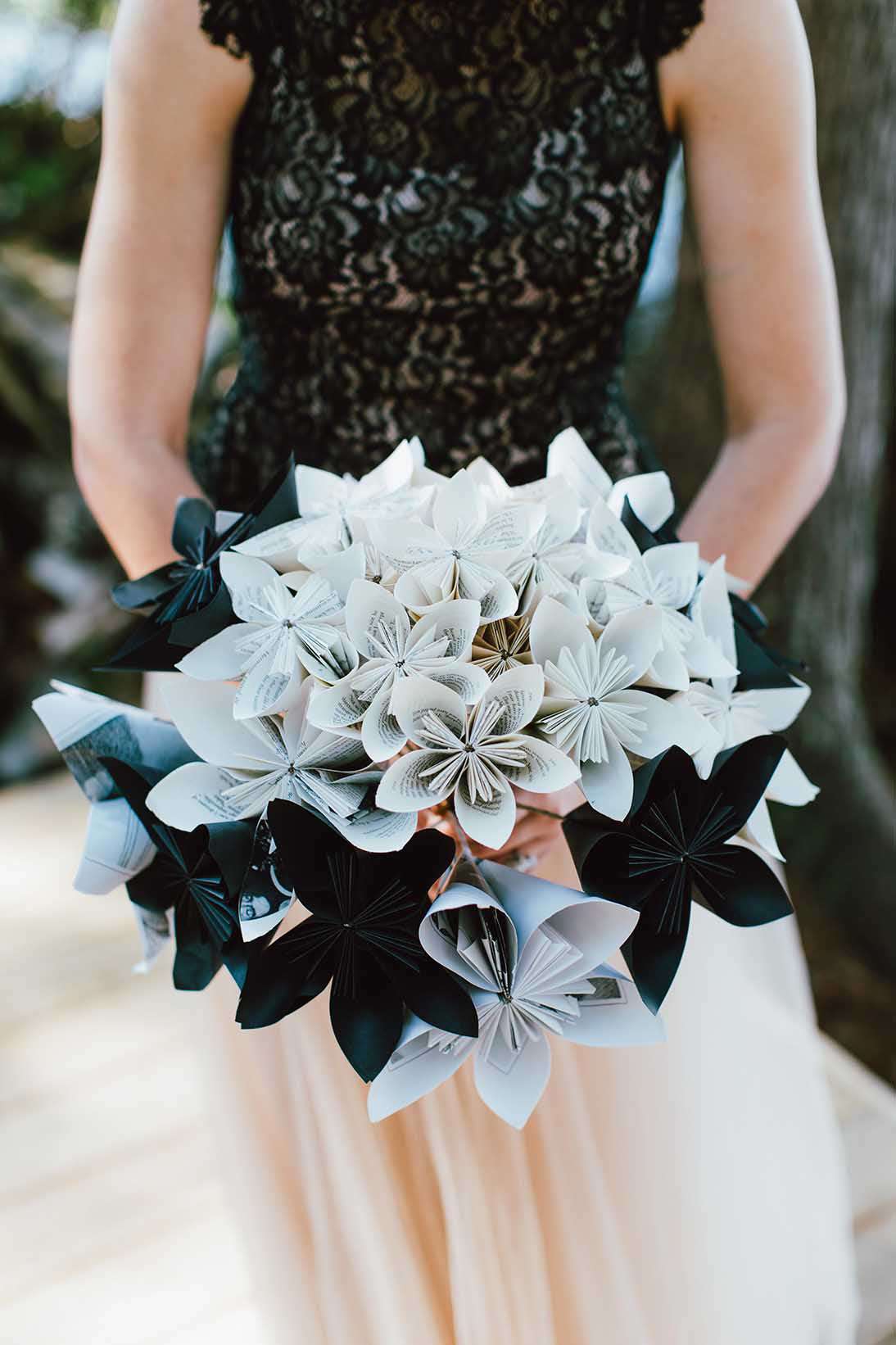 "The origami aspect is the most unique part of the wedding", she said. "I spent over one hundred hours crafting the cranes and the flowers for the bouquets. We were looking for cheap and unique decorations, and we found a picture on Pinterest of paper cranes. Every night, after a long day of work, I would make dozens of paper cranes while we watched Project Runway or Top Gear. Jason was put in charge of figuring out how to string them up (he ended up using simple yarn and paper clips)."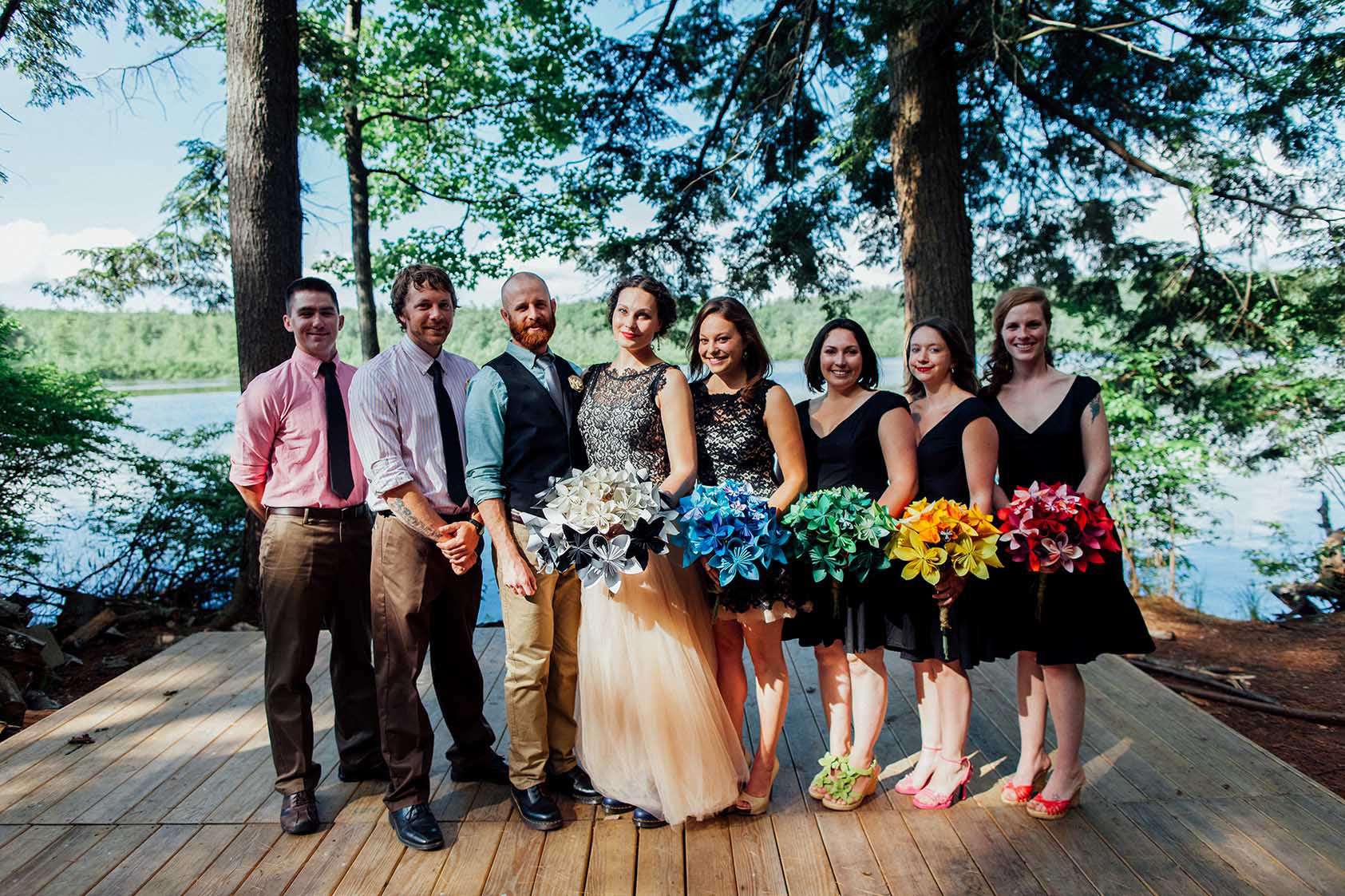 "The bouquets were the most labor intensive. For the bridesmaid's bouquets, I picked a color for each girl and then folded flowers of different shades and tones (and sizes) of that color to give it multi-dimensional feel. For my bouquet, I wanted to pay homage to my love of books. I am a bibliophile, writer of YA fantasy novels, and an English teacher after all! I took poems by Thoreau, because he often wrote about New Hampshire; Harry Potter, as the we both love of it; and Joseph Campbell's The Power of Myth; among other books. I then used large black flowers around the outside to give it a cohesive black-and-white feel."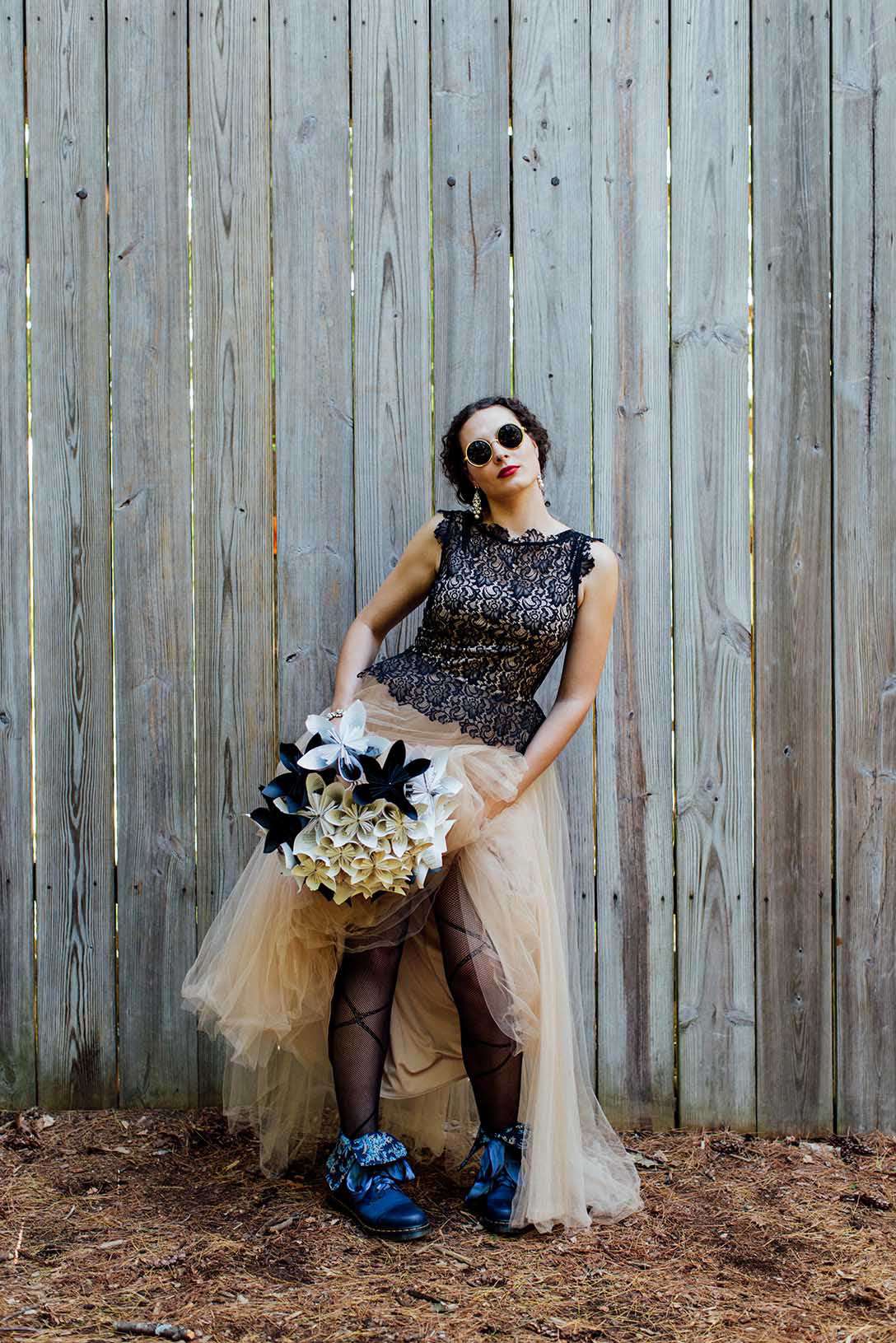 "While most of the budget went towards the venue and food, I saved money by renting my dress and jewellery though Rent the Runway!" she explained. "The dress cost me $175 to rent and would have been $1595 to buy! This helped to save on costs while still having my dream look (what's the point in shoving your dress in a bag, throwing it in a closet? To get drunk in your midlife and try to put it on again? No, thank you. I'll stick with memories, please). With it I wore Dr Marten boots. Both Jason and I had always wanted a pair of Dr. Martens when we were teens in the alternative 90s scene, but neither of us could afford them.  As adults, this is what we wanted to wear for their wedding.!"