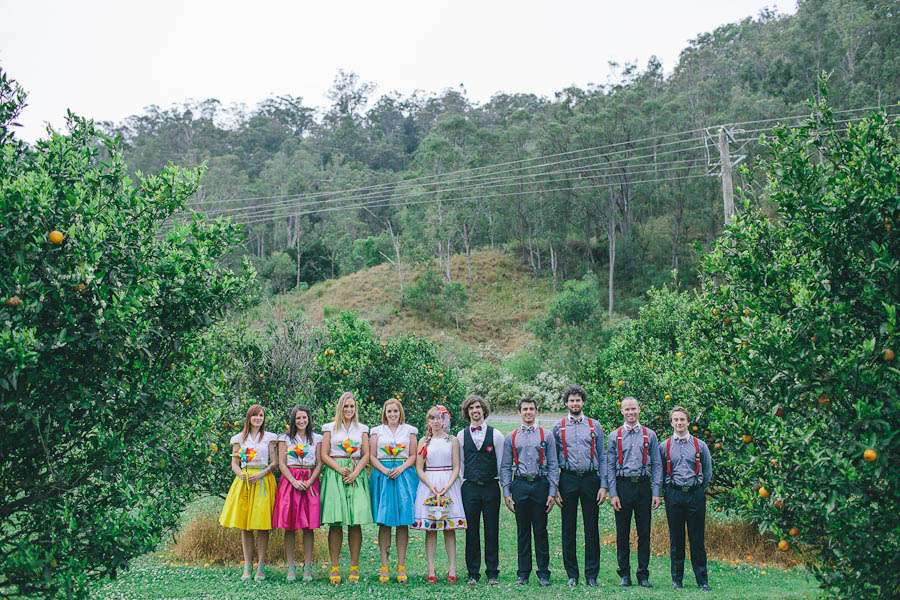 Oh rainbow weddings, how I adore you. To me, there's nothing more exciting than getting a wedding just like Brianna & Alex's in my inbox on a drizzly November morning. Talk about brightening up my whole week!
The outdoor location is like a dream, and one that this gorgeous pair completely decorated themselves. They literally hand made everything – all the decor, the paper flowers and even the bride's and bridesmaid's dresses! Everything just works so well. The wedding was held at Canungra Valley Vineyards in Brisbane, Australia.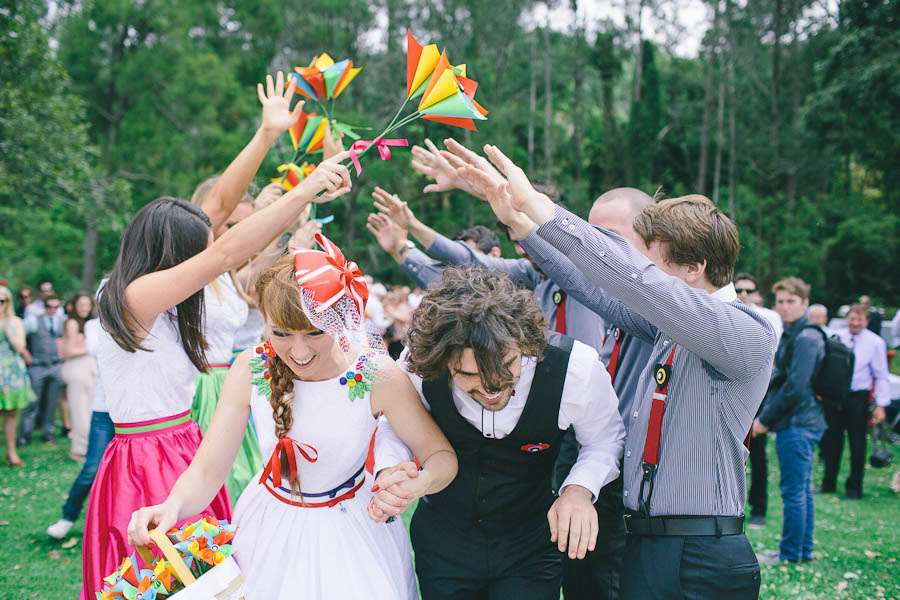 "We really thought about the kind of atmosphere we wanted to create", Brianna explained. "We were expecting about 170 people so we knew it had to be a big space. We wanted everyone to mingle and to have activities for people to do so that they were entertained. The atmosphere had to ooze colour, love and creativity. Lots of fun was essential and lots of room to move. Most of the decorations were made us and our wedding party. We had a very long 'crafternoon' full of making paper things! The bride and groom picnic chair covers were made by my mum as was the bride and groom picnic rug. She's a very talented lady!"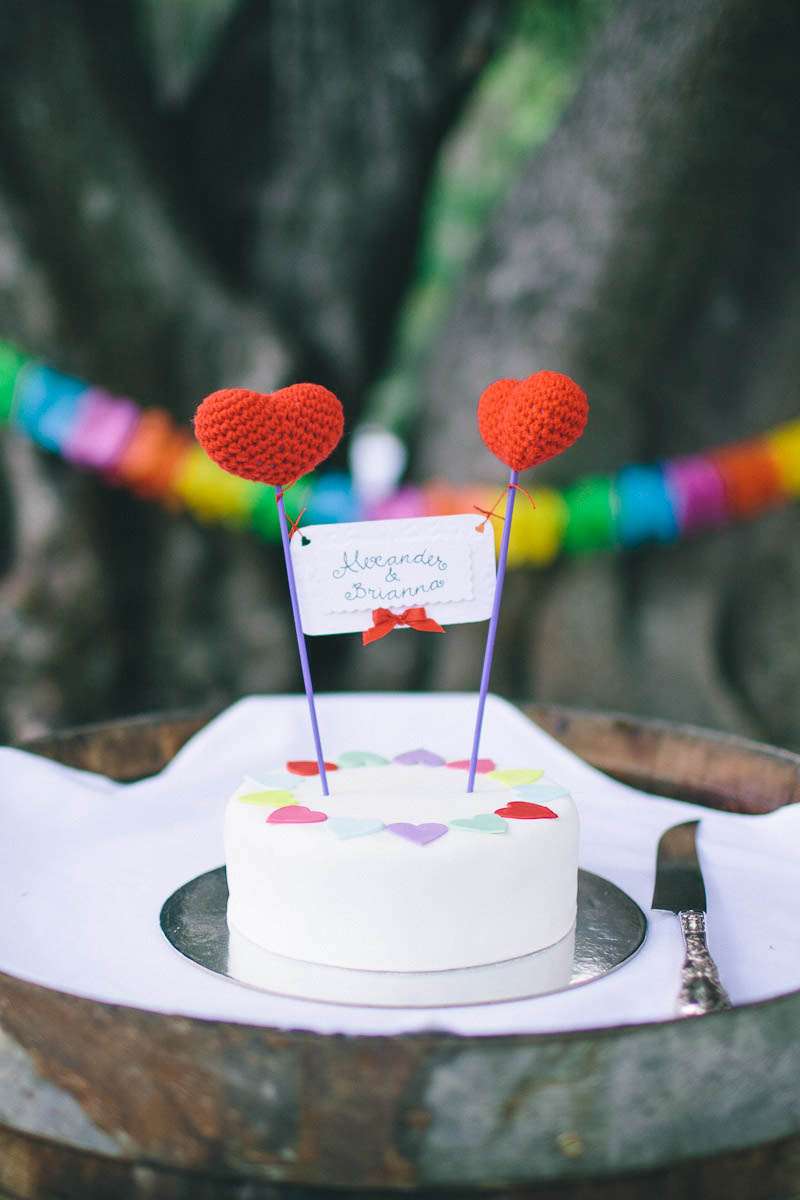 As entertainment the couple laid on plenty of activities and games for their guests to enjoy. "It was such an interactive day. We had board games and lawn games that everyone got super involved with", Brianna explained. "By the end of the day everyone was up and throwing something around. So much fun. We loved how social it was as there was no set tables – just people with their picnic rugs chilling out listening to great tunes and then getting up and sweaty."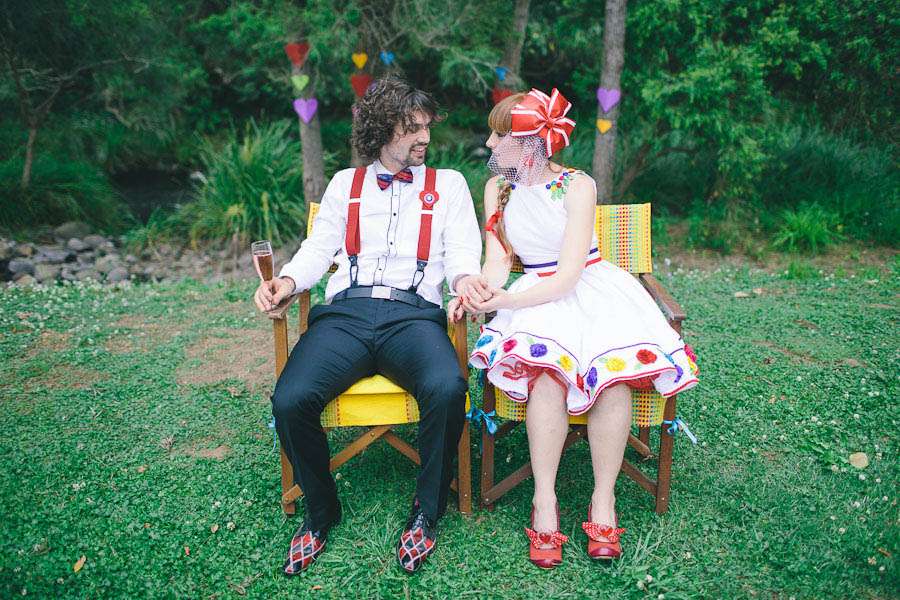 I am literally in love with everything in this wedding. The bridesmaids look aaaahmazing, as do the groomsmen… and of course the bride & groom themselves are totally stunning! Thank you to Brianna & Alex and their fantastic wedding photographer Shane Shepard for sharing with us today.
Supporting Cast
Photography Credit: Shane Shepard Photography
Venue: Canungra Valley Vineyards
Bride's Dress: DIY
Bride's Shoes: Irregular Choice
Bride's Headpiece: Kitten D'amour
Groom's Outfit: Roger David and ASOS
Bridesmaid's Dresses: DIY
Bridesmaid's Paper Bouquets: DIY
Cake: Cupcake Parlour
Flowers: DIY
Make Up: Cathy Mason
Stationery: DIY
Transport: Get Hummered