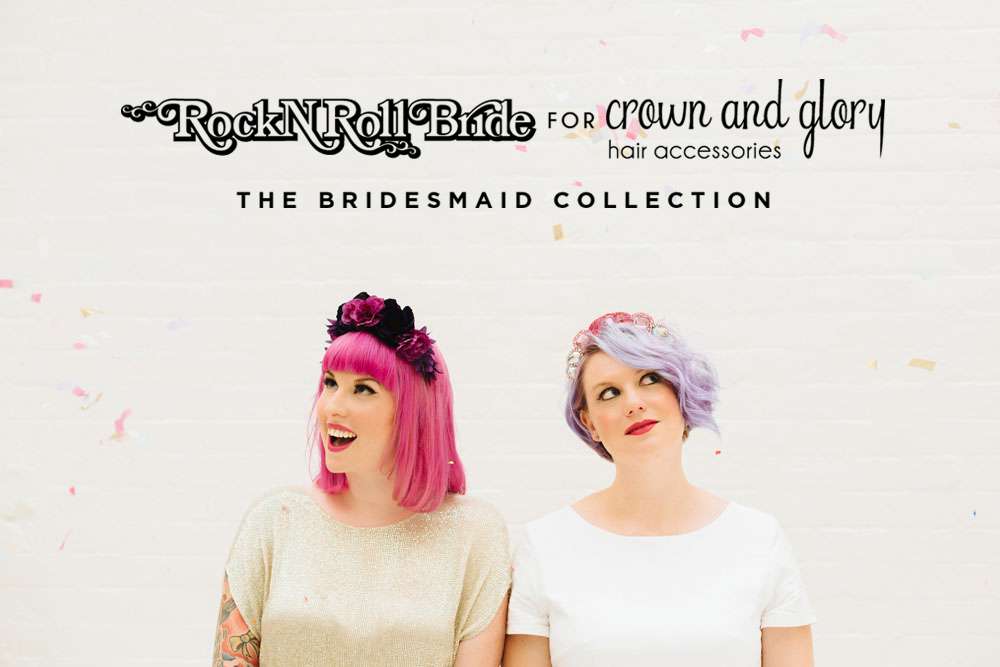 Rainbow loving babes, stop what you are doing! The day has finally come, my brand new collection with Crown and Glory is ready for you to get your glittery paws on!
When Sophie and I sat down to brainstorm the new designs, we came up with the idea of a collection specifically aimed at bridesmaids. While that's not to say brides can't wear these (or you can't wear them every day – I have been!) we noticed there was a distinct lack of super cool, colourful and affordable accessories specifically for bridesmaids… so we decided to do something about it!
Glitter and rainbows are my idea of heaven, so this is where we started. I wanted everything to either be bright, or glittery… or both! In all honestly, I just wanted to design pieces that I'd wear myself.
As we were aiming this collection firmly in the direction of bridesmaids, it was also important that they fit both the cute little ones as well as adults. So whether you want these for your flowergirls or your best babes, we've got you covered. The headbands will fit nearly everyone and most of the pieces can be adapted with ribbons instead of metal bands if you prefer.
Each item can also be completely customised, so if you wanted something in a different colour, we'll try our very best to create you something truly unique!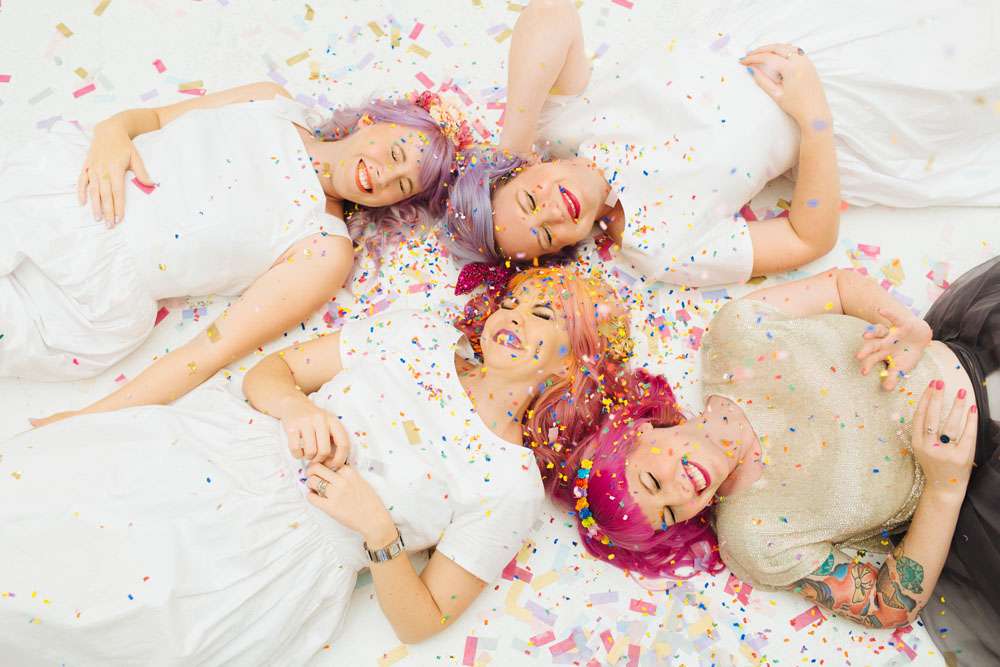 These pieces are not for the shy, retiring types. They're for babes that like to live out loud… in glorious full colour! If rainbows and sparkles make your heart swell with glee, then prepare to fall in love.
These are for the girls with a bold sense of style. They're for ladies with punk in their hearts who leave a trail of glitter as they strut down the street. They're for babes who wear bright lipstick and sequins on a daily basis.
If you believe in the mantra "Why blend in when you were born to stand out", then gather your best girls and get in line, because you're going to seriously covet what we have in store!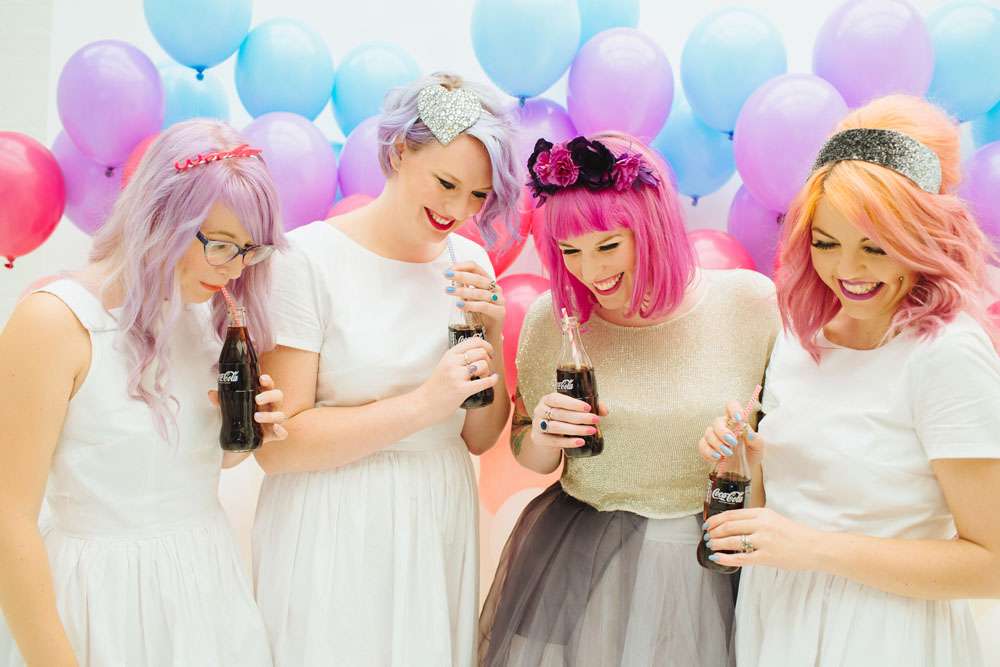 Want to see what went on behind the scenes of this shoot before we crack on? Oh go on then…
Liberace ears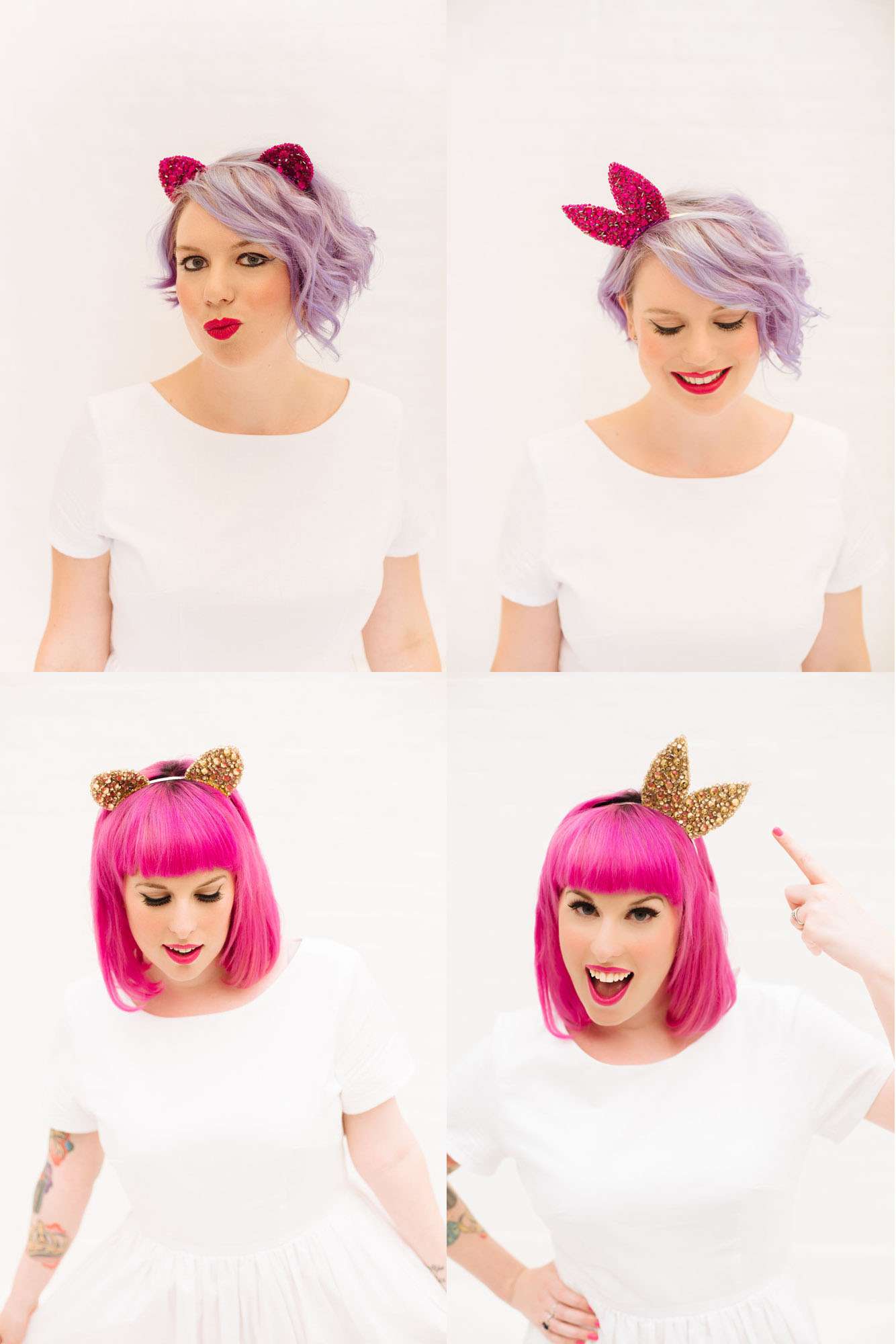 The runaway success from last year's collection has definitely got to be the Liberace ears. We originally planned for them to be a limited run, but they were SO DAMN POPULAR that we extended their release. Now we're adding new colours to the range!
In addition to the original silver and black line up, you can now get kitty or bunny ears encrusted with the sparkliest, hot fuchsia pink or glorious gold gems, backed with glitter.
Both styles and colours cost £30 and I guarantee you'll be looking for excuses to wear yours every single day.
Liberace hearts
Not content with just having ears, we decided to add some heart designs to the Liberace arsenal. Oh my goodness, I am so infatuated with these and I have a sneaking suspicion you will be too.
These hearts are CUTE AS HELL and would look completely adorable on your babes as they saunter down that aisle.
Available in silver, black, gold or pink, you can either have it attached to a headband…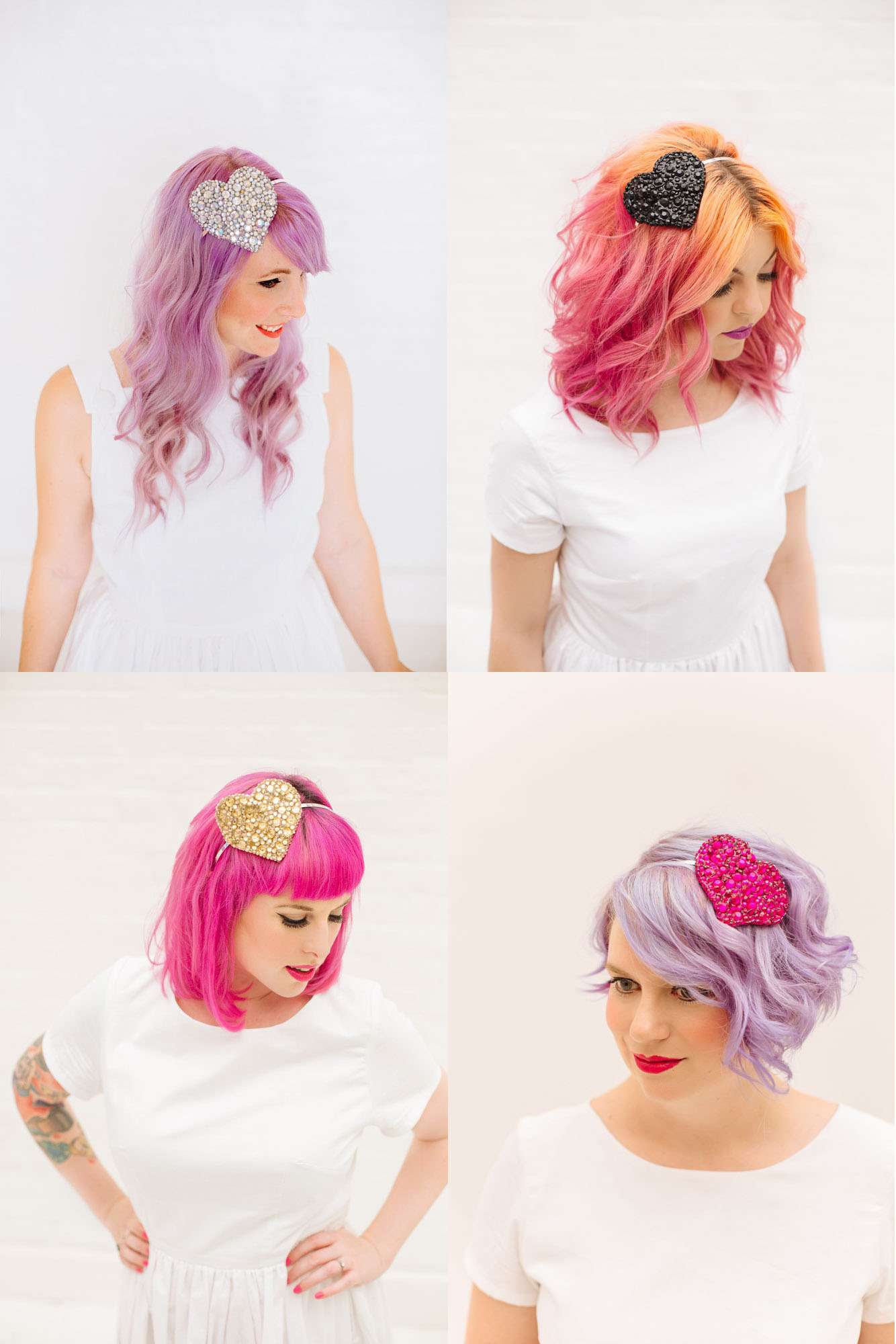 …Or with both an alligator and a brooch back attachment so you can wear it amongst your tresses or pinned to anything you like! (How about on the stem of your bouquet? That would look adorable!)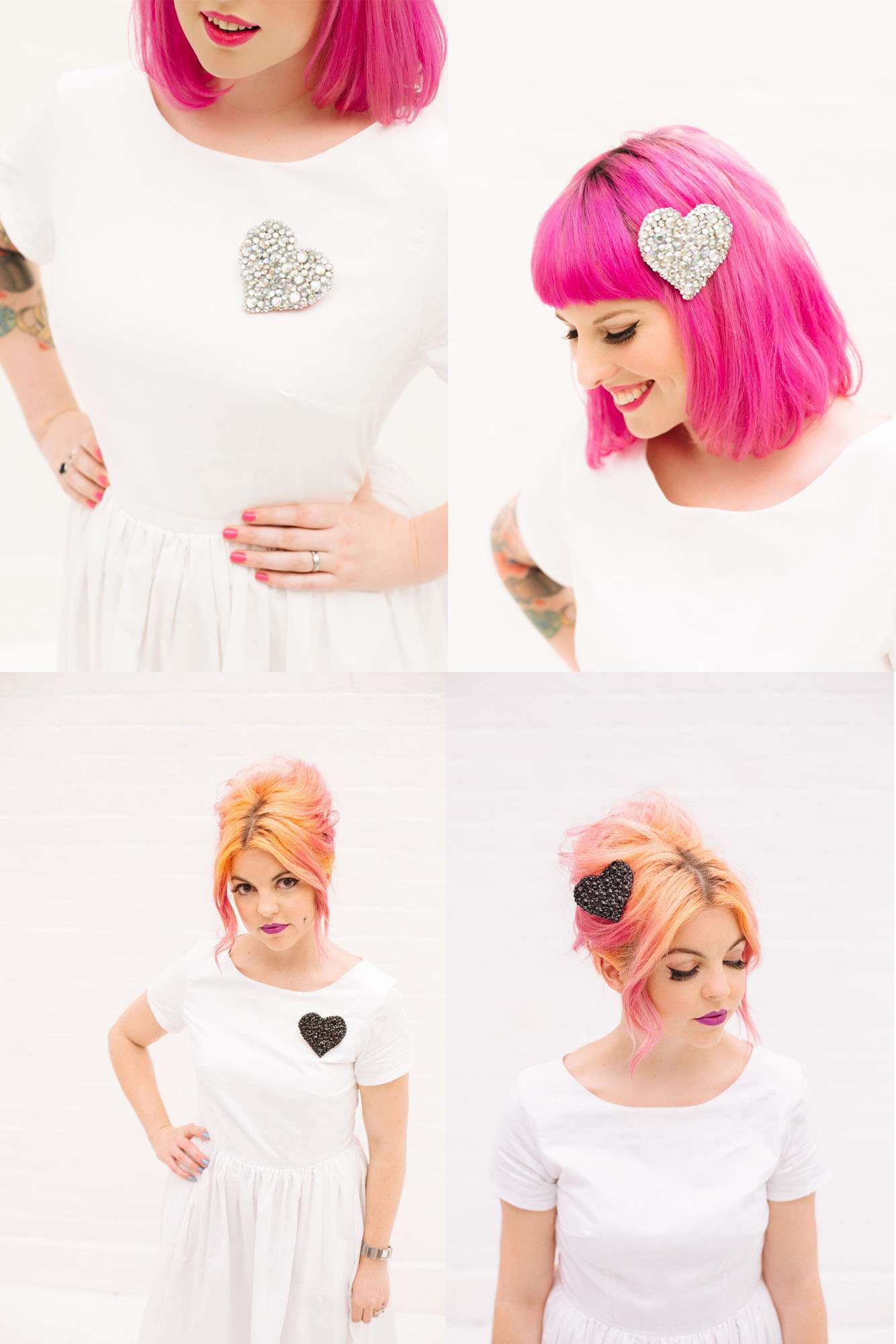 The headbands cost £20 and the clips are just £15 each.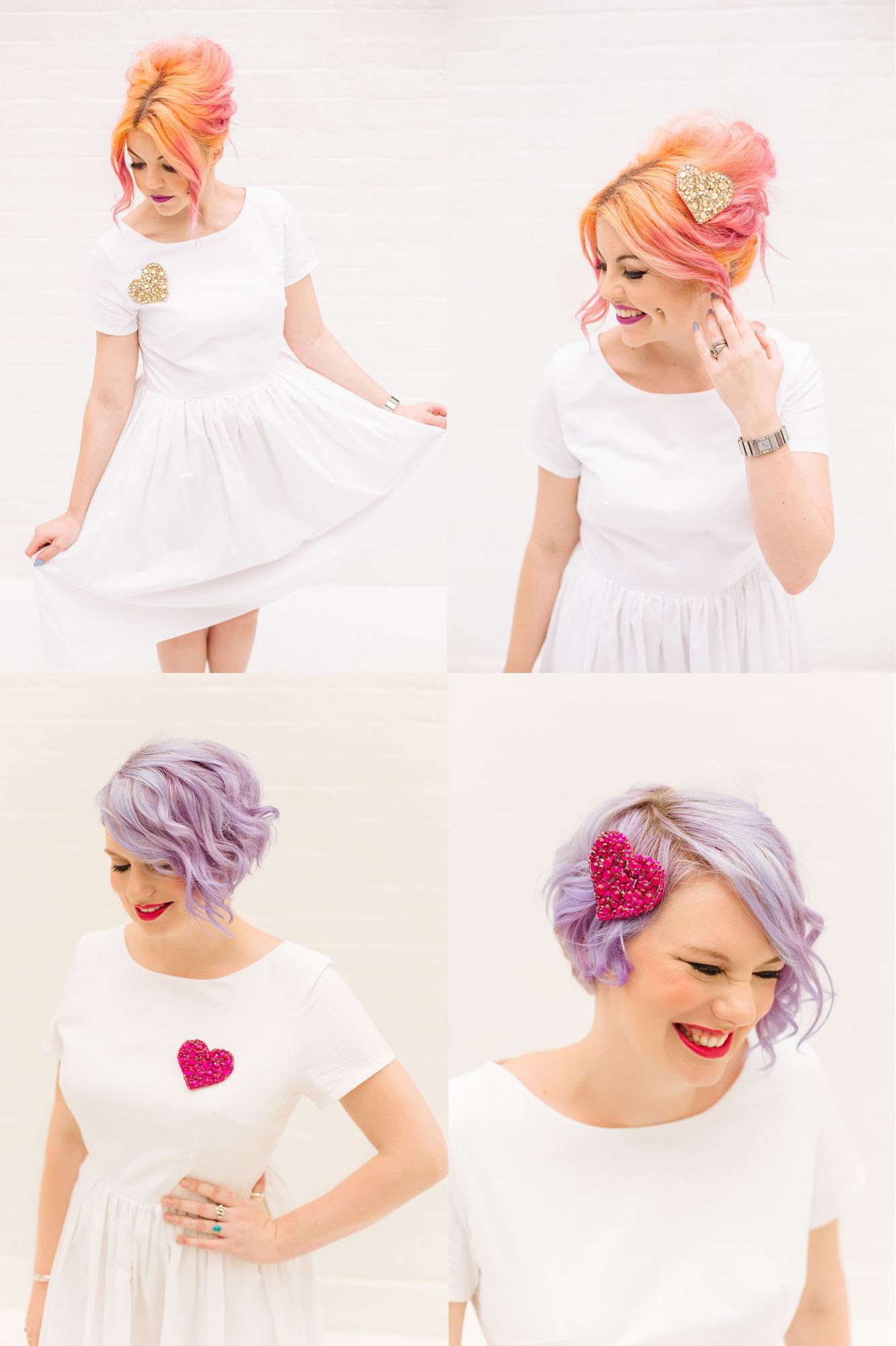 Liberace belts
I am SO excited about these belts! I can't claim these to be my idea, because it was all Sophie who came up them, but I'm thrilled beyond belief to be adding them to my range.
If you or your bridesmaids are wearing plainer dresses, why not bling them the hell up with these freakin' awesome sparkly belts? Each one is handmade from over 750 individual gems and backed with vegan leather for a comfy and easy to wear piece of glitzy awesomeness.
They come in either all-gold, all-silver, pink and silver or black and silver. I love, love, love these times a million.
Each belt costs £50 and one size fits most. Items are made to order so if you require a specific length, please get in touch! There is no extra charge for this service.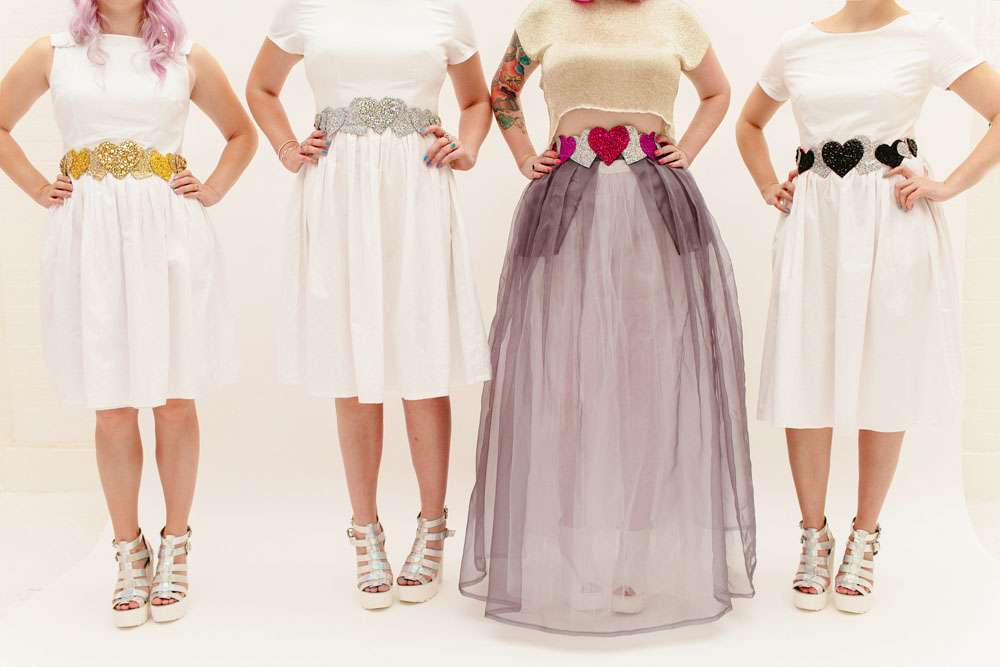 Shella flower crowns
My adoration for flower crowns has been well documented, so clearly I needed to add some more to my collection.
The Shella crowns consist of sumptuous silk anemones, peonies, dahlias, carnations and cherry blossoms in various shades and are super easy to wear. They cost £30 apiece and are available in either purple, pink or black.
GET ON MY HEAD IMMEDIATELY.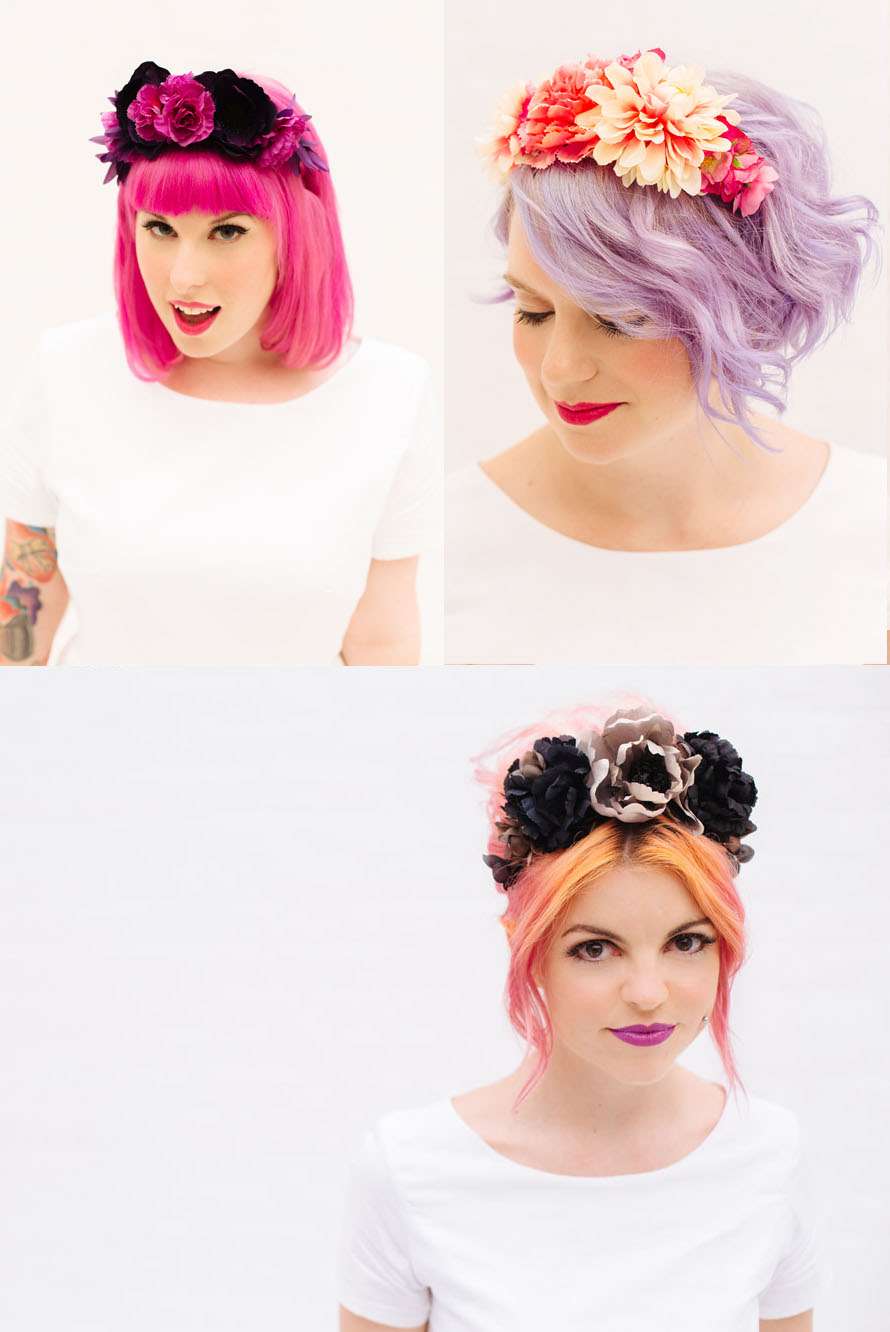 Shella flower clips
If clips are more your bag, or you want your bridesmaids in something smaller while YOU rock the epic flower crown, each colour option is also available as a clip.
They come with both an alligator clip and a brooch back attachment so they can be worn either in the hair or clipped to anything you like. If these tickle your fancy, they're yours for a measly £12!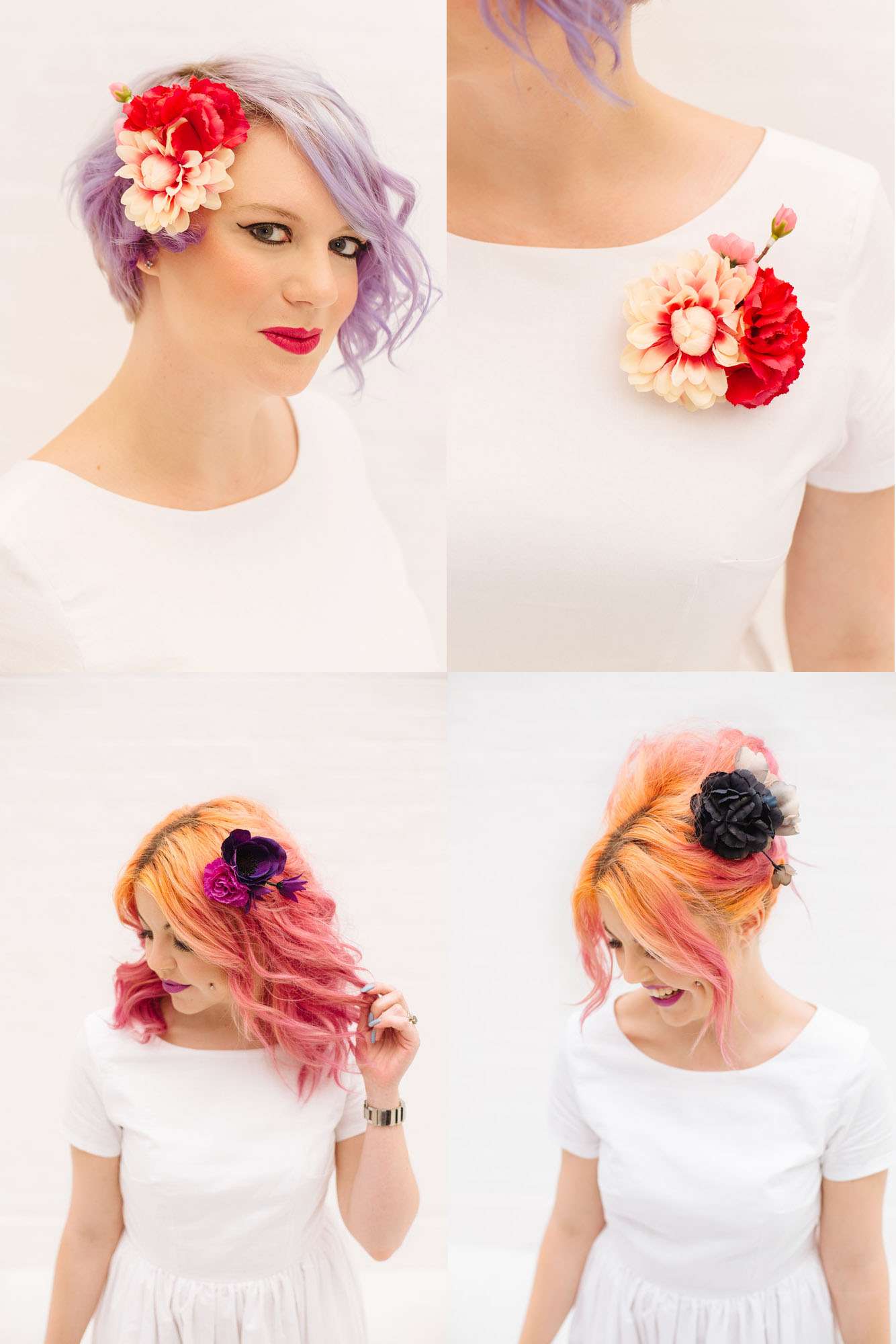 Gala bows
The Gala bows were another one of your favourites from last year's collection so we've added a brand new colour, purple-lilac ombrè. It's available in both huge and medium sizes and cost £30 and £20 respectively.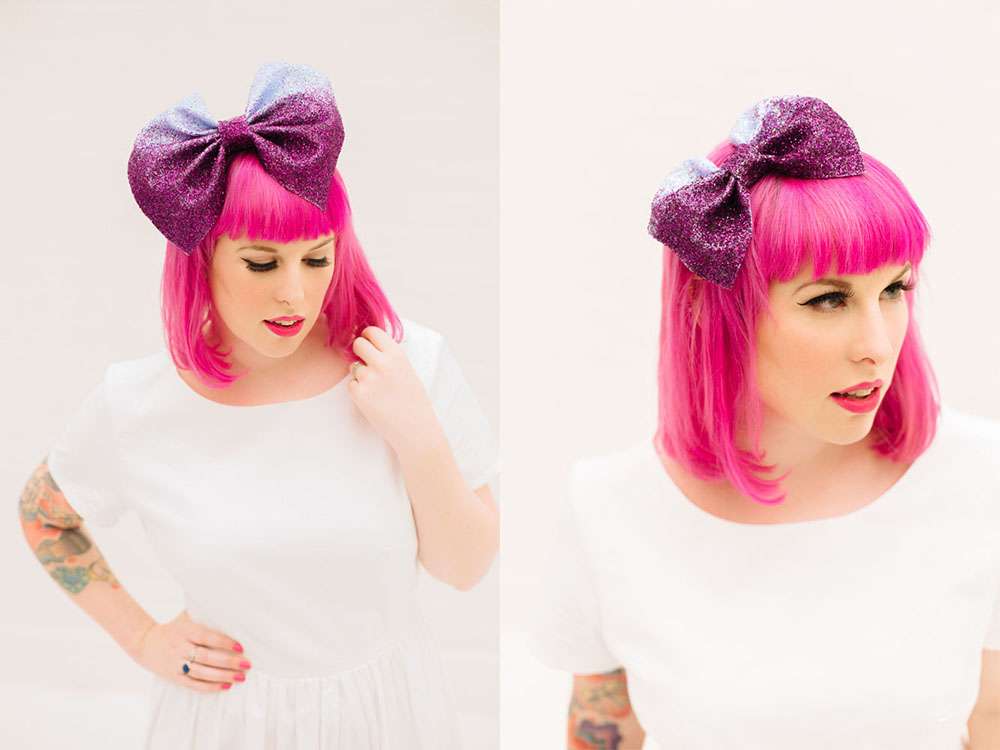 Gala headbands
I didn't think I'd ever find something I loved more than glitter… and then Sophie introduced me to ombrè glitter! You guys clearly felt the same (seeing so many of you walking down the aisle in the bows was a magical feeling) so I was keen to expand the Gala range this year.
First off, we came up with this thick headband. I think it would look perfect on you 60s loving bouffant rocking girls! The headbands come in either pink, black, turquoise or purple and cost £20.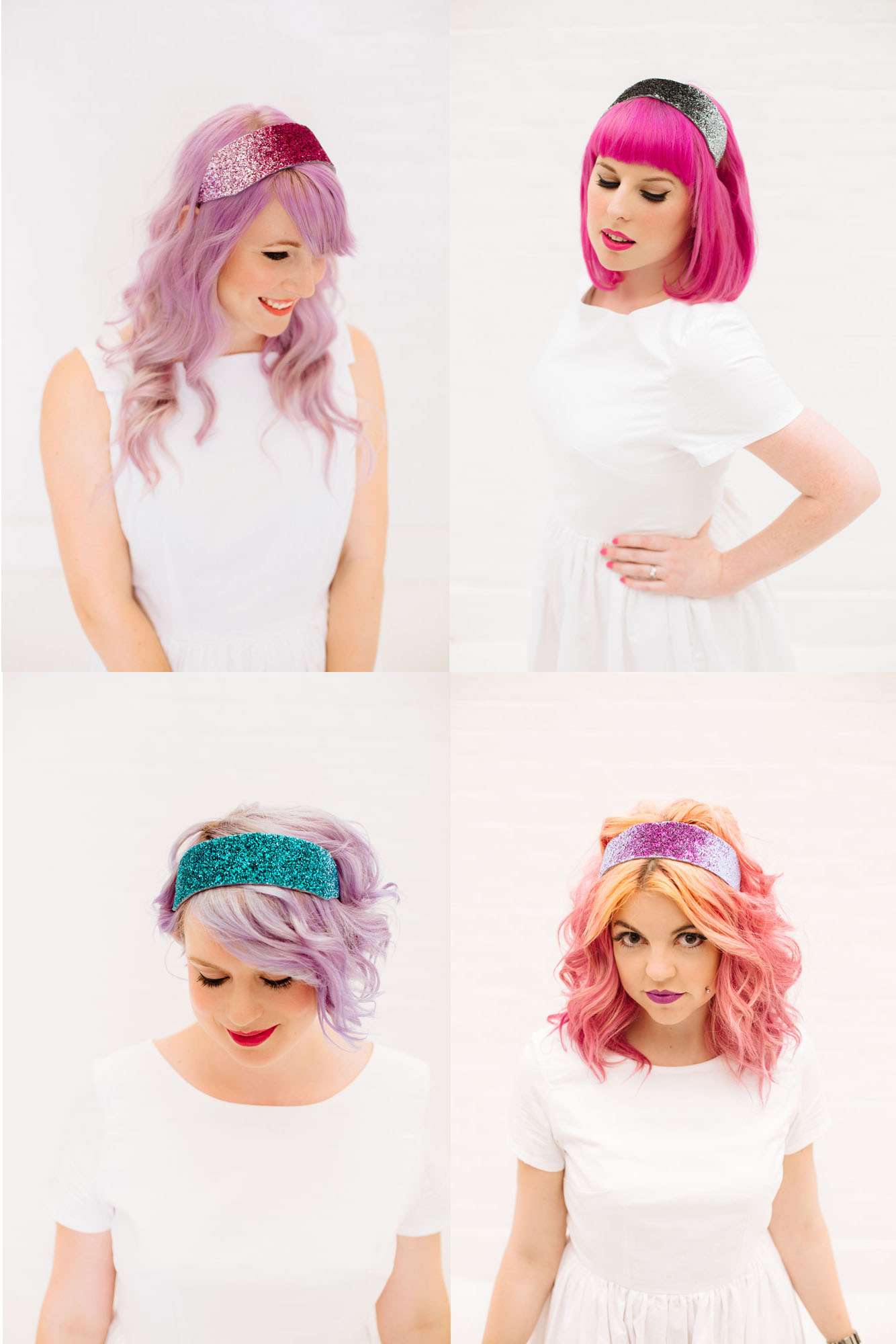 Gala cuffs
Something else brand new for us is these cuffs! Available in the same colour options as the headbands and priced at £15 each, these would look great on bridesmaids who want a little hint of glitter but not too much.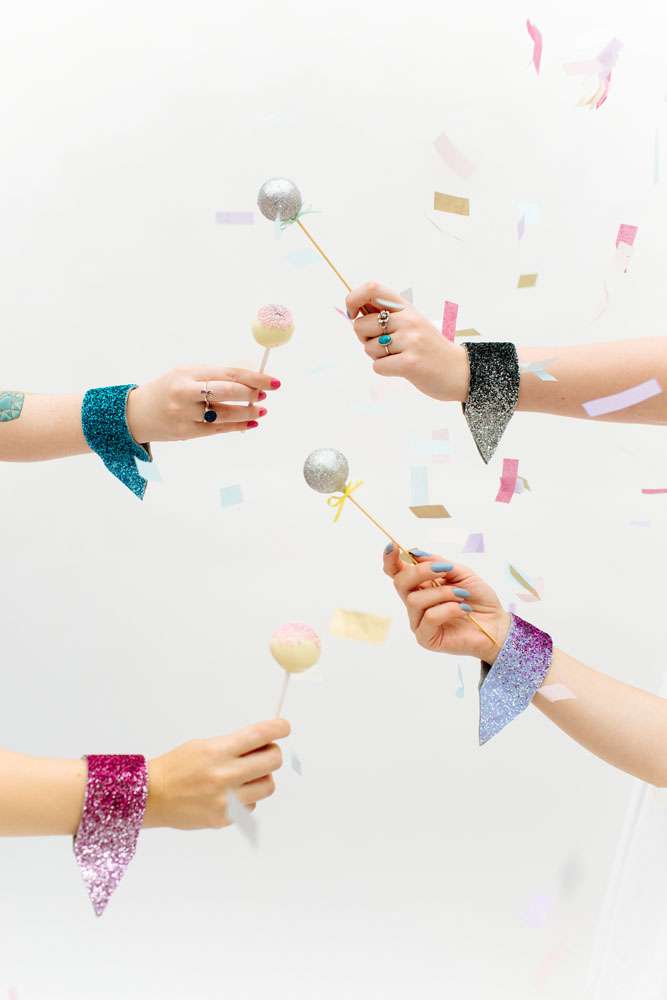 Gala belts
More belts! The Gala belts are a bit wider than the Liberace ones and are totally gorgeous in person. Perfect for defining the waist (and the ombrè is super slimming), these add a serious sparkle injection to any outfit.
Available in black, pink, turquoise and purple, each one is painstakingly ombrèd by hand, backed with hot pink vegan leather and finished with a fully adjustable pink ribbon tie.
These cost £40 each and one size fits most. Items are made to order so if you require a specific length, please get in touch! There is no extra charge for this service.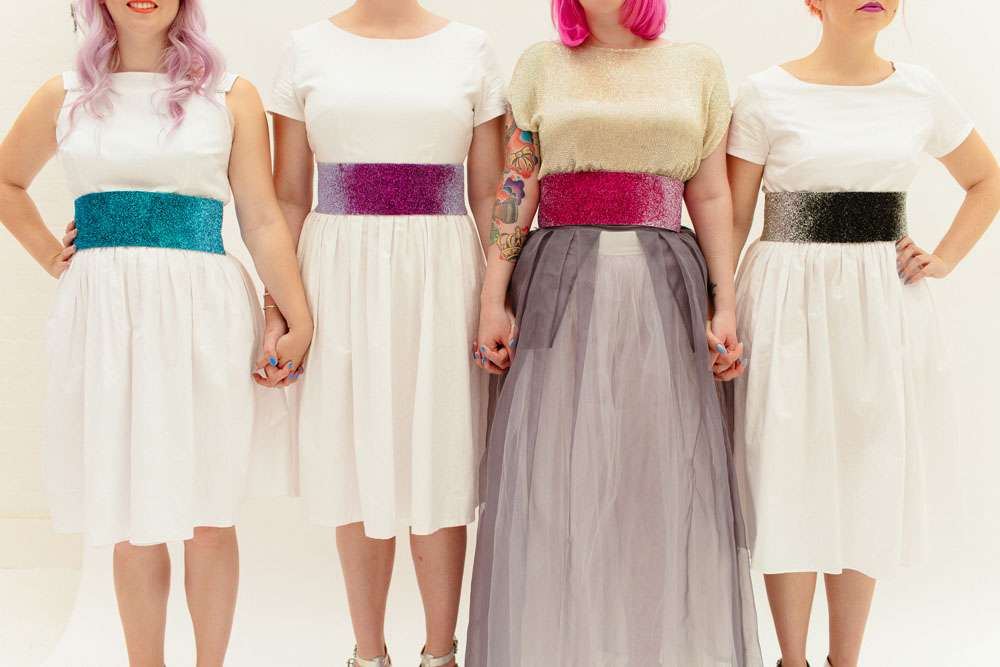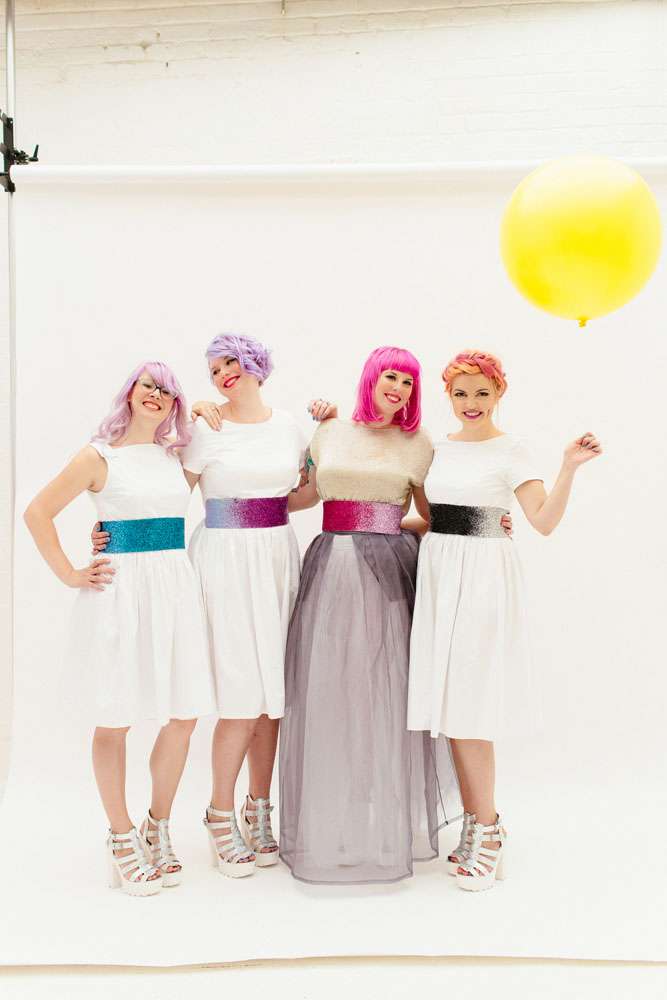 Rachel headbands
I looooved the Rachel ears from last year, but sometimes wearing a pair of ears made of flowers is a little too much (only sometimes!). These mini headbands are perfect for those slightly less brave, but still requiring some rainbow in their lives!
They look just as cute on adults as they do on the kids. Flowergirls up and down the country will be looking seriously adorable wearing these, I guarantee it.
The headband comprises of mulberry paper roses in either rainbow brights or pretty pastels, on a silver alice band and backed with comfortable hot pink ribbon. Just £15 will get you on one these beauties.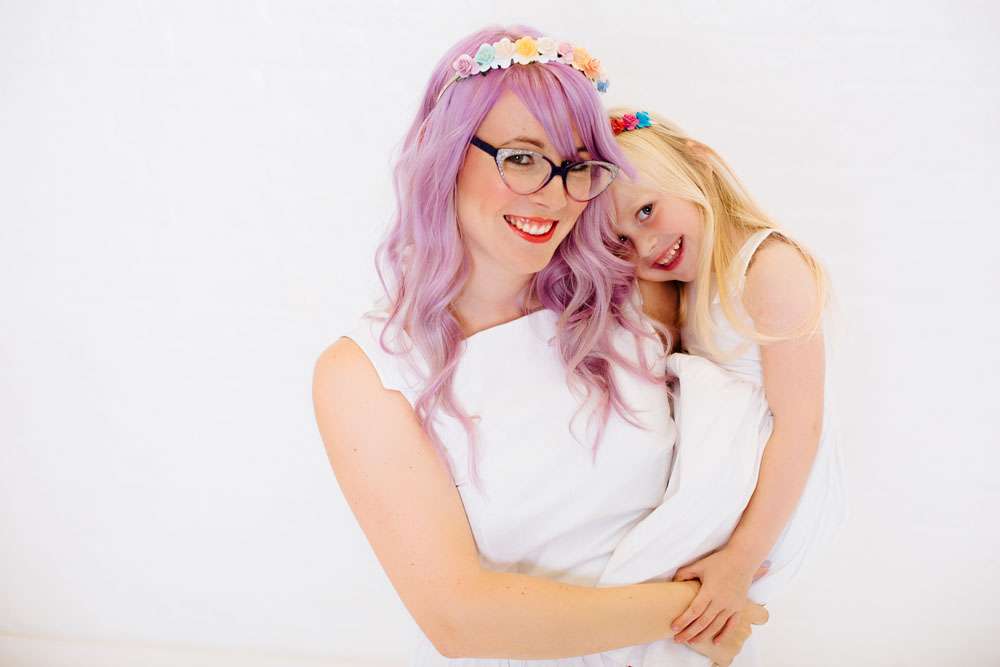 Rachel bobby pins
If you or your bridesmaids are after just a smattering of colour, the Rachel bobby pins will be right up your street. There are so many ways to wear them – pin back unruly fringes, scatter through a milkmaid braid or cascade down a fishtail plait.
Made of assorted mulberry paper roses, they are available in either rainbow brights or pastel shades and are backed with hot pink felt for extra security. Best of all they cost just £8 for a pack of 7!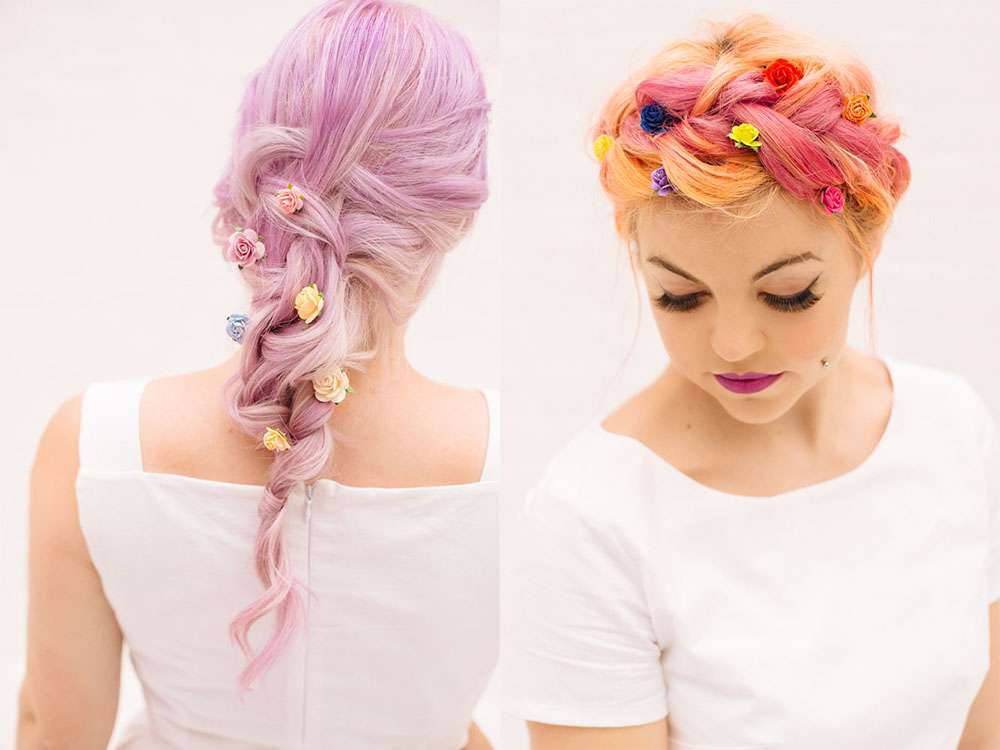 Lisa headbands
You guys went crazy for the Lisa headband, so we decided to do a pastel version too. Perfect for spring brides, I think this would look so beautiful with a short veil coming out the back.
Made of lightweight foam roses in a variety of gorgeous pastel colours, this beauty is £25.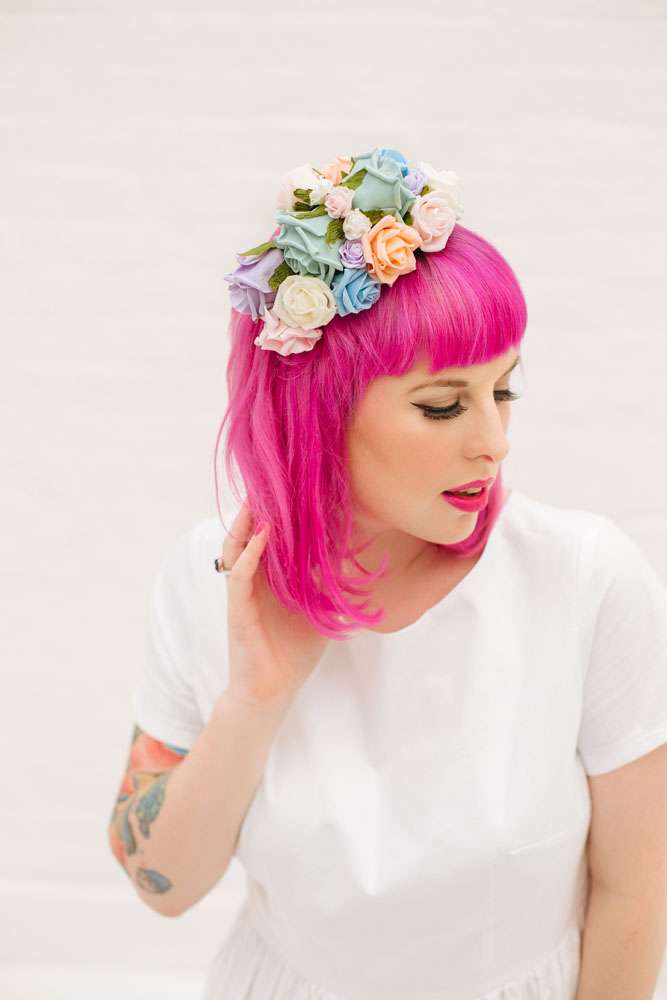 Lisa clips
So, if you're wearing the Lisa headband, how about giving your bridesmaids one of these clips each? They can be worn in the hair or pinned to anything they damn well please. You can nab one, in either rainbow brights or pastels, for £12. What a steal!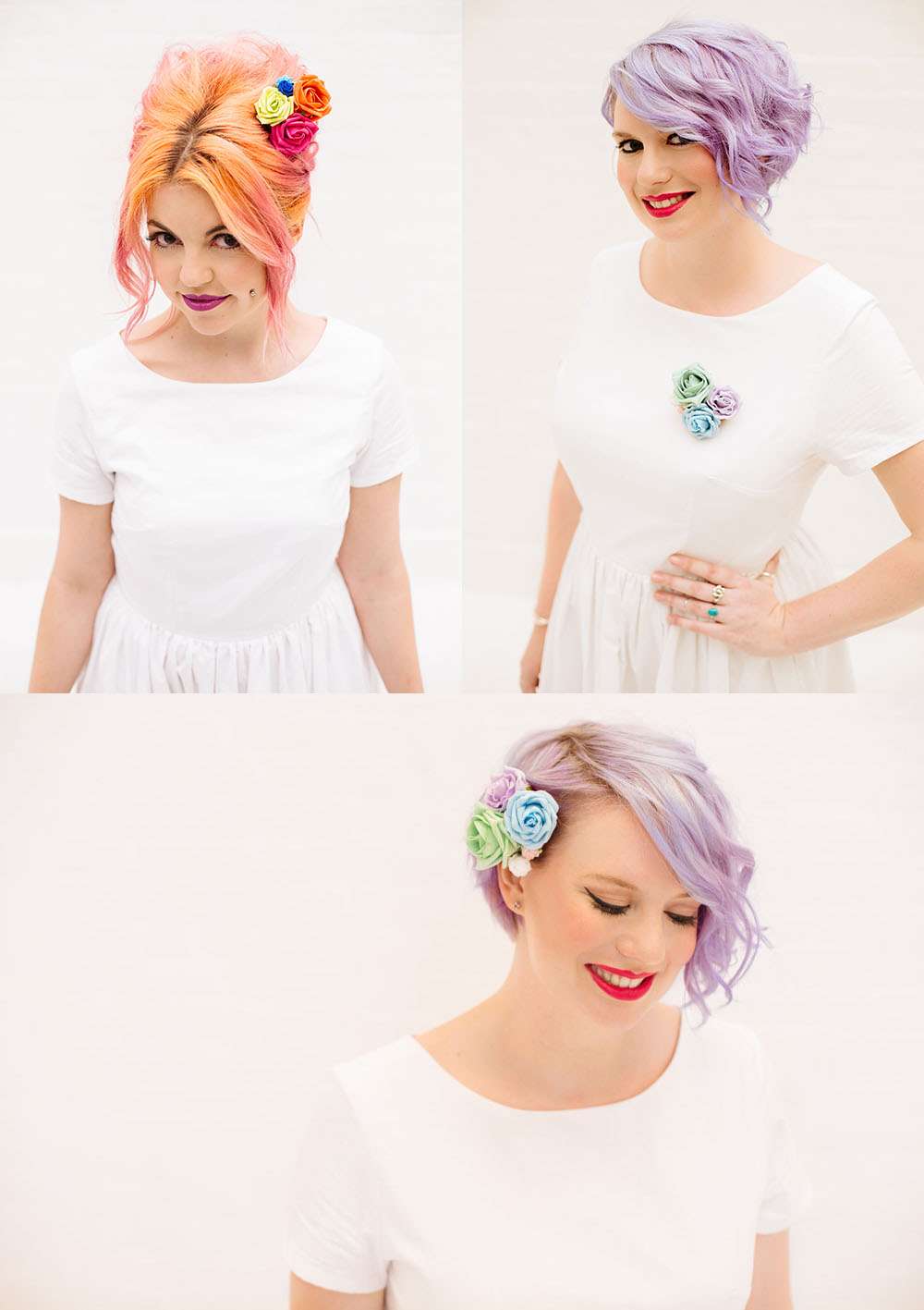 By the way, the pastel and rainbow brights pieces also look really good when mixed and matched together! It just a case of picking your favourites (easier said than done probably)…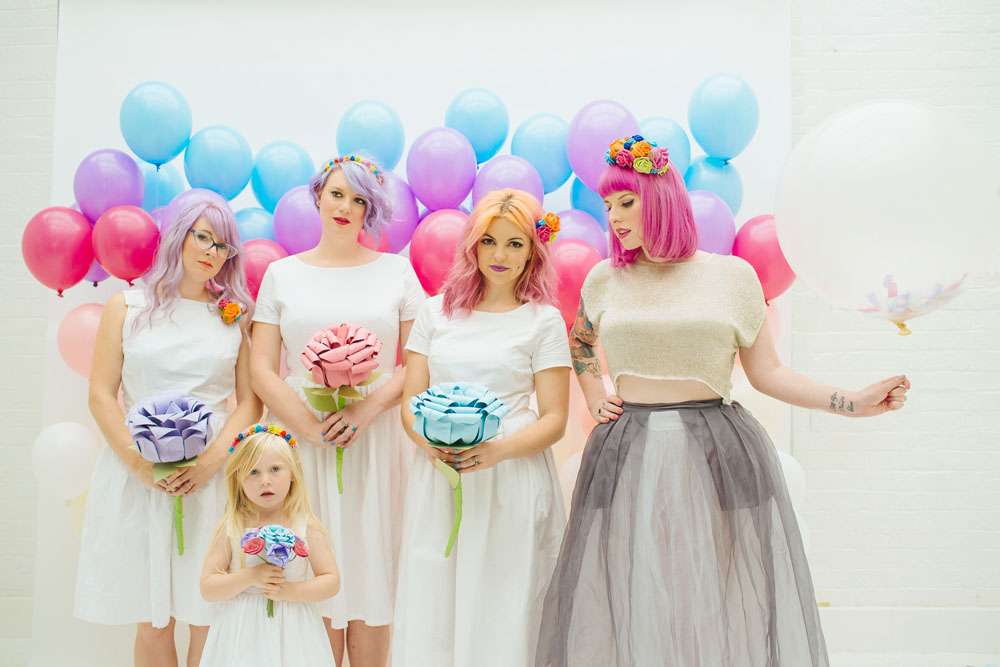 Sophie clips
These clips are the perfect accompaniment to the Sophie crowns from last season. Wear it in your hair, clip it to your lapel, attached it to some ribbon and wear it on your wrist as a corsage… the possibilities with the Sophie clips are endless.
Made of a collection of lightweight foam roses and foliage, they are hand-dipped in silver or gold acrylic and generously sprinkled with glitter. Each piece comes with both an alligator and a brooch back attachment so you can wear yours any which way you choose.
These are a bargainous £12 each!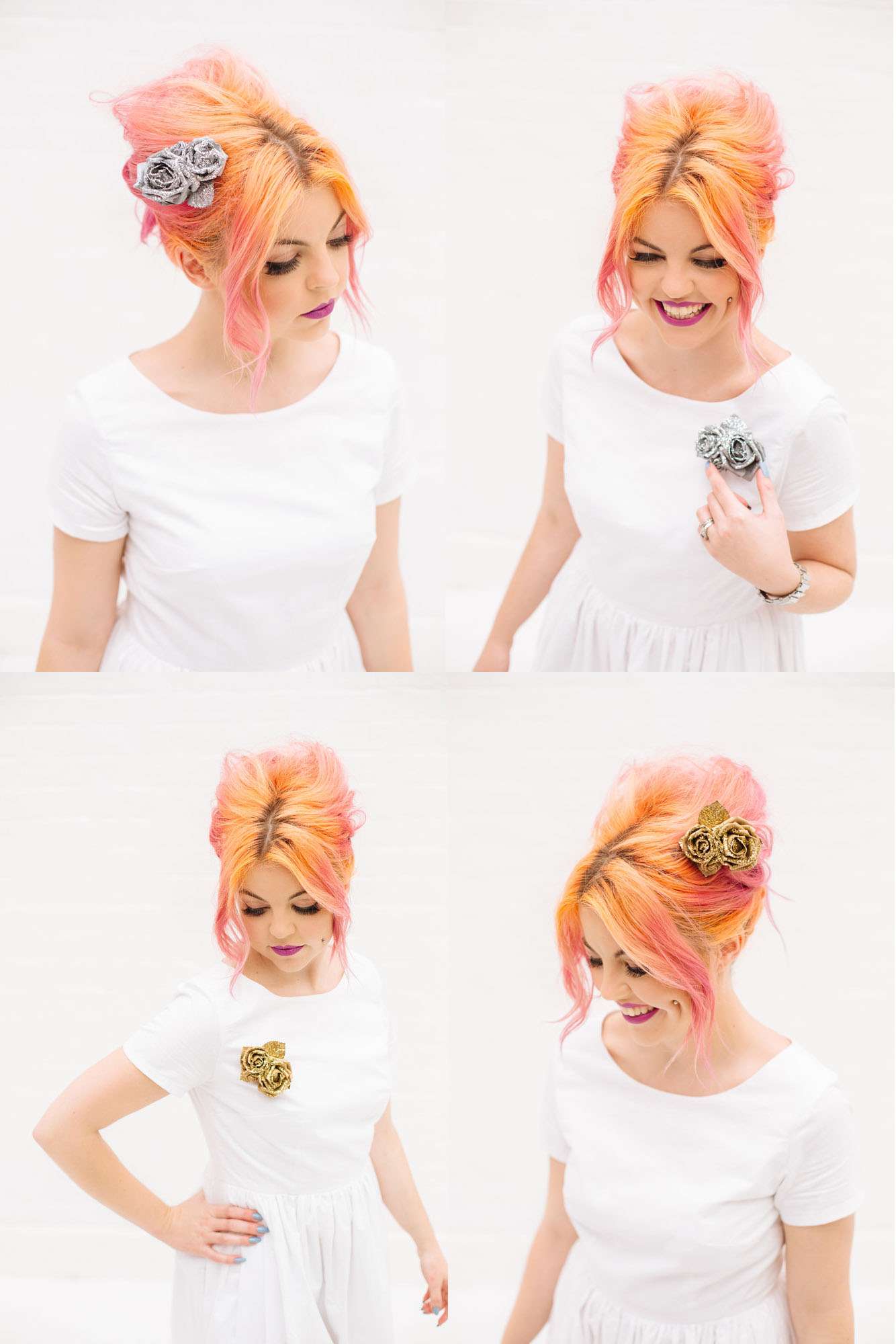 Party headbands
I am SO EXCITED about this! This is something brand spanking new and I have a sneaking suspicion that you're going to love it too.
I dreamt the idea up one evening while I was on the hunt for something new to wear on my noggin, and I thought "Words! Having words on my head would be so cool!" Luckily for me, Sophie is a genius, and she told me she would totally be able to make my dream a glimmering reality.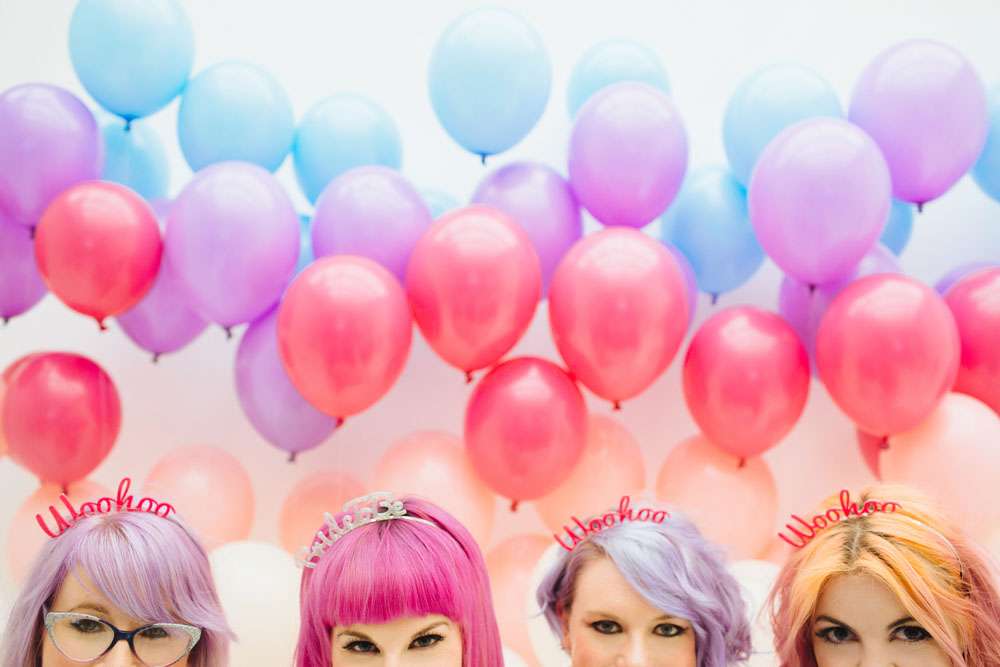 Available in three word options, "Woohoo", "Bride to be" and "Rock n Roll", these shiny hot pink acrylic pieces certainly bring the party to any occasion! Perfect for hen dos, bridal showers or just to make a statement at the supermarket.
PLUS, for a limited time only, buy 4 headbands from the Party range and get 1 free; simply add a note during checkout stating the name of your desired free piece! They cost an amazingly affordable £20 each. Oh and glittery silver versions will be launching in time for Christmas!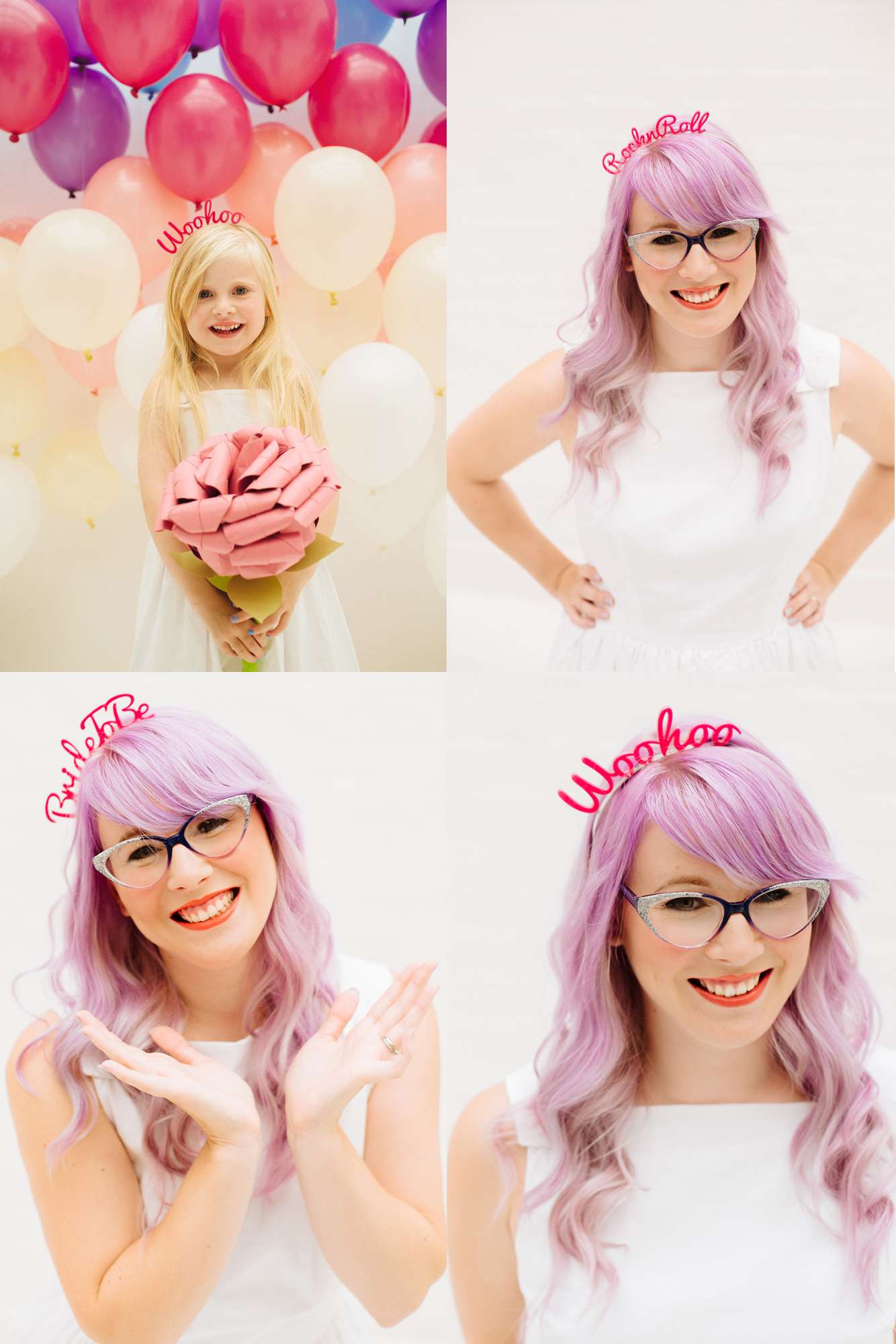 Each of these new head turning works of art have been added to the shop section of my site. To purchase, simply click the item you want and, by the magic of the internet, you'll be transported to the Crown and Glory website where you can shop away to your heart's content.
Each piece will be handmade for you by the Crown and Glory elves and will arrive in beautifully gift wrapped with a branded dust bag or gift box to protect your awesome accessory when it's not being worn.
When you receive your new piece I would be over the moon if you were to Instagram or tweet a picture of you rocking it. Use the hashtag #RockGlory to make sure I see it and I'm sure I'll be featuring some of my favourites on the blog in future.
AND, if you or your bridesmaids end up wearing these on your wedding day (eek!) pleeeease send me the photos. It's been SO EXCITING seeing and featuring reader's weddings where they've worn something I've designed.
Shine bright, you crazy rainbow diamond!