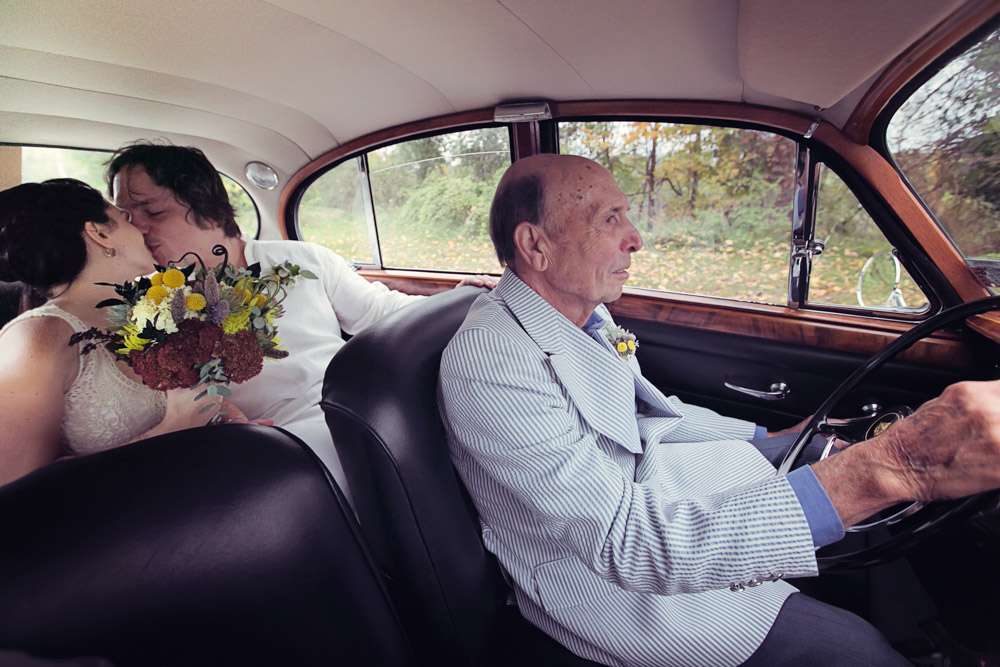 A simple and low-key wedding at home was just the ticket for Katie & Michael, who were married in October last year. The day was held at Katie's parent's house and the entire thing was planned by the couple themselves.
Katie put her own wedding outfit together from an American Eagle cream crochet top, a matching crochet skirt and vintage cowboy boots. Each piece only cost $25 each and were sown together to create a dress by Michael's mother.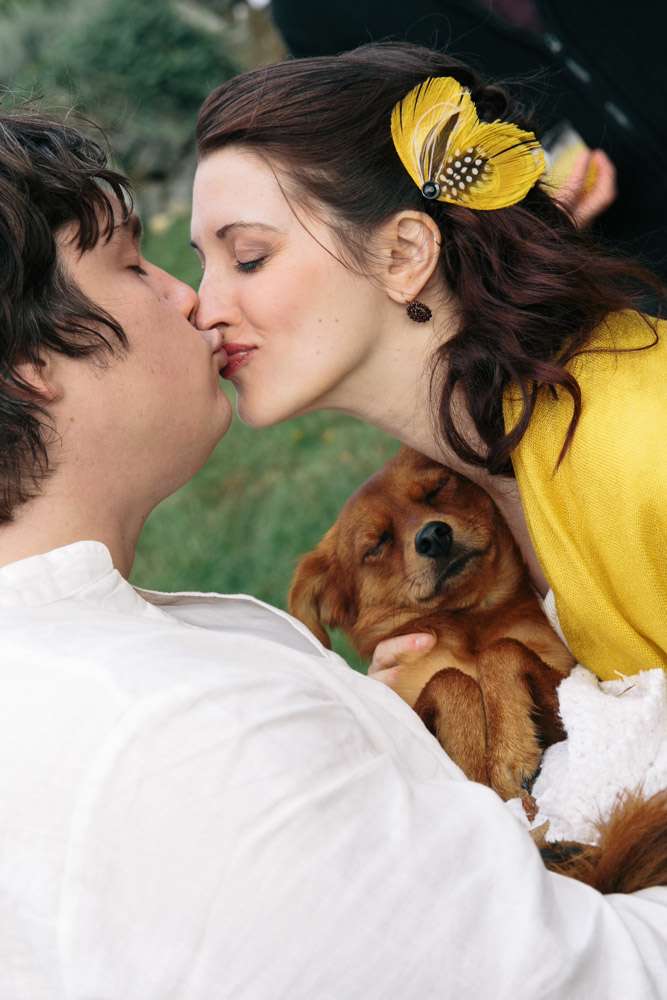 In fact pretty much the whole wedding was a DIY effort. The wedding party picked their own outfits, Katie's grandmother made the cake and the couple designed their own stationery. They picked seasonal wildflowers for decoration and the bride's bouquet and they scoured thrift stores and borrowed from friends for the rest of the décor items. "We begged friends for any and all mason jars", Katie laughed. "Using some rusty wire from my grandfather we turned them into centerpieces with a beautiful rustic feel and wrapped vintage lace around them that I found at a thrift store. We also wrapped about 10 trees in white lights which made the whole backyard glow. Another thing we searched for were nice vintage wood frames. We took a ton of family pictures, some of Mike and I when we were little, some of us as we were awkward teenagers and others of us with our parents or siblings or nephews. Then we added a bunch of together that had been taken throughout the last couple of years. We hung them from twine and had them throughout the dinner tent on the walls and they looked great!"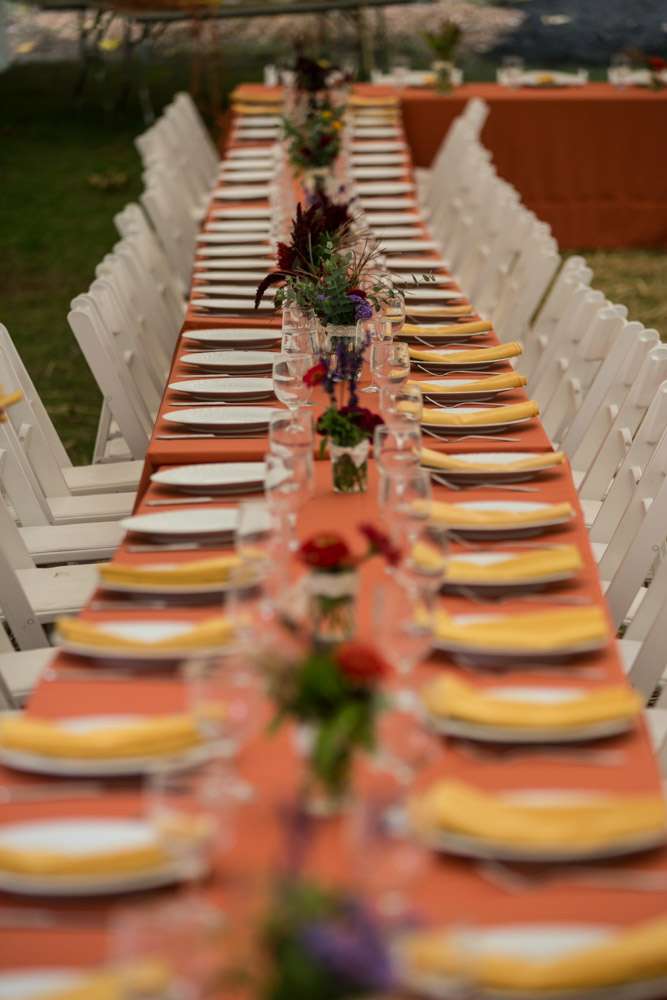 But the coolest thing about the wedding has got to be the fact that they had a pop up tattoo studio! Katie explains, "YES, we had a tattoo studio at our wedding. We transformed our shed in the back yard and set up lights, tables, chairs…you name it. We designed 6 wedding tattoos that our guests could get and had our friend John 'Pagoda' Martin, who currently tattoos Body Art Tattoo Studio in Burlington, VT. We had about 15 guests get tattooed and about 30 more who wanted to, but we ran out of time! I chose a small lotus on my shoulder and Mike tattooed the first part of it. It was pretty awesome. Pagoda finished the rest."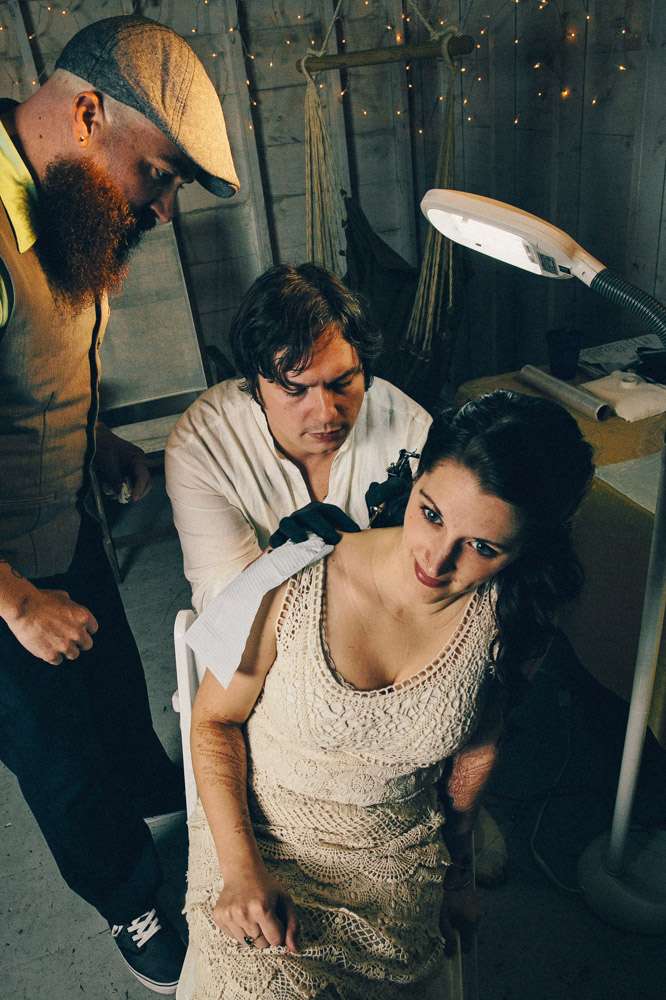 "We wanted to do things our way", the bride concluded. "We thought of all the things we didn't like about weddings and didn't do them. We didn't do bachelor/bachelorette parties or a wedding shower, we didn't have a DJ, have a dance floor, didn't have first dances, didn't have someone announce us as we came in or take a microphone to announce every step of the wedding. Ugh! We wanted it to be fun and relaxing for everyone, including us. The tattoo booth was probably the most 'different' part but we also had a photo booth with the vintage boardwalk style photo strips, which became our guestbook."
"Getting tattooed by my husband was definitely a highlight, but it difficult picking just one favourite moment. I loved when our dogs ran up into our wedding party as the ceremony began and everyone, including us, started laughing. Seeing our parents, friends, and each other, so happy was amazing. It really was everything we wanted it to be – and more."
Gorgeous! Thank you Katie & Michael for sharing your wonderful wedding with us today.
Suppliers
Photography: Homer Horowitz
Venue: Private Residence
Bride's Dress: DIY
Bride's Boots: Vintage
Bride's Headpiece: Maddielulu
Groom's Attire: Island Importers
Rings: Rachel Bertoni of Bertoni Galleries, Sugar Loaf, NY
Bridesmaid's Dresses: Various
Cake: DIY
Flowers: Grammy's Garden, Warwick NY
Band: Sean Wayland Band
Stationery: DIY
Catering: Ed Fava Catering