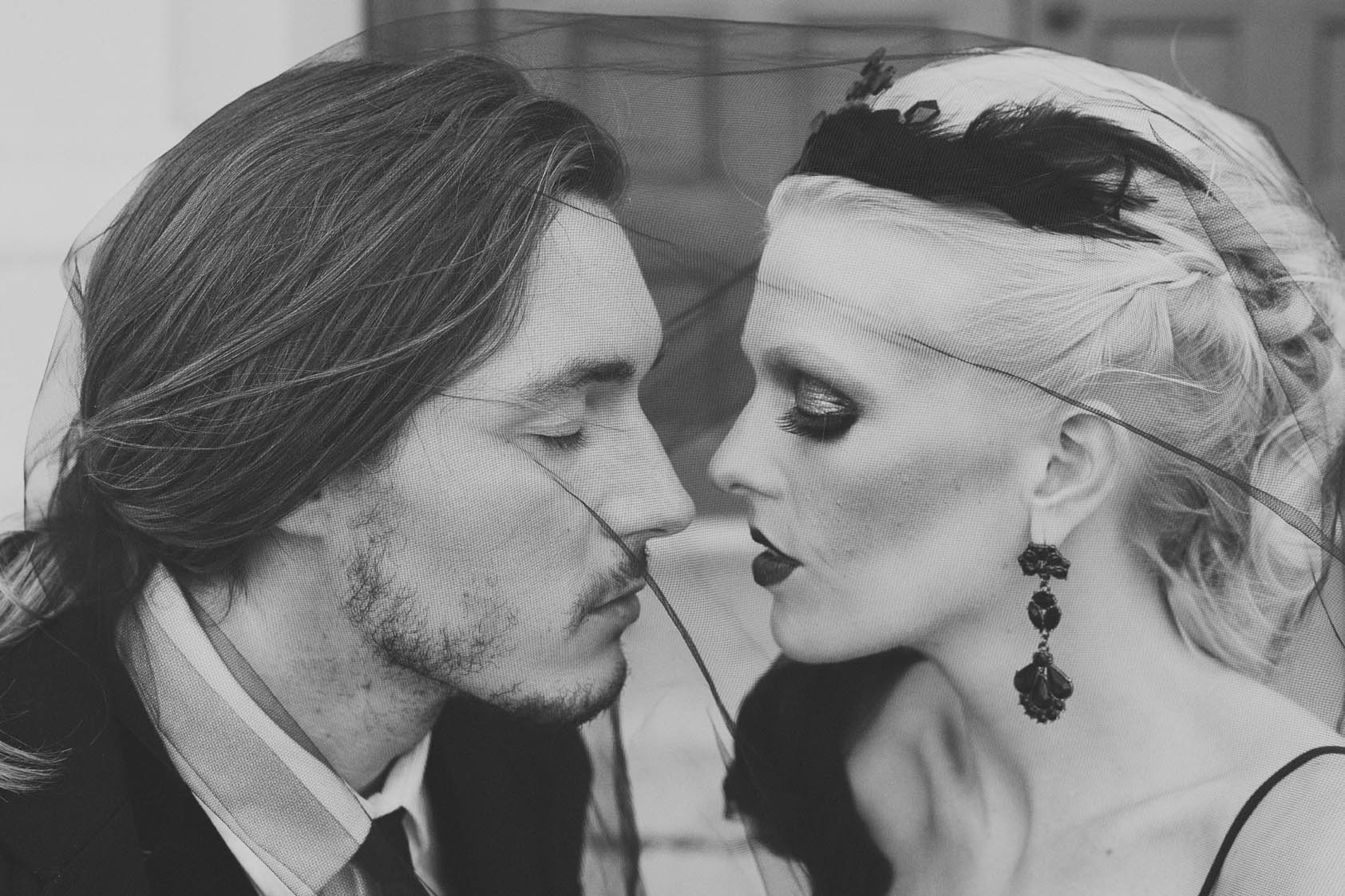 Winter weddings don't have to be all scatter crystals and snow sprinkled twigs. They don't have to have holly or ivy and you don't even need to wear faux fur. Honestly, there are many other options out there, you just need to dream them up! Just like wedding photographer Kait Winston did after one too many trips to the cinema. Inspired by the movie Snow White and the Huntsman, Kait decided that edgier was better and so wanted to showcase a more dramatic twist on the classic winter wedding.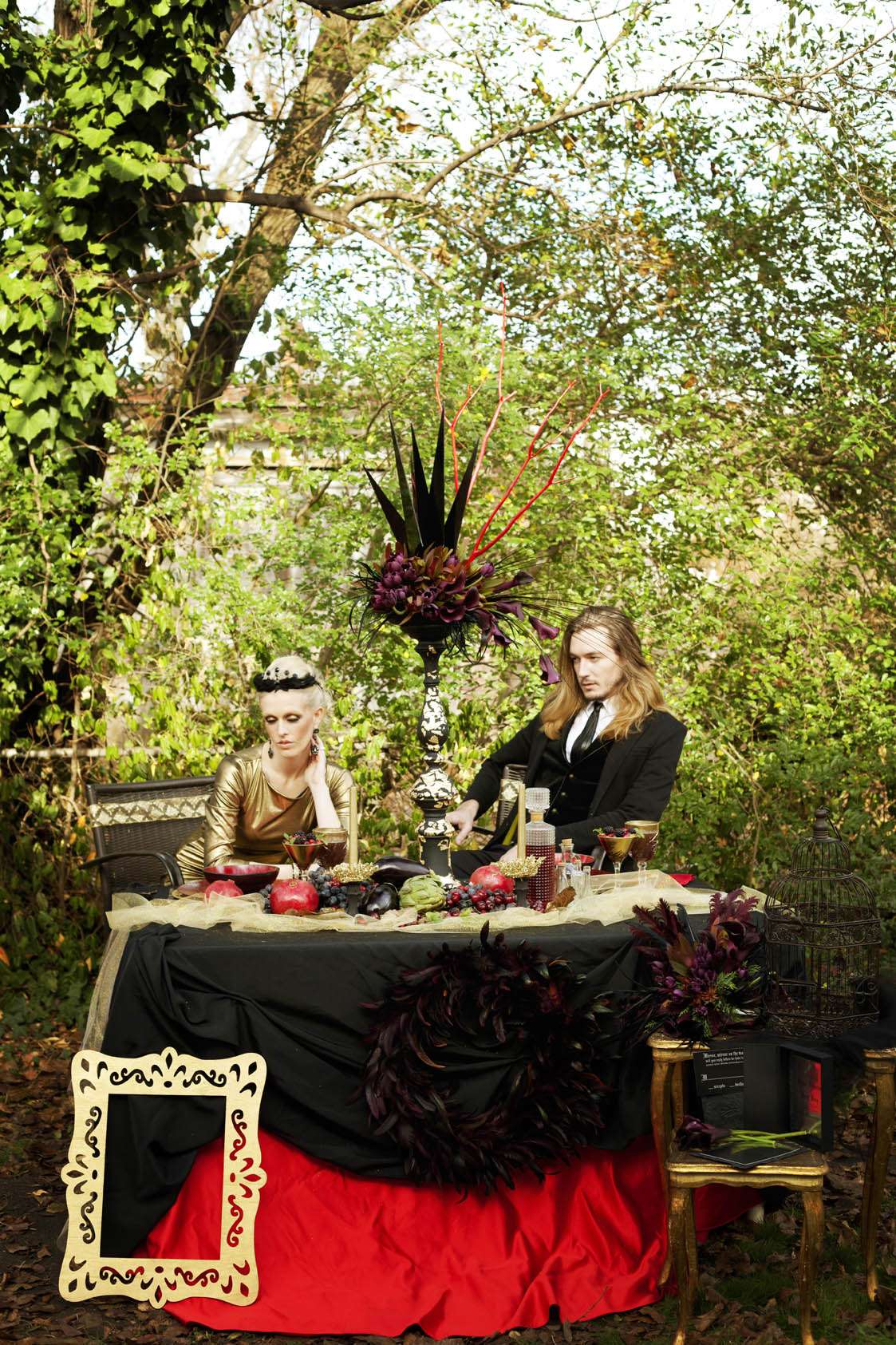 "Snow White and the Huntsman is by far the most beautiful cinematic film I have ever seen", wrote Kait. "I saw it in theaters five times. After I realized I had developed an unhealthy obsession, I knew the next step was to develop a series of inspired shoots based on the film. So in one weekend we shot a queen inspired session and a Snow White session. The queen's session was on my birthday (I couldn't think of a better way to celebrate than recreating my favorite film!) What was really incredible about this shoot was the ingenuity behind everything – the majority of items featured are all handmade!"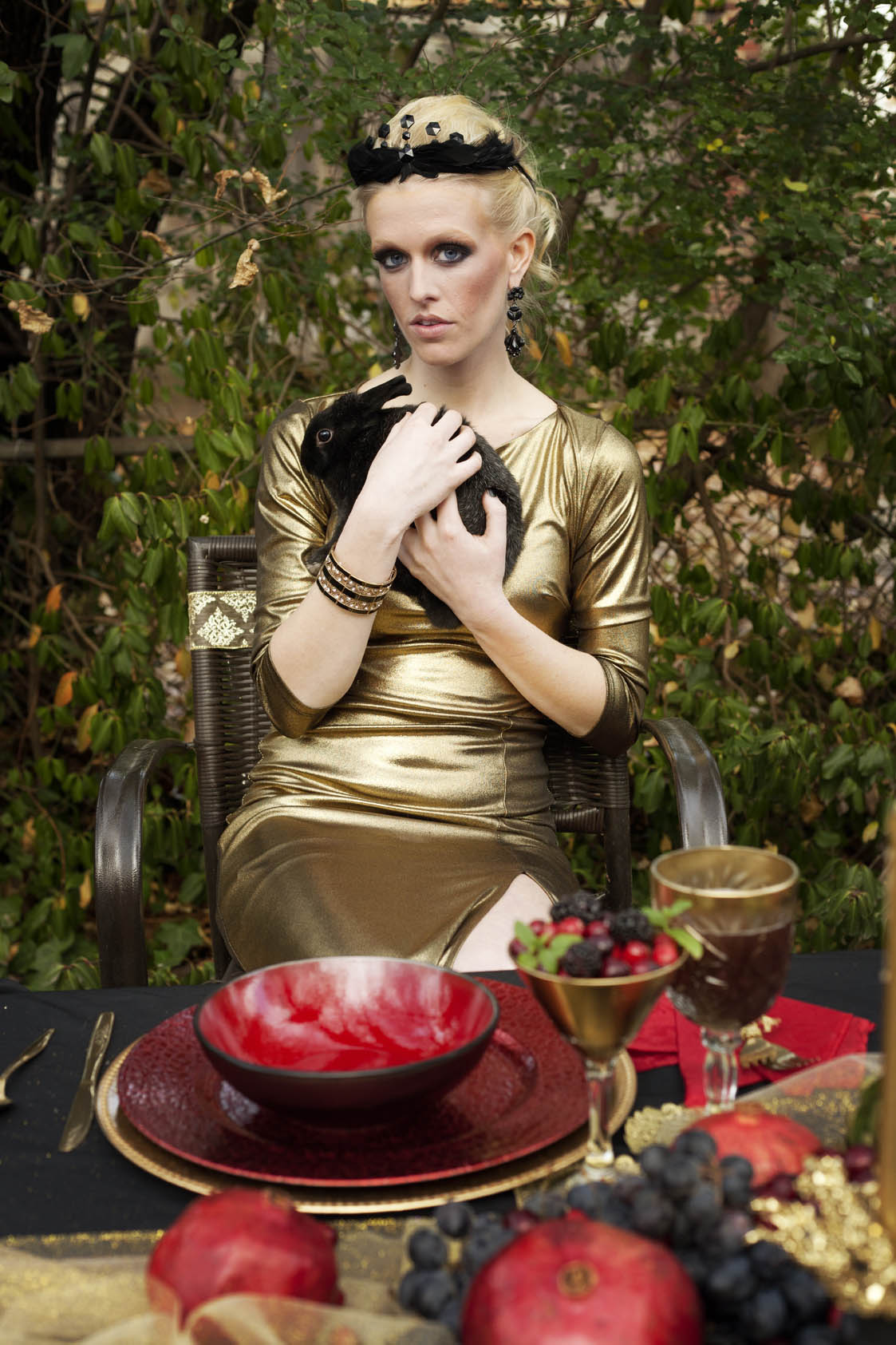 "The queen's crown was designed specifically for this project by Emily Zynch of WhichGoose and I let her and all the other vendors develop their own ideas and have creative freedom with what they wanted. I just wanted it to be influenced by black and gold, bold textures and the romantic darkness of the film. Our stylist Kelly sewed the entire black gown herself! Thank goodness for tulle. Kelly and I crafted like crazy for weeks, even while I was abroad in England for other shoots. We spray painted goblets and martini glasses gold and stuffed them with wine and berries. We didn't use a single apple in the whole shoo t- I wanted to stray away from that obvious motif and we used pomegranates instead. I feel like they are a fruit so deeply entrenched in mystery that they were far more appropriate to have scattered around the table along with artichokes and grapes."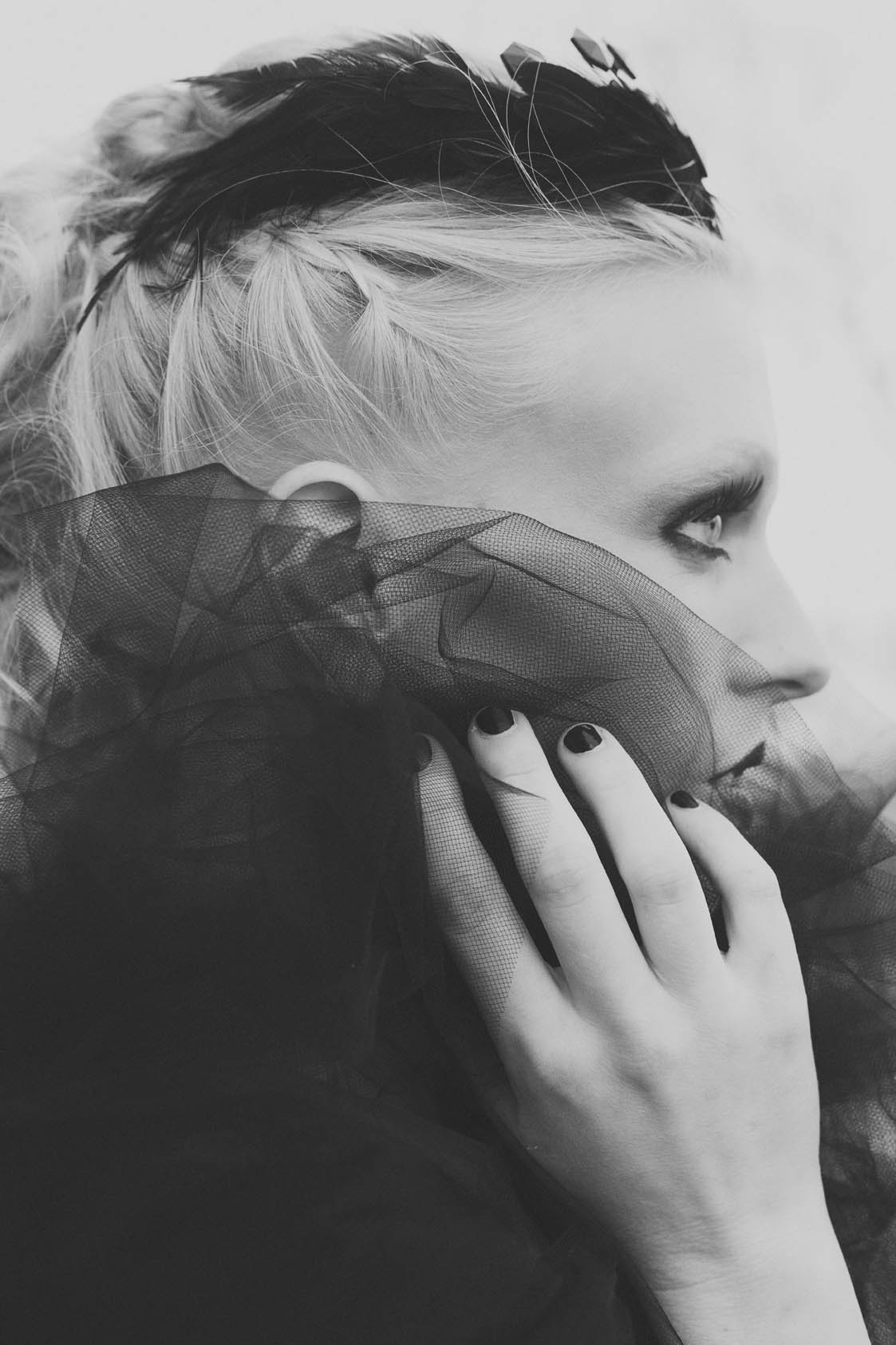 "I drew a lot of inspiration from strong images from the movie, as you will see in the floral design that looks like the queen's crown. We really wanted to queen to be powerful and bold, and with the choice of both a gold and black dress I think it shows a new twist in the wedding industry with brides being daring enough to go outside the box. Another sweet little touch was Kelly's little black bunny who happily modelled for us. The hair and make up really blew my mind. Ashlyn and I experimented until we found the perfect combination of black and gold eye shadow for a really couture look and Emily's faux-hawk really adds to her dramatic look. Even the invitations are too good to be true, Tifany at Gourmet Invitations made them out of a mirror-like surface!"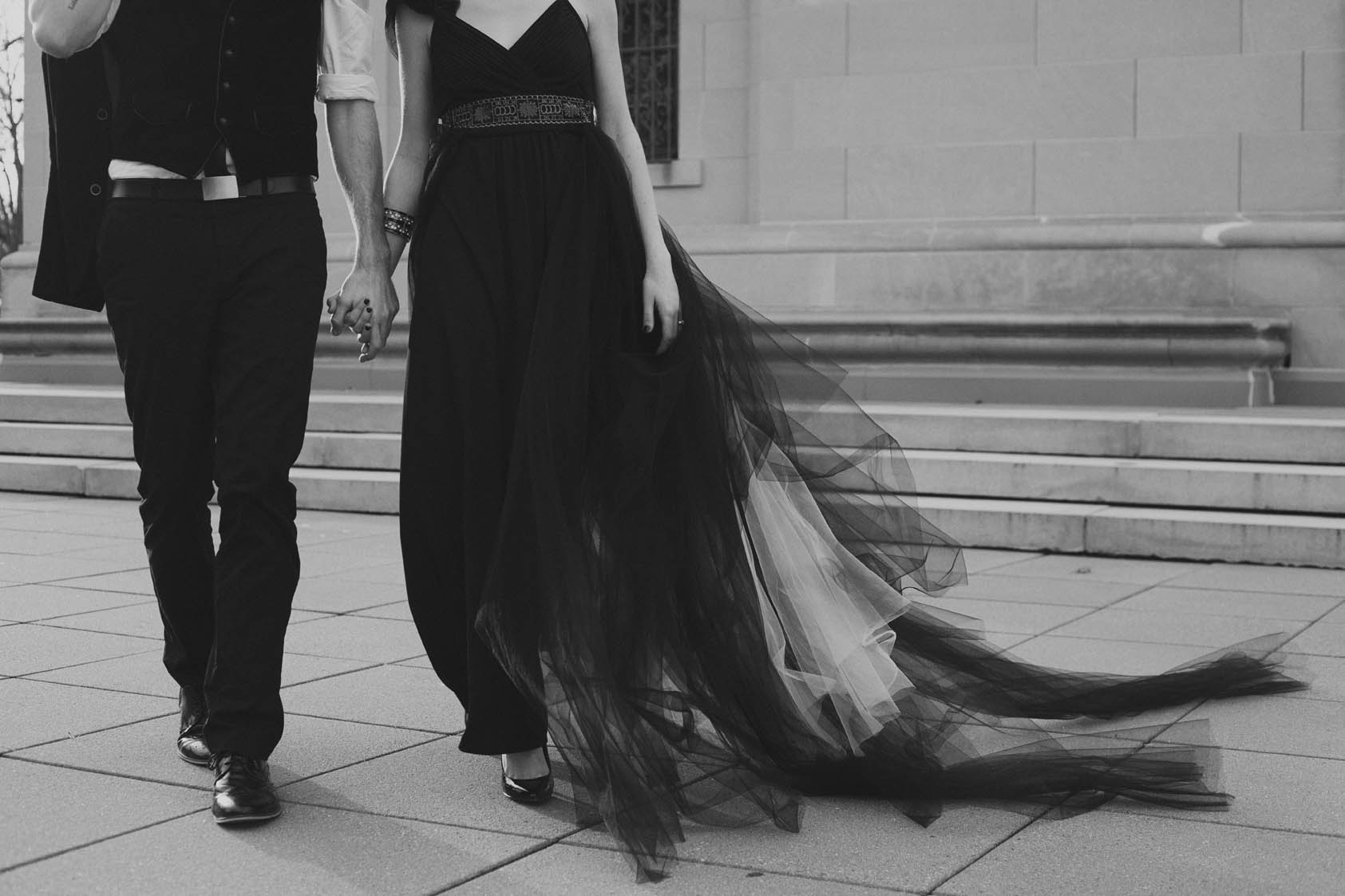 Dramatic and beautiful! I love this so much, especially all the black & white images. Thank you Kait and the whole team for sharing this beautiful shoot with us today.