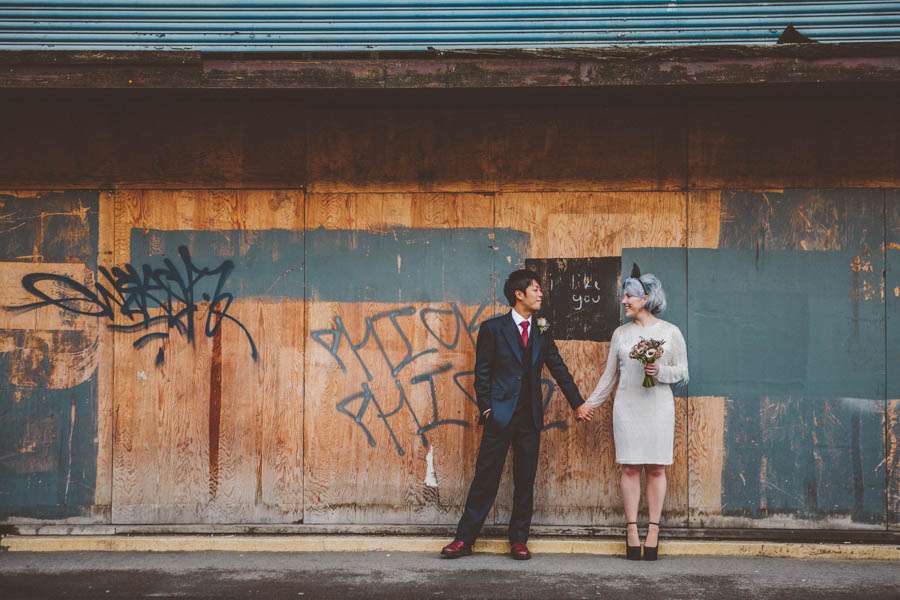 Jo, a taxidermist, & Aki, a web designer, were married at Byzantium, a quirky bar and restaurant in Bristol. The Moroccan decor added an interesting touch to the celebration. The room was decorated with Moroccan lanterns, pipe cleaner animal and personalised cocktail stirrers. Some friends made them a guest list tree surrounded by candles and glass beads, flowers and fairy lights. Jo made some taxidermy through her company Death & Glory Taxidermy.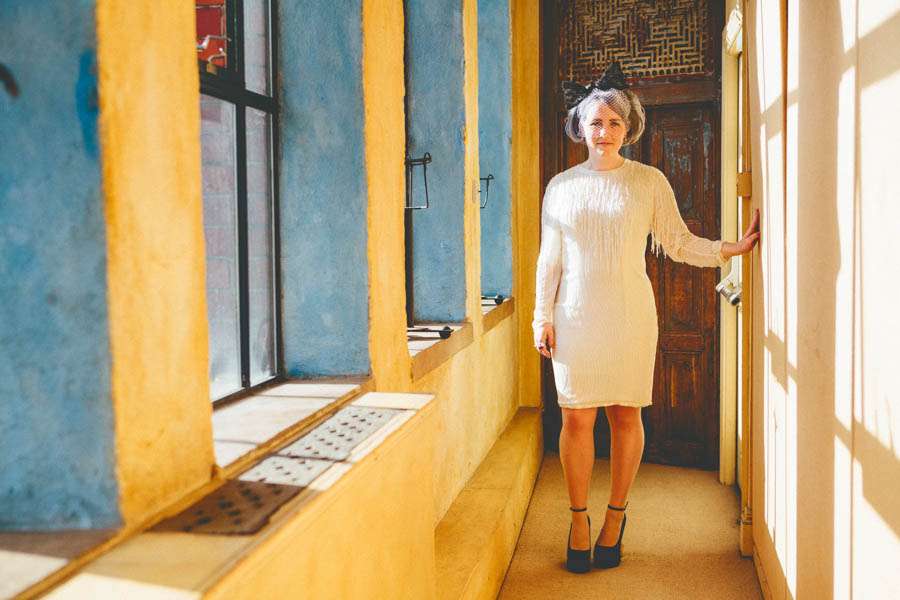 "I'm lucky enough to be surrounded by a lot of very talented people", explained the bride. "It's very easy to get caught up with the idea of doing everything yourself but if you've got people around you that can (and want to) help, then let them! In the end our photographer (Noel was already a professional wedding photographer – handy!), invitation designer, guestbook tree makers, band, 'priest' and florist were all friends. It made the whole day much more personal and special and really helped us get the most out of our budget."
"We also decided to make our own wedding rings. We made them from silver clay and put an inscription on the inside of the bands. It was quite emotional to be sat in our kitchen making our rings. Aki had taught me how to make silver jewellery before but it's not as difficult as it sounds and you can achieve something very beautiful just by following the instructions in the box."
Jo wore a 1980s vintage cocktail dress, Jeffrey Campbell shoes and rabbit ears (!!) which she folded into a cute bow on her head – my kinda gal!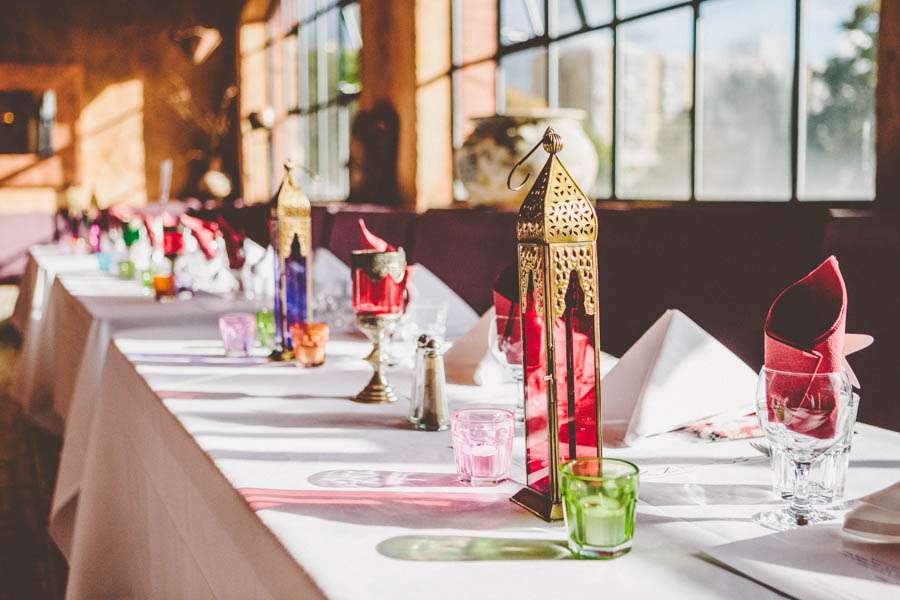 "Our inspiration was just all the things and people we love", she continued. "The whole day was very relaxed and informal and exactly what we wanted it to be. We were legally married beforehand so we could do what we wanted with the ceremony. We had our friend Ollie be the 'priest' and we wrote a ceremony that talked about everything that's important to us, from bass guitar playing to animal stuffing. Our friend Jez was the ring 'bear'er and did an amazing reading of a song called 'Love is Like a Bottle of Gin'. At the end, instead of signing a register we completed our traditional Japanese Daruma doll. You make a wish and colour in one eye and when the wish comes true you colour in the other eye."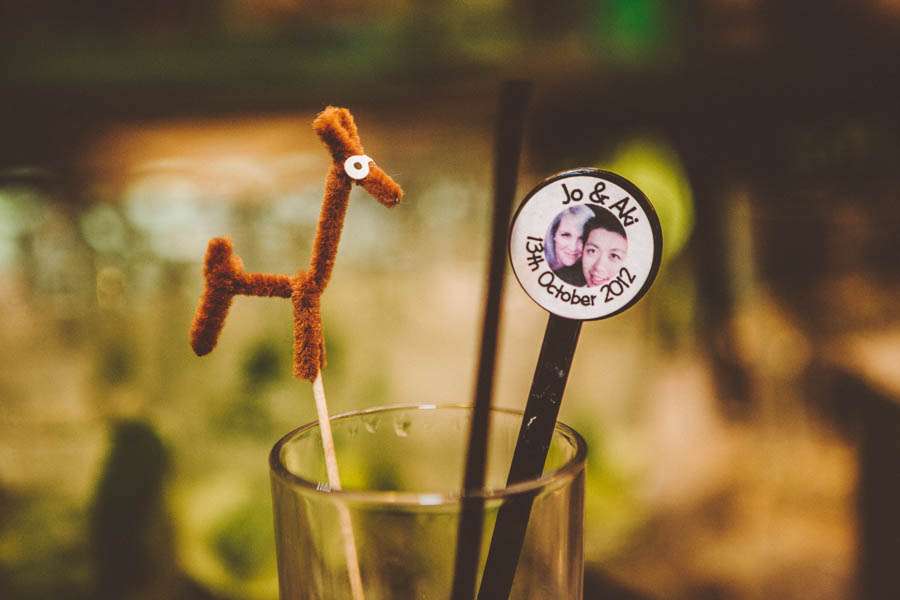 The evening concluded with entertainment from The Bristol Ukulele Club (Jo started the club over a year ago and both the bride and groom played on the day), two belly dancers and an incredible magician. "Apart from the ceremony itself my favourite part was when my ukulele club performed a surprise version of Pulp's Common People which they had rewritten to be about me and Aki", Jo concluded. "There is absolutly nothing I would change about our wedding. We're not really into themes (I got sick of people asking me what colour we were going for – all the colours please!). Instead we wanted to create an atmosphere. Kind of 60s mod/Dusty Springfield goes wild in Morocco."
AWESOME. And I do love a bride with grey hair – how gorgeous is she?!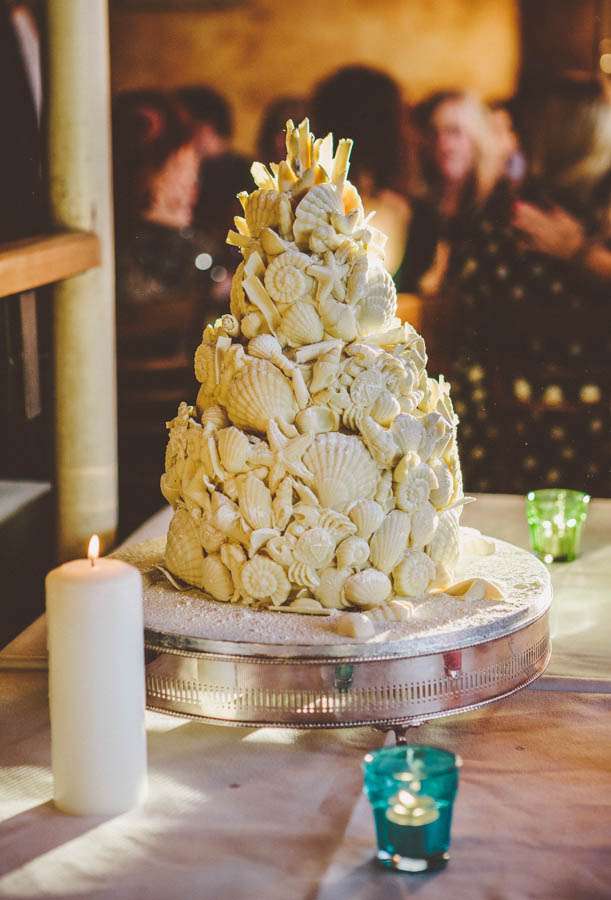 Thank you to Jo & Aki and their fab wedding photographer Noel Deasington for sharing with us today.
Supporting Cast
Photography Credit: Noel Deasington
Venue: Byzantium
Bride's Dress: Heavenly Brides
Bride's Shoes: Jeffrey Campbell
Bride's Headpiece: DIY
Bride's Jewellery: 'Aki' ring by Bete Noire
Groom's Outfit: Clifton Suits
Bridesmaid's Dresses: House of Fraser/ Debenhams with ASOS tights
Bridesmaid's Feather shrugs: Laura Ashley
Cake: Chocolate Delores
Flowers: Megan Bidmead
Hair: Brad at Harry Blades Angry Daves
Stationery: Naomi Wilkinson