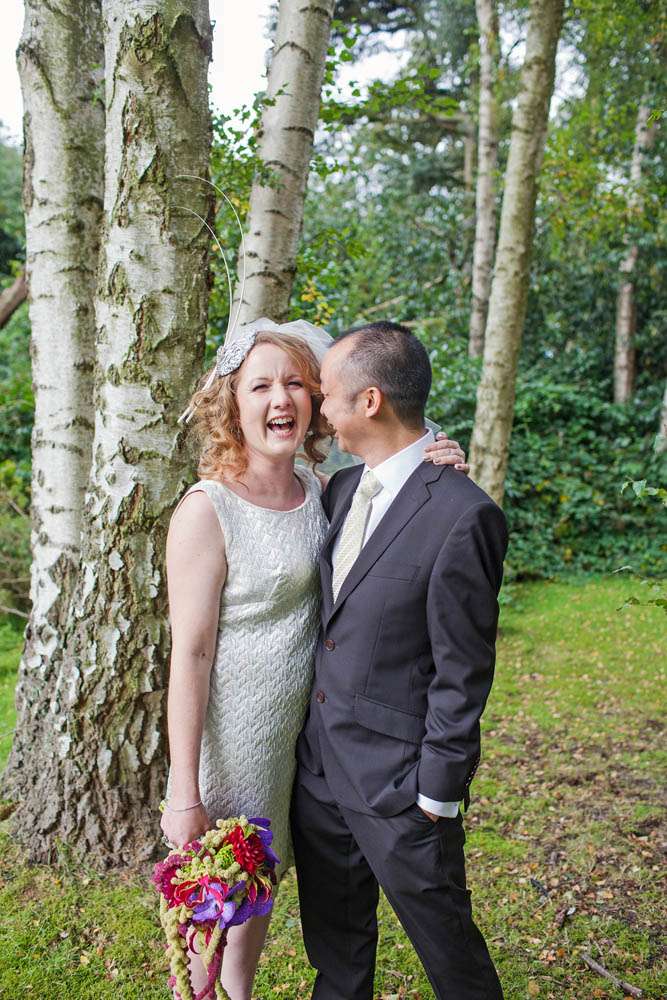 I'm seeing a huge shift in a lot of the weddings that I'm being submitted of late. While large and lavish detail-heavy weddings were, and in many cases still are, wedding blog perfection, I am noticing that these days it's the smaller ones that a catching my eye. It seems that lot of my readers are completely swinging the other way and are planning small, intimate and personality-heavy nuptials. I know what it is though – my readers are rebels, just like me! You don't want to do what everyone else is doing – you want your weddings to be different and to be a perfect reflection of your love and your relationship. And that, dear readers, is why I friggin' love each and every one of you!
I've known Amy for a while now. She is one third of Ava – a wedding styling company based in Birmingham, and we've actually worked together on many occasions. The biggest collaboration we've done has got to be my Rock n Riot shoot where she even commissioned a graffiti artist to paint me on a giant wall!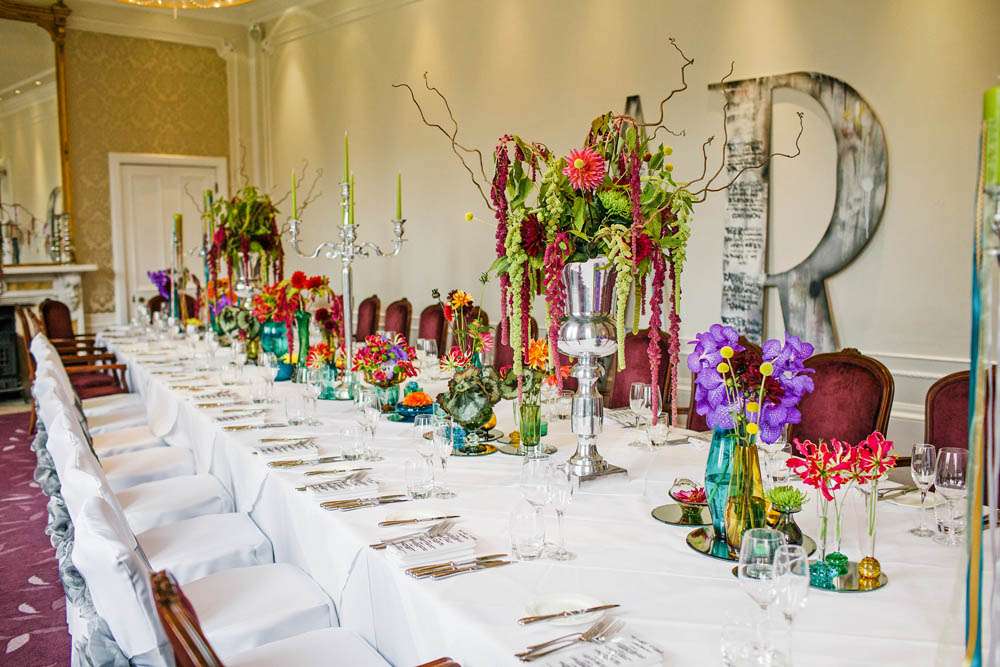 Amy spends her life styling other people's weddings and events, so when it came to her own special day, she wanted to make sure it was really theirs and that it didn't just feel like another day at the office…
"I've collected coloured glass since I left home and it does make be truly happy, weird but true," Amy explained. "I look at it everyday and everybody that knows me likes to take the mick for my collecting obsessions. I would have bought along all of my chairs if I could have! I am a florist so obviously I'm used to working with flowers all the time but for our wedding I wanted something simple – I didn't want to over complicate anything. I basically just plonked all of my favourite flowers in the coloured vases. We used Gloriosia, Vanda Orchid and Tassel Flowers, then Love Lies Bleeding with Dahlias which were home grown by a friend. I love colour too so if anything our theme would have beeb a 'rainbow of bonkersness' against the quite formal manor house."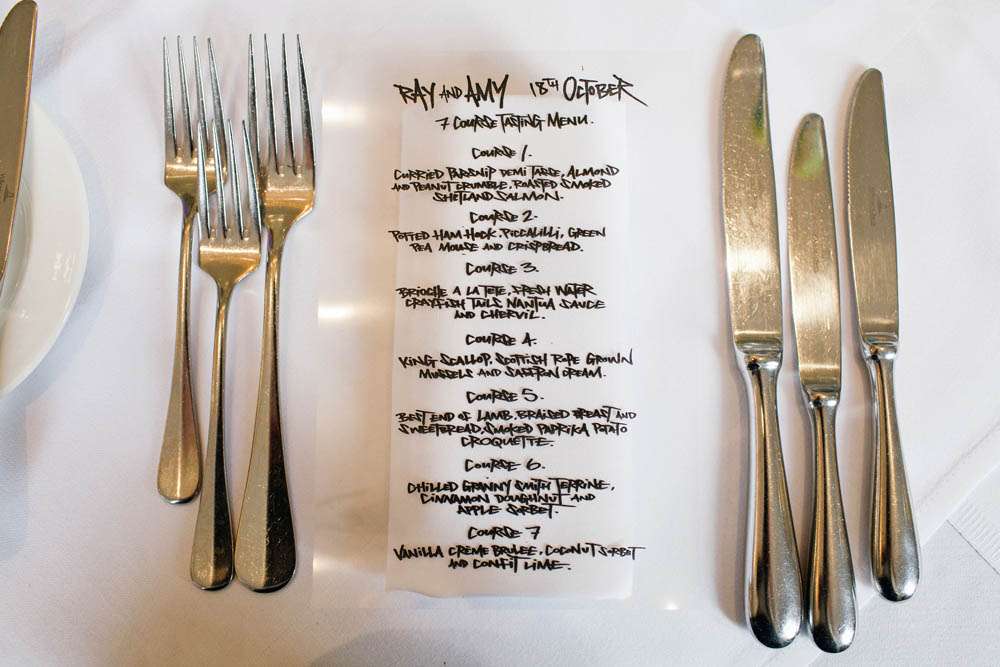 They were married at Hampton Manor and had just 34 guests. They set the main reception room up with one long table for easy mingling (this also forced them to keep the numbers down) and they had their two greyhounds as their beautiful bridesmaids.
"I've always wanted just one big table for my wedding so it made the guest list really easy as it would only sit 34", she continued. "Everybody says 'oh that must have been so hard to decide who to invite and who to leave out!' but it actually made it really easy. We just invited people that we actually see on a daily basis and that mean a lot to us. Plus by having such a small number of guests, it meant we could spend more per guest and really spoil those few people. We also had the chance to actually talk to them all."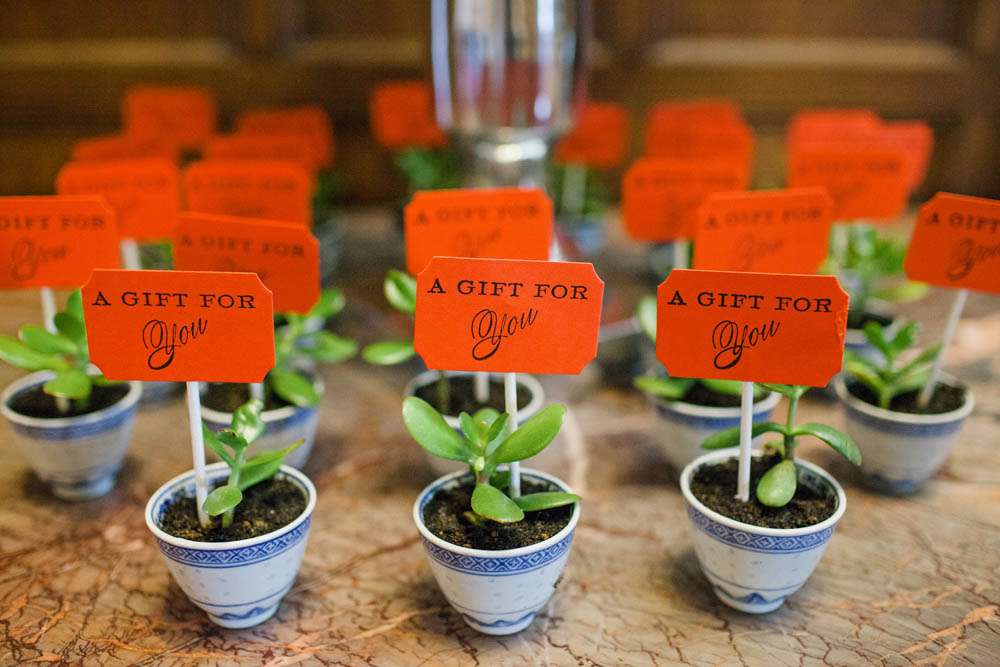 "As for favours, we wanted to give our friends something they genuinely would keep after the wedding that would remind them of us. So we grew them all a baby jade plant and worked out what their Chinese animal was and made them a lucky jade charm. This was a really good way of getting them all mixing in conversation. If other brides like this idea, you could just take cuttings from any plant or flowers that reflect you and pot them up as favours."
"We had our menus handwritten on clear film by a friend who is a graffiti artist which I loved. It looked like the table had been tagged by the end of the night as they were all scattered around. They were also mega cheap!! To make your own you just need a friend with wicked handwriting and a photocopier. We also had the same graffiti artist write on our giant letters things about each of our personalities which went down really well."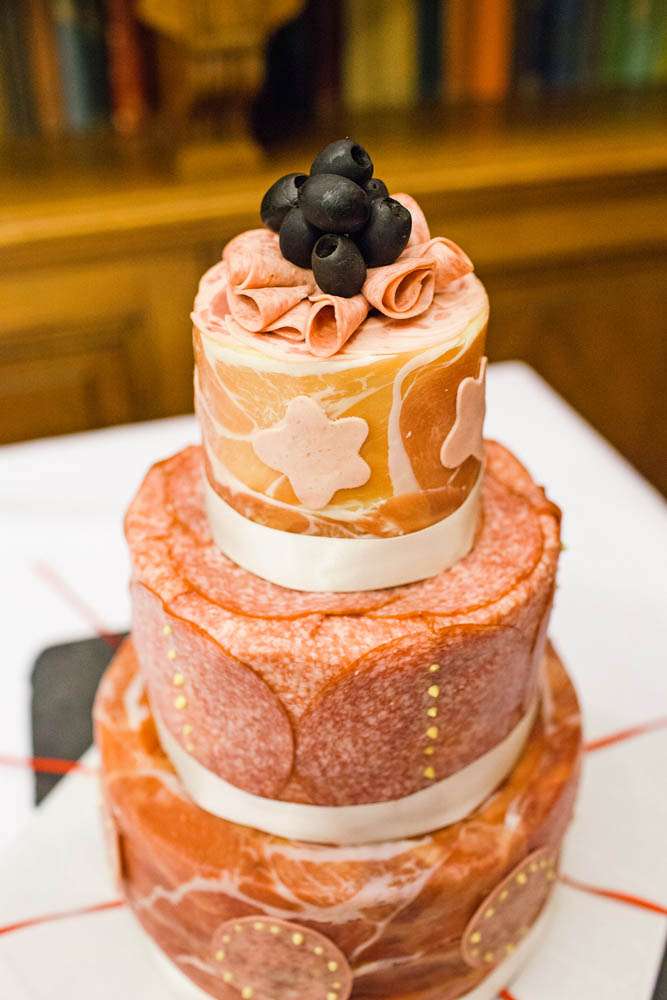 Amy wore a late 50s vintage dress which she found in Top Banana – a vintage store in Birmingham. Her shoes were also vintage but they belonged to her mother, "I remember being with her when she bought them about 25 years ago," she writes.
"I'm so lucky to work amongst some of the most talented and fabulous people in the wedding industry and without them our wedding would not have been the same", Amy concluded. " My Ava sisters help and support was irreplaceable and having Emma Case as our photographer was amazing. I love them all for what they bring to my daily life. Thank you!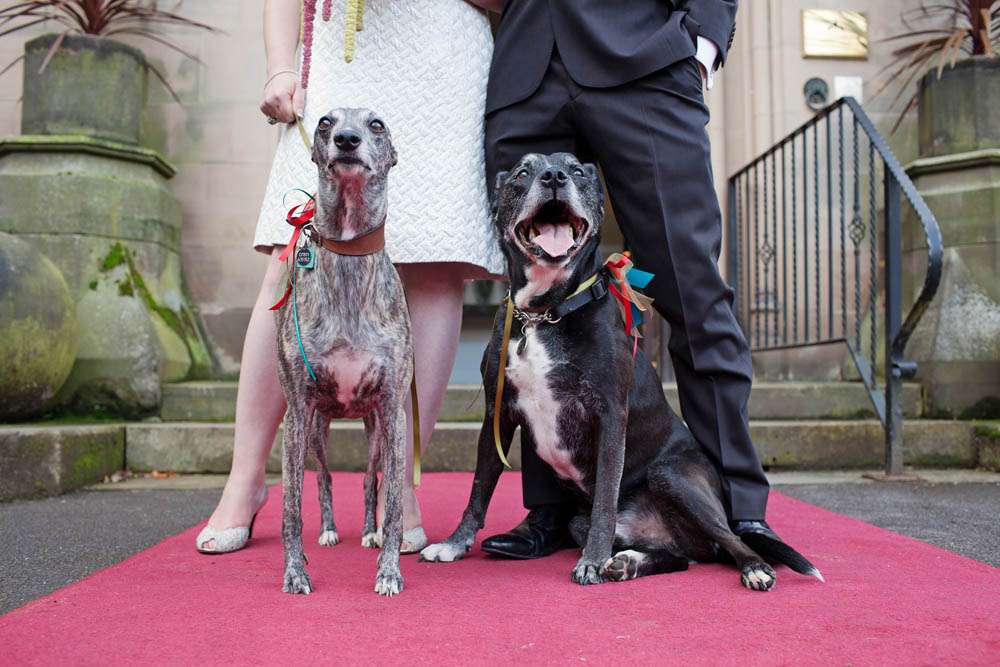 Aww gorgeous! Thank you to Amy & Ray and wedding photographer Emma Case for sharing with us today.
I'd love to hear from you lot – would you ever have a teeny tiny guest list like Amy & Ray? What about pets as bridesmaids?! I personally looooove everything here!
Supporting Cast
Photography Credit: Emma Case Photography
Venue: Hampton Manor
Bride's Dress: Vintage from Top Banana, Birmingham
Bride's Shoes: Vintage
Bride's Headpiece: Sharper Millinery
Bride's Jewellery Vintage
Groom's Outfit: Savile Row
Cake: The Boutique Baking Company
Flowers: Little A (bride)
Hair & Make Up: Elbie Van Eeden
DJ: Maz of Chicks Dig Jerks
Stationery & Giant Letters: Hoax Graffiti
Styling: Ava Event Styling (bride)