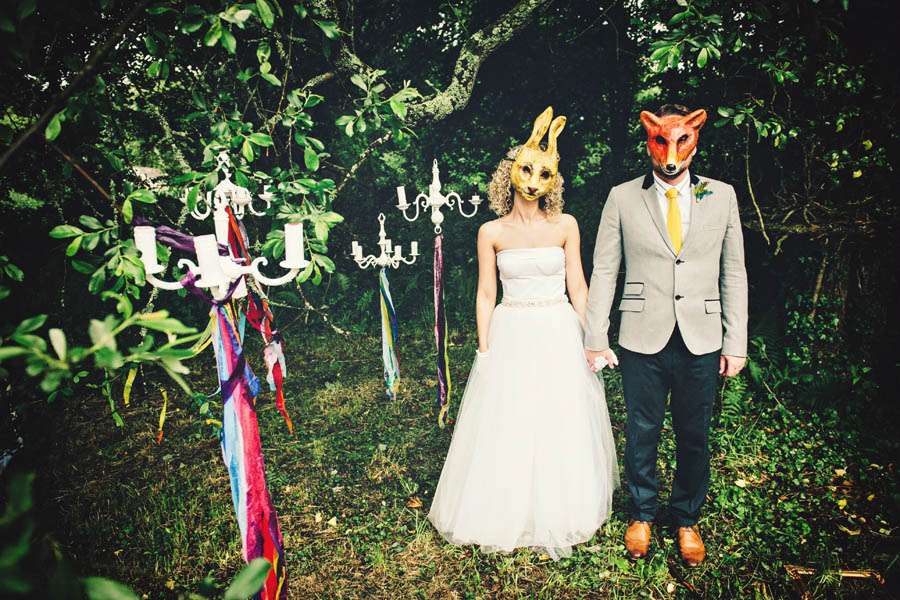 Here we go then – part two of Sarah & Doug's Cornish wedding and things are about to get colourful! On Saturday 16th June the couple hosted a humanist ceremony and reception at Rosewastis Manor in St Columb Major. They had a quirky tent marquee from Ashley Events which they decorated themselves. In fact the couple and some of their guests actually rented the manor for the whole week before to set up and just enjoy spending some time together before the wedding.
For this second part of the wedding, Sarah wore a Lisa Redman wedding gown which she found at a charity bridal sale in London. Her shoes were from Irregular Choice, her headpiece was made by her and a friend from vintage pieces and her ring was her Grandmothers.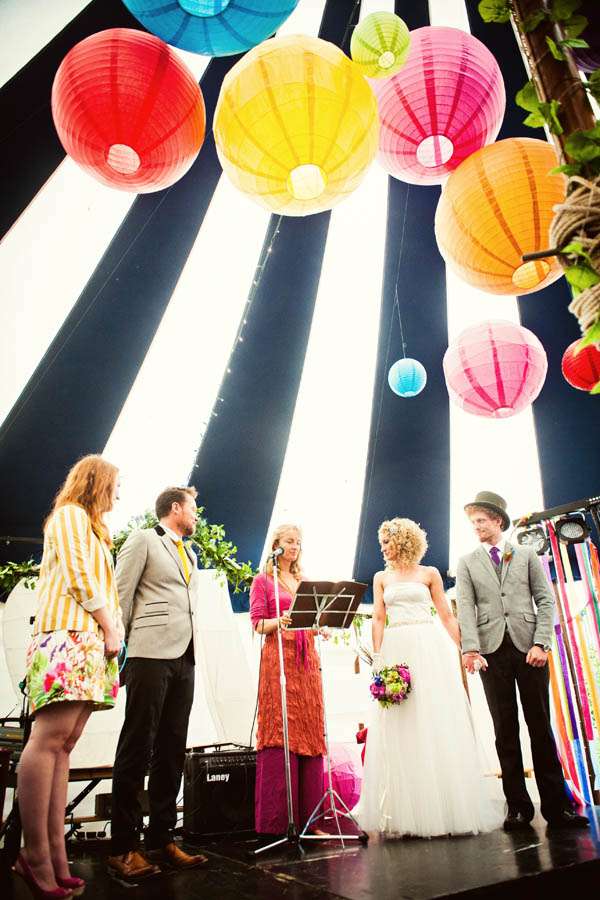 "We love a good fancy dress party and usually put them on with a group of friends going to town on the decorations", Sarah explained. "We have done themes such as Circus of horrors, Murder Mystery, Super Heroes, and 80s parties. We wanted our wedding to be just like a massive party for us and we took inspiration from blogs, magazines, our friends and our imagination."
"We weren't scared to do it our wedding our way and were lucky not to have had the traditional wedding pressures that some couples get. Our Save the Date's were really unique. We hand delivered rhubarb chutney to everyone in boxes with a card for their fridge, plus magnets, pins and a sticker for their diary. This set the bar high and our theme! We wanted to make people realise that our wedding wasn't going to be very traditional. Our wedding was just a mash up of all the things we love… A colourful, retro quirky village fete vintage inspired feast for the eyes!"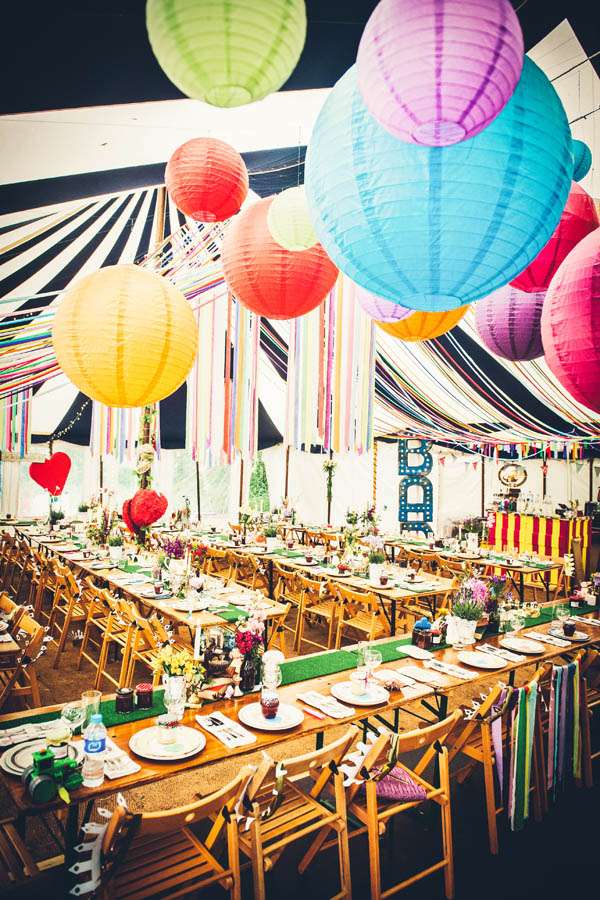 "We didn't have a cake", Sarah continued. "Instead we had afternoon tea and our friends and family made the cakes. We wanted a village fete feel and give everyone the chance to contribute – the response was fantastic. They were served on a selection of our own cake stands. If the afternoon tea was outside as we had originally planned (we had to keep everything inside the tent a storm swept up the Cornish coast that week! We didn't see that coming and the tent guys couldn't believe that the tents where still standing!) we would have probably cut one, but everything changed on the day so we just ate them all instead!"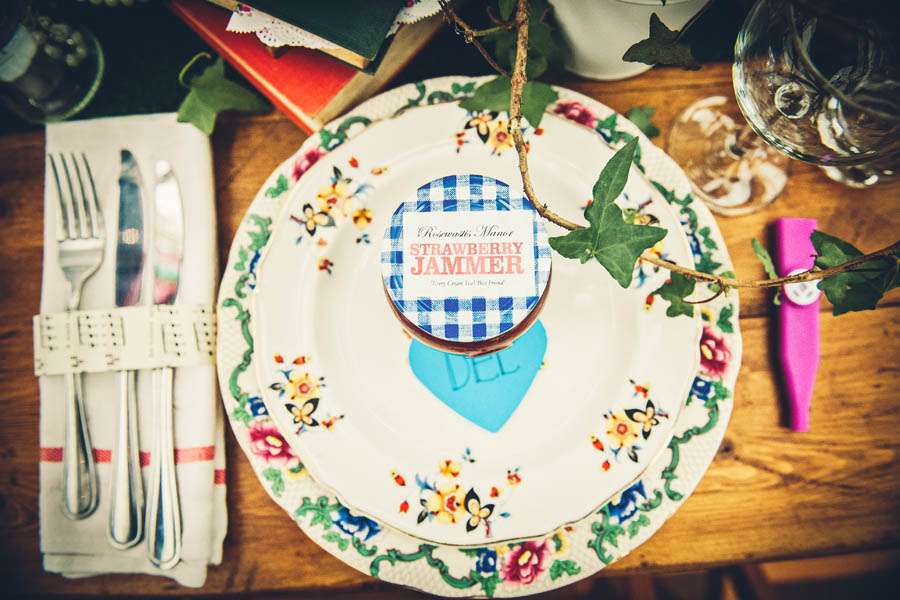 The couple also laid on lots of entertainment for their guests. After the humanist ceremony a local community marching fiddler band called Bagas Crowd played. "They played traditional Cornish Celtic music, mostly reels and jigs, on acoustic instruments like fiddles. They also had some guitars and percussion. They are a community group of all ages, and everyone loved them. They were amazing value and added a local influence to the wedding. They played and marched everyone up the hill in between the burst of rain. It was so uplifting."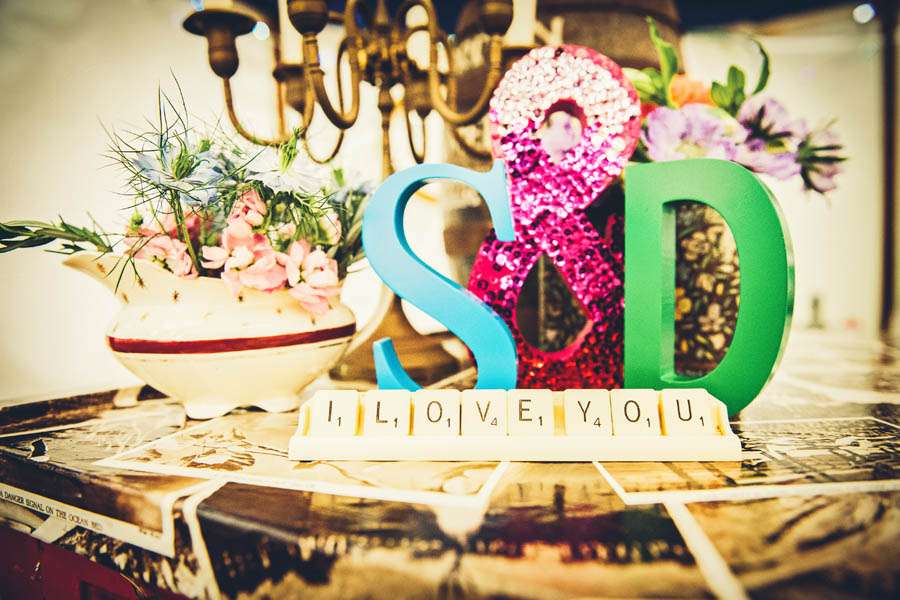 "During dinner we had local sitar, mandolin and ukele players. It was perfect chilled music – not too imposing and a really different, spiritual sound. Then after dinner we had Perfect Party – a really last minute choice but they were totally amazing! Pretty much everyone danced right through and the dance floor didn't empty from start to finish. They played good old rock and pop standards, then, whenever people started to slow down they did an Irish jig. It was magical mayhem!"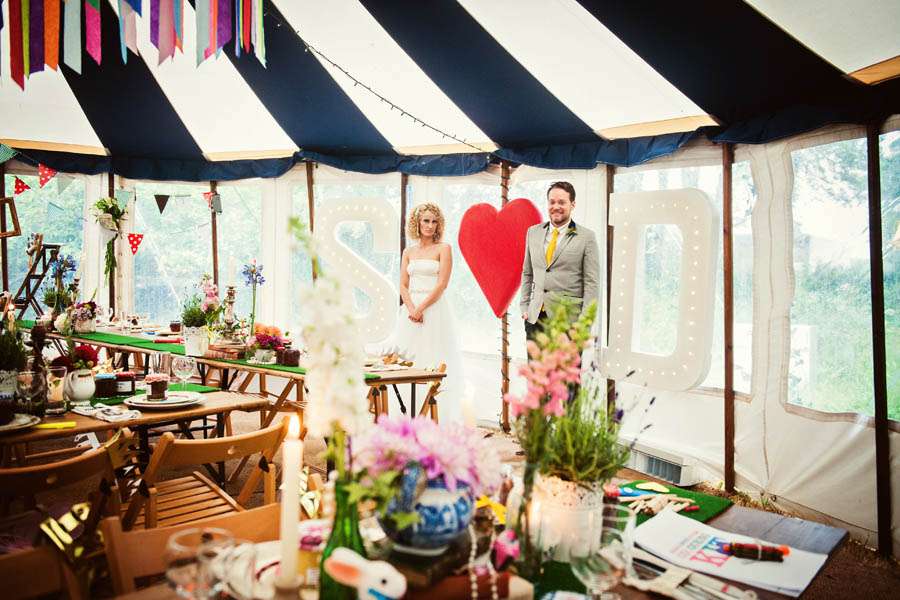 The marquee was decorated from top to bottom by the couple and their friends and family. They collected props, crockery and decor items in the run up to the wedding from charity shops, car boots and from various places online. They also made over 100 metres of bunting themselves. "The folding vintage bar was made from four panelled doors given to us by our friends Matt and Chris, designed and built by us. The top was decorated with decoupage from an old book we found at Emma's Emporium near Brighton. The bar sign and S & D letters were made from polystyrene – cut, sanded, drilled, painted fitted with battery LED lights. We made our own windmills using A4 acetate sheets, 2ft garden canes, punches, eyelets and a setting tool, beads and wire."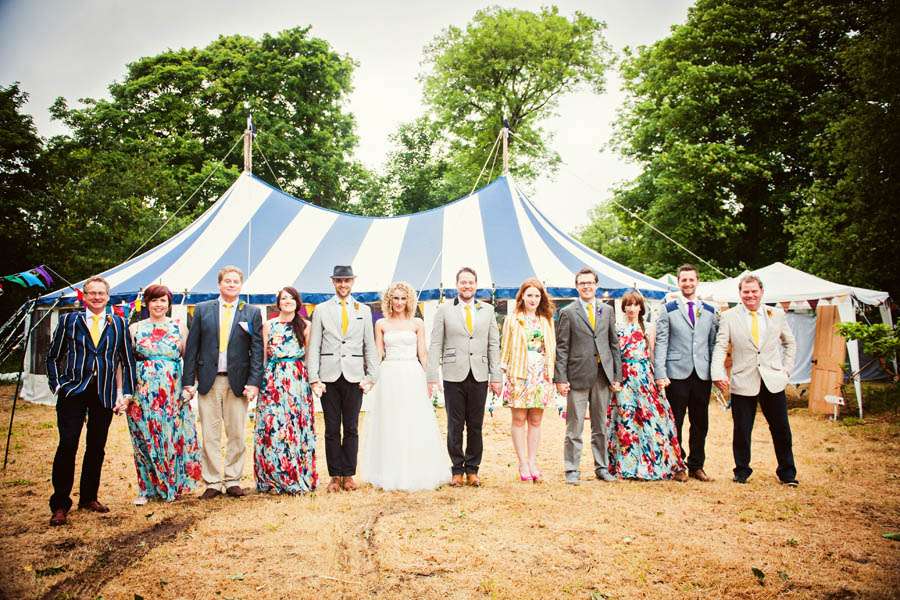 "In retrospect I wish we'd hired someone to clear up for us on Sunday!" Sarah concluded. "We can't believe our family and friends are still talking to us after we made them wash all the vintage china on the Sunday! But I think it was worth it. We loved every minute of our wedding!"
AMAZING. What a team effort – I love it! Thank you to Sarah & Doug and their wedding photographer Ben of Blooming Photography for sharing. If you missed part one – their secluded beach ceremony, you can check it out here!