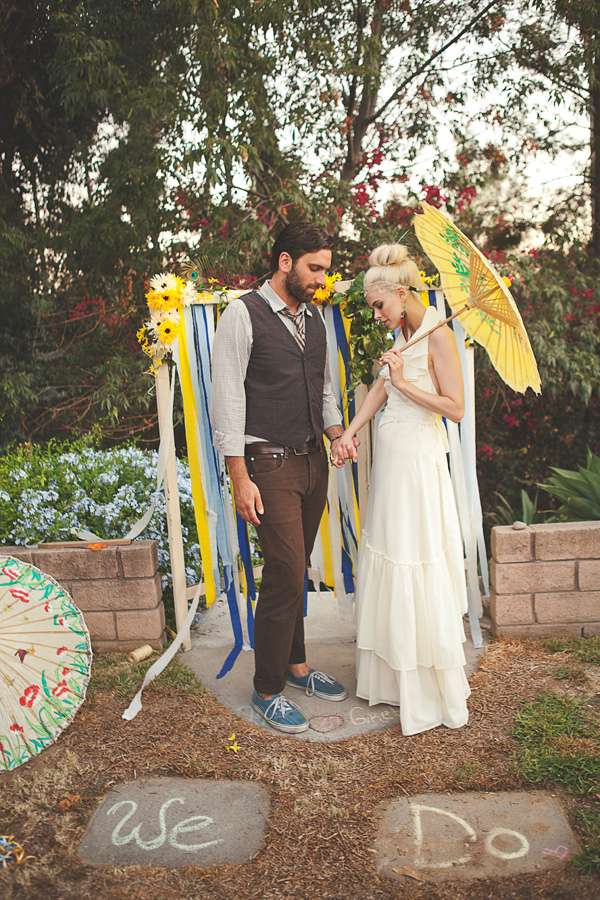 Oh I love a surprise wedding! And a surprise wedding + pool party!? EPIC!
But this wasn't actually a real wedding, it was set up as a recreation of the wedding of some friends of the photographer who were married 30 years ago. Jessie & Kenny had a wedding just like this one, in the exact same spot, in 1982 (some of their wedding photos are at the end of the gallery – how amazing are they?!) So to celebrate, and to have an their anniversary party with a difference, they decided to relive the whole thing. This is a styled shoot unlike the rest and, yes, they really had the big party afterwards!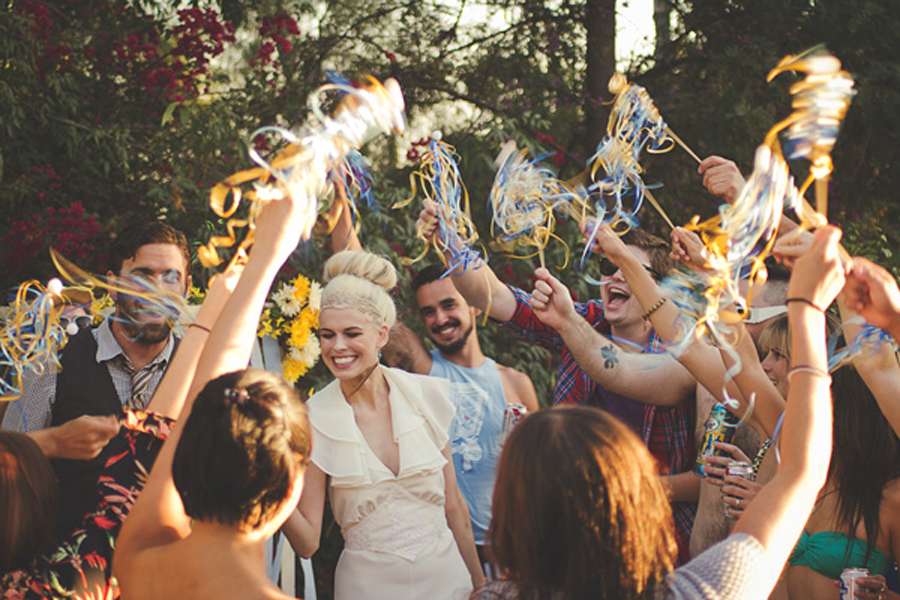 Styled shoots have been wedding blog favourites for a few years now. I do like to feature them to share new wedding ideas with my bride & groom-to-be readers but I've always really preferred to publish real weddings. It's not that I don't like styled shoots, but I know real life examples always go down better than a 'concept' set up but a bunch of wedding industry professionals who think that it's a quirky, cool (or in recent times – trendy) and very 'blogable' idea for a wedding.
Which is why I love this shoot. It is a new concept. It's a recreation of a wedding, being sympathetic to the original inspiration while showcasing some awesome new ideas. Just like with Whit & Colby, I was initially disappointed when I realised that this wasn't an actual wedding, but again like with Whit & Colby I love it because of the amazing creativity behind it. On reflection I congratulate the creative team for doing something that I wish everyone else would… actually being creative.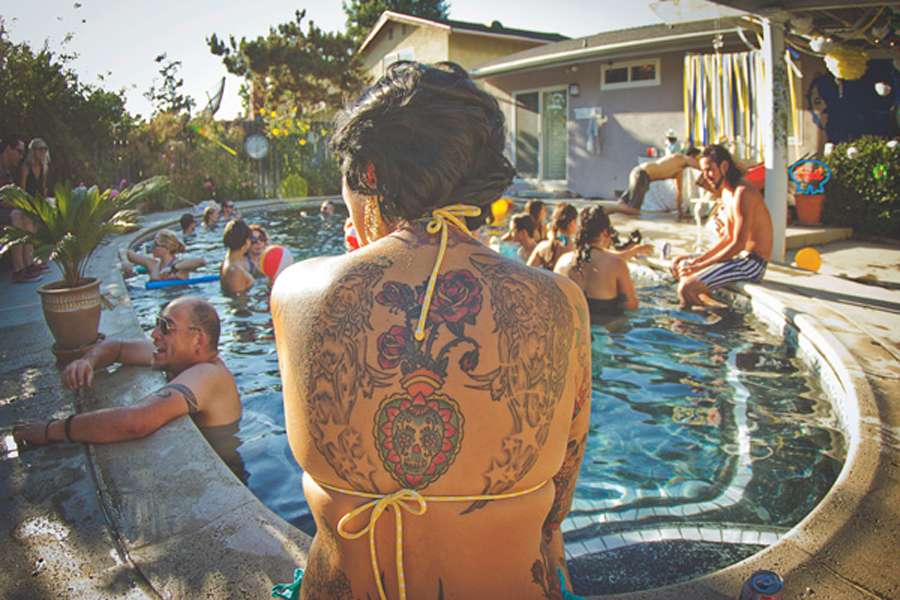 "In a nutshell, I have always been deeply inspired by Jessie & Kenny's wedding story – they are like second parents to me and dear, dear friends", wrote photographer Kierstin. "So this year, as they celebrated their 30th wedding anniversary, a bunch of my friends and I recreated their special day at their home. The gorgeous Gretchen & Tyler acted as our bride and groom."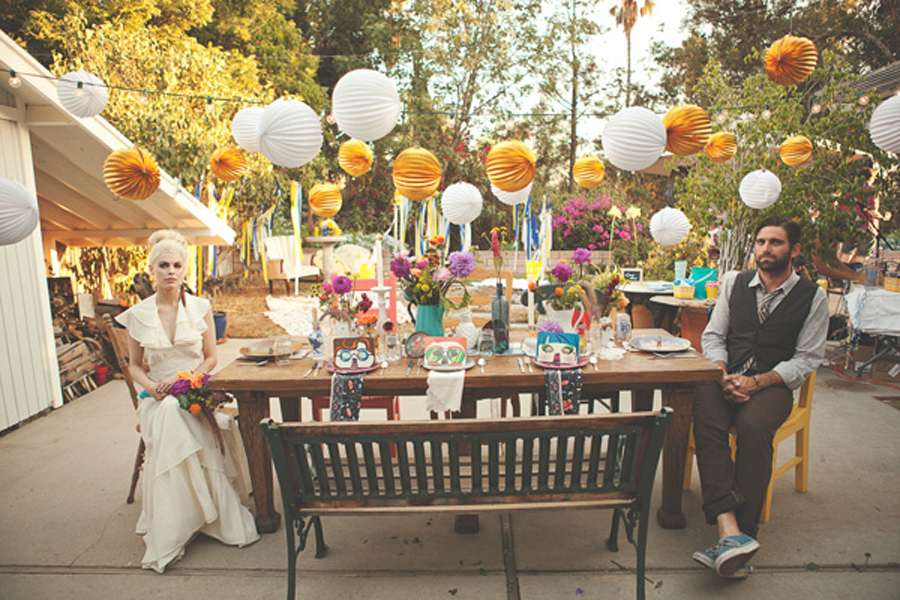 "Thirty years ago, on the 4th of July, Jessie & Kenny invited their close friends and family to a pool party. It was a typical pool party filled with drinks, BBQ, friends and fun. Somewhere in the middle of the swimming, drinking and BBQ-ing, Jessie & Kenny casually got out of the pool and slipped inside. Just a short while after, they opened the door and stepped back out on the patio in wedding attire and announced… they were getting married!! No one but their 'people of honor' and the minister knew. Their guests stood stunned in disbelief of what they were seeing and hearing. As Jessie & Kenny proceeded to actually take their vows their guests, still in bathing suits, gathered round and took witness to what has to go down as one of the most unique and special weddings ever."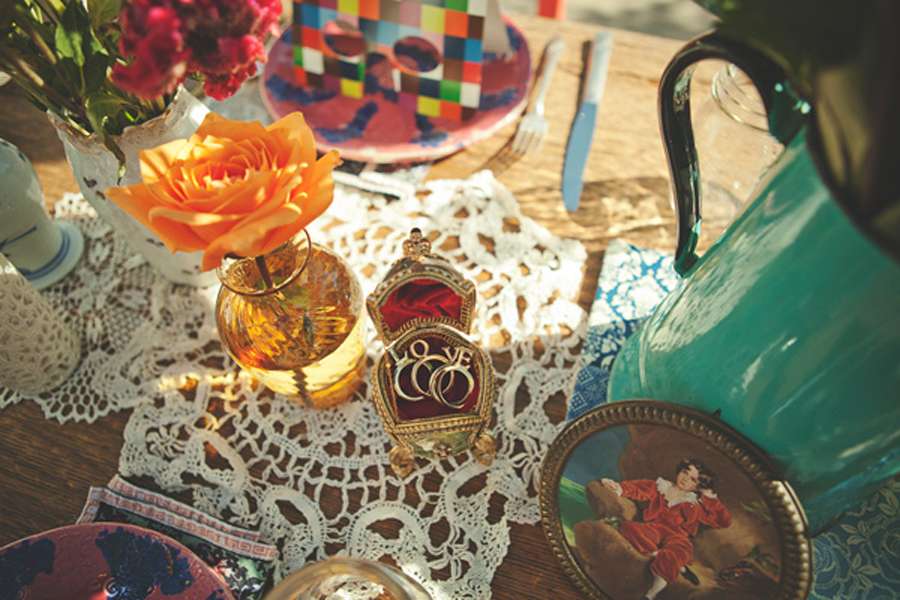 Well it would seem that Rock n Roll weddings have been out there for longer than I've been alive! I'm thrilled to share this beautiful recreation, but even more so to see their original wedding photographs.
In terms of the styling this set up, Kierstin and her two friends Nicole & Nicole (!!) wanted to keep the authentic late 70s/early 80s vibe as well as bringing it up to date and inspirational to modern couples.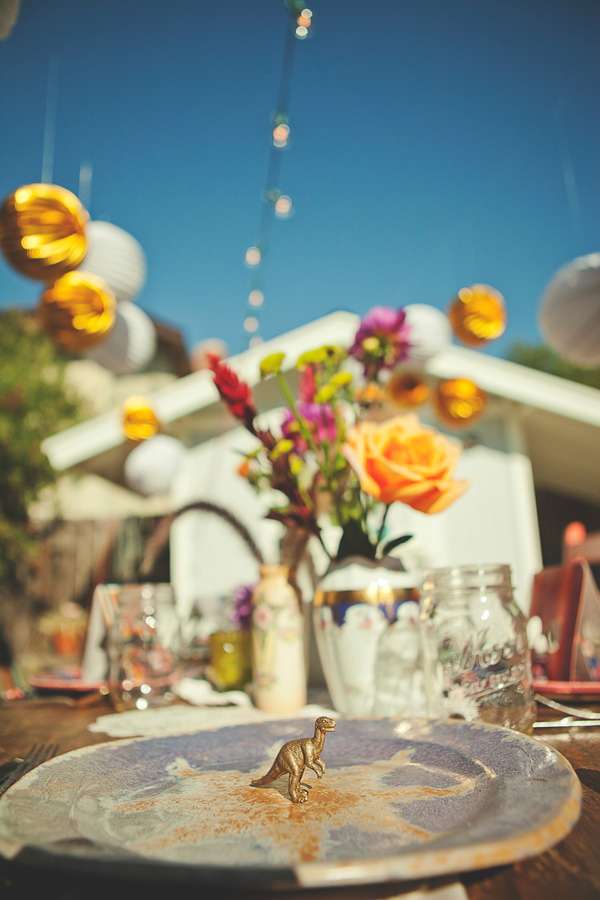 "We started by ordering some decorations like lanterns and beach balls and then hit up the trusty old 99 Cents store for materials", Kierstin explained. "I threw crafting parties where a bunch of girlfriends came over and we made tons of tissue paper pom poms, ribbon wands and paper flowers. For the table, we dug deep in our cabinets and attics and found a slew of assorted vases, jars, candles and other knick-knacks that complimented our look perfectly."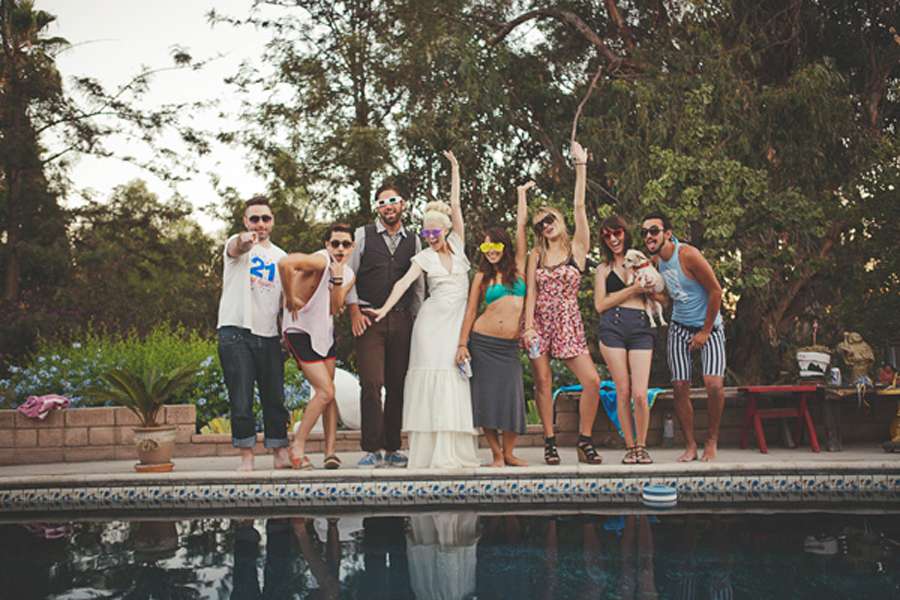 "We also used Kenny's handmade ceramic plates and Jessie's antique flatware and napkins. We added some fun elements like the face mask cards and the plastic dinosaurs that we found at dollar stores. Our flowers were a combination of several bunches from Trader Joe's and some we picked locally. We scored a beautiful dress at Magnolia Gowns & Bridal in Burbank to use as our boho-bridal gown."
So what do you think? Would you ever have a surprise wedding? What about a pool party wedding? I think both sound like so much fun!
Be sure to check out Kenny & Jesse's wedding photos too – what an awesome cool pair…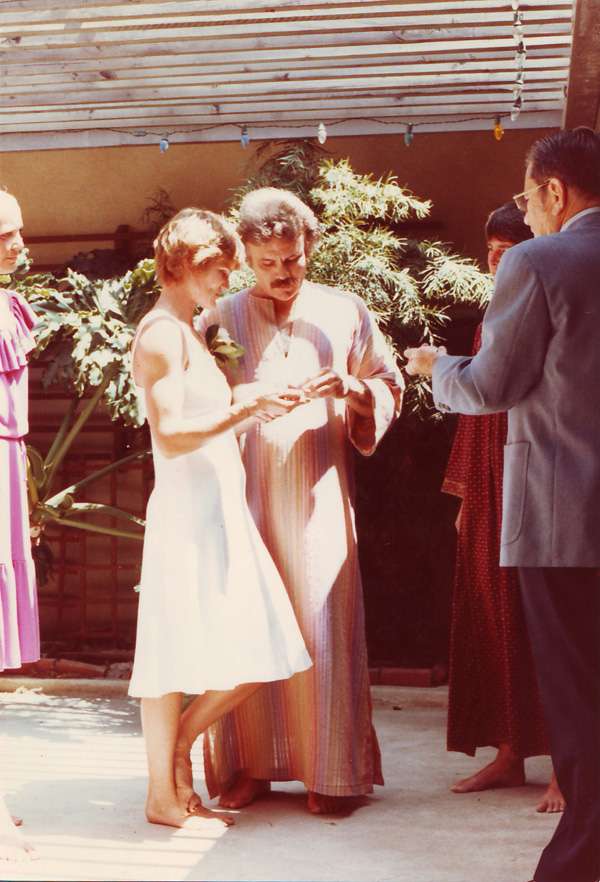 Thank you to Kierstin and everyone involved in this project for sharing it with us today.