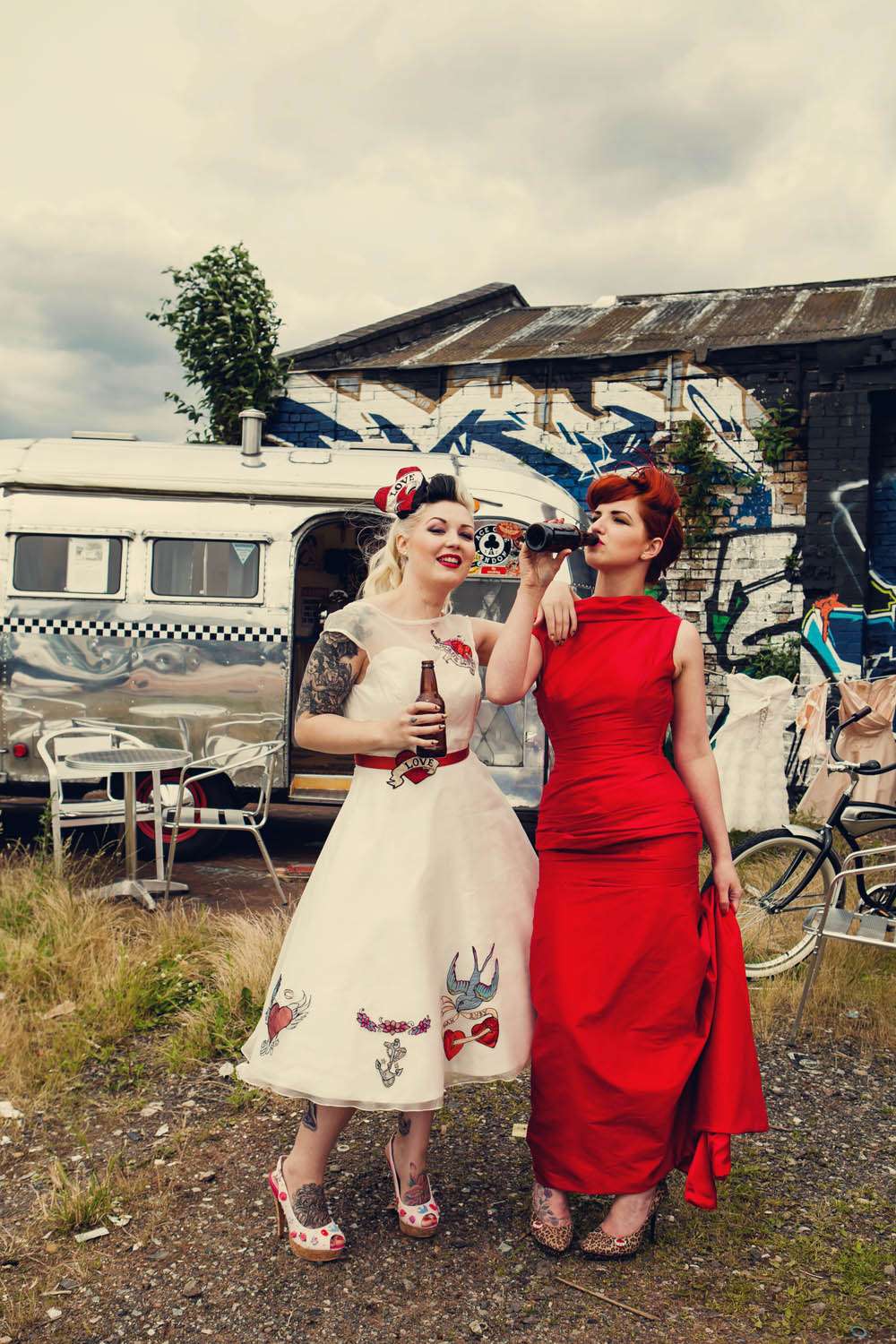 "Ever since I spent time travelling from Nashville to San Francisco last Autumn, I've benn obsessed with wanting to recreate vintage Americana!" wrote stylist Lynsey Le Keux. "This summer I had the pleasure of making it happen. I got together with some serious wedding industry talent including Sassy of Assassynation and Jo of The Couture Company. Our theme was 'trailer trash chic' which basically meant coney neck beers, dust-caked American cars, sweat smudged make up and broad blue skies. The aim was to portray unique bridal beauty against a backdrop of pure gritty trash… We wanted to inspire bridal styling outside of tradition and show our customers that they don't have to follow convention to rock a wedding – bridal beauty is subjective and one thing all the collaborators agreed on was how much we loved customers who did things their way."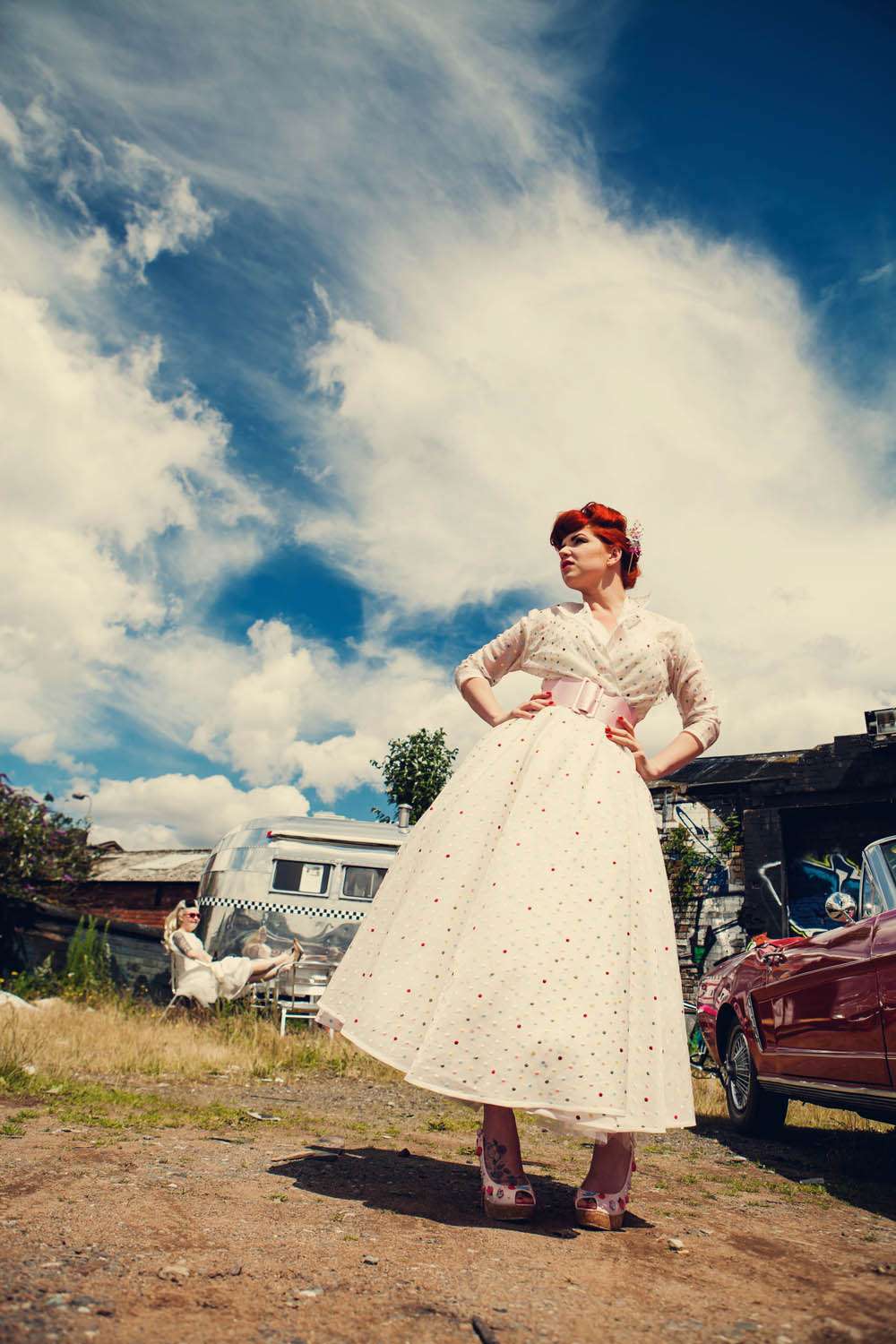 So on a baking hot Summer's day, the team gathered in Birmingham to shoot up a storm! Lynsey has laid her hands on a vintage airstream – that doubled as a tattoo parlour! "The airstream was provided by Greg, whose passion for his authentic vintage lifestyle covers every inch of his 1952 Airstream called "Clipper". From the red glitter Italian leather tattoo chair to the original 50s pink flamingos, Greg's trailer left us drooling with envy at the amazing business he's built; Greg travels the worlds' festivals and events inking his lucky customers original style Sailor Jerry tattoos."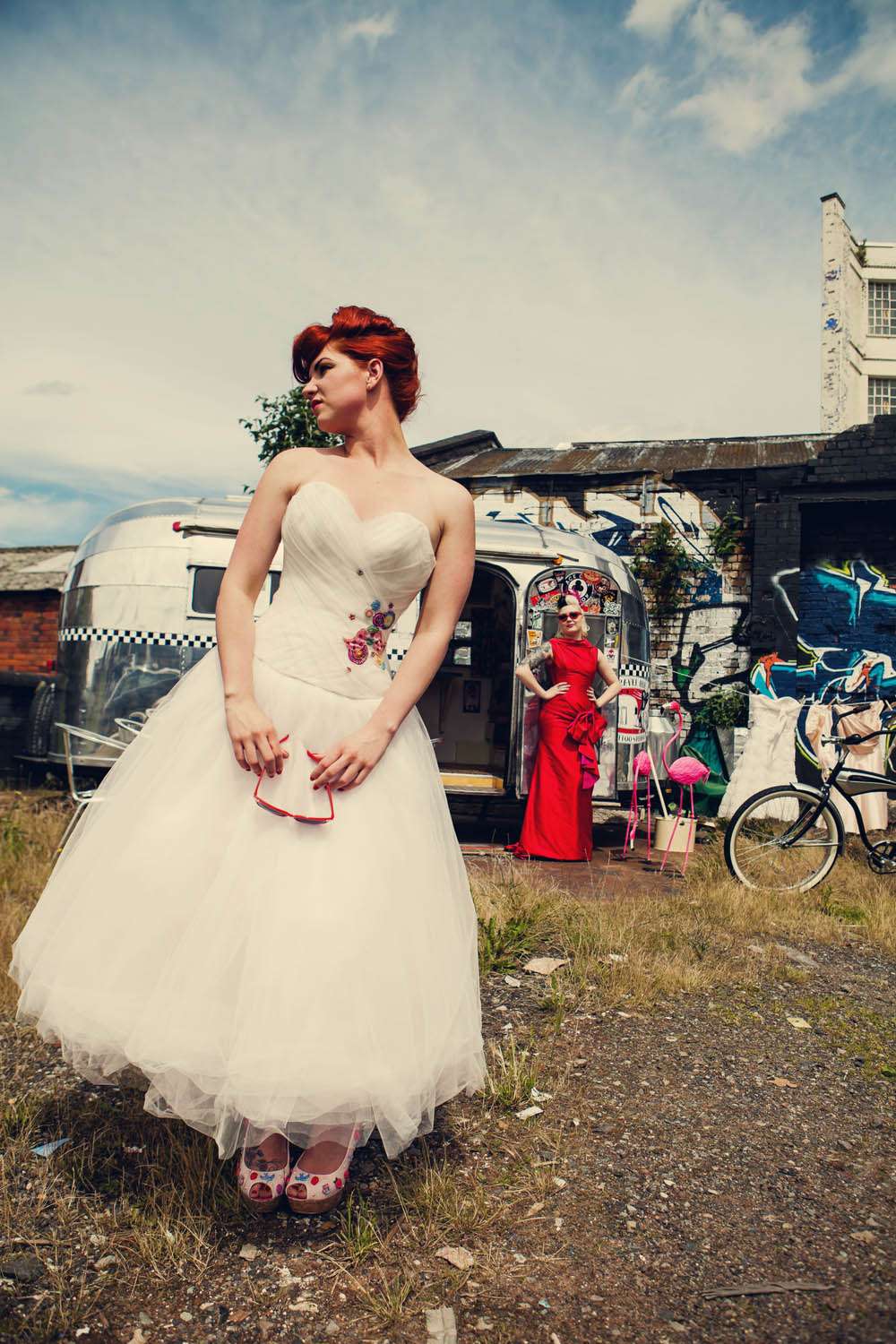 "Our brides also needed a ride – my 1964 ½ Ford Mustang was perfect. The first edition Mustang is a straight 6 convertible in 'poster' red. We bought her from Alabama in 2010 from an amazing old man called Bully Sheffield who lived in wooden house with a porch and a whole rack of rifles."
Jo from The Couture Company designed and made all the dresses and accessories. Everything from a pastel polka dot dress (which I'm dying over!) to the long red corsetted gown and the tea length embroidered tattoo circle dress – which I've featured and worn (well a black version of) – before.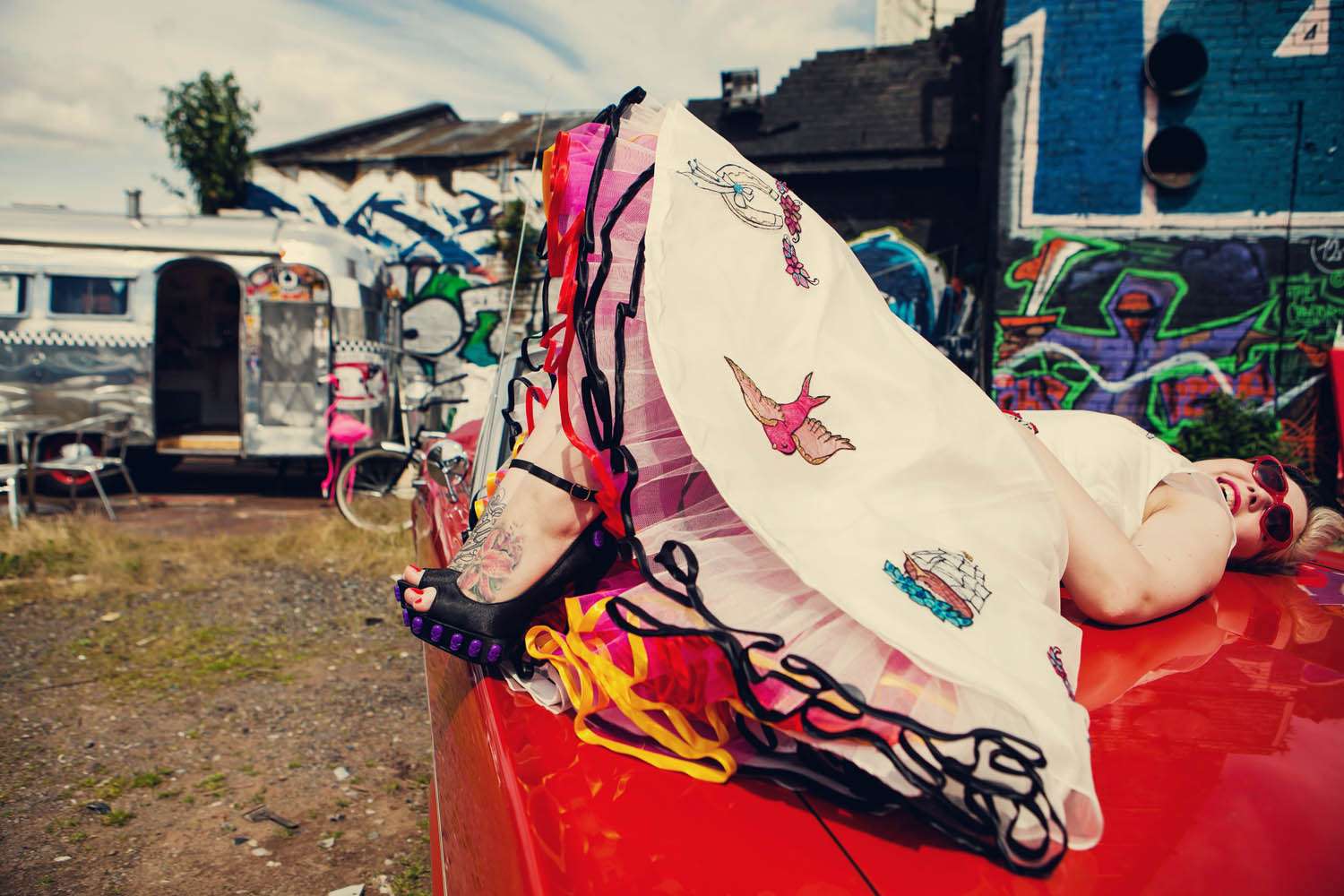 "Jo's dresses are exquisite", continues Lynsey. "Made entirely bespoke and for each individual customer, they are all totally unique. Every shot by the amazing Sassy of Assassynation shows how well the the dresses fit, as well as the immense attention to detail. They are the perfect blend of vintage meets modern."
"We are so proud of this shoot," Jo took over. "I'd also like to let everyone know that Sassy and I are proud to be teaming up to host the Eclectic Wedding Extravaganza in Birmingham on 4th November. A number of the people involved in this shoot will be exhibiting so why not come along and have a look at us in the flesh (and a sit in the Mustang!)"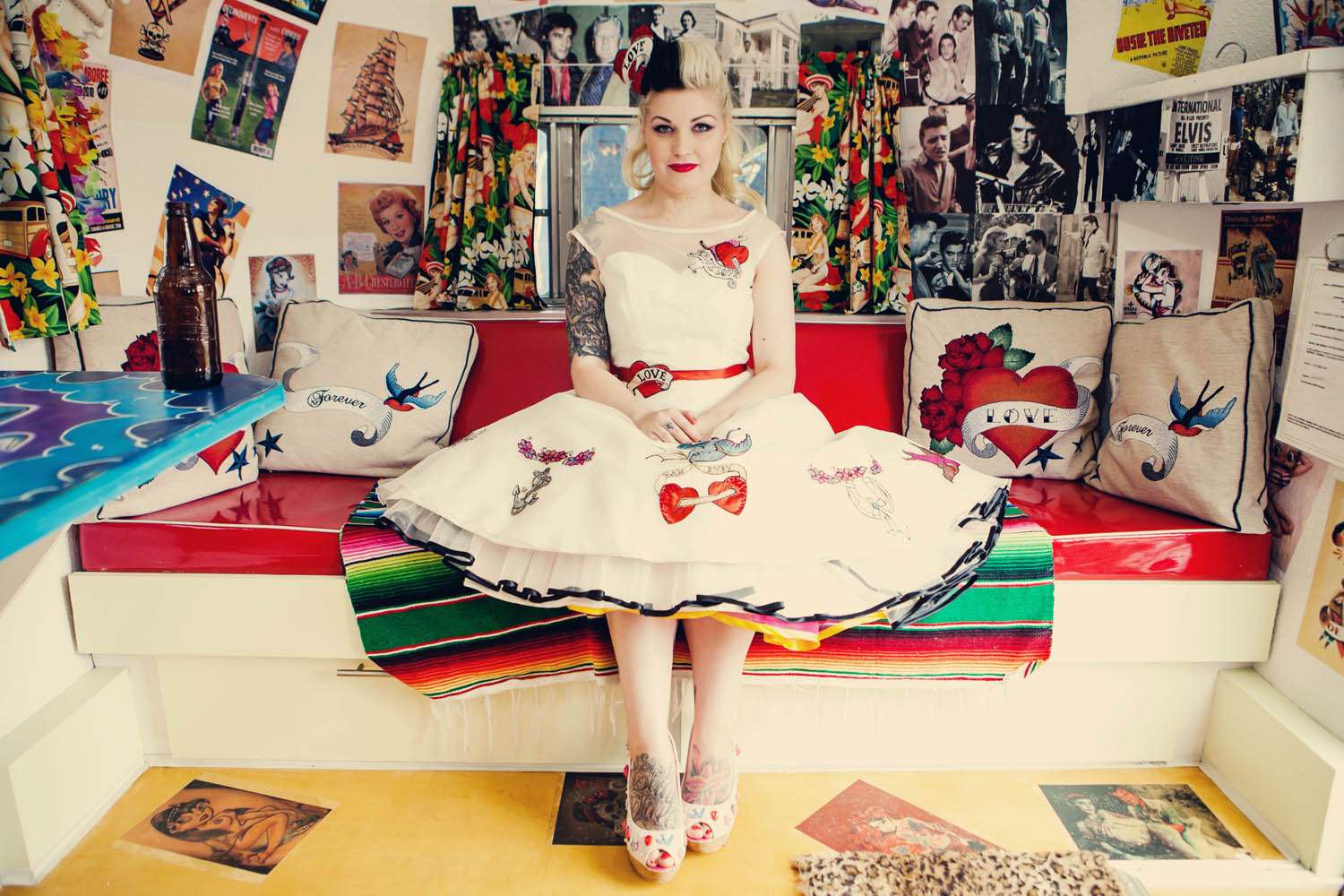 Just awesome! Thank you to Lynsey, Jo & Sassy, and their entire team, for sharing this bloody amazing shoot with us today. I can't wait until the Eclectic Wedding Extravaganza – yes I will be popping by as well. See you there?
Supporting Cast:
Photography Credit: Assassynation
Styling: Lynsey Le Keux
Dresses: The Couture Company
HAir & Make Up: The Vintage Salon via Le Keux Events
Car: Ford Mustang Hire
Aitstream: Travel Ink Tattoos
Shoes: Jenny Revive