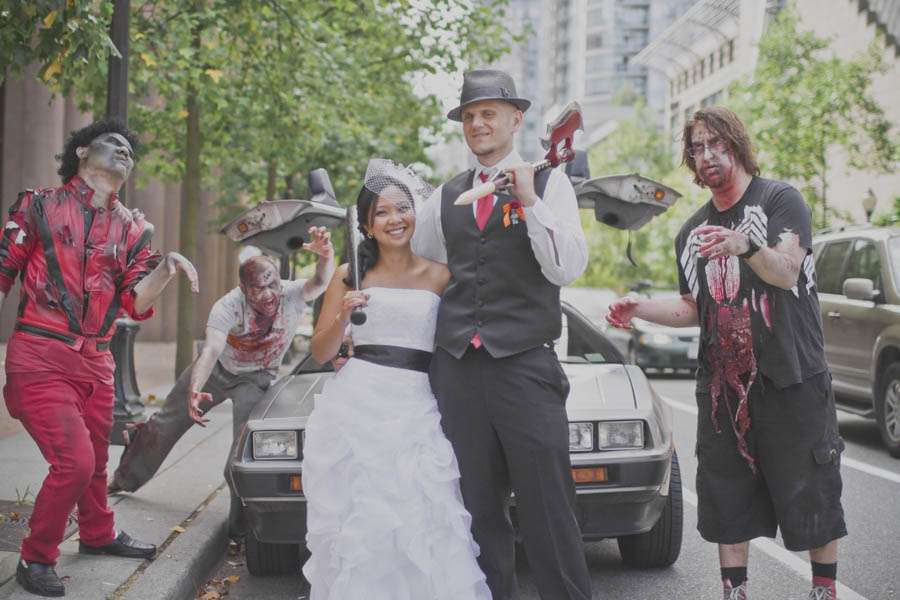 Back to the future, Indiana Jones, zombies… If you were to ask me to list my all time favourite things they would all be way up there. So when Ellery & Arlyn's geeky gorgeous wedding landed on my lap I was more than a little bit excited to blog it… but also rather gutted that we didn't do our wedding this way!
The Canadian couple were married at The Ironworks Studios in Vancouver. "The Ironworks used to be an old iron factory near the train tracks just outside of Gastown," began the bride. "It's now an eclectic venue used mainly for concerts and TV or movie shoots. We went to our friend's book signing event there a few years ago and when we started talking about venues, the Ironworks was the place we both thought of first."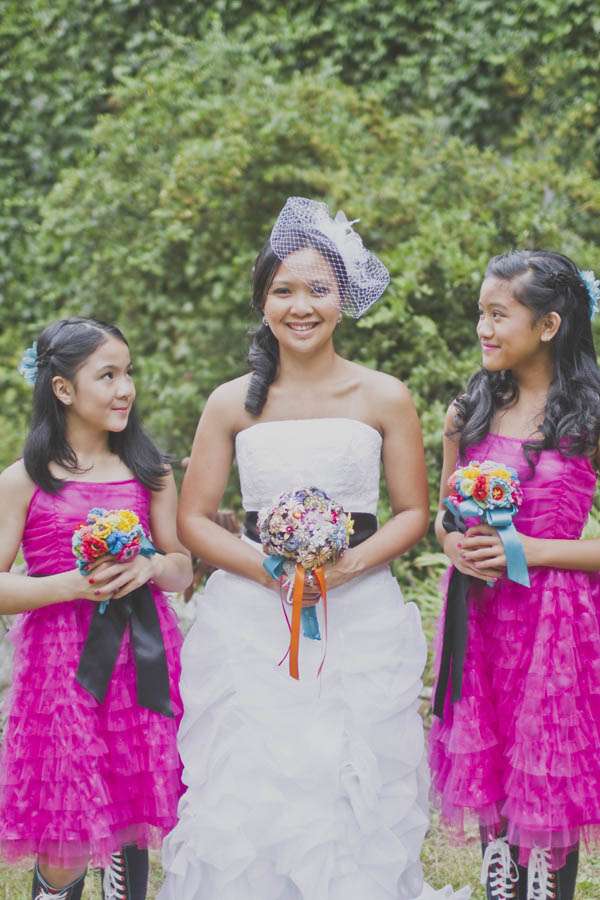 "Our ceremony was officiated by Ellery's dad, who is a retired RCMP," Arlyn explained. "We wrote our own vows, and while we were saying them there were trains shunting in the background. it was actually quite fitting since Ellery and I spent the last four years working on Thomas and Friends! Our ceremony was pretty special and my favourite part of the day.  It was nice to be surrounded by all our friends and family and seeing how happy everyone was for us. My daughter started crying which was totally unexpected and so touching and it got everyone all teary-eyed."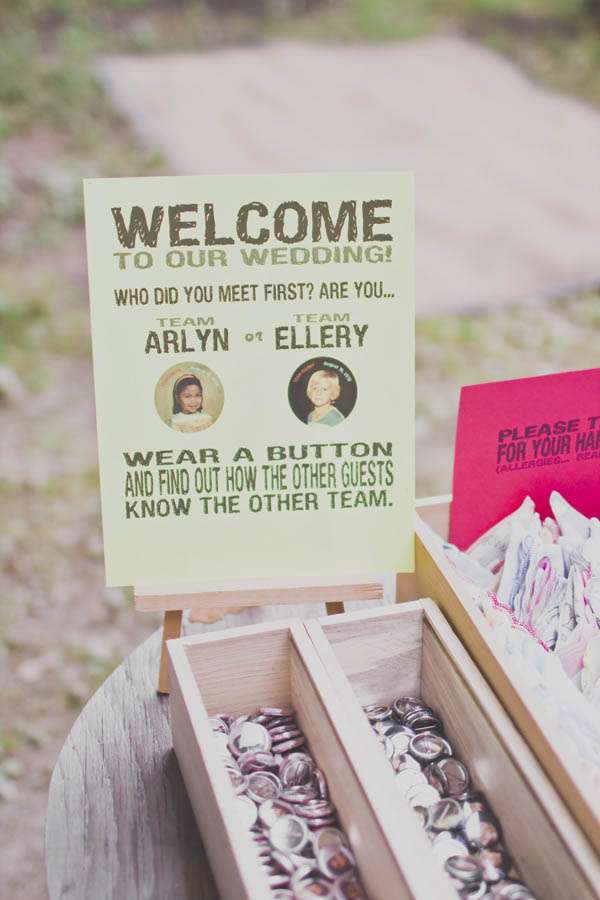 "Along with the typical best man and bridesmaid, flower girl, ring bearer, my Maid of Honour was my daughter, Mika. Instead of groomsmen, we had two best buds of honour, our friends Jenn and Kevin. Our ring bearer was dressed like Indiana Jones at the beginning of Temple of Doom – white tux, red flower – and he carried our rings in a replica of the Ark of the Covenant. We had a violinist and pianist playing the theme to Raiders of the Lost Ark when the wedding party and the ring bearer walked down. I walked down the aisle to a classical version of Guns N Roses' Sweet Child of Mine. Our recessional song was the theme to Game of Thrones, our current favourite series. Only our really geeky guests figured it out!"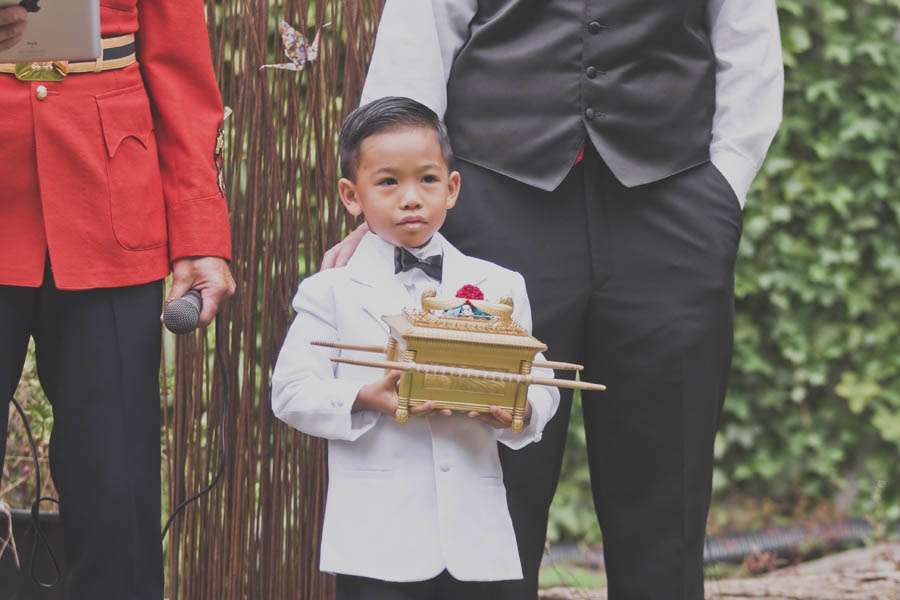 Despite all the movie references, the couple insist they didn't really have a 'theme'. They did however throw in everything that they loved! "We didn't really have a wedding theme", continued Arlyn, "we just wanted to incorporate things we liked and thought were awesome. Ellery and I work in the animation industry so movies and geeky pop-culture things are pretty big with us. I think what was also very different about our wedding was how much input the groom had. So many weddings feel like it was planned solely by the bride and her mom. We wanted our day to be about us, as a whole. It was pretty 50/50 on all the decisions. We wanted every detail to reflect us, our personalities, our humour and to have some sort of significance for us whether it's a story behind it, an inside joke, our favourite food, or done by someone we knew."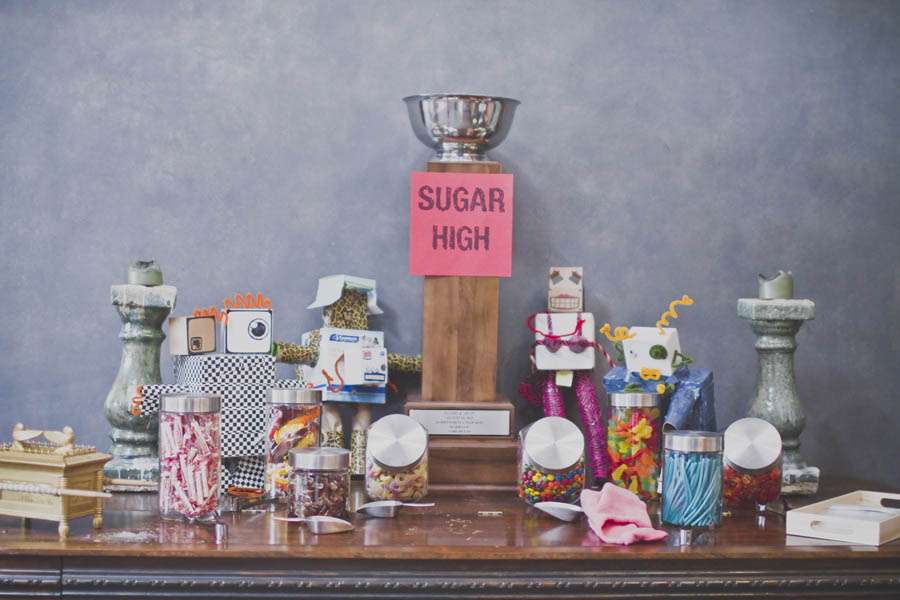 "Our wedding bands and my engagement ring were designed and made by our friend, Don Stuart, a renowned jewellery designer and recipient of the Order of Canada. Instead of a diamond on my engagement ring I wanted a ruby, which is Ellery's birth stone. Embedded in our wedding bands and my engagement ring are pieces of a pebbles that Ellery found on the beach in Tofino, the place where we'd like to retire."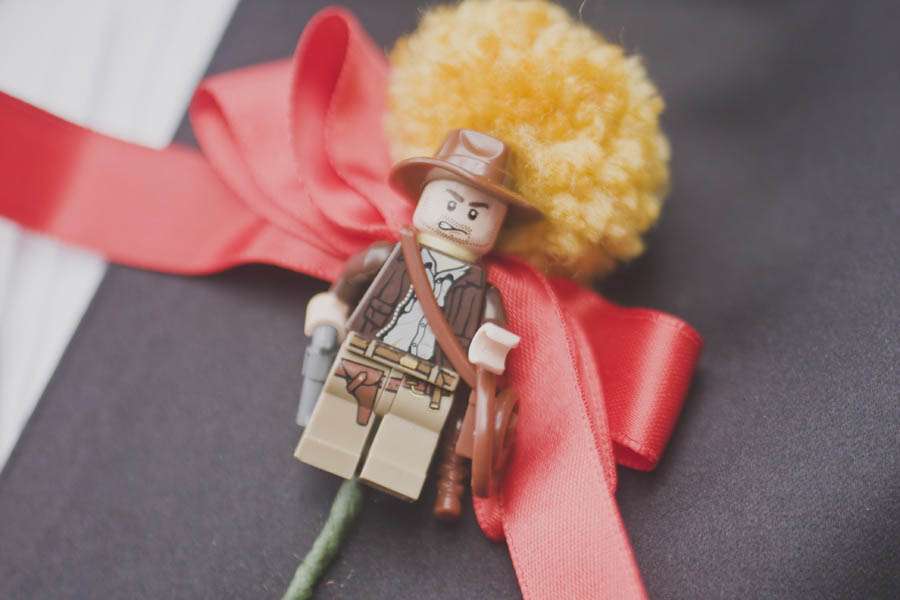 SO CUTE! Ahhh I just love it all. Oh and you have to check out their 'How I Met Your Mother' inspired wedding invite video – it's genius!
See! How cute?! Thank you Ellery & Arlyn for sharing your wedding and your awesome story with us today. Can we be friends?
Supporting Cast
Photography Credit: Crystal Marie Sing Photography
Venue: The Ironworks Studios in Vancouver
Ceremony Musicians: Eric Balana and his sister, Melanie Balana Ringler
Bride's Headpiece, Bouquets & Boutonnieres: DIY
Cake: Cartem's Donuts
Custom Cake Topper: Lollipop Workshop
Flowers: DIY
Hair: Leslie Jones Hoolaeff
Make Up: Jennifer Esmeria
Band: Two Guys and a Box
DJ: DJ C-Note of Get Live Entertainment
Stationery Moo
Rings: Don Stuart
Wedding Day-Of-Coordinator: Something Pink
Transport: DeLorean borrowed from a friend (jealous!)