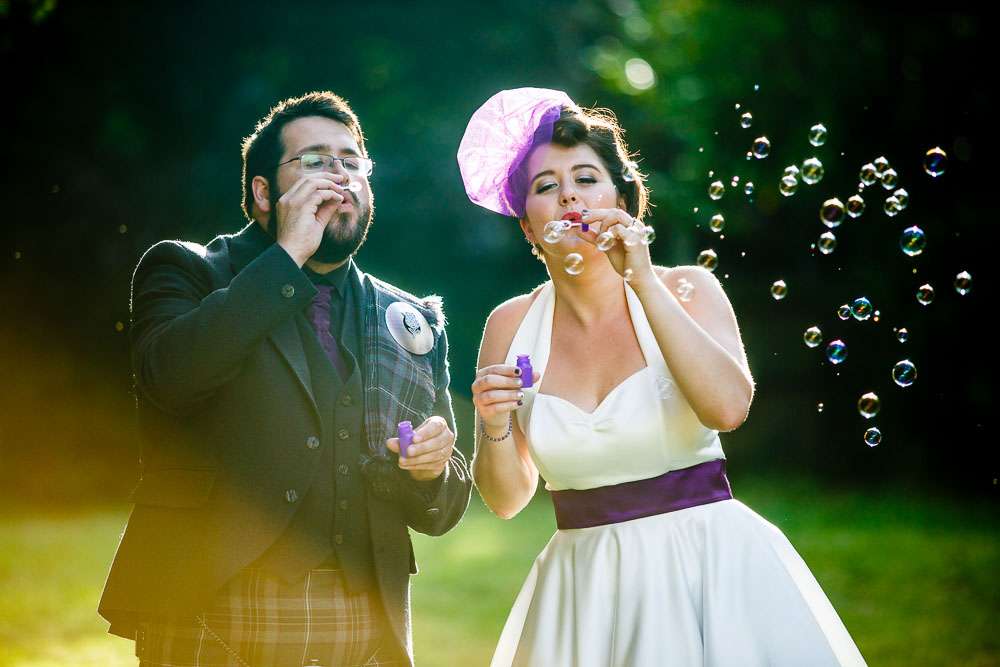 Katy and Kerr wanted a bright and colourful wedding that would be fun for their guests. They chose to serve afternoon tea, followed by take away pizza in the evening! This not only saved them a lot of cash, but went down a storm with their guests!
"Our wedding theme was bright and colourful", exclaimed Katy. "We wanted it to be full of fun and sunshine. The rainbow-ness and stars were sort of influenced by our shared love of Bryan Lee O'Malley's Scott Pilgrim series and the Edgar Wright directed movie of the books. These take their inspiration from 8-bit and old-school computer games and that's exactly what we wanted."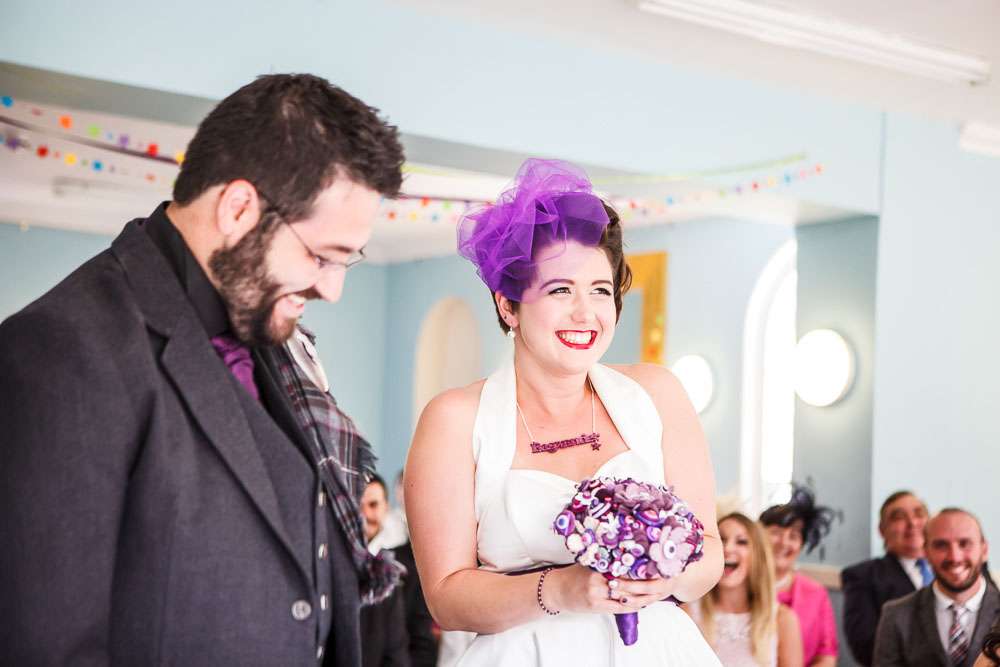 "We are really pleased that people have commented what FUN it was", she continued. "When we were planning, that was our absolute number one priority! There was nothing worth doing if it didn't have love or fun at its heart! That took some people by surprise – it's funny having a conversation with someone who doesn't understand that 'rainbow' is a totally legitimate wedding colour theme!"
The couple decorated the space completely themselves from paper bunting from FunkyFrillsUK on Etsy, rainbow ribbons and plenty of bits from Hobbycraft! For their 'cake' they simply arranged pork pies from the supermarket on a cupcake stand! They decorated them with a customised cake topper made by one of the bridesmaids.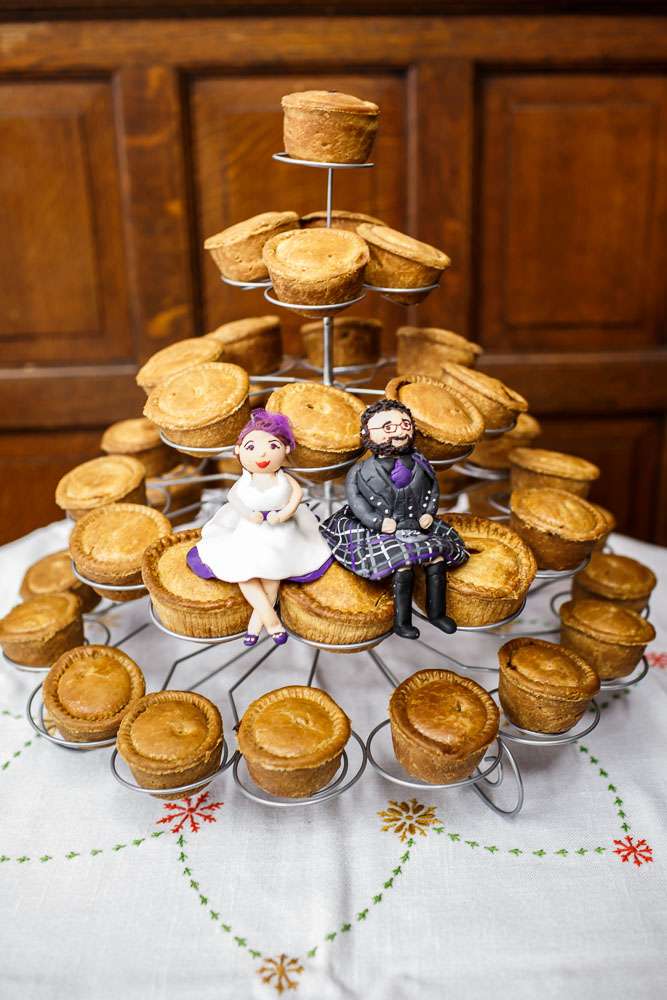 "Just about everything was a DIY project", Katy continued. "I became something of a DIY queen during the 18 months in the run-up to the wedding. I had seen and fallen in love with button bouquets… but with an incredibly tight budget, there was no way we could afford £100 for each one. So I had my friends and family searching out buttons in the correct colour, as well as raiding charity shops, craft shops and sewing boxes! I watched plenty of YouTube tutorials and spent a lot of time with sliced fingers but they turned out so great and were actually really fun to make! I ended up making four – purple, red, blue and green. The leftover button clusters went into teapots of varying colours that I found in a pound shop to decorate the venue."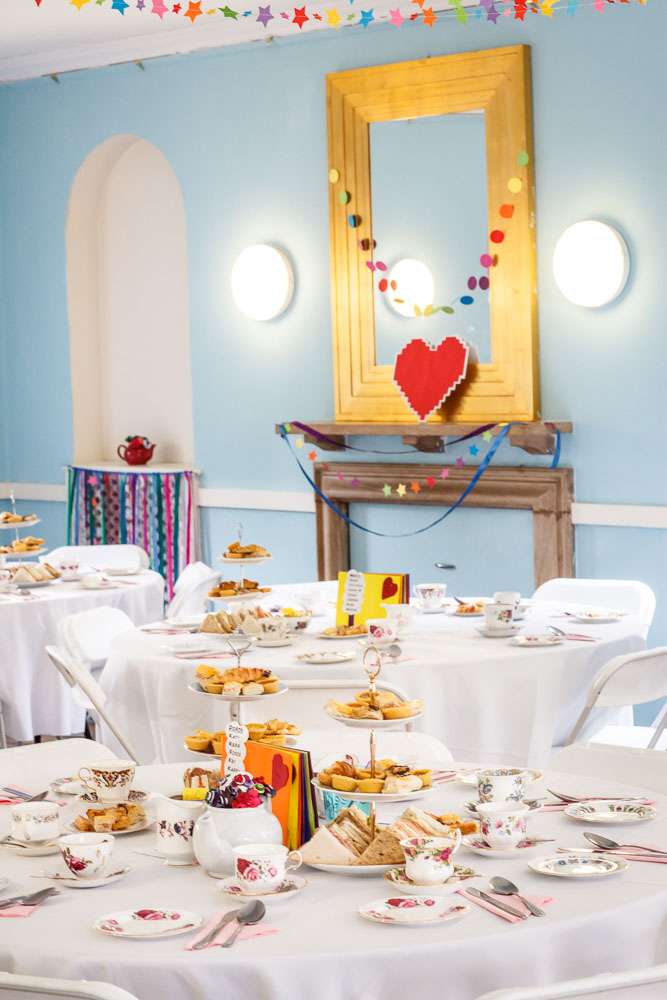 "I also made the table plan from left over rainbow bunting and colourful card mounted on a big foamboard from Hobbycraft. More foam board was used to make 8-bit heart-shaped decorations, including a couple that I decorated promoting our ceremony as 'unplugged'."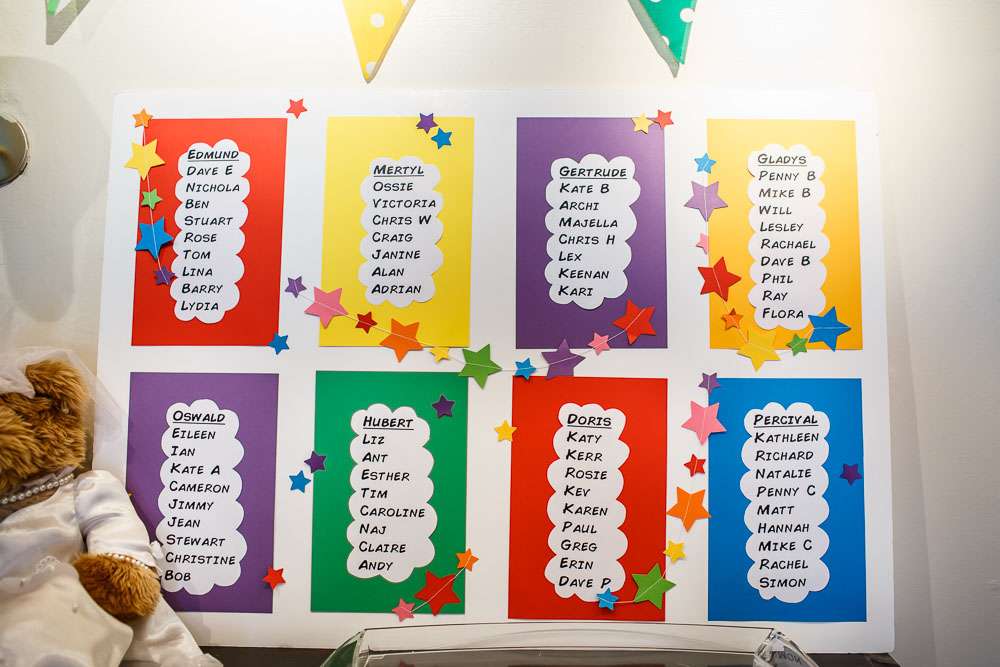 "Everyone had a different-coloured envelope on their table containing the printed games that I designed too. I also made the guest book and the favours which were 'Love Bots' painted onto dominos using Sharpies! It was so much fun designing and making them! They were personalised by having Katy & Kerr 02.08.14 down one side."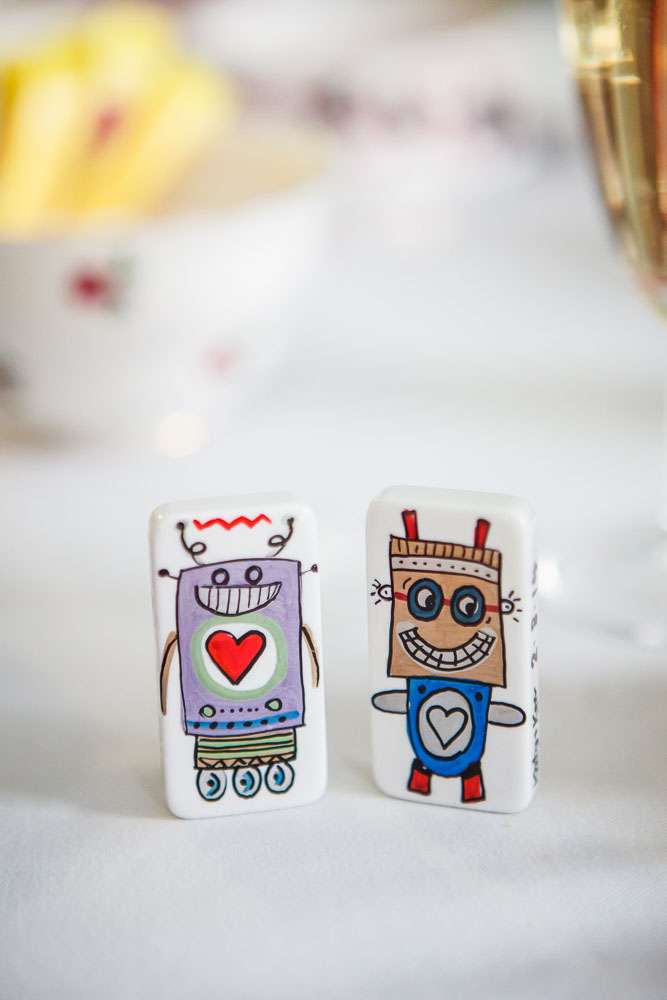 "We spent around £6000 on the wedding and our biggest expense was our photographers at over a third of that", Katy continued. "Our wonderful photographers were Lina and Tom. Photography is important to both of us, and we were keen to have the day documented in a beautiful, clear and accurate way as we keep the memories and the images forever. We always said that whatever, we would be investing in our photography. You only get one chance!"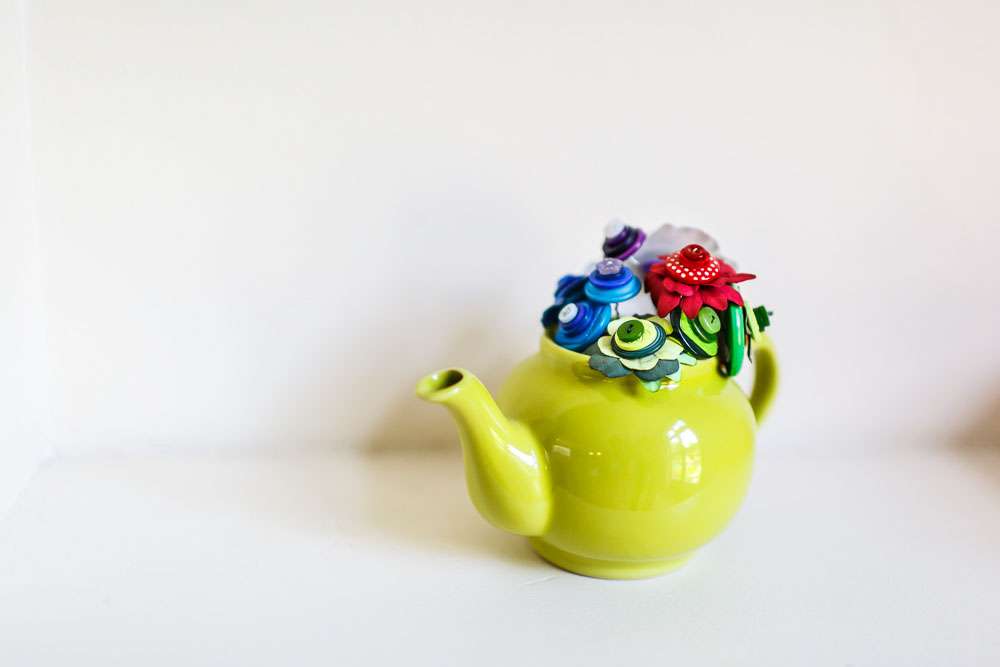 "However we saved a lot on the food by not having a huge, heavy meal. We went local for our supplier too using Serendipity Cafe in Hertford for the afternoon tea. Since we were married at lunchtime and were expecting people to get up and ceilidh dance, we knew we didn't want a huge three-course meal! So we looked for a lighter option and settled on Serendipity's excellent afternoon tea menu. It worked out about £12 a head and was phenomenal. Also our choice to cater using pizza in the evening was money-saving. We had been struggling to find a really cost-effective way of feeding everybody in the evening and reasoned – well, who doesn't love pizza? It also cost us half as much as any other option we explored."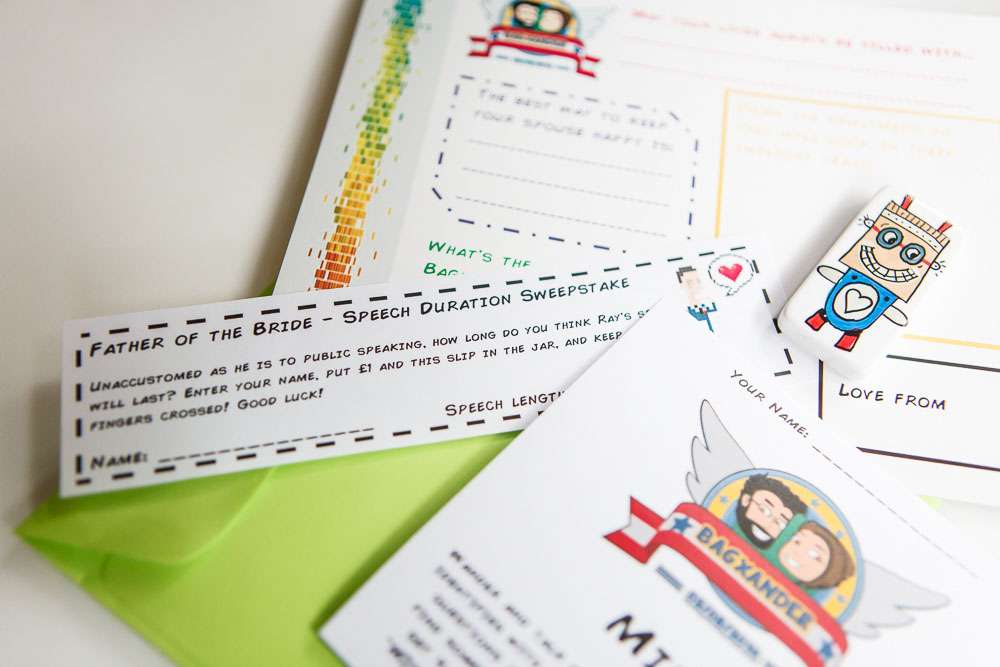 There were so many awesome parts of the day, but both Katy and Kerr agree on what the best moment was. "Our favourite part was looking out across a sun-dappled garden on that sunny August afternoon and seeing all our closest friends and family, all spread out in groups across the grass and the patio, smiling, laughing, catching up and meeting others they've heard so much about for the first time. There was definitely love in the air at that point and just thinking about it again makes me joyfully weepy!"