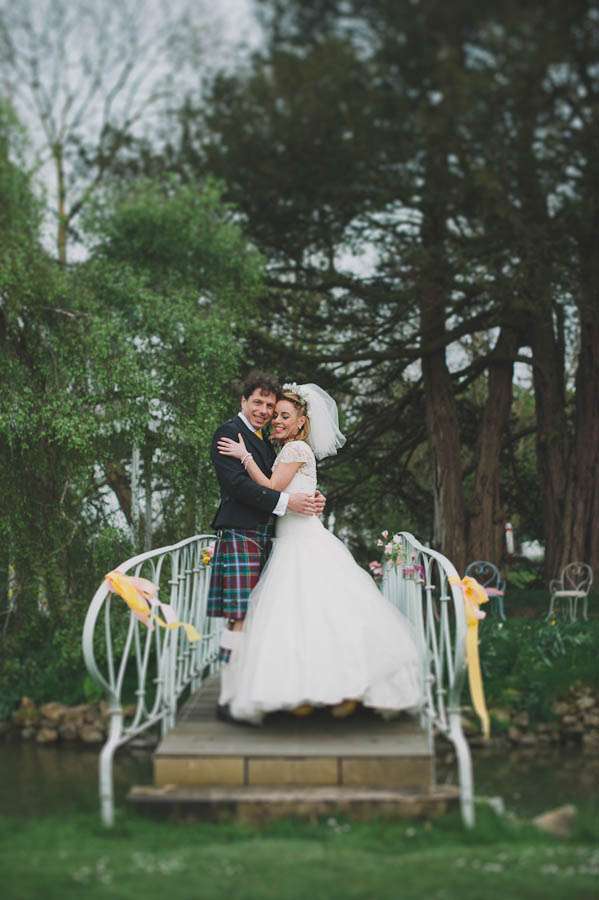 Theresa & William were married at Preston Court, Kent, in April. Both being actors they had a subtle thespian theme and lots of entertainment!
"We met while working for outdoor theatre company," began the bride. "Last year, at the end of a performance of Pirates of Penzance, and on stage in front of 350 people, Willie proposed! It came as quite a surprise to everyone apart from our MD Ben Wiles, who had been instructed to play the Dr Zhivago theme as he went down on one knee! Ben also played at the wedding as I walked down the aisle."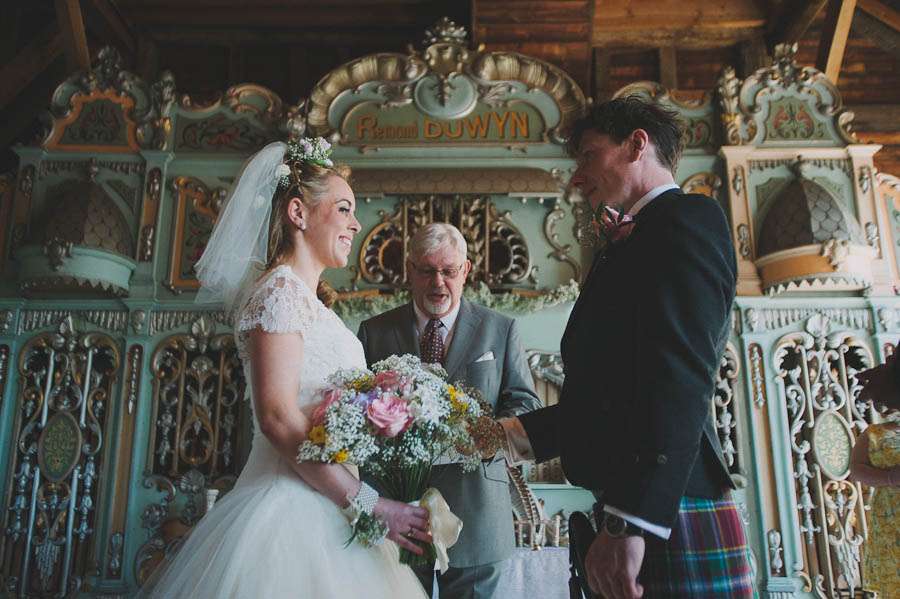 For Theresa & William, the ceremony was the most vital part of their day. Often put the wayside by couples busily obsessing about how their wedding will look, both the bride & groom wanted this part of the day to be their main focus. "When it came to planning the wedding, we knew we wanted the ceremony to be the most important part of the day", Theresaexplained. "We didn't want a civil ceremony that wouldn't allow any religious or spiritual words to be said but we also didn't want a church wedding. We decided the only thing to do was to write our own. Firstly we found our celebrant, David Abel. We went to visit him and decided that he was definitely the person we wanted to marry us. With his help and guidance we ended up with a ceremony that was part celtic handfasting, part traditional church wedding and part just us! We kept rewriting until we both were 100% certain that every word felt perfect."
"Near the beginning we had everyone singing 'Bring me sunshine', which was one of our favourite parts of the day. We exchanged gold rings that we had made for each other (so much fun, with the help of jeweler Sue Lane at her studio in Hereford) and vows that we had written. My gorgeous bridesmaid Lizzie Dive sang 'If I was a sailboat' by Katie Melua, accompanied by Willie's brother Alex on guitar as we lit a unity candle."
"Near the end we had the handfasting, which involved David knotting our left hands together, we made more vows. It was great that we were also able to involve our friend Bernadette, a priestess from the London Goddess Temple. She led my bridesmaids, who represented the elements. My younger bridesmaids scattering petals and read an invocation of Hera, goddess of marriage, while our hands were fasted. At the very end we jumped over the broom and then, as we kissed, the old victorian fairground organ at the back of the barn started playing! After the ceremony we walked outside to cut the cakes. We dug straight into our two beautiful wedding cakes, while a brass band played 'Nothing's going to stop us now' by Starship! It was perfect."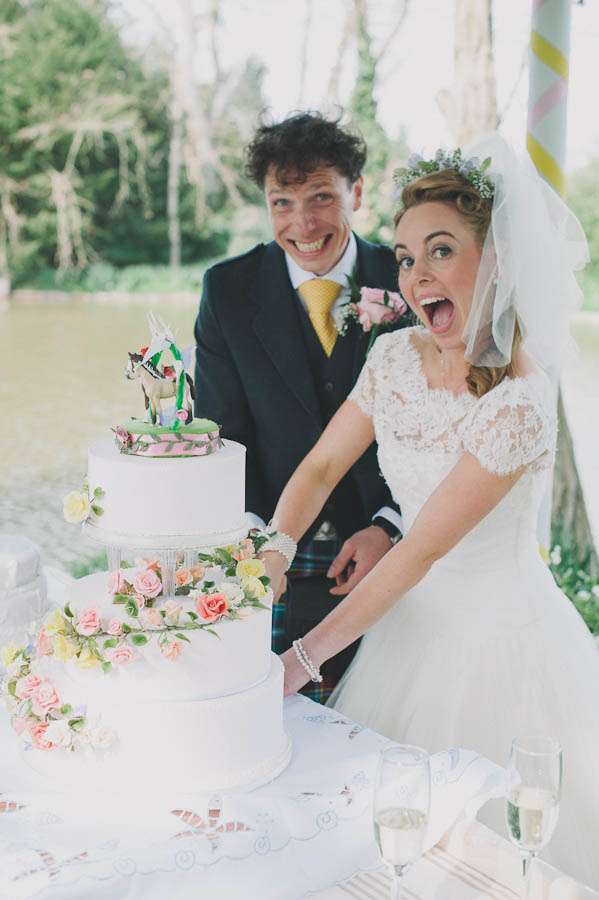 Because of the laws surrounding wedding ceremonies in the UK, after this the couple and their wedding party headed to a small 13th century church, St Mildreds, which is in walking distance of the barn, for the legal ceremony. "After some fizz and cake we processed into St Mildreds for a blessing from Rev Jo Robertson", Theresa continued. "She wrapped her stole around our hands to tie in with our handfasting and then the congregation lit candles to remember all the people we loved who could not be with us. It was a very special and still moment in a busy day."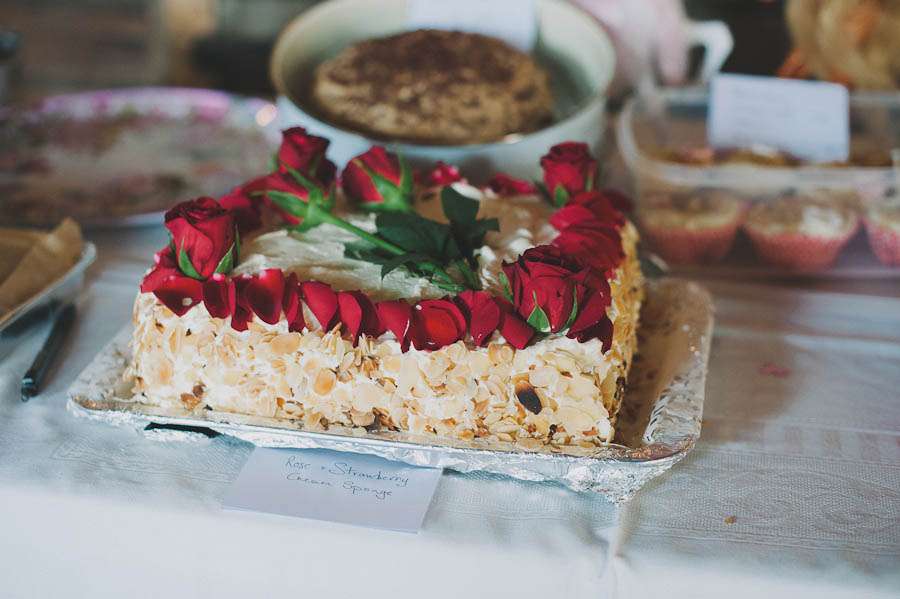 For their reception the wedding party moved back into the Preston Court barn for a tea party. The space had been decorated with homemade touches. "Lots of friends and family came down the day before to put up bunting, a toy pony display, fairy lights and a medieval tent on loan from our theatre. With with help from our families we had collected all the crockery (including 60 tea and coffee pots!) from markets and junk shops. I made 15 cake stands with my bridesmaid Deb from the most beautiful and unusual of the finds."
"Guests were invited to enter a cake competion. All entries were displayed on a table decorated with toy ponies. At the tea party the finalists were judged by the top table and first, second and third rosettes were presented. The winning cake was an incredibly delicious rose petal and strawberry cake. At the end of the night guests took home large amounts of cake in boxes!"
"We then had a lot of entertainment to fit in after the tea party! Our friends Stephen and Kirsten Badham gave a swing dance lesson while the Klesmar band played some appropriate tunes! The Morris Men did an amazing display for us and we managed to get quite involved. Allcock and Brown played some old music hall songs and the cast from the show we were in last year when Willie proposed dressed up to perform a couple of numbers! Then we all danced like crazy to the Klezmar band and our friend Glen's DJed til the small hours!"
Fantastic! Thank you to Theresa & William and their wedding photographer NabeelsCamera for sharing today.
Supporting Cast:
Photography Credit: NabeelsCamera
Venue: Preston Court, Kent
Bride's Dress: Sassi Holford, 'Samantha'
Bride's Shoes: Harriet Wilde
Bride's Headpiece: As you like it veils
Bride's Jewellery: Glitzy Secrets
Groom's Outfit: Drummond Kilt
Bridesmaid's Dresses: Frocks by Bean
Cakes: DIY
Flowers: Kings Mile Florist, Canterbury
Hair & Make Up: Christina Jessel
Bands: Cinq Port Brass, Schulmans Klesmer band, The East Kent Morris Men, Allcock and Brown
DJ: Glen Cornwall
Stationery: DIY
Caterers: Stella Grove & Simmons Creperie
Celebrant: David Abel.