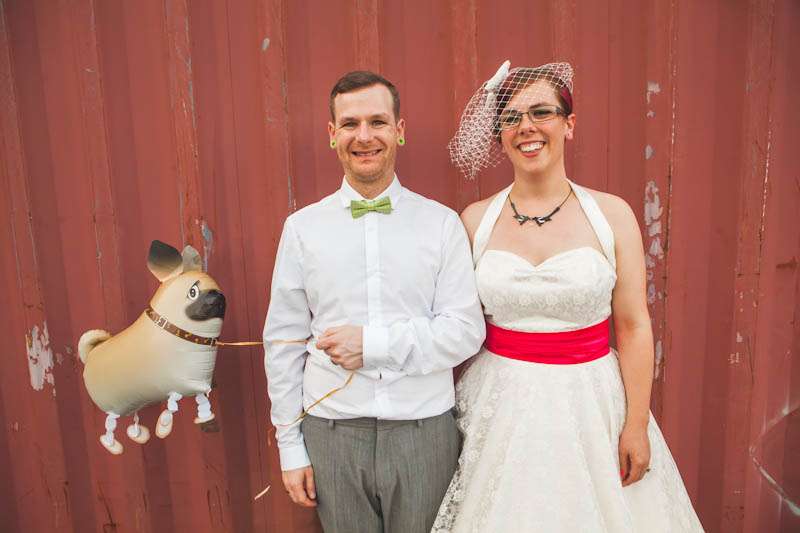 "Without wanting to sound too sucky I've read Rock n Roll Bride for years, even before I was engaged", wrote newly-wed Katie, who married Adam in Leicestershire in September. "I loved looking at the photography and the different styles & ideas out there. So as soon as Adam popped the question I had a great starting point!"
The entire wedding had a music theme – from the vinyl motifs, the homemade posters, the guitar pick favours and the concert venue table names, "Music was a really big inspiration for us, from the background music to the first dance & church music", the bride continued. "Everything was carefully planned and picked to fit our theme. The vinyl theme continued all the way from the invites to decorations around the venue."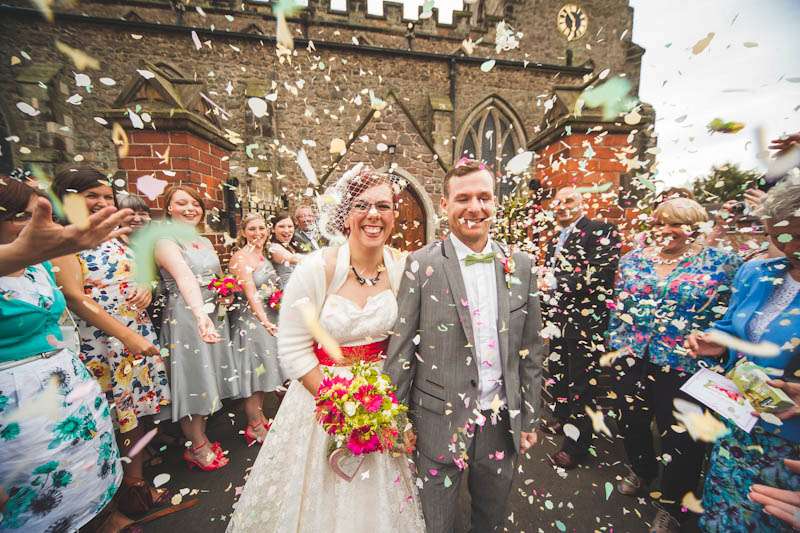 This wedding wasn't without elements of tradition though, with a church ceremony being really important to both he bride & groom."We really wanted a church wedding and so the service started very traditionally with 'Here Comes The Bride,' hymns and a bible reading. Then as the service went on, more of our personality started to shine through. Our second reading was 'A Lovely Love Story' by Edward Monkton and we left the church to 'All I Want Is You' by Barry Louis Polisar while everyone clapped along. The reception was where we could run wild and the venue was great with letting us do anything and everything we wanted!"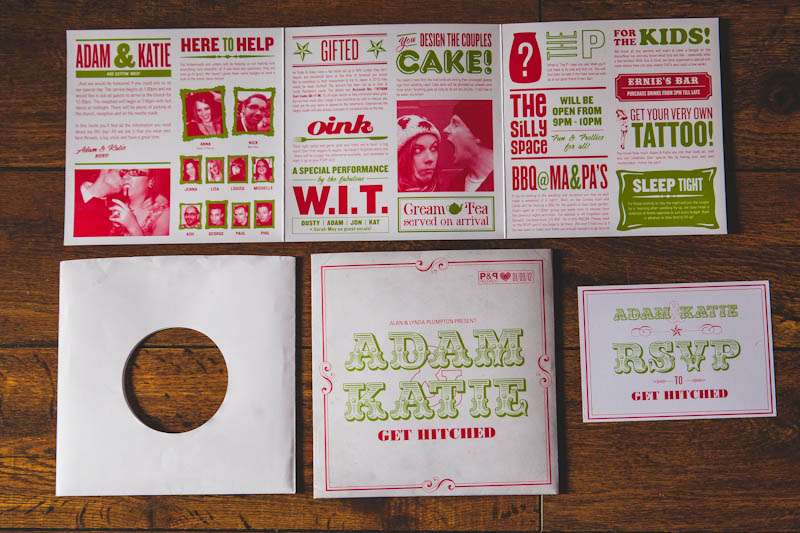 Adam had designed 19 posters that were either about us, our day or relevant lines from some of our favourite songs and they were hanging around the venue. Our mums had handmade about 200 metres of bunting and we also had our guest book cake (plain cakes from M&S which our guests could write on with edible ink pens!), a temporary tattoo stand, CDs that looked like vinyl and a sweet cart.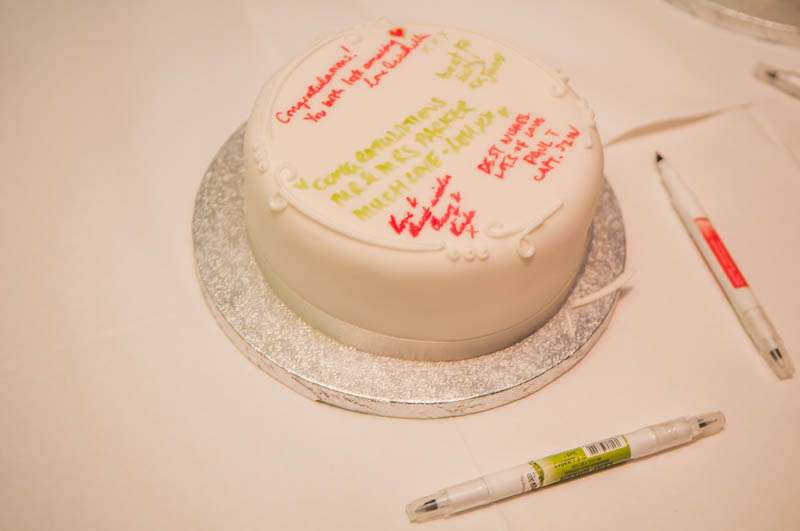 Katie wore a short dress from Vivien of Holloway which she accessorised with a pink sash, Irregular Choice shoes and a Tatty Devine necklace. She even had bright pink highlights put on her hair bright… that morning!! "I'd wanted to have pink highlights in my hair to match the pink sash on my dress and the only way to get it bright enough and for it to be a surprise for Adam was to dye it that morning. Everyone was a bit nervous at the hairdressers at first but I assured them it would be fine as long as it was a pinky/red and not bright green! Then again, I wasn't even that worried because green would have still matched our colour scheme!!"
Brave girl but I love it. It turned out so good, I hope you're keeping your hair pink from now on Katie!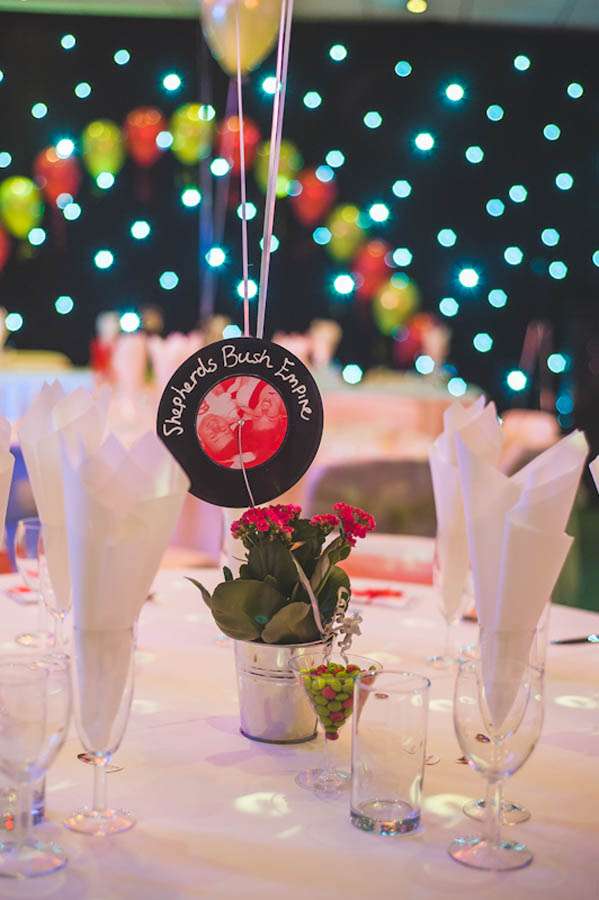 Thank you to Katie & Adam and their bombastic wedding photographer Chris Barber for sharing their kick ass wedding with us today.
Supporting Cast:
Photography Credit: Chris Barber Photography
Ceremony Venue: St Marys Church, Barwell, Leicestershire
Reception Venue: The Meeting Centre, Hinckley, Leicestershire
Bride's Dress: Vivien of Holloway & altered by Devine Loughborough
Bride's Shoes: Irregular Choice
Bride's Headpiece: DIY
Bride's Jewellery: Tatty Devine
Groom's Outfit: Topman suit & personalised Converse
Bridesmaid's Dresses:Devine Loughborough
Bridesmaid's Accessories: Tatty Devine
Cake: M&S
Flowers: Weeds
Hair: Kirsty at Keith Hall Hinckley
Band: W.I.T
Stationery: Adam Parker