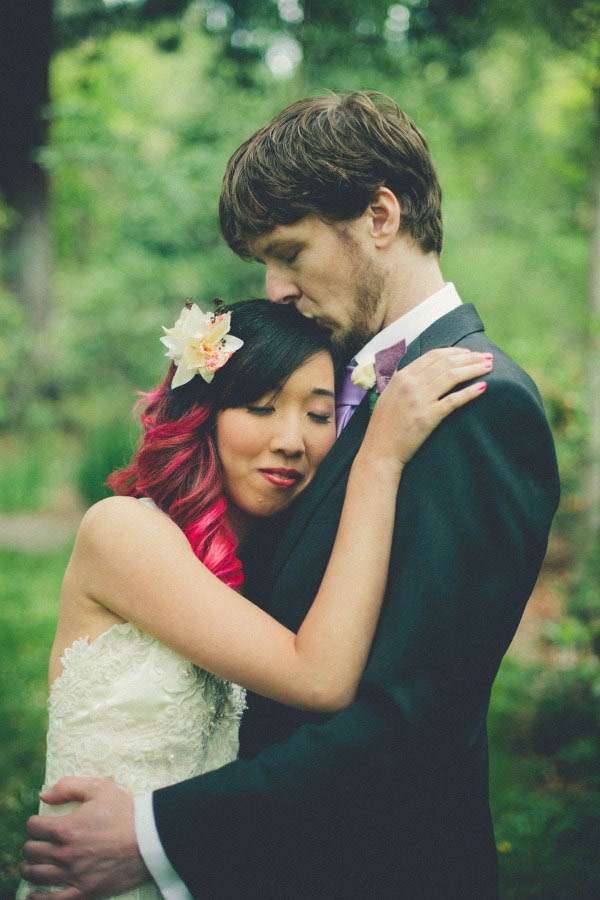 On 26th May this year Kira & John were married in Berkeley, California. The Lawrence Hall of Science at The University of California seemed to be the perfect space to host their reception as the bride had attended school there. It was a unique space and has plenty of things for people to look at and play with throughout the party!
"Our wedding was held at the Lawrence Hall of Science in Berkeley", wrote the bride. "The ceremony was held in a large courtyard called Science Park over a fountain (and exhibit), and the reception was held inside the museum, where all of the hands-on exhibits were open to guests. All of our portraits were taken in the nearby Botanical Gardens. Our officiant was John's law professor. We included a final blessing repeated by all of our guests… 'Live long, and prosper!'"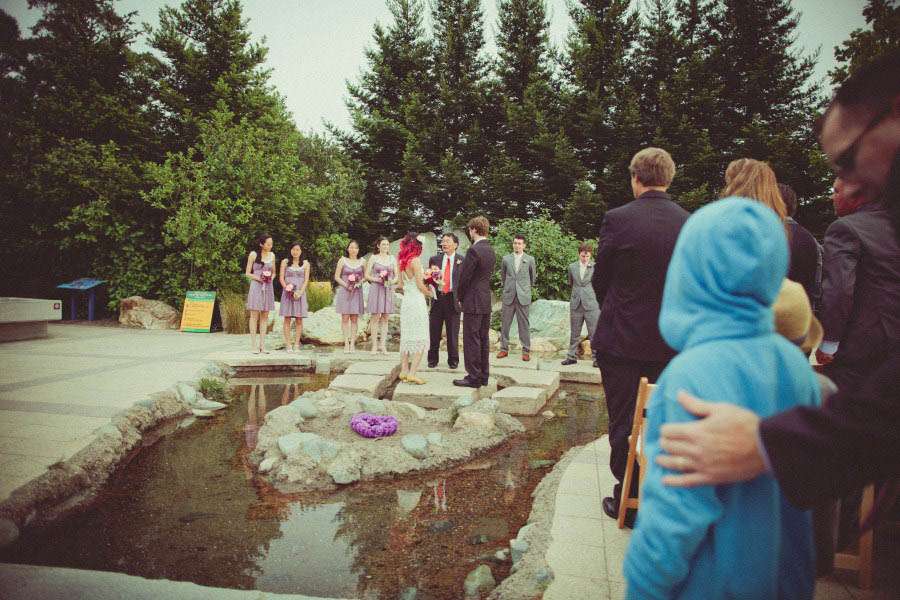 The couple had a DIY wedding with them making the invitations (from a watercolour painting commissioned one of our their favourite online artists, Rebecca Clements), all the bouquets, boutonnieres & corsages, the succulent centrepieces (which they grew themselves!) and the paper tissue pom poms. "Our wedding theme was DIY," Kira continued, "from the scientific fun and lifetime learning exhibited at the museum to the handmade crafts we brought and our whole approach to the event. It was an extremely personal reflection of us as a couple, and broke my family's tradition of a Chinese American church ceremony and seafood banquet in a Chinese restaurant. We wanted to make new traditions."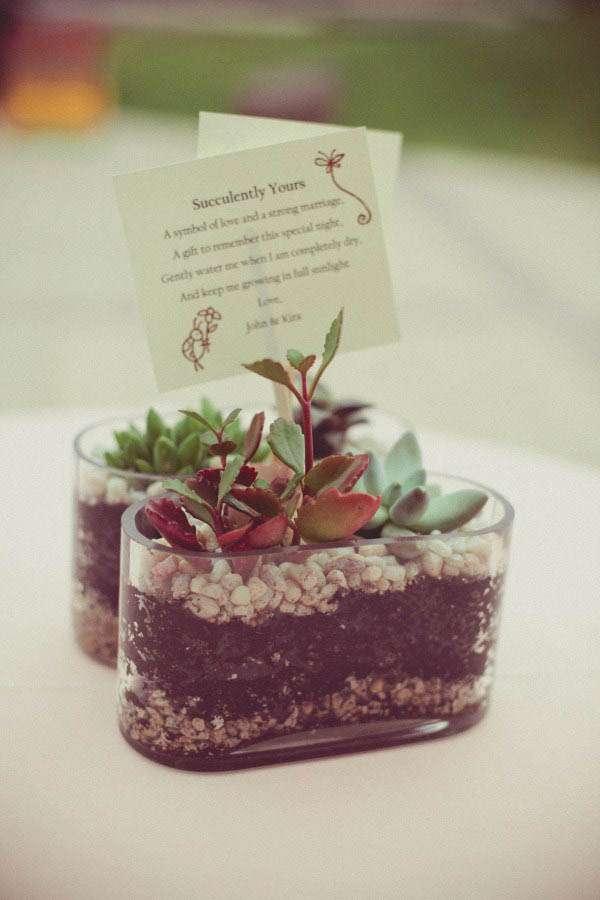 "Our dinner featured an entirely vegetarian selection of finger food served cocktail style", she continued. "During the reception, I surprised John by performing an adaptation of one of our favorite geeky love songs, 'Skullcrusher Mountain' by Jonathan Coulton. We are not scientists ourselves, but it is a shared interest that we highly value and wanted to share with our friends and family… a fun, very personal wedding of exploration and a whole lot of chemistry!"
The bride wore a dress which she purchased, unfinished on etsy. She then had a local dressmaker finish it off and added her own flourishes for the reception. "My mom made the red brocade sash for my dress and the pocket square for John. It was my nod to the Chinese American traditions of my parents' wedding, where the bride wears an elaborate (and constricting) Chinese dress called a Cheongsam during the banquet/reception. We also had a large Chinese embroidered sign-in cloth in lieu of a guestbook that we plan to frame."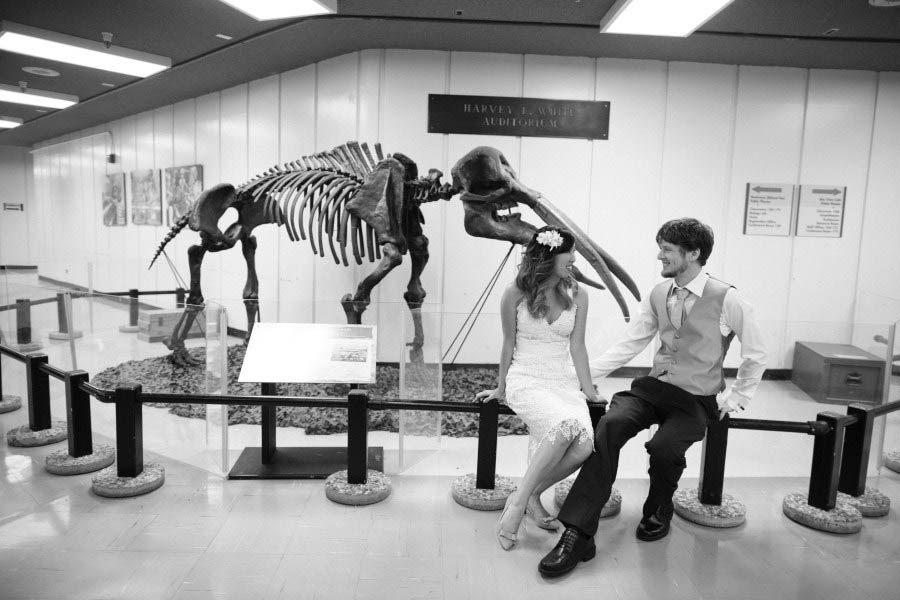 "My favorite moment of the wedding was after I finished singing to John", Kira concluded. "I had never performed in front of an audience and I was so nervous, but it was something I really wanted to do. If you have the limelight anyway, why not take advantage of it? I changed the mad scientist chorus of the song 'I shouldn't kill you yet…' to 'I should kiss you now' and right after the singing I gave John a big kiss in front of everyone. It was exhilarating, emotional, and for me, now it was time to dance the rest of the night away!"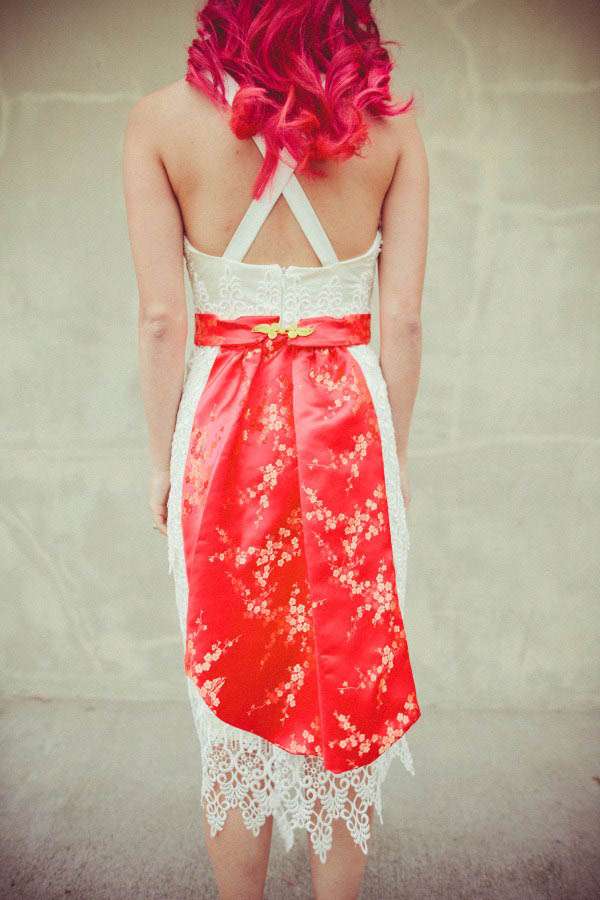 Ahh I love it! Thank you so much to the gorgeous Kira & John for sharing their day with us today.