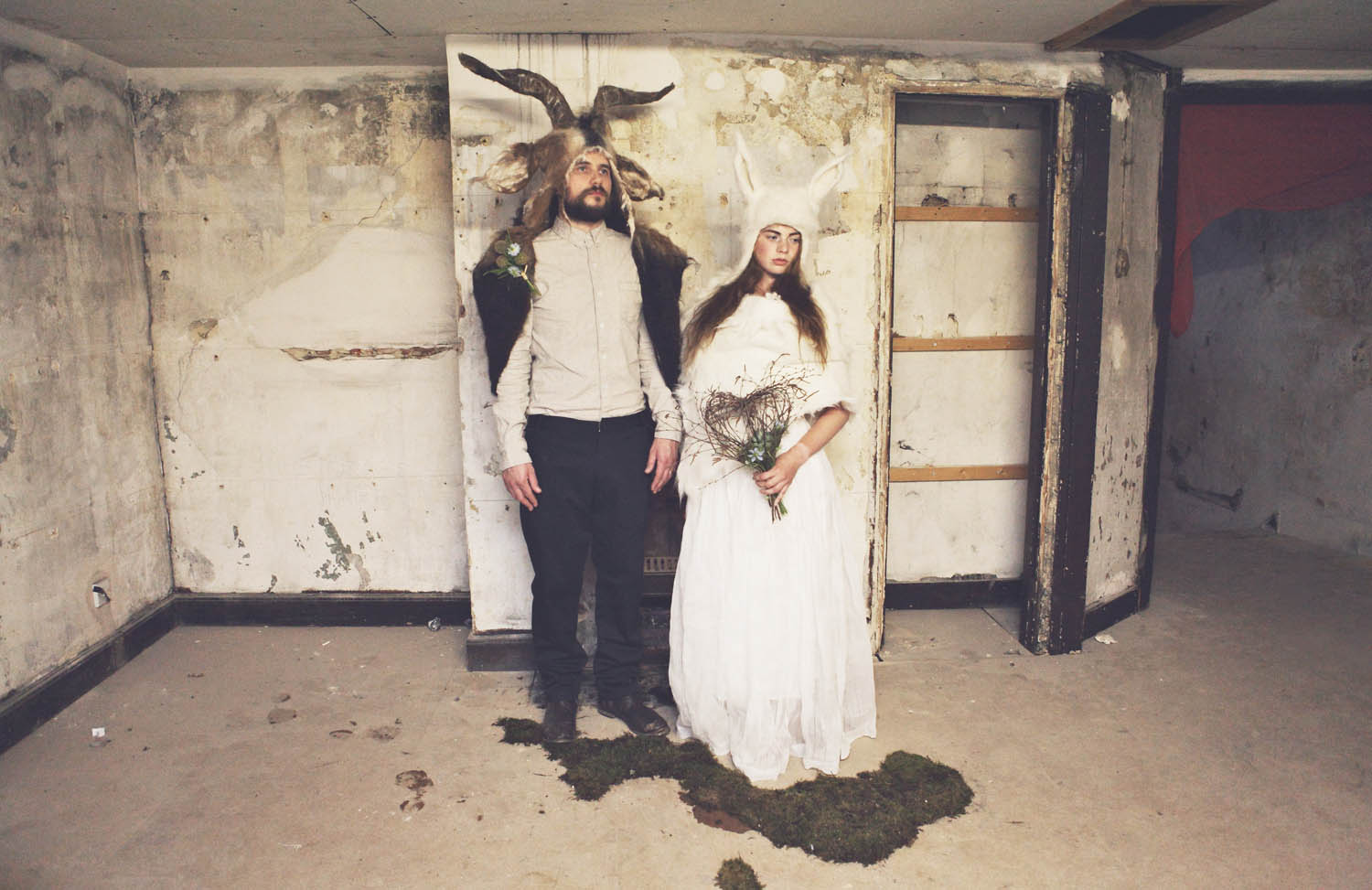 I'm obsessed with this shoot, set up by Becky Hoh-Hale to promote her new breed of vintage wedding fair, A Most Curious Party. If you've been reading Rock n Roll Bride for a while you might recognise that name – I've been lucky enough to feature two of their shoots to promote previous events (as well as Rebecca's own gorgeous wedding).
Alongside the amazing Joanna Millington Photography and some of the other suppliers exhibiting at the shows, Becky wanted to showcase a unique twist on the vintage wedding trend – it's not all tea length 50s dresses and mismatched crockery here! "We had big plans for this shoot", explained Becky. "Originally we wanted to shoot in the Norfolk Woods, where much of the flat landscape looks like the set of Spike Jones's 'Where the Wild Things Are' but on the day we were strewn with drizzle, which eventually turned into full blown rain, which eventually turned into hail. So onto plan B!"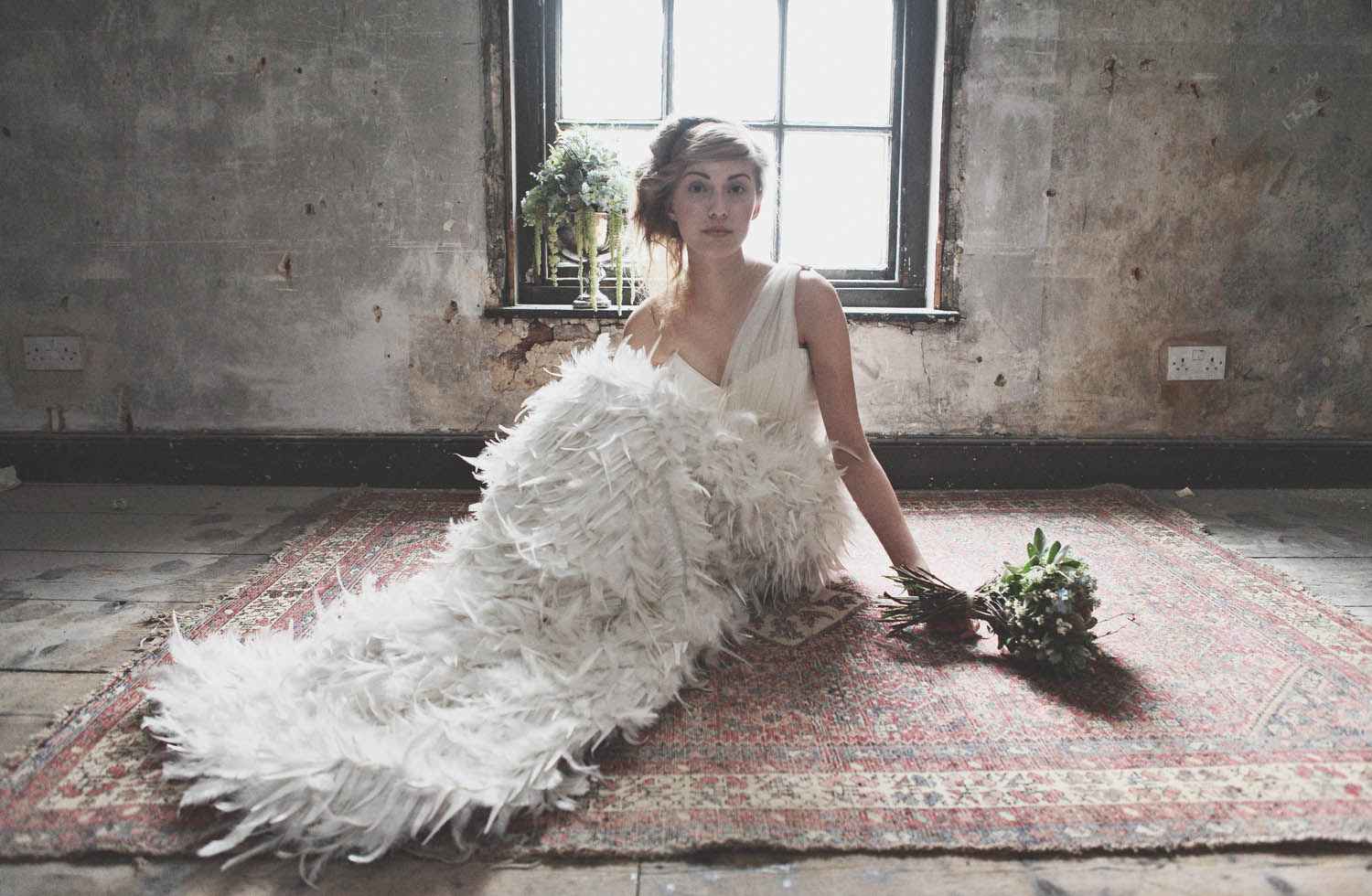 "Luckily our make up artist Nova of Milk & Honey, had put on an amazing night market event the month before, at a beautifully crumbling down and disused 18th century building close by, where the layers of wallpaper were in just the right state of shabby. If a battered, period house had been plan A you know that we would have spent years looking for this exact setting, so when adjusting our mindset from Max and his Wild Things to something more akin to Wedding Creatures in the Attic, we realised how lucky we were to have it."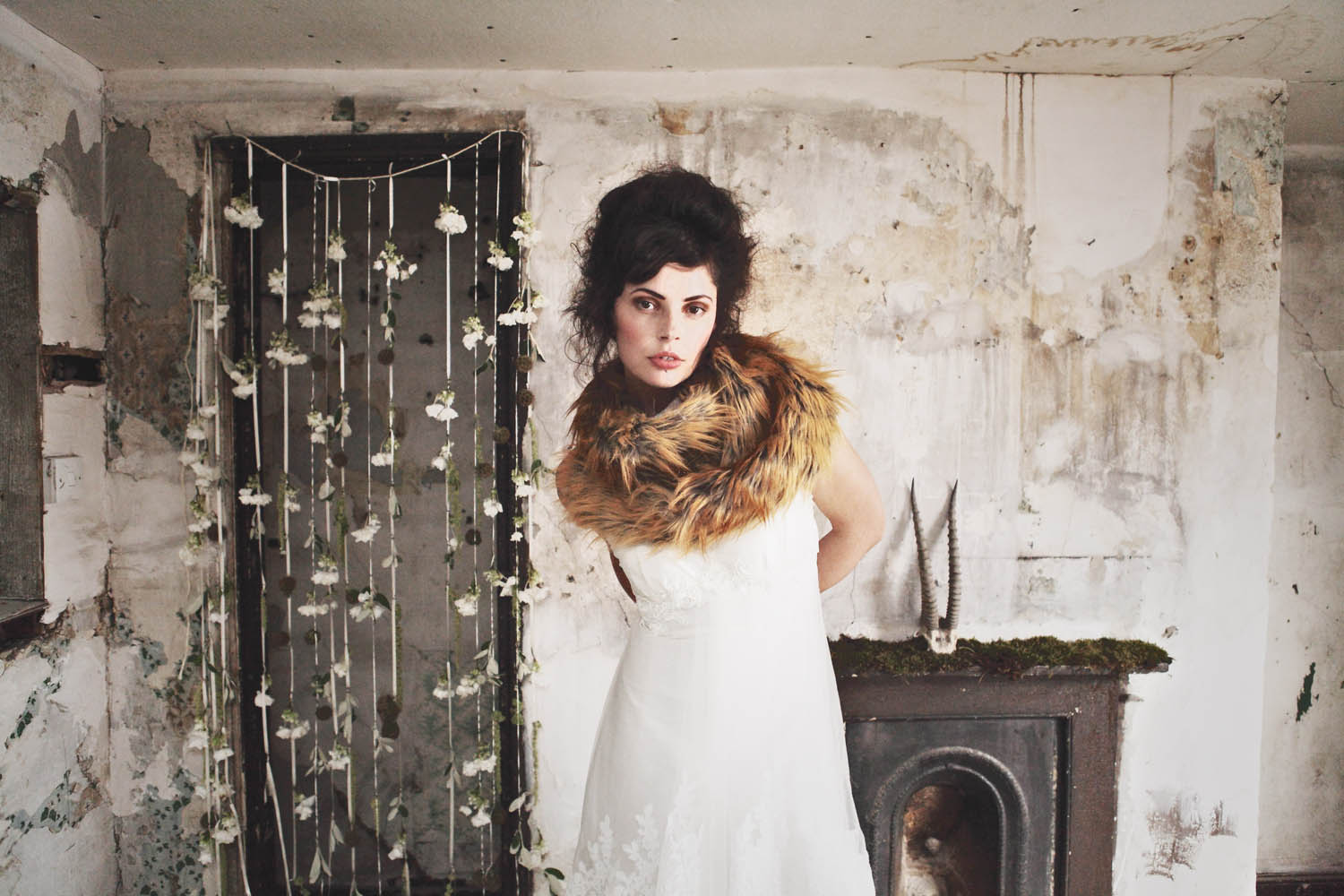 "The results really capture the ethos of A Most Curious Party perfectly. We want to showcase suppliers that are artisans, that are dedicated creators of beautiful, inspiring things that can make a wedding that bit more special. The fantastic animal heads are made from felt by Sussex-based artists Barbara Keal, and have that right mixture of quirky, vivid expression and, let's face it, the kind of eye catching oddness that inspires A Most Curious Party and its followers. We will always love and represent vintage but vintage is now not enough, people are looking for more and we do not want to limit your ideas with our wedding fairs."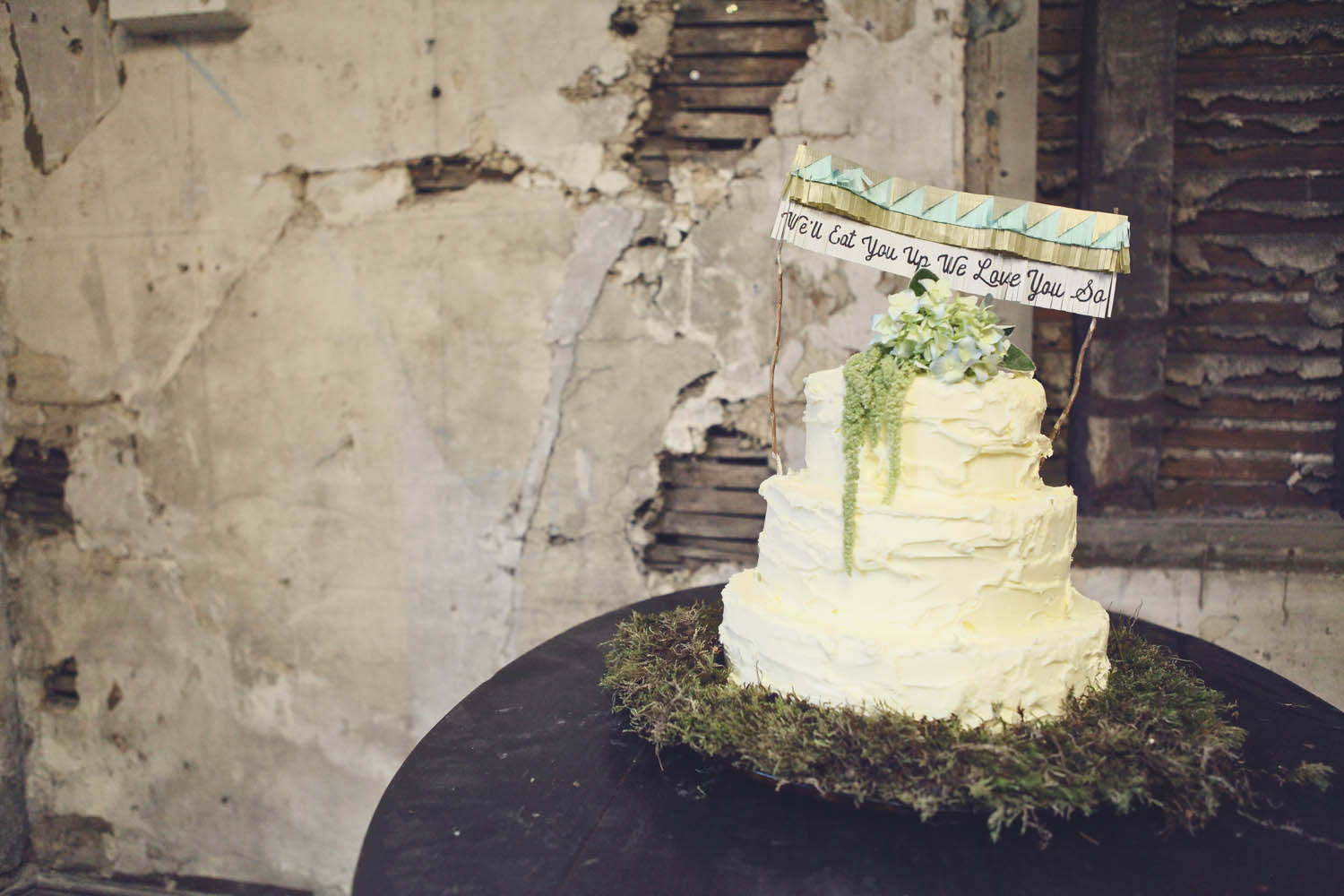 The next wedding fair is being held in East London, at York Hall, on Saturday 6th October. I've got some more news about what's going on at this show coming over the next few weeks but I'll let you know now that I'm gonna be there (wanna come meet me? I'd love it if you came to say hi!) Following on from this event there will be a second date in Norwich at St Andrews Hall on 21st October.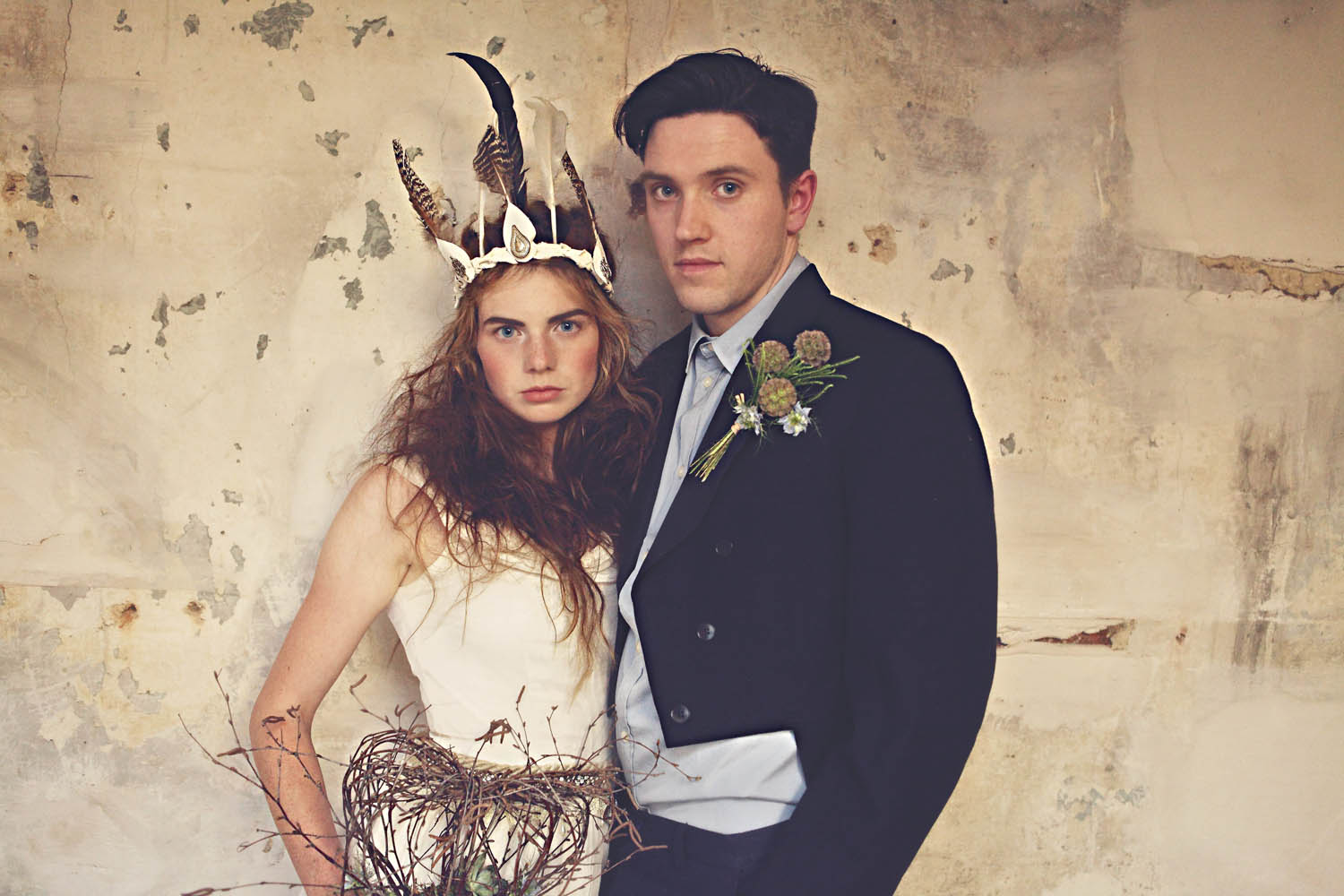 Be sure to check out the Most Curious Party website for more information on the show and which suppliers will be exhibiting. And thank you to Becky and photographer Joanna Millington for sharing this glorious shoot with us today!
Supporting Cast:
Photography Credit: Joanna Millington
Concept: A Most Curious Party
Styling: Gemma Goodwin & A Most Curious Party
Dresses: Charlotte Casadejus via Luella's Boudoir & Lily and Louie
Menswear: Seven Wolves & Ruby Tuesday Vintage
Accessories: Amie Farr & Vintage Knit Knacks
Animal Headpieces: Barbara Keal
Flowers: Love Blooms
Stationery: I Like Pens
Make Up: Milk and Honey
Hair: Lisa at The Hairdresser