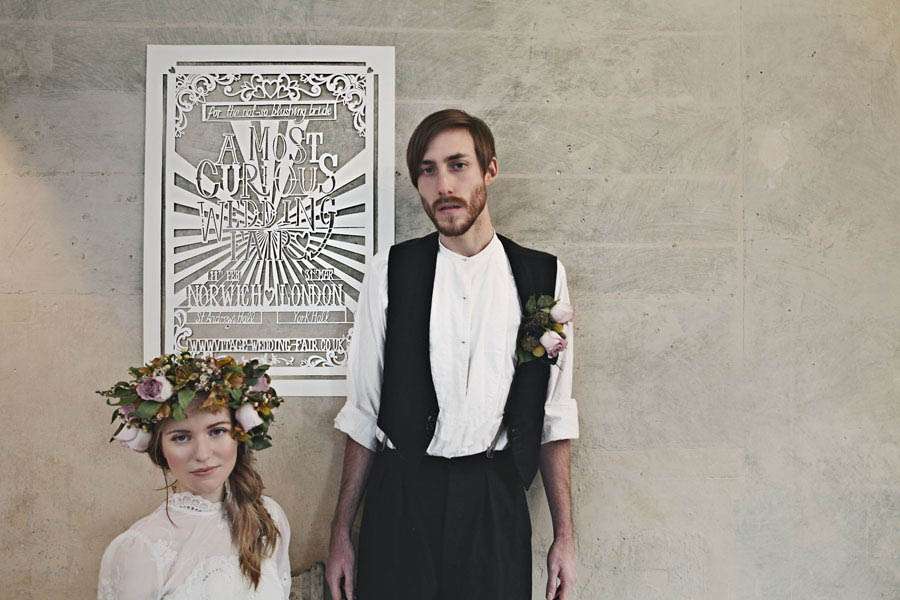 A Most Curious Wedding Fair is going into it's second year with events being held at St Andrew's Hall in Norwich on the 11th February (11am-4.30pm) and in York Hall, London on the 31st March (11am-5.00pm). To celebrate, organiser Becky got together with the amazing Joanna Millington Photography and some of the other suppliers exhibiting at the shows to put together this beautiful, vintage inspired wedding shoot.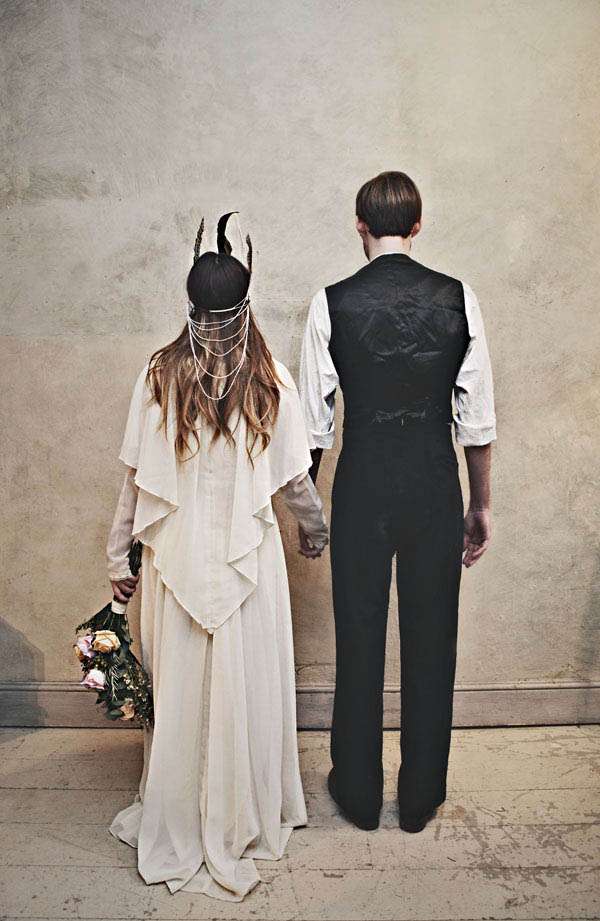 Organiser Becky explained the new direction of the wedding fairs and the ideas behind this shoot to me this week, "Our suppliers will still favour the 40s and 50s, which continues to enjoy popularity, but we know that the trend aware, fashion forward bride and groom want a little more bang for their buck. They want to widen their horizons, and simply want 'cool stuff' at their wedding regardless of era. That is the premise with which the Most Curious Wedding Fair began, but for 2012 we are progressing further with the emphasis on handmade, daring, bespoke-orientated, beautiful, craft, chic, fun, expressive and perhaps a little edgy suppliers. 'Vintage' is a recurring theme but not a requirement."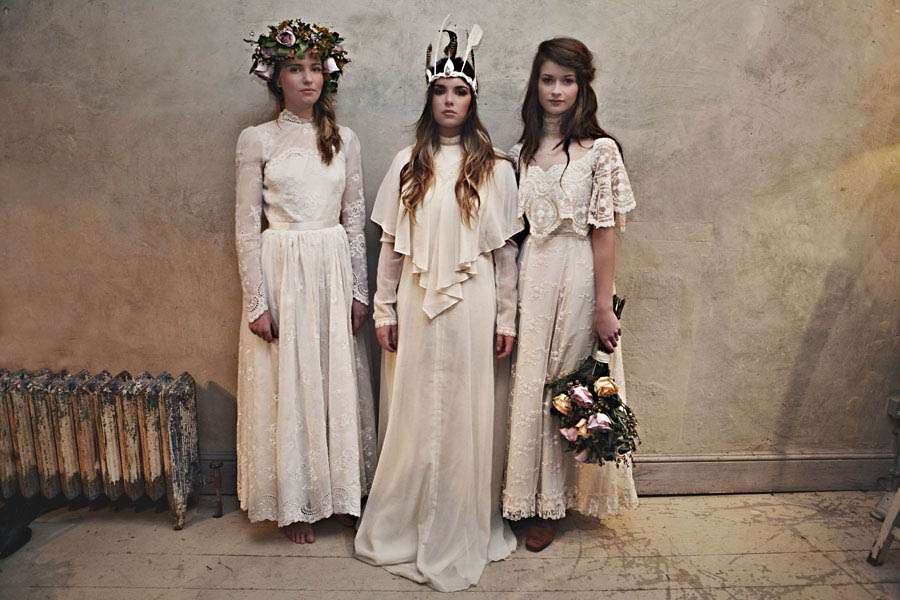 "For this shoot in particular, we wanted to put across something a little more of the moment, a little more accessible and just down-right beautiful and romantic that picked up on what is happening in fashion too."
"I think I was a little 'Movember' obsessed at the time and specified the idea of hirsute men of a Jack Daniels ilk, think old Americana, Daniel Day Lewis in Gangs of New York, with a bride reminiscent of Laura Ingalls from Little House on the Prairie," Becky continued, "so plenty of high necked gowns, with boots and bare feet alongside the braces and woollen waistcoats worn by the men. We wanted the couples to look as though they had home made all the elements to their wedding, maybe run away together to get hitched and had a simple affair that they've homespun themselves. 1970s does Victoriana seems to be a popular choice for Vogue-esque Florence Welsch inspired brides so we wanted to channel this idea while making sure the men had plenty of styling as well."
"As the idea developed the image of Mick Fleetwood and Stevie Nicks on the Rumours album cover kept coming to me and in the end we actually did a few images in homage to this. I wasn't sure it would work but thought it was worth a shot, but I knew we were onto a winner when all the girls began swearing like sailors looking at Jo's initial pics on the camera!"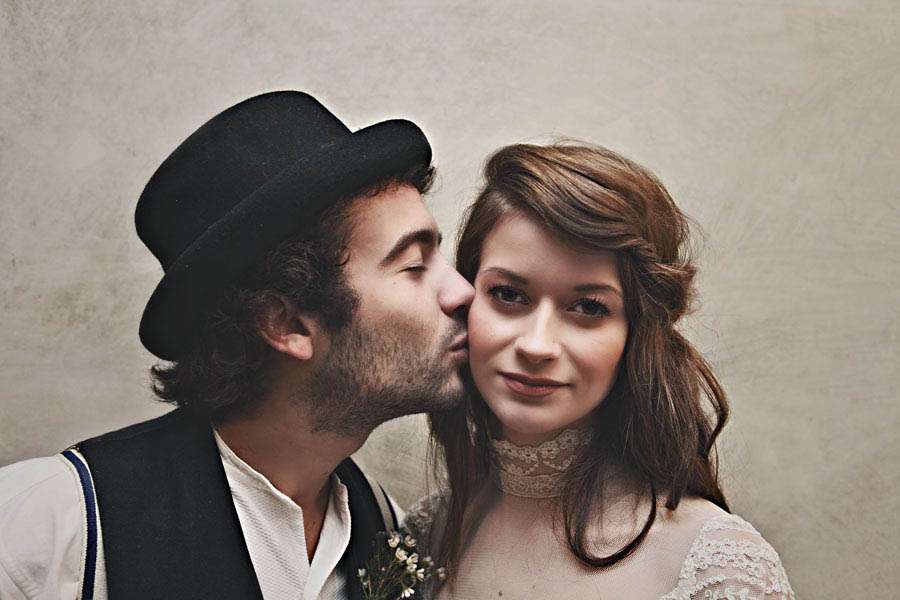 Tickets for both shows are available to purchase on the door and cost just £3 each (or only £2 is you're a bride-to-be!) For further information on attending or exhibiting check out the show's website or drop becky and email on rebecca@amostcuriousparty.co.uk.
As well as exhibitors, each show will also have a number of 'how-to' sessions including how to create your own bouquet and how to make cute cookies for your favours. Plus the Norwich event even has tattooist Gary Donnelly of Gypsy Stables Tattoo Emporium attending. I love the idea of booking a tattoo artist to give you and your beau wedding day commemorative tats don't you?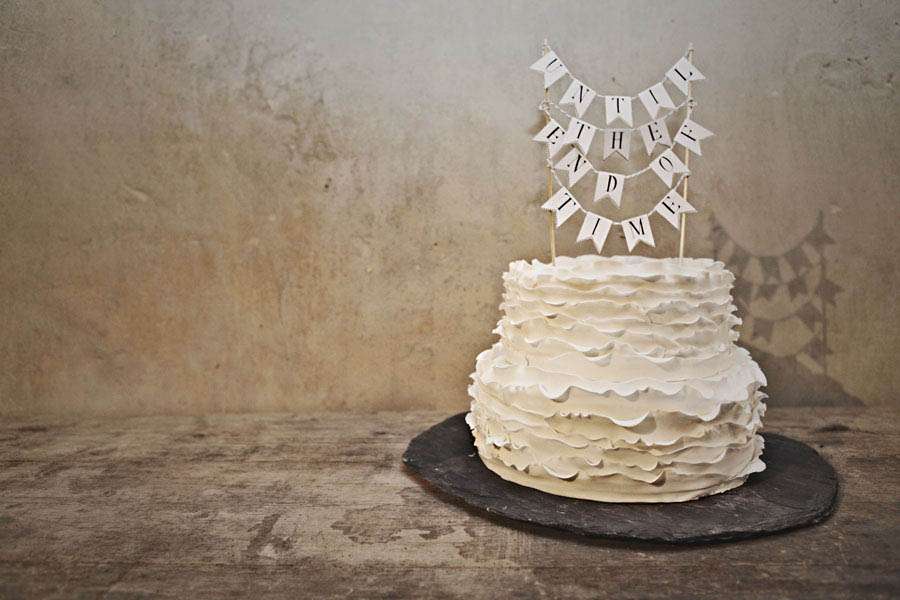 Thank you so much to Becky, Joanna and the whole Curious Wedding Fair team for sharing this beautiful shoot with us today.
Supporting Cast:
Photography Credit: Joanna Millington Photography
Event Organiser/Stylist: Becky of A Most Curious Wedding Fair
Photo Shoot Venue: The Bell Jar
Hair: The Egg
Make Up: Milk and Honey Vintage Make Up
Vintage Wedding Dresses: Antidote and Goldfinches
Menswear: Norwich Market
Flowers: Love Blooms
Cake: Victoria's Kitchen
Headpieces: Amie Farr
Take Topper & Labels: I Like Pens
Models: Aurora Cotten-Mckean and Matthew Gadd @ Power Models and Olivia Watkiss @ Sandra Reynolds
Styling Assistant & Papercut Artist: Gemma Goodwin (contactable via A Most Curious Party)