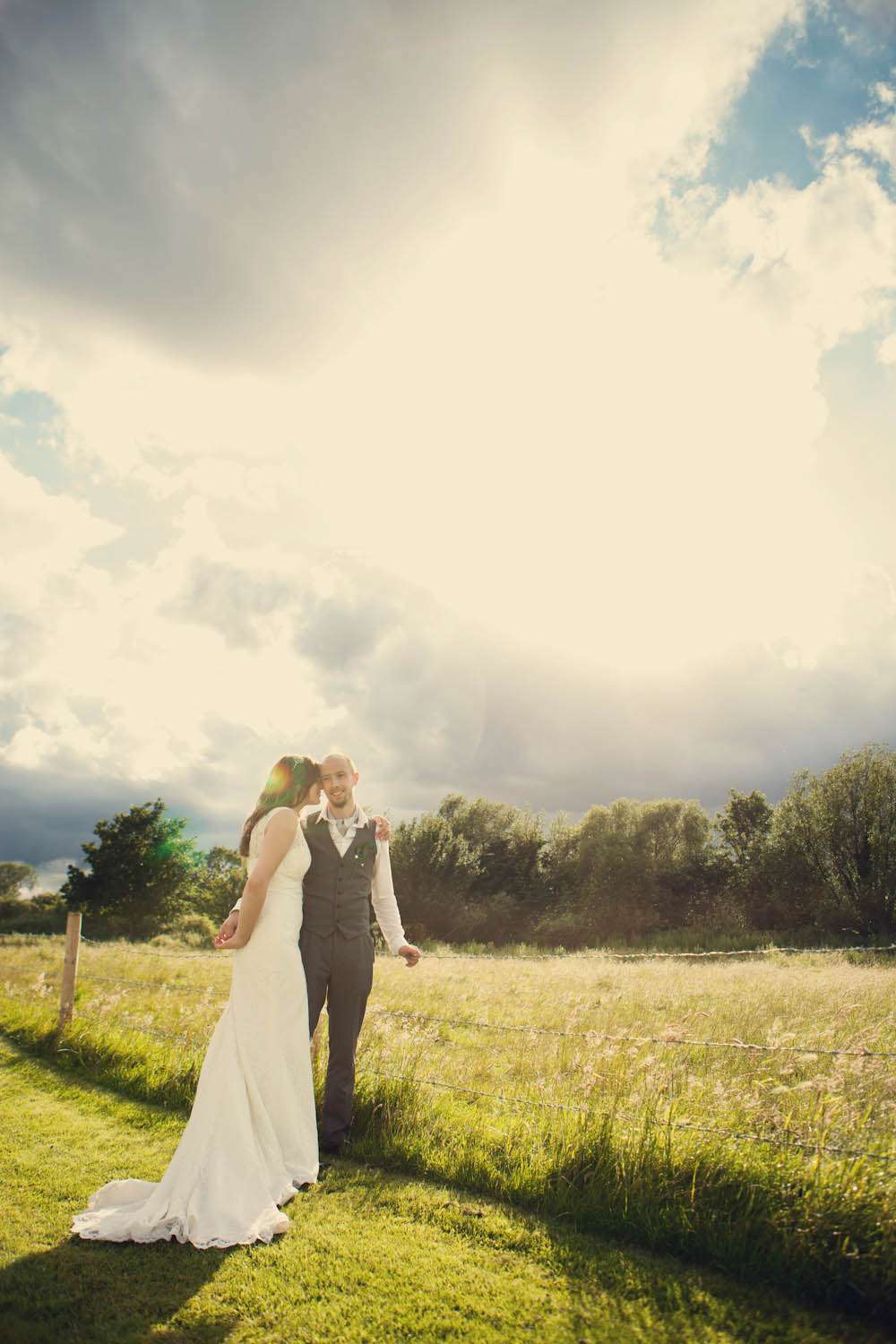 When the Summer rolls round what's the first thing many of us get excited about? Festivals! So it's hardly surprising that so many Rock n Roll Brides (and grooms!) are taking wedding inspiration from their favourite past time. Warm beer, dodgy food, mud & sleeping in a tent… What's not to love!? Haha joking!
Becci & Tom favour the UK's biggest rock festival, Glastonbury, and so started here with their ideas including their wedding cake that was inspired by the Ribbon Tower and the song lyric centerpieces. This wedding was pure music festival gold. Tom even proposed to Becci while at a gig in Oxford!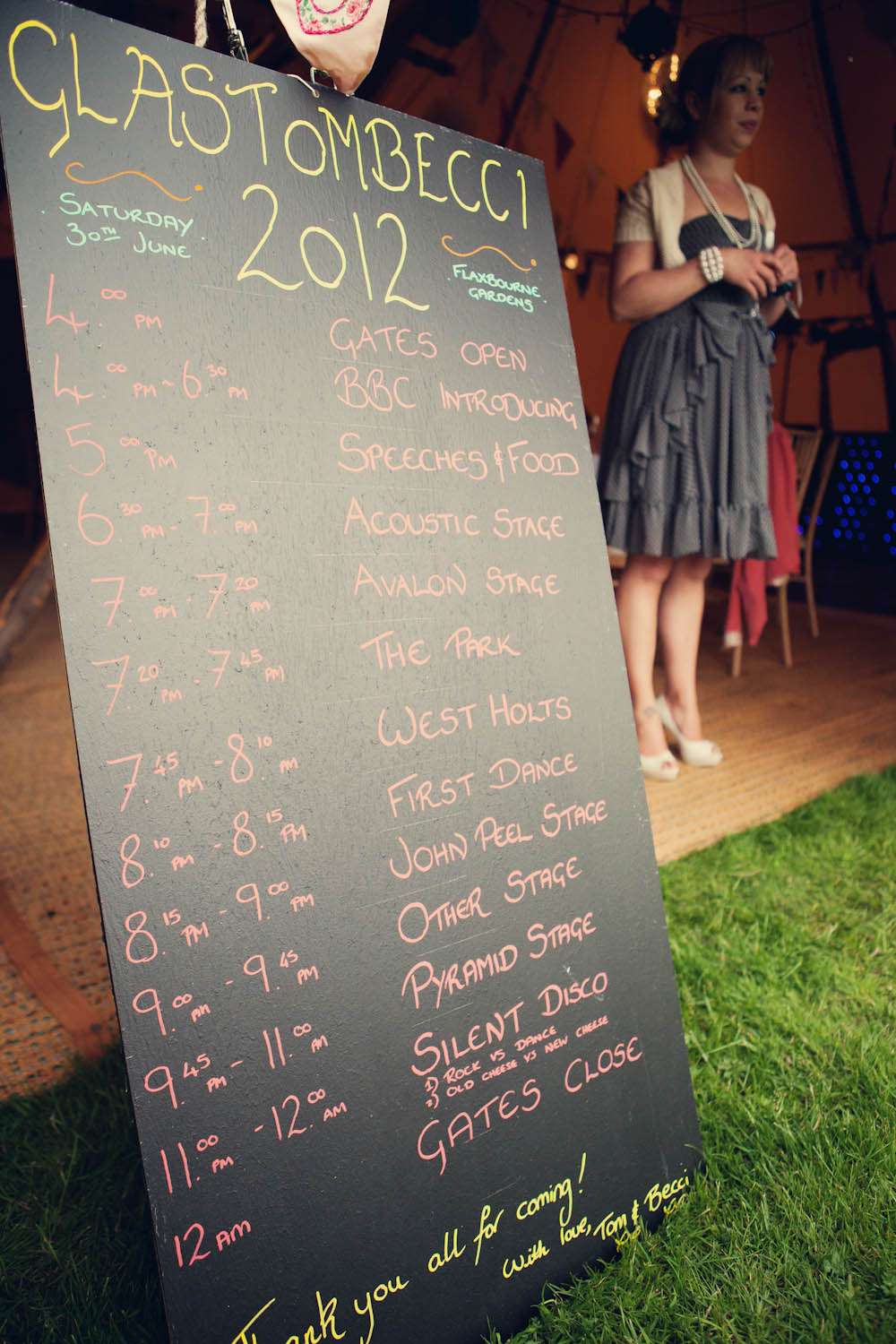 "We love music and the unique atmosphere and goings on of a festival", began the bride. "We hated the idea of having a formal, soulless, plain wedding where people couldn't let go and have a great time! And so, Glastombecci was born! We wanted to get the essence of Glastonbury; we had tickets, wristbands, signage, lots of great music, fancy dress, cider, a BBQ and a silent disco!"
The couple picked Flaxbourne Gardens for their 'camp site' which was perfect not least because of all the interesting extra features, "The gardens have a grotto, a castle, waterfalls and ponds, a windmill, Roman arches and some beautiful flowers", Becci explained. "We loved the character of the Tipis and the open space they gave us, plus they were pretty much a blank canvas for us to decorate however we wanted."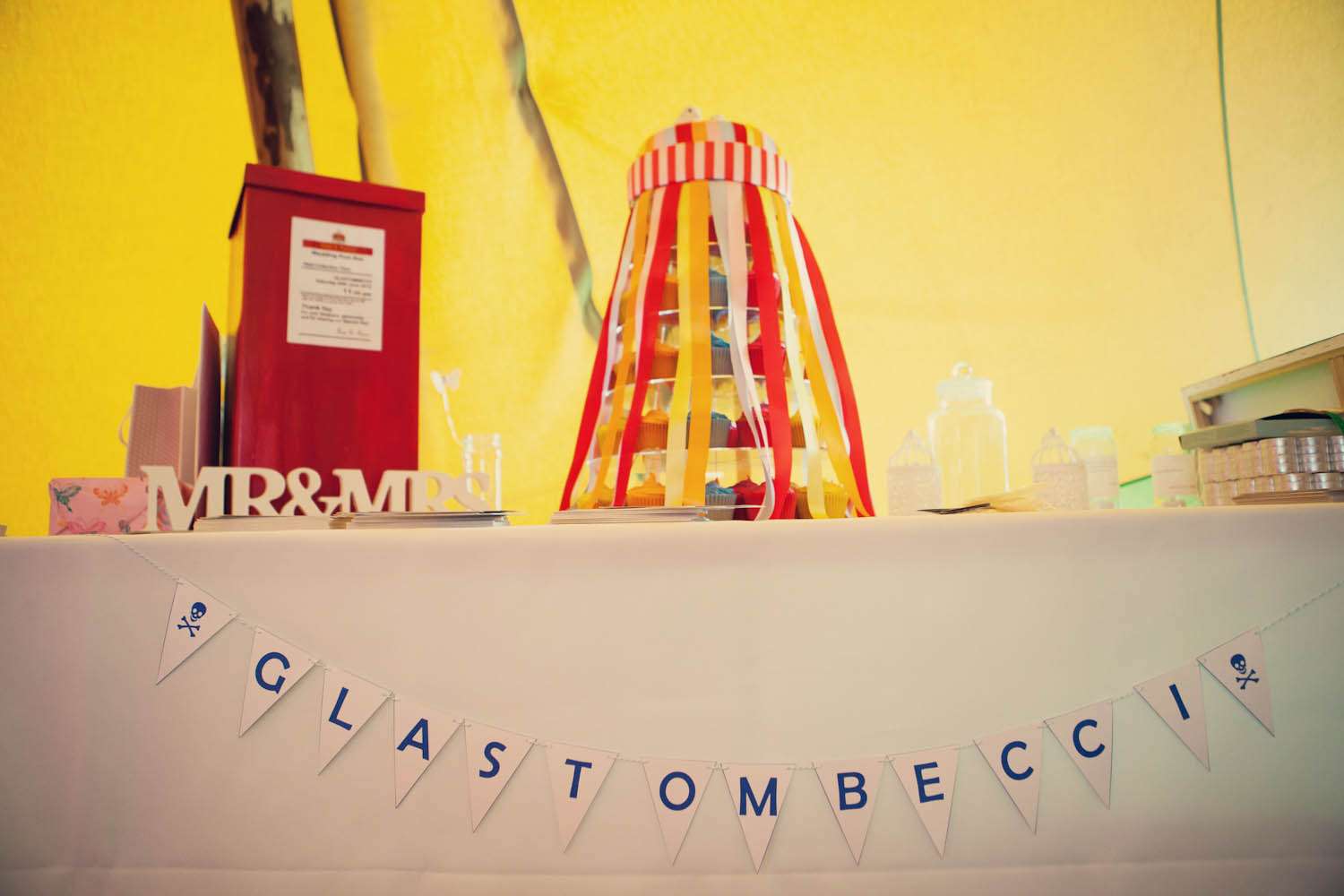 "For the centrepieces we had Lego men name places which made everyone smile, and we added some of our favourite lyrics to glass jars and filled them with flowers and candles. This was really cost effective, easy to achieve and gave it a real personal touch. The most popular event of the evening had to the silent disco!! It was the BEST. FUN. EVER. We would recommend this to anyone, you won't regret it!"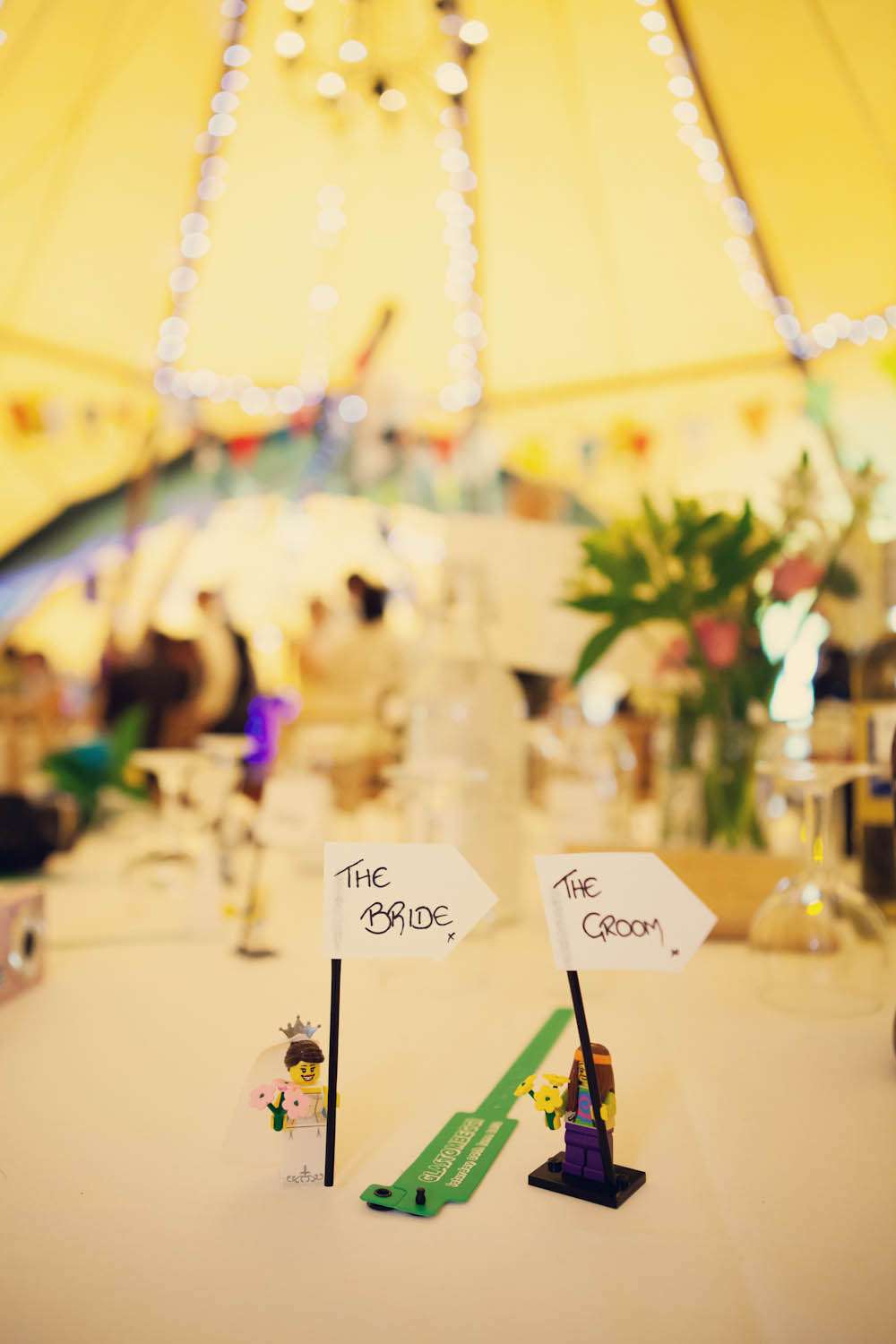 "This sounds cheesy as hell (and I'm sorry about this!), but really we were each other's inspiration", Becci concluded. "We looked at what made us, us – and worked around that. After all, that's what we were all there to celebrate with our nearest and dearest. We also had loads of ideas and help from our friends and family (particularly those that are festival goers!) but ultimately – for anyone planning a wedding I would say just do what feels right. Whilst it's nice to have the advice from those around you – you don't always have to listen to it, especially if you want to do something that isn't considered traditional or 'normal'. In our experience, they were the bits that were most enjoyable and memorable for us and our guests."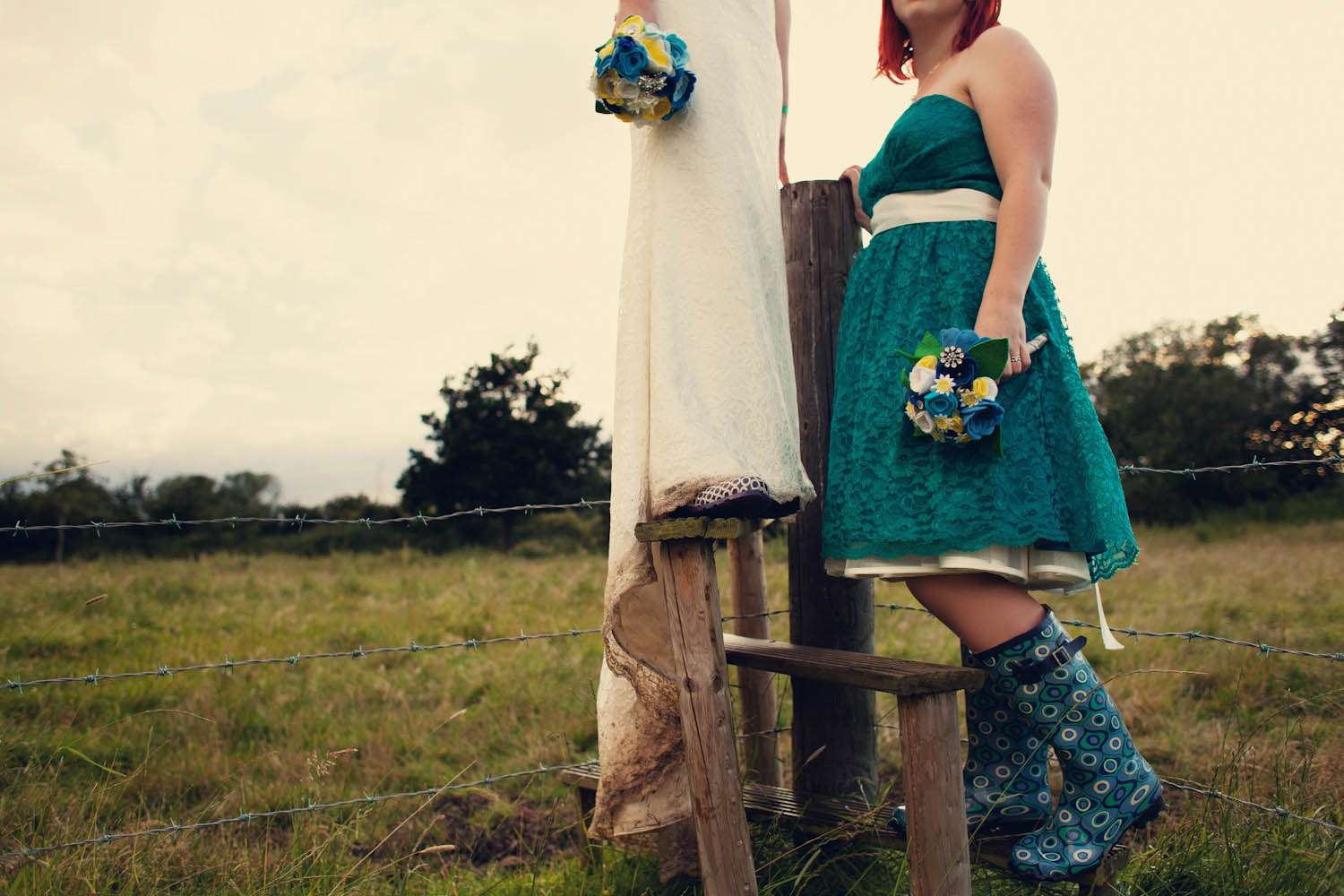 Gorgeous! Thank you to Becci & Tom and their photographer Sassy of Assassynation for sharing today.
Supporting Cast:
Photography Credit: Assassynation
Ceremony Venue: Moore Place Hotel, Aspley Guise, Bedfordshire
Reception Venue: Flaxbourne Gardens, Aspley Guise, Bedfordshire
Bride's Dress: Mori Lee
Bride's Shoes: Red Herring
Bride's Headpiece: Fur Coat No Knickers
Groom's Outfit: Topman
Bridesmaid's Dresses: Dress: Debut and Petticoat: Fur Coat No Knickers
Bridesmaid's Shoes: Irregular Choice
Cake: Brighty's Bake House
Flowers: DIY
Silent Disco: SDK
Stationery: Invitations were tickets, printed by "The Print Shop, Leighton Buzzard"
Caterers: BBQ by Chocolate Hog
Marquee: Tipis4Hire