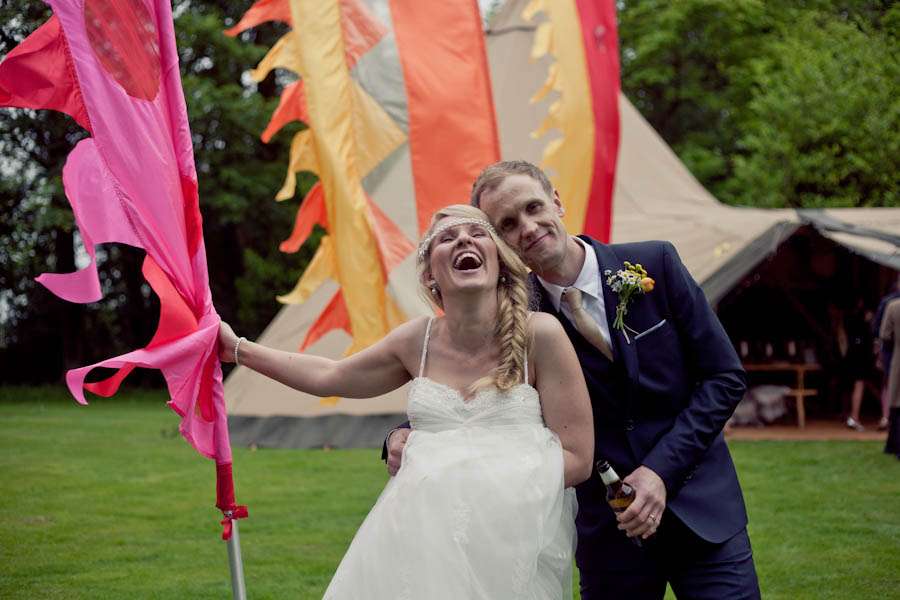 Recently I dubbed 2012 the year of the festival wedding. I've been seeing them all over (particularly on my own blog's pages!) and loving it. I used to be a huge festival kid. I live in Reading and we have a pretty famous rock festival every year, so I've always been a bit of a fangirl. I have fond memories of dancing til dawn, getting soaking wet in the rain and not giving a damn and waking up in stranger's tents …(I'd like to point out this was before Gareth by the way!)
Anyone who doesn't love a good music festival might think it's a bit of a strange idea to base your wedding on, but oh boy how wrong they are. There's no more perfect a moment than when your favourite band comes out and starts bashing out your ultimate track…
My love of music festivals is why I'm more than thrilled to share Charlotte & Josh's nuptials with you today. They also had picnic baskets for their wedding breakfast. Heaven.
The wedding was held at Purley Chase Centre, which is run by a friend of the mother of the bride. "It's not actually really a wedding venue, it's a Christian retreat", wrote Charlotte. "However my mum's friend she let us use it because she knows us. She was brilliant and she gave us pretty much free reign of the place. She loved my ideas for the food and they did it all for us. The popcorn from Aldi and was bagged by Josh into little sweetie bags the night before and the candyfloss man was someone my Dad knew through having organised events in the past. All the other food was done by Anne and her team. We knew we would have to book her after she loved the picnic basket idea, she was fully on our wavelength! She was also happy for us to erect a huge tipi in the grounds and she also let us bring in our own champagne and stock the bar with a great selection of beers from Aldi saving us and our guests a fortune! The venue also had a campfire which you could access by a big red slide and a zip line (I was sold at this) but the weather was rubbish so we couldn't use them!"
The bride wore a Benjamin Roberts wedding dress with Coast shoes which she promptly switched for bright yellow Hunter wellies when the rain started. "We did what we wanted even though my family were not huge fans of our ideas but we stuck with it", Charlotte continued. "It's hard when people put pressure on you to change things, but with Glastonbury as our inspiration we wanted to share it with everyone. If our budget had have been bigger, I would have really gone to town!!!"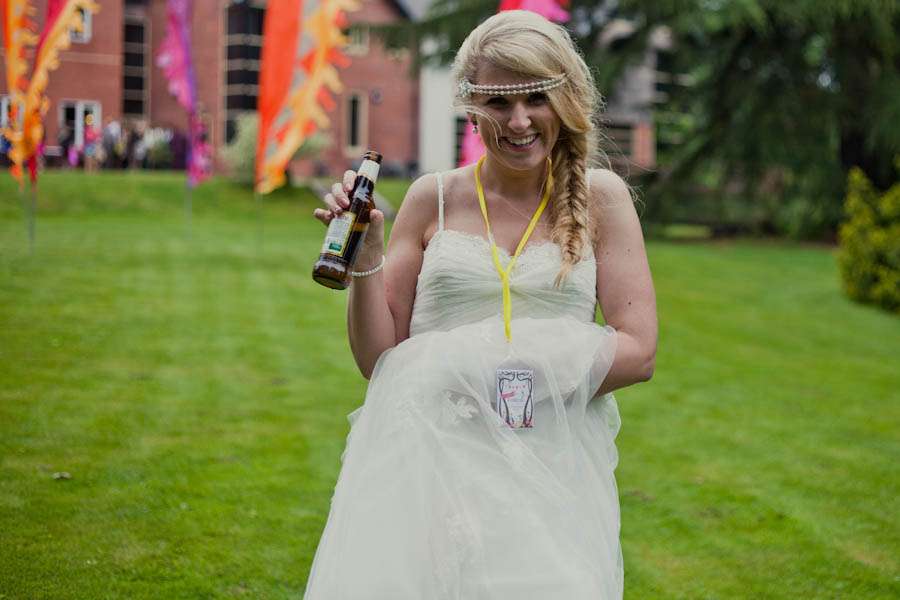 Gorgeous… despite the rain! And has anyone else got serious hair envy right now? I'm loving Vharlottes fishtail braid 'do – if only I
Well it may have been stressful guys but I think it was totally worth it! What an amazing wedding you had – despite the rain! Thank you to Charlotte & Josh and their wedding photographer Amy Lewin for sharing with us today.
Supporting Cast
Photography Credit: Amy Lewin Photography
Video Credit: LifeStory Videos
Ceremony Venue: Polesworth Abbey
Reception Venue: Purley Chase Centre
Bride's Dress: Benjamin Roberts, '2101'
Bride's Shoes: Coast 'Selena' & Yellow Gloss Hunter Wellies
Bride's headpiece: Yvonne Trivett & Atherstone Wedding Centre
Groom's Outfit: The Kooples
Bridesmaid's Dresses: Marks & Spencer
Dressing Gowns: Primark (bride embroidered names on)
Flowers: DIY
Cake: Marks & Spencer (customised)
Hair: The Works Hair Design Atherstone
Band: Partners in Crime
Stationery: DIY
Tipi: Elite Tents
Flags: FestiFlags
Transport: Beetle Drive