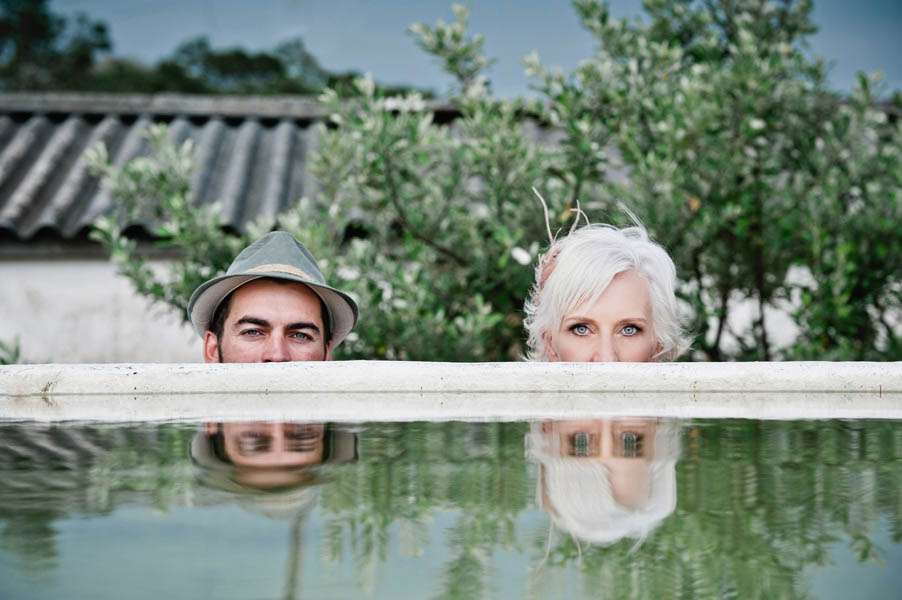 Natalie & Mike met on the side of a road, whilst travelling to Mozambique. His car was broken down and she rescued him! After 9 months of a long distance relationship he moved to Johannesburg to be with her. They now live in the North Coast of KZN with their 2 year old son.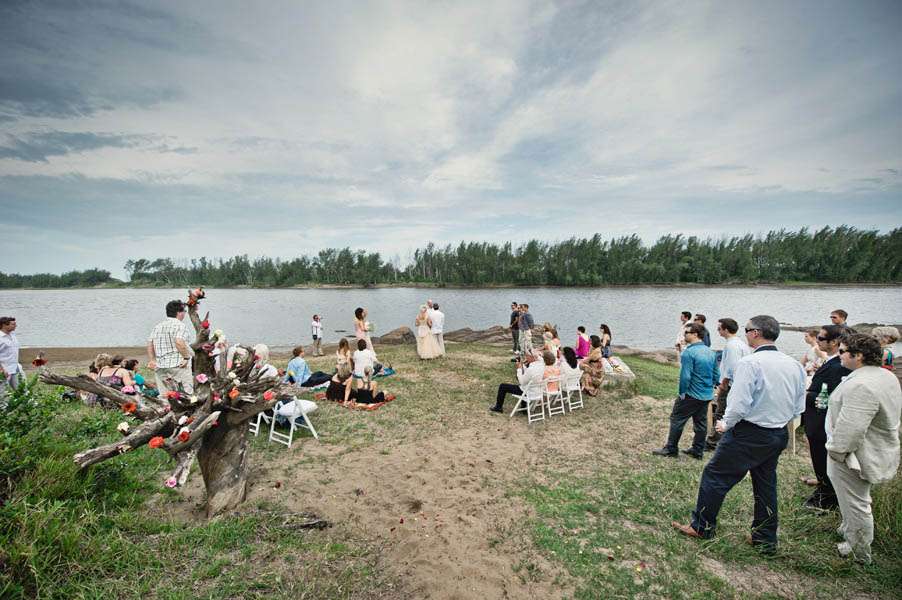 The wedding was to be as laid back and fancy-free as the couple themselves. From the beach & lagoon location of their venue, to the rustic and thrown together vibe of their decorations. "In many ways, we didn't subscribe to the traditional script of a wedding", wrote Natalie. "We had Jagermeister shots instead of champagne, we didn't throw a bouquet or fling a garter (I didn't wear one), cut the cake or even really have a first dance.  All we wanted was to eat great food, drink and dance with our friends & family.  Our guests said our wedding was fun and a completely authentic representation of who we are.  That's the best compliment we could've received."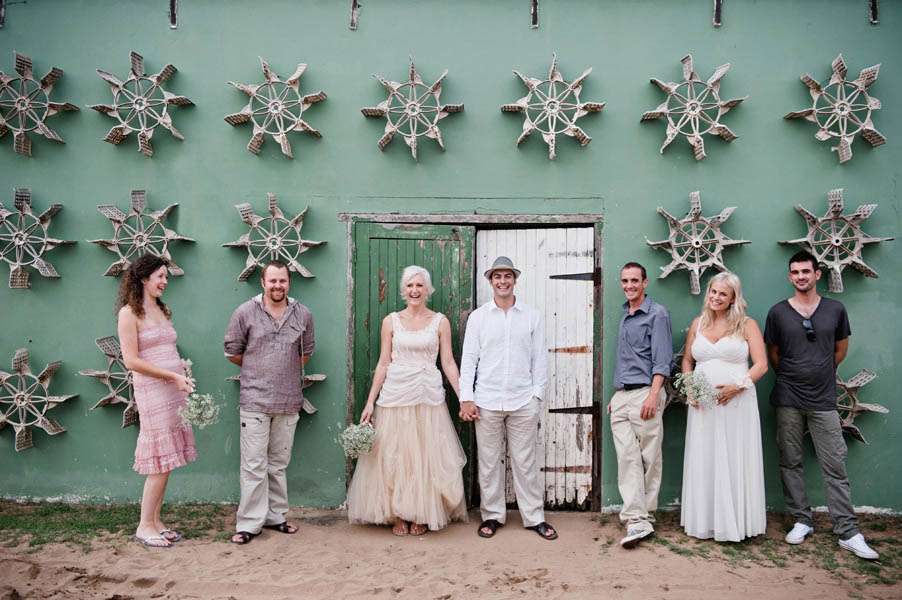 "I would call our wedding theme 'shabby chic'," she continued. "To decorate the venue we collected glass bottles of all shapes & sizes (tomato sauce, peanut butter, olives, wine, olive oil, chutney etc) to use as vases. Florists will charge you to hire vases and the bottles look gorgeous once washed. After the wedding you can recycle them."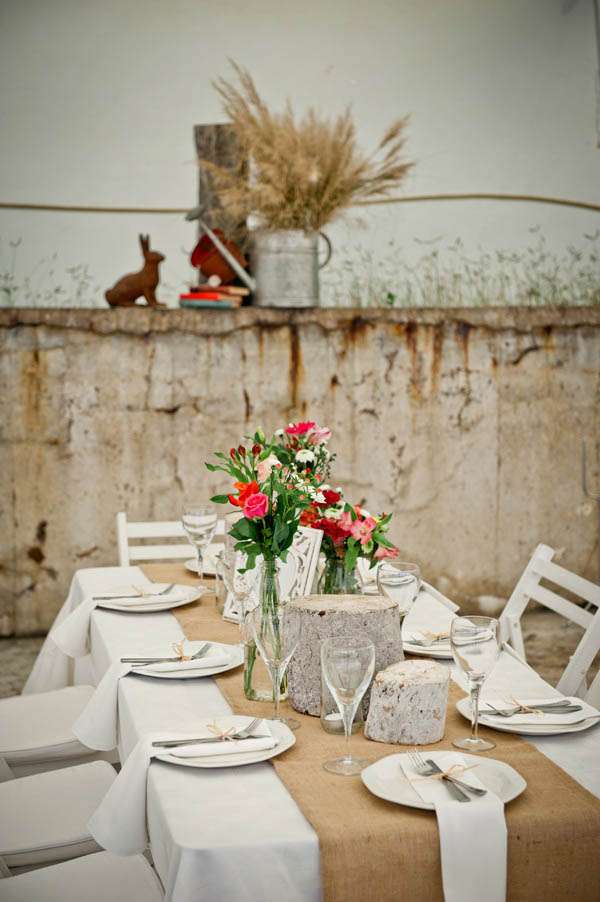 "Having a whole weekend wedding was the absolute best! We got married on a Friday and waking up the next day with all our guests, completely hungover and blissed out, was such a treat. We got to relive the stories from the night before, look at photos on people's cameras, swim, chill in the sun, have an afternoon kip then back to square one with a massive braai; naturally more beers and wine and the night slowly peels back to become yet another celebration. No make-up or fussy clothes this time; just me, my new husband and all our favourite people in the world.  By the time Sunday rolled around we felt well and truly married!"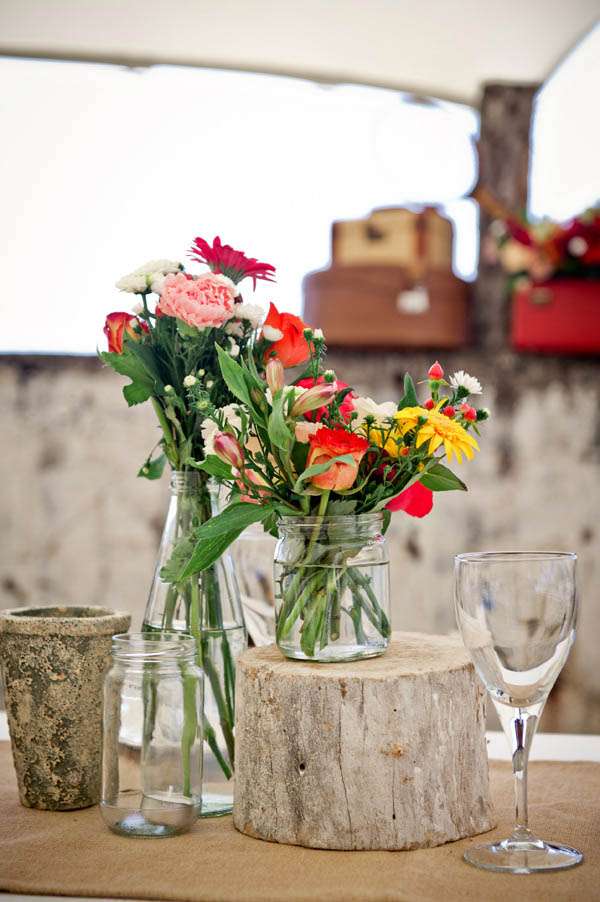 "I know she's going to think I'm blowing smoke up her arse, but our photographer, Jacki Bruniquel, was the 2nd best thing to happen to our wedding (after the actual getting married part!)" Natalie concluded. "Why? Because your wedding day is the biggest build up to an event that you will ever have in your short life, and it is over before you can say 'I did'.  Having the right person to capture the essence of your day is the ONLY way you can hold onto it.  If your photographer screws that up, you will never, ever get that back.  Think about it.  Do your homework and Spare. No. Expense."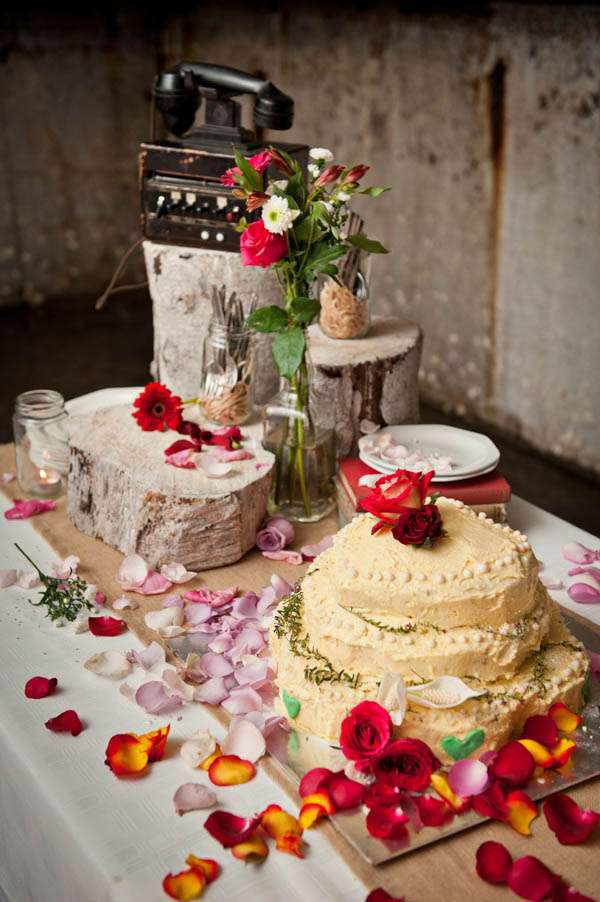 Glorious! Thank you so much to the gorgeous Natalie & Mike and their photographer  Jacki Bruniquel for sharing today.
Supporting Cast:
Photography Credit: Jacki Bruniquel assisted by Tash Schoeman
Venue: The Hatchery
Bride's Dress: Dominique Gatland 
Bride's Hairpiece: Accessorize
Groom's Outfit: Hilton Weiner
Bridesmaids dresses: Desray in Cape Town and Terence Bray Boutique in Ballito
Hair & Make up: Kirsty Turco from Make Up Your Mind: 072 954 1687
Cake: DIY
Flowers: Sonja Watson
Catering: The Crooked Fork
DJ: Jason Cramer jasonscissorhands@yahoo.co.uk
Wedding Coordinator: Morag Oldreive
Marquee:  Stretch Tent